Total Cuomo Show
Going slide-for-slide with New York's favorite PowerPoint equivocator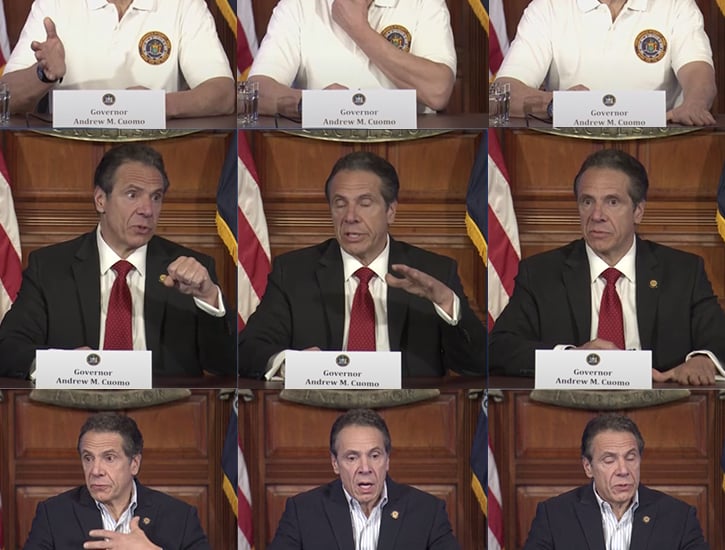 Andrew Cuomo, "sentient blend of Hallmark card and calmness app." | The Baffler
W
o
r
d

F
a
c
t
o
r
y

New York Governor Andrew Cuomo is going to run. Cara, his daughter, thinks she can beat him, but he'll be out there, say, five miles a day: "fast like lightning." Cuomo should start running—for president! That's what certain pundits and livestream devotees are saying after watching his PowerPoint-heavy daily briefings.
Every day, for the past sixty days (but who's counting?), we learn more about Governor Cuomo, as he relies on his personal experience to "communicate and relate" with New Yorkers "as a metaphor." Also, his sister is a doctor, and his dog, Captain, has anxiety. He name drops daughter Cara at nearly every briefing, though he has other daughters. He's a former altar boy. He's a hugger! Spring is his favorite season. But enough about Cuomo, as he might say, let's talk about New York.
The state's first known Covid-19 case was announced on March 1. Now there are 304,372 confirmed cases and 23,546 people have died from the virus (not including probable deaths).
Among the dead, which include at least forty-five New York City doormen and janitors and at least ninety-six MTA workers, are health care staff, students, and community activists.
And Cuomo, sentient blend of Hallmark card and calmness app, was slow to act. He ordered the closure of public schools fifteen days after that first known case, at a time when New York State's confirmed Covid-19 cases had climbed to more than seven hundred, and three people had died. Three days earlier, Ohio Governor Mike DeWine ordered all K-12 schools to shutter even though the state had just five known cases. It wasn't until March 20, as the known cases in New York topped seven thousand one hundred, with at least thirty-five deaths, that Cuomo signed the "New York State on Pause" executive order. The order directed non-essential employees to work from home, and it banned gatherings of any kind, making it harder to bond with, well, daughters. "I can't tell you how hard this is for me not to be able to be with you, not to be able to hold you in my arms, not to be able to kiss you all over your face," Cuomo recalled telling Cara, in another family anecdote, on March 17. Maybe it was this lonely distraction that caused Cuomo to delay signing the directive until the day after California's Governor Gavin Newsom ordered his state to stay at home, at a point when California had half of New York's death toll. Never mind, at a briefing last week Cuomo remained adamant that "no state moved faster from first case to closedown than the State of New York."  
"They would pick at the pasta because, see, they knew I didn't know how to cook so they knew that meatball and sausage was inherently suspect, and I never said that I bought it in the specialty store because that would've ruined the whole tradition anyway. So, they wouldn't eat it and we'd go for Chinese food afterwards."
This little chestnut was part of a directive for New Yorkers to "make a little joy." It was an inevitable extension of earlier briefings where Cuomo was more concerned about "undue anxiety," noting that "we have a bigger problem, which is a fear pandemic" and "the facts do not merit the level of anxiety that we are seeing." He implied New Yorkers shouldn't worry because 80 percent of people will recover, a figure he initially mentioned in most briefings but dropped when the death toll began to climb. He would frequently compare Covid-19 to the flu, as he did on March 11 when New York had 212 known cases: "How many people died in the United States from the flu last year? Roughly eight thousand from the flu. So again, perspective." Not one day later, his assessment changed: "It is worse than the flu in terms of the numbers, yes." On March 16, when seven people had died in New York, he asserted the state had "the most effective response of any state in the United States" and urged "perspective, perspective, perspective." As for those with underlying illnesses: "if they get the normal flu, they're in a grave situation, right?" Even as late as March 23, when at least 157 people in New York State had died, including a Brooklyn school principal, he said, "Many people will get the virus, but few will be truly endangered." Six days later—the day of that meatball and sausage parable—and just over a week after New York State went into lockdown, the known death toll for New York State ticked over one thousand.
Cuomo's media star is disproportionately large; it brings to mind the subway-cop-to-MTA-budget ratio.
Of course, immediate death isn't the only knock-on danger of a global pandemic. A great many people are out of work and can't pay their rent. Elective surgeries have been canceled. The collective stress and grief will have lasting effects on our mental health, as loved ones are left to die without family members by their side. Cuomo ordered a ninety-day eviction moratorium and a mortgage suspension for landlords but with no equivalent for renters. In the absence of more meaningful action, comedian Michael Che offered to pay rent for 160 public housing tenants, and a Williamsburg landlord waived rent for April. Meanwhile, the call for a rent strike steadily grows. On March 22, State Senator Michael Gianaris unveiled plans floating ninety days of rent forgiveness for residential and commercial tenants. That same day, Cuomo, who did not address such concerns in his briefing, added that when this is all over "we are going to be the better for it."
Cuomo, too, has actively rolled back progress. On April 3, New York passed a $177 billion budget which watered down bail reforms that had been in effect for a mere three months, that prevented judges from setting cash bail on nearly all misdemeanors and non-violent felonies. The budget also included Medicaid cuts to help close a $6 billion budget hole and got rid of plans to legalize marijuana in New York this year. The day before, as people raised concerns about what was in the proposed budget, Cuomo skyped his brother, CNN host Chris Cuomo, into his daily briefing. Brother Chris, recently diagnosed with Covid-19, proceeded to describe his zany dreams, which found his governor brother "waving a wand and saying, 'I wish I could wave my wand and make this go away.'" In the end, he told his brother, "you spun around and you danced away."
Maybe this is why Cuomo also avoided calls to release prisoners who are at high risk of infection, despite pledging that the Department of Corrections and Community Supervision would release low-level technical parole violators from local jails. On April 5, at a briefing held before the death of Michael Tyson, the first Rikers Island inmate killed by the virus, Cuomo discussed cabin fever, which "threatens the essence of our constitution," noting that symptoms include "just an upswelling of resentment, especially toward people who are in apparent positions of authority in this situation which I've noticed."
It's true that Cuomo's media star is disproportionately large; it brings to mind the subway-cop-to-MTA-budget ratio. It's also the case that he can be fooled—twice. This apparently explains his decisions in January and February, as he clarified earlier this month, when "you still had sources in this country saying basically there's nothing to worry about." In March, he vibed with New York Mayor Bill de Blasio, who at the time stated that Covid-19 "is not, so far, something that you can get through casual contact." Cuomo added, "We don't even think it's going to be as bad as it was in other countries." On April 10, more vibing: Cuomo released a video about how to save a life, set to The Fray's "How to Save a Life."
We've yet to see the briefing where Cuomo gives a PowerPoint presentation that contains all of his previous presentations, with their conflicting statements, structured as a kind of gubernatorial data-Gesamtkunstwerk, with songs, anecdotes, and perhaps some dancing. But, then, Cuomo doesn't know best, although he doesn't seem to know that yet. On March 31, he made it clear: "Last point, there is nothing that I have said different since I started these briefings. And there's nothing we have learned that is different since I started these briefings."
Jess McAllen is a staff writer and fact checker at The Baffler. An award-winning journalist from New Zealand, she focuses on mental health issues.
Baffler Newsletter
New email subscribers receive a free copy of our current issue.
---