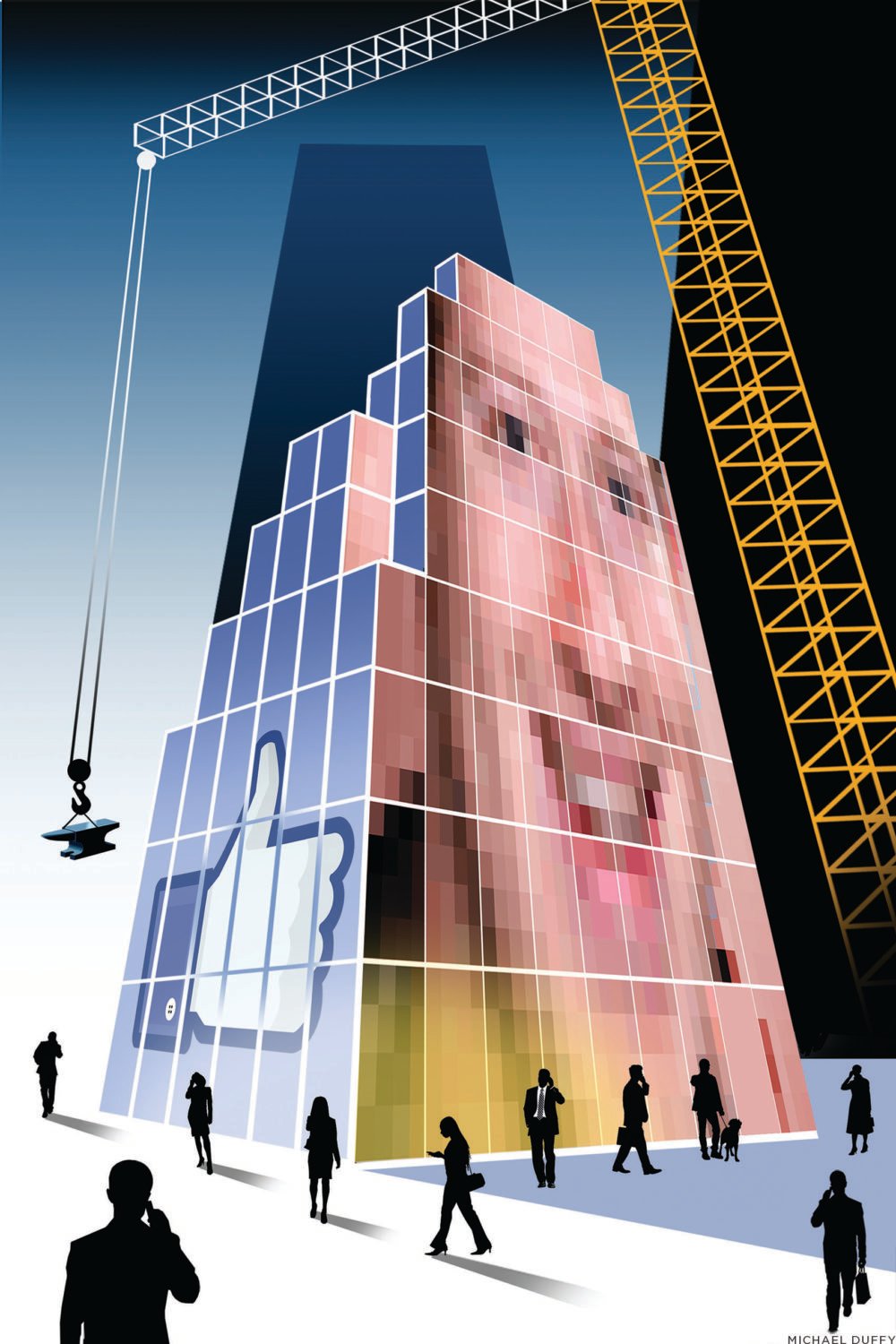 Ever since Mark Zuckerberg reappeared in Cambridge, Massachusetts, in 2011 and announced that this old city had growth potential after all, the region's public officials have been eagerly positioning themselves to ride a wave of digital startup commerce.
The state's Democratic governor, Deval Patrick, has been ardently lobbying corporate players in biotech to fall in with the Facebook titan and exploit the region's educated workforce. Massachusetts House Speaker Robert A. DeLeo sent an open letter to Zuckerberg begging him to follow through on his comment and locate an office here. "A lot has changed in Massachusetts in the eight years since Facebook moved out," DeLeo wrote. In 2012 legislators OK'd a $1 million "Talent Pipeline" to be run through the Massachusetts Technology Collaborative and allotted $50 million to a tech-and-science research matching fund, gilding an investment climate already rich with grant managers, laboratories, liberals, venture capitalists, and university degrees.
New York still has Wall Street, Phoenix has housing again, and for Shreveport, Louisiana, it's all the way with shale gas. And what do Cambridge and Greater Boston have to offer? They call it the "Innovation Economy."
It's a neat utopia: an entire economy rigged to a framework of intellectual capital, from PhD to patent, with a startup model of rapid development taking hold of cities like Austin, Berkeley, Boulder, Las Vegas, Raleigh, and Seattle. Still, it was a Boston-area small business that successfully petitioned the White House to declare the first-ever "National Entrepreneurs' Day" in 2010. The president proclaimed a whole "National Entrepreneurship Month" the following year (November, in case you are thinking of starting a company) and created the White House "Startup America" initiative, devoted to "cutting red tape and accelerating innovation from the lab to the marketplace."
And it's Cambridge where you can take a stroll on the "Entrepreneur Walk of Fame," complete with stars for Steve Jobs and Bill Gates. Kendall Square, in MIT's neighborhood, has seen Amazon, Biogen, Google, Microsoft, Novartis, Pfizer, and Johnson & Johnson all move in or expand their office parks, research facilities, or life science laboratories since 2012, joining companies with longstanding ties to the MIT meritocracy, such as Sanofi, Millennium Pharmaceuticals, and Draper Laboratory. The list goes on. So does the networking—or, as this scrum for a new, world-defining synergy of big data, big pharma, and startups is elegantly known, the "clustering." The method is meant to wrest "competitive market advantage" (in the White House's words) out of physical proximity.
What do Cambridge and Greater Boston have to offer? They call it the "Innovation Economy."
"Clustering" has spun out a miniature knowledge economy of its own around here, with brands like General Catalyst, Koa Labs, Atlas Venture, Spark Capital, Intrepid Labs, Dogpatch Labs, and Sandbox. You can't turn a corner without encountering some fair, summit, accelerator, catalyst, meetup, incubator, or kaffeeklatsch. News of the latest triumph at the hottest innovation center is hard to miss even for a moderate consumer of media gossip. (A tidbit: Someone at the MIT Media Lab founded Bluefin Labs, a social TV analytics startup that won the jackpot in 2013 when it was purchased by Twitter for $67.3 million!)
And so the question everywhere is: Where will the next Mark Zuckerberg turn up? The Harvard Innovation Lab? StartupLab Allston? Could it be MassChallenge or Startup Institute? Maybe the New Man (and, yes, the Innovation Economy is led almost exclusively by men) launching the next millennial app or social-media doodad will be found squatting in one of the "Innovation Districts" that have been demarcated by cities like Boston and Holyoke.
The Cambridge Innovation Center (CIC) is everyone's best bet. Based in Kendall Square, it's a retail office space for hundreds of startups, a moveable brainstorm that smartly takes a piece of the action, a percentage of the New America. Or as Gov. Patrick put it during a visit to CIC's offices, it is
a real incubator of wonderful ideas and economic growth for not just this neighborhood but frankly the whole of the Commonwealth and much of the country. We have been taking counsel . . . about ways that we can support this kind of economic growth, because we believe that innovation is our edge, it's where our future lies.
On November 8, 2013, reacting to Mark Zuckerberg's announcement that Facebook was expanding into Cambridge, CIC chief executive Tim Rowe nearly cried. "It's very emotional for Cambridge and Greater Boston to have Facebook come back," Rowe said. "It's the one that got away."
Feed Them
Who knows what innovations will crawl from between the interlocked toes of the technology corporations, venture capitalists, physicists, chemists, engineers, and biologists now incubating in the nation's creative class redoubts. Collaboration is the buzzword that sits tremulously like a fig leaf over the privatizing clusters in which America's future is restarted.
But if you think about the Innovation Economy as a model for urban development, you might find yourself wondering, How new is this future, really? The concept feels recycled because, in truth, it's just a semantic merger of the "New Economy" mantra of the 1990s with the "Knowledge Economy" that's ever popular in postindustrial management theory.
A mix of big corporations and investor-backed startup enterprises gathers around the shared strategic value of innovation, operating in an environment rich with public resources. The triumphant arc is chronicled in the rapid development of some new product and said to be personified by a Zuckerberg or a Gates, a captain of coding brimming with cowboy grit, pressing onward into the computerized frontier and all. The hero is the one who creates something from nothing, thus resolving the eternal pundit riddles of American life like Can we keep our edge? and Are we still number one?
Considering the slack in today's economy, you can see why the consensus is encouraging the inner entrepreneur in the new generation of scientists and technologists. If innovation really is the tonic for this disease, however, and if startup entrepreneurs and their corporate uncles really do transcend partisan ideologies, then some sign of health should be visible in the communities where they cluster.
And here's one clue worth pondering: In early summer 2013, Governor Patrick signed a "tech tax" on computer services that was supposed to raise the money badly needed to save the region's aging bridges, buses, roads, and subways from falling into disrepair from the additional density of Innovation Economy development. In early fall 2013, the same Governor Patrick signed a repeal of the same "tech tax."
The tech tax reversal neatly illustrates the law of economic development concealed within the Innovation Economy's magic wand. Call it the innovator's dogma: in response to the siren call of the future, the whole community must conform.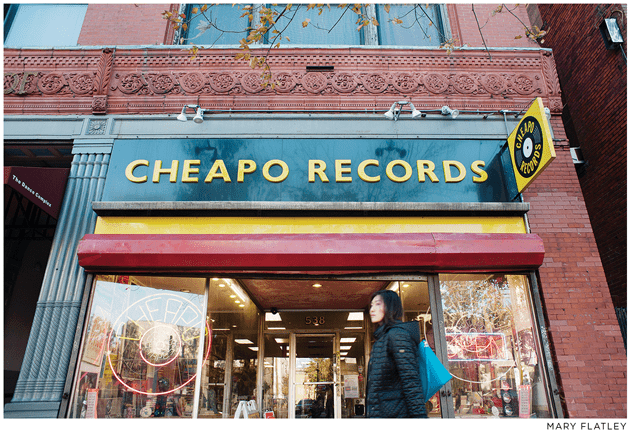 The innovator's dogma explains why, two months after reversing himself on the "tech tax," Governor Patrick decided to extend the operation of the aging subways and buses until 3 a.m. on weekends, a policy generations of the region's college students had failed to achieve. "Is this cool or what?" the Governor cooed.
Others warned that maintenance workers will bear the additional pressure and that the transportation system will decrease in safety. But the governor's special pleading knew no bounds: "This is about how we make the system modern for the kind of economic growth we have been experiencing and will be experiencing. The folks who work in the innovation sector—they live differently." He then left on a ten-day trade mission to tell business leaders in Japan, Singapore, and Hong Kong the good news.
The innovator's dogma means making all your city's peoples and institutions attractive to corporate professionals-in-training. That's why the first-ever "Police Innovation Conference" convened, and why it did so inside Microsoft's Cambridge headquarters. The conference was the dream of a former detective and public information officer who quit the force to join the startup community. The enterprising detective developed MyPD, an app that 125 police departments are using around the country.
It's why the superintendent of the Cambridge Public Schools has unfurled a reform program labeled "The Innovation Agenda: Educating Students for Their Future Not Our Past," as though understanding our past were not essential to creating their future. It's why the Cambridge Historical Society made "Innovation: How Cambridge Changed America" the theme of its benefit in 2012. And it's why the Cambridge Science Festival is held annually, with events in the field house of the high school.
The innovator's dogma can explain why state officials have redefined art and culture to accord with the White's House's desire to accelerate ideas "from the lab to the marketplace." A "Creative Industries Economy" is said by officials at the Massachusetts Department of Housing and Economic Development to be growing alongside the Innovation Economy. So they're holding "CreativeNext Resource Meetings."
These sound laboratory-like, all right, but sort of disturbing too, when you realize that the "Creative Economy" acknowledges only "the enterprises and people involved in the production and distribution of goods and services in which the aesthetic, intellectual, and emotional engagement of the consumer gives the product value in the marketplace."
Here's a definition broad enough to admit every form of "content" from web marketing to film, yet so narrow as to rule out the social conditions of sympathy, cooperation, and security in which creativity thrives—and never mind classic works of the twentieth century that were born in opposition to the market for consumer taste.
But the innovator's dogma deals in the world of commodities. And Cambridge is teeming with products for solving problems we didn't know were problems. Hence Sqrrl Data Inc., started up by a group of former National Security Agency employees. Following the entrepreneur's playbook, the NSA technicians redeployed their government-funded spymastering to develop a commercial product that offers innovative expert protection against . . . spying. Edward Snowden's revelations did make these privacy entrepreneurs a bit nervous. Would public anger at the NSA taint their launch? Nyet! They discovered that what the people fear the market will then control. So these savvy NSA veterans scored a big infusion of venture capital and a larger office in Cambridge as a result of the revelations.
This, you see, is how innovation works. Mask political choices in the universalist rhetoric of the market. Purge the surrounding environment of social intelligence. Surge into the space with vested interests masquerading as public ones, and then call in the future for cover.
Cambridge, so understood, will be little different from any other city where entrepreneurs come to model their dreams. According to Brad Feld's Startup Communities: Building an Entrepreneurial Ecosystem in Your City (2012), cities where innovation happens are divisible by two: "Leaders of startup communities have to be entrepreneurs. Everyone else is a feeder into the startup community."
In the "feeders" category are colleges and universities ("a source of fresh blood") and governors, whose only job is to help companies grow by shaping society to suit their needs. The reason is obvious to Brad Feld. "Startups are at the core of everything we do," he writes. "An individual's life is a startup that begins at birth. Every city was once a startup, as was every company, every institution, and every project. As humans, we are wired to start things."
In the long run, however, nothing we "feeders" do can ever truly satisfy the innovator's dogma. As Feld observes, "entrepreneurs are going to do what they do, which is create new things (products, companies, jobs, and industries) out of nothing."
Brad Feld's comically narcissistic portrayal of the entrepreneur's prerogative hardly reflects the whole lot of them, and his version of the Innovation Economy model never quite works with its intended focus on plunder and exploitation. Still, Feld is a graduate of MIT, a successful venture capitalist, a cofounder of the prestigious accelerator fund TechStars, and a founding adviser to President Obama's Startup America Partnership. He's a "leader."[*]
The Innovation Economy's futurist model of urban development is, in other words, propaganda for the present system of power—it's class interest presenting itself in the guise of prosperity, and it appears to be the best that these most liberal of liberal Democrats have to offer to the nation.
Where this fraternity of entrepreneurs and their municipal handlers travel to remodel society in the image of a private company, inequality is synchronized to follow, and liberalism, which once robustly opposed privileges and monopolies, provides cover for ushering out those who haven't been given the password.
So come along, while there's still time, and let's tour the People's Republic of Zuckerstan. Observe the residents fleeing, the acres being enclosed in office parks and laboratories, the moguls smiling, and the thought leaders humming tidings of the future. Be sure to notice all the ways in which the composite picture doesn't add up to progress.
See the View, Don't Be the View
Cambridge is actually a more interesting city than all this boosterism would lead you to expect, with a great many pockets of autonomous activities and attractions. The parks are open and clean; the grocery stores, pubs, cafes, schools, hospitals, fire stations, and churches are plentiful. We have a beautiful new library. Well-established amenities such as pedestrian's right of way and Fresh Pond (our own dedicated supply of fresh water!) make it some sort of idyll. The city's nickname, "The People's Republic of Cambridge," has more than a little merit behind it.
Now and then my family and I even catch sight of a rainbow flashing in the sky outside our kitchen window. At such gossamer moments, we don't envy the knowledge workers slaving away on artificial intelligence in their labs up the street. Compared to them, we feel like the Little Prince, who needs only to move his chair a few feet to watch the sunset whenever he wants to. It's not everything, but it's enough.
The groundwork for innovating this idyll was stirred by Question 9, a referendum that repealed rent control in Massachusetts in 1995 and began the unsettling of nearly everyone unable to compete in the housing market. Developers had tried for years to repeal the regulation in the only three cities in the state where it had remained in place—Boston, Brookline, and Cambridge. Oddly enough, business flaks could never persuade residents of those cities to voluntarily pay higher rents. So, in a fit of class pique, the Small Property Owners Association and the Massachusetts Homeowners Coalition put the question to a statewide referendum, and then sat back and watched voters in Western Massachusetts teach Eastern liberals a thing or two about economic fairness.
The market has been driving the poor and the working class out of these cities ever since, and the Innovation Economy is finishing them off, cleaning house for the new guests. The cost of housing in Cambridge and Greater Boston has zoomed, with rising rents taking a growing share of dwindling low- and middle-incomes. Partly by design, partly by accident, the corporate consolidation of the housing stock will wind up leaching diversity from neighborhoods by pricing residents out and installing corporate professionals in their place. Innovation means the price of existing goes up.
Collaboration is the buzzword that sits tremulously like a fig leaf over the privatizing clusters in which America's future is restarted.
Not only is there no master plan from government officials to address the housing emergency, it was their master plan that caused it. Between 2010 and 2013, while the state's leading Democratic politicians went around the country selling off the region's neighborhoods to corporate partners in the Innovation Economy, the number of homeless people in Massachusetts rose by 14 percent. (The national number went in the opposite direction.) Significant gains in jobs outside commercial science and biotech have not materialized; indeed, the jobless rate for those who don't have a college credential is twice that of degree-holders. So we can expect the Innovation Economy to send more of the region's poorest and most vulnerable residents scrambling with their children into temporary shelters and motels. Housing is the hinge of class formation.
Nearly all the Innovation Economy construction has simply added to the region's phalanx of luxury homes, condominiums, towers, laboratories, auditoriums, and office parks. The capital investment in the machinery of invention (filtered through the region's tax-exempt colleges, hospitals, and institutes) is staggering. The University of Massachusetts, Boston, is opening a science complex to the tune of $182 million and 220,000 square feet. Boston University is adding two buildings to its science and engineering complex, one of them seven stories tall and 150,000 square feet and the other eleven stories and 165,000 square feet. (Big, in other words.) Add another $225 million for Northeastern University's science and research center. "We think of Boston as one large campus," Northeastern president Joseph E. Aoun told the Boston Globe.
Two months before President Aoun boasted of the industry's imperial ambitions, Harvard won approval to carry out a long-delayed plan for developing 359 acres of unused land it owns in the Boston neighborhood of Allston. In addition to fortifying its Innovation Lab, Harvard will build a 60,000-square-foot, 3,000-seat basketball arena; a 200-room hotel and conference center; and three new buildings for the business school.
Commercial developers once considered Cambridge a tough community to crack, due to all the smarty-pants intellectuals and community groups bleating for affordable housing and air to breathe. And it's still true that the city is full of pesky intellectuals. According to Amazon, Cambridge was the fourth "most well-read city" in America in 2013. But residents haven't exactly been buying up pamphlets on utopian socialism. Cambridge, in fact, ranked as Amazon's number one market in the "Business & Investing" category. Evidently, this city of nonprofits lies awake reading business books with visions of cashing in.
And this is, no doubt, one reason that neighborhood associations haven't been able to do much more than slow the bulldozers and cranes that rip, bend, and scrape along Massachusetts Avenue, the main thoroughfare that connects MIT with the city's Central Square. Millennium Pharmaceuticals, having overcome several years of community opposition, is now expanding into a 250,000-square-foot office and lab complex. The move enlarges a twenty-seven-acre complex (on MIT-owned land) called University Park, which comprises nine research and office buildings, a parking garage, a supermarket, and a hotel, along with restaurants and luxury apartment towers intended for "wealthy individuals and couples who want to see the view, rather than be the view," according to the developer, Forest City Boston.
Across the street, also on MIT-owned land, the life sciences corporation Novartis is constructing office buildings and laboratory space—a 550,000-square-foot, $600 million campus designed by the architect Maya Lin. "This campus," the company assures us, "will be a life sciences gateway and will provide an important connection between Kendall and Central Squares. It will bring vibrancy to the area with ample green space, pedestrian connection and street level retail space."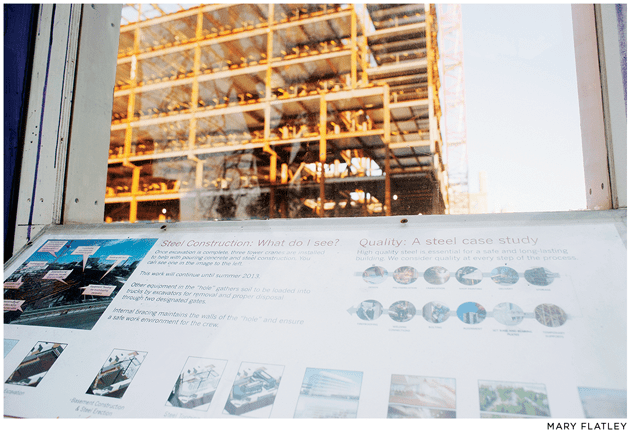 Novartis, the city's fourth largest employer, is a central player in the Innovation Economy sweepstakes. So it's better not to mention that it's also a global leader in not-curing cancer, with an all-too-recent history of toxic dumping, safety violations, price-gouging, bribery, and sex discrimination. In a case it finally lost in 2013, Novartis sued the government of India for rejecting a patent application for its cancer drug Gleevec. To prevent companies like Novartis from blocking the availability of low-cost generic drugs, Indian patent law requires applicants to show they have "significantly" improved upon previous drugs. Novartis took the case all the way to the Indian Supreme Court. In 2010 it lost a class action sexual discrimination suit brought by women sales reps and managers over pregnancy, promotion, and pay. That suit cost the company $3.3 million in compensatory damages to twelve women and $250 million in punitive damages to the larger class.
The year before, Novartis made headlines by refusing to donate vaccines during the swine flu pandemic. But the company's world headquarters in Basel is currently being redesigned after the fashion of Cambridge's Kendall Square, complete with a Frank Gehry building. The adverse legal verdicts pile up. The innovation juggernaut rumbles on.
When platoons of large rats are displaced from underground and come skulking into homes and basements, it makes for well-attended community meetings. But opposition to Innovation Economy–style development has no sure voice in the political class and only a marginal position in the city's social structure. Property owners, who benefit from the booming real estate market, have seen their taxes remain relatively low. Out-of-state campaign donations from developers have grown to unprecedented levels in municipal elections.
Those who would argue for a diversity of economic models are largely the voices of the dispossessed, shouting curses from the back of the moving van. The November 5, 2013, election for Cambridge City Council saw an unusually lively field of candidates and four new councilors put into office, bearing many indications of discombobulation. Only 24 percent of the city's eligible voters went to the polls, though—among the lowest turnouts ever recorded in the People's Republic.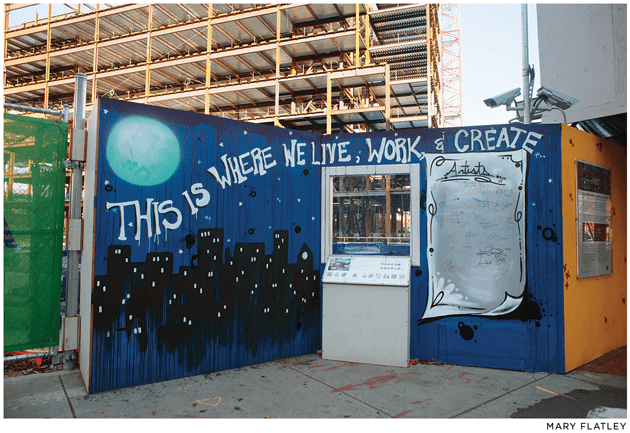 Smell the Funk
For what does a neighborhood's history count against the demands of the future? It's not a question pundits dwell on when they urge concessions on behalf of stagnation-killing knowledge economies. But the fate of Central Square, the neighborhood in which Millennium and Novartis are building, is sort of important to those who live and work there, especially considering the dead-zone look of nearby Kendall Square.
Confounding years of efforts to make Kendall into a neighborhood, Innovation Economy development cannot support a civic culture there. The office parks and laboratories are set back off the street. Long, barren blocks surround them. The lab workers log late hours in these zipped-up complexes, darting in and out of the neighborhood for food and drink, and not much else.
All this new commercial building in Central isn't expected to be finished until 2015. What will the neighborhood look like by then? A bedroom community for thousands of corporate professionals? The rents are already inflated, thanks to the legions of MIT and Harvard graduate students and postdoctoral fellows doubling- and tripling-up in local apartments—the region's vast academic proletariat that tends to higher education's other function (the teaching).
Central Square has been Cambridge's downtown, its seat of government, and a bellwether of financial speculation since roughly the 1850s. It started attracting moneyed interest even earlier, when Boston investors realized that Cambridge was their most direct territorial route to points west and northwest. The first bridges over the Charles River dramatically reduced the distance the gentleman rulers of yore had to travel between Harvard Square and the Boston State House.
By the turn of the twentieth century, thousands of first- or second-generation Irish were living in Central Square alongside rural New Englanders, Swedes, Portuguese, Poles, Russians, Jews, Greeks, and Canadians. Most worked in manufacturing and joined churches and labor organizations. In the 1960s, Sgt. Brown's Memorial Necktie Coffeehouse organized antiwar protests and counseled draft resisters there. The political activity was made possible by the low cost of office space.
To the outside world, including many students, Cambridge has seemed an academic town, monopolized by Harvard and MIT. That impression never used to be true, however; to see the diversity of community in the city, one needed only to venture beyond the campuses and walk through Central Square, which lies right in between them without belonging to either one.
Over the last few years, the Mayor's Red Ribbon Commission on the Delights and Concerns of Central Square has gathered politicos, urban planners, and small business leaders to discuss the implications of MIT's Innovation Economy construction as it crawls past the perimeter of Kendall Square and disrupts the settled social facts of Central. The commission presents a street-by-street view of the likely effects on the neighborhood's parking spaces, transportation depots, plazas and parks, signage, storm-water retention, street lighting, and so on.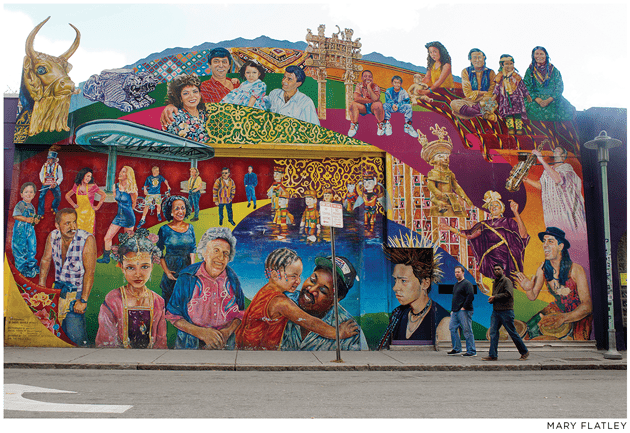 Everyone agrees Central Square is the civic center of Cambridge, the heart of the city's collective identity. Everyone agrees it's funky. Everyone is sure they want more creativity there, as opposed to less; they love creativity so much. And everyone wants Central Square to encourage the innovation-friendly habits of celebrating, enriching, increasing, connecting, and diversifying.
This admirable consensus has an air of make-believe about it, however. Small business owners have leverage only through the Central Square Business Association, and the Cambridge City Council has leverage over the developers mainly by virtue of its mogul-licensing capacities: handing out permits for parking lots and exemptions for height and density. Such powers are not nothing, but they're pretty small-caliber ammunition, useful more for a negotiated surrender than a fighting vision.
"Central Square needs a brand," a report issued by the Red Ribbon Commission insists, chasing its own tail:
A brand for Central Square is about establishing a connection, then a relationship, with those most important to your success. A brand is just the first step. . . . A brand will integrate and analyze all of the branding/perception information collected over the past few years. It will also develop consistent, compelling core brand messaging that provides the framework for brand assets and communications tools (advertising, web site, social media, public relations, etc.) . . .
We are not starting from scratch: this is not an exercise in creating an entirely new brand for Central Square. Rather, it's about capturing the essence of Central Square in a compelling, consistent message architecture. After all . . . Central Square is nothing if not authentic. Its brand must be authentic, as well.
There, there, one wants to say. But the panic is real. As Novartis and Millennium maneuver corporate professionals cheek by jowl with Rodney's Book Store and Cheapo Records, increasing everyone's cost of existing, Central Square's avant-garde faces the usual tragic choice of growing, compromising, or leaving.
"They're soulless, there's no life there." That's what Catherine Carr Kelly, executive director of the Central Square Theater, told me when I asked her about the biotech laboratories and offices coming next door. The theater dedicates a part of each season's program to something called the Catalyst Collaborative. Its purpose is to produce an emotional identification with science and to host discussions of ethical issues typically ignored in the normal run of innovation. The idea grew out of a salon at the home of a professor at MIT, which owns the theater's building.
The owners of the Middle East nightclub, the neighborhood's largest and most popular creative drinking spot, decided on a less artful compromise. In October 2013 they announced a plan to build four or five floors of residential housing on top of their iconic club—but not for their employees or entertainers. The owners said they would have preferred to build spaces suitable for musicians and artists, but it's not in the cards.
Such stories could make you skeptical about the most celebrated achievement of city planners thus far: a successful request for the state to designate Central Square as an official "Cultural District." The designation doesn't bring any funding to offset the spike in rents, and the boundaries are arbitrary, but hey, "Cultural District" has been conveyed on official government stationery, so the neighborhood's "brand" has been determined: it's culture—only, a culture that has no meaningful power to arrest the flight of the funky.[**]
Tea and Sympathy
Once, I was pushing my daughter in her stroller along Massachusetts Avenue in Central Square when a man with his back against the wall and a cup in his hand began trying to wave us over. We didn't stop. He stuck his foot out in front of the stroller's wheel. My daughter nearly went flying, and would have landed hard on the sidewalk were it not for her restraints. Neither of us was hurt—only scared and angry, respectively.
I remembered this encounter when I read comments by the owner of a local real estate company complaining that while the Innovation Economy has sent the market booming, the human streetscape is still something of a loss leader:
Not long ago I was walking through Central Square with my kids after their dance class. We see this guy just lying there, completely bloodied on the sidewalk. The cops showed up and took him away. The thing is, that's something I see consistently: three or four times a year.
Yeah, I thought to myself, ask not why the man is "just lying there"; ask why your daughter has to step over such ghastly sights "three or four times a year."
The realtor's interview appeared in a glossy minimagazine called Scout Cambridge, which describes itself as "Direct—Vibrant—Local" for independent business interests. An issue showed up in my mailbox in September 2013, proclaiming itself a "direct-mailed bimonthly to every home and business in Cambridge, reaching more than 47,600 postal addresses." Infospam for the Innovation Economy, in other words.
And the cover story in which the broker's tactless interview appeared, "At a Crossroads," contained a noticeably frank display of opinion regarding the last remaining obstacles to Cambridge's gilded future as a playground for startup professionals.
The story, written by reporter Scott Kearnan, celebrates the Innovation Economy's stimulus to "higher-end residences and mixed-use buildings" cropping up in Central Square alongside the "upscale establishments" that are now jockeying for position in the nightlife and entertainment spectrum. There was that "hipster music lounge" that closed, but thankfully it reopened as "a higher-end hipster cocktail bar." Any local knowledge worker can join a ready-made scene at the nearby Middlesex Lounge, with its "hipster-y alt vibe." The owners of the restaurant Pu Pu Hot Pot are reopening as Patty Chen's Dumpling Room, "with slicker sheens and higher price tags."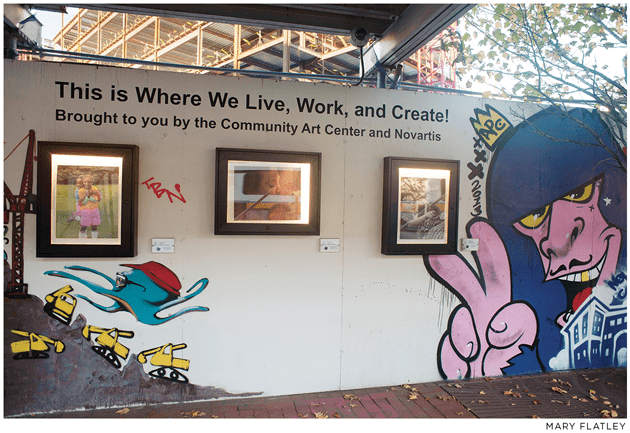 But then the quest for expensive dumplings takes a disturbing turn. The numbers are down in most of what the city planners call "creative experience establishments" in Central. Scout Cambridge asks the owner of the "sleek Asian spot" Moksa for his thoughts. "Our dining room clientele is mostly in the daytime. At night there's not a lot of activity," he replies. "When I was young, the square was vibrant. There was so much stuff going on."
What happened to the vibrancy? Homeless, drug-addicted, poor people began hanging around the benches and plazas, creeping around our creative peripheries, jawboning, congregating outside convenience store windows waiting for the lottery numbers, smelling bad, tripping strollers: the jerks.
Central Square may now be R&D headquarters for a global cartel of life-science and tech corporations, but it's also home to many of the city's poor. They hobble down the same sidewalks that front Patty Chen's Dumpling Room in order to partake of a buffet of government and social programs, from WIC (Women, Infants, and Children) to Loaves and Fishes at the First Korean Church.
Like the innovation meetups dotting the neighborhood, mentors and support personnel gather around these social services, but the conversations are more about the present-tense struggle to survive than the brave new world—more tea and sympathy than beer and bullshit. Nor will the religious poor be easy to send packing. The Salvation Army owns a building in Central Square. So do the YWCA and YMCA.
Leave it to Scout Cambridge and longtime small business owner Suzan Phelps—the proprietor of a sex-toy emporium called Hubba Hubba—to lay it on the line. "There are still too many bums around," Phelps told Scout. "There are people on drugs, people who don't work, and they roam around the square begging or sleeping on benches. And that keeps people away. It keeps money away from Central Square."
Whether Cambridge will remain progressive enough to protect its shelters from the housing emergency remains to be seen.
The person behind Scout Cambridge, Holli Banks, is a creative-class entrepreneur transplanted from New York to Somerville, a city adjacent to Cambridge, in 2008. When she couldn't land a job, she didn't hang out on the street like a vagrant, for goodness' sake: "I thought, I better come up with something to do." She decided to give a glossy magazine a whirl, winning over independent advertisers with obnoxious cover stories like "At a Crossroads" by following the formula crystallized by city monthlies in the 1990s boom: sell transient and dislocated professionals their new metropolis as a lifestyle accessory.
Somerville's squares and enclaves now host outdoor arts and music festivals and offer delicious ethnic fare—and, yes, cupcakes. The town—whose previous claim to renown (or notoriety) was spawning the entrepreneurial, if distinctly unvibrant, career of recently convicted gangland murderer James "Whitey" Bulger—is now the sort of place where creative people can live. The new residents are doctors, lawyers, businessmen, scientists, immigrant professionals, and university department heads—you know, the kind of persons who know nothing about conniving.
As the yuppies came and domesticated the place—well, maybe you can guess what happened next. In 1997, Somerville's Davis Square made Utne Reader's list of fifteen "hippest places to live" in the United States or Canada. And that was the beginning of the end. In 2012, local pol Frank Bakey provided NPR with an admirably clear statement of this civic renewal policy and then thoughtfully illustrated the ground-level prerequisite for innovation: "We don't have the crime rate that we probably had years ago . . . because the troublemakers can't afford to live here anymore." What can you do?
If you are Suzy Phelps, you pick up your bag of tricks and skedaddle. In October 2013, soon after her photograph appeared in Scout Cambridge and arrived in everyone's mailboxes, Hubba Hubba was washed away in a tide of Innovation Economy payola. The store's landlord, the Dance Complex, suddenly decided to upsell the space long stacked with whips, chains, and other delectables. And so, like the opening act of a countercultural war of all against all, the Dance Complex gave Hubba Hubba until Halloween to wind up its affairs. The Dance Complex explained the eviction notice with a logic that might have served as Hubba Hubba's motto: "We saw a demand and wanted to fill it."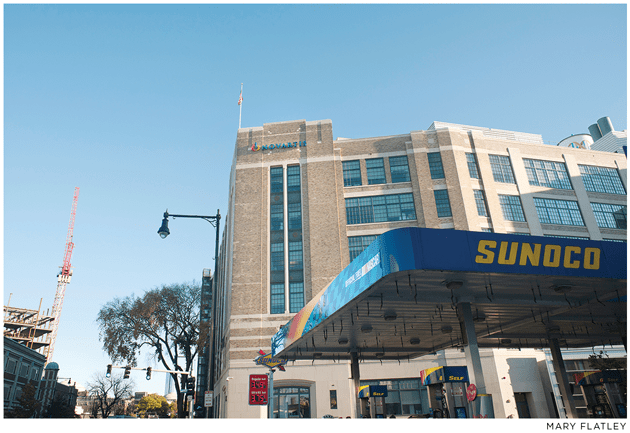 Museum of Activism
Cambridge is still made up of progressives and liberals, as opposed to, say, conservatives. The city is liberal in the sense that it has restaurants with names like Patty Chen's Dumpling Room and the cosmopolitanism contrived for them tastes bold and exotic on the tongue. It is liberal in allowing life-science capitalism to run biomedical laboratories that would be illegal in some countries and unseemly in some U.S. states. And Cambridge, alas, is liberal enough to listen to a dildo retailer slagging the poor in a fake magazine that's not so obliquely campaigning to purge them. Both the retailer and the magazine are independent. They can be assumed to be progressive.
Whether Cambridge will remain liberal or progressive enough to protect its pantries, shelters, needle exchanges, and mental health programs from the housing emergency remains to be seen. I'm hopeful. Mercy for the poor won't easily be defeated in a city with a tradition of it. But with a civic vacuum opening up between their remnants and the transient professionals, what will liberalism be good for, other than making development deals?
The suppression of public discussion is more effective than you might think possible in a city where 44 percent of adult residents have a graduate or professional degree. In fact, there's barely any journalism to help us figure out the basic details of what's happening in the entrepreneur's republic, much less what it portends. The liberal consensus believes in the higher education industry. Higher education wants innovation, not complaints.
And what does journalism want? Well, the wild ride of innovation is covered by the region's only remaining large newspaper, the Boston Globe, with hugs for the industry's miraculous discoveries and supercool events. Here's one entirely representative headline from the Metro section: "Flat Out, Totally Wired: Computer Hackers Match Wits at MIT, Yielding Ingenious—and Wacky—Creations." Meanwhile, the paper's Innovation Economy and The Hive blogs serve up "some advice for entrepreneurs, Google style," to pick a typical example from the relentless torrent of boosterism. One day this winter, a story about how the city's digital entrepreneurs use printed business cards made the front page. ("Many people find it more efficient to slip a card to someone's hand. Sure, the data have to be input to a device later, but some consider that extra step a plus.")
There is still a lot of good and necessary reporting in the Globe, some of it reflected in parts of this story. Yet this reader doesn't exactly get the sense that skepticism is high on the editorial agenda, especially as new owner John W. Henry's why-I-bought-a-newspaper essay in October 2013 dutifully trotted out the Innovation Economy's talking points. Henry, who is also a principal owner of the Boston Red Sox, promised to "make the Globe a laboratory for major newspapers across the country," and to "capture the vibrancy of a region on the move," and, of course, to "seek to be at the cutting edge of solutions, cures, accountability, and results."
The kind of activist journalism that wants to grasp the root of conflict came to life in Boston around Columbus Day 2011, after the first Occupy Boston protesters in Dewey Square were arrested and dragged off to jail. Inspired by this show of force, and by the example of the Occupied Wall Street Journal, the group called its publication the Occupy Boston Globe. That morphed into the Boston Occupier, which printed and distributed 25,000 broadsheet copies on November 18, 2011.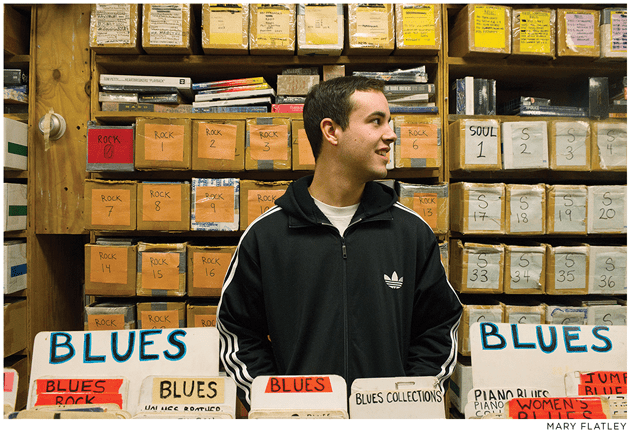 The Boston Occupier financed these early issues with a fundraising campaign that netted all of $9,355, and then fell victim to attrition among its all-volunteer collective, halting publication in April 2013 after printing fifteen issues. It was a significant achievement, given the panic of the Innovation Economy's major institutions. (Harvard didn't exactly use OWS as a teachable moment. After the first tents went up in Harvard Yard, the school massed police officers at every gate and established security checkpoints that turned back everyone not carrying some form of Harvard-issued identification.)
The Occupier met its fate one month after the Boston Phoenix, by then the region's oldest alt-weekly, ceased publishing after forty-seven years, citing financial losses too big to sustain. WFNX, the Phoenix's radio station, also closed.
Those media enterprises failed because they were organized around coverage of social problems. BostInno, a startup media website whose story is their polar opposite, has succeeded because it offers little to anybody who is not part of the Innovation Economy. It's a fast-moving mouthpiece that publishes trend-spotting nuggets about venture capital and tech investment and duly recites the crazy doings of the region's totally awesome entrepreneurs as if economic affairs were a football game and journalism were a matter of jazzing up press releases.
The site's founders started out in approved Zuckerstan fashion, in an expensive college dorm room, and then scored an investment from one of their wealthy parents. BostInnowas advised by BuzzFeed's founder, himself a graduate of the MIT Media Lab, and rather quickly realized the dream of every startup by getting itself acquired by a big corporation. The franchise is now moving into the high-end events business with "BostInno's Boston Fest"—and expanding to a city near you.
What does the new digital media want? Office space, for starters.
BostInno accepted office space from MassChallenge, a Boston-based startup accelerator ("we help entrepreneurs win") even while covering events held by MassChallenge. TheBoston Globe's Innovation Economy columnist is among the organizers of "Unpitch Boston," a free conference for venture capitalists and entrepreneurs.
Conflicts of interest are a way of life in the new media future. The Innovation Hub radio show at WGBH, the region's largest public radio and television broadcaster, is underwritten by the Harvard Innovation Lab. The show's chirpy sycophancy trails entrepreneurs as they romp through public education, opine on the "competitiveness" of American workers, ponder their own nervy creativity, envision "America in 2050," and establish hot spots like, well, the Harvard Innovation Lab, which is conveniently located in Allston, just down the street from WGBH's studios.
Innovation Hub was on hand to celebrate its underwriter's opening day in 2011 and to interview the dean of the Harvard Business School as he recited the officially approved lessons from Mark Zuckerberg's return to the campus earlier that same year. "When [Zuckerberg] came here and he visited," the dean said, "I think he reimagined in his mind, he wondered, at least it made me wonder whether, if this space existed, and if he'd met the right kind of people here, could he have started Facebook across the street or could he have started it in Kendall Square?"
All well and amusing, this incantation, but the Innovation Economy's monopoly of opinion means unresolved contradictions stay unresolved. Consider the city's vote to approve Harvard's new Allston campus. Here's Harvard president Drew Gilpin Faust after the unanimous vote:
Our plans came together drawing on the contributions of many people, over many meetings, over months and years. The Harvard Allston Task Force deserves special recognition and thanks for their guidance, input, and critical questions along the way.
Now here's a member of that Harvard Allston Task Force, speaking on the same day:
Harvard handles development with an exclusive focus on what Harvard thinks is best for Harvard. There's never any public discussion on what does the neighborhood need.
This discrepancy could explain why Harvard doesn't teach journalism to its undergraduates. Why should it? It's not as if the students demand a robust independent perspective (as a glance at the Harvard Crimson can attest) or the Innovation Economy requires one. The most frequently awarded grade at Harvard is A, and Introduction to Computer Science has become one of the most popular undergraduate courses. "I think everyone is interested in how you make large amounts of money," the class's teaching assistant said on the magical day Zuckerberg dropped by to chat with the students, a comment that also explains the collective swoon of the city's liberal newspaper, blogs, TV, and radio programs.
Or as Alex Jones, director of Harvard's Shorenstein Center on the Press, Politics and Public Policy told a reporter in 2009 after being asked about the steep decline in interest among Harvard students in journalism as a profession, "It's purely [a] matter of economics, because they're not stupid." Jones neatly points up how the innovator's dogma has eclipsed the culture of principled activism. No, really, follow the money.
The One-Hundred-Million-Dollar Question
The People's Republic of Zuckerstan might have less and less room for poor or middle-income families and no interest in alternative models of development, but innovation economies are fine places to park overaccumulating capital. The city, indeed, could hardly be more hospitable to titans of business. That the billionaire investor Carl Icahn exerts such a heavy influence over Cambridge biotechs Biogen Idec and Genzyme is some kind of strange for sure. Once upon a time, the liberal city could join the nation in reviling Icahn's brand of speculation as noxious corporate raiding. Now, as innovation whittles away the social basis of activism, Carl Icahn is celebrated as an "activist investor."
Or consider the fossil fuel billionaire David H. Koch, enemy number one in the minds of progressives across the country for, among other things, funding organizations that deny global warming. Koch sits on the board of public television broadcaster WGBH and underwrites NOVA, its science program—and that's the least of this entrepreneur's involvement with the Innovation Economy.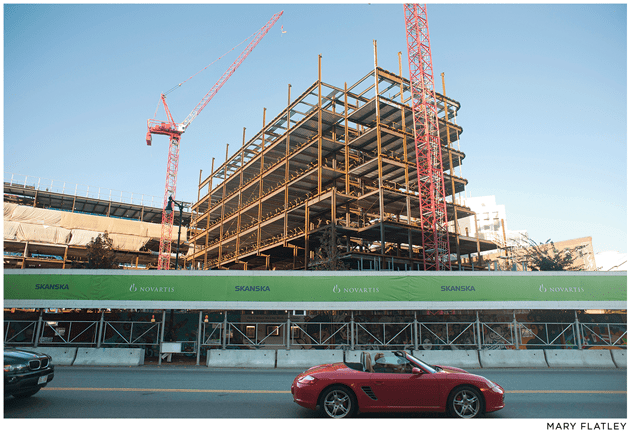 Over at MIT, the David H. Koch Institute for Integrative Cancer Research is an especially high-minded startup that owes its existence to a $100 million donation from, yes, David H. Koch. The March 4, 2011, dedication ceremony was headlined by MIT's then-president Susan Hockfield, who locked eyes with the robber baron and said the following: "David, as you know well, I rarely am at a loss for words, but I simply cannot express sufficiently my gratitude for your vision, your generosity, and your enthusiasm. Thank you so much." The audience gave him a standing ovation.
Meanwhile, down in Washington, D.C., Koch Industries was lobbying the U.S. Department of Health and Human Services not to add formaldehyde to the government's list of "known carcinogens." One of the country's top producers of formaldehyde is Georgia-Pacific, which is a subsidiary of Koch Industries. Koch Industries ranks high among the country's worst belchers of dangerous chemicals. David Koch's battle for his company's right to pump a cancer-causing agent into our homes had been years in the making, and isn't exactly over.
How gratifying for him to attend the dedication of an institute that bears his name and to bathe in all that gratitude from the first woman president of his alma mater. Just six months before the dedication, Koch had had to quietly discontinue service on a board of the National Institutes of Health after The New Yorker called adverse attention to the conflict of interest involved in his participation. Koch betook himself to MIT, which emblazoned his name on a building.
If David Koch wants to cure cancer so badly, then why don't his companies stop mass producing the chemicals that are known to cause it?
"I read stuff about me and I say, 'God, I'm a terrible guy,'" the baron told the New York Timesabout his prestige in Cambridge. "And then I come here and everybody treats me like I'm a wonderful fellow, and I say, 'Well, maybe I'm not so bad after all.'"
Some sort of pragmatic calculation is the only attitude the city's liberalism permits in the presence of philanthropy as high finance. Choke down the paradox of cancer-causing Koch Industries donating a wad of money to a maybe cancer-curing Koch Institute. Weigh the costs and benefits. On one side, there's the man's tax-deductible donations. On the other, there's the company's profits as one of the largest toxic polluters in the country. Do the math, and see who comes out ahead.
Only, if you are one of those poor unfortunates of contemporary history who was frankly never very good at math, or someone for whom corruption kindles a sense of indignation—rather than quiet, agreeable resignation—or maybe a person whose head hurts when encountering acts of staggering cynicism, well, then, you have a problem: If David Koch wants to cure cancer so badly, then why don't his companies stop mass producing the chemicals that are known to cause it?
Since this question is typically considered out of bounds in the Innovation Economy scheme of things, and since so many of its advocates are wealthy, educated, liberal do-gooders, you have to wonder if we aren't a bit gauche even to think of it. Maybe the question is silly, a relic from pre-innovation days. Maybe commodified science and technology do, in fact, contain the ethical resources for self-correction in the matter of global warming, and the entrepreneur's moral isolation isn't as desolate as we've made it out to be. Maybe we are too quick to find fault with the angels and barons of the age, too harsh in our suspicions. Wonder, not skepticism, is the preapproved response to striking displays of innovation, after all.
Then there's the memory of Aaron Swartz to remind us what can happen when skepticism takes a wrong turn down an alleyway in Zuckerstan.
Swartz, you might recall from the storm of grief that followed his untimely death in January 2013, was a young computer programmer, entrepreneur, and activist on fellowship at Harvard back in 2010. He might have chosen to become a model citizen of Zuckerstan, had he not gotten himself interested in such supposedly obsolete issues as the corrupting influence of money on scientific research. "We need to download scientific journals and upload them to file sharing networks," he once wrote. "We need to fight for Guerilla Open Access."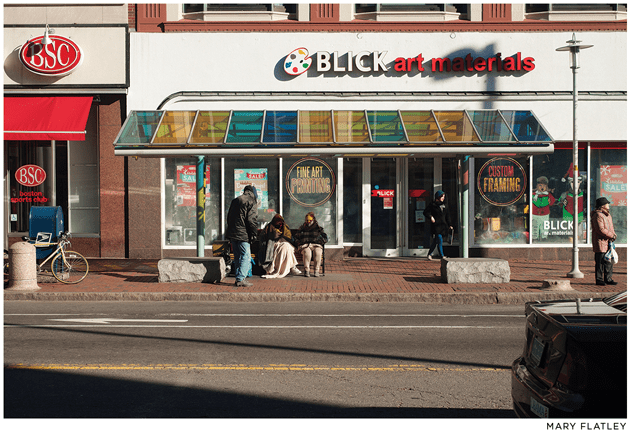 Swartz's alleged crime, which allegedly took place at MIT in 2010, was evading its network security for the purpose of downloading about 4.8 million journal articles from an academic database. Swartz, that is, had a distinctly Zuckerstanian flair for accessing unauthorized data sets. But unlike our hero Zuckerberg, he was not let off with an administrative warning from confused but tolerant elders, and he did not then start up a social networking company or see his hacking made into a celebrated movie.
Instead, two MIT police officers and one U.S. Secret Service agent chased Aaron Swartz into a parking lot near Central Square, cornered him, and arrested him on January 6, 2011. Swartz was arraigned in Cambridge District Court and charged with two felonies of breaking and entering MIT's campus. The Superior Court for Middlesex County indicted him on six more felony counts, including "accessing a computer without authorization" and larceny.
Then the U.S. Attorney's Office in Boston, getting in on this action, brought a more terrible federal indictment down on the head of the twenty-four-year-old. Swartz was rearrested, held in lockup, fingerprinted by the U.S. Marshals Service, and rereleased.
In September 2012, he was reindicted, and now there were thirteen felony counts, including wire fraud. The negotiations that proceeded were complex. But the charges, which at one point carried a maximum penalty of ninety-five years in prison and $3 million in fines, were clearly meant to terrorize him.
Swartz committed suicide in his New York apartment. And though the U.S. Attorney's Office went off to assail other bogus threats to the sanctity of scientific data on behalf of the business class, MIT was forced by public opinion to investigate what, if any, responsibility it had for his death.
Their answer, as you might expect by now, turned out to be none. The internal investigation concluded that the institute's leadership had adopted a clear and consistent policy of "neutrality" as Swartz's case dragged on, that it had preferred to see itself as a bystander rather than as victim or advocate. MIT, the investigation concluded, had cooperated fully with the federal prosecution, turning over evidence even before receiving subpoenas. But the school's administration formed "no opinion" on the merits of the case.
Swartz's longstanding ties to MIT were well known to the administration. The internal investigation mentioned his frequent presence at the MIT Free Culture Group, his participation in the MIT Mystery Hunt puzzle competition, and his speech before an audience of the MIT Computer Science and Artificial Intelligence Laboratory. His father was a consultant at the MIT Media Lab. When he was eighteen he was "accelerated" by the entrepreneurians at the "Y Combinator" boot camp, which took place on the campus. Arriving in Cambridge from California in June 2005, he described his first impression of the campus on his personal blog:
In one of the meeting rooms I found a large box someone had built out of wood, the inside covered in foam padding. Inside was a strange-looking device, a switch, and a bunch of wires. Outside was a light (currently off) that said "DIRECT FROM THE FUTURE". I tried figuring out what the box was, with little success. The whole thing felt like a puzzle out of Myst or something.
A puzzle this future would remain. Swartz's family repeatedly requested that MIT say something on his behalf during the long prosecution. But MIT refused even to announce that it had adopted neutrality.The internal investigation candidly explained why the tight-lipped doctrine held through the tumult that followed the shocking end:
There were very few direct contacts made with the MIT administration to encourage a change on the part of MIT from neutrality to advocacy. MIT's student newspaper, The Tech, reported regularly on the progress of the case, but this did not prompt any editorials or opinion pieces before Aaron Swartz's suicide. Nor did people who later criticized MIT for not advocating for Aaron Swartz approach the MIT administration making the case for MIT to advocate for him before his suicide.
In evaluating this passage, it may help to remember that Swartz's two-year prosecution took place at a time when hundreds of millions of dollars were filtering into Innovation Economy institutions. His alleged downloading of academic articles may have seemed innocuous to outsiders, but the lords of these networks knew better. In a climate of imperial expansion, his infraction was too trivial to let go.
Every institution that intersected with Swartz's case in Cambridge, in fact, was a member of the Innovation Economy, but nobody had more to lose over those few years than MIT, which proceeded to overtake Harvard as the number-one-ranked university in the world. That MIT climbed to the tippity top of the influential "QS World University Rankings" from 2011 to 2013 is a testament to the strategic value of science and technology deployed in startup cities around the world, as well as the institute's ability to recruit major donors like David H. Koch to the cause.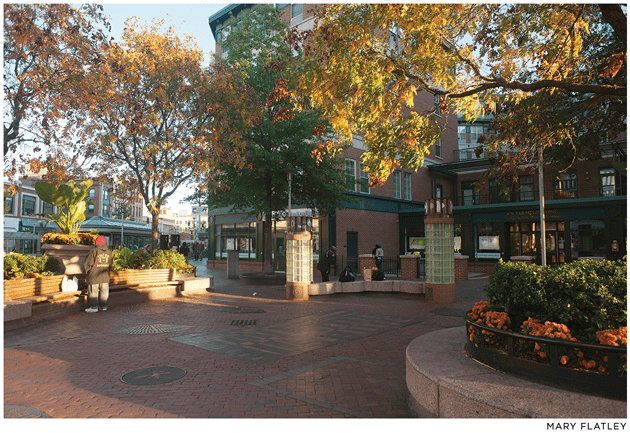 And it's why, confronted by a tragedy that unfolded right under its nose, the number-one university in the world can complain that nobody lobbied it hard enough to make it do something. Taking a stand for Swartz would have dragged MIT down from its rising position in the Innovation Economy's fable of classless utopia. Advocating leniency for this particular rule-breaking entrepreneur would have mired the school in the murky world of conflicting interests. How much safer to do nothing.
What does the Innovation Economy require of MIT? To be a global pacesetter in entrepreneurship? Check. A local real-estate kingpin? Check. An institution that's prepared to discuss what philanthropy is really for, how cultural power masquerades as "economic development," or why Aaron Swartz was prosecuted? No, not really.
The school's leadership has long served patrons in the U.S. military and corporate boardrooms. During the Cold War, MIT virtually turned itself into a Pentagon division, providing the basic research and personnel for strategic radar systems, guided missiles, and the Apollo space program, spinning off companies and excelling at the strategic disciplines of electronics, aeronautics, materials science, and physics. In the 1950s the school became a byproduct of defense spending, and very much available for infiltration. The Center for International Studies (now part of the political science department) did who-knows-what for the Central Intelligence Agency, its primary sponsor.
But science is now migrating, like every other field of marketable intellectual endeavor, to the donor class. And to this shakeout MIT's leadership brings a noticeably fine track record of adaptation, one that guarantees large parts of Cambridge will be the intellectual property of the 1 percent, the progressive city sponsored by Pentagon spending. The military and intelligence establishment, the tech industry, and MIT have been hand-in-glove for ages, and you can bet they are watching us from Kendall Square, neutrally.
You can almost admire the technical consistency of the respective applications of institutional "neutrality" to the cases of David H. Koch and Aaron Swartz, the celebrated polluter and the despised democracy activist—the walking, talking conflict of interest and the scholar of conflicts of interest. That one went away smiling and the other wound up dead has nothing to do with MIT's core business, which is to innovate.
The Soul of Startup City
And so we arrive at the ultimate contradiction of the Innovation Economy's mode of development. As we have observed, this new republic depends on reengineering the cultural environment. For the market's winnings, a frame of acceptance must be created to justify the community's losses. Irony must erode, so that corporate entrepreneurs can be presented as nonconformists; nonprofits must absorb surplus profit, so that hundreds of millions of dollars in government payments, grants, and contracts, along with tax incentives, subsidies, and exemptions, can be banked for subsequent transfer to the market; even the old method of "clustering" must sound futuristic, so that its actual origins in socialist redoubts like New York's Greenwich Village (today an innovation hub, naturally) can be forgotten.
The Innovation Economy necessitates such cultural changes, but it offers no independent argument for freely choosing them. Instead, the manifest destiny of business touts innovation as if it were synonymous with progress, rather than one among its many necessary qualities, and leaves it at that.
So you can be sure the next time a wealthy college dropout like Mark Zuckerberg filches a banal idea from a couple of wealthier classmates and wants to beat them to midmarket, he need not ride the golden carpet to Silicon Valley and let Stanford or Cal Tech garner all the credit and cash. In Cambridge, teams of elites will regulate the general production from startup to corporate behemoth and make it easy for him to optimize the same thing today that he optimized yesterday. The new man of the Innovation Ideology will be free to code in the morning, head to the laboratory in the afternoon, and brag after dinner, without ever having to read books.
Innovation for what else? Not for art, literature, music, history, dance, sculpture, painting, philosophy, religion, poetry, or drama, the traditional means by which a diverse community grows conscious and formulates its standards of value. The governor of Massachusetts won't be stopping by your office to encourage you in your efforts at moral reasoning about philanthropy, the state legislature won't be allocating millions of dollars in matching grants for your next novel about how the homeless live, and the websites that have replaced the newspapers won't report on your subway concert. And there is no good reason for this, except this is how business wants it.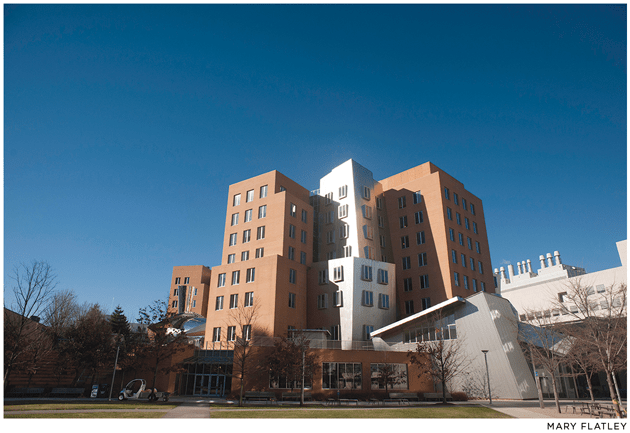 Nor should you expect a place to live where you can pursue such pointlesspassions after you've passed through the Innovation Agenda in the public schools, gawked at the robot zoo in the field house, and suffered through your youthful set-tos with tech-toting police. In the system of rewards and incentives surrounding the Innovation Economy, talent in the fine arts has no place, and criticism is a special order of dubious. It's not creativity unless it employs cutting-edge technology, recruits a big donor, or rewards investors.
Actual progress would make community benefit the objective of urban policy, rather than the unreliable byproduct of commercial competition, and remedy the dangerous cultural imbalance by universalizing the principle of subsidy.
Something like Bertrand Russell's "vagabond's wage" proposal might perform this trick. Under Russell's proposal, every person would be entitled to a wage "sufficient for existence but not for luxury," in an amount large enough to remove the possibility of being distracted by hunger yet small enough not to encourage excessive idleness. "It is true that poverty is a great evil, but it is not true that material prosperity is in itself a great good," Russell wrote. Those who understand why this is so are those from whom our most lasting discoveries and large ideas may come. Meanwhile, some form of basic income guarantee could reduce homelessness and lessen the unnatural stress of salesmanship (fewer people would feel pressured to prematurely test their talents in silly competitions). And there would be time to insist on our collective right to the city.
The mechanism for funding a basic income guarantee could further entrench the very form of exchange that the Innovation Economy model is rigged to win, if the money means limitless commercial development. A lovely garden here for a crappy park there. A lotta condominiums here for a percentage of affordable units there. Millions of square feet of public space permanently enclosed in security-patrolled office parks, in exchange for a periodic festival.
And what if Russell's proposal or something like it were to succeed by spinning out a Cambridge cultural renaissance in music, art, film, literature, painting, and poetry? Then what? Another countercultural bohemia could serve as the avant-garde of consumerism, developing all the new forms of expression and pleasure to be simulated by the next generation of corporate technologists and monetized by the next generation of investors. But at the very least, a campaign would highlight the entrepreneur's utter dependence on unpaid labor and public goods and give us time to come up with alternative forms of social change that do not continue to deplete the diversity of the human environment.
Every city changes in multiple ways at once, of course, and, if you hang on long enough to see entrepreneurs blow in and out, you can find surprises lying between the feeders and the leaders. This much we discovered during a routine conversation with our landlord several years ago.
For a long time we had assumed he charges us abnormally low rent because he is one of those bleeding-heart liberals for which the city is famous. Not exactly, as it turns out.
We learned his father and mother had immigrated to Cambridge from Portugal half a century ago, back when a robust working class called the city home. Eventually his parents realized their portion of the American Dream, even saving enough money to purchase a small residential building in which generations of families, including ours, went on to live happily on the lower end of the scale. All along, they kept the rent affordable.
Now they're gone, and their kind of Cambridge is also going; still, their son—our landlord—upholds family tradition and refuses to give in to greed.
You know, that sort of thing may save this city yet.
---
[*] Feld started out as a self-described "hard-core nerd" in Cambridge and then journeyed to Boulder to become a nerd leader there. He recently made the nerd news by purchasing a house in Kansas City and lending it to the local startup community. His Startup Revolution book series includes a title that should be required reading for every urban planner thinking of inviting an Innovation Economy to set up shop within the perimeter: Startup Life: Surviving and Thriving in a Relationship with an Entrepreneur.
[**] Consider Cambridge Community Television (CCTV), whose three excellent channels exist due to the 5 percent federally mandated franchise fee on cable operators. Speaking to me of her long career in community television, CCTV executive director Susan Fleischmann said she sees "the potential for this industry to have been born, grow, and die in a single generation."