Condo-Maximum
Bland, shoddy architecture in "the decade of the city"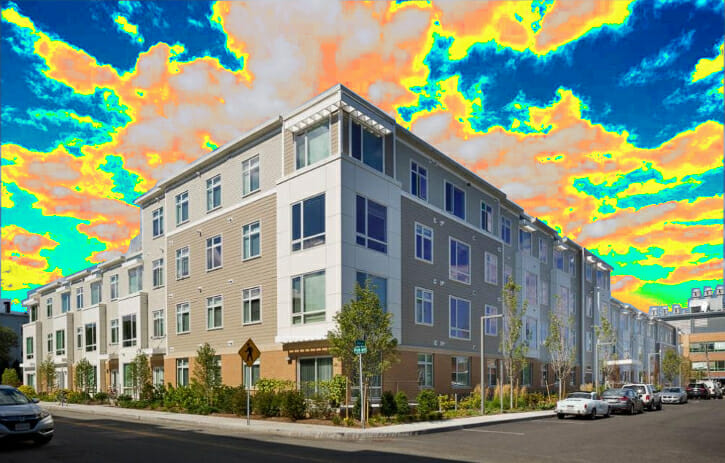 Boston, like many cities around the country, is repopulating. After a half-century of urban flight, we are now deep into what the Brookings Institution has proclaimed "the decade of the city." Population growth in urban cores is outpacing that of the suburbs, and not just in the ascendant Sun Belt. So-called legacy towns like Philadelphia, Minneapolis, and Atlanta are approaching their mid-century population peaks. In 2018, there are more people living here in Boston than at any point since the '60s.
The most obvious sign of the changing times is those condos, all of which ascribe to the same aesthetic: a melding of neutral tones and glass.
But what, exactly, is rolling in along with that tide of bright young coders and consultants? Most of them were raised in the suburbs they now shun, and unsurprisingly the slate of newfangled necessities that have sprung up to serve them replicate the rhythms and comforts of life in the sprawl. This is the age of the "small but mighty" Target, the first of the big box stores to shrink itself to scale in order to gain proximity to all the sparkling new condos. There's always plenty of Ubers and Lyfts idling outside those Targets, called in by the ex-suburbanites who are much more comfortable sitting in traffic than braving the hoi polloi of public transit on the select occasions when they choose to venture out into the cities they're so intent on rediscovering. And those time are few, as now even the most upscale meals can be delivered— Foodler! Caviar! Seamless! Zomida!— and there's a home-service app —Washio for laundry! StyleBee for haircuts!— for just about everything else their mothers used to take care of.
For the rest of us, the most obvious sign of the changing times is those condos, all of which ascribe to the same aesthetic: a melding of neutral tones and glass. Examples abound, everywhere from Crown Heights, where sleek, supposedly modern buildings are being wedged between pre-war apartments, to Albuquerque, where pueblo architecture is being shunned in favor of blah minimalism. Here in my neighborhood, Cambridgeport, the representative version of this development goes by the name of Chroma.
Cambridgeport is old school New England: clapboard homes, brick sidewalks, and shady trees. The neighborhood skirts the Charles River between MIT and Harvard, and the population has long been a mix of deeply rooted families and more recently arrived grad students from Asia and Europe. Most of the houses are three stories and hold a couple residences, though plenty of apartment buildings have been sprinkled in over the years, most of them done up in clapboard or brick to blend in as best they can.
Chroma has followed suit, though it's architects could simply not resist casting their façade in alternating columns of grey. The paint job, like everything else about the development, is just a little off. The bricks are pale, rather than red. White, synthetic panels clad the corners, as if the building were in need of a prophylactic. But it's the ground plan that's most perplexing. Chroma is shaped like a U, resembling nothing so much as a suburban motel: each wing is organized longitudinally around negative space fit for a parking lot that, in some minor deference to the building's setting, is being used instead for a joyless lawn. The building itself has been elevated from the sidewalk by a set of stairs just high enough to adjure any notions a passerby might entertain of plopping down for a picnic. A short wall runs the length of the street, too, further bolstering the lot's fortress-like aspect. Most mysterious of all, the rocks that make up the wall appear to have been imported from Arizona.
Inside, the property's managers offer the sorts of perks one might expect of a co-working space. There's a smartphone interfacing system of lockers, a glorified, Starbucks-branded Keurig, a pet concierge, pool tables, and of course, a decorative bicycle. But don't take my word for it: Chroma offers a virtual tour of its common areas, featuring controls, graphics, and a general clunkiness that hilariously mirrors a Duke Nukem video game (charitably, let's assume this is an intentional homage to Cambridge's dweebie side. After all, Chroma proudly advertises the city as the "nerd capital of the world").
The average rent on a one bedroom in Cambridge ranks third highest in the nation, and Chroma is doing its civic duty to drive those prices higher: if you're interested in the "Indigo," "Coral," or "Magenta" floor plan, you better be prepared to cough up $3,000 a month. Chroma's on-brand naming scheme is only slightly more bearable than the one utilized by its sister development in Boston's Columbia Point, Peninsula. There, the nautically inclined accommodation seeker must decide between the "Yacht," "Quarterdeck," and "Scallop." Both buildings are the handiwork of National Development Communities, a local (go figure) firm that asserts its intention "to develop and manage the most authentic and high-quality residential environments." Setting aside that a "residential environment" sounds like the type of thing one provides for a hamster, NDC's invocation of authenticity is a curious one. At Peninsula, it apparently means eschewing the area's working-class Irish reputation in favor of the aspirational WASPiness of Nantucket. At Chroma, it means . . . colors?
Ultimately, though, the trouble with Chroma is none of these peculiarities. The building is simply catering to the foibles of the contemporary nouveau riche. Chroma's disruption of the neighborhood has less to do with its pandering to the ex-suburbanites it hopes to attract than to the resolutely tone deaf approach to development that it embodies. This is not an urban apartment building. The decorative bicycle notwithstanding, it has been scaled, planned, and outfitted for the very suburbs its inhabitants have fled. The clapboard and the not-quite-right brick is an attempt to integrate the unintegrateable, to trick the eye into seeing a building that belongs.
Chroma is of a piece with what is happening in the broader neighborhood. Next door is the Sidney Research Campus, a complex of laboratories and offices that wouldn't need any modifications to be airlifted to an office park in Chicagoland, Wichita, or Phoenix. It's bland, but it certainly fits the dominant mode of the formal industrial zone that runs between Cambridgeport and MIT, where warehouses that otherwise might've been repurposed as artist or event space are being replaced here and there by slick, greyscale offices, none more than a few stories tall. All of this in a zip code with a population density equivalent to San Francisco's.
---
Neighborhoods, of course, change. And they should. While Jane Jacobs is rightly celebrated for saving Greenwich Village from being consumed by an expressway, it's now impossible to ignore the fact that her preservationist vision's triumph created the untenable conditions similar neighborhoods across America now face. Living cheek-by-jowl with one's fellow man was considered, in Jacobs's time, impractical, frivolous, and outdated. But for those of us who grew up in the sprawl, the prospect of an urban stroll to a restaurant that stays open later than IHOP has proven a lethal alternative to the previous generation's daydreams of two-door garages and cul-de-sac quiet.
But as habits change, so do prices. The people chose Greenwich Village, and thus the oh-so-glorious market dictated that it would be a place only millionaires could afford to live. It's as walkable as it has ever been, and quite a bit more pleasing to the senses then it was even in its '50s heyday. Yet walking its streets now, it's impossible to deny the impression that Jane Jacobs saved the Village so that it could be torn apart by money instead of sledgehammers.
And that's why, like it or not, we need developments like Chroma— and lots of them. Chroma's ugliness is unconscionable, but privileging aesthetics over affordability is exactly what ruined the Village (and San Francisco's Mission, and Chicago's Wicker Park, and D.C.'s DuPont Circle, and—). One study projected that Boston will have to build as many as 400,000 new units of housing by 2040 to keep up with demand. It's on pace for half that. The developers have every incentive to build, and to do it as cheaply as possible. If that means they have to reuse a couple ground plans and façades in the process, so be it. But one wonders, what will be left of the city in twenty years, if these are the only types of developments we're willing to build to keep prices from raging even further out of control?
The alternative may be to transform the city even more drastically. Or we could root for the housing market to crash.
It's possible to imagine dense, walkable Boston—a city that checks just about every Jacobsian box—transforming in a few decades into a network of suburban-modeled housing developments, their lots packed together even as each actual building is drawn as far from the sidewalk as possible. Each development will have its own weeknight programming, and each will have its own roofdeck. There will be green space, but mostly in the form of the sterile lawns that delimit the space between mid-rises, no-man's-lands of sprinklers and topiary. It will be pleasant enough to walk, bike, or Uber from these developments to the nearby office parks that are aesthetically similar, though perhaps a little less intent on maximizing window yardage. But that's the only place one will ever have to go, as the rest of one's need and desires will be dutifully handled by Alexa or Siri.
The alternative, if there is one, may be to transform the city even more drastically. Nearby Central Square, long the grungy, avant-garde answer to tony Harvard, said farewell to the club that broke the Pixies, among countless other bands, back in 2015. Three years later, one of those miniature Targets has opened and a slate of residential towers are under construction, the largest of which will hold 306 apartments. Down the road, M.I.T. is planning what would be Cambridge's tallest building, a 500-foot tower with 1,400 apartments. That's a lot fewer international grad students in Cambridgeport, but it's also a lot fewer of their dollars driving up prices. Across the river, they're building towers over the site of the old Boston Garden, over the Massachusetts Turnpike, over South Station.
Enthusiasm for such Manhattanization is decidedly lacking in Yankee-hating Beantown. This is, after all, the sort of city where when old-timers complain about high-rises casting shadows on a public park, the secretary of state gets involved. But towers, at least, are typically built to meet the street, not recoil from it. Boston's artistic vibrancy may flag further in the face of such an acceleration in tower construction, but facing an affordability crisis unlike anything urban America has seen before, our best hope left may be to limit the damage, press for the developers to at the very least maintain the veneer of urban life, least we risk our cities being reduced to dense suburbs, each alike every other.

Or we could root for the housing market to crash. What's it been, ten years? We're due.