A building is considered "ultra-thin" when its width-to-height ratio is at least 1:10. For context, the Empire State Building is about 1:3. The old World Trade Center was close to 1:7.
The new 111 West 57th is about 1:24. This super-luxury project designed by SHoP Architects has the distinction of being the world's thinnest residential high-rise. It towers eighty-four stories and 1,428 feet over Steinway Hall—a landmarked sixteen-story former concert venue and piano store. Well-designed and well-reviewed, this skinny tower is best known for its upper half, which tapers off from its southern exposure as it angles toward the clouds. Whereas other nearby luxury high-rises look like stretched and distended sketches of smaller buildings, or like a single concept whose designer hit copy and paste on one hundred times, 111 West 57th at least meets some minimum standards of decent architecture.
It fails as high-density housing, however. In all, 111 West 57th contains just sixty condominiums. Of those, fourteen are in the old Steinway Hall. So the new part of the building—the assemblage of steel, glass, and terra-cotta that one sees lifting off into the skyline—has just forty-six apartments. The units are between one and three full floors each, with up to fourteen-foot ceilings and floor plans ranging from 3,873 to 7,130 interior square feet. Many have balconies and terraces. By contrast, the average size of a Manhattan rental apartment is 747 square feet. Instead of sixty gigantic condos, this building could fit 442 normal-sized apartments.
Each of its narrow condominiums contains features and fixtures signifying extreme wealth in a city also home to extreme poverty: counters of marble sourced from remote mines; freestanding soaking tubs; and, of course, views of the city that only a tiny few will ever experience for more than a moment in their lives. A three-floor, four-bedroom, five-and-a-half-bathroom penthouse in 111 West 57th is currently listed for $66 million; the cheapest apartment in the building is selling for close to $9 million.
Instead of sixty gigantic condos, 111 West 57th Street could fit 442 normal-sized apartments.
The tower joins seven other slender skyscrapers on Billionaires' Row (and plenty more in the surrounding area). Super-tall, super-thin, super-luxury buildings of this kind occupy outsized real estate in the minds of many New Yorkers. While for some they are just too damn tall, looming over the city and casting shadows over parks and gardens, it is not their height that bothers me. Tall buildings are not anathema to progressive urbanism. In fact, around the world urban skies were for a long time the realm of social housing developments. As Stephen Graham shows in his book Vertical: The City from Satellites to Bunkers, the urban skyline was only more recently "luxified." If I step out onto my fire escape in Hell's Kitchen, I can see five-story buildings like mine that are permanently affordable limited equity cooperatives or rent stabilized tenements; I can also see five-story buildings that are high-priced condominiums and rentals. I can see fifty-story buildings that are subsidized through project-based Section 8 contracts; I can also see fifty-story buildings with condominiums that sell for millions of dollars. Height doesn't cause or even correlate with the cost of the housing nearby. And even if most of the new luxury skyscrapers do look pretty dumb, there are plenty of crappy small buildings all over.
The problem with super-thin high-rises is not their size per se; it's that so few people live in them. Towers like 111 West 57th are an extreme example of vertical sprawl: a spatial and social development pattern normally associated with suburban development, turned upward on its axis. In effect, these are gated, oversized, exclusive single-family homes stacked skyward. They are an ostentatious waste of space, their tenants conspicuously consuming the tremendous chunk of a crowded sky they have claimed as their own.
In some ways, vertical sprawl is a niche problem. Most cities in this country are suffering from seemingly opposite issues. They are seeing inadequate housing production, preservation, or protections, even as their populations grow. Or they are shrinking in terms of both jobs and residents, and their housing is radically deteriorating. But New York is not alone in experiencing vertical sprawl. Reports of this mode of development have popped up in Boston and Seattle, and it is even more common beyond our borders in parts of Vancouver, Belgrade, Sydney, and Hong Kong. While each of these cases is born of different circumstances and results in different constructions, they share a certain smirking relation to urbanity. As high-rise housing, they appear to celebrate concentration, conviviality, and conservation—all the things that make cities work. But as vertical sprawl, they end up reproducing the social and ecological dynamics of high-end suburbanization instead.
In the Heights
The suburban subjectivity is built into the architecture of ultra-thin towers. Because they are so slim, it is possible to create full-floor (or more) condominiums. There may be neighbors above and below you, but there are none by your side. In his new book Icebergs, Zombies, and the Ultra Thin: Architecture and Capitalism in the Twenty-First Century, architect Matthew Soules writes that the ultra-thin delivers "all the asociality of a detached home, but in the sky."
Each luxury high-rise is designed to resemble its own securitized and inward-facing community. As the anthropologist Setha Low has shown, New York City luxury apartment buildings operate under the same basic premise as suburban gated communities, with private security, exclusive pricing, personal workforces, and owner-only amenities walling off their occupants from the surrounding world. By no means the most lavish, the offerings at 111 West 57th are both luscious and bizarre: not only a twenty-four-hour doorman (standard in high-end New York City housing) but also a concierge, meeting rooms, a lounge with terrace, a catered private dining room, a study, a two-story gym, private cabanas, an eighty-two-foot pool, as well as sauna, steam, and treatment rooms. The building is its own exclusive neighborhood.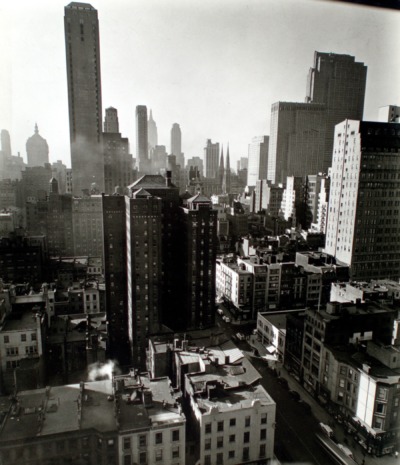 For all their attempts to build a private community, however, condos in ultra-thin buildings are notoriously under-occupied. Soules calls this phenomenon "zombie urbanism": "de facto density that is significantly below designed capacity. . . . exhibiting an eerily low level of vitality in relation to their scale. They are not dead, but they are also not quite alive." The skyscrapers are built in a context of both rising supply and rising demand. Yet they neither add to useful stock nor absorb demand from owners without other places to live. A New York Times study of the ultra-affluent area between Park Avenue and Fifth Avenue from East 59th Street to East 63rd Street found that more than half the homes were empty for most of the year. Sixty-nine thousand new housing units were built in New York City between 2014 and 2017; that year, nearly seventy-five thousand units were purposely unoccupied.
To most New Yorkers, all this waste is a travesty; to buyers on Billionaires' Row, it is a perk. Pretending to be a billionaire, the artist Andi Schmied viewed some of these apartments, as documented in her book Private Views: A High-Rise Panorama of Manhattan (Full disclosure: I contributed an essay to that book, which was recently reprinted online in The Baffler.) In her transcripts of recorded sales pitches, agents again and again highlight the privacy afforded to condo owners because their neighbors are rarely around. Soules quotes something New York State Senator Liz Krueger heard from a Billionaires' Row developer. Attempting to appease her concerns about a project, he said, "Don't worry, you won't need any more services, because the buyers won't be sending their kids to school here, there won't be traffic."
Vertical sprawl also reproduces some of the environmental waste of suburban excess. The apartments share just two walls with neighbors—one of the floors and one of the ceilings—reducing the chances for energy savings. The occupants of ultra-luxury high-rises are not straphangers. In fact, the private lobby behind 111 West 57th is designed with what the developers call "a rare, private, and sheltered porte cochère with custom urn chandeliers, rusticated gray granite pavers, and intricate grill work doors" large enough to fit a vehicle through so that an occupant need not even step onto the street before stepping into their sports car. And if they want to get away from the vertical neighborhood altogether, it would take mere minutes to ride in their private car to their private chopper to their private jet.
421-a Blaze It
Sprawl does not happen because of neutral market conditions. Levittowns do not exist simply because a lot of white workers liked lawns (true as that may be). Likewise, Billionaires' Row does not exist simply because a few billionaires like big windows (true as that may also be). Concentrated real estate investments like these happen because of targeted government actions. Capitalist state planners first guide investment toward particular locations, then use the levers of land use and public finance to ensure those investments turn a handsome profit. As has by now been well-documented, the postwar suburban explosion in the United States was not just an expression of white middle-income consumer preference but of federal, state, and local incentives for upwardly mobile white families. These included direct aid (like the GI Bill and FHA loans), new public infrastructure (like the interstate highway system), and government-backed bank practices to deny mortgages to people of color in cities while extending them to white buyers in suburbs.
Vertical sprawl is also the product of public support. Various aspects of the zoning code make towers like 111 West 57th possible. Plaza bonuses enable developers to build taller if they provide some kind of a public space at the base of their building; structural voids allow them to build higher by not counting spaces in the middle of buildings used to house mechanical features. The most important of these tools is an abstraction known as "transfer of development rights." It was written into the city's original zoning code in 1916 and then expanded in the 1961 citywide rezoning as a means to protect historically significant low-rise architecture in high-rise districts—think of a Broadway theater in Times Square or a historic church in the Financial District. These smaller buildings were on lots whose zoning allowed for much bigger developments. Instead of tearing them down to build a high-rise, the owners could now sell their unused development rights to the owner of a nearby lot, who in turn could build that much taller of a building than zoning would otherwise allow.
On Billionaires' Row, just about all the skyscrapers used this mechanism to reach their soaring heights. Their developers spent years assembling lots and buying up nearby air rights to cobble together enough square footage to compete with their super-tall neighbors. For 111 West 57th, one of the air rights sellers was Steinway Hall, and the new development sutured itself to the historic structure. In some cases, the per-square-foot market value of the air along this strip has risen to equal that of the land below it.
Several of the Billionaires' Row towers (though not 111 West 57th) also availed themselves of New York's 421-a tax incentive, a massive tax subsidy to mostly luxury developers. Like a lot of the city's reactionary housing policies, 421-a was introduced at the state level in the 1970s to incentivize development at a time of capital flight and real estate abandonment. Fifty years later, that logic is anachronistic, but the abatement still stands, now justified by the opposite proposition: that the city has become too expensive to build in without public subsidy. At an estimated $1.7 billion in lost revenue per year, it constitutes the city's single-largest housing program—more than it spends on public housing, vouchers, or new non-profit development. The tax exemption for One57, which contains just ninety-two condos across seventy-five stories, and is a top contender for the ugliest tower on Billionaires' Row, will cost the city $65.6 million in lost tax dollars over ten years. In exchange for this largesse, the developers paid to have sixty-six affordable apartments built in the Bronx. The average cost to the city per unit of affordable housing, then, was $905,000. If the city spent that money to build affordable housing itself, it could have supported more than five times as many low-cost apartments.
Meanwhile, New York's property tax code assesses condominium units as if they were rentals. This massive giveaway to developers and buyers alike results in a far lower tax burden than a working-class non-condo homeowner might pay. According to the city's Independent Budget Office, the tax savings on a condo in One57 or 111 West 57th are worth nearly twice as much as a 421-a subsidy. All this, of course, comes on top of the federal mortgage interest tax deduction, the government's most generous housing subsidy (which, under the Trump tax bill, was reduced but made to be even more regressive). Many penthouse condo owners on Billionaires' Row ultimately pay about one one-hundredth the average property tax rate nationwide.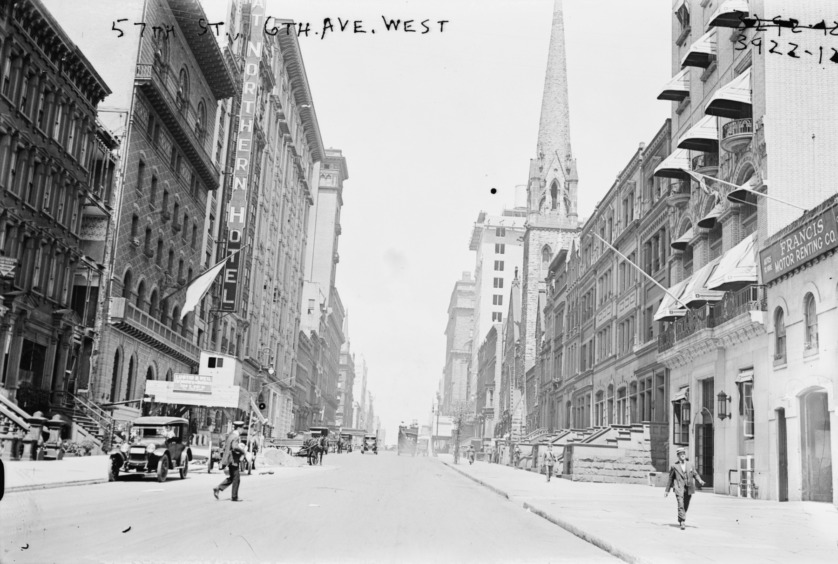 Penthouse and Pavement
While a few billionaires enjoy vertical sprawl, hundreds of thousands of New Yorkers suffer through more than the usual amount of urban crowding. Nearly two hundred eighty thousand dwellings in New York City are considered overcrowded, with low-wage workers doubling or tripling up with others, often in basements and attics of subdivided homes. When the remnants of Hurricane Ida hit in September, at least eleven people died when their subterranean homes became inundated and their exits were flooded. In many neighborhoods—largely Latino and Asian Jackson Heights (Queens), Orthodox Jewish Borough Park (Brooklyn), and Black and Latino Highbridge (Bronx)—around one in five households are overcrowded. Few in these neighborhoods could socially distance at home and many had jobs that stayed in-person throughout the pandemic. As a result, the city's most overcrowded neighborhoods became some of its most severe Covid clusters.
While a few billionaires enjoy vertical sprawl, hundreds of thousands of New Yorkers suffer through more than the usual amount of urban crowding.
The month Covid-19 hit, New York was logging, on average, just over sixty thousand people a night in its homeless shelters. During the pandemic, the city reached a record of more than twenty thousand homeless single adults. Yet on West 58th Street—almost literally in the backyard of 111 West 57th and its sixty condominiums—billionaire condo owners and developers have fought (unsuccessfully, so far) to stop the city from turning the old Park Savoy Hotel into a shelter. That nine-floor building would sleep 150 men.
While urban rents dipped in some markets, ultra-luxury condominiums continue to sell for tens of millions of dollars. In June, a "mystery buyer" purchased two condos in 220 Central Park South for $157.5 million—what the Wall Street Journal called "one of the city's priciest residential transactions of all time." During one week in September, Manhattan logged 38 condo sales over $4 million. For the moment, anyway, conditions seem pretty secure for the .01 percent and their urban investment strategies.
But what if it all came crashing down? What if the investment interest dried up, governments put sufficient controls on capital, or rich people realized that they'd ruined cities to the point they were no longer fun to visit? Could Billionaires' Row then be reclaimed as some sort of Thousandaires' Row? That transformation of space isn't too hard to conjure. It wouldn't be that difficult, for example, to take a seven-thousand-square-foot, three-story, wraparound penthouse and divide it into several smaller but still spacious apartments. It's also entirely reasonable to demand that we take the nearly seventy-five thousand owned but unoccupied apartments in the city and redistribute them to the more than fifty thousand people who are currently homeless.
But it's not happening. Not yet, at least. Why has it been so hard to move from concept to action? First, there remains intense demand for high-end vertical sprawl, and, for a few, absurd returns on investment. Whether you identify as an oligarch, robber baron, finance titan, heir/heiress, post-socialist privatizer, mafioso, or money launderer, there will be a place for you in buildings like this. If they're not going to give them up, we could, of course, just take the empty condos. U.S. law, however, does not make this easy, nor does the army of public and private police undergirding it. The legal system provides some opportunities for public seizure of private property, but it generally values the owners' right to property over the public's right to the city. When such large-scale seizures have occurred in the United States, they've historically been more racist than redistributive. See, for instance, the midcentury urban renewal plans that plowed highways straight through Black neighborhoods in city after city.
Even if the public did get hold of these underused ultra-thins, the buildings would remain inordinately expensive to operate. We could surely scrap the luxury amenities: the golf simulator rooms and art rental services. But the cost and complexities of maintaining a 1:23 ratio, supertall building are not insignificant. It would require either unaffordable rents or skyrocketing subsidies.
But there are movements afoot to turn expensive and underutilized urban spaces into social housing. This year, I worked with others in the housing and labor movements to develop the "Housing Our Neighbors with Dignity Act" (confusingly acronymed as HONDA) and helped get it passed through the New York state legislature. The bill is not aimed at empty Billionaires' Row condos but rather the thousands of hotel rooms and offices that have been sitting vacant and accumulating debt during the pandemic. The New York City Department of City Planning estimates that around forty thousand hotel rooms went "offline" during this time. About one fifth of Manhattan offices are empty. Many of these may never reopen. Hotels require relatively little renovation to become comfortable housing, and some (though far fewer) office buildings are suitable for redevelopment as inexpensive apartments. Under HONDA, the state will finance the conversion of "distressed" hotels and office buildings into housing, where at least half the rooms will be set aside for people currently living in shelters or on the streets, and the other half will be for working-class people who struggle to find affordable housing. The projects will be permanently affordable, rent stabilized (where the law allows), and never operated by for-profit landlords. We tried to open the door to public ownership, but that was a bridge too far for then-governor Andrew Cuomo and much of the legislature.
The HONDA fight showed both what is and is not possible right now. It's still a pretty long reach to go from repurposing failing businesses to expropriating some of the most valuable real estate on the planet. While the tenant and homeless movements have made some important strides in recent years across the country, many cities remain politically dominated by the real estate industry. This is perhaps even more the case with blue than red jurisdictions since Democrats tend to have a stronger hold in cities where real estate is most valuable. Many in the upper echelons of real estate would greatly prefer rule by technocratic Democrats over theocratic Republicans.
But on a more fundamental level, the capitalist state is simply not a neutral terrain on which the best ideas win. Its most basic job is to provide the conditions for capital to flourish without too many people dying in the streets. (Lately they've been fairly lax on the latter goal.) Right now, real estate forms the majority of the world's hard assets and is extremely important to capital's global growth strategy. Sensible as it may be to push back against vertical sprawl, it's not exactly in line with the state's core mission. If the state we live under isn't up to the task, we'll have to heed the advice of the old labor anthem and "bring to birth a new world from the ashes of the old." Otherwise, we will just continue to live in the shadows of hollow high-rises.