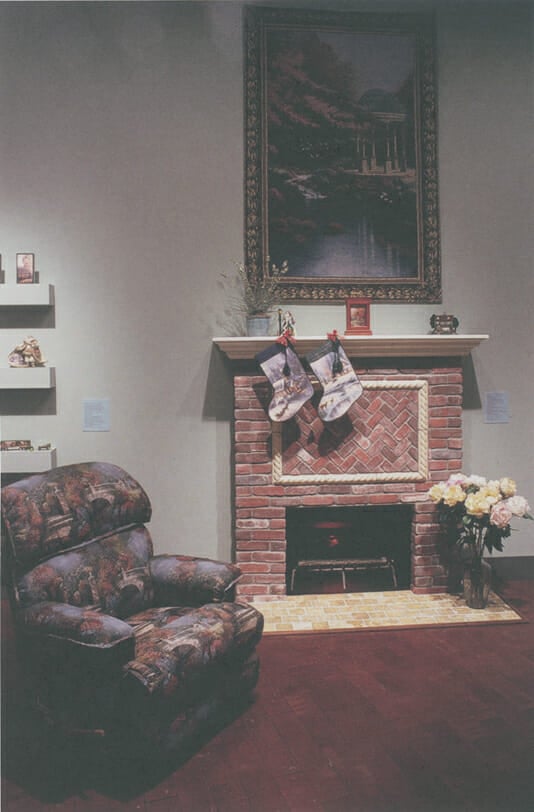 A little castle
With every dream gone. . .
The Christmas Cottage, a biopic about the artist Thomas Kinkade, famous for the quaint-scary-ugly paintings he sells in shopping malls, is a cinematic portrait of the multimillionaire artist as a young man. Kinkade co-produced the movie, which went straight to DVD when it came out in 2008. In a pivotal scene, the budding "Painter of Light," home from college, gathers with his mother and younger brother on Christmas morning.
It's the mid-Seventies in Placerville, California, a small town in the foothills of the Sierra Nevada. The Kinkades are a poor family living in a rundown house. Kinkade's mother, divorced from his father, has lost her job, and because she is generous to other people in the town—"she loaned people money, she gave people things"—and because she refuses assistance from anyone else, the Kinkades are about to lose what they call "the cottage." The bank is foreclosing; they've only got a few days left to pay.
Young Thom—the grown-up artist spells the short version of his name that way—and his brother have been working hard to raise money for their mother's overdue mortgage payment, but they haven't put together enough cash. They can't save the house, so understandably they don't have store-bought Christmas gifts to exchange. Instead, Thom (Jared Padalecki, from Gilmore Girls) presents his mother (Marcia Gay Harden) with a picture of their house he's drawn himself, so she'll always have something by which to remember what they're about to lose.
At that moment, in bursts the rest of the film's cast, made up of character actors from old TV shows—Charlotte Rae from The Facts of Life, the guy who played Bull on Night Court. Are they there to save the day and end the film the way It's a Wonderful Life ends? Not exactly. They don't come bearing money to make things right with the bank the way the townspeople do in Capra's film. They arrive carrying tools and cans of paint. If the Kinkade cottage can't be saved for the Kinkades, they figure they can at least fix it up so it can be sold for more money than it would have if it remained broken down and leaky. They arrive in the nick of time not to save Maryanne Kinkade but to help her flip her house, and possibly to make sure its appearance doesn't drive down their own property values. They quickly get to work, and in a jiffy the cottage looks brand new.
But Maryanne is still stuck in the same sinking boat—it just looks nicer. That afternoon, true economic salvation arrives in the form of Peter O'Toole, decrepit but still more powerful than a troupe of yesterday's sitcom stars. The former Lawrence of Arabia, playing an old, dying painter who inhabits the barn next door, drags himself across the snowy wastes of the Kinkades' yard carrying an unknown masterpiece. At Christmas dinner, the painter, a renowned artist who has retired to Placerville, unveils what will be his last work on canvas. "You will sell it!" he thunders. "It should bring you enough to keep this cottage forever!"
And it does. The Kinkades save their house. The painting, the film's narration tells us, "is now owned by a museum in New York." Never mind that that isn't true—on the DVD commentary track Kinkade says he doesn't know the whereabouts of the painting that saved his childhood home. What's important is that in Thomas Kinkade's originating myth, two things happen. First, he substitutes a picture he's drawn of a house for the thing itself, giving the representation to his mother to replace the real thing; second, it is not community that saves the house, but the sale of a painting, which is worth much more. Young Thom learns a lesson the film pretends it isn't teaching. Community only goes so far; art is money in the bank.
Whoever has no house now, will never build one.
—Rainer Maria Rilke, "Autumn Day"
The day before I saw The Christmas Cottage, I saw Charlie Kaufman's film Synecdoche, New York, which begins with that line of Rilke's heard over a radio. The two films have a lot in common. Both are about painting, theater, old age and death; both are about real estate. In The Christmas Cottage, young Thom paints a mural of Placerville in the town square while his mother rehearses a Christmas pageant at her church; in Synecdoche, New York, a theater director rehearses a play after his wife, a painter of miniatures, deserts him. The Christmas Cottage is a meta-movie like Synecdoche, New York—its alternate title could be Being Thomas Kinkade—but it's a meta-movie for God-fearing grandparents. It ends with Kinkade himself daubing a fleck of yellow on a painting of the cottage whose story we have just seen, the kind of painting Kinkade sells to old people in his mall stores.
Of the themes the two films share, it's real estate that seals the Kinkade-Kaufman connection. In fact, real estate links Synecdoche, New York to Thomas Kinkade's work in general, not just to The Christmas Cottage. In Kaufman's film, one character buys and lives out her life in a house that is always on fire. It's even on fire the first time a real estate agent shows it to her. The fire isn't explained; it's just part of the package. We have to accept it, just as we have to accept that the violent orange glow that emanates from the interior of nearly every house in a Kinkade painting merely indicates that the house is warm and inviting, not burning to the ground.
The appearance Kinkade houses have of being on fire is something that glares from his paintings. It's unsettling, but it's something people who like Kinkade paintings don't notice or don't mind. Others recoil. Joan Didion mentions Kinkade in Where I Was From, her memoir of California. A Kinkade painting, she writes,
was typically rendered in slightly surreal pastels. It typically featured a cottage or a house of such insistent coziness as to seem actually sinister, suggestive of a trap designed to attract Hansel and Gretel. Every window was lit, to lurid effect, as if the interior of the structure might be on fire.
It's a passage that has become permanently associated with Kinkade; it's included in his Wikipedia write-up. On The Christmas Cottage's commentary track, the artist tells a story he'd probably rather have people recall when they look at his work. He says that as the son of a single mother who worked late, he often came home to a house that was dark and cold, especially in winter. The "Kinkade glow" represents what he wished was there instead. He tells the story more than once, which raises a question or two: Didn't he maybe just want to burn the place down? Is his art really a form of arson?
The way Kinkade sells his paintings certainly bespeaks a desire to make people pay. At a time when massive numbers of homes are going into foreclosure all over the country, Kinkade's sales method seems designed to drive buyers further into debt. A big sign in the Kinkade gallery in Placerville promises Wells Fargo Financing—12 months interest-free—$0 down—15-minute approval.
Kinkade's sales system is confusing. It includes licensed gallery stores, their websites, his own website, and other venues as well. As I write this, Kinkade's main website is offering Sizzling Summer Deals—Up to 70 Percent Off! Does that indicate a new understanding of the plight of the people he calls "my collectors," or is it a Kinkadian fire sale intended to unload stock that isn't moving in a bad economy?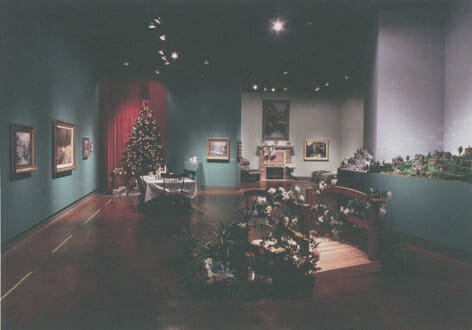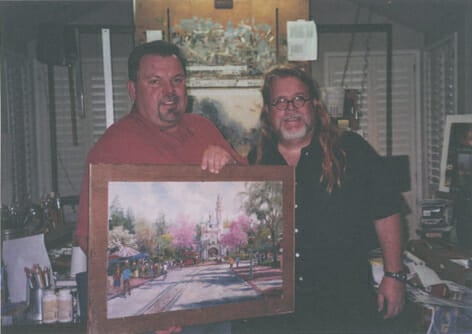 When I visit the Placerville showroom, exalted in the system because it's his "Hometown Gallery," I notice a painting called "Sunday Outing" selling for $150,000. Kinkade's cottage paintings don't usually have people in them but this one does. The family in it looks like they're fleeing a burning house. The price was written on the wall-tag in ballpoint pen over another price that had been covered with Wite-Out. I ask the saleslady working in the gallery if they'd lowered the price of "Sunday Outing," which was not one of the touched-up reproductions Kinkade is known for but an original signed with "John 3:16" next to Kinkade's Norman Rockwell-like signature. "Uh, no," she replies, with just a hint of the scorn you expect in an art gallery. "We actually raised it."
Why not? Kinkade can afford to dream. The one uncheckable factoid everything written on him can't fail to include is that supposedly one in twenty American homes has a Kinkade hanging in it. "What the heck, I'm a romantic," he says on The Christmas Cottage commentary track, explaining that he paints "an art that comforts your heart and reminds you of foundational things, a very sentimental kind of art." When Oscar Wilde wrote that "a sentimentalist is simply one who desires to have the luxury of an emotion without paying for it," he didn't know that someday an American painter would find a way to make sentimentalists pay for it in monthly installments.
The plate-glass display window of the Kinkade gallery on Main Street in Placerville features a big painting called "Nascar Thunder." The painting is detailed and complicated, featuring a termite-like mound of Nascar fans filling stands that recede into the horizon as jets and a blimp fly in formation overhead and fireworks explode in the sky. This painting is in Kinkade's lucrative-commission style, not in the gemütlich-unheimlich style of his cottage paintings. It's a vast fictional panorama that uses items from reality to gauze up a location of idealized American spectacle that never was and won't ever be. Kinkade moves further into the realm of Hansel and Gretel fantasy with his series of Disney commissions, one of which is called "Snow White Discovers the Cottage."
What do these paintings mean in Placerville, a town that has seen better days as recently as 1852, the year the California Gold Rush ended? Outside the gallery, stores sell funny postcards of shacks reading For Sale: California Home Bargain—Only $999,950.00. Postcards like that predate the mortgage crisis; out-of-whack real estate prices have long been a subject for humor at the funny-postcard level of American culture, and so have postcards of dilapidated shacks; you can find them in every state. They keep disaster and unaffordability at arm's length. In Placerville these postcards remind me that the houses Kinkade paints were inspired by ones he saw in this town growing up, and that in a 16-point manifesto Kinkade wrote for the crew of The Christmas Cottage that was leaked to Vanity Fair's website, he advised the filmmakers to "favor shots that feature older buildings, ramshackle, careworn structures," to avoid filming "shopping centers and contemporary storefronts" like the kind in which his paintings are sold, and to "avoid anything that is shiny." In the windows of a nearby real estate agency, half the fliers note the houses for sale are "Bank Owned!!" Half the storefronts on Main Street are for rent. None of them is shiny.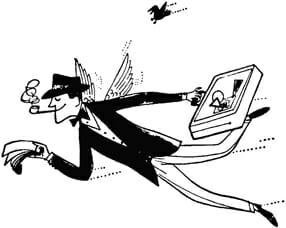 The closest things to outdoor murals in Placerville are the crude mountain-snow and duck-pond scenes painted on the boarded-up windows of a Main Street building that once housed a bar and a tae kwon do school. Both are out of business, and the building is falling down. Across the street an Original Mel's Diner, filled with blown-up photos from American Graffiti printed with George Lucas' autograph, offers a competing, more specific nostalgia to the nebulous kind that informs Kinkade's cottage paintings. I have lunch there, wondering if I should order cottage cheese. The Christmas Cottage was not shot in Placerville (because of "logistics," says Kinkade on the DVD commentary track). According to the film's credits, it was shot in British Columbia, Canada, "in the Historical City of Fort Langley." A thorough search of Placerville's walls and hoardings turns up no mural of the town like the one young Kinkade paints in The Christmas Cottage. The woman who runs the Placerville Historical Museum tells me the mural does not exist and never existed. The closest thing, she says, is the painting he gave to the town's library. She hands me a xeroxed copy of a skeptical article about Kinkade from a 2002 issue of Newsweek she saves for tourists who inquire about the artist. "Given that art's value is predicated on scarcity, how can anyone create an appreciating market for mass-produced 'limited editions'?" the article asks, before letting readers know that Kinkade's factory "churns out 10,000 pieces a month, each signed by a 'DNA pen' containing drops of Kinkade's blood."
And the people lived in marvels of art—and ate and drank out of masterpieces—for there was nothing else to eat and to drink out of, and no bad building to live in; no article of daily life, of luxury, or of necessity, that had not been handed down from the design of the master, and made by his workmen.
—James McNeill Whistler, "The Ten O'Clock"
The Thomas Kinkade Company has licensing agreements with more than fifty companies to produce various Kinkade-branded items. These include everything from books, clocks, night lights, calendars, and candle holders to more elaborate-sounding artifacts: live flower arrangements, glow-in-the-dark puzzles, fuzzy posters, and "coasters made out of natural sandstone and/or dolomite/gypsum." You can get a Kinkade-branded checkbook cover and a book of Kinkade-branded personal bank checks and use them to pay for his paintings, or maybe for the mortgage on your house in the Kinkade-inspired Village at Hiddenbrooke, a gated community within a gated community in Vallejo, California.
When you look at Hiddenbrooke on a map, it hovers to the northeast of Vallejo like a stray kidney, an errant jellyfish, or a comic strip thought bubble. The day I drove to the Kinkade Village the gates were stuck open: The roads were being repaved and the pavers had broken the gate. When the Village at Hiddenbrooke opened in 2001 and the houses there were selling for about $400,000, it got a lot of press, much of it sarcastic and disappointed because the development wasn't sufficiently Kinkadian and horrible.
While the houses superficially resemble those in Kinkade's paintings, they are not the fantasias you would expect. They are on small lots, each lot about a tenth of an acre. They stand close to each other, huddled under brown hills, not nestled alone in forests or by the seashore. The skies in Vallejo are blue and hot, not dramatic and variable like the skies in Kinkade's paintings. The houses feature details taken from Kinkade's work—turrets and dormers and exposed stonework—but they don't differ substantially from the other houses in Hiddenbrooke, except that many of those are bigger, built in a faux-Craftsman style on bigger lots, and set in the hills to give them a bird's-eye view of the development's golf course and the Kinkade village below.
In the early afternoon on the summer weekday I chose to visit, the Village at Hiddenbrooke has a deserted, eerie feel, like the set of a David Lynch film. It is quiet as I walk past the gate, save for the yapping of a small dog coming from inside one of the houses on one of the Village's seven little streets. I walk down the middle of these streets; no cars come by. None is parked by the curb or in a driveway, either. Being there is like being in a Children's Fairyland version of Omega Man. The place is as depopulated as one of Kinkade's cottage paintings.
After wandering around for a while, I come to a cul-de-sac and meet a lone man standing in front of his house with a poodle. He identifies himself as Mr. Jensen. He moved to the Village at Hiddenbrooke with his wife when the development opened, he says, because she's a Kinkade fan. They have some Kinkades they've put on their walls. He tells me most of the people here decorate with Kinkades.
There were two foreclosures in the Village and two short sales that Mr. Jensen knew of. One Village short sale I investigated was for a four-bedroom, three-and-a-half-bath model the owners bought in 2005 for $675,000 and were selling at the insistence of the bank for $333,000. I ask Mr. Jensen about the school featured on the map of Hiddenbrooke that I hadn't been able to find as I drove around. The school was never built, he tells me, because the residents were afraid the city would force it to take local children from Vallejo. Hiddenbrooke residents do not want locals "coming over the hill," Mr. Jensen explains. "Ninety-five percent of the kids here go to private school, anyway," he says. "We don't need a school." What's wrong with locals coming over the hill? I ask. The explanation Mr. Jensen offered didn't exactly answer the question, but he made his meaning clear: "Vallejo is a dump."
Some sympathy was wasted on the house, A good old-timer dating back along; But a house isn't sentient; the house Didn't feel anything. And if it did, Why not regard it as a sacrifice, And an old-fashioned sacrifice by fire, Instead of a new-fashioned one at auction?
—Robert Frost, "The Star-Splitter"
Every weekday the city of Vallejo holds three auctions of foreclosed houses on the steps of the city hall. For as little $40,000, investors and developers buy up houses that sold for as much as $400,000 four years ago. They often pay in cash. Whatever doesn't sell goes back to the bank. One morning while I watched the auctions, a twitchy, skinny teenager in denim board shorts and a goatee tried to sell me "smoke."
The City of Vallejo is bankrupt. It went bankrupt in May 2008, the first city in California to declare bankruptcy since the economic downturn and only the second in the state's history. Inside City Hall, an out-of-work contractor tells me "there's nothing. There's no new houses starting." He comes to the Planning Division once a week to check anyway. When he asks me what I'm doing there, another out-of-work contractor overhears me tell him I'm looking into foreclosed houses in the area. Without saying much he hands me the card of a loss-mitigation and loan-modification specialist named Vienna Train Bertolano. I give her a call and we meet the next day.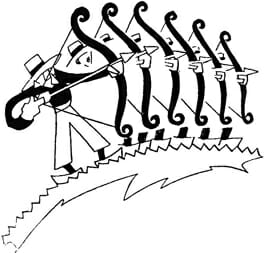 We meet in a Mexican restaurant Bertolano co-owns. In addition to her work as a loan specialist and restaurateur, she also works as a legal assistant for a bankruptcy lawyer. Bertolano, who tells me to call her Vienna, is a petite Filipina in her mid-fiftiess with a slight accent. "Vallejo," she tells me, "was going to be the new Silicon Valley. It was a thriving market. People could buy investment homes here and see them go up 30 percent right away. When the bubble burst in late 2006, middle- and lower-income buyers who could barely afford $1,500 a month in rent were stuck with $350,000 homes they'd bought with no money down. In 2005 there were never houses here for less than $300,000. Now there are over two thousand houses selling in Solano County for less than $100,000, many of them for around $35,000. The only people buying them are investors. And it's going to get a lot worse. It's going to be bleak."
I ask her about Hiddenbrooke. "Thirty to 40 percent of homes in Hiddenbrooke have been foreclosed or short-sold," she says. "People were buying those places three or four years ago for around $750,000. Those people are out of those houses. Agents are trying to sell them for $350,000. Maybe they can get $250,000."
In Vienna's office we prepare to visit foreclosed properties in Hiddenbrooke by looking them up in a local real estate database. "Homes in Hiddenbrooke have lost 50 percent of their value or more!" Vienna exclaims in surprise as she scrolls through the listings. The first one we visited, a four-bedroom Kinkade house that had been on the market for six months, was going for $350,000.
The house has a short patch of grass out front that refers to yard more than being one, like a display bed in a department store. A tiny patio out back overlooks the golf course parking lot. When we get inside Bertolano looks around. "This is all standard stuff, no upgrades. This is a first-time homebuyer house. The previous owners didn't do anything. It doesn't look like anyone ever lived here. These are the cheap cabinets and countertops the place came with. There are a lot of houses in Hiddenbrooke better than this," she concludes.
We went to one, a giant pile right on the golf course with five bedrooms that sold for $1.3 million in 2007. It's now going for $500,000. There is a golfball-shaped hole in one of the garage windows and I glimpse the white of stray balls through the shrubs out front. Although the house has been on the market for more than two years, inside it looks like whoever lived there left an hour ago, and in a hurry.
The house is filled with stuff. Dozens of kids' toys are strewn about. There are Spider-Man bedclothes balled up in a corner of the living room and a Superman standee lying flat in the family room. Each bedroom has a DVD player in it, with video game boxes nearby. The case for a DVD called Ghetto Brawls II sits on the kitchen counter. A bookshelf in the foyer holds a passenger safety card from Alaska Airlines. Dozens and dozens of real estate agents' cards are scattered on the kitchen counter and in the entranceway, each one with the smiling face of an agent printed on it.
The two-car garage is filled with dead houseplants, abandoned strollers and baby seats. "Only a two-car garage?" asks Vienna. "These people lived lavishly," she points out. "You can tell they overextended themselves. I call them over-livers."
On the drive back to her restaurant, Vienna tells me a story about her neighborhood in Vallejo, which she describes as a nice place where mostly older people live. There was a bank-owned property across the street from her house, and a few weeks ago she'd noticed a white, middle-class family had moved in. "I was surprised to find out the house had sold or rented," she says. "But it hadn't." Her new neighbors were a family of squatters. "It takes two weeks to evict them," Vienna explains. "Last week they were fined for throwing beer cans into the street. Police came and gave them a ticket but couldn't tell them to leave."
Without this fatal spiritual flaw, he was capable of becoming one of the greatest of our artists; but instead he only became one of the strangest of our madmen.
—Théophile Gautier, "The Painter"
In The Christmas Cottage we learned that Thomas Kinkade is no stranger to economic hardship. Nor is the Painter of Light a stranger to lawsuits. In 2001, when Kinkade's then-publicly traded company, Media Arts Group, began liquidating Kinkade product at deep discount prices, owners of Kinkade gallery franchises began to wonder if they'd made wise investments. As the value of the company's stock plummeted, some speculated that the artist was deliberately driving down the price so he could buy back the company. In early 2004 he did just that, taking the business private for $32.7 million. Investors lost a lot of money, but now the business is owned solely by the Thomas Kinkade Company, an entity that has turned "light," according to its company profile, into an acronym for "Loyalty-Integrity-Growth-Honoring God-Trust." Like the acronym, it almost worked.
The FBI has reportedly been investigating Kinkade since 2006. According to news reports, the bureau's probe began after "at least" six former Kinkade Signature Gallery owners sued the Kinkade Company for fraud. They claimed the company persuaded them to invest in galleries and then undercut them by selling Kinkade reproductions direct to consumers for less than the galleries charged.
After years of appeals, Kinkade gallery owners have lately started to win their lawsuits. A gallery-owning couple from Virginia claims Kinkade executives rooked them by creating "a certain religious environment designed to instill a special relationship of trust" between them and the Kinkade Company; a judge recently awarded them $2.1 million. Another couple in Michigan was awarded $1.4 million.
It is hard to feel sorry for these people. After all, they put their life savings into the work of man whose best-known public utterance came when he got drunk at a Siegfried and Roy show in Las Vegas and repeatedly yelled the word "codpiece" at the magicians until he was calmed by his mother.
New owners of Kinkade galleries also have reason not to be thrilled. Last March, several months before a couple in Prescott, Arizona, bought a Kinkade gallery there, the Painter of Light himself made an appearance before 500 fans to give a motivational talk and raise money for charity by drawing a sketch, maybe one not that different than the one he gave his mother that Christmas back in the Seventies. The drawing was auctioned for $12,000. According to the Prescott Daily Courier, the audience believed the $12,000 would be split between two charities. They didn't know that Kinkade had arranged to keep 80 percent of the sales price himself, with the charities receiving only about $2,000.
Why was a wealthy painter like Kinkade using these charities' good names to collect a measly $10,000? The new gallery owners don't know. What they do know is that since the news of Kinkade's 80/20 split leaked out in late August, disgruntled Prescottians have been phoning their gallery and threatening to throw bricks through the window.
Obsessed by a fairy tale, we spend our lives searching for a magic door and a lost kingdom of peace from which we have been dispossessed by a greedy swindler.
—Eugene O'Neill, "More Stately Mansions"
The house that was to be the playwright Eugene O'Neill's final harbor, the Tao House, sits in the hills above Danville, California, about 120 miles southwest of Placerville and 35 miles southeast of Vallejo. O'Neill and his wife purchased the Tao House and the ranchland around it in 1937 and the couple lived there until 1944, when O'Neill became too sick to write. While he was living there, he wrote many of his best plays, including The Iceman Cometh and Long Day's Journey into Night. The house is now a National Historic Site administered by the National Park Service.
Visitors can tour the Tao House Wednesdays through Saturdays. To get there, you wait for a bus in front of a supermarket and a park ranger drives you up the hill. In O'Neill's time the land was clear. Now there's a gated housing development there. After the housing development was built, the National Park Service had to ask permission to drive through it to get to the O'Neill site.
On the ride to see the study in which O'Neill wrote More Stately Mansions, the park ranger driving the bus points out some of the sights of the gated community. "Have you ever seen a house worth $1.85 million?" he asks. "That house on the left was valued at $1.85 million!" He doesn't say what it's worth now. We travel further into the gated community and the driver points out another place. "You see that house on the right?" he asks. "That house has an infinity pool. Have you ever gone swimming in one of those? That's a pool that looks like it just falls off into space, like off the side of a cliff."
The tourists I'm with seem a little let down when we arrive at O'Neill's Tao House. It's just a two-story house. It's not even that big. Looking at O'Neill's Bessie Smith records and his book collection is a disappointment to them after almost seeing an infinity pool. Studying his tiny handwriting through a magnifying glass the Park Service provides doesn't excite them, either. Even the grave of O'Neill's dog Blemie doesn't move them very much, and they barely stop to look at themselves in the strange black mirror in the master bedroom.
Weep for what little things could make them glad. Then for the house that is no more a house, But only a belilaced cellar hole, Now slowly closing like a dent in dough.
—Robert Frost, "Directive"
O'Neill's contemporary Robert Frost is a counterbalance to Kinkade more than any other American artist. In poem after poem, Frost writes about abandoned houses, arson and fire, debt and loss. When he writes about a cottage, he writes about it because there's no one there anymore. His cottages are haunted by memories of the people who lived and died in them, or built them and lost them. They aren't glowy; they're cold, and they speak of a time in the life of this country when people earned their houses instead of getting them with no money down. The word "subprime" does not appear in his work.
Frost is associated with New England, but he was born out here, in San Francisco. As I write this, California's seasonal wildfires are turning the sky over Oakland black. "The best way is to come uphill with me," Frost wrote, "and have our fire and laugh and be afraid." While the fires rage in California this August, that strikes me as the best way to look at Kinkade, too. Whatever his value as an artist, he has used his own experience to create a business that predicted and in some ways replicates the current mortgage crisis. His paintings of quaint houses with burning interiors substitute nostalgia for values and hope for community. The idea that these reproductions, gobbed with points of light, are a good investment isn't any different than the idea that flipping gated, golf-coursed mansions is the way to get rich. Kincade is a living testament to how the triumph of kitsch values has repercussions in the marketplace, outside the world of taste.
Meanwhile, in a safer part of California, Kinkade is still sitting on his gold mine, at least until the FBI and the courts decide to take it away.
When I was getting ready to leave California, a news story broke in a town close to Placerville that made people forget about the fires. Philip Garrido, who ran a printing and graphic design business out of his home, was arrested for abducting a girl in 1991, when she was 11. He held her hostage for 18 years in a makeshift compound in his backyard, and while she was his captive he fathered two children with her. Garrido, a religious fanatic, gave interviews after his arrest. "Wait till you hear the story of this house," he told a reporter. "You're going to find the most powerful story coming from the witness, the victim—you wait. If you take this a step at a time you're going to fall over backwards, and in the end, you're going to find the most powerful heart-warming story."
There are a lot of houses in this country with Thomas Kinkade paintings in them, so when you tell people you're writing about Thomas Kinkade, you often find out their lives have been touched by his work; "highlighted" by it, you might say. I spoke with a young woman named Katie who works as a waitress at a California Pizza Kitchen in San Francisco. She told me her grandparents are Kinkade collectors who have left her and her siblings one Kinkade painting each from their collection. The paintings are reproductions they had highlighted at a Kinkade gallery, and they bought the proper gallery lighting equipment so they could display them the way Kinkade meant for them to be seen.
Katie says that if her grandmother were to die today (her grandfather has passed on), she wouldn't display her Kinkade where she lives, which is in a one-bedroom apartment in the Mission she shares with her girlfriend. The painting doesn't fit into her lifestyle right now, she tells me. It's too fancy and valuable. Maybe if she had a big house she would, but she doesn't, and she doesn't expect to anytime soon.