Soundtrack to a Drug War
A DIY music scene in the Philippines sets itself against Rodrigo Duterte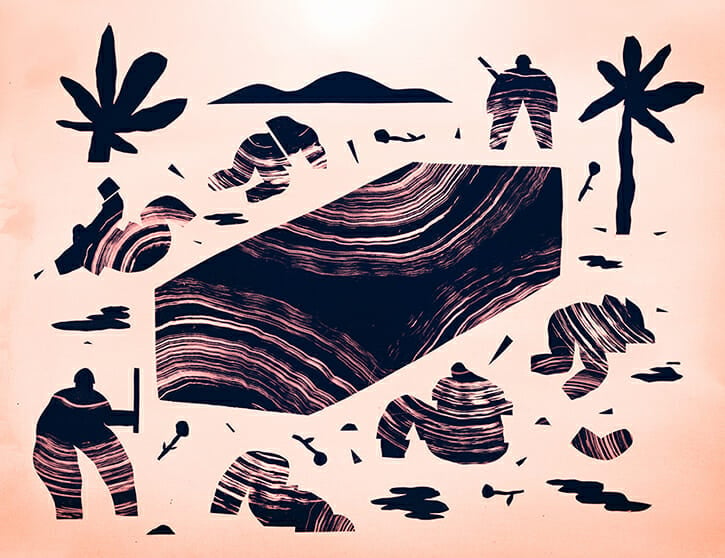 It's often overlooked, but Filipino culture is diverse. For an example, look no further than the national dish, Adobo—instantly recognizable, it has no set recipe: you could eat it 100 times in 100 kitchens and never have the same dish twice. It's indicative of a nation scattered across islands in the South Pacific that have been colonized or occupied by the Spanish, the Japanese, and the United States. In a way that occupation has given Filipinos a reputation as being generous hosts—especially to foreigners—quick to welcome you into their home or feed you a hot meal. But beneath the veneer of hospitality lurks the specter of violence.
"This war on drugs, everyone who cares is speaking up," Vicuña says. "It's alarming that there still a lot of people that don't care."
"Maybe it's the heat that stresses people the fuck out, because people here flip out," says Manila's Idris Vicuña, twenty-eight. "I see cabs getting into it with their passengers, or people get into car accidents and they shoot each other over it. . . . It's kind of chaos. And due to the fact that poverty is so extreme here, the lack of education . . . a lot of the stuff here makes no sense. Obviously our president is the mirror of all that."
That president is Rodrigo Duterte—who you might have come across in a number of the more violent international news packages—a fascist leader who encourages vigilantes to inflict acts of violence on some of his country's most vulnerable residents. The hardliner has fanned the flames of fear among the country's religious right, using the effects of the country's very real epidemic of shabu, or crystal meth, as an excuse to consolidate power. And as propaganda set to country music blasts across the airwaves extolling the evils of drugs, devout Catholics call for the death penalty, even as Duterte's own son has been accused of being a major trafficker himself.
"Our president is very Filipino," Vicuña says. "He's kind of a hypocrite, and a lot of filipinos are."
His words may be harsh, but Vicuña has earned his perspective. The artist was born in Cembo, a Barangay (neighborhood) that lies along the Pasig River in Makati City, Manila. When he was six years old, his father took him to live in Phoenix, Arizona, in hopes of a better life. They moved back to the Philippines when he was fifteen, and he's been in Manila ever since. These days, Vicuña makes music as Eyedress, a play on the pronunciation of his first name. He admits his earliest work would often have an inward gaze, dealing with broken hearts and melancholy. But his latest music is reflective of the darkness that conceals itself behind the sun-drenched beaches, a technicolor goth soundtrack paradoxically colored by the sense of hope and responsibility that comes with new fatherhood.
His last LP, Manila Ice, is a gauzy lo-fi pop record rooted in post-punk, r&b, and hip-hop, the musical personification of simmering, collective ennui amid a tropical paradise. The title track paints a portrait of Filipino corruption and hypocrisy, its narrator smoking drugs, bribing cops, and murdering other drug users. The music video is raw, a portrait of the violence and destruction that the Rodrigo Duterte's drug war hath wrought—images of death, corruption, and despair . . . alongside a bunch of kids dancing around Vicuña playing a guitar shaped like an assault rifle. It's critical without being preachy, fictional but transparent, and one of the most striking artistic displays in response to the drug war. But outside of his community, Vicuña's music is falling on deaf ears.
"This war on drugs, everyone who cares is speaking up," Vicuña says. "It's alarming that there still a lot of people that don't care."
---
The mainstream music industry in the Philippines is bizarre. Known around the world as a nation of cover bands, karaoke and Top 40 feature as prominent exports. Filipino TV personalities rule the pop charts with Katy Perry covers; superstar boxer Manny Pacquiao is one of the country's biggest recording artists. To hear Vicuña tell it, the Filipino music industry wants no part of the underground.
"There's a big music scene [that] doesn't really get any recognition," Vicuña says. "All the good music . . . we just have the internet to share our stuff."
And there are certainly other artists toiling in the Manila underground who are making music worthy of attention. The DIY community meets at clubs like Black Market, 20:20, and XX XX; when international touring bands like Brooklyn's A Place to Bury Strangers come to town, they hit up the rock club Mow's. When we spoke via Skype, Vicuña had just helped his friend shoot two indie-rock-leaning artists for a forthcoming documentary on the Manila scene for Boiler Room. B.P. Valenzeula blends clean guitar tones with electronic beats and a delicate, breathy voice to make angelic synth-friendly indie rock. Alyana Cabral's Teenage Granny—a guest on consecutive tracks on Manila Ice—plays a bit noisier, dousing her voice in effects and blurring the line between noise and melody. Her most recent record on Bandcamp is an abrasive concept EP that collects the raw sounds of the internet (html files, photos, text) and uses software to convert, translate, and "databend" them into audio.
But like much of the rest of the world, rap rules the Manila underground, and Vicuña cites two half-black, half-Filipino rappers as Manila's best: RH Xanders and Ankhten Brown. The former is a classically trained jazz musician who spits poignant raps, a sort of Filipino Kendrick Lamar meets a Dev Hynes. His vocoder-centric Questioning Answers/Answering Questions EP is a smoothed-out jazzy riff on interpersonal communication. Ankhten Brown is a little more hood—his gang associations a little more prominent, his music a little more frantic, urgent, and imbued with intensity. One of the most compelling—if least accessible—rap groups, OWFUCK Gang, spit bars in Tagalog and get the crowd so rowdy during shows that they've lost booking for being considered too jolog, a slur often wielded by educated upper classes to refer to people from the slums. OWFUCK gang loves to smoke weed—and sing about it—a true flex of how few fucks they give. Because in the Philippines, where the president urges summary executions of drug dealers and users, something as innocuous as smoking weed in your music video feels just a little more gangster.
"None of my friends give a fuck," Vicuña explains. "It's their way of saying fuck you." That being said, the threat of government reprisal is very real, so that music video flex is tempered by real-world practicality. "You also have to move really smart here, because you're not gonna go to your concert where you're singing about weed . . .  [OWFUCK Gang] have that song "Gin at Marijuana" they play shows all the damn time, and they don't give a fuck. But I don't think they're at their concerts with weed, just to be safe." But is he scared, as someone who smokes and is openly critical of the government? If he is, Vicuña doesn't let on.
"I'm not scared, I'm just saying what's going on . . . It's on the news every day for us, it's our reality," he says. "It's scary, but if they wanna pull up on me, they could try [He laughs.] That'd be funny."
"Nothing has changed. Corruption is everyday, the poverty hasn't stopped."
Aside from the drug war, Vicuña is clearly conflicted about how the reality of life in Manila relates to the public narrative in the international media. Like any hotbed of conflict that draws the attention of the press, he bristles at the thought of his homeland being represented one-dimensionally. "The Philippines isn't all this death and shit you see on the news," he says. "There's a lot of good stuff here—we kinda live in paradise. We have beautiful beaches, so many people have been coming here on some tourist shit lately." But in the same conversation, he becomes noticeably distraught when recounting the practical and psychological effects of his country's epidemic of extreme poverty. "Nothing has changed. Corruption is everyday, the poverty hasn't stopped. There's still kids on the street, it's dirty . . . no one is cleaning their mess. People are polluting, throwing trash in the rivers, in the beaches, it's intense, man."
If Vicuña—and Manila Ice—sounds at all hopeful, it's a diminished hope, the sound of someone trying to convince themselves that hope might exist, fighting the gravitational pull of the whispers "lol, nothing matters." But—you get the sense surveying the music that soundtracks an era of fascism and drug wars—as long as there are young people making art, as long as there is a message, it possibly could.
"My song isn't gonna end up on the news or anything," Vicuña says. "It's not gonna change anyone's point of view. People here are just really close-minded, and they're gonna stick to what they want to believe. The majority of the population is down for what he's doing—everyone that's educated is not. And unfortunately, we have no power. All we have is our message."