In the Claws of a Police State
Duterte militarizes his response to the coronavirus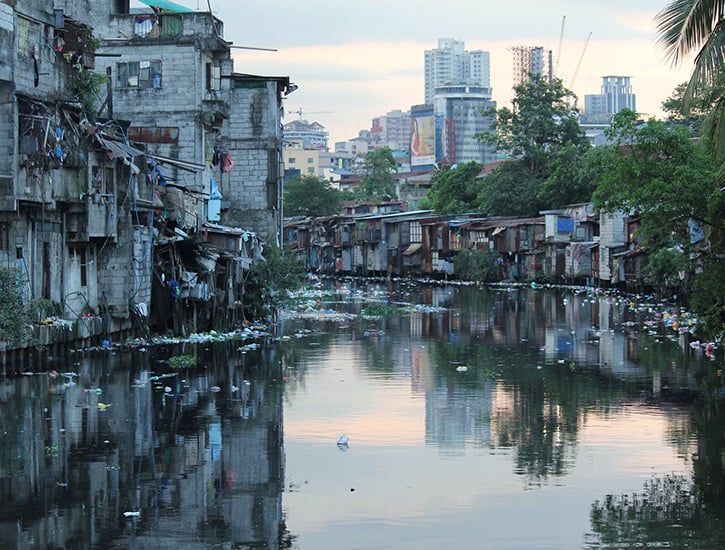 "Failing to address its terrible welfare issues, the government has resorted to its first priorities: punitively attacking the weak and needy and cracking down on dissent." |
Bold Content
On February 1, when a forty-four-year-old tourist from Wuhan died in Manila, the Philippines earned a dubious distinction: it became the first country outside of China to register a death related to Covid-19. The next day, the government hastily declared a ban on most travel from China, Hong Kong, and Macau. But in a press conference on February 3, President Rodrigo Duterte assured the country that "everything is well" and went so far as to chide Filipinos for being xenophobic. While Duterte openly talks of murdering his own country's citizens—since he come to power in 2016, 27,000 are estimated to have died in extra-judicial killings—he has been warm toward those from the People's Republic, welcoming thousands of Chinese workers into the country, where many keep the murky business of offshore gambling rolling.
By February 5, three Chinese citizens had tested positive in the Philippines. After that, strangely, no confirmed cases were reported for over a month. The Philippine Red Cross even sent over a million face masks to China, with no plan to distribute any locally. More ominously, the Department of Health claimed it was ready for the pandemic as health care workers on the front lines grew more fearful, wondering if the government was suppressing the truth.
Then, on March 6, the DOH announced that two Filipinos had been struck by the virus. Three days later, it confirmed a case of community transmission. On March 12, the administration issued a ban on all travel in and out of Metro Manila, giving two days' notice for the lockdown to take effect.
Coronavirus has thrown into focus the pernicious feudal substructure of Philippine society
Over ten million Filipinos—ten percent of the population—labor abroad to escape the country's low wages, working largely in health care, construction, engineering, and as domestic helpers. For workers visiting home, or about to travel to another country for a job, the travel ban was a calamity. There was also the matter of internal migration: thousands of other laborers travel in and out of Metro Manila each day, unable to afford the capital's high housing costs. As chaos ensued, those who could afford it crowded the country's airports, bus, and ferry terminals, risking contagion.
The suffering unleashed by the lockdown, which remains in place nearly two months later, has not been equally felt. If anything, it has thrown into focus the pernicious feudal substructure of Philippine society. In one world, upper-class Filipinos, unaffected by the public transportation ban, shelter in their homes with air conditioning and domestic workers. In another, "essential workers" remain trapped in hot, cramped dwellings, exposed in the streets, or stuck working endless hours in their employers' wealthy homes. Those who cannot afford cars walk or ride bicycles or motorbikes, crowding shoulder-to-shoulder at multiple, choked quarantine checkpoints manned by police and military who enforce rules of movement along the thoroughfares of Luzon, the country's most populated island.
Worse still has been the militarized, authoritarian behavior at these checkpoints. Members of the police and military brandish thermometers, douse citizens with disinfectant, and interrogate their reasons for traveling. (Never mind the asymptomatic politicians who posted their own COVID-19 results on social media, having demanded the country's few testing kits.) When some citizens broke quarantine rules to plea for food along a highway last month, police arrested them. Duterte's response was tiresome and familiar: "Shoot them dead."
---
In March, my wife and I had been planning to return home—the word we always use for the Philippines—for a visit from Hawai'i, where we are now based. But anecdotes from friends and relatives made us pause. As the Covid-19 figures began to rise, my wife learned on Facebook of high school classmates' parents and relatives dying of pneumonia symptoms. Even before the lockdown struck, lines at pharmacies and grocery stores grew too long for many to get medicines and supplies. When the travel ban was announced, my foreign-affiliated Philippine friends—small business owners, white-collar workers, freelance writers—rushed to purchase plane tickets to wait out the quarantine in less dense, less punitive countries. Our hopes of returning ended. News of illness and death still fills our feeds.
Around this time, I began hearing from those who do not have a way out of the painful neglect that is Philippine governance. While the state has set aside 200 billion pesos in subsidies for those most economically affected by the shutdown, 75 percent of the funds have thus far failed to reach the neediest citizens. A young mother who once cleaned my apartment messaged me on Facebook; her family was one of those who did not receive the promised aid. Her husband was a tricycle driver; she had just returned from working as a nanny in Qatar; her kids were going hungry. Another woman, who runs a small, roadside store and who lost her son to a brutal homicide in 2017, said her income had plummeted now that customers could no longer afford many goods. She posted a Facebook image of her anxious, handwritten arithmetic.
Once again, the specter of a police state looms in the Philippines, with a heavy, emboldened police and military presence and much official power-tripping.
One indicator of the country's brutal inequality, and the utter precarity in which its poor live, is that within weeks of the lockdown, the nightmare of hunger had already arrived for many Filipinos. As in so many other parts of the world, the houseless and residents of low-income neighborhoods fear starvation more than the virus; they want the lockdown lifted so they can seek wages. The government often does not recognize the work or existence of the poorest—like the trash sorters who emerge at night to recycle refuse, or manual laborers at construction sites—who are employed in what is euphemistically termed the "informal sector": the shadow economy of necessary services that is dangerous and completely unregulated. Their savings dwindling, their sources for borrowing tapped, these workers grow more despairing by the day.
Failing to address its terrible welfare issues, the government has resorted to its first priorities: punitively attacking the weak and needy and cracking down on dissent. Over a dozen local citizens have been served subpoenas for speaking out on social media since the pandemic began; one writer in Cebu was arrested, without warrant, for posting about coronavirus cases in her area. In another egregious overreach, on April 26, the Philippine Department of Labor and Employment demanded that Taiwan deport an overseas Filipina worker who criticized Duterte on Facebook, sending a chill through all Filipinos who thought living abroad protected them from the regime's worst impulses. Thankfully, Taiwan refused.
Once again, the specter of a police state looms in the Philippines, with a heavy, emboldened police and military presence and much official power-tripping. Indeed, the pandemic's strictures have given petty administrators and minor politicians free reign to oppress their constituents under the pretext of reprimanding "quarantine violations." There has been a performative, even lurid element to many of these abuses, often been meted out by village officials. On March 20, in Santa Cruz town, Laguna province, five youths were locked in a dog cage. On April 5, in Mexico, Pampanga, three LGBTQ individuals were forced to perform exploitative sexual acts, which were recorded and later posted online. Elsewhere, people have been forced to sit in the hot sun for hours. Reports of beatings and torture are also emerging. On April 27, the United Nations issued a rebuke to the Philippines, among other nations, for its needlessly militarized response to the pandemic.
---
Considering the regime's earlier abuses, the current maltreatment is perhaps unsurprising. In any case, enough citizens feel that Duterte's is the kind of discipline needed for those who are pasaway—stubborn rule-breakers. Such flagrant disregard for human rights and wanton acts of power are central to Duterte's appeal as a national leader. In 2016, the rough-spoken mayor styled himself as a disrupter of the political system (though he too comes from a family of elite politicians), promising to eliminate crime. To many Filipinos, his threats to criminals on their behalf felt parental; many call him "Tatay," meaning "father."
The wave of murder that accompanied Duterte's first days in office was an apocalyptic warning of what the regime intended. The homicides were a vast show of force, what the scholar Nathan Gilbert Quimpo calls "boss rule": the use of "coercion and violence to establish and maintain power." Since then, Duterte's "drug war"— an assault on the poor and on his critics, not an earnest fight against crime—has led to upwards of 27,000 homicides, numbers that dwarf the killings under Marcos's dictatorship.
We can only wish that the government were as aggressive in providing health care as it is in pursuing punishment.
Duterte and his allies have also persecuted human rights workers, journalists, and critics. Any media outlet diligent in its reportage on the government, any whiff of dissent from an individual, runs a risk. The administration brought suit against the independent news site Rappler. It has jailed and arrested opposition senators with little cause and paid a troll army to spread pro-Duterte propaganda on Twitter and Facebook. On May 5, it shut down the country's largest media conglomerate, ABS-CBN, after threatening to do so for months.
For now, Duterte still has some approval during the crisis. But there is restlessness. In early April, Twitter suspended hundreds of suspicious accounts praising his pandemic response, a sign that recent social media support may not be entirely organic. Former celebrity supporters took to their feeds to object to the government's choices; one said she was sad to have previously supported the president. But in the end this might not be enough. Many have endless approval for their leader's abusive choices, and they will never cease mistaking his punishment for a form of care.
---
We can only wish that the government were as aggressive in providing health care as it is in pursuing punishment. The Philippines' health system, which is unevenly spread across the country, has been in dire straits for decades, eroded by bouts of deregulation and privatization. Though overall government spending on health care has recently increased, and now stands at 4.5 percent of the national budget, it's still not nearly enough. Citizens pay more than 50 percent of all health care costs out of pocket, a tremendous burden to families already living in poverty. Despite epidemics like polio, measles, and dengue ravaging the population, there remains a shortage of doctors and supplies, and terribly low wages for nurses, which drives many of them abroad.
The disparity between the deficient health care system at home, and the enormous care Filipinos offer abroad, is tragic. Around the world, and especially in the United States, Filipino nurses are a familiar face in the healthcare sector. Since the 1990s, when nursing became a popular profession in the Philippines, they have been emigrating in increasing numbers in search of better lives. There are nearly half a million Filipino health care workers in the United States alone at the forefront of the pandemic response, shouldering much of its harm.
Yet by 2011, the international nursing job market had become oversaturated. Many countries were unable and unwilling to absorb the nursing graduates the Philippines produced. In response, local governmental units kept wages low, hired some nurses on a lottery basis, or a three-month contractual basis, or simply encouraged them to take up other professions. Grueling, erratic shifts, unpaid "volunteer" positions, and miserly salaries remain the norm for nurses in the Philippines. In early 2019, nurses around the country campaigned for a base salary of 31,000 pesos (equivalent to about $600), coming close to winning their demand. But Duterte's Solicitor General blocked the pay raise, claiming it would lead to "wage distortion" with regard to other government salaries.
In the past, social gatherings provided important respite from our ouroboros of political cruelty.
As of April 20, over seven hundred health care workers in the country have contracted COVID-19, a much higher rate of infection than other countries in the Asia-Pacific region. Twenty-one doctors are estimated to have died of COVID-19 related causes; the Philippine Medical Association has cited a lack of personal protective equipment as one factor for the high fatality rate. The government has since ordered one million sets of personal protective equipment which will arrive in batches. For his part, Duterte, ever preoccupied with death, said health care workers were "lucky" to have sacrificed their lives for their country. He has also temporarily banned Filipino health care workers from travelling to other countries.
---
Some leaders and groups have exercised a more humane approach to pandemic response, resisting the national tone of punishment. Vico Sotto, the mayor of Pasig City, Metro Manila, launched a quick cash assistance program for all families in his jurisdiction, including those left off of the government rolls, and he has provided electric motorbikes as free transportation for the sick. Duterte's Socioeconomic Planning Secretary, Ernesto Pernia, resigned during the pandemic, citing a cabinet rift; he had wanted a looser lockdown to take place. The understated vice president, Maria Leonor Robredo, opened dorms and began a bus line to house and transport medical workers, and she has worked with private individuals to provide personal protective equipment to hospitals. Citizens' mutual aid groups have also emerged, as they do during earthquakes, eruptions, and typhoons. Police have lately targeted relief workers for arrest, claiming quarantine violations. But volunteers continue to attempt the care the government refuses to provide.
In the past, social gatherings provided important respite from our ouroboros of political cruelty. Pulutan, karaoke, jokes, gossip—such hangouts amount to more than idle fun in a place where there's so much suffering. It's true that Filipinos have long been familiar with physical distance from our loved ones, and the use of the internet to cope: the dangers of our country force many of us to live abroad. But the social gathering has served as a necessary ritual of restoration, a brief invention of refuge and safety. Now, the pandemic makes those essential, physical reunions—along with so much else—uncertain.