How It Feels
A mutual aid movement emerges to fight the pandemic in India
April 19, New Delhi
3 P.M.: A friend from college leaves me a voice note. It's about a woman who is twenty-three-years-old, pregnant, and sick with Covid-19. She is in the intensive care unit of a government hospital in the city and in desperate need of a ventilator, which they cannot provide. Later in the evening, the woman will die.
7:30 P.M.: On a WhatsApp group for Teach for India alumni, someone posts an S.O.S. It's about a man in Lucknow, Uttar Pradesh, whose health is in critical condition. An hour later, an update: "He passed away at the gate itself."
9 P.M.:  On Twitter someone posts a strange story. In Dhanbad, in the eastern state of Jharkhand, a fifty-something man in need of oxygen support is stranded in the waiting room of a private hospital, breathless and vomiting. Several hours later, he will be admitted. Apparently, a patient had to be discharged, or die, for a bed to open up.
10:30 P.M.: A stranger DMs me on Instagram. They ask if I can procure an oxygen cylinder for someone in Gurgaon, a suburb outside New Delhi. I send them the numbers of several suppliers who are still taking calls. They manage to get the oxygen.
11 P.M.: A call from an unknown number. The caller introduces herself as Meghna, says she got my contact from Nitin (I can't recall a Nitin). Meghna is in Dubai and her parents are in Lucknow. Her father, who has a weak heart, has tested positive for Covid-19. His oxygen level is dropping below eighty. She asks if I know a hospital that will admit him. Hours later, Meghna's father will be another statistic.
12:00 P.M.: I try to speak with my partner A. on the phone screen propped up by the side of my computer. He breaks up every time the device buzzes with a notification. At some point, he gives up on the conversation, asks me to please go to bed, and we hang up. He is sick with fear himself. The previous day, his father, a long-time union leader in Jharkhand, had asked his contacts what they could do if A.'s mother, who was ill with Covid, collapsed. Nothing, they said.
---
April 19 was the first day of New Delhi's full lockdown, put in place in response to India's second wave of the pandemic. Across states like Maharashtra, Uttar Pradesh, Jharkhand, and others, thousands of patients were confronted with hospitals that wouldn't admit them, didn't have beds available, or lacked oxygen support or ventilators. If any of these were available, most people could not afford the care anyway. Flouting price-caps, private hospital bills ran into lakhs for stays of even a few days (one lakh is $1,360).
Indians watched this calamity unfold on the news, on social media, and in our homes while we waited for a government response. None was forthcoming. The central government, run by the far-right Bharatiya Janata Party, had earlier been handling vaccine procurement. Now it suddenly adopted a new, "liberalized" policy that put half of the onus on individual states. As of June, nine corporate hospital groups in major cities have acquired half of the total available vaccine doses. It costs up to Rs 1200 ($16) per dose—in a country where over 134 million are projected to live on less than $2 a day. Anyone in the eighteen to forty-four age group has to register on the malfunctioning CoWIN website to be vaccinated. This is baffling given India's previous success with door-to-door vaccination drives, for instance with polio. It is also malevolent, as most Indians lack access to the internet, particularly those, approximately 65 percent of the population, that live in rural areas.
Confronted by the complete breakdown of the state's health care infrastructure, ordinary civilians did that most Indian thing, jugaad (a commonly used Hindi word referring to a stopgap solution, or using limited resources innovatively). Volunteers mobilized—on WhatsApp, Discord, Twitter, Instagram, and any number of social media platforms—to connect Covid-19 patients and their families, somehow, to some form of medical care. Civil society groups, nonprofits, students, journalists, and lawyers started fielding distress messages posted online. Informal coalitions formed based on hashtags like #SOS[cityname] or #COVIDemergency. Volunteers scrambled to procure drugs they knew little about and couldn't pronounce: Baricitinib, Tocilizumab. Lists were compiled of hospitals with available beds, chemists who had Remdesivir and plasma, hospitals admitting patients in the ICU. Everyone I knew was glued to their phones.
The people and communities we advocate for largely do not have access to the internet, do not speak English, and have trouble navigating fundraising websites.
I did this frantically for about one week. I also began to see that donations, especially from abroad, tended to end up at the same few big-name nonprofits. Mission Oxygen and the American India Foundation each raised hundreds of thousands of dollars. Fundraisers led by celebrities like Priyanka Chopra and Nick Jonas channeled a million dollars to Give India. Twitter CEO Jack Dorsey notoriously donated millions to Sewa International, a nonprofit with ties to the militant Rashtriya Swayamsevak Sangh (RSS), the ideological parent of the BJP. Like with everything else in India, caste shapes the development sector. Most nonprofits skew toward the dominant castes, especially at the level of leadership. (They also skew heterosexual, cisgender, and able-bodied.) This has been evident from their relief activities—for instance, their outsize focus on oxygen or medical aid, even as some communities can't access food. In contrast, there were grassroots collectives, working with a fraction of the resources, often among marginalized communities. I decided to crowdsource a list of such groups. It seemed like a less distressing way for me to be useful.
I put out a call on Instagram and was joined by a team of volunteers. We created a website, Mutual Aid India, to vet, track, and promote campaigns. These are campaigns that provide food and tickets home to migrant workers whose contractors stopped answering their calls and have not paid their wages. That fund rent relief for families and women who are out of work in India-administered Kashmir. (In April, the Indian government encouraged tourists to attend the Tulip Festival in the union territory's summer capital Srinagar.) That provide protective equipment for waste workers (a largely caste-determined occupation) handling Covid-infected materials. That channelled  money to Dalit and Adivasi communities in Madhya Pradesh and Maharashtra, sex workers in Bengaluru and Karnataka, transgender individuals in rural Bengal, and hundreds of others.
We knew that public attention would shift at some point. Before that happened, we were determined to shove as many campaigns into the spotlight as possible. We badgered celebrities to share our Instagram posts with a line encouraging their followers to donate. It was humiliating to beg for these crumbs. We did it anyway. A single share by Tavi Gevinson crashed our server, funding multiple campaigns in a single night. The writer Mira Jacob sent thousands of people our way. We even got reshares and endorsements from the Bollywood actress Kalki Koechlin and Orlando Bloom (yes, really). Within a few days, we raised lakhs.
Designing posters and writing copy for these campaigns, I have often wondered if what we do reifies the violence inflicted by the India state on marginalized communities—by presenting them as "deserving" of rescue. We create an aesthetic easier on the eye than a wailing baby at death's door—five seconds of despair before the "skip ad" button rescues your YouTube video. We use clean type beside illustrations of children, plants, plates of comforting food, female tea-estate workers—all in an effort to sanitize an ugly, desperate reality. That we can organize online is itself a kind of privilege. The people and communities we advocate for largely do not have access to the internet, do not speak English, and have trouble navigating fundraising websites like Ketto that are designed for the Anglophone elite.
In the past months I have interviewed volunteers and organizers across the country, in particular those who work in towns far from major metropolitan cities in the media spotlight. At the heart of it, everyone is angry. Here are snapshots of what it's been like for them.
---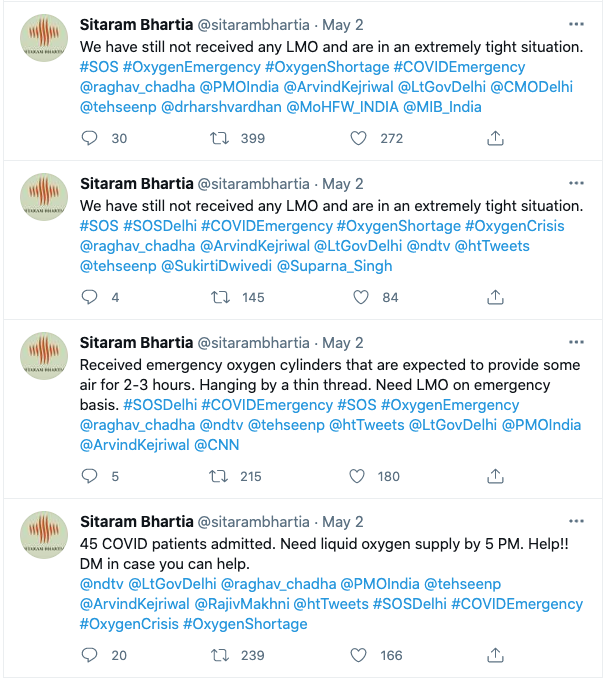 Uttar Pradesh
The second worst-hit state in India, Uttar Pradesh has inadequately tested and as a result drastically underreported case numbers. Chief minister Yogi Adityanath, a militant Hindu monk belonging to the BJP, declared on 24 April there was no oxygen shortage and warned "rumor-mongers" that their property would be seized—even as hospitals turned people away and black markets proliferated for oxygen and medication. Public school teachers were forced to do poll work for Panchayat elections; one thousand six hundred public school teachers have died. Unusually, BJP members of the legislative assembly have spoken out against the state government's mismanagement. Nevertheless, the administration has sponsored news articles praising its pandemic response.
I spoke to Jatin Lalit, a twenty-two-year-old law student in Bansa village, Hardoi district. He has been crowdfunding N95 masks and food rations for neighboring villages, having returned home from Delhi during the second wave. Volunteers from the Bansa Community Library, which Jatin started as part of the country's nascent free community library movement, have been working with frontline workers to conduct awareness drives and check-ups, as well as to provide medical resources, free ambulance service, and ration kits. As of May 12, Jatin says thirty-five people have died in Bansa, of which eleven deaths were in a single mohalla (neighborhood). "The symptoms their families described, raat mein achanak saans lene ki dikkat (sudden difficulty breathing at night)—we are treating them as Covid-deaths." The local administration has refused to acknowledge the deaths, citing the Panchayat elections. "In the villages, elections are like a festival. Until they ended on April 15, no one gave a damn about the pandemic," Jatin continued.
Madhya Pradesh
Madhya Pradesh has been entirely dependent on other states for oxygen supply, having only floated a tender for installing oxygen generation plants on April 13, well into the second wave.  As a result, there have been several deaths there attributable to the oxygen shortage. (This delay is not unique to the state. The central government itself took eight months into the pandemic to float tender for 162 oxygen generation plants across India, of which only thirty-three had been installed as of April 18.) By the end of that month, the official death toll in state capital Bhopal was 109, while records based on data from three crematoriums and one graveyard showed 2,567 additional bodies under Covid-protocol. Chief minister Shivraj Chouhan, also of the BJP, has admitted the need for better health infrastructure. But he was adamant that the unchecked spread of the virus was really the responsibility of common people, who were not following protocols. 
In Bhopal, twenty-one-year-old Mona of the Adivasi Aapsi Madad Mahila Pahal (an Indigenous women's collective) has been arranging rations and medication for Dalit and Adivasi communities in Sabri Nagar, a rehabilitation colony. We hosted their fundraiser on Mutual Aid India. Mona describes her community as "roj kamane aur khane wale log (feeding themselves through daily informal labor)." They are falling ill but are afraid to spend their last money on doctors, Mona says. Meanwhile, hospitals are understaffed and actively hostile to people from oppressed castes and low-income groups. "When our people go to avail rations from the official, they are turned away for a lack of ration card. Those with a ration card get only bajra (millet). No rice, wheat or oil. Insaan kab tak khaali bajra khayega? (How long can a human eat just bajra?)" asks Mona.
Chhattisgarh
Chhattisgarh—which borders Maharashtra, where the second wave originated—has had the third-highest growth in Covid cases. The state capital of Raipur hosted a cricket tournament in March, after which cases spiked. By April 19, there were so many deaths the municipal corporation had to set up fifteen new crematoriums.
In an unbelievable development, hospitals created Twitter accounts to beg for oxygen.
I met twenty-four-year-old Yash on a pan-India Discord group for medical resourcing. He joined volunteer groups by following #Raipur on social media. He was also part of the first wave of Covid responders, checking in with migrant workers who returned home last April from the cities they support with their labor only to be thrust like cattle into state-run quarantine centers. "They would cry on the phone saying, What will we do about our future? There are no jobs, there is no money," Yash told me. The central government announced a cash relief program with pomp, but this has not been implemented adequately. "This is not work we should be doing," Yash says. "We're not the ones responsible for it. The government should be doing the work we're doing! What can be more shameful than this?"
Yash is infuriated by how preventable it all was. In the first place, there was no effective messaging. Instead, the country's health minister Harsh Vardhan promoted Coronil, a dodgy Covid cure manufactured by popular yoga-guru Ramdev's Ayurveda company Patanjali. Yash wants a CDC-like body whose guidance is widely broadcast. In fact, there is the Indian Council of Medical Research (ICMR), but it has been slow to sound an alarm appropriate to the scale of crisis. After protracted outcry by public health experts, the ICMR removed convalescent plasma therapy from protocols on May 17.
Gujarat
Another epicenter of under-reporting is Gujarat, the fabled home of then-chief minister Narendra Modi's "Gujarat model of development," which privileged industrial development, incentives to corporate investment, and a "trickle down" economics over investment in social welfare. Media reports consistently allege the state is severely undercounting deaths, in one case by forty-three in a single hospital. The situation is so bad that on April 16, India's High Court censured the the state government for underreporting deaths, and exaggerating available beds and oxygen.
Ahmedabad-based Rohan Bhatt describes sending patients to Civil Hospital where a "line of ambulances" waited outside and the staff worked round the clock. Understaffing and overwork have plagued health care professionals across the country—pushing them to illness, burnout and even suicide.
Rohan banded together with six other local influencers to form a volunteer group after people began tagging them in Covid queries. Through April, the group grew and reorganized, assigning specific contacts for oxygen suppliers, non-Covid ambulances, ICU on wheels, etc. Rohan's mother was ill with Covid-19 for part of that time. "For volunteers it's felt like an unending wall we're having to climb without the peak in sight," he says. He, too, has thoughts on public messaging. "I wish there were billboards everywhere with steps one, two, three in English, Hindi, and Gujarati explaining in simple language what people are supposed to do if they experience over 101-degree fever, sore throat. . . . People shouldn't have to contact random volunteers with no connection to health care for guidance!"
New Delhi
The Aam Aadmi Party, which controls the Delhi state government, has been praised for investing in community-level health care. Despite this, it has failed to prepare for, or adequately address, the second wave, which claimed over 9,440 deaths in the capital state between January and mid-May. Delhi, which at one point had the highest caseload of Covid-19 in the country relative to population, did not have a single oxygen production unit until late in April, when the British government donated three such units. Hospitals turned away critical patients for lack of supply.
On April 20, Chief Minister Arvind Kejriwal made a desperate plea to the central government, asking for an oxygen refill, but it was only after the High Court intervened that supplies were sent to a major hospital, where over sixty patients were on the verge of death. On April 30, the court directed the center to supply New Delhi with a further seven hundred tons of oxygen, an order which was defied. In an unbelievable development, hospitals created Twitter accounts to beg for oxygen. Top doctors cried on camera, pleading for their patients. On May 2, Sitaram Bhartia, an elite private hospital, live-tweeted as oxygen supplies dwindled. Prior to that, forty-six patients died at two hospitals due to oxygen shortages.
A network of volunteers has been recording oxygen-shortage deaths across the country in an open-access datasheet by collating media reports and on-ground reports from volunteers. They are doing this to archive the lives lost and counter the erasure of these deaths by the state. Meanwhile, Solicitor General Tushar Mehta, responding to queries from civilian petitioners, has compared them to "an unhappy girlfriend." "Let's try and not be a crybaby," he has said.
By June, the central government began claiming credit for beating back the second wave, though Covid-19 continues to ravage the rural interiors as of this writing. Just 37 percent of government hospital beds are in rural India, according to the National Health Profile 2019. This reflects the country's abysmal investment in public health care. While the finance minister touted a 137 percent increase in the 2021 health care budget, this included ongoing Covid relief efforts, and the actual expenditure amounted to 0.34 percent of annual GDP.
In an address to the nation on June 7, Modi announced a reversion to the previous central-procurement policy of vaccines, blaming the states for the disaster. This came after chief ministers of several non-BJP states collectively demanded the center provide free vaccination and the High Court slammed the center for its "arbitrary and irrational" vaccine policy. Modi also claimed that the CoWIN app was being praised across the world.
---
From the outset, the government's response to the pandemic has been marked by contempt—and often outright hostility—toward a vast majority of its citizens, who it views as less than human. Again and again, it has predicated its measly relief measures on exclusionary identity proofs that require documentation of address and so forth, which the urban poor, rural nomadic tribes, rural families without pukka (formal) houses lack. These exclusions have previously led to starvation deaths.
Like many volunteers, I've become alienated from my own body.
We have tried to fill in the blank where the government's public health response should be:  working ourselves to the bone and missing paid work opportunities. I know volunteers who have physically arranged ambulances and transported elderly patients who are alone. Many have been infected themselves or lost family, including my friend Sweta, whose grandfather passed away in November. In the last two weeks of April in Delhi, volunteers barely slept or ate more than one meal a day. Nights were the worst, with the most critical cases arising after 10 p.m., when government officials tap out. There were instances where Sweta reached out to top state officials, who told her they would return in the morning. "I have nightmares of hospitals and people crying. I remember passing out on the floor of my hall at 4 a.m. and waking up at 8 a.m. to the news that my patient died," she says. "I remember texting my friends to say that 'I need some time to cry. I want to cry, there is no time to cry.'"
Like many volunteers, I've become alienated from my own body. I cry involuntarily, before even realizing I'm sad. I wake up repeatedly through the night. I think of patients who died while I was trying to help, and my throat chokes up. Even now, I return to the moment I texted Meghna saying, "Why isn't he breathing? Where is his cylinder? What are his oxygen levels?" And she replies: "My father is expired."
I began with an account of events on April 19. Here's what I left out. The previous afternoon, I had spoken to a man in Delhi whose mother was in critical condition. He was looking for a hospital that would admit her. The city's Covid-19 online portal was of no use. All the health institutions listed in my Excel sheets were dead ends. When at last I seemed to have found a government hospital with an open bed, I called him about it. "I'm already here outside," he answered, his voice breaking. "They won't admit her without a Covid test. Anyway, there's no point now, my mother is on her last breath." "Sorry bhaiya (elder brother), I'm so sorry," I found myself responding, in tears, before hanging up. The next day, it began all over again.