The Demagogue and His Labyrinth
Four writers respond to India's Citizenship Amendment Act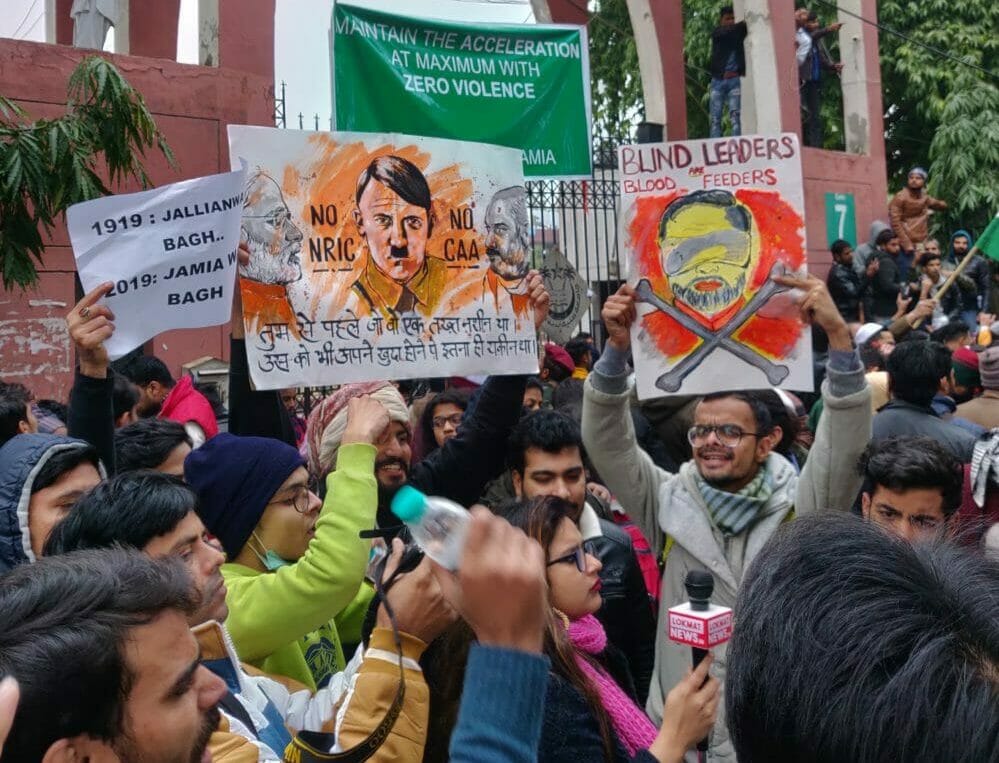 On December 11, 2019, the parliament of India voted to introduce a religious qualification for citizenship. The Citizenship Amendment Act (CAA), which violates the ideal of secularism enshrined in the Indian constitution, is the latest episode in a larger war that the country's far-right, Hindu-nationalist ruling party, the BJP, led by their communal demagogue Narendra Modi, has been waging against the country's Muslim community. The act has been met with spirited protests, which have continued for over three weeks. The government's response to the protests has been brutal and flagrantly illegal. As of this writing, at least twenty-seven people have been left dead. 
We asked four Indian writers to respond to the situation. Soumya Shankar offers an overview of prime minister Narendra Modi's Islamophobic policies and the civilian resistance to them; Assam-based journalist Makepeace Sitlhou reports from northeastern India, where a longstanding immigration dispute has perhaps unwittingly laid the groundwork for the BJP's nationwide abuses; scholar Mohsin Alam Bhat reflects on the legality of the Modi administration's policies and the nation's constitutional principles; and finally, Furquan Ameen Siddiqui presents a harrowing account of a Muslim community under attack.
You can scroll down to read all of the dispatches here, or click the links below to view them separately.
—Ratik Asokan
---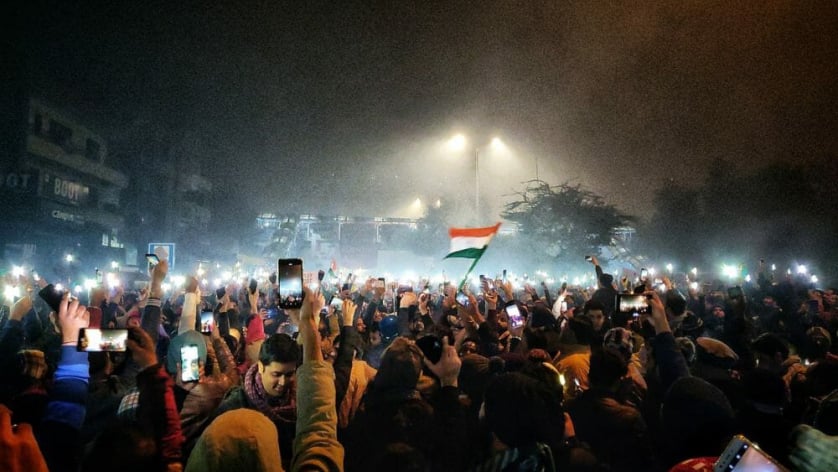 Crackdown and resistance in Modi's India
By Soumya Shankar
New Delhi—Until just a few weeks back, Indian Prime Minister Narendra Modi seemed invincible. Bolstered by an overwhelming electoral win in India's general elections, Modi's government enacted a series of policies discriminating against India's Muslim community, which constitutes 15 percent of the country's population. Modi, the figurehead of the country's Hindu right wing, is seen by some of his supporters as the harbinger of the Hindu Rashtra—a state dominated by Hindu culture where minorities, especially Muslims, would be reduced to second-class citizenship.
In August, Modi's government abolished a constitutional provision that gave a degree of autonomy and special rights to the besieged state of Kashmir. The decision is widely seen as the first step in a long-range plan to shift the demography of the Muslim-majority state. Later that month, the final version of the National Register of Citizens (NRC) was released in the northeastern state of Assam. It left 1.9 million people, many of them Muslim, off of India's citizenship rolls, declaring them illegal immigrants. In November came the Ayodhya verdict that allowed the construction of a temple on the site of the Babri Masjid, a mosque desecrated by Hindu nationalists in 1992. Following the destruction of the mosque, a spate of riots led to the loss of two thousand lives, most of them Muslim. Hindus believe the site is the birthplace of their revered lord Ram; the landmark judgment from the Supreme Court of India marked a symbolic win for Modi's Hindu nationalist base. Outside of Kashmir itself, there were no significant protests or remarkable resistance to any of these moves.
Twenty-seven people have been killed, all but one of them residents of states ruled by Modi's Bharatiya Janata Party (BJP).
Modi may have expected similar docility, and even cheering, as the Citizenship Amendment Bill became law on December 12. The Citizenship Amendment Act (CAA) will grant citizenship to Hindus, Parsis, Sikhs, Buddhists, Jains and Christians belonging to Pakistan, Bangladesh, and Afghanistan—India's Muslim-majority neighbors. In a region with a long history of sectarian strife, such redrawing of religious fault lines is dangerous. Many legal experts also consider the CAA to be in direct violation of India's Constitution.
This time the civilian reaction has been different. The decision sparked nationwide unrest that has now continued for more than two weeks. The Modi government's response has been violent and discriminatory, inviting international censure. Twenty-seven people have been killed, all but one of them residents of states ruled by Modi's Bharatiya Janata Party (BJP).
---
The CAA might have been viewed as a benign exercise, offering refuge to at least some religious minorities, had it not been coupled with the National Register of Citizens (NRC). The program would leave only Muslims unable to prove their Indian citizenship off the rolls, while bringing in the others through the backdoor provided by the CAA. A nationwide NRC has long been a clarion call of Modi's party, one that has featured in multiple BJP manifestos.
Anti-CAA protests first escalated in Assam on December 8, even before the bill was tabled in Parliament. The same organizations that had supported the drawn-out NRC process just two months earlier organized statewide resistance, holding up lit torches and bringing the state to a grinding halt. Samujjal Bhattacharya is among the biggest leaders of the movement and an advisor to the All Assam Students Union (AASU). He had been a key BJP ally in bringing the NRC to his state but later soured on Modi's party for turning the region's decades-old ethnolinguistic dispute into a solely religious one. "Until 1971 we have accepted Hindu and Muslim immigrants both, beyond '71 we cannot take both Hindus and Muslims. Clear," he told me in September, days after the NRC list that excluded 1.9 million immigrants was released. "Now, through CAB (Citizenship Amendment Bill) the BJP government is trying to protect their illegal Hindu Bangladeshi vote banks," he added.
The people of Assam and other northeastern states, where some had welcomed the NRC to their region, have rejected the citizenship overhaul. The latter policy would give those they deem to be "illegal Bengali Hindus" a pathway to citizenship. Section 144—also called the "curfew" law, barring public assembly—has been enforced in the region, where the BJP had opened a nascent but significant electoral account, along with widespread internet shutdowns.
Videos from a locked-down Uttar Pradesh show cops firing live rounds, barging into homes, destroying property, beating children, and detaining people.
Anti-CAA resistance wasn't limited to border-lying areas. It spread initially on university campuses, beginning with Delhi's Jamia Millia Islamia, and later caught on elsewhere. On December 15, the Jamia protest spilled outside of the university's campus. Delhi Police, under the authority of the BJP-led government, responded with disproportionate might, firing tear gas canisters in the university library, brutalizing some students, and parading them for the television cameras outside the university gate with their hands raised in the air like criminals. This sparked a series of marathon protests in the capital that were in turn suppressed with batons, water cannons, mass detentions, and yet more tear gas.
Demonstrations around Delhi were organized by different student, political, and civil society groups, but the most consistent has been the resistance inside Jamia Millia and the nearby residential colony of Shaheen Bagh, where Muslim women continue to sit outside in biting cold weather to protest the crackdown on Jamia students and press for the revocation of the NRC. I visited the area a week after the protests began. Here, posters of Gandhi, Ambedkar, and Nehru adorned the walls. Graffiti that said "this country is mine, too," "withdraw CAA and NRC," and "Hindus, Muslims, Sikhs, Christians are united in opposing CAA" were splashed across residential walls. In other parts of the city, I witnessed young protestors forming a circle, lighting the torches of their mobile phones in the dark to recite the preamble of the Constitution, reminding the government that they are citizens of a "secular, democratic, republic." Barricades, checkpoints, diversions, closed subway stops, internet shutdowns, and innumerable arrests could not bar people from protesting in the capital.
Supporters of the government have demonized the student protestors, categorizing them as vicious and violent. The Prime Minister, campaigning in the eastern state of Jharkhand, claimed that "the miscreants could be identified by their clothes" (a dog whistle directed at the Muslim community).
"We (Muslims) are the usual suspects when it comes in violence. You saw in Jamia how the students were being peaceful and the state sponsored violence on them," Saud Amin Khan, twenty-six, a poverty and development researcher, said at a protest held outside the iconic India Gate in the capital on December 16. "We see it in the media every day, if there are three criminals who have committed the same crime, the Muslim name will be highlighted first."
Leading the world in cutting off the internet this year, Modi has switched off Indians' internet in many states since the protests began, inviting adulation from the world's biggest internet-freedom violator, China. Opposition leaders from West Bengal, Hyderabad, Tamil Nadu, Bihar, Rajasthan, and Madhya Pradesh led protests in their respective regions. However, some of the largest gatherings, like one in Aurangabad in the state of Maharashtra, saw no politicians, no party flags, only the tricolor and swathes of protestors from all faiths.
---
Policing is a state matter in India. All but one state where police have opened fire or have violently detained or abused protestors are ruled by the BJP. Uttar Pradesh, ruled by Yogi Adityanath, a radical Hindu nationalist monk, has seen the worst crackdown, especially in towns and cities that are known to have dense Muslim populations. At least twenty-seven lives have been lost in the past two weeks, nineteen of them in UP, including that of an eight-year-old boy.
Uttar Pradesh, India's most populous state, has borne the brunt of repeated sectarian violence. 20 percent of its 200 million residents are Muslim. It is often said that the road to New Delhi goes through Lucknow, the capital of UP. In Indian politics, winning UP is a definitive step toward power in New Delhi. The BJP has hotly contested this region and the victory of Adityanath, known for his venomous anti-Muslim speeches, was a sign of the possible communalization of the state, and his brutal crackdown on Muslim protestors in his state is another step in that direction.
In the district of Muzaffarnagar, where sectarian riots broke out in 2013, the administration has sealed sixty-seven shops, mainly owned by Muslims, to recover losses that they claim were caused by rioters residing nearby. There are also plans to book around 250 protesters, who the government claims instigated violence, under the National Security Act (NSA), which empowers the state to detain someone for up to a year based on the belief that they threaten national security. All of this leaves Muslim residents at the mercy of a government already hostile to them and a police force that has traditionally discriminated against them.
An internet and communications blockade in many districts of UP. Thousands of protestors—including Sadaf Jafar, an actress and social activist—have been arrested. Many Muslims are booked under charges of attempted murder. Videos from a locked-down Uttar Pradesh show cops firing live rounds, barging into homes, destroying property, beating children, and detaining people. Many of those detained and abused are minors. The Indian Civil Liberties Union, a collective of lawyers and activists working on the ground, estimate that nearly fifty-five hundred people have been detained and over sixteen hundred arrested from UP alone.
---
The BJP's hopes for their Hindu nationalist project seem to be threatened by the secular, multicultural gatherings across the country where demonstrators recite the preamble of the Constitution, wave the national flag, and fight for India's pluralistic values. In Muslim-dominated areas like Delhi's Shaheen Bagh, protestors are pressing for the preservation of secular, constitutional values. In recent heartening scenes from the capital, Hindus and Sikhs formed human chains around Muslims praying in between protests. Used to claiming votes and consent on sectarian lines, Modi seems to be caught off-guard.
Many of the protestors I spoke to around Delhi were resolute that they would not give up until the NRC has been rolled back.
Simultaneously, BJP poll numbers are beginning to decline in the party's bastions like Jharkhand in the east and Maharashtra in the west. Even some key members of the BJP's current political alliance have declared they won't implement the NRC. International censure is mounting.
On December 22, Modi took to the stage in the capital to address BJP supporters waving the party's saffron flag. He contradicted his Home Minister, Amit Shah, and claimed that there are no plans for a nationwide NRC. Meanwhile, the government has rolled out a thinly veiled copy of the program, the National Population Register—a national registry of "usual residents," or those who have resided in a particular place for more than six months—which, in its current form, is nothing more than a preparation for a national version of the NRC.
Even though the future of the NRC and the CAA remains unclear after weeks of violent crackdowns against demonstrators, many of the protestors I spoke to around Delhi were resolute that they would not give up until the NRC has been rolled back. The new year began with almost one hundred organizations coming together to form a joint forum towards coordinating the protests against the CAA-NRC-NPR triple assault of Modi's government. It is called "We, the People of India" after the opening line of the preamble of the constitution, which has become a rallying cry for protestors around the country.
---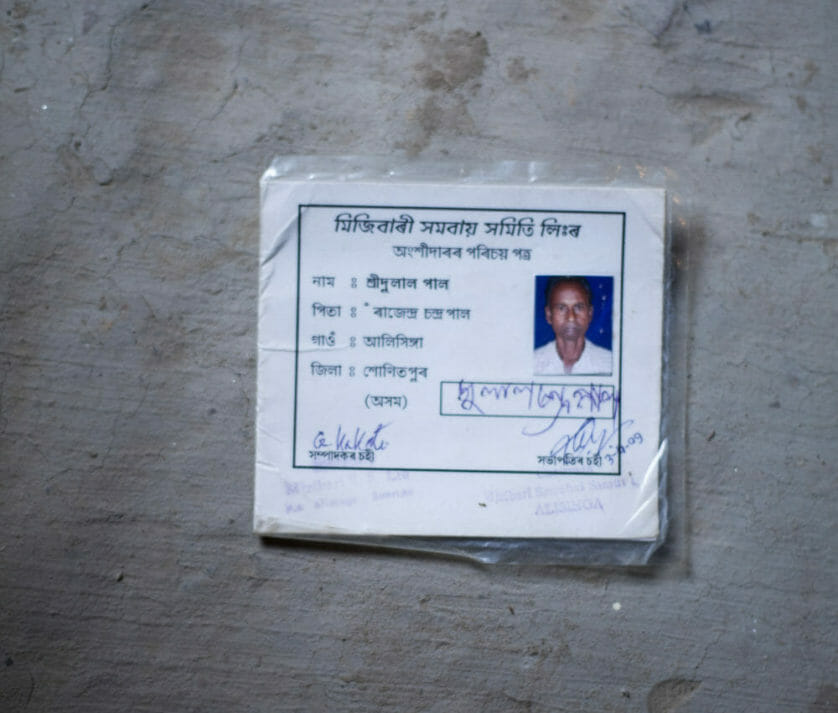 The long march to exclude India's largest minority
By Makepeace Sitlhou
When Dulal Chandra Paul died on October 13 in government custody in Guwahati, the largest city in the northeast Indian state of Assam, his son, Ashok Paul, turned to people he trusted the most—his jaati, or community. A Hindu Bengali wage laborer, born in Dhekiajuli in Assam's Sonitpur district in 1965, Dulal had been declared an illegal immigrant or "foreigner" by the state government in 2017 and subsequently arrested. When I visited his home a week before the festival of Diwali in October, members of the All Assam Bengali Youth Students Federation, a civil society body, had come to show their strength and support.
Dulal's death had become a political row when his family for two months refused to accept his corpse for the last Hindu rites until he was declared Indian by the Assam government. They were sending a message: if he was really a foreigner from Bangladesh, as the government claimed, his corpse should be sent to an address in the neighboring country.
Dulal had been tried in a Foreigners' Tribunal, one of the many bodies set up in Assam over the past few decades to check illegal immigration into the state. Anxiety over the influx of mainland Indian outsiders and Bangladeshis is not new here. Assam is home to several indigenous and tribal communities, and the immigrant Bengalis are viewed by them as a threat to the local culture. These concerns increased dramatically after 1971, when many Bengalis migrated to the region fleeing the atrocities of Bangladesh's war of secession. A six-year-long anti-immigrant agitation, spearheaded by the All Assam Students Union, led to the signing of the 1985 Assam Accord, which declared all those who entered the state after 1971 to be illegal.
Since India doesn't have a repatriation policy with Bangladesh, which does not accept these declared foreigners as their own, people like Dulal rot in detention camps for years on end.
After the accord was signed, the state government set up the Illegal Migrants Determination of Tribunals Act (IMDT) courts and, later, the Foreigners' Tribunals to decide the status of citizenship of residents in Assam. Established in 1985 and 2006, respectively, their task is to investigate and prosecute illegal migrants in quasi-judicial proceedings. While the since-repealed IMDT courts required the state to produce credible evidence against a person suspected of being a foreigner, the Foreigners' Tribunals put the burden of proof on the accused. Until the Supreme Court repealed the IMDT Act in 2005, on a petition filed by the present Bhartiya Janata Party chief minister Sarbananda Sonowal, the Assam government could only prove 24,021 residents (as per official government sources) to be foreigners over a span of twenty years. Once the Foreigners' Tribunals were set up, that number has increased fourfold in just fourteen years.
Though technically considered opinions, the rulings in these courts are legally binding. Any person declared to be a foreigner is stripped of their citizenship rights, including the right to vote, and are confined to detention centers until deportation. So far, one hundred twenty-nine thousand have been declared "foreigners" through this process and so far more than five hundred thousand have been identified for trial.
Since India doesn't have a repatriation policy with Bangladesh, which does not accept these declared foreigners as their own, people like Dulal rot in detention camps for years on end. Despite a recent high court order allowing detainees who have served at least three years to be released on bail, 988 persons are still lodged in district jails, per official figures. A data-based investigation by Vice News found that most of the people declared foreigners were poor, unlettered, Muslim, and Bengali speakers.
Dulal's case speaks both to the suffering wrought on the most marginalized people by the tribunals, and to the arbitrariness of the rulings. His sons have been struggling to survive since both their parents received notices from the Foreigners' Tribunal; they have had to sell off their cattle and take loans from moneylenders. "We got no land of our own, and I've not had any steady work since the last two years," Ashok told me. The family estimates they have been drained of about $1,500 in legal expenses for the cases. To put that in context, as wage laborers, the sons make less than $3 a day. While their mother managed to prove her citizenship, they do not have the resources to take their father's case to the Supreme Court. "My mother, in fact, did not have as many documents as my father did," Ashok noted.
In addition to the tribunals, the Assam Accord also called for a reappraisal of the state's National Register of Citizens (NRC) in order to weed out illegal or "doubtful" voters through an investigation of their paperwork. This mammoth and oft-delayed process, which was finally completed on August 31, left out more than 1.9 million residents from the 33 million applicants in Assam. Yet this list was still felt to be insufficient by the BJP-ruled Assamese state government and AASU, who both rejected it. They contended that a large number of illegal foreigners, particularly from the Muslim-majority border-lying districts, had incorrectly remained on the list.
Both have taken the legal route to repeat the exercise in Assam even as India's Home Minister Amit Shah announced a nationwide NRC, which would include the state of Assam. As of this writing, the existing, more limited NRC has not been officially retracted.
It is in this broader context that we must try to understand the planned implementation of the Citizenship Amendment Bill (CAB) in Assam. The bill, which became law on December 12, automatically grants citizenship to non-Muslim migrants from Muslim-majority neighbors—Pakistan, Afghanistan, and Bangladesh—who came to India before December 31, 2014. These migrants do not have to prove they are facing "religious persecution," although Shah has claimed that they are. On the surface, it might seem like a transparently sectarian attempt to satisfy Modi's local Hindu voter base at the expense of the rights of Muslims. Yet this binary overlooks the older Assamese grievances over immigration. In any case, the matter is not so simple, even for Hindus. "To avail citizenship, Bengali Hindus will have to first declare that they have crossed over from Bangladesh," Shyamal Sarkar, a resident of the Morigaon district, told me in October. "Who will say that and why should they, when generations have been living here for many years?"
---
The passage of the Citizenship Amendment Act (CAA) stirred up massive protests across the country. However, the fire started in Assam. For four long days from December 9-12, flash protests erupted all over the city; mobs formed every fifty to one hundred meters, blocking the road before they were driven away by cops, only to be replaced by other groups. At least five protestors were killed by police fire; to date, more than a thousand protestors have been picked up, according to news reports. The violence, it should be stressed, has almost entirely been committed by the state.
The motivations behind the protests have been complex. For one thing, the civil response has been largely leaderless and spontaneous, unlike the Assam agitation of 1979-85. "People came out on their own in groups," former Assam Police Director General Harekrishna Deka told me. "There is so much frustration and anger that it burst out and spread everywhere. People came out defying the curfew."
Some of the anger seems broadly directed at the opportunism of the central government, which has communalized an older, legitimate local grievance. "We want to show Modi and Amit Shah that we have Bir Lachit Borphukan's blood running through our veins," I heard one protestor declare as he carried on with arson and blocked one of the main roads of Guwahati city. Borphukan was the commander in chief of the erstwhile Ahom Kingdom army that famously fought the battle of Saraighat against Mughal accession in the year 1671. The BJP was being cast as latter-day invaders.
But the agitation wasn't entirely secular. The Rashtriya Swayamsevak Sangh (RSS), the political ideologue of the Hindu nationalist BJP, was eager to communalize a movement that was already linguistically majoritarian. In Lower Assam, the Muslims, who speak a Bengali-inflected Assamese, were made out to be the infiltrators.[*] Although Assam has "indigenous" Muslims residing in Upper Assam districts, many of who trace their origins to the Mughals, the battle of Saraighat is also portrayed by the Hindu right wing as a victory against "Muslim invasion."
Parveen Sultana, an academic based in the Bangladesh-bordering district of Dhubri (lower Assam), says that although the government has been trying desperately to communalize the protests, the people on the ground have resisted this interpretation. "For ten days almost, there was no information coming in due to the internet shutdown. But what we've been hearing is that Bengal origin Muslim migrant laborers in upper Assam districts have been targeted, not only by the police but also by protestors," Sultana told me. "This kind of ultra-nationalism has been happening since before the protests and seemingly has social sanction." The website Scroll reported that in the upper Assam district of Tinsukia, CAA protestors targeted Bengali businesses and an indigenous man was burned to death.
Yet not all locals are against the CAA. Firecrackers were set off to greet the act in the Barak Valley, an area dominated by Hindu Bengalis who migrated there after the Bangladesh war. Basudeb Sharma of the All Assam Hindu Bengali Association felt that Hindu Bengalis should have no qualms about saying that they face religious persecution in Bangladesh. "Those who have been in detention camp or are excluded from the NRC will also be granted citizenship under the new bill," he told me. Sharma agrees that the northeastern states should not have to bear the burden of accommodating Hindu Bengalis. "It's good that the tribal states were exempted to preserve their culture and language. Bengalis can go and settle anywhere else," he added. "Now that Section 370 is removed, even Kashmir is open to us."
Barak Valley has seen several flare ups between Hindus and Muslims over the decades and is the most communally sensitive area in the state. Generally, Hindu Bengalis in the region are the most bankable electorate for the BJP, since most indigenous and tribal communities do not vote on religious lines, tending to favor the party in power, given that they are almost entirely dependent on central funds for welfare and development.
---
The new NRC process—once a register is finally accepted—will require people to prove their citizenship before one of the state's two hundred Foreigners' Tribunals. The justice handed out there, already rough and inconsistent, is sure to grow more aggressive with the passage of the CAA. "Earlier, there was some balance with Hindu Bengalis in the mix," Aman Wadud, a lawyer who has fought several citizenship cases in the Assam High Court, told me. "With only Muslims, the government will pressurize them to declare all of them foreigners."
He also noted that the state's infamous detention centers will now "become exclusively for Muslims." The six centers in Assam—whose very existence Modi recently denied in a typical display of dishonesty—are essentially cordoned off sections of district jails. They have come under heavy criticism from human rights activists and groups like Amnesty International. Former detainees have complained of overcrowded, cramped cells, food below nutritional quality, and inadequate medical and mental health facilities. A current detainee's son told Amnesty International that the food served inside was so bad that his mother "rinses off the potatoes from the curry and then eats it." The Ministry of Home Affairs is building a vast detention center in the Goalpara district of Assam meant for three thousand detainees—complete with a school, hospital, dining area, and a recreational area inside.
It is only since last year that "progressives" started accepting indefinite detention in district jails as cruel on humanitarian grounds.
In sharp contrast to the mass opposition to the CAA, there's been little discussion about these draconian courts and detention centers among the Assamese public. Most Assamese in fact remain ignorant of or apathetic to the anomalies—variations in the spellings of people's names in different IDs or non-acceptance of Gaon Panchayat certificates for underprivileged women who have neither a birth or school certificate to prove linkage to their parents—in the NRC process itself. (A special category called "Original Inhabitants" was created exempting tribal groups and Assamese communities considered "indigenous" from the arduous process of proving their own citizenship. Nevertheless, many Assamese have found their names excluded from NRC.)
It is only since last year that "progressives" started accepting indefinite detention in district jails as cruel on humanitarian grounds. Many are now in favor of work permits for those declared foreigners, an idea that was first floated by the writer Sanjoy Hazarika.
Hiren Gohain, one of Assam's most noted intellectuals, was critical of the violently exclusionary streak of Assamese nationalism during the earlier agitation. Although he is concerned by the influx of foreigners, he admitted that the process of detention by the Foreigners' Tribunals leaves a lot to be desired. "The short time in which someone is declared a foreigner appears to be unjust. The process should be reviewed," he told me.
On December 20, Sonowal announced to the media that not a single person from Bangladesh will come to Assam due to CAA. Abdul Mannan, a former professor of statistics at Gauhati University who has previously busted the myth of inorganic decadal Muslim growth in Assam, believes that migration figures have dropped in recent years as the Bangladeshi economy has improved. Still, he fears leaders on the other side could use the law to polarize sentiments further. "Mischievous elements there might use this to compel people to leave, disturbing the entire subcontinent as a result," he told me. This possibility, he says, stands to threaten the Assamese identity and culture.
Even if this doesn't happen in the current BJP term, the stage has been set for a Hindu Rashtra (the land of Hindus) in which non-Indian Hindus are accommodated as eternally grateful vote banks—as they are now in Assam, Tripura, and West Bengal. By then, Muslims would probably be indefinitely detained or reduced to second-class citizens clutching work permits. When that day comes, the BJP will be indebted to Assam for developing the NRC and the Foreigners' Tribunals, instruments which have helped, however unwittingly, to make all of this happen.
---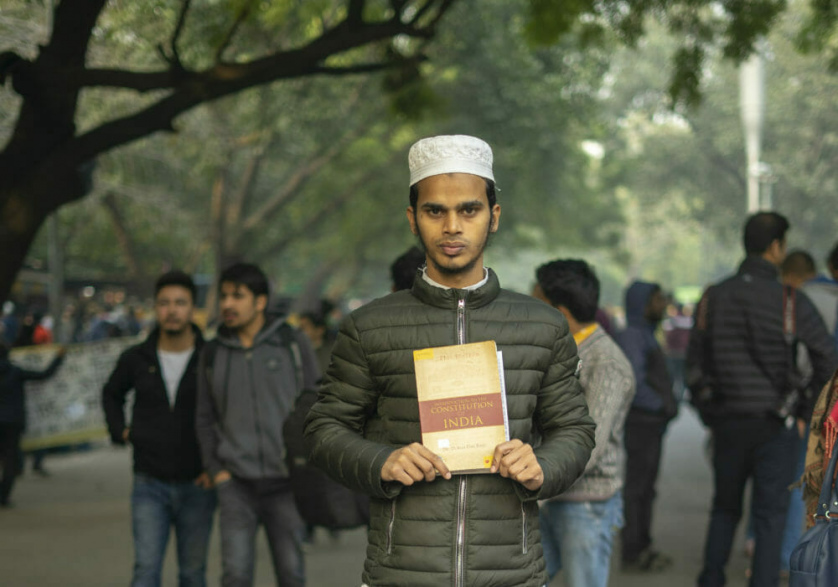 The Indian state weaponizes paperwork
By Mohsin Alam Bhat
On December 11, 2019, the parliament of India voted overwhelmingly to introduce a religious qualification for citizenship. The Citizenship Amendment Act 2019 (CAA) offers all undocumented migrants from Pakistan, Bangladesh, and Afghanistan a route to naturalization, provided they are not Muslim.
The amendment appears to violate the Indian constitution's most cherished value of equality. Article 14 guarantees that the state cannot pass laws that make unreasonable, irrational, or arbitrary distinctions among persons irrespective of their citizenship. Plainly, the CAA does not fulfill these requirements. The act is also incoherent on the terms the Bharatiya Janata Party administration is trying to sell it by. Prime Minister Narendra Modi's proclaimed purpose is to ameliorate the condition of persecuted minorities in the region. If this is the case, there is no obvious rationale for limiting the legislation's purview to exclude other neighboring countries like Myanmar, Sri Lanka and China, where Rohingya Muslims, Tamil Hindus, and Tibetan Buddhists, respectively, have faced terrible persecution (and have historically sought shelter in India). More to the point, there are Muslim sects victimized in the countries covered under the bill—the Ahmadis in Pakistan and Hazaras in Afghanistan—who will not be granted refuge under it.
In any case, there is no good reason why religious persecution, as opposed to persecution on any other ground however severe, should be given special treatment at this specific moment. Each of these reasons renders the law vulnerable to legal challenge. But that has not stopped the government and its partisans from claiming that the law is needed to protect refugees. As for the Muslims left out, they are taken to be illegal migrants.
---
The attempt to ideologically distinguish between different types of aspiring citizens —Hindu versus Muslim, refugee versus migrant—has a longer history in the Indian subcontinent, arguably going as far back as Partition. This binary perhaps saw its most consequential manifestation in the debates around citizenship in the northeastern state of Assam.
During the 1971 Bangladesh war of secession, large-scale atrocities by the Pakistani military forced millions of Hindu and Muslim Bengalis to seek refuge in India. Many found their way to the bordering state of Assam, where there had already been a significant population of Bengalis by early 1900s. The scale of migration heightened the anxiety among the local Assamese that the Bengali migrants would overrun their homeland and turn them into a minority. For six years a mass civil agitation led by students called for the government to identify and dispel who they considered to be illegal migrants. In 1985, the Indian government relented and passed an agreement christened the Assam Accord. The centerpiece of the federal contract was what the Accord called the "foreigners issue." The Assamese conceded that all undocumented migrants who came to the state up to March 24, 1971—a day before Bangladesh declared its independence from Pakistan—would be given Indian citizenship. In return, Prime Minister Rajiv Gandhi promised that the central government would deport all foreigners who entered the country after 1971.
This agreement inaugurated a vast bureaucratic regime—consisting of the border police, foreigners' tribunals, and detention centers—for detecting and incarcerating suspected foreigners. In 1997, India's election commission classified thousands of individuals as "doubtful" voters without any hearing. The government referred their fate, and of many others identified by the border police, to tribunals, which have become notorious for playing fast and loose with rules of procedure and evidence. The detention centers—usually cordened off sections within prison compounds— operate in a legal vacuum. Detainees are often denied any legal aid, or basic visitation and parole rights. Until very recently, they faced the prospect of perpetual confinement. Responding to a public interest petition filed by the human rights activist Harsh Mander in May 2019, the Supreme Court limited the maximum detention term in such centers to three years, provided detainees periodically appear before the police.
All this did little to satiate the fear of demographic change. In 2000, prominent Assamese activists approached the Supreme Court to intervene in the existing mechanisms of identifying and deporting foreigners. In an unprecedented judgment, the court shifted the burden of proof—the responsibility of producing documentary evidence—from the government to the individual. The fact that the majority of citizens, like in the rest of the country, were poor, landless, mobile, and illiterate, with practically no government documents, was of little concern.
This hyper-legalization of the everyday came full circle in 2013, when the Supreme Court ordered the compilation of an exhaustive list of citizens in Assam. The court wanted all residents of the state to submit documents to a bureaucratic department it monitored directly. This list, Assam's National Register of Citizens or NRC, was envisioned as a hallowed scroll containing those who rightfully belong to the land. The court thus universalized the suspicion of foreign-ness. Now everyone in the state was an alien until proven not. After dozens of suicides, numerous families pushed to financial ruin, and $170 million spent from public exchequer, around 2 million people stand excluded from the Assam NRC in August 2019, staring at the prospect of being rendered stateless. Among these are some of the poorest people in the state, both Hindus and Muslims.
---
The Indian government now proposes to extend this process to the entire country in the form of the National Register of Indian Citizens (NRIC). The BJP has pitched NRIC as its masterful strategy of identifying all infiltrators (Union Home Minister Amit Shah uses the ugly Hindi word "ghuspaithiya."). As in Assam, there is every chance the process will end up excluding numerous Hindus, who the BJP seeks to consolidate as a vote bank.
The Citizenship Amendment Act offers a neat resolution to this problem. It promises to offer citizenship to all the Hindus left out of Assam's NRC, as well as the NRIC, as long as they arrived in India before 2015, on the assumption that they are fleeing religious persecution from other countries. Not known for his subtlety, Shah said at a BJP press conference on April 23 that, "First the Citizenship Amendment will come. All refugees will get citizenship. Then NRC will come. This is why refugees should not worry, but infiltrators should."
The Citizenship Amendment Act mirrors Israel's Law of Return, interpreting India as the natural homeland of Hindus.
This explicit association of refugee with Hindus and infiltrators with Muslims had remained in the background until now. Yet even in Assam, activists have consistently expressed concerns that the bureaucratic regime targeted Muslims. With the CAA, the gloves have come off. Essentially, the CAA demarcates the status of refugee for Hindus, and the status of illegal migrants only for Muslims. In this sense it mirrors Israel's Law of Return, interpreting India as the natural homeland of Hindus. This is of course how the Hindu nationalists have long imagined the country, as the Hindu Rashtra, where Hindus have a greater claim than any other community.
If the government succeeds in fully administering NRIC, all Indians will be pushed into the esoteric alleys of documentary proof and become precariously subject to unbridled executive discretion. The law allows the government to first prepare a National Population Register, compiling an exhaustive list of Indian residents, and then allows local government officials to filter citizens from aliens. The amendment's legitimization of Hindus as naturally Indian, and Muslims as inevitably alien, will shape how this discretion is exercised. If this happens, the illiberal turn in India's citizenship law —which on the surface seeks to sift Hindu refugees from Muslim migrants—will turn inwards. Ordinary Muslim citizens will be held to higher documentary standards. They may be susceptible to more frequent demands of proving citizenship at the threat of detention. It will make the national belonging of India's marginalized—most of all, its Muslims—perpetually vulnerable.
From the lens of India's constitutional jurisprudence, at least as it stands today, the amendment is incoherent and deficient. Constitutional fidelity, though, is a moving target. It is a product of politics that shapes both legal plausibility and institutional deference. While fifty-nine petitions against the CAA have already been filed in the Supreme Court, only time will tell if the anxieties that have shaped the background political and legal ideologies will come to determine the judicial response.
---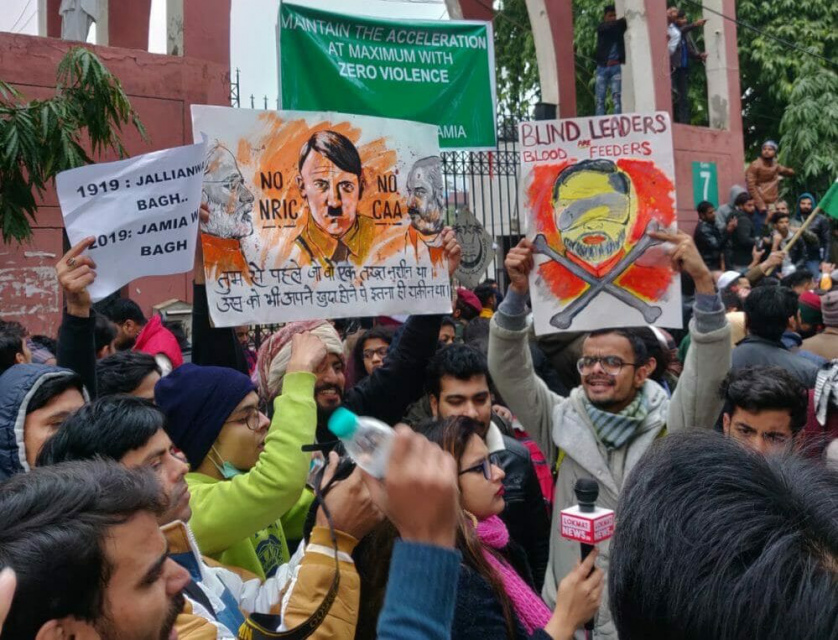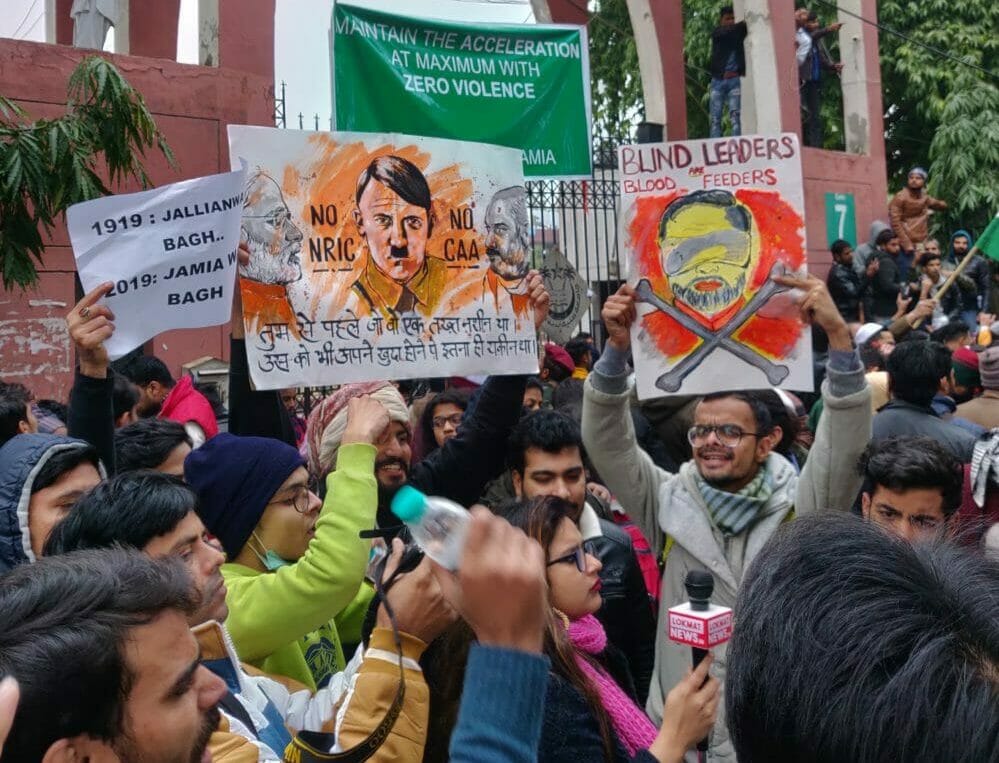 Surviving Modi's undeclared war on Muslims
By Furquan Ameen Siddiqui
It was like a "war zone," one student told me. It did sound like one. Every few minutes, an explosion interrupted the assembled crowd's sloganeering; tear gas made it difficult to breathe or see. Amid a frenzied atmosphere, we stood in a lane next to the campus trying to figure out what was happening inside.
It was December 15, the third day of protests against the Citizenship Amendment Act (CAA) led by students at Jamia Millia Islamia (JMI), a central university in Delhi. JMI is one of India's most prestigious centers of higher education.Though sometimes painted as a Muslim college in the press, Jamia is not a theological school. It is a minority institution, with 50 percent of its seats reserved for Muslim students. Nestled in Jamia Nagar, it is in many ways the beating heart of the neighborhood. Many people living in the area have either studied at the university or the school it runs right next door. It wasn't only students who saw this as an attack on their home.
A little after sundown, police fired tear gas at protestors and beat them up with lathis (thick bamboo sticks used as batons), allegedly in response to stone-pelting from the demonstrators. The police drove people back onto a stretch of road that bifurcates the university and then went on a rampage inside the campus, beating up students, guards, and the imam of the university mosque.
As we watched from outside, cries from within the campus made it to our phone screens. "I'm here with people from Jamia, and I don't know what to do. I'm panicking right now, we're in a washroom," a student said in an audio message posted on our alumni group. (I graduated from JMI with a masters in journalism in 2011.) She was trapped, hiding from the police, in a washroom in the university library. "They've entered our campus, the Delhi police, and [are] firing tear gas. Please spread this message. They've surrounded us," we heard in another student's frantic audio message.
Jamia's central library resembled a crime scene by the time we finally got there a day after. CCTV cameras were destroyed in two reading rooms, one in the main library and the other in an older block named after the great philosopher physician Ibn Sina, or Avicenna. Bloodstains bore witness to the mayhem, on the floor and stairs, on walls, on notebooks, on shattered glasses, on used tissues and on discarded, broken lathis. (The university estimated that a damage of about Rs.25 million was caused.) Students said the air-conditioned reading rooms—which were once our refuge from Delhi's scorching summer and our home during exams—had been surrounded by policemen, who fired tear gas inside to force the students out. Tear gas shells scattered across the reading room had left marks wherever they'd exploded.
People across India have responded to calls sent out by students, civic society, political parties, and ordinary citizens to protest against the new law and the widespread police brutality.
Mohammed Mustafa, a twenty-six-year-old student who was in one of the reading rooms, had both of his hands plastered when I met him at the university proctor's office two days after the attack. Some of his belongings were still in the library, but he was still too afraid to enter the building and was hoping the proctor could help him out. The police had beaten Mustafa even though he made it clear to them that he was not part of the protests. "I lifted both my hands to protect my head," he told me. "So both my hands were broken." He was also asked by a policeman to recite the kalima (say a prayer) as if he was going to be killed. Katue (circumcised), Mulle (mullah), Bhadwe (pimp), and Jihadi were some of the slurs policemen used.
On the evening of the 16th, some fifty students were picked up by the police, some from hospitals where they were being treated for injuries, and taken to police stations where activists, lawyers, and journalists tried to negotiate their release. Everything the police did that day was illegal. Detained at police station, the protestors were denied their right to consult or seek medical help, even though many were grievously injured. "They are going to be traumatized for life," Shikha Kapur, Jamia assistant proctor and professor, told me. "If I'm going to live with this trauma, so are these students. Unki toh poori zindagi padi hai (Their entire life is left). They've just started."
---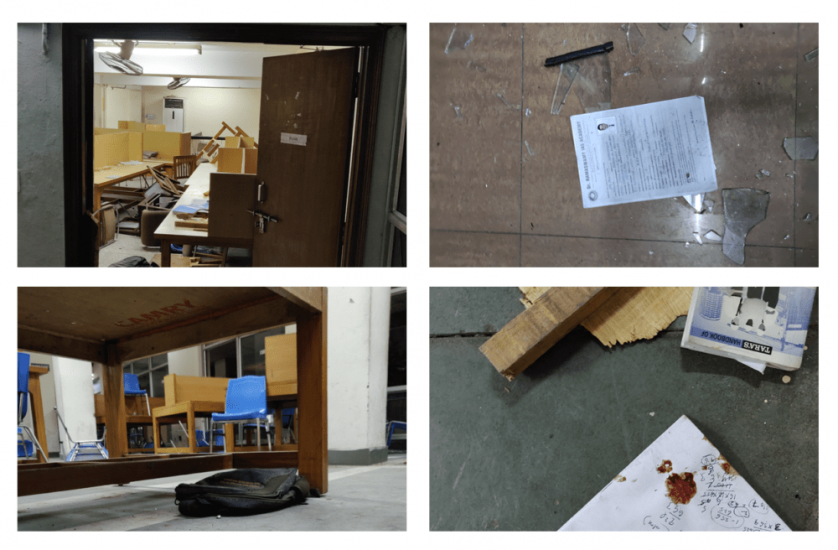 The attack on students at JMI brought about a jansailaab ( "a flood of people" in Hindustani). People across India have responded to calls sent out by students, civic society, political parties, and ordinary citizens to protest against the new law and the widespread police brutality. Massive gatherings have been reported in cities including Mumbai, Bangalore, Nagpur, and Kolkata. An estimated five hundred thousand came out to protest in Kochi on Wednesday to stage one of the biggest protests.
The police response has been deadly. At least twenty-six people have reportedly been killed during the anti-CAA protests—two in Karnataka, five in Assam, and nineteen in Uttar Pradesh (UP)—in states controlled by the ruling Bharatiya Janata Party (BJP). Yet everywhere it is evident that the police have dealt differently with "Muslim" and "non-Muslim" protests. For instance, the crackdown on historically Muslim universities like JMI and Aligarh Muslim University in Aligarh, Uttar Pradesh, have been far worse than actions at, say, Jawaharlal Nehru University. Similarly, in predominantly Muslim areas of Delhi—Old Delhi, Seelampur, and Jafrabad—police have turned violent on protestors, even detaining and beating minors.
Worse still, numerous videos have exposed how the police are operating in some regions as a communal force. This is especially true of the police in Uttar Pradesh, the state with highest number of Muslims in India. UP's chief minister Yogi Adityanath, a Hindu nationalist monk-turned-politician and a leading light of militant Hindutva, has openly called on his cops to take "badla" (revenge) as action on protestors. In a video reportedly from Meerut in UP, a police officer is seen telling protestors to go to Pakistan. "If you do not want to live here then go away," he says. "You come here but you sing praises about somewhere else." CCTV footage and videos recorded by locals in Muslim neighborhoods of western UP show policemen destroying cars, shops, and houses that belong to Muslims as they utter communal slurs. In essence, they are operating as a vigilante mob. Tragically, an eleven-year-old boy, Saghir Ahmed, was killed. There have also been reports of minors being arbitrarily detained and tortured. The police, of course, deny all culpability, claiming that the protestors had in fact killed each other in crossfire.
Incidents like these have spread panic in the Muslim community. On December 20, a friend from Aligarh called me, looking for a safe way to get her father to Delhi for a chemotherapy session. She had heard that the government was deploying forces around all the Muslim areas of Delhi. Were there plans to contain the community in its ghettos?
---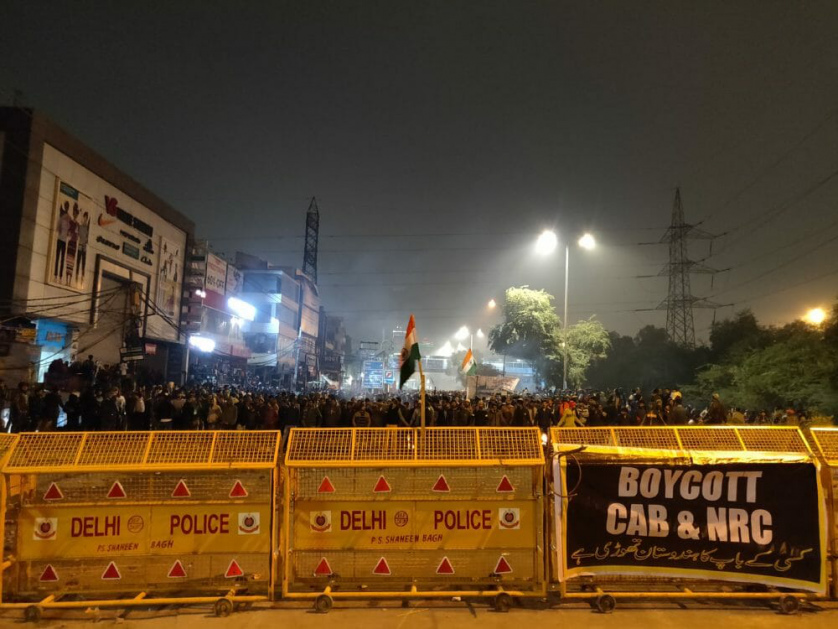 Maybe none of this should come us as surprise. After all, Muslims have been under attack since India's voters made their Faustian pact with Narendra Modi six years ago, electing him to the highest office despite common knowledge of his violent, flagrantly anti-Islamic past. In 2002, when Modi was the chief minister of the western state of Gujarat, Hindu mobs massacred Muslims in an orgy of violence that lasted three months and left nearly two thousand dead. There is overwhelming evidence that the state apparatus was complicit in the killings, which did little to stain Modi's reputation. On the contrary, he has built his reputation on them, calling himself the Hindu Hriday Samrat (King of Hindus' Heart). For a decade he shifted his attention to neoliberal economic growth, rebranding himself as a Vikas Purush, or development man. But Muslims still remembered his former image when the Vikas Purush was sworn in as Prime Minister in 2014.
Since Modi has come to power, the vilification of Islam has been blatant. On a symbolic level, there has been an attempt to tarnish the country's Islamic past. Muslim rulers have been a favorite target of the right-wing tirade, especially the last major Mughal king, Aurangzeb. This has gone hand in hand with a kind of saffronization of public space, as streets, neighborhoods, and even cities with old "Muslim" names have been rechristened by the BJP. In 2015, the centrally located Aurangzeb Road in Delhi was renamed after an Indian president; in 2018, the city of Allahabad in UP was rebranded as Prayagraj.
The first major instance of this saffronization was the demolition by a Hindu mob in 1992 of the historic Babri Masjid, a sixteenth century mosque in Ayodhya, UP. This November, a month before the CAB was passed, the ever-delayed legal dispute over the site of the demolished mosque was finally settled—in the favor of Hindus. Most Muslims had by then probably lost hope of ever getting the mosque back. Yet the community held out for justice based on constitutional values, rather than faith.
The ruling is part of a wider public assault on Islamic tradition. In December 2018, the lower house of parliament hastily passed a bill criminalizing instant triple talaq, also known as talaq-e-biddat, a form of divorce practiced by some Indian Muslims. The BJP proudly presented themselves as saviors of Muslim women; however, there was a larger communal agenda at play, as India's Supreme Court had already declared the practice illegal in 2017. If the triple talaq bill was garbed in humanitarian discourse, other cultural attacks have been more direct. On repeated occasions this past year, policemen in Haryana and UP, BJP states, have been instructed not to allow namaz out in the open. A list of similar incidents point to a systemic attack on Indian Muslims' life spent in public or in private. Everything is being scrutinized: what the community practices, wears, or even eats.
Food is central to the crisis. Since the BJP has come to power, there has been a spate of gruesome public lynchings of Muslims (and Dalits) across northern India, for the act—often, the mere suspicion—of slaughtering, smuggling, or even merely consuming cows, an animal considered blasphemous to eat by some Hindus. It really has been open season. Muslims in the north, especially those from the poor working class, have come to feel unsafe on roads, in public spaces, and even inside their homes. Even those of us in cities have been cautioned by our families and friends that meat in our lunch boxes could get us lynched. What about police protection? The "Status of Policing in India Report," a study published in August 2019, found significant bias against Muslims within the Indian police force. One in two policemen felt Muslims were "naturally prone towards committing crimes." This might explain why so few of the attackers in lynching cases are arrested—and why it is often those assaulted who are booked by the police. A similar bias was expressed during the crackdown against protests in Delhi, Uttar Pradesh, and Karnataka.
---

The National Register for Indian Citizens (NRC) has brought things full circle. It is the BJP's attempt to replicate at a national level the process of rooting out "illegal immigrants" that has been going on for some time in the northeastern state of Assam. This is done by drawing up a new citizen's register, evaluating the citizenship status of each resident in the state, some who have lived there for generations, based on bureaucratic rules that are never entirely clear. After four years, on August 31, a published final list had excluded more than 1.9 million. For thousands, many of them Bengali-speaking Muslims, the fear of a life in detention camps had turned real.
My landlord, an uneducated and unemployed middle-aged Muslim man, asked me to look at his documents. Would they be enough to save him?
A few days after the Assam list was released, my father, a retired scientist who worked in the central government, wondered aloud whether he would be able to prove his own citizenship. With no birth certificate and no proofs that link him to his parents, he is right to be worried.
In the wake of the CAA, my landlord, an uneducated and unemployed middle-aged Muslim man, asked me to look at his documents. Would they be enough to save him? Such discussions are probably happening across India, which remains an overwhelmingly poor country, where few have immediate access to legal papers.
Yet documentation will now become a matter of daily concern. I've already gotten a taste of this during my reporting over the past few years in Assam, where I saw people from some of the poorest areas holding on to their papers more dearly than any other possession. Many spent a fortune, mortgaged their properties and other possessions, and yet couldn't make it onto the final NRC list. Ironically, the long history of anti-immigration persecution there has made them better equipped to deal with bureaucratic inquiries, as they have learned to care about documentation. It is a fool's dream to expect that people in mainland India will be as prepared.
Fuzail Ayyubi, a Delhi-based advocate in India's apex court, told me that he has been receiving endless calls from Muslims suddenly worried about their legal status. People have been queueing up for birth certificates, voter cards, and Aadhaar cards (a biometric ID), despite knowing that these documents will not be accepted by the NRC.
---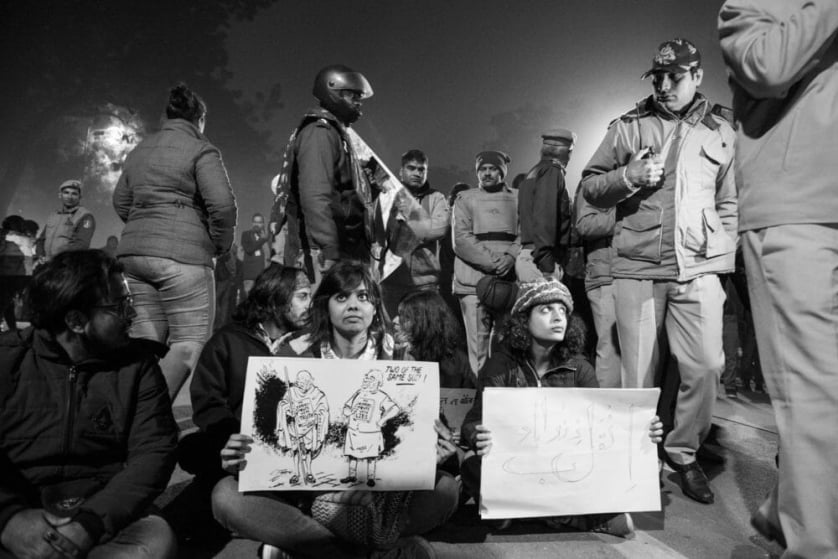 Since Partition, Indian Muslims have been asked time and again to prove their patriotism. Despite the country's ostensible secularism, this suspicion has never lifted. It is tiresomely aired during every India-Pakistan cricket match, every border skirmish, and every so-called Islamist terror attack. An attempt to ask for proof of citizenship is seen as yet another way for the community prove their allegiance.
What is bitterly ironic is that so many Indian Muslims actively chose the country over Pakistan. My own grandparents, Muslims from UP, remained in the state even as so many of their neighbors migrated across the border. They had rejected Muhammad Ali Jinnah's idea of an Islamic Republic in favor of Mahatma Gandhi's dream and assurance of a secular India. You hear similar stories from countless other families. One placard seen at all the CAA protests reads: "Dear Hindus, we rejected Islamic state in 1947. Now it's your turn to reject Hindu state."
Jamia Millia Islamia is central to this history. Maulana Muhammad Ali Jauhar, one of Jamia's founders, had worked alongside Gandhi during the 1920s Khilafat-Non-Cooperation movement, a major early agitation against the British that saw major Hindu and Muslim unity. "I belong to two circles of equal size, but which are not concentric," Jauhar observed in his speech at the 1930 Round Table Conference, the first of three major peace discussions between the Indian Nationalists and the Imperial government. "One is India, and the other is the Muslim world. . . . We as Indian Muslims came in both circles. We belong to these two circles, each of more than 300 millions, and we can leave neither." Today, in JMI's centenary year, the university's students carry forward Jauhar's legacy, wearing both their patriotism and their religious identity on their sleeves.
Two Jamia undergraduates have become the faces of the nationwide protests. During student demonstrations on December 15, Ladeeda Sakhaloon and Aysha Renna courageously protected a male classmate from a protracted police lathi-assault. Footage of these hijab-clad women standing up to the cops immediately went viral. They illustrate Jauhar's point about the two circles: Muslim and nationalistic. (Unsurprisingly, Sakhaloon and Renna soon became a target of right-wing propaganda portraying them as Islamists hijacking the student movement.)
---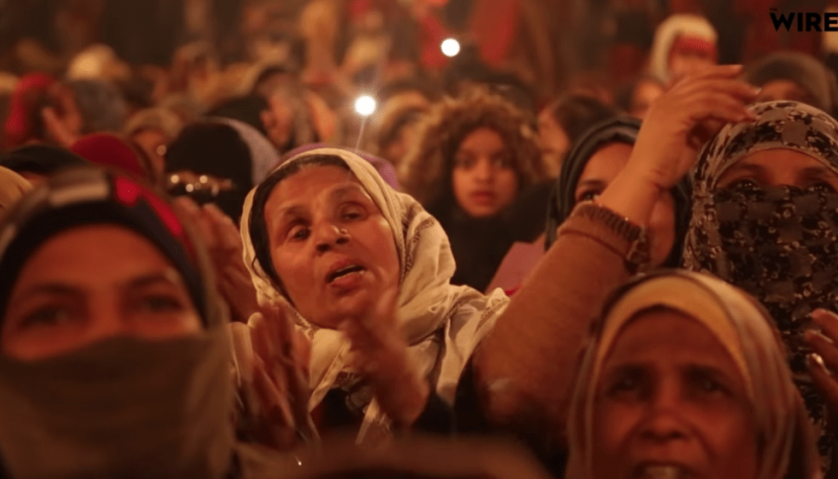 Despite all the danger, Muslims have been central to the protests across India. Women from the community have led what is perhaps the most remarkable form of resistance to have emerged, the occupation at Shaheen Bagh. On the night JMI was attacked, ten women from Shaheen Bagh, a neighborhood of Delhi, walked out of their homes and sat down on a nearby highway that connects the city to Uttar Pradesh. Since then, as their numbers have swelled with locals and others who have arrived in solidarity, they have not budged from their protest site.
The sit-in, which has braved some twenty nights of peak Delhi winter, has been organically coordinated by the local community. There is no single leader. I visited on Tuesday, which was later declared the coldest day in Delhi in over a hundred years. Hundreds turned up to celebrate New Year's Eve with the Shaheen Bagh ki auratein (Women of Shaheen Bagh). There was talk of azaadi (freedom) and inquilaab (revolution). We welcomed the new year with the national anthem. Ordinary, working- and middle-class women continued to make their voices of solidarity and protest heard.
Lawyers from the Muslim community have also been working overtime. They have formed quick alliances to help the thousands detained and arrested by the police. I recently spoke to Anas Tanwir, a thirty-year-old lawyer, who in 2018 founded the Indian Civil Liberties Union (ICLU). "This [police action] violates so many principles of law that you cannot even stop counting," he told me. "The way they have attacked with batons and firearms, the way they have detained people indiscriminately and even entered their houses: all of these are criminal acts. They have simply bullying a community." With a team of more than 120 lawyers, paralegals, and law students, the network remains on standby these days, vigilant in case protestors are detained or arrested. Similar informal networks are operating across the country wherever there have been police excesses.
Everyone I've spoken to—family members, friends, ordinary Muslims on the street—told me they'd prefer to fight the state and take back their rights rather than die in a detention camp or live as a second-class citizen. My mother is in Medina right now for umrah, an Islamic pilgrimage. I suggested that she extend her stay there; her country was burning. "It is the land is where I've lived all my life," she replied. "And it is where I'll die."
---
[*] Correction: An earlier version of this article described the accent of a group of Muslims living in Barak Valley. It has been changed to reflect that this group resides in Lower Assam.