Happy Birthday, Jean-Arthur Rimbaud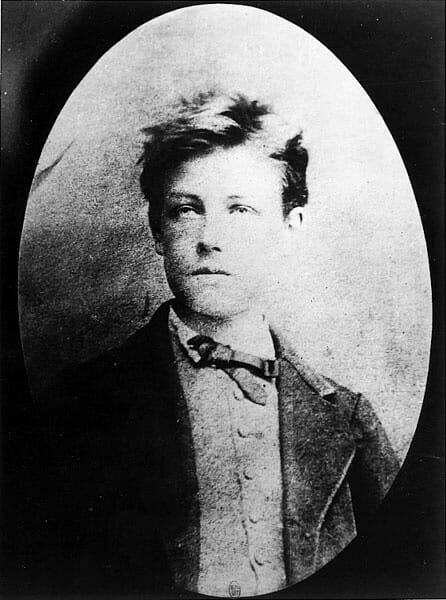 The words and work of Jean-Arthur Rimbaud, French poet and libertine, have been dear to The Baffler since the very start. The introduction to our inaugural issue, way back in the hazy days of 1988, name-checked Monsieur Rimbaud as an example of the bold voices that were missing from that era's "ever-slicker periodicals." The founding editors, Thomas Frank and Keith White, wrote:
American literature has lately succumbed to a variety of alarming maladies. Fiction has been captured by the professional innovationists of college writing workshops, who assure the marketability of their products (and, hence, the expansion of their reputation) by regularly announcing "the newest thing." […]

[M]alaise has wreaked its greatest destruction on poetry. The all-too-human angst expressed by such spirits as Rimbaud and Plath seems alien to today's poets of theory and inscrutable word games. Theory and facile avant-gardism have rendered impotent civilization's most expressive form: its practitioners strive to maximize esotericity and churn out scarcely-comprehensible "gibberish."
(Good thing that trend has reversed itself in the past twenty-six years, oui?)
Then, in 1990, the editors' introduction to issue 2 also began with the following epigraph by Rimbaud: "Ce poison va rester dans toutes nos veines même quant, la fanfare tournant, nous serons rendu à l'ancienne inharmonie," which translates to something like "This poison will remain in all our veins even when, the fanfare turning, we shall be given back to the old disharmony."
Today, we here at The Baffler are celebrating the 160th anniversary of his birth by looking back at Thomas Bernhard's lecture on Rimbaud. Bernhard wrote it on the occasion of Rimbaud's 100th birthday, and The Baffler published it for the first time in English in Issue 22 in 2013. Here's an excerpt:
The poet of France was truly elemental, his verses were of flesh and blood. A hundred years is nothing for this master of words, the untranslatable Rimbaud. He grabbed hold of life, unconventionally, by the roots, packed it full of awe and an obsession with death. His poetry is finished; at the age of twenty-three he snapped shut his book, his "Drunken Boat," his "Illuminations," his "Season in Hell." Never again did he take up the quill to write poetry; the disgust of literature had seized him. He was done, it was enough. "Absurde! Ridicule! Dégoûtant!"—thus did Rimbaud reply when someone spoke with admiration of his poetry, and tried to win him back to French literature. […]

Rimbaud was a martyr and "socially conscious," but never a politician. With politics, the alienation of art, he had nothing to do and nothing in common. He was nothing less than a human being and as such was scandalized by the rape of the mind…. Rimbaud was a communist, yes, but rather than being the kind of communist who wanted to torch the palaces of the Champs-Élysées, he was a communist of the spirit, a communist in his lyrics and his graphic prose.
With that, it's easy to see why Rimbaud's spirit has inspired The Baffler from the beginning. Read the rest of Bernhard's appreciation here.