In a misguided attempt to be comprehensive, I bought a Roku box and subscribed to Netflix so I could stream movies. There were too many films I should see coming out that way, I was thinking. Even though most of them have theatrical runs in New York City, I couldn't picture myself going to a movie theater to watch Horse Girl or The Last Thing He Wanted. Films like that were not The Irishman or even Marriage Story. They were the new fodder for the virtual content mound, even if they promised to be a little better than franchise films, which people have begun to describe simply as "IP," for intellectual property, a term that implies the Maze Runner movies are something more elevated than other kinds of assets. Like some people, it's not enough for them just to be worth money.
So if Dee Rees was going to adapt a Joan Didion novel, or if the Duplass Brothers were going to produce original screenplays written by actors, or if Barack and Michelle Obama were starting a documentary film company, I figured I should be able to see what they came up with without having to go to a movie theater each time and expose myself to coronavirus. What I've learned so far is that it's very hit or miss, I don't like staying home, and Netflix is quite interested in delving into my tastes and preferences. They send a lot of emails. They keep in touch. And they've found some things out.
If there's one thing Netflix knows about me, it's that I'm black. Which I'm not, but that doesn't matter to the algorithm. The first two movies I watched when I got Netflix happened to be the Rudy Ray Moore biopic, Dolemite Is My Name, with Eddie Murphy, and Atlantics, the debut feature by Mati Diop, from Senegal. Dolemite Is My Name was highly entertaining; Murphy was excellent. Atlantics, a supernatural art film about women's lives under capitalism, set in motion when the men of Dakar disappear at sea, was one of the best films of last year. I should have seen it in a movie theater.
One of these films was written and directed by white guys in Hollywood. I think it's Alexander and Karaszewski's best screenplay, on their favorite subject: to be alive is to make a movie, let nothing stop you. Dolemite was in English, Atlantics mostly in Wolof. The fact that I watched both, however, meant only one thing to Netflix. Their recommendation engine clunked into motion, and the first movie they suggested I see was How High 2, a sequel to the stoner classic that starred Method Man and Redman, now with Lil Yachty and somebody else in their parts.
When I rated both Dolemite and Atlantics with a thumbs up, more recs from Netflix poured in. The streaming giant wanted me to see a new movie called Miss Virginia, with Uzo Aduba, and Braxton Family Values, the reality TV show, along with Who Killed Malcolm X?, a Netflix docu-series, and Booty Call, the 1997 comedy with Jamie Foxx. Those last two were presented in tandem, a double feature Netflix must have suggested knowing I would never think of it myself. Now Netflix wants me to see Tyler Perry's latest, A Fall from Grace, and Queen Sono, a South African crime series.
I can't believe how wrong they've got me. They think I want to watch TV shows. The most disturbing thing about Netflix is how all content is the same to them, one thing replaces another, and they don't want you to stop watching to read the credits. You see movies but you watch TV, and Netflix doesn't admit there's a difference. They just want to know what you like, which to them is who you are. One thing they didn't recommend was their new movie The Last Thing He Wanted, even though it was directed by a black woman. Maybe they thought I didn't want to watch it because it stars Anne Hathaway and Ben Affleck. I saw it anyway. But they were right, I shouldn't have. I'm learning that the last thing I wanted was Netflix.
The Last Thing He Wanted
Based on a Joan Didion novel set in the 1980s about a newspaper reporter (Anne Hathaway) at the Washington Post who becomes a gunrunner in Central America and then a problem for the CIA, Dee Rees's adaptation fails in scene after scene, flunking the basics of screenwriting and directing again and again. It's impossible to tell that The Last Thing He Wanted was made by the same director as Mudbound, except for their shared lugubriousness. When the producers (Netflix) demanded the name of the newspaper be switched to the Atlantic Post, Rees should have pulled the plug on the whole thing.
Instead the film drowns on its own. Hathaway reads the Didion narration like it's full of words and ideas she's never heard yet knows are important and literary. She uses smoky-voiced gravitas, aiming in the vague direction of William S. Burroughs reading his monologue about Thanksgiving in America. Meanwhile, Ben Affleck is becoming late-period Dana Andrews. He looks and acts pickled and bored playing a CIA agent named Treat, Hathaway's love interest. He lumbers through his part in a stupor, like it's a chore, looking sadly at his Rolex, knowing it's five o'clock somewhere. Details add up to nothing. A dog runs over a landmine and explodes—woof! poof! Hathaway has a CGI mastectomy scar. Affleck, explaining realpolitik to gritty news photographer Rosie Perez, nods knowingly about "the other guy." "The other guy being socialism," he says to make sure she understands, bolstering and predicting, in the most plodding way, how socialism always gets screwed in the Americas.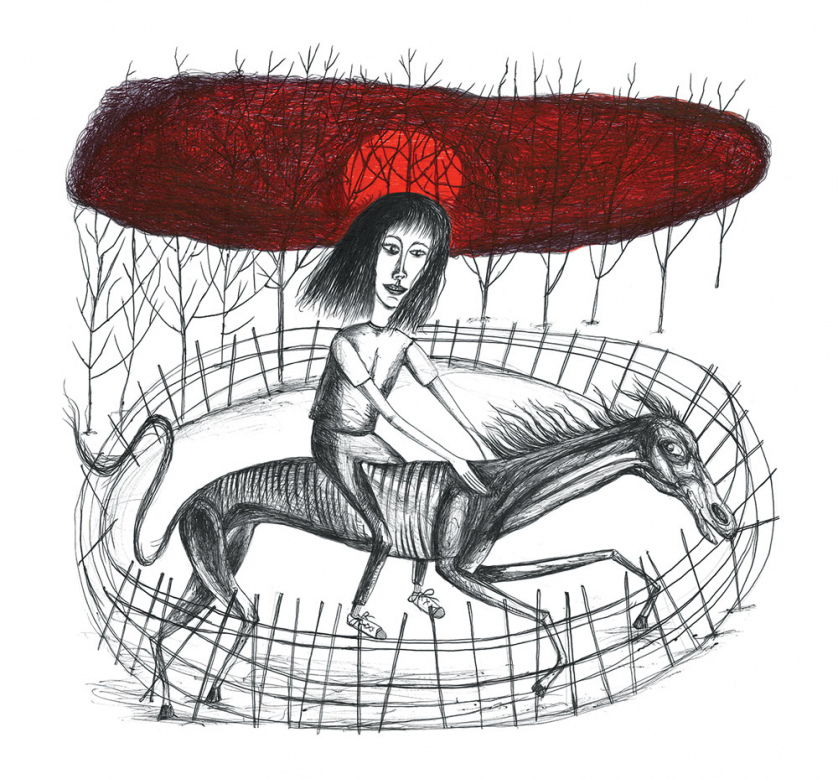 Horse Girl
Everything produced by the Duplass Brothers is hollow and superficial and cutesy. Their examinations of the bourgeoisie lack depth and flatter their audience by showing mild, recognizable foibles among bland people who can't change. Since it's not their characters' fault that they are the way they are, it isn't Mark and Jay Duplass's fault either. It's just how it is. People are imperfect and do dumb shit without thinking; they don't mean it. So when the subject of mental illness comes up, the Duplasses are really in their element. We can't blame people who are mentally ill for what they do, and we can't change them. But we can watch.
Horse Girl, which was co-written by its star, Alison Brie, and directed by her co-writer, Jeff Baena, almost avoids the Duplassian shruggie. It swerves by taking us on an inner journey that successfully does what drug-trip movies want to do, which is make us feel like we are losing our minds along with the protagonist. The very end of Horse Girl is a cop-out, a metaphorical suicide done West Coast Kooky, but before that, Brie, in this acting showcase, pulls us into the frustrating loop of her character's derangement. An air of ordinary tragedy hangs over the life of the craft store worker she plays. Her family history includes mental illness and suicide; her best friend has brain damage due to a horseback riding accident she may have been part of; her prettier, conventional-shallow roommate (Debby Ryan) pities her and tries to help her but can't.
Sarah (Brie) is obsessed with a TV show called Purgatory that she binge watches. She compares people in her real life to characters on this cheesy series that is supposed to be like a supernatural show on a broadcast TV network. Her dedication to it is one of the early signs that Sarah is not all there, but it is also meta-commentary on Netflix itself. This viewpoint marks Horse Girl as a holdover from indiedom coming to grips with an insane new era, just as the presence of Molly Shannon as Sarah's coworker does, since Shannon, one of our great cracked actors, could have had Brie's part twenty years ago. When one of the other patients in a psychiatric hospital wears a Sub Pop T-shirt in Sarah's recurring dream of alien abduction and examination, we know that we, too, have been transported to a place where we, like Sarah, are culled for data then deposited back on the couch, in a recurring loop that precludes change or advancement.
American Factory
The workers at the Fuyao auto glass factory in Dayton, Ohio, may still only make $14 an hour, but they voted against joining a union, and elections have consequences. Things work out differently in America for different people. After the economy collapsed in 2008, for instance, President Obama did nothing for workers and homeowners, bailing out the banks and Wall Street instead. Now, post-presidency, he and Michelle have signed a multi-million-dollar deal with Netflix to produce content, which they can feel good about because the first documentary they released, American Factory, studies the plight of the workers Obama didn't help. And it won an Oscar for its filmmakers, Julia Reichert and Steve Bognar, the crowning glory of their long career in filmmaking that stretches back to movies about feminism, socialism, and labor unrest in the 1970s and 1980s.
We learn in American Factory that it all comes down to hard work. The factory workers in Dayton, out of jobs for over two years, are happy to take a 50 percent pay cut when a Chinese company reopens a GM factory in their town. Once employed again, they can't keep up with Chinese notions of efficiency because in China there are lax safety regulations, few limits to overtime, and workers only get "one or two" days off a month. One of their Chinese managers in Dayton buys a box of Twinkies every week and keeps it at work so he can eat just one for lunch every day and nothing else, because he doesn't want to waste money he could send back to his family in China. That's weird, we are supposed to think, but also: if only Americans could have that kind of discipline.
Fuyao sends a group of American workers to Fuqing in Fujian Province so they can observe the Chinese at work in their home country, but apparently nobody tells them that Chinese workers wear uniforms, so they shouldn't wear a Jaws T-shirt to meetings, and that Chinese safety vests are smaller, so they should bring their own. These workers are set up to fail but have to perform in a workers' variety show in China, dancing to "Y.M.C.A." then watching as the Chinese workers numbly sing in praise of Fuyao while nailing every dance move. Back home in Dayton, the microwave in the break room doesn't work.
This might sound comic, like Jacques Tati's mailman in Jour de Fête trying to learn American efficiency and speed from newsreels about the United States Postal Service. It's not. It's sad, bleak, and humiliating. We meet Chairman Cao, the CEO of Fuyao, who longs for the impoverishment of his youth, mentioning how the industrialized China he has helped bring into being has eliminated the "croaking frogs and chirping bugs" of his childhood. Even so, Cao hires American consultants from "the union avoidance consulting industry" to come lecture workers in his American plant, intimidating them into voting against their interests.
Here, the film's 180 really kicks in. We are supposed to feel pity for Cao, a man who is getting millions in tax subsidies from the state of Ohio. Then American Factory wrenches us again, like in Modern Times, with a supertitle at the end that informs us that by 2030, 375 million people around the world will have lost their jobs to automation, unions or not. Why this ideological muddle? Because this is cinema verité in the service of power, not people, made to win awards. A success story in the film, about an unemployed forklift operator named Jill who has to live in her sister's basement until she gets a job at Fuyao and moves into a tiny apartment by herself, turns sour when she's fired for bringing up safety violations. As for the Chinese workers in Dayton, they only look happy when their new American friends are teaching them to shoot pistols and shotguns in their backyards, where they can pose for photos holding firearms and wearing cool suits.
Greed
Steve Coogan plays Sir Richard McCreadie, a fictional British fast-fashion magnate, in Michael Winterbottom's new satire, which probably should have been called Greedie instead of Greed because that's the billionaire's nickname, it's funnier, and it avoids annoying Erich von Stroheim fans. As in most all Winterbottom films, Greed is a grab bag of flashy mockumentary techniques, predictable needle drops, and obvious references, its half-baked feeling the only thing keeping it afloat. As a comedy of economics and a burlesque of the super-wealthy, its didactic over-explanations of concepts in high finance are understandable and clear, which makes it more enjoyable than The Big Short, if somehow less pressing.
McCreadie, turning sixty, decides to throw himself an elaborate Gladiator-themed party on a Greek island he shares uncomfortably with Syrian refugees. All the important people in his life are asked to attend, Rules of the Game-style, as well as some celebrities, including the ever more fatuous and useless Stephen Fry, playing himself, and the dreadful, ubiquitous Alexa Chung, who Skypes in a perfunctory greeting. The constant references to Gladiator are wearisome, proving once again how British people love to genuflect before Ridley Scott, but they do pay off when McCreadie faces a circus lion whose dinner has been sprinkled with cocaine. Unlike in Call of the Wild and Doolittle, here an elaborate CGI lion is a violent joke and a digital deus ex machina, not the star lie in a kiddie movie.
Weaving themselves in and out of the plot, and on and off McCreadie's yacht, Isla Fisher and Shirley Henderson are underutilized considering their potential as the mogul's ex-wife and mother. Henderson's damaged malice and covetous spite make every scene she's in better, but Fisher has to carry too much of the plot, explaining tax havens and business liquidation while trying to moon over her ex unnoticed. The film's revenge plot, about a young Sri Lankan employee of McCreadie's (Dinita Gohil) whose mother died working in a sweatshop, is a necessary component that Winterbottom defangs by making everyone involved nice because he also thinks the film is like A Midsummer Night's Dream, which it's not. As a grace note, the film dashes our hopes for the future by reminding us that the children of the rich are no better than their parents, even if they seem like they might be. Statistics then enumerate how many people in the world are employed in sweatshops, how little they earn each day, how much money the men who own H&M and Zara have, and how little they pay in taxes.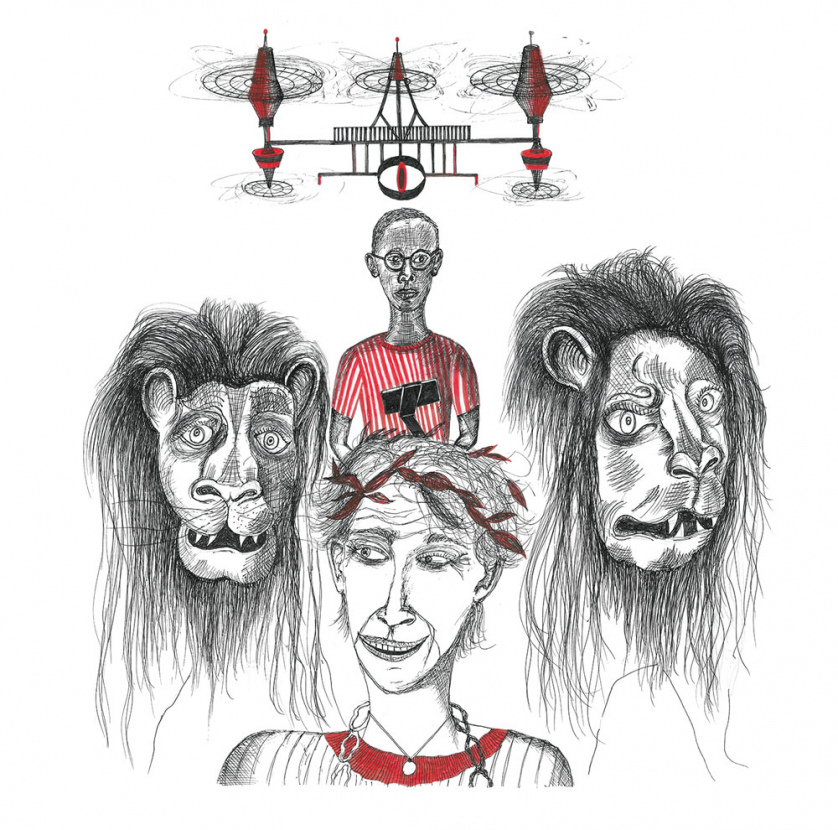 Les Misérables
Lions have heraldic meaning as national symbols in Britain and France, so it's significant that a lion also moves through this French film about impoverished youth defying the cops who harass and abuse them daily. Ladj Ly's Les Misérables tells its story from the exact opposite end of the wealth gap as Winterbottom's Greed. Here, Muslims live in poverty in a banlieue that happens to be the same one in which Victor Hugo set part of his great novel. Today's African and Arab inhabitants know the title refers to them, too. Ly, the son of Malian immigrants, has absorbed La Haine (1995) as much as Hugo in making this assured first feature, a neorealist exposé that begins and ends in rioting.
A slum kid named Issa (Issa Perica) steals a lion cub from a traveling Romani circus, setting into motion a plot that moves through all the layers of power and control in his housing project. One of the three main cops in the movie, Gwada (Djebril Zonga), shoots Issa in the face with a flash-ball gun, a supposedly nonlethal weapon used to quell riots in France. A drone films this moment of police violence. Buzz (Al-Hassan Ly), the kid with the drone, also from the banlieue, is a budding De Palma in black-frame glasses who more often uses his drone to film girls undressing in windows. He becomes the object of the cops' chase, which they juggle with getting Issa medical help without taking him to a hospital because they don't want to report shooting him.
Ly wrote Les Misérables with Alexis Manenti and Giordano Gederlini, and it is Manenti who plays Chris, the main cop, known locally as "the Pink Pig." Damien Bonnard, a striking actor who has been in movies by filmmakers as disparate as Christopher Nolan, Nathan Silver, and Roman Polanski, plays a cop with a conscience whose good intentions don't matter by the end of the film. Bonnard was creeped-out and dazed in Alain Guiraudie's bizarre Staying Vertical (2016). In Ly's film, his distinctive look switches between Ratso Rizzo and handsome/sensitive, the key to his appeal. This new Les Misérables offers a panoply of contemporary French faces, all angry, from the unofficial mayor of the housing project (Steve Tientcheu), to the lion tamer (Raymond Lopez) who throws Issa into a cage with a full-grown lion, to the imposing ex-Muslim Brotherhood restaurateur (Almamy Kanoute) who is the philosophical center of the movie, the man whom Ly lets explain, while he makes a sandwich, that in Islam the lion is a majestic animal that embodies force and power. Inserted into all the grit and violence and naturalistic lower-depths acting, it's this kind of written, acted speech that often makes a neorealist film.
Cane River
Certain films go beyond neorealism into a place all their own. Horace B. Jenkins's lyrical, romantic, low-budget Cane River is one of those. Shot in rural Louisiana in the early 1980s, it was screened in New Orleans in 1982, but Jenkins died about a month later, at age forty-two, and his film was never shown nationally. Two years ago it was restored, played some festivals, and has now been released in theaters, thirty-eight years after it was ready.
Jenkins combines an Americana sensibility reminiscent of King Vidor's early 1930s films with a class consciousness unique in the film's setting: African-American red-clay Louisiana, the once-French central part of the state where some light-skinned black Creoles owned plantations and slaves. Peter Metoyer (Richard Romain) arrives there from college in the North, where he was a football player offered an NFL contract. He, however, has chosen to be a poet and to farm his family's land. He meets Maria Mathis (Tommye Myrick), a tour guide at a plantation who lives with her mother and brother but wants to leave home to attend college in the city. The two fall in love, despite Peter's status as a light-skinned Creole and a Catholic and hers as a dark-skinned Protestant.
Scenes set in their respective churches highlight the documentary feel of Cane River, in which local non-actors appear in most of the roles, except for possibly Romain, who though easy in his part has a stately bearing suited to reading not-so-great poetry. Myrick is friendly and persuasive as an average girl interested in the bigger world outside her small town. Her performance adds something rare to the film that I wouldn't call authenticity or naturalism. She brings it to life. I don't know if Jenkins shot Cane River in 16mm or 35mm, but its bleached images capture its time and place perfectly. The film has the faded-color look of a country and western album cover from a musical tradition lost in thrift store bins.
The Assistant
This compact, almost Bressonian narrative feature by Kitty Green, an Australian non-fiction filmmaker now in Brooklyn, has a dark, tense force it keeps in place through minimal dialogue in limited settings. The Assistant holds itself almost exclusively to the confines of the gray-blue outer offices of a film studio in Tribeca, where Jane (Julia Garner) works as an office PA for a movie mogul based on Harvey Weinstein. Since this is a Kitty Green film, there has to be a gimmick: the Weinstein character appears as a voice only, difficult to make out, like the adults in a Charlie Brown special—sometimes on the phone, sometimes from the company's inner sanctum, barking orders other times, then cajoling and assuaging via email when his trespasses go too far. His half-heard voice tries to dominate the film, but Garner's subtle, understated performance centers it outside his field of view.
Garner is in every shot (or almost every one) so that Green can block-switch events to the periphery, where Jane works. Her long hours begin and end in darkness, and the company exists to keep the mogul's behavior quiet and hidden. Thus The Assistant is a film of sound design, which as usual gets obtrusive in Dolby—the clack of keystrokes is incessant. Jane has to stow her winter coat in her biggest desk drawer because the company is too cheap or unconcerned to provide a coat rack for its employees. The film briefly cuts to a black car's interior when Jane has to accompany a beautiful girl from Idaho (Kristine Froseth) to a hotel for an assignation with the mogul. Later, Jane has to put up with this model-like provincial as she occupies space in the office and explains that she wants to get into the film industry despite her lack of work experience. "My uncle's in craft services," she notes to Jane.
When Jane has had enough, she goes to Human Resources, always a risky idea in creative-class occupations. The HR guy (Matthew Macfadyen) persuades her to say nothing about their boss, explaining that there is a lot of competition for her job from other young people who went to better schools than she did. At the end of her work day, Jane emerges into the night with some senior employees who perch on the tailgates of company SUVs texting, oblivious to anything else, unable put their phones down and go home.
Jane, for her part, ends up on the phone, too, talking to her father as she sits at a counter in a bodega eating a muffin for dinner, hiding the facts of her work life in favor of silence about the man who signs her checks, the man who has, in effect, replaced her father. The Assistant is the only film in which I've seen the shame-filled, eating-in-a-Manhattan-bodega aspect of life in New York City portrayed so acutely, or at all.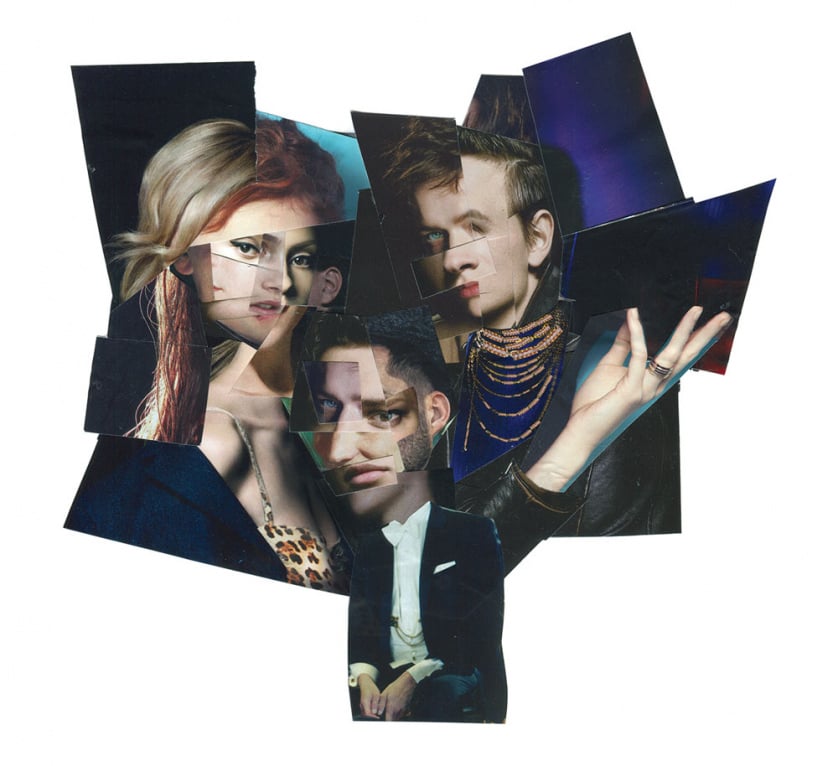 The Traitor
Since the 1960s, the Italian director Marco Bellocchio has made about thirty feature films and many shorts and documentaries. The dozen or so I've seen were innovative and surprising, and they made me want to see the others. Radically anti-Church and a former Marxist, Bellocchio shows no sign of slowing down. He ran for Parliament in Italy in 2006 as a "Rose in the Fist" socialist. Older than Martin Scorsese by three years to the month, he made an epic mob history film last year too.
The Traitor starts in 1980, at the height of the Palermo heroin trade, and ends twenty years later, after many murders and court trials. It's a three-continent odyssey that includes torture in Brazil, Christmas shopping in New Hampshire, and a car crash in Italy like none I've ever witnessed in another movie. The Traitor's first scene, set at a wedding, begins under the credits and is so eventful and unconventional that it almost overshadows the rest of the film. Dark, claustrophobic, with a big cast on the move in primo period formal wear, each character introduced with a supertitle, Bellocchio launches into the story by presenting interconnected members of what seems like a dozen Mafia families one after another in a way he defies the viewer to sort out.
Post-wedding, Bellocchio's Mafia is deglamorized, poorly dressed, and repellent. There is no young Al Pacino, no Paul Muni, no computer-aged De Niro in this group. Pierfrancesco Favino, who stars as the "honorable" mafia informer Tommaso Buscetta, looks like a cross between Fred Flintsone and Jerry Haleva. His cronies and enemies reminded me of possible Steve Buscemi cousins with crossed eyes, Cuomo relatives they'd lock in a basement, or Joe Piscopo in a new wig.
Parts of The Traitor take place in the United States. It's always great to see European films with American-set scenes that weren't shot here. Most of them were filmed in Germany, from what I could glean in the credits. Tommaso and his family go to a supermarket, shop in a mall, and eat in what is maybe supposed to be an Olive Garden. The supermarket stocks huge two-gallon containers of milk on the shelves in the regular, non-refrigerated aisles next to canned food; the New Hampshire mall looks more like The Grove in LA than anything in New England; and the Olive Garden features a grotty, beardless Santa wandering the dining room with a guitar, singing in Italian. (That last, of course, would be an improvement.) Nearing the end of his career, a paranoid, exhausted Tommaso fits right into U.S. life, making himself comfortable on a rooftop in a Miami ghetto, perched there with an assault rifle like an anti-Scarface as he carefully observes stray dogs sniffing garbage.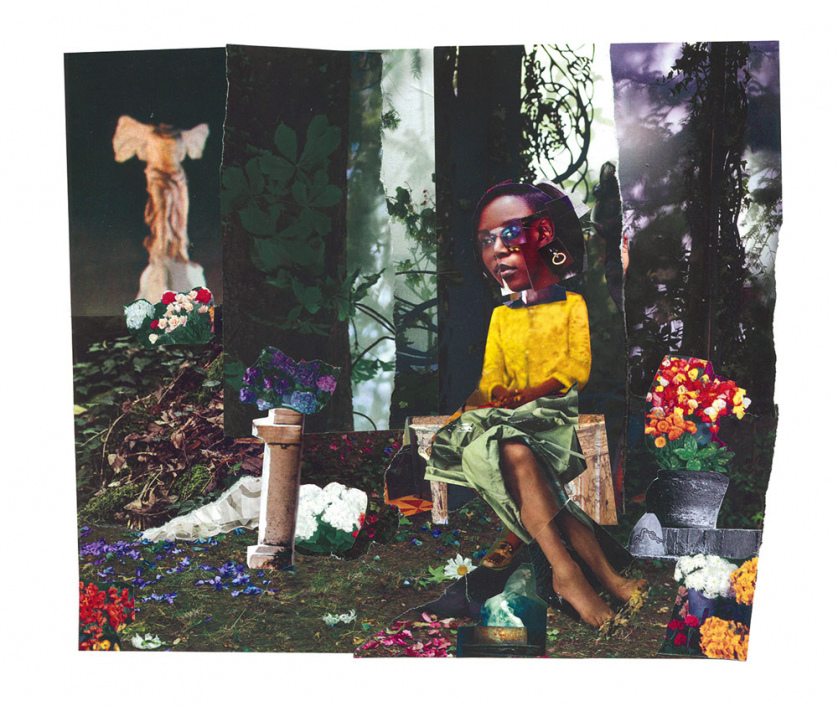 Vitalina Varela
On the other end of the spectrum of radical narrative filmmakers in Europe, Portugal's Pedro Costa makes films far more austere and forbidding than Bellocchio's. Being from a generation after Bellocchio, he is less prolific. Costa has made seven narrative feature films since 1989, most of which create intimate, modernist portraits of the very poor in Lisbon, focusing, with great intensity, on black immigrants from Cape Verde. Costa is dedicated to actual locations in the worst of slums and to the real people who live there. He casts the people in his films as versions of themselves, day laborers and drug addicts who have nothing and live on nothing in public housing, in crumbling concrete bunkers, or on the street.
Costa's cinema isn't neorealist. He fixes his actors in square-framed shots lit to resemble Golden Age Hollywood noirs or westerns, so they come to look like paintings by Old Masters. He pays close attention to natural sound, a very present but not obtrusive aspect of his films. His screenplays are oblique, repetitive, and glacially poetic tales of misfortune and exploitation. Surrounded by darkness, faces emerge in medium close-up only to suddenly drop out of frame, the way a trembling priest does at his makeshift pulpit in Costa's new film, Vitalina Varela.
Vitalina, the title character, plays herself, a Cape Verdean widow who arrives in Lisbon a few days after her husband's funeral, decades after they parted. Descending barefoot at night from the cargo hold of an airplane, baggage handlers and aircraft cleaners dissuade her from proceeding. Continuing on, her wanderings in the hellish landscape of her husband's former life approach science-fiction in Costa's mise-en-scene, which becomes otherworldly, post-apocalyptic in its darkness and rubble. The Costian night is sometimes pierced by the bright yellow of a blanket used as a coat, but not by much else, except occasionally in memories of Cape Verde.
Vitalina spends the film in black mourning. Costa pins her and the people she meets in place, so much so that in his constrained motions, the priest (Ventura) sometimes resembles the armless and legless Prince Randian from Tod Browning's Freaks, wriggling helplessly on a dirt floor, as much as he does Darby Jones in I Walked with a Zombie, his corollary that also links this film to Diop's Atlantics. There is a reason there are not many films like this. Vitalina Varela is so uncompromising and so concentrated that it threatens to absorb the projector beam, as if the projectionist's black cue mark could take over the whole frame from one corner.
Circumstantial Pleasures
The collage animator Lewis Klahr's new cycle of short films also presents a world on the wane, one even more depopulated and emptied than Costa's. No actors appear in the six films that make up Circumstantial Pleasures, not even photos of them like Klahr has used in earlier works. These films are made out of the detritus of our existence, which is shot in stop-motion and made to blip on screen and then slide away. The inside of security envelopes, bubble wrap, blister packs, receipts, takeout salt and pepper packets, and laundry tickets for things nobody ever reclaimed—these scraps provide the motion and drama in the closed, tertiary worlds of Klahr's latest droplet-globule movies. Sometimes it's impossible in them to tell if something is a close-up of a Ritz cracker or the back of a sofa.
Made between 2016 and now, the films, with titles including "Ramification Lesions," "Virulent Capital," and "Ratchet the Margin," take on a new significance today, when the stock market and Covid-19 are combining to create forms of virality outside the confines of the digital. Klahr's imagery is pared down—few of the romance-comic figures or the photos of products clipped from mid-century advertising that he used to use in his work appear in these films. His use of the interiors in layouts from home decor magazines is also mostly gone.
Instead, an occasional oil barrel pops up, or an industrial landscape of power stations will fill the background, with time clocks, cold pills, and piles of mattresses overlaid in the foreground. Later, these switch to men in hazmat suits and wheelchairs. Round red translucent bingo chips dot the screen as split-second, black-and-white news images of Donald Trump, Mark Zuckerberg, Jeff Bezos, or Mitch McConnell appear and disappear. Some of Klahr's abstractions resemble shoegaze album covers from the 1990s. Electronic neurofeedback music by David Rosenboom plays over much of this, and one film is scored to a Scott Walker piece from Bish Bosch, a parallel track telling a story that diverges from Klahr's images of sleep and money.
In a post-screening conversation with the film historian Tom Gunning at Light Industry in Brooklyn last Leap Day, Klahr said his new films are "codes without messages" that are "not poetic" and "have no language." He said he made them in a hurry starting after the 2016 presidential election and that the images he wanted to create were ones that would be "not deep, but very controlling." They reflect above all a toxic consumerism abetted by the internet, politicians, and businessmen. In these short semi-abstractions, Klahr peers through a microscope at the dregs of our civilization as they mutate and infect its survivors today.
Postscript
I finished writing the column above on March 8, and the next day, a Monday, I intended to go see Kelly Reichardt's new movie, First Cow. Already the coronavirus was spreading, and the fear of it I mentioned in my first paragraph was spreading too. Before I left the house to go to First Cow, I began to have second thoughts about it, about taking the subway and sitting in a movie theater. Movie theaters were still open then; they wouldn't be shut by the city of New York until March 17, which now seems like it was a very long time ago, but it has only been two weeks as I write this.
Instead of going to that movie or any other, I began composing post-coronavirus non-reviews in my head, for the movies I wanted to see but now thought it better not to. First Cow? I'll wait for Second Cow. Sorry We Missed You? Sorry I missed it. The Whistlers? Whistled past it for good luck. Bacurau? Back away. Never Rarely Sometimes Always? If those are the choices, I'm going to have to go with "never." The Invisible Man? You didn't see me there?
I have spent my whole life in movie theaters. First (and always) as a spectator, then working the concession stand and as ticket seller and Hoky-ing the auditoriums between shows at the Nickelodeon on Cummington Street in Boston, a movie theater that no longer exists because it was demolished in 2003. After that, I was a projectionist at the Brattle in Harvard Square. The Brattle has been in operation as a movie theater since 1953, in a building that opened in 1890 for stage productions, five years and two months before the Lumiéres first projected their movies before an audience, five years and ten months before a movie was ever screened for an audience that paid to see it. Of course, the Brattle is closed now because of the pandemic, as are the movie theaters in every state in the Union. At no time in our history has every movie theater in the country ever had to shut down before.
One thing I learned from Netflix is that the feeling I get staying home to watch a movie is like the feeling many other people get when they are asked to go out and see one. They literally can't get off the couch. I literally can't stay home and not go out. Now I have to. Now I feel like Josh Brolin in Spike Lee's remake of Oldboy, a movie that few people liked but that was actually good. Like Brolin, my apartment is my cell, food is brought in, I can do pushups if I want, till I somehow get out to exact my revenge on the people who confined me. The people whose fault this is.
Thankfully, distributors have paired with art houses across the country to stream movies, so I can see them and write about them that way. Now everyone is home streaming movies, so much so that in Europe, Netflix was forced to reduce the quality of its downloads to avoid crashing the internet. Alone in our houses and apartments, we stream content, removed from our old lives, or watch the DVDs we have been saving to watch when we had the time.
The movies now refer to another life, the one from before. In an interview that I can't find but that I recall from the time his movie Film Socialisme came out, Jean-Luc Godard says that DVDs are for the apocalypse—we save them for some ominous later. Film Socialisme is set on a cruise ship that, in real life, was wrecked at sea two years after the movie came out in 2010. Cruise ships, of course, are notorious incubators for viruses as well as symbols of capitalist excess. Right now, some cruise ships can't find any port. They're filled with passengers who have corona, and nobody wants them to unload, as Donald Trump initially didn't. Godard's film was a message to the future, but it was a future I didn't think would arrive quite so fast. Ten years after Film Socialisme, the sick wreck of capitalism is here.
It's easy to think of movies about isolation and plague, about quarantine and groups of survivors. Everyone right now is making their own lists to watch at home. Here are three double features for you. You might have already seen some of them by now. The Shining and The Crazies, The Exterminating Angel and 7 Women, The Thing and Quintet. There are fewer novels about situations like this. Katherine Anne Porter, who also wrote Ship of Fools, wrote one of them: Pale Horse, Pale Rider, about lovers during the 1918 influenza pandemic, which Porter survived. Its last line is: "Now there would be time for everything."