The World Was Just an Address
Oscar movies, 2022
Broadcast television is tanking so badly that ABC, the television network that airs the Oscars, has insisted to the Academy of Motion Picture Arts and Sciences that eight categories be cut from the annual awards telecast, including Film Editing, Production Design, Sound, Original Score, and Hair and Makeup.
Worried about ratings and therefore ad dollars, ABC (a division of the Walt Disney Company), is willing to ignore the essential crafts of Hollywood filmmaking, from editing to hairdos, in favor of the rancid Best Original Song category. That way the aging broadcast TV audience won't miss out on seeing performances by such contemporary crowd pleasers as former country-and-western sitcom star Reba McEntire, and maybe even overmodest, ubiquitous Lin-Manuel Miranda.
Miranda also directed an Oscar-nominated film this year, so if he were to sing his song, it would be like if Alfred Hitchcock had also written "Que Sera, Sera" for The Man Who Knew Too Much (1956) and had to perform it onstage at the Oscars instead of Doris Day. Or, since Miranda has nominations for two movies, only one of which he directed, if Hitchcock had written a song in The King and I. This is what a film director is to ABC-Disney, Netflix, Warner Bros.-HBO Max. What film directing has become in Hollywood is a team-building exercise with lots of group hugs and a public-facing mascot from the generic world of show biz. The mascot could be anyone camera-friendly. Being a director is now something of an honorary position at that level, like being the Grand Marshal of the Hollywood Christmas Parade.
ABC has lost faith in the films themselves, swallowing the right-wing notion that the nominees do not reflect popular taste. Therefore the less time spent on them the better. Give the people what we think they want: Beyoncé and Billie Eilish. Anything but actors from these movies. Olivia Colman? Where are the three Spider-men? Where is The Batman?
The atmosphere in which the highest honors in filmdom are now broadcast to the masses is more like an episode of Wheel of Fortune in which the contestants can't solve the puzzle, no matter how many vowels they've bought. The audience on social media engages in Frustration Discourse as they watch loser-winners grapple with their moments of professional glory on live TV, all so ABC can continue to exist in a world that has left it behind. It's also a world in which actual movies have become marginal, especially during the Oscars.
Every moment is confused, all of it a ritual no one in the film industry believes in anymore but enacts to ward off demons of their future: simultaneous release in theaters and on streaming, no back end, no residuals, voiceover work in animation and video games, shrinking foreign markets, foreign markets where film releases are moral quandaries, a series of bad decisions like the ones that led to The Suicide Squad, Cameo, and the final, furthest away specter: a world without an In Memoriam reel.
As I watched this year's Oscar films, a cargo ship called the Felicity Ace burned in the North Atlantic. Massive and packed with luxury automobiles bound for the U.S., it was on fire and adrift, abandoned by its crew, its shipment of expensive cars doomed. Life at the beginning of the pandemic reminded me of the Costa Concordia, the luxury cruise ship in Jean-Luc Godard's Film Socialisme that later sank, a metaphor for the shipwreck of capitalism that Godard guided into reality in 2010. Now this new Titanic appeared without people, only machines, floating aimlessly and aflame as the pandemic moved into a new phase, possibly its end phase but probably not.
The Felicity Ace sank on the first day of March after two weeks burning at sea. "The American industry rules cinema the world over. There is nothing much to add to this statement of fact," Godard wrote in the press book for his film La Chinoise in 1967. The Titanic model of American cinema remains in place, it still rules the waves, but these days each Oscar movie is like a Porsche, a Lamborghini, or a Bentley on that cargo ship, packed and streaming, going down without a crew, part of a semi-automated supply chain that has issues getting its pricey goods to the public. The Oscars are the abandoned auto show of that industry.
CODA
Sign language was prominent in cinema this year. It is an important part of the play in Drive My Car, and Clint Eastwood used it with a little girl in Cry Macho. If last year's Oscar-nominated musical drama of deafness, Sound of Metal, was too edgy for you, with its noise duo, drug addiction, and shock Mathieu Amalric appearance, this year's CODA (which stands for Child of Deaf Adults) cleans up the act. It's an all-American family affair, suitable for the wholesome executives at Apple TV, who released it, though the protagonist, a high school singer (Emilia Jones), does somehow own a Shaggs album. I don't think anyone expected a discussion of the Shaggs in a movie about a deaf family, who in this case really don't know what they're missing.  
CODA admirably focuses on the working life of a Gloucester fisherman family in which the father (Troy Kotsur), mother (Marlee Matlin), and son (Daniel Durant) are deaf (and played by deaf actors), and the daughter is not. Their struggles with the hearing world and with unfair labor practices, and their plan to collectivize the docks, are the backdrop for daughter Ruby's conflicted desire to get away from the sea and go to the Berklee College of Music. The deaf characters are easy to relate to in this pleasant, unmemorable movie. For instance, even though I can hear, I would have the same confused, impatient reactions were I forced to attend a high school musical. Presented with a group of teens singing David Bowie's "Starman," I would watch in silent frustration, too. The issue is that for me it would be easier to forget.
DUNE
The self-conscious boredom and fascism of Denis Villeneuve's films, along with their sandy-inky beige-taupe-gray-black-brown-orange color palette, make them look different than other blockbusters. They are in fact post-blockbusters, and Villeneuve's unnecessary new version of the first part of Dune shows how a depressed attitude that has given in to all that is wrong with current Hollywood filmmaking, and has also given in to all that is wrong with the world, might appear to be new. Especially to a director who believes mankind still tells stories around the fire at dusk, or after dinner, or before watching Euphoria, which Zendaya is also in, but more often. After all, as Flaubert said about writing Salammbô, "Few will guess how depressed one had to be to undertake the resuscitation of Carthage!" Same with the resuscitation of Dune, which already exists as a movie, a TV miniseries, and a documentary about a movie version that didn't happen and should have.
The futility and pointlessness of Villeneuve's secondhand white-savior epic comes through as laziness. To understand that, we need only compare one scene from the 1984 David Lynch version to the same scene in the new one. In Villeneuve's hand-in-the-painbox scene, nothing is charged with hidden meaning, and nothing seems painful to Timothée Chalamet's Paul. It is not much of a trial for him, and all the work in the scene is done by Charlotte Rampling's Bruce Conner Couch costume. We know Chalamet will not have a problem. It's already clear he is "The One."
In Lynch's version, which incidentally occurs in a movie that is not that great by the end but is at least very weird throughout, Kyle MacLachlan's Paul seems genuinely frightened by being forced to put his hand deep inside a woman's box. The viewer does not yet understand Paul's status in this world, and there is no way to know what will happen when he places his hand in this trap.
Where Lynch is hallucinatory, intense, and Freudian (or, in a word, hysterical), Villeneuve is dull and literal, and his scene is simply a test that allows the lead character to move up a level, like in a video game or a YA novel, which we knew he was going to do. Later in the movie, the idea that Chalamet could just speak in a certain tone of voice and other people would do exactly what he wanted them to do reminded me of Brooklyn teens ordering in restaurants.
Lynch's penile sandworms, pre-CGI, were better realized and more menacing, and the Harkonnens, whose name is now pronounced differently, were more disgusting in 1984. This Dune toys with the idea of genocide, but it's mostly a movie for people who like to memorize things. All these stupid names, one after another. Frank Herbert was trying too hard. So is Villeneuve. This basic Lawrence of Arabia tribalism and its jihad-mongering, with its conflicted son and dangled possibility of revolution, were also aspects of Villeneuve's equally ponderous Blade Runner sequel. Since these notions have already appeared in so many other twenty-first-century blockbusters, it is hard to ascribe them to Villeneuve-as-auteur, despite all the black water he dips them in before rolling them in the sand.
BELFAST
Jackie Wilson said the Troubles were a wee bit of fun now, weren't they? In our little house on our little street, which were fine for us when they were being bombed, we had perfect TV reception, and Pap (Ciarán Hinds) was twenty years younger than Granny (Judi Dench), who loved nothing more than winning acting awards. Pa (Jamie Dornan) was handsome and good, when he was around, and in perfect shape from those Fifty Shades of Grey sessions, and Ma (Caitríona Balfe) was such a put-upon knockout mommy like she was in Ford v Ferrari that she should have been in this a lot more, instead of it being such a Balfe fast. Our director, Kenneth Branagh, he loves Shakespeare and Agatha Christie and, yes, even Thor, which he reminds us of with a shot of a comic book, but in black-and-white, unlike the splashy Marvel comics in West Side Story, which is also set around the same time, has a lot of music in it, and is about two sides fighting a turf war.
Belfast is in black and white so Branagh can separate it from his hack work, because it's a personal story from his childhood, and because documentaries about the past are in black and white (or "monochrome," as Netflix calls it now when promoting films like Passing), and Belfast takes place in the past and it's about real things that happened. 2021 was a big year for b&w, and this movie falls in line with one of its current uses: telling stories for dads. Branagh's explosion of treacle, with Jude Hill as a cuddly blond toddler, was the most popular. Mike Mills's C'mon C'mon, with Joaquin Phoenix as a public radio producer shepherding a neurotic little kid (Woody Norman), was enervating to the point of narcolepsy, the opposite of what Branagh's doing in Belfast. It was unlovable.
The best of these films, and therefore the most ignored, was Alexandre Rockwell's Sweet Thing, in which his own daughter and son (Lana Rockwell and Nico Rockwell) are menaced by an alcoholic father, who Will Patton plays with every stop pulled out, a performance of total fucked-up-edness, a man trying to be nice before he loses it completely and swirls down the drain. Rockwell's film also featured Van Morrison music like Belfast, but not in the same celebratory, uninhibited way. Sweet Thing is set in a kind of fairytale, skid-row present and shot in New Bedford, Massachusetts, without any cute Irishness, even though there's no doubt some could have been located in the area.
Sweet Thing confronted American racism and child abuse and cops shooting black kids, none of which were presented as fun like the Troubles in Belfast, though Rockwell placed them in a beautiful film where his use of black and white was justified and worked. It made Sweet Thing more immediate, not less. It was clearly a Gen X movie about childhood, in which Rockwell's memories of freedom and neglect were poured into a constricted, dangerous present. Sweet Thing was also unlike Mills's film, which took place coast to coast in Dullsville, U.S.A., and catered to and indulged kids while recapitulating white parental self-regard instead of exposing it like Rockwell did in his film. C'mon C'mon (terrible title) attempted to do that through documentary scenes with black parents and their children that struck me as well-intentioned cop-outs. It therefore made sense that Phoenix worked for NPR in it, but I don't think that was the idea.
BEING THE RICARDOS
Nicole Kidman and Javier Bardem are post-life versions of Lucille Ball and Desi Arnaz in Being the Ricardos, spruced up and perfected by computers and surgeons to exist as animatronic forms whose ability to handle drama and comedy surpasses anything humans could do back in the 1950s. Creating these androids on his keyboard and in the studio must have been so difficult for Aaron Sorkin that he dropped his own mask and finally admitted it was entertainment, not politics, that has interested him all along.
What else could explain the outright fabrications in this movie, which include a phone call from J. Edgar Hoover, in front of a live studio audience, that washes away Lucille Ball's 1930s membership in the Communist Party and makes everyone cheer? This right-wing appeal to Hoover and the FBI is the opposite of Clint Eastwood's in J. Edgar (2011), where Eastwood and Leonardo DiCaprio carefully outlined how a police state was created in the U.S.
That Sorkin glosses the McCarthy Era like this and places himself to the right of Eastwood is surprising. But it makes sense, because no one in Hollywood is more aligned with the entertainment/tech industry/Washington politics nexus than the power-loving, success-worshipping, union-hating Sorkin. Somehow this extended to slighting Karl Freund, the German cinematographer of I Love Lucy, who invented the three-camera sitcom setup that's still in use seventy years later. Why Sorkin chose to do that is also telling: it made Desi Arnaz look smarter, Sorkin's goal with all his protagonists.
THE EYES OF TAMMY FAYE
Jessica Chastain's performance as Tammy Faye Bakker, disgraced televangelist wife and singer, borders on the monstrous. By the end it almost crosses over into a kind of American Fellini. It doesn't, though, because The Eyes of Tammy Faye is a whitewash of this con artist's life. Like her husband, Jim Bakker (Andrew Garfield), Tammy Faye was a grifter who preyed on the homebound via broadcast TV, convincing them to send money so that their souls would be saved and they would go to Heaven. The Bakkers of course lived in luxury and built a Christian theme park with that money. No one at any time seems to have brought up that they were turning Jesus Christ into Mickey Mouse.
Chastain and her screenwriter and director want us to believe Tammy Faye was an ambitious but God-fearing Christian puppeteer desperate to get out of her Minnesota hometown. The film excuses her, insisting her Christianity was deeper than that of her televangelist competitors—Jerry Falwell, Pat Robertson, and their ilk. Though it is clear Tammy Faye empathized with gay men stricken with AIDS and tried to convince her followers to treat them as human beings, not as the pariahs the Reagan Right wanted them to be, this fact doesn't exonerate her. As a Christian, it was the least she could do. Her second husband, a church builder and developer played in the film by Sam Jaeger, ran afoul of the law just like her first. The film, however, shows Tammy Faye alone at the end, toughing it out in a crap condo, not married to conman number two.
The fun here is supposed to be in watching Chastain transform from a cute, peppy, and horny Bible-college student in the late 1950s into the full-on, Divine-in-a-John-Waters-movie look of Tammy Faye's infamy thirty years later. While she is never not a chipper cornball high on her own supply, she is never tragic, either, because like a Trump wife, she shits in a gold toilet. Garfield's Jim is a closeted, prissy fake, yes, but Tammy Faye is a grotesque with a Betty-Boop-meets-Sarah-Palin voice, unhappy because she's blinkered to reality. Through it all, the Bakkers' audience of twenty million kept sending them money whenever Tammy asked. Though she did live in a life-size dollhouse, her fate was to become a national joke, not the heroine of an Ibsen play.
KING RICHARD
King Richard demonstrates, step by step, the value of sticking to your plan, even if some folks think you're crazy. I don't mean Richard Williams's plan to turn his daughters Venus and Serena into tennis champs. I mean Will Smith's plan to win an Oscar. Williams, like the actor who plays him, knew the value of finely tuning a capitalist product and introducing it into the marketplace as a brand. This is a business movie, which reaches its height not when Venus Williams (Saniyya Sidney) almost wins her second professional match and reveals her talent and grace to the world, but when the Williams family decides to hold out for a better sneaker deal. "Nine months later," we read on screen at the end of the movie, "Venus signed a contract with Reebok for twelve million dollars." I don't mind being nudged to cry as the Williams sisters' reach for the stars in Compton. But I call "out" when I am asked to weep with joy over their first professional product endorsement.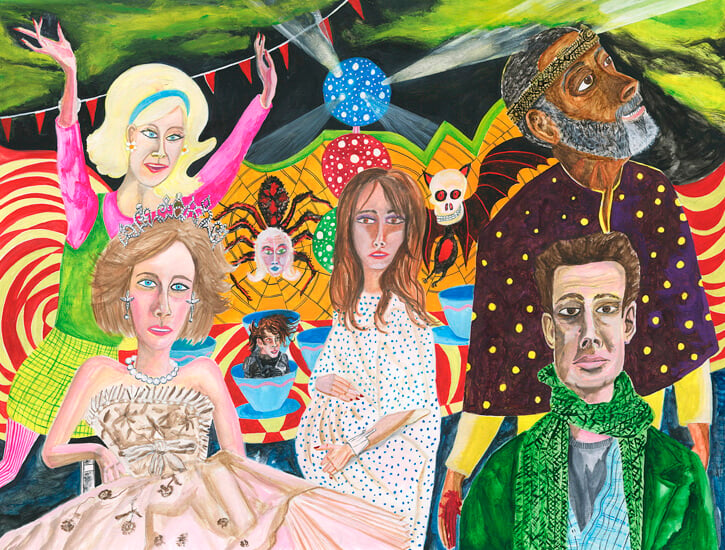 DRIVE MY CAR
I did not quite get why the theater director protagonist (Hidetoshi Nishijima) in Drive My Car was not allowed by the theater company to drive himself to work every day. The idea that it would have been an insurance liability seemed odd. In any case, his 1987 red Saab 900 becomes essential to Hamaguchi's film, and without it the rehearsals of Uncle Vanya that make up much of the rest of the drama would have been stifling. Not that the film is necessarily opened up by the driving, since a lot of that is interior: a man inside a car listening to the voice of his dead wife (Reika Kirishima) on tape while another woman (Tōko Miura) drives him around.
Cars attained a strange new level of prominence in movies in 2021, an indicator of our changing relationship to the automotive as cars helped destroy the planet, became unaffordable as the pandemic continued, and sometimes burned and sank into the ocean. I don't mean in F9, the latest Fast & Furious movie, in which a car travels into outer space, driven by Tyrese Gibson and Ludacris. F9, a truly stupid movie, wastes resources, just burns through them to make money, and part of its stupidity is that it makes room for Helen Mirren and Cardi B before explicitly comparing the idea of "family" to a 1970 Dodge Charger. That's not it, Vin. Not at all.
But it is not too far off from Julia Ducournau's staggering Titane, a French film in which a woman (Agathe Rousselle) has sex with a Cadillac (baby, you can fuck my car), gets pregnant, and gives birth to a hybrid. As in Spencer and France, these films explored women's relationships with their automobiles, putting them in the driver's seat instead of men. Titane took this to an extreme that was maybe too much for car-centric North American viewers. It didn't meet with the same outrage as David Cronenberg's 1996 adaptation of J. G. Ballard's Crash only because it came out during the pandemic, and the few people who saw it were rendered speechless. It was my favorite film of last year. Cars develop consciousness in these films. The way the voice of the wife returned, speaking through the Saab's tape player in Drive My Car, pointed in that direction—the direction of getting over grief and loss as we try to return to life.
It is a trend that began in art films with the talking limos in the garage at night that ended Leos Carax's Holy Motors in 2012. In the recent King Car, an underseen Brazilian movie that is almost as good as Bacurau and has a lot in common with Titane, director Renata Pinheiro creates a revolutionary situation in Pernambuco, prompted by a talking car in a junkyard. Sex with vehicles ensues. "From this evolution there is no return," King Car explains. Through intercourse with machines, in this contaminated environment, "we discover our true values. It's where we face our ghosts."
These three films are the products of different cultures with different film traditions, but there is a direct line connecting the ghosts in each. Car accidents were way up in the U.S. last year. College students strapped for cash began living in their cars inside university parking garages, and reality TV shows staged deadly airborne car stunts. A show at the Museum of Modern Art called Automania put cars on display like in a showroom, parked safely away from the road. It was evident on movie screens, however, that the evolution of the automobile as a sexy, dangerous vehicle continues in new directions, and they are not driverless ones. Cars exert a different kind of control than that and have a tight hold on us, driving mankind.
LICORICE PIZZA
The in-reverse, out-of-gas moving truck scene in Paul Thomas Anderson's Licorice Pizza approaches driving from the opposite direction. It's an anti-chase that glides backwards without a roar. Alana Haim guides the truck expertly, younger men nattering at her, threatening to choke her. The film becomes obsessed with the 1973 oil crisis, which is maybe why it's so frenetic and high-energy. Characters are in motion and running—Haim runs so much in the film that it becomes like a parody of The Worst Person in the World. The adult men in Licorice Pizza are automotive maniacs, poor players strutting their hour in the movie, actors and directors playing actors and directors.
Defined by nostalgia for 1970s California, Licorice Pizza is to 2021 what American Graffiti was to 1973, but from the other side of the mirror. Anderson's 1970s beats George Lucas's 1950s because Anderson is expressing a minority opinion, not celebrating a majority culture. American Graffiti existed as something it knew everyone who saw it would agree on. Licorice Pizza turns the camera around and speaks to the few. Thus, everything is backwards and wrong in Licorice Pizza, as it was in the 1970s when compared to now: children raise themselves, adults date teens, teens start businesses, restaurants alienate customers, and getting work is an audition for something else, with hidden, sexual motivations barely under the surface erupting as stupid jokes. It is impossible to know whether things are based on skill or luck as the world slips backwards into the future. Everything is temporary and can be snuffed in an instant, like the waterbed sales that reverse supply and demand overnight.
The effect is that Licorice Pizza can never be central to the culture it is part of. That is its strength. It exists on the edge of Hollywood and is written in the margins of the film industry, adjacent to it, with an address in the Valley. This movie seems like a transitional film for Anderson, a stopgap, like so many things that emerged during the pandemic. And like the pandemic, it goes on too long but time flies.
PARALLEL MOTHERS
The melodrama in Pedro Almodóvar's latest film is deceptively muted, though the film's plot is brazenly manipulative. The director of All About My Mother makes it easy to guess how this story of thwarted motherhood will unfold as soon as Janis (Penélope Cruz) and Ana (Milena Smit), both pregnant, end up in the same hospital room. This concentration on the present-day mechanics of the plot buries the film's parallel story, about mass killings in fascist Spain in the 1930s under Franco. Parallel Mothers is a film of corpses and skeletons as much as it is about babies and children. Almodóvar leads the viewer to an excavation the same way Janis leads Ana to understand the history of her country. Unlike the story of what happened at the hospital, it should not come as a surprise to her.
Almodóvar has always dug up whatever is buried in the subconscious of his characters. As they fall into comas, we find they have been raised in caves or that their family history is hidden below the surface in a mass grave. From film to film, his characters' psychological states come more and more to resemble the political history of Spain. At the same time, his filmmaking, like Penélope Cruz, does not age. He seems more contemporary the more he becomes an outlier to the mainstream of commercial cinema.
Billy Wilder told Almodóvar there was one thing he should never do, and that was to give in to the temptation to make a film in Hollywood. Almodóvar has made twenty-two films since his first in 1980, and now we learn he is on the verge of making his first feature in English, with Cate Blanchett. Either it is time for him to show us how it's done, or this is a bad idea. Over forty years, we've learned from his films that things usually don't go so well, but it's foolish not to be optimistic. As things fall apart, at least they can look great.
THE LOST DAUGHTER
That is a lesson Maggie Gyllenhaal did not keep in mind as she adapted Elena Ferrante's novel The Lost Daughter for the big screen (Netflix). In Almodóvar's Julieta, two actresses played the same woman twenty or so years apart, as Olivia Colman and Jessie Buckley do here. Where Almodóvar dressed his seaside tale in 1980s New Wave colors and Hitchcockian ambiance, Gyllenhaal's beach melodrama is a new kind of arthouse film for home viewing, in which seriousness of intent must be signaled at all times.
It could be that the difference is that Julieta, which is not Almodóvar's greatest film in any case (though it was also based on literature—Alice Munro), was the twentieth film he directed, and this is Gyllenhaal's first. But I think it's that Netflix believes this is what serious, award-winning films are: not fun, never fun, and not very nice to look at.
Through flashbacks, Gyllenhaal makes the bizarre or mysterious elements of the film too clear, right up to the end, when everything goes haywire in the opposite direction, and it becomes hard to understand what's happening. Colman phones her daughter and bleeds into the tide with an orange in her hand, a stew of symbols assembled from previous scenes.
The problem is the flashbacks. We see Buckley as the young Colman, an English professor and a harried mother and wife embarking on an affair with a colleague who is supposed to be brilliant. Played by Peter Sarsgaard to resemble late-period Michael Stipe, this sensitive, bearded academic cracks jokes about Pierre Bourdieu and Paul Ricœur (a first for Netflix). It is therefore obvious in a second why the middle-aged Colman feels such guilt for abandoning her family. Still discombobulated years later, she vacations in Greece next to a sketchy, semi-Mafia family like the one that lives across the street from me. She finds herself dancing to "Livin' on a Prayer" by night and translating Dante into English by day, two strange activities we didn't expect from her or anyone this year. The film follows the Chekhov gun rule, but with a hatpin Colman gives to shady, unstable Dakota Johnson. It was only a matter of time before Johnson returned it.
NIGHTMARE ALLEY
The movies force us to ask questions. Seeing The Eyes of Tammy Faye right after Nightmare Alley prompted a brain teaser, since the two films share a scene: Would you rather see Jessica Chastain give Andrew Garfield a hand job in a bathtub, or see Toni Collette do the same to Bradley Cooper? That was the old-timey con-woman convincer move, as far as Hollywood was concerned last year.
Guillermo Del Toro's remake of Nightmare Alley corrupts an evil story. William Lindsay Gresham's terrifying and singular 1946 novel was itself a tale of corruption and the great sui generis work of hardboiled American fiction. Its plot did not need to be tampered with, but Del Toro and Kim Morgan's screenplay cheapens something that purposefully dealt in tawdriness. Since this film comes close to being Del Toro's best, it is too bad he had to throw out the penultimate sections of the book. I mark it down to his essential torturer's mentality. His flaw as a screenwriter-director-producer it that he thinks of himself as a great liberal and friend of the common man, but he can't not revel in the infliction of pain and suffering on his villains.
So instead of just making the millionaire industrialist Grindle (Richard Jenkins) a vindictive and deluded mark for Cooper's fake mentalist, Stan, Del Toro has to turn Grindle into a serial killer who must be beaten to death, and then have Grindle's bodyguard (Holt McCallany) run over by a car, in graphic detail. In Gresham's novel, Grindle becomes Stan's Javert, the figure who hunts him, turning him into a drunk, a hobo, and finally the thing he most fears becoming, a carnival circus geek. Here I must indulge in psychoanalysis, like Cate Blanchett's character does in the movie. In fact, I suspect on some level Del Toro wants the viewer to. I put his cruelty down to his subconscious identification with Grindle more than Stan. At some level, Del Toro recognizes himself in this wealthy sociopath, an aspect of his personality he wants to punish and kill, harshly. There is no mercy there.
That kind of unnecessary cruelty continues to mar his serious work, as it did in The Shape of Water. Otherwise, Del Toro's Nightmare Alley is a model of atmosphere and production design, with beautiful, committed performances from character actors who were given great roles, most of all Collette, Jenkins, McCallany, David Strathairn, Willem Dafoe, Mary Steenburgen, and Tim Blake Nelson, though if Nelson and Dafoe had swapped roles, the film would have ended with an extra dash of evil, turning it more hardboiled and more Detour-esque, a tale of fate more than gore. With the menacing Dafoe as the guy doing Stan the worst favor at the end, and Nelson the creep who got him into it in the first place, the balance would have tilted in the direction of eternity, or at least hell, where Del Toro thrives, poking away with his pitchfork.
WEST SIDE STORY
In all the film industry talk about how Nightmare Alley and Steven Spielberg's new version of West Side Story underperformed at the box office, and how that proves audiences are uninterested in seeing non-franchise films by high-end directors in theaters, no one seems to have considered that both remakes are period pieces, and that the original films, when they came out, were not. They took place in the present of the time they were made. So maybe it is something else the audience has rejected.
Furthermore, picture yourself sitting down in a movie theater in front a huge screen and settling in to watch a big, colorful, Hollywood musical with songs you love, shot on location in New York City. The trailers end, the lights dim, and on the black screen the first thing you see, in gigantic white letters, is
CONTAINS TOBACCO DEPICTIONS
Who needs it? Being treated like an idiot right off the bat ruins the movie.
Cigarettes aside, Spielberg's film is marvelous, an improvement on Robert Wise's 1961 film version of the Bernstein-Sondheim musical. That one was distinguished by Daniel Fapp's stunning, Tashlinesque color cinematography as much as by the music. Unfortunately, there was not much Fapp could do with the brownface the actors playing the Sharks and their girls were forced to wear by the producers.
Though it is better than that, and maybe Spielberg's second or third best movie, it nonetheless feels academic somehow, the large cast a jobs program for theater kids, the gentrification theme something I don't believe Spielberg cares about in the least or has any experience with. Tony Kushner's rewrite of Arthur Laurents's original book for the show is quite convincing, however, as Spielberg goes bravura immediately, with a Kane-esque crane shot (computerized) through the ruins of the neighborhood that became Lincoln Center. This shot links the opening to so much in Spielberg's previous work. It is a set piece from a war film, reminiscent of Saving Private Ryan, Schindler's List, and of course, Lincoln, since a sign enters the frame that says LINCOLN in huge letters. Once again, all history is the same to Spielberg, a teenage gang war in Manhattan the equivalent of World War II, 1961 the same as 1941.
Doing mid-century modern and crime jazz, Spielberg remains obvious. After an astonishing overhead shot of mounds of salt in a municipal salt shed as gang members approach in shadows from both sides, Spielberg has to have one of the gang members shout, "It's salt! For when the streets ice up!" Because after all these years he still thinks his audience is not the brightest, and all the world is the mass audience to him. As the song "Tonight" has it in the movie, "The world was just an address," a lyric that never sounded so fatalistic to me until I heard it in a Spielberg movie in 2022, with the wealth gap widening and pushing all but the richest people out of this city.
Spielberg moves "Gee, Officer Krupke" indoors, to a police station waiting room, which works better and makes more sense than the nighttime storefront in Wise's film. More importantly, every decision Spielberg has made to open the film into the city streets works magnificently in this last-gasp movie of joyous urban life, all of it perfectly executed and choreographed with great verve and beauty. His Maria (Rachel Zegler) is more soulful than Natalie Wood was in the earlier film. With her Barbara Steele or Soledad Miranda looks, she fits into this film without a happy ending, adding to the sense that things will not work out, that the lovers are doomed along with the freedom their access to the city promised. There was always a bit of 1960s horror in this operatic tragedy. Then, it was the predictive horror of youth in revolt. Somehow the director of Jaws found it on location, in some small way, like he did in Martha's Vineyard half a lifetime ago. He gives in to it. There is no future for these lovers, no way to fight against what is happening to them and their neighborhood.
TICK, TICK . . . BOOM!
Jonathan Larson's life was tragic. Cut short by an aortic dissection in 1996 just as his musical, Rent, was about to open to great success on Broadway, he'd written Tick, Tick . . . Boom! in 1991, but it was only performed twice in his lifetime. Now Lin-Manuel Miranda has turned this autobiographical musical into a Netflix movie starring Andrew Garfield as Larson. As in CODA, we hear "Happy Birthday" performed, because these films are about the birth of artists in their quest for musical theater acclaim. Both films have a desperate, fleeing quality, which posits that seeking artistic success is difficult and punishing, too hard on others around you, and a race against time.
As Rent was an updated bohemia for the 1990s, Tick, Tick . . . Boom! moves Larson's vision into the present for theater kids raised on Glee. Here, the romance of sharing an apartment on the Lower East Side with the bathtub in the kitchen is a kind of 1980s utopia, with fun, touchy-feely parties, a Jackson Pollock couch, and the threat of AIDS instead of Covid slowing down success.
In the hands of Miranda and Garfield, this becomes a form of desperation in which every song is forced out as a last-ditch effort. Near the end, when Michael (Robin de Jesus), Larson's best friend and roommate, discovers he has AIDS and sings, on the verge of tears, "Is this real life?," the answer is yeah, but no. That's because show biz dreams swamp social reality every time, even in scenes that pit them against each other.
Part of Larson's story is that in the late '80s he wrote an elaborate sci-fi musical called Superbia that was excellent but too complex to be staged. In Miranda's movie we see a bare-bones preview of it performed for critics, investors, and Stephen Sondheim (Bradley Whitford). In the context of 2021 and Netflix, Larson-Garfield's description of Superbia in this performance takes on an added resonance. Superbia, he explains, "is a satire set in the future on a poisoned planet Earth, where the vast majority of humanity spend their entire lives just staring at the screens of their media transmitters, watching the tiny elite of the rich and powerful who film their own fabulous lives like TV shows."
Including this can be read as either a pitch for Netflix to make another Larson movie or an example of how capitalism and spectacle absorb everything. Rest assured, however, that if Netflix did make it, they would probably hire Ben Wheatley to direct it, which would prevent anyone from enjoying and absorbing it.
THE POWER OF THE DOG
What we have here is the kind of movie André Bazin called a "superwestern," which is "a western that would be ashamed to be just itself, and looks for some additional interest to justify its existence—an aesthetic, sociological, moral, psychological, political, or erotic interest, in short some quality extrinsic to the genre and which is supposed to enrich it." Doubly true in this case, because in Jane Campion's Power of the Dog, her lead character (Benedict Cumberbatch), the ruthless cowboy with the non-ruthless name "Phil," is exactly that—ashamed to be just himself. Phil is a repressed gay man in a macho profession, needling his weaker brother (Jesse Plemons), who has married a woman (Kirsten Dunst) Phil considers a slattern.
Dunst's greenhorn son (Kodi Smit-McPhee) notices this and contrives to eliminate Phil from the ranch. Here it's the opposite of the situation in the superwestern Shane (1953). Instead of "Shane, come back, my mother wants you," its "Phil, go away, my mother doesn't want you." As a Netflix art film, a perfect breeding ground for a movie like this, it is also super-serious, like The Lost Daughter. Similarly, the film's ambition leads to confusion. Again, the ending is murky. A lasso soaked in anthrax is something new in a western, it has to be admitted, but getting to that point was a slog, a slow crawl to the Oscars.
In a non-superwestern, somebody on the ranch would have smacked Phil in the mouth in the first scene. Though he is threatening and mean-eyed, he is no Liberty Valance, and his needling of the other characters is intolerable and obvious. The way he keeps talking about "Bronco Henry," his absent mentor who we are led to believe was also his lover, is repetitive and tiresome. On the ranch it would have become a source of humor. Phil's banjo duel with Dunst's poor piano playing, in fact, is more like something from Blazing Saddles than Unforgiven. Most damningly for this film that is so subtly concerned with right and wrong, Campion's use of New Zealand in place of Montana and a British actor for a ranch boss is the moral equivalent of computer-generated imagery.
That brings it back to Bazin, where it should end. Ultimately, Campion's portrait of a repressed cowboy, I think, flatters Hollywood. Varmints like Phil may or may not have tamed the West, but for sure they continued on to Los Angeles to found talent agencies and direct superhero movies.
THE TRAGEDY OF MACBETH
Joel Coen's black-and-white film of the Scottish play is not made for an age when the TV remote and the smartphone are pointed toward your hand. More like a silent movie by Lang or Dreyer, this Apple TV production overwhelms Shakespeare with monolithic sets, powerful compositions, and piercing cries. Frances McDormand as Lady M. and Denzel Washington in the title role struggle to keep up with the mise-en-scène, while Kathryn Hunter, an amazing actor I do not remember seeing before, plays all three witches and the Old Man in tour-de-force performances that minimize digital trickery but still get lost in Coen's frames.
It was inevitable that this version would be compared to Orson Welles's. His cheapo 1948 Macbeth for Republic Studios is better because it isn't as distant as Coen's, despite being seventy-three years older, but it's more awesome, with more cold terror and high drama. Welles goes for it, as usual, while Coen's film is something of an exercise. As for being the first film from a brother act minus one, even with Shakespeare writing the screenplay, this movie certifies Ethan's value. When the best thing in a Coen film is a long sword fight, something is missing, and The Tragedy of Macbeth is a movie where we can pinpoint what it was.