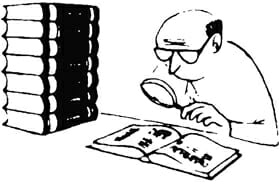 The shameful story spelled out in the following pages began innocently enough—armed with little else but a slightly clever premise for a catalogue of our books, we at Exact Change set off to make as big a splash as we could at the annual American Bookseller's Association (ABA) convention in May 1993. Our catalogue—an imitation of an old fold-out postcard booklet depicting all the covers to our books—was well received among those who came by our booth, which was huddled together with other independent publishers in an aisle near the back exit of the enormous convention hall.
A few months later, in September 1993, a friend sent us a copy of a catalogue he had just received in the mail from Henry Holt and Co., New York. He thought we might be interested, because Holt's new fiction catalogue was an imitation of an old fold-out postcard booklet depicting all the covers to their books … in color.
Our letters to Holt were certainly snide, and grew snider as their denials grew louder, but they got the last laugh: a full-page feature in the widely read industry journal, Publishers Weekly, touting their clever and original catalogue design (Holt is a regular advertiser in Publishers Weekly, and often buys the cover to promote their list). The best quote in the article comes from Holt's designer, who, when asked whether they are going to make this new catalogue design a tradition, replies, "We don't want to be derivative." Instead, she volunteers, they would like "to start a tradition where every season booksellers could look forward to receiving something … cutting edge" (italics mine).
---
EXACT CHANGE
PO BOX 544
CAMBRIDGE, MA
02139
William Strachan
Editorial Director
Henry Holt and Company
115 West 18th Street
New York, NY 10011
September 21, 1993
Dear Mr. Strachan,
Enclosed is one of our promotional pieces from this year's ABA (May 1993), announcing our fall list—look familiar? We suspect someone in your office has already taken a good look at it.
Next time you want to do a clever catalogue why not call us and we'll think up something original and just for you. Or wait a season before ripping us off, so we have time to move on to something else.
And don't get any funny ideas about this stationery.
Sincerely,
Naomi Yang
Designer
Damon Krukowski
Editor
cc: Ira Silverberg
encl: Exact Change fall '93 catalogue (May 1993)
---
William B. Strachan
Editor in Chief
Associate Publisher
October 15, 1993
Ms. Naomi Yang and Mr. Damon Krukowski
Exact Change
P.O. Box 544
Cambridge, MA 02139
Dear Ms. Yang and Mr. Krukowski:
Feel better now?
I'm flattered that you think we could move quickly enough to copy your brochure after the ABA, but in fact I had not seen it before you sent it to me. Our "inspiration" was derived from our frequent use of postcards to publicize individual books; we decided to adapt the collections postcard manufacturers often use to feature a scenic location. As I'm sure Ms. Yang is aware, the form is also used routinely by commercial artists to showcase their work, and our Art Director has no shortage of versions of them.
The point of all these efforts is promotion. I don't think either of us has a claim on this idea; originality is found in the books we publish.
Sincerely,
William Strachan
---
EXACT CHANGE
PO BOX 544
CAMBRIDGE, MA
02139
William Strachan
Editorial Director
Henry Holf and Company
115 West 18th Street
New York, NY 10011
October 18, 1993
Dear Mr. Strachan,
Yes, postcard books have existed previously, but to say this was a coincidence really strains plausibility. Consider details of the scoring pattern (yours matches ours exactly, yet we drew our template from scratch), the shape and length of the flap, the arrangement of the covers and the text, even the typeface used for the text on the back; and finally of course the use of this format to promote a line of fiction titles at trade shows. If you had planned this before ABA, why didn't you use it there to promote your fall list (isn't that what ABA is for)?
We found your letter less than gracious. Here's hoping our next encounter is under better circumstances.
Sincerely,
Naomi Yang
Designer
Damon Krukowski
Editor
cc: Ira Silverberg
---
to: Naomi, Damon
date: 10/22/93
Just got back from vacation to see your correspondence with Bill about Holt's fiction fold-out, and I thought I'd just write you to let you know that while Bill had truly not seen your brochure before, as his letter indicates, I, of course, had seen it, admired it, and kept it for my files—I had loved it from the moment I saw it at the ABA! And when Lottchen, our Publicity Director came by to ask me if we could do some sort of clever "accordian-type" thing to announce our Fall list (based on her postcard mailers) I pulled your promo out and said "you mean like this?" But, just as true is the fact that I pulled at least five other samples out of my files as well; samples culled and collected from the huge volume of promotional material I get from paper suppliers, designers, photographers, stock houses, vendors, etc. And these were exactly the same. Just look in October's issue of HOW magazine and you'll see all the promos in which things fold out. Really, this idea has been around forever, as has the concept of self-closing mailers, as has the fold-in flap. As for the "scoring pattern" and the size and shape of me flap—well, I'm sorry you had to draw your template from scratch but our printer is the one who determined how ours should score based on the bulk of the stock and the number of folds. I had originally wanted a different type of flap but was told that this flap was the "standard envelope closure," so I went with standard. And as for the typeface—come on now, everyone and his brother uses Future Condensed—it works well small and condensed, is much nicer than Helvetica condensed, and works better, at that teeny size, than a serif face. Those were my considerations in using it, and the fact that I love to use it (hence its use as my stationery type). It was not, believe it or not, because you used it.
So what's all the sound and fury with you guys? Ease up a bit. There's nothing new under the sun, and while I am more than happy to concede that I didn't in the least invent this concept, how could you act so offended when you didn't invent it either? Or maybe you think you did, hence the vehemence and ridiculously sarcastic tone of your letters to Bill. But I'm sorry to say you really didn't. Your piece was beautiful, and showcased your beautiful covers. That's all ours did as well. And tomorrow when S&S and Random House and HarperCollins do their versions—that's all they will be doing as well. These gimmicks (because that's what this is, you know) come and go in phases and trends.
As for your stationery—don't you worry now!
cc: Bill Strachan
  Lottchen Shivers
  Ira Silverberg
---
EXACT CHANGE
PO BOX 544
CAMBRIDGE, MA
02139
William Strachan
Raquel Jaramillo
Henry Holf and Co.
115 West 18th Street
New York, NY 10011
November 2, 1993
Dear Mr. Strachan and Ms. Jaramillo,
How is it you tell us to "ease up a bit," instead of offering an apology? Is it your role in this instance to lecture us about our response to what you have now admitted was first of all (in Ms. Jaramillo's case) an obvious bit of theft and secondly (in Mr. Strachan's case) a blatant denial of the truth, with suspect embellishments (what happened to the "planned before ABA" argument)? Why don't you think about your proper response instead of ours? Ours is entirely up to us, and caused as it is by your careless use of our material, your problem to deal with.
Your indignation at our response seems to make it necessary to point out again, now that you admit you had our work in hand when you did yours, that you copied it in the same season we were using ours. In other words many will receive yours before ours, although your idea was clearly executed in imitation of ours. And since the effect of a "gimmick," as you call it, depends in part on novelty and originality to capture attention, the effect of ours is obviously compromised by yours. In other words you fouled our efforts, and all you do when we point it out (with some humor, we thought) is indignantly deny it, and then indignantly confess to it.
Since you make such liberal use of your files, enclosed is something for you to pull out next time this happens (after next ABA?) and say once again, "You mean like this?"
Sincerely,
cc: Ira Silverberg
with enclosure
---
(Enclosed with letter of November 2, 1993)
For the file of Henry Holt & Co., courtesy of Exact Change:
Dear [    ]
I was shocked and dismayed when I opened your letter and saw your promotional mailing. Please understand that I personally was unaware of your piece until it arrived with your letter, but this in no way lessens my and my company's responsibility for this blatant bit of plagiarism. I have checked with my staff and yes, indeed, both the Publicity Director and Designer of our brochure were well aware of yours—had in fact taken a copy at ABA for their files—and then modeled ours on yours. If I had only known of this before ours was finished I of course would have put a stop to it, as I recognize the investment such a brochure must mean for a small company like yours, and I feel embarrassed and ashamed that we have taken advantage of your efforts for our own promotional ends. My only hope is that our markets are sufficiently diverse that our mailings and contacts will not overlap; alas, I realize how unlikely this is as the fiction market in our country is sadly so restricted to the few intelligent independent bookstores and reviewers that we both no doubt know so well.
Please understand that our company's use of your brochure as a model was, in part, inadvertent, although we recognize nonetheless the damage it must do to you in your marketing efforts, and I daresay to us as the perpetrators of plagiarism. But insofar as it was deliberate, as it no doubt was for at least some members of our staff, we feel that it is inexcusable and we will take disciplinary action within our company to set matters right. In this regard I would like to thank you for calling to my attention the sloppy, well-nigh illegal activities of my staff.
As for what we can do to make amends, I am afraid I am at a loss as the damage is already done, our brochure is printed and in circulation and I do not know what to do. Would a public apology, for example in Publishers Weekly, mean anything to you, or would you rather we keep this quiet and hope that our brochure gets in your way as little as possible? Please let me know, as I am in this matter entirely at your disposal and feel frustrated that at this moment I can offer only my sincerest apologies which, I know, must be cold comfort, but which, I suspect from the humor and grace I detect in your letter, may not fall on deaf ears.
With my sincerest apologies,
[    ]