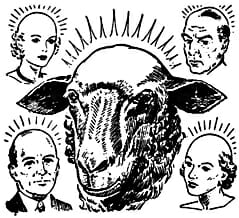 Years from now, the most memorable aspect of our late technology bubble will likely be the palaver. Whether all the hot air pumped up the bubble or the bubble inspired the grandiose talk, our age will forever be remembered for the honking load of bushwa Americans swallowed, at least for a while. There was the overheated futurism of Being Digital, and the self-evident absurdity of Dow 36,000. And, of course, there was Wired magazine, which liked to call itself the "real-time nervous system of the planet."
Ah, Wired. In the heady fall of 1996—just as that fabled dot-com brush fire was kicking up—I was a three-day-a-week intern for HotWired, the magazine's Web appendage. I was there, man, even if I was virtually invisible. And (to cop a phrase from Walt Whitman) I, too, suffered. When I wasn't ducking Nerf rockets, I was the help-boy for the politics "channel," The Netizen. I pored through pages of wannabe gonzo libertarianism and self-righteous sermonizing about the wonders of new media, chasing down facts on telecommunications law, cryptography politics, and net pornography scares. In my entire nine-month stay in this high-tech romper room I learned how to do maybe three things with HTML. Still, that eclectic "synergy" the magazine incessantly crowed about was crackling. They were "ramping up" all manner of new projects at HotWired: a television show, a web news bureau, a digital art gallery, an interactive lounge party. They were opening up a book publishing company and a British edition of the magazine. New digital identities and cyborg lifestyles were coalescing before one's very eyes.
These "radical individualists" were ready to express themselves through Palm Pilots, virtual erotica, and web-shopped home-delivered gourmet meals.
But even my outmoded Second Wave mind could tell, not long after I got there, that the place was heading for trouble. When things went to pieces, it happened slowly, over the course of a few months. But to those who cared it must have felt sudden, like getting gut-punched. First, Wired Ventures couldn't drum up enough "investor confidence" on Wall Street, and the much-anticipated IPO tanked. Wired TV bombed. Wired Books slowly disappeared, and apparently the Brits just weren't having their "digital revolution" yet. People started to leave or were let go. Soon it was like Saigon in '75, with staffers muttering in the elevators about getting out before the shit really hit the fan. At the Netizen, we went from a high of three or four articles a day during the election to one, maybe two by the first months of 1997. Six months or so after I, too, went on my way, the higher-ups called for the head of the magazine's founder. A few months later, the gates burst open and the wolves rushed in. Wired became just another line on chief investor Condé Nast's balance sheet, with new handpicked New York editors.
This series of disasters also showed just how far ahead of the curve the dispossessed founders of Wired were, how far out of the box they could think. Punished by the very market discipline they extolled, the magazine's visionaries at least had the good fortune of taking their medicine years before it was too late to sell out. As for their visions, well, these days they might be a little embarrassing to recall.
Many of these follies are ably catalogued in Paulina Borsook's Cyberselfish: A Critical Romp Through the Terribly Libertarian Culture of High Tech (Public Affairs, 1999). Borsook, a Wired dissident and Silicon Valley gadfly, has made a career illuminating the colossal hypocrisy at the heart of "high-tech's default political culture of libertarianism." She is not the first to point it out, of course, but the entire computer industry, particularly those sectors responsible for creating the Internet, are the beneficiaries of immense federal subsidies, preferences, and collaboration. The microcomputer is a direct descendant of R&D carried out by the cold war military-industrial complex; the Internet is a tricked-out version of a government research project called Arpanet. "Silicon Valley" as an idea and a place is largely a product of intensive government investment in California's technology industries and public education in the decades following World War II.
Yet by now much of the aerospace industry has fled the state, and the property tax revolt of the Seventies has slowly eroded the state's education system. So it's easy for digital libertarians to imagine that their brave new world has sprung up unaided by anything but their own grit and daring. Regulation is anathema to these worthies—unless you're talking about homeowner mortgage subsidies, single-family building codes, or exclusionary zoning. In fact, Borsook reminds us that without government support for basic infrastructure—roads, water, power, parks, education, the middle-class home mortgage industry—the supposedly placeless cyber-yuppie would be hard-pressed to water the lawn of her postmodern Los Altos hacienda.
Borsook does a serviceable job dissecting the various strains of high-tech libertarianism. There is the free-market fetish-mongering of Wired, which sold techno-utopianism as a liberatory lifestyle to an audience of "radical individualists," ready to express themselves through Palm Pilots, virtual erotica, and web-shopped home-delivered gourmet meals. (Does anyone wonder why Condé Nast bought the magazine out?) Borsook breaks down the pseudoscience of "bionomics," an outdated mess of second-rate speculations about the equivalencies between nature and economics. The free market is just like a rain forest, goes the thinking behind this collection of fatuous conceits. Markets move and grow with the same complex ecology as a high-canopy ecosystem. Of course, market ideals won't soon "evolve" to the point where they no longer drive corporations to plow under acre after acre of actual rain forest every year. This is the sort of obvious contradiction that makes all the talk about "complex systems" among cyberlibertarians seem patently absurd. In fact, it disguises a host of one-note thinking about the munificent and autonomous impact of technology, the relationship between politics and economics, and the methods by which power is held, controlled, and deployed.
But that's just it. Libertarianism is the perfect political philosophy for the high-tech industry. Once you've abstracted the world around you to a blipping series of ones and zeros on a screen the rest is easy. Ideas, emotions, passions, politics, history must all fit to the grid or cease to register. Libertarianism, with its one-to-one correspondence theory of political agency and action, is an entirely appropriate worldview for a world no longer seen as analog or organic, but digital, binary, and synthetic. There is freedom and there is oppression, and despite the fact that cyberlibertarians chatter endlessly about the "complex system" of the World Wide Web, the conflict is distinctly uncomplicated in their minds. Privacy, free markets, and the unfettered flow of information and capital make for freedom. Government, laws, and regulation make for oppression. On or off. One or zero.
Cyberlibertarianism's aggressive solipsism encourages and perpetuates exactly the sort of libidinal individualism that already runs amok in America. It also rationalizes retreat from political engagement. As it turns out, all the sound and fury about political freedom and liberty that overflows the chat rooms is most often about claiming the freedom to abdicate the actual complexity and contradictions of life lived in streets, offices, and factories. Cyberlibertarians fail to see this because they consistently indulge themselves in the fantasy that technology can resolve all the little messes of these supposedly outmoded ways of life. Forsaking the pedestrian social world in favor of digital bulletin boards or "virtual communities," single-minded libertarian drones—the true networked, cyborg souls of this brave new world—run rampant, indulging themselves with the fantasy that the one-to-one mind-meld they have with their monitor is a fitting model for social interaction at-large. "Computers," Borsook writes, "are so much more rule-based, controllable, fixable, and comprehensible than any human will ever be." Perhaps that's why a sense of community is so often found wanting in Silicon Valley. Borsook documents one particularly telling example of high tech's abdication of the real: In 1999 the United Way of Santa Clara County (Silicon Valley's true geographic coordinates) went broke. As if this weren't pathetic enough in one of the richest counties on the planet, almost no body stepped in to help out. It took Bill Gates sweeping down from Redmond to prod the Microsoft-hating CEOs of the Valley into pitching in and bailing out the giant nonprofit.
Borsook is a perspicacious and frisky antagonist. She knows the cyber milieu well, and she feels at home there even though its politics make her cringe. She sympathizes with its hostility towards illegitimate bureaucracy, its impatience with nostalgia, its yearning for personal freedom. Not surprisingly, she has adopted the hyper, addled prose style and arch tone of so much online writing. She's fond of running multiple phrases and monikers together with slashes and dashes, as when she worries for the "non-high-end/non-best-of-class/but-maybe-with-quiet-virtues-of-its-own company." This is often cloying or distracting; it is a measure of how close to the machine Borsook really is.
In one sense, Cyberselfish is a casualty of the info-age speed-up Borsook wanted to capture with her hectic prose. Back in the mid-Nineties, when Borsook began to raise the alarm in various magazines and Web outlets, libertarianism was on the rise in the ether. But now, Internet anarchocapitalism seems little more than a quaint reminder of those heady, innocent days before the era of Time Warner AOL. Libertarianism has had its fifteen seconds of millennium face-time. The quirky, potty-mouthed rule-breakers of the information frontier got used. They lent their street cred to the corporate coup in hyperspace, and then they got fired. Little more than a stylish and well compensated advance guard, they secured an ideological beachhead for interests committed to the free market only insofar as it lets them freeze out competitors and capture niche-market monopolies. And that, of course, is exactly the point that Borsook dances around but finally misses. Smoke-screen it may be, but cyberlibertarian rhetoric has done its work. This humbug is not merely the Internet's "default political culture"—it is the Church Latin of global political economy. Its vague sureties and fervent promises have come to shape the horizon of the possible on any number of "issues" from Social Security to environmental policy.
For me, the greatest satisfaction of working at Wired was the rare glimpse it afforded of richly deserved market discipline. In the days leading up to Wired's failed IPO bid some wag had scrawled the only graffiti on the stall in the bathroom near my "work station." Half in jest, half in jittery anticipation he or she asked, "What are you going to do with your vested shares?" A couple of forgettable, smudgy replies were duly logged in the days leading up to the beginning of the end of this Web-dream. And then: nothing. Nobody added to the stall scrawlings, nobody bothered to have the graffiti painted over, washed out or sand-blasted away. Like an embarrassment that goes unacknowledged for fear of admitting the folly that brought it on, the question just hung there silently, unanswered for the duration of my stay on that sinking ship. The promise of financial liberation Wired encouraged its employees to expect has faded. The great digital revolution Wired hyped to the skies is no closer than before. In fact, HotWired was long a loss leader, and Condé Nast wouldn't sully their hands with such new media flotsam. Finally it was pawned off on Lycos—one of those Web site smorgasbord firms that are coming to dominate the market—but for all I know the bathroom query is there still, a monument to the folly and absurdity of cyberlibertarianism's unswerving belief in the benevolence of the market and a testament to the transparent fantasies that underwrite the way we live now.