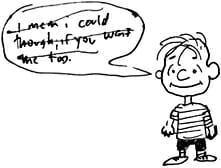 Highlights from the prospectus for Wired's (first, failed) IPO, filed May 30, 1996. Brought from the SEC's website to Baffler readers courtesy of Doug Henwood.
THE COMPANY
Wired Ventures, Inc. (the "Company") is a new kind of global, diversified media company engaged in creating compelling, branded content with attitude for print, online, and television. Its current businesses include publishing Wired magazine and programming original content on the World Wide Web (the "Web") primarily through its HotWired network of online content sites (the "HotWired Network"). The Company believes that it has developed Wired and HotWired into strong brands that symbolize new media and the digital age.
[…]
Wired magazine was launched in January 1993 to cover the Digital Revolution, a term popularized by the Company to describe the profound changes caused by the convergence of the computer, media, and communications industries. With Wired magazine's blend of leading-edge editorial and highly innovative design, the Company has created a unique magazine genre. Wired magazine is not a computer magazine; it is about the people, companies, and ideas of the Digital Revolution.
[…]
LIMITED OPERATING HISTORY AND ANTICIPATION OF LOSSES
The Company commenced the publishing of Wired magazine in January 1993 and launched the HotWired Network in October 1994. Accordingly, the Company has a limited operating history upon which an evaluation of the Company and its prospects can be based. The Company has incurred operating losses since inception, including operating losses of $1.0 million for 1993, $3.5 million for 1994, $79 million for 1995, and $3.8 million for the three months ended March 31, 1996. Partially as a result of a one-time charge of approximately $21.3 million resulting from the write-off of in-process research and development pursuant to the Reorganization described in "The Company," the Company expects to incur a substantial loss for the three months ending June 30, 1996. Moreover, deferred compensation expense of $9.1 million relating to stock options granted prior to May 31, 1996 will be recognized over the four-year vesting periods of the options.
[…]
COMPETITION
The Company faces significant competition from a large number of companies, many of which have significantly greater financial, creative, technical, and marketing resources than the Company. These companies may be better positioned to compete in the evolving media and technology industries. In addition, the Company faces broad competition for advertising revenue from other media companies that produce magazines, newspapers, online content, radio, and television, as well as other promotional vehicles such as direct mail, coupons and billboard advertising.
[…]
MISSION AND STRATEGY
The Company aims to create smart media for smart people around the world—high-quality information and entertainment products aimed at a well-educated, affluent, technologically savvy, and influential consumer group. Its mission is to build a new kind of global, diversified media company for the 21st century utilizing its ability to create compelling, branded content with attitude across multiple media, its technological and research capabilities, its strong connection to consumers and advertisers, and its commitment to journalistic and artistic excellence.
The Company's strategy to achieve its mission includes the following elements:
CREATE SMART MEDIA FOR SMART PEOPLE AROUND THE WORLD.
The Company believes that creating high-quality information and entertainment products aimed at a well-educated, affluent, technologically savvy, and influential consumer group is the key to sustaining the rapid growth of its audiences, attracting advertisers, and maintaining advertising rates generally higher than those of its competitors. In addition, the Company believes that by focusing on a demographic group that includes today's thought leaders and early adopters of new ideas and technologies, it will also attract a broader group of consumers who are influenced by this group's ideas and viewpoints.
LEVERAGE EXISTING BRANDS AND CREATE NEW BRANDS.
The Company believes it has developed Wired, HotWired, and their related brands into brands that symbolize new media and the digital age. The Company intends to strengthen its existing brands by continuing to publish compelling print and online content for growing audiences and extending its existing brands across media including books and television. In addition, the Company intends to apply its creative resources and its expertise to develop new brands with distinct creative visions for print, online, and television. The Company believes that this diversification will enable it to create products that appeal to wider audiences with demographic characteristics similar to those of its existing consumers. The Company also believes that its HotWired Network and other online media properties provide a platform from which to rapidly and cost-effectively launch and test new brands, which can then be extended across media.
[…]
CAPITALIZE ON CONSUMER PROFILING CAPABILITIES.
The Company believes that its ability to target and develop relationships with its consumers will enhance the success of its media properties. In addition to collecting and maintaining profiles of its magazine readers, the Company uses proprietary technologies to obtain, manage, and analyze large amounts of volunteered or observed data regarding its online users. This information is then used by the Company's sales team in soliciting specific advertiser categories. It is also used by the Company's online advertisers to target particular users with advertising messages and by the Company to generate personalized editorial material for its online users. The Company also frequently surveys a panel of more than 20,000 online members that have volunteered to answer in-depth queries. The Company believes these capabilities enable it to develop and refine its own content, enhance the user's experience, and develop and strengthen its relationships with advertisers, thereby supporting its premium advertising rates.
DEVELOP UNIQUE ADVERTISING PROGRAMS.
The Company intends to continue developing unique advertising programs that increase advertiser retention rates and leverage the favorable demographics of Wired magazine, the HotWired Network, and the Company's other products. To date, these programs have included advertising packages that involve placement across different Wired products, online placements that directly associate an advertiser's product with editorial content, and increased access to the Company's online marketing research and experience in exchange for increased advertising commitments. In addition, the Company is developing new forms of commercial sponsorship whereby the sponsor gains the full benefit of co-branding program content in exchange for ongoing financial and co-marketing commitments to the program. For example, Dockers has committed to become the exclusive co-sponsor of the HotWired Network's Dream Jobs program starting in July 1996.
[…]
SUCK.COM
Suck.com (http://www.suck.com) began as an underground, anonymously produced Web site containing sharp commentary on the Web and popular culture. Since its debut in August 1995, the Company believes that Suck.com has become one of the most popular, most discussed, and most imitated sites on the Web. In April 1996, Suck.com had approximately 7,000 to 9,000 visitors per weekday. Purchased by the Company in March 1996, Suck.com remains editorially independent from the HotWired Network and maintains a separate brand identity.
In May 1996, Suck.com added a series of new content areas that expanded and reinforced the attitudes established on the original Suck.com Web site. These five weekly programs are:
Vacuum: Parody of Internet community (reader mail)
The Pitch: The latest Web concept that's "too stupid to fail"
Filler: Facts, quotes, figures, and search results, as filtered by the Suck.com editors
Zero Baud: Discussions of offline living
Net.Moguls: Virtual "trading cards" highlighting conspicuous characters from the Internet world
Suck.com began generating revenues through advertising in May 1996. Its current advertisers are comprised of the following charter sponsors: Big Book, Black Star Beer, Marinex Multimedia/The East Village, and Tripod, Inc. Each advertiser is guaranteed that its advertising message will be viewed at least 100,000 times every four weeks. In return for this guarantee, sponsors are required to commit to between eight and 24 weeks of advertising. Each advertisement is rotated through the daily Suck.com home page and the five weekly programs. In May 1996, the basic price for eight weeks of advertising was $20,000; this rate is discounted by up to 10% as the term of the commitment increases. Suck.com requires that each advertisement be animated using Sun Microsystems Inc.'s Java language.
[…]
None of the Company's employees is represented by a labor union. The Company has experienced no work stoppages and considers its relations with employees to be good.