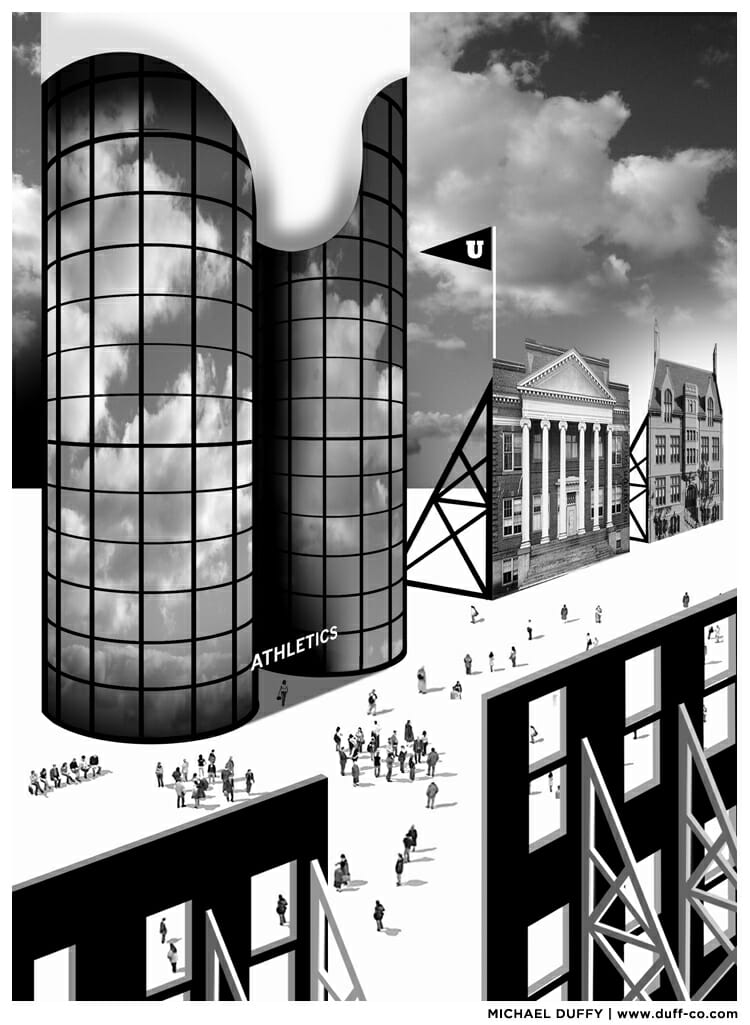 Austin, Texas, where I live, brands itself as "The Live Music Capital of the World." And at times, you can look on the heavy concentration of local musicians and the buzz of the lines streaming out of downtown clubs and believe that the city's economy is based on a disheveled army of twangy, Waylon-and-Willie-worshipping troubadours. Each spring, after all, the native gestalt is amplified and put on display for the rest of the world during the city's annual celebration of the hipster zeitgeist, South by Southwest. Meanwhile, the start-up companies hiding in discreet campuses around the city tell a different story of what makes Austin hum, and, if you ask the boosters at the chamber of commerce, they will point you to the city's quiet concentration of high-tech heavies—your Dells, Apples, IBMs, Samsungs, and so forth.
But the most readily visible, upwardly mobile, relentlessly promoted, frequently visited, and universally beloved business in Austin doesn't technically qualify as a business. That would be the tax-exempt University of Texas Athletic Department, an unstoppable, ever-expanding machine that obliterates all race- and class-based lines in a ritual quest for money and glory. As anyone who spent any time on or near campus during the most recent overhaul of the 100,119-seat Darrell K. Royal–Texas Memorial Stadium can attest, this is one local business that has weathered the recession quite nicely.
When DeLoss Dodds took over as Longhorn athletic director in 1981, annual revenue hovered around $4.5 million. Dodds's department took in more than $150 million in 2010–11 (nearly $20 million more than its nearest competitor, Ohio State), with profits in excess of $16.6 million after record-breaking expenditures. Mack Brown, the head football coach, makes $5.1 million a year before incentives; men's basketball coach Rick Barnes brings in $2.4 million. (Brown and Barnes are the highest-paid public employees in the state by a wide margin despite their official status as nonprofit executives.) The department has its own bureaucracy, its own sponsors, and its own licensing and fundraising arms. Last year, it launched its own (theoretically) national television network devoted exclusively to Texas sports. For broadcasting rights, ESPN agreed to shell out $300 million over twenty years. For all intents and purposes, University of Texas Athletics is a self-sustaining corporate entity using the university as a tax shelter.
And it's not alone: amid cutbacks, furloughs, layoffs, and tuition hikes at virtually every public university in America, more than a dozen athletic departments reported at least $90 million in revenue apiece in 2010–11 as a result of fat television contracts and fat-cat donors, an unthinkable total for any college sports program as recently as a decade ago. Football, and to a lesser extent men's basketball, is an automatic moneymaker almost everywhere—leaving the storied traditions that form the basis of long-term fandom a marketing fig leaf at best, and a vanishing dead letter at worst. And nowhere is the tension at the divided heart of collegiate sports more evident than in the "scholar-athlete," the disenfranchised worker at the center. Here's a century-old enabling fiction that's become an aggrieved, orphaned ideal-type in today's money-steeped, scandal-plagued higher education.
Build It and They Will Yum
As state legislatures have slashed humanities budgets and research grants, big-time college sports has pointed the way from the moldering ivory tower to the lush green fields of the market—or, to borrow an all-too-appropriate phrasing courtesy of University of Louisville basketball, from Freedom Hall to the KFC Yum! Center. Students flock in record numbers to business schools, while math, science, and engineering departments race to transform themselves into entrepreneurial profit centers. All of these newly baptized market apostles on campus are moving into territory their athletic departments began staking out years ago. As larger and larger (but still tax-exempt) sums pour into and out of athletic departments, the question is not whether the richest sports programs will grow too large, independent, and professional to remain under the university umbrella; the question is, when they do grow too large, will college sports survive in any recognizable form?
Not that anyone has ever mistaken college sports for a pure embodiment of the broader mission of higher education. To trace the yoking of athletics to higher learning, you have to go all the way back to the handful of university presidents and coaches who met at President Theodore Roosevelt's White House in October 1905 to rescue the popular and controversial game of football from progressives who criticized its brutality and its reliance on the "tramp athlete"—the well-paid ringer who took the field under an assortment of aliases for any school that would have him. Roosevelt was a fan of the game, as was his successor, Woodrow Wilson, who, as president of Princeton, pronounced team sports a natural, healthy component of the university's mission to enrich mind, body, and spirit. It would not have occurred to either Roosevelt or Wilson that a student from a credible institution could be lured from campus by professional sports. Apart from baseball, such operations in the early twentieth century were upstart, ramshackle endeavors akin to regional professional wrestling, a kind of traveling sideshow unsuited to anyone who had ever had the good fortune to set foot in a college classroom.
By today's standards, the Intercollegiate Athletic Association of the United States—launched by Progressive-era reformers to regulate college sports in 1906—was designed for glorified intramurals. Yet from that seed sprouted, four years later, the National Collegiate Athletic Association (NCAA), an oversight group manned largely by officials from member schools to enforce standardized rules and academic eligibility requirements and thereby to shore up athletics as a core component of higher education. Following the example of the recently revived Olympic games, the architects of the NCAA installed the turn-of-the-century concept of "amateurism" at the conceptual center of the enterprise.
Virtually no feature of the founding era's approach to college sports makes sense today. There is no equivalent of the "athletic department" in post-secondary education abroad; to foreigners accustomed to club teams training athletes from early ages, the concept of tying athletics to academics is an American obsession—a perversion, really, and a bizarre one at that. Nowhere else in the world is an aspiring footballer required to maintain a certain grade-point average in criminal justice to remain with his team, just as no English major is expected to learn how to hit a turnaround jumper between close textual studies of James Joyce or F. Scott Fitzgerald.
For a while, at least, a few schools with strong football programs made a token effort to mind the gap. Notre Dame, a national gridiron power once denied entry to the Big Ten on the grounds that coach Knute Rockne knowingly fielded ineligible players, refused to participate in the tawdry spectacle of postseason bowl games for forty-five years because the school's administrators feared the institution would acquire the unsavory reputation of a football factory. Not to be outdone, the University of Chicago, a founding member of the conference that would become the Big Ten, dropped its football program in 1939, just after halfback Jay Berwanger won the first Heisman Trophy. (University president Robert M. Hutchins once described the sport as "an infernal nuisance" that distracted the university from becoming "the kind of institution it aspired to be.") In 1954, during an era when Cornell, Harvard, and Yale routinely finished in the year-end football polls and Princeton halfback Dick Kazmaier won the Heisman by the widest margin in history, the eight university presidents of what would become the Ivy League signed an "Ivy Group Agreement," reaffirming their commitment to deny athletic scholarships and keep athletics firmly under the foot of the universities' "academic authorities." Those schools still play football, but have long since withdrawn from the arms race required to compete nationally.
The Dollar Bowl
The gradual secession of the Ivies meant that few of the schools left in the college football fray could offer prospective recruits a pedigree of illustrious alumni or induction into the social and political elite upon graduation. But they could still offer enterprising scholar-athletes the enduring communal bond that comes with singing, cheering, and having their hearts broken alongside thousands of likeminded, frequently drunken countrymen. With such obviously exploitable emotional ties sitting right there in the open, it's a wonder college sports remained as undervalued as they did for as long as they did, especially by television. That's due in some part to the reluctance of the NCAA to put games on TV in the first place. For years, the organization offered networks only a single "Game of the Week" in various regions because it viewed the tube not as a potential tool for spreading the game's popularity, but as a competitor threatening to undermine ticket sales.
That assumption began to change in the late seventies, when dissatisfied schools banded together independently of the NCAA to negotiate with networks under the banner of the College Football Association, and changed for good in 1984, when the U.S. Supreme Court ruled that the NCAA-controlled television plan violated the Sherman and Clayton antitrust acts. With the Court's decision, the NCAA—always an anemic operation with few formal mechanisms of enforcement—was cut out of the action. Individual conferences could now negotiate and profit from their own media contracts, including the cartel-like postseason arrangement we know as the Bowl Championship Series in the top tier of Division I football. Meanwhile, the NCAA was left with the less lucrative privilege of organizing postseason tournaments in all other sports, only one of which—Division I men's basketball—contributes significantly to the organization's bottom line.
The onslaught of money following the Supreme Court's 1984 decision has laid such utter waste to the feeble facade of athletics as an educational enterprise that even the most pie-eyed apologist for the institutional-athletic complex has a hard time conjuring it with a straight face. Renegotiated television contracts for rights to broadcast regular season football and basketball games have poured hundreds of millions into conference coffers, doubling and in some cases tripling the cut for schools at the top of the food chain. The newly expanded Pac-12 conference scored a deal with ESPN and FOX last year that's projected to net five times the annual payout under its current agreement, which expires this year, completely independent of future revenues from the proposed Pac-12 Network. Last year, too, the NCAA distributed a record $180.5 million in TV money to Division I conferences from its major cash cow, the men's basketball tournament; and the Bowl Championship Series, in which the NCAA has no stake, paid out $174 million, a number that's risen every year of the series' fourteen-year existence.
The checks have grown large enough, fast enough to keep every Division I conference in a competitive scramble over the money. When the Atlantic Coast Conference's newly renegotiated, $3.6 billion television deal with ESPN this spring failed to match the record sums promised to the other major leagues, the chairman of the Florida State University Board of Trustees responded by publicly threatening to move the Seminoles to the greener pastures of the Big 12. And the Big 12 itself was nearly torn asunder in 2010 before then-commissioner Dan Beebe promised a lucrative enough TV deal to keep his heaviest hitters, Texas and Oklahoma, from fleeing to the Pac-12. (He delivered, with a reported thirteen-year, $1.17 billion agreement with FOX for second-tier rights—that is, second choice of games after the first-tier rights holder, in this case ESPN, has taken its pick. But even the inducements of that deal weren't enough to keep less essential members Missouri and Texas A&M from bolting to the Southeastern Conference; Beebe was subsequently forced to resign.) When the music stops in the next year or two, at least one league, the fifty-year-old Western Athletic Conference, is likely to be out of business. But the rest will be substantially richer.
The Swoosh Ascendant
To conjure the largesse now required to compete at the Division I level, the schools need wealthy boosters. These figures have always been essential to large-scale sports operations, but their influence has, you might say, gone on steroids. The biggest names in the new class of college sports donors, Nike founder Phil Knight and business magnate T. Boone Pickens, have poured so many tens of millions of tax-deductible dollars into the coffers of their alma maters, Oregon and Oklahoma State, that they function as de facto owners of the athletic departments. At Oregon and Oklahoma games, the two billionaires hover over their respective sidelines, mix in their locker rooms, and preside over newly constructed luxury boxes at the stadiums they helped to renovate. (Oklahoma State's stadium in Stillwater is named for Pickens, as are several other buildings on campus. Oregon's campus in Eugene boasts the Knight Library, Knight Law Center, and the recently completed Matthew Knight Arena, named for Phil Knight's late son.) Both megaboosters hold unofficial veto power over major hires and decisions. In Knight's case, there is speculation that he helped push out former head football coach Mike Bellotti in 2009 in favor of assistant Chip Kelly, whose instant success as offensive coordinator had sent him shooting to the top of other schools' wish lists. Rumors also persist that Knight's box in Autzen Stadium is equipped with a headset that allows him to listen in on the Ducks' coaches during games, a claim he's declined to confirm or deny.
Now and then the unseemly influence of the donors shows openly. T. Boone Pickens, who made his fortune as a wildcatter in Texas oil fields and later enhanced it as a corporate raider and hedge-fund manager, convinced the Oklahoma State athletic department in 2007 to purchase life insurance policies for two dozen of its largest donors, all over the age of sixty-five, and to list the department as the sole beneficiary. Two years later, with every donor enlisted in the "Gift of a Lifetime" program still alive and OSU saddled with $33 million in premiums, the university dropped the program and filed suit against the insurer to recover costs.
Not surprisingly, meanwhile, the Oregon program has run afoul of Phil Knight's well-known devotion to manufacturing sneakers and sports apparel with the cheapest sweated labor that the global economy has on offer. Thanks largely to student protests in April 2000 and the adverse publicity they generated, a watchdog group called the Worker Rights Consortium was able to induce Oregon's then-president, Dave Frohnmayer, to enter into a one-year pledge to honor basic workers-rights guarantees for attire bearing the school's logos and university licenses. At that point, Knight embarked on a none-too-subtle campaign of capital flight, pulling out a $30 million stake in the planned renovation of the university's Autzen Stadium and hinting that he might as well retire as a University of Oregon donor. (Knight, together with most other shoe and apparel moguls, endorsed a far more lenient set of manufacturing and labor standards promulgated by the Fair Labor Association, an industry group.)
Lo and behold, it took President Frohnmayer only a few months to divine an obscure legal rationale for annulling the school's agreement with the Worker Rights Consortium. After due consultation with the school's in-house counsel, he announced that the university was barred by state law from remitting membership dues to non-incorporated groups like the consortium, which didn't possess federal tax-exempt status. (Why the school couldn't simply withhold membership dues from the consortium to comply with the state law was a mystery he left unexplained.) And as a measure seemingly designed to steady Phil Knight's check-writing hand, the university went on to enact a full ban on business partnerships between the university and any outfit not deemed "politically neutral"—and sure enough, Knight reinstated his $30 million donation to the stadium plan, kicking in a $20 million bonus for good measure. By the end of the ensuing decade, the football team's endless, ever-evolving ensemble of flashy Nike uniforms had made the Ducks walking billboards for the company every time they took the field.
It's become steadily harder to use "amateurism" and "college athletics" in the same sentence without calling forth a chorus of bitter guffaws.
Not coincidentally, both Oregon and Oklahoma State are in the midst of the most successful on-field runs in their respective histories; both football programs have risen from decades of mediocrity to assert themselves as national powers in less than ten years. Though Oregon's expenditures ballooned by 71 percent between 2006 and 2011, the athletic department still came out in the black after watching annual revenues soar 107 percent in a single year, from $59 million in 2009–10 to $122.4 million on the heels of its 2010 run to the BCS Championship Game. Not a bad return on investment.
There's every reason to believe the Knight and Pickens model of mogul sponsorship represents the future. But that hasn't stopped lesser schools and deficit-ridden athletic departments from spending as much as they can get away with to remain competitive. And money-mad administrators have proven none too fussy in recouping the shortfall from already heavily indebted undergrads. Student fees earmarked for athletics have increased by 31 percent since 2005. To take one example of how this breaks down, more than 40 percent of Rutgers's athletic department budget in 2009–10—the same year the recession-wracked university froze professors' salaries, shrunk academic programs, and jacked up tuition, housing, and other fees—came from a combination of student fees and the university's general fund. The following year, the subsidy rose to 47 percent. Meanwhile, the athletic department nuked six "non-revenue" sports programs altogether.
The Bucks, the Buckeyes, and the Incredible Shrinking Scholar-Athlete
And so it's become steadily harder to use "amateurism" and "college athletics" in the same sentence without calling forth a chorus of bitter guffaws. This poor (or in a few notable cases, not-so-poor) "student-athlete" is vastly more coveted by coaches, boosters, agents, marketers, licensers, and assorted hangers-on than anyone in 1905 could have dreamed—and more obliged to transform himself into a rippling, precisely honed freak. Still, he remains bound to an antiquated vision of character-building recreation unsullied by profit, as college athletics is the only arena of American life that systematically denies adult citizens the opportunity to exploit their full market value.
Even if you concede that athletic scholarships are a form of payment, the amateur model in practice is nearly impossible to defend amid a larger economic culture in unwavering thrall to the free market. After Ohio State quarterback Terrelle Pryor and a handful of teammates were hit with multi-game suspensions in December 2010 for allegedly selling jerseys, championship rings, and other memorabilia in exchange for cash and free tattoos, familiar condemnations of the players' selfishness sparked an equally formidable backlash against NCAA rules restricting their pursuit of happiness with their own property. After all, while the scandal expanded to claim head coach Jim Tressel's job and the remainder of Pryor's college career, Ohio State continued to sell replica versions of the suspended players' jerseys on its official website and elsewhere with no repercussions. Pryor, now a backup with the Oakland Raiders, told Sports Illustrated earlier this year that he had receipts proving his ill-gotten gains in college had all gone to helping his mother in Pennsylvania pay household bills. That was a somewhat dubious claim from a scholar-athlete who'd repeatedly been pulled over in expensive SUVs on loan from local dealerships—but it nevertheless sharply and smartly underlined just how far removed players from disadvantaged backgrounds feel from the money they see going into palatial facilities and their coaches' salaries.
When virtually every other line in athletic budgets is growing at a record pace, and virtually every available inch of athletic department property is emblazoned with a corporate logo, the hypocrisy of building a firewall around the athletes themselves is particularly pungent. Echoing many a sports columnist, the mother of one of the suspended Ohio State players, wide receiver DeVier Posey, blasted the NCAA in the Columbus Dispatch for enforcing rules that "ensure that the young men that have poured their hearts and souls and energy and intellect into their craft are continually kept at a disadvantage when everybody else around them is running to the bank."
One challenge to the status quo is coming via an ongoing federal lawsuit, led by former UCLA basketball star Ed O'Bannon, that seeks to overturn the NCAA's ban on allowing athletes to profit from their status as college athletes after their eligibility has expired. O'Bannon launched the suit after he came across a pixelated version of himself—readily identifiable by jersey number and appearance, if not by name—in an EA Sports video game that recreated UCLA's 1995 national championship squad as a "classic" option.
Meanwhile, the internal dissensions over revenue sharing within the game point up the oldest story in college sports: an existential debate over how much longer ostensibly big-time programs like Rutgers can continue struggling to pull their own weight opposite the likes of Texas and Ohio State before one side or the other decides to draw a new, more accurate line demarcating the Haves and Have Nots. The same process has played out twice in the last half-century, first in the reclassification of schools into Divisions I, II, and III in 1973, and later in the creation of the BCS in 1998. Both moves were efforts to bring the formal structure of college sports into line with financial and competitive realities, each time resulting in fewer schools at the top. The next time such a shakeout occurs, the heavyweight class likely will be culled to the few dozen schools that can realistically afford to be there, thereby creating a landscape in which largely self-supporting programs are organized similarly to a pro sports league.
Whether such an alignment could or would exist under the auspices of the NCAA is an open question; as likely as not, it will require a mass secession. Either way, given the recent legal and cultural momentum toward cutting "student-athletes" in on the profits, there is a very good chance that the Haves in this scenario will find a way to pay players something resembling market value—or otherwise ease the barriers to outside money from agents, licensing, media appearances, and selling autographs and memorabilia. At that point, the last vestiges of "amateurism" in big-time college sports will be erased forever.
That's the theory, anyway. The vision of a more professionalized future for Division 1 college sports does have the virtues of honesty, practicality, and at least a bit more transparency than the longstanding contradiction between ballooning revenues and disenfranchised student-athletes. Yet, in a very fundamental way, that contradiction is central to the success that's made college sports possible, and may be central to its future success—if not its survival. The divide between money and virtue is part of its DNA, deeply informing its past. And if college sports has anything unique to sell that their competitors in the sporting market do not, it's a connection to the past.
Merchandising the Tribe
Football was born on campus, and set down deep roots there decades before television facilitated the emergence of the National Football League as a global corporate juggernaut. Though the concept of amateurism has probably always been more romance than reality, at one point in the not-too-distant past, fans could still plausibly pretend that they were rooting on essentially normal people—boys who grew up in the next town over and sat in the next row in class, who seemed to emerge from the student body in the name of school pride and physical fitness and maybe a date with the homecoming queen. Eventually, the accumulated moments of agony and ecstasy made football Saturdays the beating heart of many schools, venerable coaches their most visible ambassadors, star players their most notable alumni, and towering Depression-era stadiums their most recognizable landmarks. Each new batch of recruits and their classmates in the stands renewed the ritual the way a body renews its cells. College sports forge a social contract, which gives life to distinct, thriving cultures that are, frankly, tribal.
This is the reason college sports fans (and so many ham-fisted marketers who take aim at college sports fans) are so obsessed with tradition as the lifeblood of the enterprise: ritual is the way college sports forge the sense of community and continuity that draws people in, and separates them from the crass, bottom-line vulgarity of the professionals. It's telling that of the "Big Four" team sports that dominate the athletic landscape in the United States, college baseball and hockey have never come close to capturing the devotion (or dollars) associated with college basketball and football. The reason for this is quite obvious: baseball and hockey didn't grow up on campus. In those sports, professional leagues took hold first and built their own infrastructure for nurturing young talent. Top hockey and baseball prospects are still more likely to opt for a paycheck in a developmental league than for a spot on college teams, which largely remain an afterthought in the broader sporting landscape. "March Madness" notwithstanding, college basketball has begun to suffer much the same fate due to the mass exodus of talent to the NBA over the last decade and a half, despite a new NBA rule requiring top high school prospects to take at least a one-year detour through school.
There's little risk of a similar trend in college football, where courts have upheld an NFL rule requiring players to wait at least three years between high school graduation and joining the league. Very few high school football players are physically capable of such a leap, anyway. But college fans do have an aversion to professionalization and all that it entails: recognizable personalities that are sanded away by practiced banality, fight songs that are drowned out by commercials on the Jumbotron, ancient idiosyncrasies that quietly disappear, fans (especially students) who get priced out. Increasingly valuable players are increasingly aloof from fellow students, and may at some point formally sever the distinction by being allowed to profit beyond their scholarships. The game begins to feel watered-down, homogenized, and predictable—that is, it starts to sound a lot like the NFL, only without the NFL's level of skill on the field. What former tribe member turned anonymous customer is going to keep paying for yet another minor league?
The seeming inevitability of this transition is the pivot point at which the alienation of the tribal sports fan intersects with the complaints of the universities and humanities divisions that have historically regarded college sports as a nuisance. Both constituencies fear the influence of big money, and the institutionalized grasping for more and more of it is slowly eating away at the edges of what makes their passions worth being passionate about. Both share a sense that the game has been irrevocably altered by market interests, that the Starbucks in the library and the fast-food logo on the football stadium are permanent features, that there is little hope of turning back. And on the fringes of both groups, there is legitimate concern about long-term survival. The employable liberal arts grad is nearly as endangered a species as the "scholar-athlete." And the adaptations required by a more specialized, more cutthroat environment do not always look like progress.