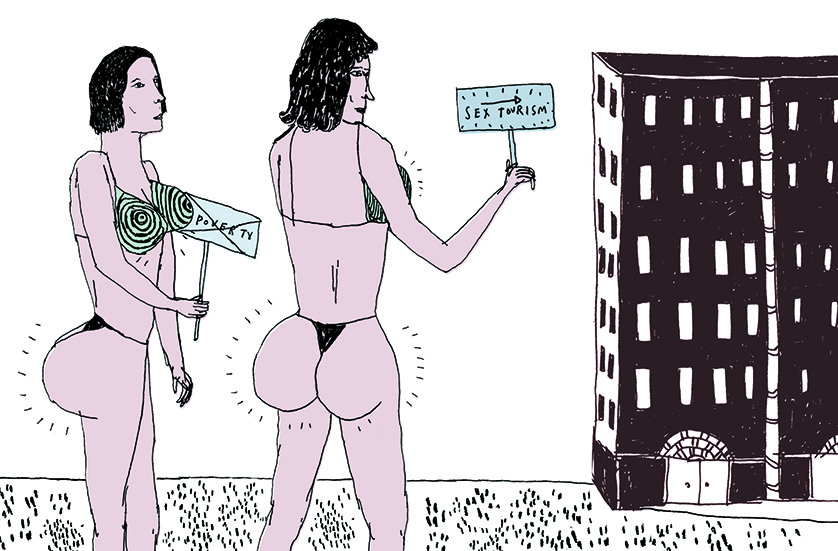 In the late 2000s, right about when the economic bubble burst in the United States, Colombia's government finally began making headway against the narco-crime that had plagued it for decades. Homicide rates dropped, drug production moved to Venezuela, and negotiations with the left-wing guerrilla movement gained traction. Before long, American and European newspapers were reporting that wanton violence and Escobar-era wealth in the former cocaine capital were giving way to a gallery scene in Cartagena, to eco-lodges near Barranquilla, and to Brooklyn-inspired restaurants in Bogotá.
In Medellín, former home of drug baron Pablo Escobar, it's considered bad form to talk about the dark days. When I visited in December, locals boasted about the city's graffiti-free metro, its starchitect-designed libraries located deep in the favelas, and the cable car system that spares the city's poor daily walks up mountain inclines. The past is past, and the residents I met tried not to dwell on it. But the fingerprints of narco-crime are all over Medellín, and especially when it comes to one of Escobar's more eye-popping legacies: the city's ongoing affair with cosmetic surgery.
On the highway from the airport to Medellín, billboards advertise affordable implants, Sofía Vergara-esque physiques, and boob-and-butt "combo" specials. Should visitors somehow miss these, they'll certainly notice silicone on the street. Medellín is famous for its perennially temperate weather, so patients (and doctors) have all year to show off their work. In 2013 the country generated $216 million from medical tourism, up from $134 million the year before, partly because of the good reputation of Colombian doctors, and partly because of the weakened peso. For North Americans recovering from the hangover of decades of partying, operations are particularly affordable: one cosmetic surgery collective advertises an all-inclusive package of breast augmentation plus eight nights in Colombia (including meals, hotel costs, and an English-speaking personal assistant who will pick you up from the airport) for USD $4,506—a lot less than it would be in the States, and hey, you get a vacation thrown in.
Medellín's obsession with cosmetic surgery started in the seventies, with cartel members' first regular travels to the United States. Thanks to men's magazines like Playboy and women's magazines like Vogue, cosmetic surgery was just beginning to enter the mainstream of American culture. Newly flush with cash—at its peak, the Medellín cartel was bringing in up to $60 million a day—traffickers essentially began buying up local women and paying surgeons to replicate the extreme body fashions au courant in the United States. Escobar was especially fond of these operadas and let it be known to girls growing up in Medellín's barrios that agreeing to a nip or a tuck might be a way out of poverty.
The culture of narco–estética was firmly established by the eighties, and blondes with big boobs and butts were presented as the feminine ideal for everyone outside of the city's Westernized upper classes. The back-and-forth between crime and cosmetic surgery continues, as surgeons now prepare girls for trade in sex tourism, which has replaced drug trafficking as the city's most pressing criminal justice problem.
When it comes to female beauty in Colombia, class dictates culture. In 2011 a Vice video report on Medellín's fashion week began backstage at a haute couture runway show stocked with two-dimensional models, where styles were distinctly European, and ended at "Moda para el Mundo," a come-one-come-all show whose models were noticeably curvier and darker skinned than their counterparts. ("People's arses are such a massive distraction from everything else," remarked the Vice presenter.) Bigger and flashier are deemed déclassé, while thinner and whiter are thought to be more European, and therefore more refined. You might think this would homogenize surgeries, but in Medellín, they're impressively diverse. Women tailor themselves to match aspirations, and doing so is as much about opportunity as it is about vanity.
There's no doubt that doctored curves attract attention, but what they're inviting us to look at is a larger question. It's worth keeping in mind that two decades ago, Medellín was the most dangerous city on the planet. With dozens of people dying every week as a result of Colombia's decades-long civil conflict, bodies began to seem all too dispensable, and altering them became a means of exercising control. Today, this cosmetic culture is still in place, though different forces drive demand. The double-D breasts and artificial asses that are still ubiquitous in Medellín are a reminder of the city's liberation from a bloody past, but also a sign of a new regime, one in which tourism dictates who goes under the knife.