The Baffler's Week That Was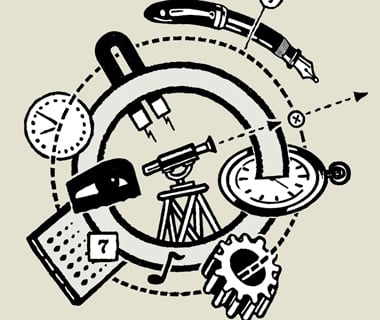 Why, hello there! Behind the scenes of the website, we're currently shining our spectacles and waxing our mustaches in preparation for a re-launch of the site in just a month or two. We promise that the new online Baffler will be shiny, and colorful, but not startlingly so.
In the meantime, we're starting to put up some of our older salvos, stories, and satire, online for the first time. We thought you might enjoy a recap of some of the things we've posted in the past week (or two). Catch up in a spare moment this weekend, perhaps. Or, many moments clustered together. (Yes, we know we write long. There's just . . . there's just so much to say.)
• Barbara Ehrenreich considered how strange it is that humans look to animals as their "spirit guides" and go on safaris and other exotic adventure-vacations to experience transcendence, in her essay from Issue 19, "The Animal Cure."
• "Rage Against the Machines," a piece in our current issue by Ian Bogost explained the toxic addiction-economics of supposedly-free-but-not-really videogames like CandyCrushSaga, Angry Birds, and FarmVille.
• "The Vertically Integrated Rape Joke: The triumph of Vice" by Anne Elizabeth Moore examined the (highly-profitable, morally dubious) bromance between Vice Media's Shane Smith and News Corp's Rupert Murdoch.
• "Nerds on the Knife Edge," an excerpt of an interview with Jaron Lanier, discussed Lanier's dismay over the lack of cultural diversity in Silicon Valley. The illustration of nerds that accompanies this piece should not be missed, no.
• "Future Shlock: Creating the crap of tomorrow at the MIT Media Lab" by Will Boisvert added some points to the conversation begun by John Summers about #innovation in "The People's Republic of Zuckerstan" (watch him in a friendly debate on Boston public television on that topic, here).
• "Hoard d'Oeuvres: Art of the 1 percent" by Rhonda Lieberman brought us into "the jungle of the feral rich" to explore the obscene world of elite art-collecting.
• We also published, for the first time online, lovely poems by Peter Gizzi and Fady Joudah, and a story by Ludmilla Petreshevskaya.
• This week on our blog, Jim Newell poked holes in Pew polls, while Chris Bray turned a critical eye on recent shortsighted comments by John Kerry and David Brooks.
• And perhaps most importantly, we (finally!) figured out what The Baffler smells like, with the help of Eugenia Williamson and a professional perfume designer. Apparently our essence smells of pencil shavings, bergamot, and bitter orange. Seems about right.
Say hello some time!