Opening Doors
How activists in Exarchia built a center to aid refugees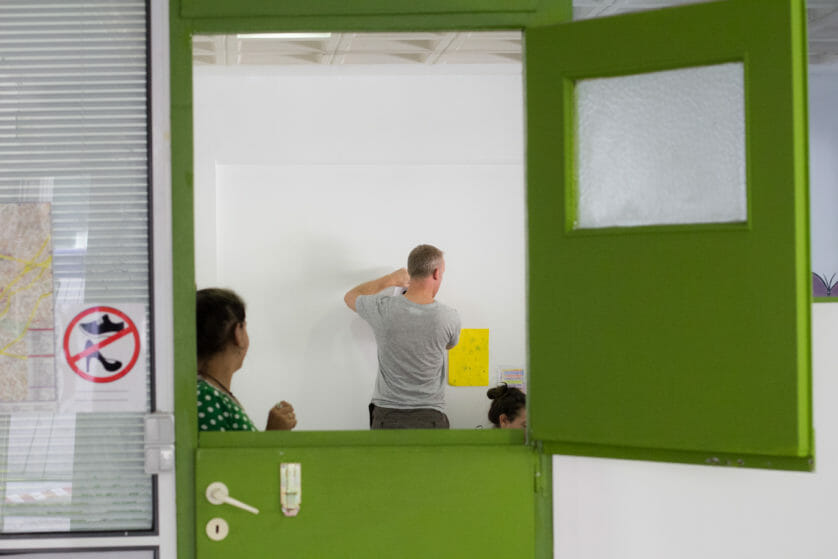 The Khora community center opened in October to serve refugees. / Julia Shirley-Quirk
Imagine the direct-action style of 2011's Occupy Wall Street transported to the construction of a community center in the midst of the unfolding Greek refugee crisis. If you believed some of Occupy's bad press, you might imagine a prescription for a state of barely contained chaos. Mundane decisions about new furnishings or paint colors might devolve into self-righteous battle cries, or descend into knots of self-inflicted bureaucratic wrangling. Surely simple tasks would go neglected for days on end, as workers decided on the spur of the moment that, say, rewiring or drywall construction didn't align with their guiding mission.
It's odd, then, that Khora, the eight-story center serving the refugee community that recently opened in the Exarchia neighborhood of Athens—the famous hotbed of Greek anarchist activity—came together in a flurry of efficient, self-governing activity. Scores of volunteers began congregating from activist enclaves throughout the West this summer as word of the ambitious project spread. As the October launch date approached, a ramshackle team of young activists logged long hours at the site, with just one day off per week. And throughout the mad rush to launch Khora on schedule, workers managed to preserve both their good humor and their shared, urgent sense of purpose.
What becomes of their work going forward—like everything else pertaining to the plight of refugees from Syria and other war-ravaged nations in the Middle East—is uncertain, particularly as the legal status and long-term security of this displaced population is entirely prey to shifting political winds. But in a global climate of bitter partisanship and inaction, the practical lessons brought forth by the Khora experiment seem especially worth heeding: the need to alleviate senseless suffering can unify large populations of people of good will; the artificial obstacles erected by state-administered policies of national, racial, and ethnic exclusion are, like any other public contrivance, open to radical revision; and even city-dwelling writers like me can learn to paint, drill, and dole out food (well, O.K., paint and dole out food, at least).
That Exarchia should be the center of both Greek anarchist dissent and bottom-up refugee aid is something of an accident. Long a gathering place for the city's left intellectuals and artists, the neighborhood was connected with radical action as early as 1973, when the Athens Polytechnic uprising protested the Greek military junta's assault on civil rights, an event that ended in twenty-four civilian deaths. Over the last few years, Exarchia has become the staging ground for protests and violent confrontations stemming from the Greek economic crisis.
Over the last year, Exarchia has taken on a new identity, becoming home to hundreds of refugees who flooded into the city after the Balkan states closed their borders. They arrived first on the Greek islands after fleeing the Middle East in overcrowded inflatable boats prone to capsizing. The islands evicted them, driving them to the Athenian port of Piraeus; estimates of the peak influx at the makeshift camp there were between six thousand to fourteen thousand people. That number dropped rapidly as the government placed the refugees in camps all around the country, and as some paid smugglers to take them across the border into Macedonia. But some joining the exodus took up residence in anarchist-run squats in Exarchia, where conditions were often more livable than in the camps.
This resettlement created a community in need of help with basic necessities as they navigate the difficult path that the closed borders presented them.
Food for Thought
The unlikely story of Khora begins with Sam Joseph, a twenty-six-year-old UK citizen who already has compiled an impressive record of direct-assistance activism. As a university student in Leeds, he and several friends, passionate about the epidemic of food waste in the UK, started dumpster diving—or "skipping," as it's known in England. They began cooking feasts of gourmet foods sourced from the garbage, and serving them to their friends. Several years later, in 2014, Joseph moved to Bristol to start his own waste food project, Skipchen, a pay-what-you-want restaurant that served everything from fresh seafood to smoothies—again sourced from supermarket dumpsters and supplemented with donated food from supermarkets, restaurants, and farmers. In the spring of 2015, Joseph took Skipchen to Calais—a (now vacated) notorious camp for refugees in the north of France that was often called the Calais Jungle.
After that, Joseph and his kitchen landed back in Bristol. One night, browsing the internet, he came across a Huffington Post article by Lliana Bird, who founded a UK organization called Help Refugees.
"It was an article about what was happening in Lesvos," Joseph told me. "About kids with rotten feet [due to the chronically wet and cold conditions] . . . a very emotional, moving article." On a whim, Joseph wrote Bird a Facebook message asking if his kitchen could be of aid in Lesvos. Bird responded with enthusiasm, and a few weeks later, Joseph and other Skipchen volunteers were on a boat to the Greek island.
The story of Khora begins with Sam Joseph, a twenty-six-year-old activist who salvaged food from dumpster diving—or "skipping," as it's known in England.
The Lesvos Skipchen was built near the Moria Registration Camp, the place where refugees who landed on the island's shores were taken to be processed. Until Skipchen's arrival, there were no twenty-four-hour services at the camp. Though the kitchen's goal was to provide supplemental fresh food, Joseph and his friends ended up becoming de facto crisis managers in the late hours of the night, as boats kept coming ashore. "We would not only be a café serving food, we also doubled up as a hypothermia unit throughout the winter," Joseph says. "We'd get kids and people coming in who were blue."
For five months, Joseph and volunteers worked relentlessly to solve problems and cook nutritious food for people passing through the island. "We did [Skipchen on Lesvos] until March and we could see the political situation changing," he remembered. "We knew what was going to happen. The borders didn't just shut overnight. They were shutting progressively."
With Macedonia, Croatia, and Slovenia all closing their borders on March 9, the humanitarian efforts in Greece needed to pivot quickly. As refugees streamed en masse into the port of Piraeus, earlier arrivals looking to move on from Athens suddenly found themselves unable to leave.
As they took stock of these changed circumstances—and leveraged new funding from Help Refugees and individual donations—Joseph and a group of volunteers from Lesvos decided to move their operation to Athens. They set up a kitchen by the port that pumped out fifteen hundred wrapped pita sandwiches a day. But even as they churned through the daily work of feeding thousands and kept busy on the side helping with asylum cases and other emergency needs, Joseph and a few core volunteers began to envision a project to cope with a Greek refugee crisis that clearly isn't going away anytime soon.
"We wanted to provide something that could address that fact that we were now in a much longer-term situation, where [refugees] were going to be trapped here for months or years," says Emma Musty, another UK volunteer who joined the Skipchen project on Lesvos. "[We wanted] to give people a chance to have a slightly better quality of life, to have more opportunity to socialize or move on. Out of this new recognition that a somewhat settled-in-place refugee community would have distinctive community needs, the recently opened Khora center took shape.
In addition to its unique character as a twenty-first century settlement house, Khora also marks a rare opportunity for direct-action critics of the neoliberal status quo to put their ideals to the test of real world problem-solving. That mission is conveyed in the name of the facility. "Khora is a really complex word. It has loads of different meanings," Musty explains. "The one we take from it is a space for radical otherness, this idea that by standing in opposition to a system of border control which is inherently violent towards people, we're all 'other,' and thus we're all the same, and can work in solidarity together."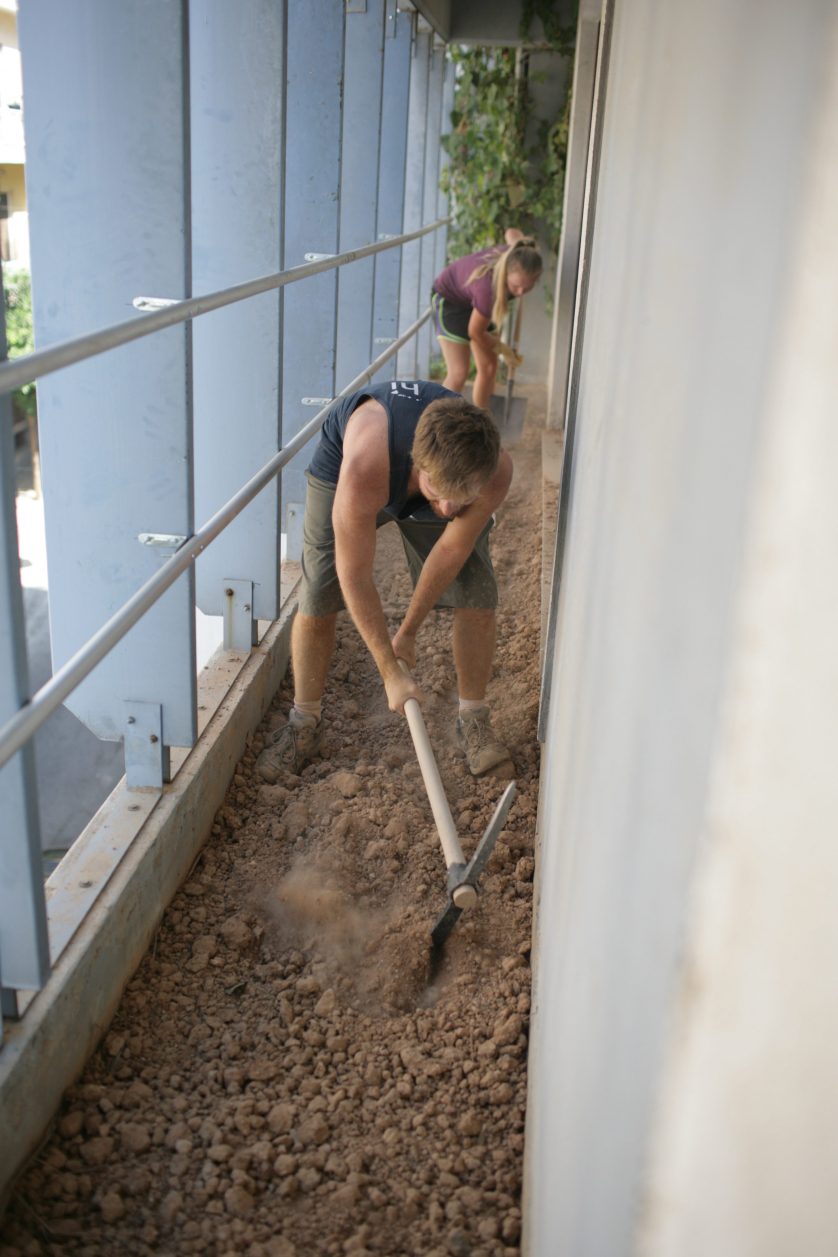 As the idea to create a permanent space that would serve the refugee community's changing needs took shape, the volunteers, organized legally in Greece as a humanitarian collective, began scouting for buildings around the city. Though some of them had experience in illegal squatting—the standard practice for the anarchist groups who support refugees in Exarchia—none of them felt comfortable undertaking a project of this scale in a strictly underground fashion. If nothing else, the status of the project's founders (as foreigners unfamiliar with the ins and outs of Greek law) seemed like a recipe for disaster. So after a few months of looking, the volunteers found an eight-story former print factory on the corner of Tsimiski and Asklipiou Streets in Exarchia, outfitted with two elevators and plenty of room for activities and storage.
In June, Joseph signed the lease, allowing the project to begin in earnest. Because the space was enormous and mostly empty, Khora's ambitions grew quickly. "We wanted to have space for people to be within the city that was something much more than just free food and sustenance," Joseph says. Khora opened on October 3. In addition to providing refugees with free lunch and a café area, the building also includes a childcare facility, classrooms with free English and Greek lessons for children and adults, an "info point" that directs users to services available around the city, a separate women's space, and a workshop. Nearly everything in the center was built by hand by volunteers, mostly from salvaged or reused materials like shipping pallets. Showers, a computer room, and medical, dentistry and legal facilities are still in the works.
If I Had a Hammer
I started working for Khora in September, after traveling to Athens to see how I might help stem the dislocation and chaos that refugees were struggling with in Greece. On my second day on the job, I fell into a toilet. I was painting the bathroom on the fourth floor, where the women's space and offices for meetings were under construction. As I attempted to paint the ceiling, I stood on a flimsy plastic toilet lid that promptly broke under me, plunging my feet into the (thankfully clean) toilet water, leaving me with a few scratches and slightly bruised pride.
It wasn't the first task I'd bungled since beginning to work at the space. As a Brooklyn-based journalist who's spent more hours making memes than using a saw, I possess a skill set that's considerably shy of "handy." I knew better than to ask for construction work, relegating myself to simple tasks like varnishing benches or painting walls. Still, I somehow managed to paint most of an outside wall using indoor paint. When I was conscripted to help build benches, I ruined two drill bits before banishing myself back to the now reassuringly familiar tasks of painting and cleaning.
Most of the twenty-five or so volunteers who were working on the project didn't have formal training in carpentry and construction either, but happily they picked it up faster than I did. They were a mix of people who'd met on Lesvos or worked in the kitchen at Piraeus, together with fellow-traveler types like me, who'd heard about the project via word-of-mouth in the activist world. Many of the volunteers lived in a large apartment a half hour walk away from Khora, paid for by Help Refugees. Every day, the collective convened a 10 a.m. meeting at the building to set out the tasks to be completed. Apart from a roughly hourlong break in the afternoon for lunch and coffee, volunteers worked until about 7 p.m., six days a week, from Monday to Saturday. By the time I arrived, many of the volunteers were on their second or third month of this demanding routine.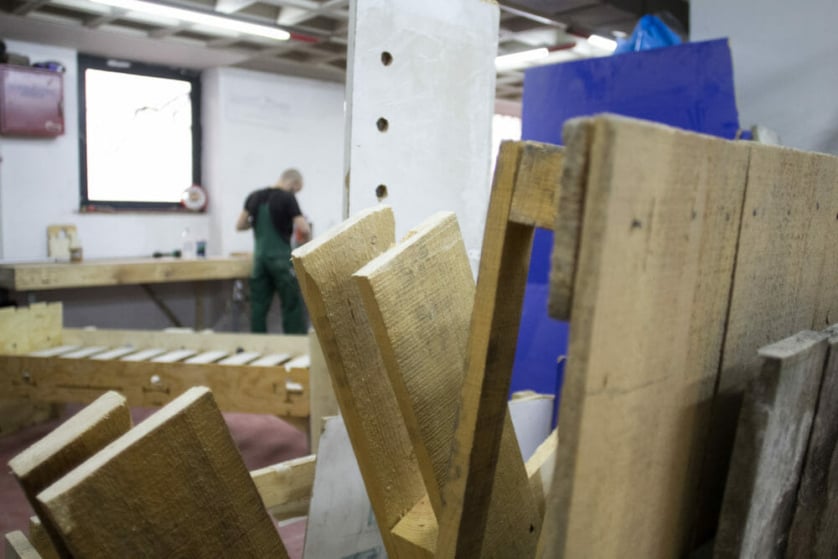 There's frequent volunteer turnover at Khora, but while I was there, most of the workers were in their early to mid-twenties, white, and from the UK or Western Europe. It wasn't until I'd been there a week or so that I realized that some of the volunteers were also refugees. Khora's volunteers are a tightly knit group, described as a "family" by many I spoke to. The way you came to Greece, whether on an airplane or an inflatable raft, wasn't important—the only thing that mattered was if you were willing to work.
The building was nearly complete when I arrived in late September, but everyone was well aware of the rapidly approaching October 3 opening date. We scurried around the space, wiring lights, installing massive gas burners and finishing murals. The chalkboard on the first floor that laid out everything that needed finishing became so crowded that anything deemed unnecessary was erased: "We're going to have to erase 'smash capitalism,'" said American volunteer Keegan Nashan one morning. "We'll save that for next week."
Workers at the site remained remarkably confident about hitting the upcoming deadline, but others began to speculate, doubtfully, about the center's potential for long-term success. Building Khora had created a curious bubble that simultaneously flooded volunteer workers with goodwill while distancing them from the true scale of the refugee crisis outside of the center's freshly painted walls. It was hard to imagine the constant, urgent demands of refugee life crashing into this lovingly crafted new space.
"The transition is going to be enormous," said Jen Joseph, Sam Joseph's mother, who worked on the space for three weeks before the opening. "Maintaining the momentum that's required to run a building of this size. . . just staffing it, from a skeleton point of view. I think people are going to be a bit shocked" at how hard it is.
She and her son agreed that the artificial sense of calm within the space needed to change as volunteers prepared to take on the challenges of restoring some semblance of normal life to the refugee population about to move in. "The refugee crisis isn't waiting to happen. It's not waiting for this building. It's there," Jen said, motioning toward the street outside.
Politics Past
After Skipchen left Bristol, it ceased to be a project proving a political point about food waste. "[It's] a transition we've made, going from an environmental campaign to a humanitarian campaign," Joseph says.
"We completely buy into the agro-industrial complex [now]. Fuck, we go to shops and we buy three thousand eggs because we know people just want to eat a fucking egg," he told me, almost in disbelief. "When you experience [the crisis] on a day-to day level, it's so hard to care about a fucking chicken. Your priorities just shift. I'm not saying that that's right, I'm just saying that for me, it did."
Musty agrees. "If you ask any person if they'd rather have food or deal with the political conundrums in your head, they definitely would rather have food," she told me.
The volunteer community in Athens is small, and though it's often riven with disagreements ranging from the ideological to the mundane, everyone has friends working on a variety of projects.
Joseph and Musty's experiences have led them to make these compromises in the interest of serving people in need. But to the local Greek squats that house refugees—many of which are steeped in a strict anarchist tradition and accept no aid from the government or NGOs—Khora's flexibility on matters of politics, its legal renting of a building, and its NGO funding make the project somewhat tainted, from the perspective of revolutionary purity.
Khora holds bi-weekly meetings open to the community, and representatives regularly attend a general meeting held for all the squats in the area. Still, the rumors that the collective is actually a giant NGO rolling in money haven't dissipated. "I think we could have done a better job of reaching out to the squats and really trying to have people come [to the meetings]," Nashan says. She hopes that as the building opens and people see for themselves what's being provided, these disputes will smooth themselves out—a sentiment widely shared among Khora volunteers.
Either way, the squats and Khora are hardly in a position to ignore each other. On the ground, Khora and the squats' projects often overlap. The volunteer community in Athens is small, and though it's often riven with disagreements ranging from the ideological to the mundane, everyone has friends working on a variety of projects. Many Khora volunteers have also volunteered in squats, and members of squats have used Khora's workshop to build furniture. During my time there, I visited several squats with Khora volunteers to help out with small favors, like moving a table from one building to another.
As the Oct 3 launch date drew near, another open meeting was convened, along with a dinner for the Greek neighbors, to shore up vital community support for refugee aid supplied by Western activists. Volunteers who spoke Greek or Arabic canvassed the neighborhood, trying to spread the word.
The energy at the center was high, but as Jen pointed out, for Khora's organizers to achieve their ambitions, they would need to transform not just their perception in the community, but among the volunteers as well. "I think [Khora] is fulfilling a sort of gap year volunteerism thing at the moment, which is why I hope that when it really starts kicking off that will change a bit," she said. "I think it's great to come and learn stuff, but at this point shit needs to get done and it's not about learning things to put on your CV."
Tea and Sympathy
On Monday, October 3, volunteers trickled into the space earlier than usual. We sat in the courtyard, smoking and drinking fresh orange juice and coffee. After the frenetic activity that had filled the building in the prior weeks, an eerie placidity settled into the refurbished spaces of Khora as we waited for people to arrive. After an hour or two, when no one had showed up, Nashan—a Montana native frequently charged with getting difficult tasks done—decided to head out to the squats to bring vanloads of people back to the space with the promise of free lunch.
Finally, people started coming in. Children played in the kids' space and mothers drank tea on the balconies of the cafe. It was heartwarming to watch the center, vacant and under construction for months, being used in the way it was intended.
There wasn't much time to bask in the accomplishment. That morning, I ended up working in the kids' space, which I learned was only meant for children under the age of six. That might have been O.K., except that most of the children who showed up that day were boys between seven and ten years old. The idea behind limiting the space to younger children was as an encouragement for the older children to be in school, either at a public Greek school or upstairs in the center's own classrooms. That was a nice idea, but in reality, these kids were there, and needed someone to look after them. The boys charged around the space, pushing each other, grabbing toy cars and running up and down the stairs. They discovered the elevator and spent an hour taking it up and down while yelling in the echoey staircase. It was overwhelming, and left me and other volunteers staffing the kids' space in something of a shocked daze. Khora had promised it would provide free childcare—how could we have overlooked that children over the age of six would need that too?
Thankfully, Khora's DIY ethos meant that problems like these could be solved immediately, without going through the layers of bureaucracy that exist at larger organizations. On day two, I was assigned café duty. I made a huge pot of tea and set up tables and chairs on the second floor. The over-sixes were sent up to us, now with a volunteer assigned to take care of them, and I sat and drew with some quiet girls for most of the morning.
Lunchtime came. My job was to distribute—or, as we were meant to say, "serve"—food. Each person got one wrap and a few french fries. No one was happy with this arrangement. Children made it a game to ask me for food repeatedly until I forgot who had received it already. Their parents played into this as well, sending a child who I hadn't seen before to pretend none of them had been fed. When kids realized there was tea available, they stood with outstretched arms waiting for me to dole it out. It took me half an hour to realize that perhaps giving young children caffeinated sugary drinks wasn't the best idea. Since then, Khora has used their swift bottom-up organizing to fix this problem as well, and lunch is now served restaurant-style to seated diners who can take seconds at a certain time if there is enough to go around.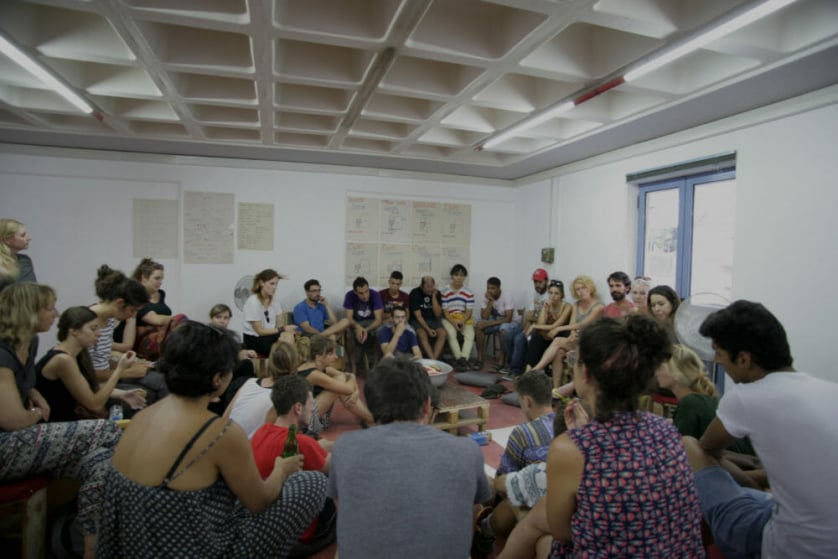 These first few days were difficult. At a meeting after day one, Joseph reminded us that we didn't need to strive for perfection. The project would be a success if Khora-sponsored services didn't run into any major disasters over the first few weeks. But there was plenty to discuss. Using the facilitation style developed by Occupy Wall Street (wherein people raise their hands to be added to the "stack" of those who will speak and hand gestures are used to denote agreement or disagreement), the exhausted volunteers sat in the courtyard long after sunset and debated what needed to change.
Khora's organizational structure aims to be nonhierarchical—a big ask for a group that doesn't have a common store of practical or administrative knowledge and experience. A loose policy weighing the opinions of volunteers who'd been on site longer than a month over their shorter-term counterparts helped to smooth over these divides, but it didn't always work. At that meeting, for example, Joseph pulled rank on the issue of parents leaving their children in childcare at Khora while they went elsewhere. Though it seemed like a useful service, Joseph wasn't willing to take the legal risk. "Some of us have our names on legal documents. If something bad happens, I'm the one that's going to get fucked," he said. "This decision actually isn't up to anyone besides me."
Free and Uneasy
Four days after Khora opened, I left Athens and flew to Berlin. The Athens airport was plastered with a "humanitarian" ad campaign for Johnnie Walker Red whiskey called "Ode To Lesvos," featuring inspiring quotes from Greeks who helped out as the waves of refugees arrived on their island. It seemed almost unimaginably tone deaf, even cruel, to feature these ads at the airport, the very place from which refugees are turned away every day. Johnnie Walker's slogan, "Keep Walking," was posted beside the ads. The refugees I met and befriended at Khora could not just keep on walking. They couldn't go anywhere; they were stuck in Greece indefinitely, stranded between their past and future in a country with 23 percent unemployment—a debt-ravaged economy that couldn't provide them with jobs even if they had the papers to apply for them legally.
The airport in Athens featured an ad campaign sponsored by Johnnie Walker Red with the slogan "Keep Walking."
A few days later in Berlin, I walked to the last remaining historically preserved section of the wall that divided the city for twenty eight years. In the museum there, I watched videos of East German refugees in 1989 pouring onto trains in Prague, desperate for a better life. Notes written by visitors hung from strings. One read, "Maybe one day we'll all be equal . . . our children will look back and remember the days when the world was divided."
In Germany, a country now hailed as a model of prosperity and social democracy, citizens can still recall living without the freedom to go where they wished. In one of the museum's videos, a former East Berliner remembered that it was this restriction, not his life east of the wall, that made him repudiate the terms of living mandated by the East German state: "[It wasn't like], the East is bad, the West is good and you have to go there anyway. I lost my freedom of choosing to leave if it got worse for me. I thought I had to go; [because] this freedom had gone."
Most Western activists from a comfortable socioeconomic background have the unexamined luxury of rarely feeling their movements or choices directly constrained by the state. Instead, they wrestle with their complicity in that repression and how they can atone for it. When working on a project like Khora, it's easy to feel perpetually anxious about not doing enough. But the truth is that no matter how many hours you put in a day, how much money you raise, how quickly you build or cook, you can never do enough. Volunteers on all kinds of projects routinely burn themselves out trying. To reckon with such demands requires a core sense of equanimity, an acceptance of your limitations within the current situation, and an honest assessment of what you can do to help.
Khora doesn't add up, in the larger scheme of things, to more than a passing eddy in the rushing current of aid flowing through Greece and the Middle East. But the group's approach is unique within Athens right now. Joseph and his allies are under no illusion that they'll be able to end the refugee crisis or fix the Greek economy. But by providing a space for parents to sit calmly and talk without worrying about their children for a few minutes, for women to socialize in a protected setting and for children to play, they will make life slightly more tolerable for the people stuck in the acute, ongoing crisis that is displaced personhood. These simple human pleasures are a starting point for reclaiming one's freedom and livelihood in such conditions. Food and shelter alone are not enough to live.