No Exit
As the U.S. weighs intervention in Haiti, refugees are turned away
A decade before the U.S. military installation at Guantánamo Bay, Cuba became synonymous with War on Terror imperialism, torture, and the post-9/11 choking of even cursory due process, it was a symbol of American excess and callousness for a different reason. The sprawling compound was used to hold Haitian refugees who, starting in 1991, had been interdicted by U.S. Coast Guard vessels as they made their way to the United States.
These refugees were fleeing the aftermath of the coup d'etat that deposed President Jean-Bertrand Aristide, less than a year after what was considered the first fully open and democratic election since the successive dictatorships of François Duvalier and his son Jean-Claude. U.S. authorities kept refugees from ever having a chance to seek safety here even as they invaded Haiti in 1994 over the military junta's repressive posture.
It was a textbook example of the cynical and disjointed nature of U.S. foreign and refugee policy, and an eerie reflection of the current conversation in Washington, as interventionist factions call on President Joe Biden to send troops to Haiti following the brazen assassination of President Jovenel Moïse earlier this month. Homeland Security Secretary Alejandro Mayorkas, himself a Cuban refugee, has followed in his predecessors' footsteps and declared that Coast Guard ships will be out to intercept Haitian and Cuban refugees to prevent them from reaching the United States, regardless of their claims of persecution. "They will not enter the United States," he said, leaving no ambiguity.
U.S. authorities kept refugees from ever having a chance to seek safety here even as they invaded Haiti in 1994 over the military junta's repressive posture.
Two decades ago, U.S. policymakers and President George H.W. Bush's administration, spoke out of one side of their mouths when they condemned the coup that removed Aristide and publicly declared opposition to Haiti's military junta, with Secretary of State James Baker declaring at the time that the "junta will be treated as a pariah throughout this hemisphere, without assistance, without friends and without any future." Out of the other, they tacitly gave support for Aristide's overthrow and kept at least one member of the junta, a notorious death squad leader, on the CIA's payroll, in addition to stymying asylum claims.
Stopping humanitarian migration required a "creative" policy solution. A 1979 lawsuit brought by the Haitian Refugee Center had already blocked the U.S. government's categorical denials of asylum for Haitians at a time when it was supporting the Duvalier regime, so the Bush administration came up with another solution: perform cursory processing on board Coast Guard vessels or at the Guantánamo Bay installation, which was under U.S. jurisdiction but not exactly on U.S. soil. At its height in 1991, the camp held over 12,000 Haitian refugees, the vast majority of whom were ultimately denied the chance to pursue a full asylum process and forcibly returned to Haiti.
Even those who were found to have a substantiated fear of return learned quickly that their ordeal was far from over. That's because, at the time, the United States explicitly barred entry to anyone who was HIV-positive, and many of these refugees were. By July 1992, that left about three hundred Haitians in a state of legal and procedural limbo and in deplorable detention conditions. The U.S. government deemed that it could neither deport them back to danger nor allow them into the United States.
Bill Clinton, who had called the Haiti turn-back policy cruel during his presidential campaign, immediately changed his tune when in office, defending the interdiction in litigation before the Supreme Court. The reason for this, Clinton claimed, was actually humanitarian. To not send Haitians right back to the regime would be "consigning a very large number of Haitians in all probability to some sort of death warrant," he said, as it would encourage them to undertake the dangerous sea journey in the first place. If you're feeling some pangs of familiarity at that sentiment, that's because it's practically identical to contemporary rhetoric across the aisle: both Trump and Biden have argued that efforts to shut the border to asylum seekers are being done to help them. Vice President Kamala Harris' now-infamous "don't come" remarks in Guatemala were premised in large part on the notion that the trip is simply too dangerous, never mind that U.S. policies exponentially increase those hazards.
In mid-1993, a federal judge ruled that the detention of the HIV-positive refugees was illegal and ordered the administration to bring them to the United States. While it complied, the Clinton administration kept using Guantánamo as a staging facility for Haitian (and later, Cuban) refugees under the auspices of the new Operation Sea Signal, a military campaign undertaken specifically to prevent the arrival of Haitian and Cuban refugee vessels. At the exact same time, Clinton was growing increasingly vocal about the junta's abuses. By mid-September 1994, he was talking about how the Haitian government was pursuing a "reign of terror, a campaign of murder, rape, and mutilation," in an effort to drum up public support for U.S. military intervention.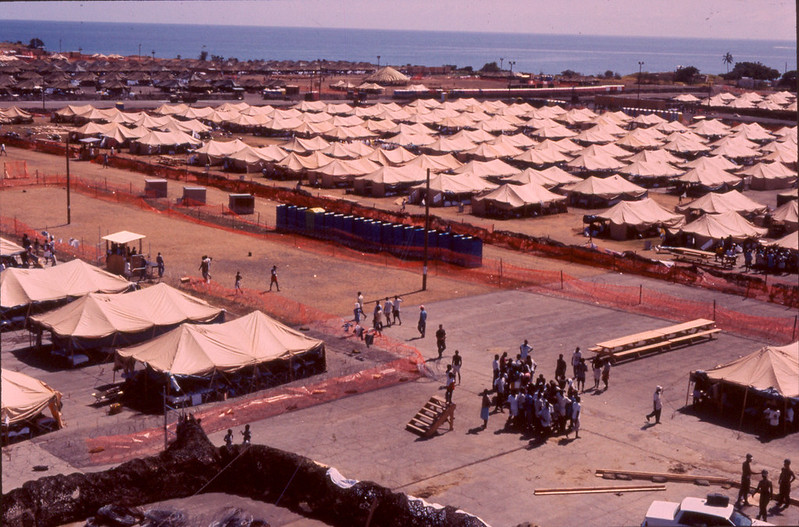 That approach culminated with the deployment of tens of thousands of military personnel to Haiti on September 19 as part of Operation Uphold Democracy—a name that almost seems satirical when thinking about the goals and realities of U.S. excursions in the hemisphere throughout the twentieth century. Despite the threats of military action, the junta had not believed that the United States would actually deploy troops; a delegation led by Jimmy Carter had been dispatched in advance to let them know that the soldiers were already on their way, getting the junta to step aside before the ships touched down.
The operation was contemporaneously considered a success, as  Aristide was returned to office. Yet a rearview accounting is less charitable. Aristide was hamstrung by preconditions placed on his return to office, including entering into deals with the International Monetary Fund that proved economically ruinous in the long term. He was again deposed in a coup during his second stint in office, in 2004.
That Clinton was sending U.S. vessels to arrest Haitian refugees and send them to a wretched military installation—itself the product of twentieth-century U.S. imperialism—at the exact same time as he was preparing to invade and occupy Haiti over the military junta's human rights abuses is an irony that never seemed to break through to the broader U.S. public. Particularly at the height of the HIV/AIDS crisis in the early-to-mid nineties, domestic audiences generally viewed Haitians with suspicion and even disgust. The interdiction and Guantánamo usage generated passionate but relatively limited protests.
Now, as Haiti again threatens to slide into stark instability—Moïse had already been ruling by decree for over a year before he was assassinated—most U.S. observers are probably unaware that the government is sending out the ships again. Haitians who manage to make it to a U.S. land border are just as likely to be unceremoniously expelled without due process under the still-active Title 42 order, a tenuously pandemic-related measure that was instituted by Trump and kept by Biden. It holds the dubious distinction of being the most restrictive border policy in U.S. history. Reports from Mexico point to thousands of Haitians applying for asylum in that country in the last week, at least in part given the near-impossibility of successfully making a similar claim in the United States.
U.S. officials have gotten mighty comfortable defaulting to an overly skeptical approach to Haitian asylum claims.
But even before Title 42, asylum claims for Haitians had lower success rates than the average for asylum claims. According to data maintained by the TRAC project at Syracuse University, of the 1,908 asylum claims presented by Haitians in fiscal years 2019 and 2020, 1,733 were denied, a rate of almost 91 percent across the board. The average denial rate for those years across all nationalities was 70 percent, making the Haitian denial rate almost 20 points higher, despite generally well-documented hazards and persecution facing the Haitian population.
This isn't a mess that the United States is staying out of, either. After days of uncertainty over who would take the reins of the Haitian government, some Haitian lawmakers and officials have accused the United States of stepping in and exerting overt pressure to push Ariel Henry, a neurosurgeon and politician who'd been selected by Moïse but not sworn in before the assassination, into the position of prime minister. It's likely that, in the name of reestablishing order, U.S. officials will continue to weigh in and wield economic and political influence from afar, all while declining to allow Haitians fleeing from their own potentially ill-advised interventions to seek protections here. Despite mounting pressure from advocates and some lawmakers, the administration remains ambivalent about winding down Title 42 anytime soon.
Regardless of whether you can attribute any particular instability at any particular time to outside meddling, the fact is that U.S. officials have gotten mighty comfortable defaulting not just to an overly skeptical approach to Haitian asylum claims, but maritime interdiction in the vein of contemporary European migration enforcement. Along with increasingly pushing the  land border south via "security" coordination with Mexico and Central America, and the use of ever-more-sophisticated technological surveillance, the current administration is creeping toward a restrictive humanitarian migration stance that will make an analog bauble like the Trump-era steel border wall look anachronistic. As some lawmakers also push Biden to aggressively intervene amid ongoing anti-government protests in Cuba, the decades-long temptation to reach for the imperialist arsenal in the name of democracy and liberation might prove alluring, especially if the United States doesn't assume any responsibility for dealing with its human consequences.