In Three Years We Can Quit Chicken Sexing
This year's Oscar movies
ANOTHER ROUND
If you can accept Mads Mikkelsen as a depressed high school history teacher in the suburbs, maybe you will also believe that his beautiful doctor wife (Maria Bonnevie) would take him back after he makes drinking on the job the guiding principle of his life. Thomas Vinterberg's Another Round is a semi-Dogme film called Druk in Danish, which means "binge drinking," not "drunk." I would rather see a film called Binge Drinking than Another Round, but I guess the film's U.S. distributor thought binge drinking had negative connotations. In Denmark, as in much of the world, it's just a way of life.
Danes, we learn, were once Vikings, ancient chieftains who didn't have to teach high school kids about Hitler (teetotaler), Franklin Delano Roosevelt (martini lover), and Winston Churchill (full-on degenerate boozebag). The point is, we know who won World War II. After this lesson, Mads and three of his teacher colleagues dance to "Cissy Strut," a step on their way to "the ultimate catharsis, total oblivion," something that often comes to Europeans when they listen to music from America by black people. Later, in fact at the end of the movie, after a funeral and after his students graduate, Mads breaks into an exuberant drunken dance performance on a pier. Ending films with dance scenes has not been a new or surprising idea for a while but, you know, now is the time in the movie when we dance.     
BORAT SUBSEQUENT MOVIEFILM
Agitprop that doesn't convince, comedy that isn't very funny, Borat Subsequent Moviefilm is notable for introducing the world to Maria Bakalova, the film's Cinderella, a young Bulgarian actress who Sacha Baron Cohen locks in a cage and has perform a crazy dance at a debutante ball that involves exposing herself during menstruation. He also puts her alone in a hotel bedroom with Rudolph Giuliani, "America's Mayor"—the personal lawyer to Donald Trump and a man who once held a press conference in the parking lot of a landscaping company in Philadelphia by mistake. Giuliani, a total lying mess as usual, a pathetic weirdie whose brain is long gone, lies back on a bed in Bakalova's presence to adjust whatever's in his pants, then skedaddles when he realizes something ain't right. Because of that one moment, the main reviewer in the New York Times called Borat Subsequent Moviefilm the best film of 2020, an instant credibility killer that I hope haunts him for years.
THE FATHER
Anthony Hopkins, unlike Rudy Giuliani, has found a way to bring dementia to a new level of flawlessness. He runs the gamut from cantankerous, insistent patriarch who is obviously confused and wrong to mewling, needy, infantile shell of his former self. Presented by Florian Zeller, a first-time director known (not to me) as a playwright and novelist in France, The Father unloads a lot of temporal tricks that involve unexpected cuts in its apartment set, so that we, like Hopkins, are confused as to what time it is and where we are. The film's actors, including Olivia Colman, achieve the kind of acting perfection that is so good it makes movies bad. The effort here is so apparent, and yet so fully achieved, that the film becomes a total virtuosic work of art, so that anyone can recognize it as such and then move on.
The Father has a very precise Resnais quality. But it excises all humanity from a story that is at the same time aiming for the ultra-human, the sickly relatable, and the tragic-but-ordinary. That's because acting is both a special effect and the reason for the existence of this scenario about memory and family. At the same time, almost in another reality, the reality of dementia, the film is a batty chamber piece about a man who doesn't remember where he put his watch. He mentions it again and again because he's old and running out of metaphors.
SOUND OF METAL
In the first half of Darius Marder's Sound of Metal, a rock drummer, Ruben (Riz Ahmed), on tour with the two-person noise band he's in with his guitarist girlfriend, Lou (Olivia Cooke), realizes he has gone deaf. He rebels against his new condition and tries to continue the tour, but can't. Then eyebrow-less Lou leaves him to a rehab facility that helps recovering addicts cope with hearing loss.
This bucolic grouping of New England farmhouse dorms and schoolrooms is run by a deaf Vietnam vet played by Paul Raci, who in real life is not deaf but may be the wrinkle-faced hound dog he is in this film. His performance, along with the deaf actress Lauren Ridloff's, makes Sound of Metal work, placing it beyond Ruben's individual condition and his harsh reactions to it with Lou, where we saw the literalization of the way men talk and yell but do not hear.
Marder glides the film into a loping turn in its last third, after Ruben flees to Belgium to reclaim Lou, now revealed as the rich-girl daughter of a famous songwriter. This Belgian tunesmith is played by Mathieu Amalric, a great star actor who suddenly appears out of nowhere, the opposite of Paul Raci in many ways, yet somehow endearing on the same level. In this part of the movie we learn, inadvertently, that deafness is a class position and that class mobility is not possible. We'd learned, earlier in the film, that health insurance in the United States does not cover surgery for hearing problems. That is what I choose to take away from this movie—a shocking reveal equal to finding out Lou was a dilettante fleeing daddy issues by pounding a guitar back in the U.S.A.
THE WHITE TIGER
A tale of capitalism run amok, The White Tiger is too long, too talky, has too much music in it, too many touristy shots of India that pad the film inexcusably, too much extraneous narration, smells of Netflix as much as Delhi, and is Ramin Bahrani's best film to date. Finally, after years of austere, punishing neorealism in New York and the American South, he has found his voice as a pop maximalist man of the people on the other side of the world. All it took to get him there was Priyanka Chopra Jonas, an emissary from the beau monde if ever there was one, here playing a woman from Jackson Heights who has married into a wealthy, corrupt family in India. Her character in this movie is Bahrani's last link to the Willets Point of Chop Shop.
Because it's the adaptation of a novel, this rags-to-riches story about escaping the caste system has a shameless literary framing device—the protagonist, Balram (Adarsh Gourav), is reading aloud a letter he is writing to Wen Jiabao, premier of China at the time the action takes place. Fortunately Balram's story is absorbing enough to make you forget this epistolary nonsense. His education in Indian hyper-capitalism takes over the film, especially after the sleazy family he works for as a chauffeur forces him to take the fall when his boss's wife (Chopra) kills a pedestrian in a hit-and-run.
As an Indian Parasite that should have come out in 2019, the film succeeds without any of Bong Joon-ho's gift for surprise, instead relying on Scorsesean drive and a strict literalism. When a white tiger appears, it's in CGI, like the zoo animals in Mank, fake as hell and unnecessary, but in this case the film wouldn't be complete without it. Like the letter to Wen, I wish it wasn't there, but I can't just wish these things away, same as with capitalism.
Balram strives for escape, but his only recourse is success. He puts what he's learned from the bourgeoisie to good use because he knows you can get away with killing people on lonely roads at night. Rajkummar Rao, as Balram's boss, a rich boy and a liberal modernizer who wants to do good in the world as long as it doesn't cost him anything, is excellent in the most thankless role of the year. When he meets his fate at the wrong end of a broken bottle of Johnnie Walker Blue, we learn The White Tiger's main lesson: kill your masters with no guilt but don't forget to turn misfortune into a fleet of slick limos.
HILLBILLY ELEGY
This rote filmization of J. D. Vance's bootstraps memoir, by Ron Howard, does not have things straight. You can either worry about what everybody at Yale Law thinks of you while you are being taught by the Tiger Mom and meeting people like Brett Kavanaugh and sucking up to power, or you can demand that people there respect your smart, dope-addict mom (Amy Adams) and your tough, cranky grandma (Glenn Close) when you get dewy-eyed about them in conversation at fancy banquets. Another thing about this movie is that no hillbillies were harmed or even elegized in making it. They are barely even depicted. Amy Adams, once an unerring actor who appeared in good movies, here melds with Bev, the character she plays, because both continue to make self-defeating choices for reasons no one can understand. Hillbilly Elegy is whiny and teary, and if J. D. Vance runs his inevitable Senate campaign the same way, it will be a more enjoyable spectacle than this film.
NOMADLAND
On the one hand, I'm glad Nomadland exists, because it exposes the precarity under which so many Americans live, whether they are vandwellers, migrant workers, retirees, or Amazon employees at other studios. On the other hand, the film is a beautiful valentine to Amazon's CamperForce and the warehouses in which the 'Force works. The main character, Fern (Frances McDormand), decides she wants to live a life of freedom even though it's clear that it's not a decision she has really made on her own, nor is it one that most out-of-work, homeless sixty-three-year-old women would make on their own. Nomadland wants to honor her decision and let her completely own it, but . . . is that my door buzzer? Wait a second, my Searchlight Pictures giant crate of Nomadland promotional food items has arrived.
God, look at this stuff. Stuff that I, as the editor of a website focusing on comic book movies, totally deserve to get, and that, as I eat it, will not influence my coverage of Nomadland in any way. Nor will it remind me that millions of people in the United States do not have enough to eat and don't have access to organic food, which they couldn't afford anyway. Do you know how much a wheel of Cowgirl Creamery Mt. Tam cheese costs? Neither do I, because my comic-book-movie-covering website gets half a billion views a year, so I get this awesome shit for free.
Okay, so Nomadland isn't a superhero movie, but . . . hold on. These dill pickles come already sliced? I appreciate that, let me tell you. I don't want to do any work like Fern has to do in the movie. Did you see those giant-ass rutabagas rocketing out of that chute? At dusk? No thanks.
So as I was saying, on the one hand, Nomadland is a beautiful work of art by one of our great new auteurs, Chloé Zhao, in which she even lets Frances McDormand recite some Shakespeare. And on the other, I don't know, it's pretty good and is that two canisters of organic wine?
That's going to help wash down this banana bread, not to mention this trail mix and that salami. Hey, are those cookies, for later? The organic figs, those I'm going to donate to a food pantry along with the grapes, cherry tomatoes, apricots, cucumbers, purple carrots, and mandarin oranges. Even though I already ate some of the grapes.
Second thought, I should eat the figs, too. And the oranges. They're good for me. What I'm trying to say is: Nomadland, important movie, should win awards, made by people who care. And I want to thank Searchlight Pictures, a division of the Walt Disney Company, for turning my say-so into a pie-eating contest.
MINARI
This miracle of a film, about a Korean family that moves to Arkansas in the early 1980s to start their own farm, is small in scope but deserves to be seen on a big screen, all in one sitting. Minari has a lot of non-flashy, coiled-up power that builds to something bigger than it seems. Its conclusions about the American dream, and what it does to relationships, are strong stuff.
On the production line at a poultry farm, Jacob Yi (Steven Yeun) tells his wife, Monica (Han Ye-ri), that if things go well, "in three years we can quit chicken sexing" and devote their time to working their own land while they raise their two kids. Jacob adjusts to his grueling schedule, and to the United States in general, better than Monica. When she gets the chance to bring her mother (Youn Yuh-jung) over from Korea, Jacob balks but gives in for the sake of domestic harmony. Youn, a star in Korea who's been in a few Hong Sang-soo films, plays the mother-in-law as a kind of terror, who both scares the Yis' Mountain Dew-loving children and gets them out of their shells.
Lee Isaac Chung directs the film in widescreen, a choice that makes sense here, given the land and the tornados, more than it did in the apartment in The Father. The elemental qualities of the film are the whole story. Earth, water, and fire equate to various states of strength and weakness or success and failure in Minari, which unfolds in what Monica calls "this hillbilly place" and which, unlike some other films, is able to take life there seriously enough not to just turn it into hysterical nonsense or pretty pictures of decay.     
JUDAS AND THE BLACK MESSIAH
I don't trust movies that mention the Academy Awards in their dialogue. It's a little overweening, and it's thirsty. How is it that both movies from last year that involve the Black Panthers mention the Academy Awards, and both are nominated for Oscars?
In Shaka King's Judas and the Black Messiah, an FBI Agent (Jesse Plemons) says about a snitch (LaKeith Stanfield), "Either this guy deserves an Academy Award, or he really believes this shit." He's saying it to Stanfield himself about the character he's playing, and Stanfield has been nominated for an Oscar. So has Daniel Kaluuya, who plays Fred Hampton.
In The Trial of the Chicago 7, Noah Robbins, playing Lee Weiner, gets to say "This is the Academy Awards of protests, and as far as I'm concerned it's an honor just to be nominated." Robbins, however, wasn't nominated. He plays one of the two least nominate-able of the Chicago Seven. But the film did get six Oscar nominations, which kind of works out to one for each of the other defendants.
After I saw Judas and the Black Messiah, I watched three clips of the real Fred Hampton on YouTube. Kaluuya is nothing like him. Actors will disagree, but I believe that if you are playing someone who exists in the historical record on film or video, you have some obligation to play that person as he existed, not just his ideals. If you're playing Jesus Christ or Judas Iscariot, you have a lot of leeway. Nobody who knew those guys is going to pop up and say, "uhn-uh, no way." For roles based on people we can observe on film, there has to be—as anathema as it may be for practitioners of the craft—some aspect of doing an impression.
Kaluuya is rousing as Hampton, for sure, but he is playing him so that even if your grandma is sitting in Row ZZ she will still get it drilled into her head that political power grows out of the barrel of a gun. Stanfield, though, is subtle, in control, doesn't veer from his usual brilliance, and still creates an accurate portrayal of William O'Neal, who we also see in the film from real life, in clips from a documentary made just before his suicide in 1990. This is the difference between these two types of acting. One is aimed at the balcony, the other designed for the screen.
ONE NIGHT IN MIAMI
The actor who plays Malcolm X in Regina King's One Night in Miami is doing an impression, but it's an impression of the wrong person. Kingsley Ben-Adir's Malcolm X sounds a lot like Barack Obama. There's a scene in this movie in which Malcolm forces Sam Cooke to listen to a Bob Dylan record. Maybe my imagination is constrained, but I just can't picture Malcolm X doing that. Later he lectures Cooke, Muhammad Ali, and Jim Brown on the meaning of the Beatles. And despite this scene and all its talk and explanation, I still cannot imagine the Malcolm X of February, 1964, bothering to have any thoughts on the Beatles beyond annoyance when "I Want to Hold Your Hand" comes on the radio. But I can easily imagine Barack Obama, king of the yearly music playlist, pontificating about it at length.
As Cooke, Ali, and Brown, Leslie Odom Jr., Eli Goree, and Aldis Hodge are all in the pocket. It's Hodge, though, who brings the most to his character while still recognizably playing Jim Brown. The scene where Brown visits a rich white benefactor and football fan (Beau Bridges) back home in Georgia seems like it was designed to open up the play the film is based on. It's an early scene in One Night in Miami, and it depicts casual, stinging racism in a startling way. But it sets up a different movie than this one.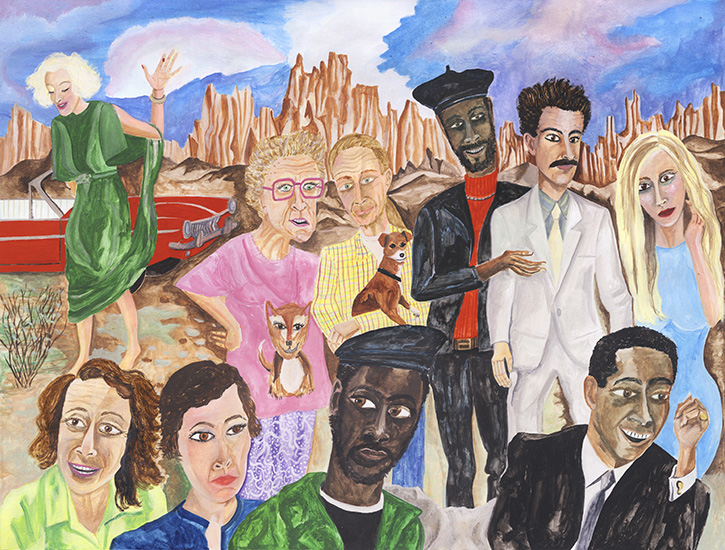 MA RAINEY'S BLACK BOTTOM
Malcolm X and Sam Cooke went theatrically on and on about how white musicians profit from black musical innovation. Ma Rainey's Black Bottom, based on August Wilson's 1984 play about the state of jazz and the blues in 1927 Chicago, embodies the process in storybook fashion—a stark, deadly storybook, but an illustrated tale nonetheless. Viola Davis turns Ma Rainey into one of the great aging divas in American cinema, her face a mask that makes her a star attraction and protects her from white exploitation. With silver teeth, spidery false eyelashes, plucked eyebrows, heavy rouge, and a penumbra of smoky luminescent kohl that makes her look like she's been punched in both eyes, she presents herself on stage and in the recording studio with the highest of drama, grandiloquent but low-down and annoyed. Even the way she drinks a bottle of Coke is played for maximum fuck you. 
The late Chadwick Boseman, as Levee, a trumpet player and composer, becomes the focus of Ma's annoyance. Boseman vamps around her, more than credible with his horn, a genius showboat. But when he pounds on the door of life and kicks it open, it leads to a coffin-like airshaft. If Ma's lesson is that life is difficult, plodding, a rip-off, and unfair, Levee's lesson is more explicitly spelled out: "Death will kick your ass and make you wish you never been born." Levee's life ends after a spasm of unforgivable violence that he directs at a fellow musician. Boseman's last performance is a marvel of enthusiasm and detailed invention, with Levee's final outburst the polar opposite of this actor's generosity. Though he worked hard for it, stardom always seemed thrust on Boseman, something extraneous and beside the point of what he was trying to do. 
MANK
Gary Oldman is the opposite of Chadwick Boseman. Where Boseman is subtle and often unexpectedly buoyant, as if his acting decisions were sudden discoveries, Oldman is a showboat stuck in a canal. Whatever he finds himself in is too small. He doesn't appear in movies, he gets lodged in them.
David Fincher is not up to the task of propelling Oldman forward. In Mank, Fincher allows Oldman every leeway, to the point where his performance as Herman J. Mankiewicz, Hollywood screenwriter, alcoholic, and wit, creates a logjam. Mank is heavy and unmoving, with too much plot. The black-and-white 1930s and early 1940s Hollywood depicted here seems to be occurring inside a computer where Oldman is narrating a 1960s TV Christmas special—the voice he is doing is generated from somewhere, but can we ever know exactly where? Maybe it's Burgess Meredith?
Fincher resuscitates Mank's historical inaccuracies—many of them leftovers from Pauline Kael disproven long ago—because they help him diagram our present era of fake news and streaming content. Yes, these flubs and inventions are an insult to Orson Welles, but that seems so minor to Fincher, who is doing the important work of demonstrating how images can be manipulated for political gain. Which is what Citizen Kane also did in 1941, in twelve fewer minutes.    
The fake authenticity on display in Mank is a form of cutesiness. The black circles of fake projectionist cues are added to the upper right-hand corner of the screen every twenty minutes or so, just as they appeared when movies where shown on reels of 35mm film with a changeover between projectors about every two thousand feet.
Fincher, this master of digital technology, is obsessed with these cues, mentioning them prominently in the projectionist scenes in Fight Club. There's something fetishy about this. It's a fixation of his. The first place cues appear in Mank is fifteen and a half minutes in, during a scene in a writers room—which did not exist as such in 1930s Hollywood—that also features, equally dubiously, a topless stenographer. Furthermore, the cues appear as an actor says the word "cue" in the dialogue, and after a quarter has fallen to the floor, an old projectionist's trick to remember that a reel change was coming up. The cues also mimic the pasties the stenographer is wearing, which may be why she's in the scene.
Fincher also has an actress play the girl on the ferry that Mr. Bernstein (Everett Sloane) describes in Citizen Kane. The point of Bernstein's anecdote is that the girl exists only in his memory. She cannot be seen by the person Bernstein is talking with, or by anyone watching the film. Cinema, in a way, brings back the dead and restores memory. But Welles made a decision not to show that girl. Some things are beyond reach.
Not for Fincher, who insists that digital technology has special powers that allow him to praise film without using it, so that we can have cinema absent all the things that made it work. We can do away with the things we love and pretend they're still there by digitally adding effects that call them to mind. They are cues in yet another sense of the word. Mank also advocates for wealth redistribution without revolution and asks us to believe that the thirty-three-year-old actress who plays Mank's wife has been married to him for twenty years.
THE UNITED STATES vs. BILLIE HOLIDAY
Lee Daniels is an auteur trapped in an industry trying to do away with them, and it is his struggle that is often the most interesting thing in his movies. In The United States vs. Billie Holiday, the beauty of his images, the tone and feeling he sets up, and the people he casts are all at odds with the blunt writing in Suzan-Lori Parks's screenplay. It's almost like watching Terence Davies forced to make a movie from a script by Samuel Fuller. I'd like to say this antagonistic relationship between form and content reflects the struggle of Billie Holiday to bring beauty and truth into a hostile, racist world with her voice, her presence, and the lyrics to "Strange Fruit." But I can't ignore that there is a scene of Billie and Lester Young doing calisthenics in Billie's home office.
Tyler James Williams's Lester Young reflects a lack of interest on Daniels's part in the man who reinvented sax playing and who invented his own slang vocabulary so he could confuse and avoid white people. Andra Day's Billie Holiday, however, is intensely studied by Daniels and by cinematographer Andrew Dunn. Day meets the challenge of their scrutiny, creating a Holiday with a debilitating intensity and glamour, and with a sweet gravelly voice that is her own and also the original's. And it was impossible to predict the scene where she gets her ass tongued in silhouette, an encapsulation of Daniels's vision staged, inevitably, in a cheap motel room.
THE TRIAL OF THE CHICAGO 7
The mediocrity of The Trial of the Chicago 7 is its own form of tawdriness. The film is as useless as a cable-television special about the sixties, and has the same point: last-ditch nostalgia.
With the notable exceptions of Michael Keaton and John Carroll Lynch, who show up at key points in futile attempts to get things on track, everybody in this vapid history lesson is terrible. Especially Eddie Redmayne and Sacha Baron Cohen, who are horribly miscast as Tom Hayden and Abbie Hoffman. I do not know what the strange voice Baron Cohen is doing is supposed to be, but he does not sound like someone who has ever even seen Worcester, Massachusetts, on a map. Whatever he has as a provocateur, Daniel Day-Lewis he is not. The Abbie Hoffman standup-lecture routines he is forced to deliver are flat and unfunny. These clumsy attempts by writer-director Aaron Sorkin to re-narrate events in the film, events which are gone over again and again, threaten to make The Trial of the Chicago 7 go on for twenty-one weeks like the real trial did in 1969 and 1970.
Redmayne is totally lost here, playing someone from Michigan who has to say the word "Chicago" far too many times. He looks like he's about to cry whenever he opens his mouth. Mark Rylance plays William Kunstler like a scarecrow on a broomstick being thrust up from the counsel table by a hippie protestor. He wears a too-big suit and wig, like he's in disguise. Frank Langella's judge is bombastic, written to annoy and grate in his many, many senile outbursts from the bench. There is an odd phenomenon in American culture in which someone not very good at their job becomes known to everybody as its best practitioner. In his line of work, that person is Aaron Sorkin. The Trial of the Chicago 7 is the worst film of the twenty-first century so far.      
PIECES OF A WOMAN
I thought that until I saw Pieces of a Woman. This film's back story is too hard to untangle, but evidently it is based on a play by married Hungarian writer-director team Kornél Mundruczó and Kata Wéber that was a hit in Warsaw. Somehow Martin Scorsese and Sam Levinson (Malcolm & Marie) ended up as executive producers of the film version, along with the eighteen other people credited as producers, and it became a Netflix movie.
That makes sense, because like Cuarón's Roma it features the death of a baby during a protracted birth scene, filmed in one long take. The baby's mother, played by Vanessa Kirby, required two dialogue coaches to sound American, and the film takes place, for some reason, in Boston, though it was shot in Montréal and I think also maybe in Norway and Budapest. In addition to Kirby, Pieces of a Woman stars Shia LaBeouf and Benny Safdie as her husband and brother-in-law, and Ellen Burstyn as her mother, who is a Holocaust survivor.
For me, the highlight of this overbearing mess was an awkward scene in which LaBeouf and Safdie had to improvise a lengthy conversation about the White Stripes. The film ends, long after the death of the baby, with Kirby's character getting everything she wants and deserves from life. That part, because it was more embarrassing than the rest of the movie, was all done in either a crane shot or a drone shot, I couldn't tell which, under the end credits, in what appeared to be an apple orchard with a garage. Apples and seeds are a thing in this movie, but I don't want to go into it.
PROMISING YOUNG WOMAN
A major feminist statement in the form of a pop movie that looks and acts like it was made the same year Death Proof came out, Emerald Fennell's Promising Young Woman takes place in Anywhere, U.S.A., in a town referred to as "the city," which is so obviously Los Angeles I don't understand why Fennell bothered with this aesthetic abstraction.
The first half of the movie places Carey Mulligan in a series of dicey situations with predatory-yet-average young men who want to take advantage of her while she's pretending she's drunk. The dude played by Christopher Mintz-Plasse, for instance, is clearly no good because he reads David Foster Wallace novels and has a Satyricon poster on his wall.   
What Mulligan's Cassandra is doing is practicing to take revenge on the frat boys who raped her best friend in college. The setup is novel and interesting, and it extends to punishing a college dean played by Connie Britton, and a girl from college who looked the other way, now a peppy wine enthusiast played by Alison Brie. It is not just a few amoral male slimeballs who are under attack here, but the entire system that allows young men to get away with rape.
In the end Promising Young Woman turns into the very old and very misogynist waking-up-in-bed-with-a-dead-hooker joke. Then the film and Mulligan's corpse get tossed around by male comedy actors, including Max Greenfield from New Girl, the Zooey Deschanel sitcom that also took place in LA and somehow survived on the air for seven seasons. These guys take over the film because Mulligan's character is, after all, dead.
She has her revenge from beyond the grave, but despite Fennell's clever plotting, Mulligan's absence lessens the film's impact. Those who did not see the plot twist involving Bo Burnham's nice-guy character coming down La Cienega Boulevard will hopefully see more movies one day, and also visit Los Angeles, but not necessarily just because they are posh British people trying to collect Oscars.