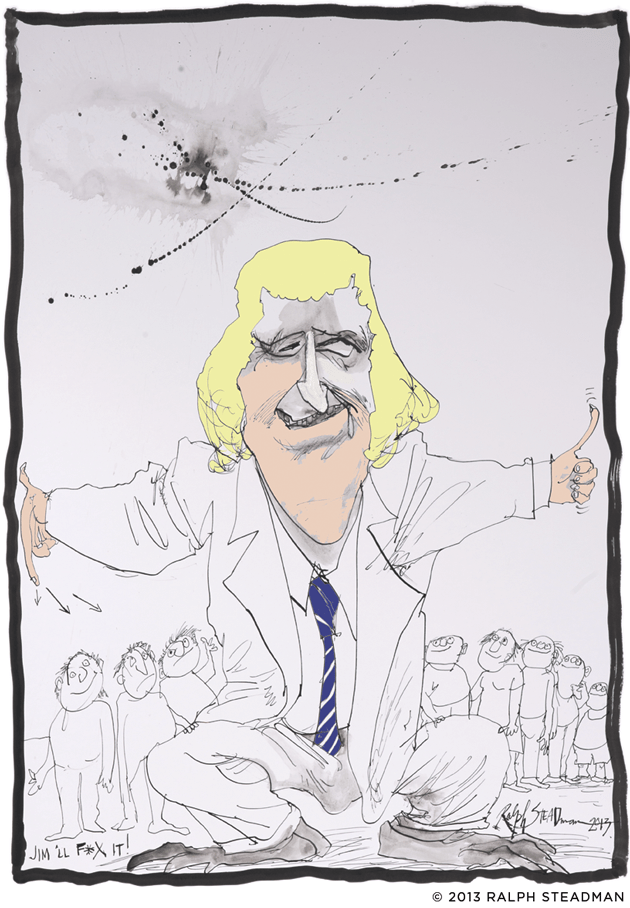 What Americans call "track suits" and "tank tops" the British call "shell suits" and "string vests." These terms are important to keep in mind in the case of Jimmy Savile, because his typical outfit consisted of a garish shell suit over a matching string vest. Savile, who died in October 2011 at age eighty-four, gained immense celebrity in Britain as a disc jockey, television host, newspaper columnist, wrestler, runner, cyclist, and fundraiser for charitable causes. When news of his rampant pedophilia over four decades—long the subject of rumor—broke last September, one of his accusers speculated that he wore the shell suits because it made it all the easier for him to pull his pants down.
That rough-and-ready image of arousal and discharge may jibe with the crude notions of "chav" youth culture propagated by the British media for the past fifteen years—and Savile seemed in his last years to be casting himself as an elderly mascot for the stereotype. But it flies in the face of many things we presume to know about the post-Victorian society of Savile's actual youth. The heirs to the repression of the late nineteenth century are supposed to be supremely discomfited by the idea of sex—and supremely weird in finding alternate ways of releasing all the unaddressed sexual tension percolating in their brains.  (See Alistair Foot and Anthony Marriott's 1971 comedy No Sex Please, We're British, about a middle-class couple besieged by an onslaught of pornography, a crossroads along the way from repressed Victorian Britain to the Blighty of Page 3 girls and pedophile-obsessed tabloids of today, when Britain is ranked first in promiscuity among large industrialized nations.) In reality, though, Victorian repression has always bred Victorian double standards, whereby privileged men are permitted most any form of pleasurable release precisely on the grounds of their unappeasable animal urges. Public repression has long abetted private impunity in this, the mother of all repressed Protestant empires.
And the sordid tale of Jimmy Savile's predatory sexual career is nothing if not a story of impunity. The initial results of Britain's first comprehensive police investigation into the celebrity TV presenter's past have uncovered more than 450 accusations of molestation and rape, mostly from girls in their early teens at the time of the assaults, but from about 80 boys and men as well. Savile was a pioneer in the art of getting rich off the new youth culture, but he was interested in more than money and adulation, exploiting the permissive aura of the sixties pop scene to maximize his access to vulnerable children. And in a twist on repressed British rectitude, Savile also used his later career as a sponsor of medical charities and philanthropies to continue preying on young, admiring Britons—this time of a more eleemosynary disposition.
The Savile scandal shows how rapidly and thoroughly the highest reaches of British society—all the way to Buckingham Palace—could be infiltrated by an enterprising sexual predator bent on multiplying his conquests, one who practically flaunted his pedophilic predilections during his long career in the limelight. Savile was able to become one of Britain's best-loved, most ingratiating celebrities largely on the basis of a life story that, on the surface, anyway, was an appealingly Algeresque study in upward mobility in a rigidly class-bound social order. Savile rose from the below-oblivion, working-class status of a crippled miner to become a full-fledged knight; he purveyed (if he did not, in fact, invent) the new profession of disc jockeying before a new urban mass audience for rock music; he hosted variety and inspirational shows on the telly; the royal family solicited his considered PR counsel in their own moments of scandal and compromise. And he was all the while using his image as national maestro and court jester to the crown to cover his career as a serial child molester.
Screening Out the Past
Given the many stories that were never told, only whispered, about Jimmy Savile during his life, it's fitting that the Savile scandal, upon its first impact last fall, was almost instantly transformed into a meta-scandal about the BBC's handling of the story. Savile was for decades one of the BBC's own. A documentary broadcast last year by the commercial network ITV presented the testimony of five women who'd been sexually assaulted by Savile as teenagers in the 1960s and 1970s, the assaults ranging from unwanted kissing to rape, some of the offenses taking place in his BBC dressing room. Then it came out that ITV only had the story because former police detective Mark Williams-Thomas brought it to the network after the BBC program Newsnight declined to run it. (Around the time the dropped report was to run, in December 2011, the BBC aired two tributes to Savile—who had died that October—instead.) The BBC program Panorama reported on Newsnight's spiking of the Savile story and aired the testimony of Karin Ward, a fifty-four-year-old cancer patient who said that Savile had coerced her into performing oral sex when she was a fifteen-year-old at the Duncroft Approved School for troubled girls. Panorama also interviewed Newsnight staffers about why the story had been dropped. They complained that their superiors were myopically intent on finding "institutional failure" on the part of the Surrey police, who had questioned Savile in 2007 but never charged him. But as Panorama proceeded to observe, if Newsnight's producers were looking for institutional failures, they would have been far better served to look at the BBC itself—as was painfully evident in the new testimony that Williams-Thomas was bringing to light.
By this January, the London Metropolitan Police's Operation Yewtree had heard from 600 complainants, including 450 alleged victims of abuse by Savile, 34 of them alleging rape. Nine men, among them the rock star Gary Glitter, whom Ward said she had seen having sex with an underage girl in Savile's BBC dressing room, had reportedly been arrested in connection with the case.
It's always easier to tell the story of how the famous are famous and the powerful are powerful.
In the meantime, the BBC had gone into conniptions of self-scrutiny over the Savile affair. For weeks in the fall it was impossible to turn on Radio 4—a typical Sunday morning series of reports would segue from a massacre in Syria, to Savile, to archival spots on Hitler and Stalin—without hearing a range of arguments about the Savile case and the network's role in burying it over the years. Defenders of the BBC harped on the peculiar pathologies of the offender, contending that Savile was a singularly monstrous master of predation and deceit whose misdeeds shouldn't taint the whole institution. And longtime critics of the government-funded network pointed to Savile's ugly story as Exhibit A in the case that the BBC was simply a sclerotic haven of middle managers long past their creative prime—and that the network's inept handling of the Savile scandal was a clear signal that it was time for the bloodletting to begin in the network's executive suites. The BBC's World Service, which has an odd penchant for airing stories about itself, even reported that one of its correspondents in an African affiliate had to fend off charges that he was a child molester because his name sounds like Savile.
That case of mistaken identity might have proved cautionary in another media climate, but in London, it was open season (and then some) on the BBC. Things got incalculably worse when the network sought to make up for its earlier lapses by trumpeting a disastrously wrongheaded Savile-type scoop of its own, one that might have turned the tables on the state-owned network's right-wing critics. A reporter at the Bureau of Investigative Journalism, a nonprofit based at City University in London, brought Newsnight a story of child abuse at care homes in Wrexham, in North Wales, during the 1970s and 1980s, implicating a senior figure from the Thatcher government. "If all goes well," Iain Overton, head of the BIJ, tweeted twelve hours before the broadcast, "we've got a Newsnight out tonight about a very senior political figure who is a paedophile."
From there, nothing went at all well for the BBC. The previous evening at an Oxford Union event, Overton had told Michael Crick, politics editor at Channel 4 and a onetime Newsnight staffer, about the story, naming former Conservative Party treasurer Lord McAlpine as the abuser. Crick, who had his doubts, contacted McAlpine and within hours was on Channel 4 reporting that the accused was denying the allegations and was preparing to sue the BBC for libel.
And indeed, the charges that Newsnight had unearthed against McAlpine had been proven false fifteen years earlier by an investigative body known as the Waterhouse Inquiry. It turned out that the name McAlpine had then come up in the initial investigation only in relation to the politician's cousin, Jimmie, a local businessman who played golf with the Wrexham care home's deputy head Peter Howarth. It was Howarth who had in fact been jailed for molesting teenage boys. Newsnight's one source, Steven Messham, wasn't shown a photograph of Lord McAlpine, and Newsnight had never called McAlpine about the story. The BBC settled McAlpine's libel claims for £185,000. (Britain's libel laws, which are far more generous toward plaintiffs than is the case in America, are often cited as one of the reasons Savile's accusers never came forward during his lifetime.)
But the story hadn't stopped with the BBC. On ITV's This Morning, host Phillip Schofield, grandstanding in a strangely McCarthyite fashion, presented Prime Minister David Cameron with a list of Tory politicians he'd printed out from the web who were supposedly linked to pedophilia. Viewers who paused the broadcast could make out some of the names, McAlpine's among them. ITV agreed to pay McAlpine £125,000 in damages for what Cameron aptly characterized as a "witch-hunt." McAlpine's lawyer was also talking about suing twenty "high-profile tweeters" who'd participated in the story's circulation on social media. In the feeding frenzy on the Savile scandal, it seemed that anyone could air charges of pedophilic misconduct in the highest reaches of British power—and that anyone might also be in for a libel suit when such charges proved false.
The bleeding didn't stop with the libel bills. BBC director general George Entwistle found himself out of a job after he fumbled questions about his handling of the McAlpine scandal on his own network's Today program. Commentary in the wake of his resignation held that he'd been chosen by BBC Trust chairman Lord Patten because—above any qualifications as a journalist or crisis manager—he was a good public school boy. Questions were raised about the role of his predecessor Mark Thompson, who had been in charge at the time Newsnight dropped the original Savile broadcast and by now had moved on to a new job as CEO of the New York Times. The BBC's Pollard Review of the Newsnight affair reported that Thompson had been behind a "firewall" insulating him from the decisions involved in the Savile story and only heard about it at a Christmas party after other BBC executives had ditched the report. Whatever he knew, he didn't want to know too much.
Crumpet Nights
At least the real villain was dead. If you (like me) didn't grow up watching Jimmy Savile, and only heard of him as a confirmed pedophile a year after his death, it's not simple to understand the nature of his celebrity. I can't think of any direct American equivalent. Like Casey Kasem or Dick Clark, he was a nationally famous promoter of pop music long after he had decades on his teenage audiences. Like Hulk Hogan, he was a physically formidable, goofy-looking, blond-haired wrestler. Like Fred Rogers, Savile hosted a children's program, Jim'll Fix It, where viewers wrote in with problems and wishes, to be neatly ironed out by Savile sitting in a "magic" armchair with secret compartments from which he would pull letters from children asking him to grant their wishes and produce other goodies like tea sets. Like Jerry Lewis, over the years Savile's activities as a fund-raiser for charitable causes started to overshadow his other activities, until he was an elderly man, no longer regularly on television, running in charity road races in his ridiculous shell suits. Like Bob Barker, Savile projected an obvious sleaziness that was part of his televisual appeal.
After a hairy incident involving a stunt with the Royal Air Force, Savile hated to fly, so with the exception of one early trip to America to meet Elvis Presley, he never spent much time in the States, settling for Blighty ubiquity rather than the transatlantic fame of Tina Brown, Christopher Hitchens, Piers Morgan, and all the many rock acts Savile put before the British public on Top of the Pops. And though he was a national celebrity from around 1964 until his death, he was always a doggedly provincial one, never letting go of a foothold in his native Leeds, and at the same time running around the country staging talk shows like Savile's Travels, ingratiating himself with the local authorities and grandees, and bringing out crowds to make hospital donations.After the revelations of his predations, it's hard not to think he was casting his net wide. He often traveled in a van with a mattress in the rear.
Savile held beauty contests and promoted his events to "the local male wolves" with posters proclaiming "Saturday Night Is Crumpet Night."
Savile's rise coincided with the revolutions of television and rock music and their attendant transformations of British society—changes Savile himself wasn't shy about taking credit for. Savile's 1974 autobiography, As It Happens (the title comes from one of his many catch phrases; another is "now then, now then," deployed to calm excitable kids), is written with a certain colorfully amateurish British fluidity—you could call it a demonic latter-day Dickens novel, chronicling an improbable tale of class ascent that now seems like the stuff of Victorian melodrama. Savile was born on Halloween, 1926, the last of seven children. Pneumonia, which finally claimed his life in 2011, nearly killed him before the age of two. His father was an insurance agent and his mother a bookmaker's clerk, and the family lived in a big house but survived on an income of "a few quid a week." At age eleven Savile started working in a Leeds dance hall as a drummer. He made extra money picking up not quite empty packs of cigarettes from under the seats. He liked to have money and to project the image of someone who had money: that was why, he explained, he always drove a Rolls-Royce and had a cigar sticking out of his mouth.
During the war, after a short stint as an evacuee in Lincolnshire, he had jobs as an office boy, selling fruit, and dealing in scrap. His neighborhood was bombed, and he once picked up a discarded glove to find a severed hand still inside. In 1944 Savile was conscripted, at the age of eighteen, to work in the Yorkshire coal mines as a so-called Bevin Boy. He was still slight of build, and for some years had a job sitting at a bend in the three-mile track in the tunnel, monitoring the trucks of coal to see that they didn't go off the rails and righting them when they did. He took to smuggling books into the mine and reading them by the light of his lamp: "After three years of six shifts a week living like a walled-up Tibetan monk I was fully conversant with the wonders of astronomy, physics, maths, ancient and modern religions and a variety of languages. 'One off' subjects like politics, economics and world history I treated as light entertainment." Other vivid details from his time in the pits include the day he showed up late to work in his best suit, tucked it in a newspaper, and did duty naked; the day he incompetently drove a tram full of miners home because of a transit workers strike; and the constant farting of the pit pony. Throughout Savile's life story, the scatological is never far from the memoirist's mind.
After seven years in the mines, Savile injured his spine when he was caught too close to a routine coal blast. He was given a medical discharge, sixteen shillings a week sick money, and a steel corset to straighten his back, and moved in with his parents to convalesce. He would live, on and off, with his mother until her death; he called her "the duchess" and elevated her to minor celebrity status. In his memoir he says she was "my only real true love to date."
As Savile was casting about for a new occupation, a friend of his was tinkering with connecting a gramophone to a radio in order to play records louder. The two agreed to a fifty-fifty deal, booked a hall, charged a one-shilling admission to hear records by Glenn Miller and Harry James, and had their mothers prepare refreshments. By 9 p.m. they'd blown the hall's main fuse, Savile's partner had almost been electrocuted, and the contraption was melted. Savile's mother was called in to entertain their guests on the piano. "Disaster or not, dear reader, there can be no doubt," Savile writes, that this was "the world's first disco." He was booked that night for a teenage girl's birthday party.
At a party at Buckingham Palace, First Lady Barbara Bush was so happy to see Savile that she spilled a drink on another guest.
Savile held beauty contests and promoted his events to "the local male wolves" with posters proclaiming "'Saturday Night Is Crumpet Night.' In those non-permissive days this was equal to showing a nude photo of Marilyn Monroe ten feet high." ("Crumpet" is an especially queasy-making British slang term for "young girls.") Disciplined by club owners, he replaced the poster with a sign that substituted a less well-known, but still readily recognizable, piece of synonymous army slang: "Saturday for KIFE." He bought a used Bentley and attached a Rolls-Royce radiator grill from a scrapyard to the hood, and got his picture with the car in the Manchester Evening News. He couldn't yet afford cigars—"no cash for flash"—so he had night watchmen pick "the larger dog ends" out of the dance hall ashtrays for him. At church dances, he'd set up a room and a bottle of sherry for the clergy: "Great chaps priests, full of laughter and practical jokes." But as he recounts, his new vocation also came with some occupational hazards:
To run a dance hall is better than running a harem because all your wives go off home to reappear, fresh and lovely, the next night. There are two reasons why I could not tell the story of all the girls I have known. One is because I respect and would you believe love them for their incredible days, and nights. The other is that, were I to tell all, no one would believe it, plus I'd have to take up residence in some inaccessible Himalayan village. Rarely if ever do I go to parties as I always seem to finish up in some trouble not of my seeking. Being a personality, even then, makes the world a far different place than if you are normal. At one party I narrowly escaped being knifed, with a breadknife As It Happens, by a slightly intoxicated young lady who disapproved of a girl she didn't like sitting on my knee.
To put things more bluntly, Savile didn't like parties he didn't host because these were occasions where he couldn't be firmly in control—unlike the dance hall meet-ups that spread his fame. (Reinforcing this need for strict self-supervision of his excesses, Savile was also a teetotaler for most of his life, until some elderly indulgence in whiskey, so his crimes have nothing to do with the typical cause of sex in Britain.) By the late 1950s, Savile was running the Mecca dance hall in Leeds, his hair bleached and sometimes two-toned, or "dress stewart tartan." He later liked to point out that Mick Jagger had acknowledged that Savile was wearing his hair long a decade before the Stones did. Around this time his memoir records an episode that was seized upon by Panorama:
A high-ranking lady police officer came in one night and showed me the picture of an attractive girl who had run away from a remand home. "Ah," says I all serious, "if she comes in I'll bring her back tomorrow but I'll keep her all night first as my reward." The law lady, new to the area, was nonplussed. Back at the station she asked "Is he serious?" It is God's truth that the absconder came in that night. Taking her into the office I said, "Run now if you want but you can't run for the rest of your life." She listened to the alternative and agreed that I hand her over if she could stay at the dance, come home with me, and that I would promise to see her when they let her out. At 11:30 the next morning she was willingly presented to an astounded lady of the law. The officeress was dissuaded from bringing charges against me by her colleagues, for it was well known that were I to go I would probably take half the station with me.
This reminiscence points to another side of Savile's celebrity: in addition to his many other mythic turns as a popcult impresario, Savile cultivated a distinctly gangsterish alter ego. On page 71 of his memoir, he starts to refer to himself as "the Godfather," and continues regaling his readers with stories of head-butting encounters with bookers, producers, police, and media hangers-on as his fame continues to grow. In How's About That Then: The Authorized Biography of Jimmy Savile, Alison Bellamy, a reporter for the Yorkshire Evening Post, quotes many Savile intimates from this era saying things like "Jimmy did have a dark side to his character though" or "There were certainly rumours that he had a fondness for young girls and we would joke that, if they were over 17, then he didn't want to know. But a lot of people were the same back then."
His attraction to thuggery was evidently more than an impish affectation. In 2000 he was seen in a documentary by Louis Theroux bragging that he'd had men tied up and beaten in the basements of clubs. Theroux was asleep, the conversation took place late at night with his producer, and Savile, claiming to be unaware he was being filmed, insisted that he had been joking, a denial judged plausible in Savile's by then retired state. At Broadmoor Hospital, a treatment facility for criminals, Savile had enjoyed fraternizing with the gangster Ronnie Kray and with Peter Sutcliffe, aka the Yorkshire Ripper, a serial killer convicted of thirteen murders and seven attempted homicides in 1981. In the late 1980s, Savile was appointed to a task force managing Broadmoor; he got himself his own room in the facility, had access to the wards, and arranged for a friend of his from Leeds to become its head. It would become another site of his assaults.
Top of the Pops
But the predatory gangster wannabe was also a determinedly beguiling courtier of the public's favor. In 1958, Savile was hired as a DJ by Radio Luxembourg, and within a few years was hosting Top of the Pops on BBC television. (The No. 1 song on the first episode was "Love Me Do"—a tune that sheds a great deal of its legendary Mop Top innocence when pondered as a comment on Savile's criminal exploits.) "The term 'rat race' is oft used in the world of showbiz," Savile writes. "Fashions change, there is much fiddling and if the new arrival is not good at business then he or she or they are plucked clean as a Christmas goose and slung on the heap. It is only a rat race when you're unsuccessful. By the time I arrived on the front doorsteps of Radio Luxembourg I was an expert wheeler-dealer, company politician and masterstroke-puller."
The BBC went into conniptions of self-scrutiny over the Savile affair.
Television celebrity opened up a new world of masterstrokes for Savile to pull. He leveraged his celebrity to get his Catholic mother introduced to Pope John XXIII, and in the popcult equivalent of a papal audience, Savile arranged to fly to Hollywood to meet Elvis by presenting him with one of his gold records for sales in the U.K. But his real career aims were never far from view. "California," he writes in reminiscence of the Elvis trip, "to someone from the moors of Yorkshire, is a contender for the Garden of Eden. . . . Gleaming cars and the gleaming bodies of beach girls made the head turn and I felt it officially criminal that the age of consent in that admirable state is eighteen. It really is unfair because everyone knows that everything matures quicker in the sunshine." When the Beatles played the Hammersmith Odeon, Savile was in charge of allowing teenage fans access to the Fab Four, a job he botched when a couple of the Beatlemaniacs went into hysterics in their dressing room. "Ah well, Jim," said Paul McCartney, "we won't be seeing much of you then." The Beatles seemed to be the only people capable of firing him.
It's worth quoting at length a passage from Savile's memoir weirdly laying out his philosophy of fame because it sounds not too different from what experts in child abuse call "grooming," the pedophile's way of gaining the community's—or, in this case, a nation's—trust:
Let me dwell on the phenomenon of being famous. I've not really had much time to think of it before. When I was ordinary I used to go to a turkish bath in Leeds. Sitting in the steam room would be an assortment of glistening, naked men. I used to wonder, why is that naked body rich and that one not? They look so alike just now. It was easy to see why a rugby player was a rugby player. God had just dished out a heavier or more muscular body than the norm. But why should one naked body command respect from another and what was the charisma that put one man well above his neighbour when we all sweated the same. I searched long for the answer. Time was one factor I came up with. It was necessary for a man to be successful by degrees, over a period of time, without any slip-ups along the way. Therefore patience seemed to be a vital thing. Without patience there comes exasperation. Exasperation could cause you to step back instead of inching forward. Lying on the smooth beds afterwards I would reflect that if one kept going one became more credible each day. As my progress was snail slow at the time it was obviously going to take me ages to reach a command situation. Time therefore was important and effort secondary. Such a theory was apt for the situation, whereupon I would fall into a deep sleep. Purely as a statistical postscript if I slept for two hours, during that period several hundred people would die violent deaths, somewhere else, so I wasn't all that bad a judge.
Strange for its setting and its final, off-kilter lunge toward morbid humor, this anecdote is oddest for the caveat "without any slip-ups along the way" because at the time it comes in the memoir, according to the ITV investigation, Savile had been warned that he was "living dangerously" by flaunting that he was sleeping with a twelve-year-old girl. Savile assured the man who told him this, Wilfred De'ath, a young BBC producer, that he was too big at the BBC to be at risk. (De'ath himself would later be arrested by Operation Yewtree, accused by a woman who told police he'd assaulted her when she was a teenage actress; he has claimed it was a case of mistaken identity.)
Refreshed by his meditations on the curious vagaries of fame and violent death, Savile presses blithely on to recount more creepy celebrity antics. By the end of the chapter featuring the Turkish-bath interlude, we're treated to an anecdote about the time Savile joined the crew of a garbage truck in Scarborough, was spotted by "some schoolgirls on a day trip," and suddenly "surprised holidaymakers stood aghast at the unlikely scene of forty fine-bodied young girls running, with shrill cries, after a dust cart. The explanation that Jimmy Savile was one of the dustmen brought back forth much of 'whatever will he get up to next.'"
Little did they know. In a more forthright variant on his Turkish-spa musings, Savile confesses at one point that "I've always said that brains can be a handicap and keep insisting that I don't have many, but will admit to plenty of animal cunning!" Cunning is certainly one word for the way that Savile set himself up as a charity fund-raiser and volunteer porter in hospitals: "The biblical saying, 'those who give shall receive' is very true. In my case anyway, because the more I make for all sorts of charities, most definitely the more health and happiness I get from the Good Lord." He goes on: "Let me tell you about the fun part of the charity deal." He then recounts an invitation from a local authority to attend a charity youth dance. He agrees "if you will arrange for me to sleep in a tent up the local hillside with another tent alongside with six girls to sleep there as my bodyguards!" An ad is placed in the papers, receiving, by Savile's account, one hundred applications.
The council had to decide which six, so they called a special meeting. Some of the members only then realized what they were doing. "We can't have a council meeting to decide which six of our girls sleep with this man," said several, more bewildered than outraged. So half the council left and half stayed. Six girls were selected and all of them were given matching mini skirts and white boots, as befitting a ceremonial bodyguard. They looked good enough to eat.
A father of one of the girls comes to the dance to drag her away. Savile and his "millionaire pal" spend the night on a hill in the rain with the five remaining bodyguards. Savile recounts the denouement with relish:
Needless to say the girls' tent fell over and we all had to finish up together. Dawn came and with it the council chairman and his cars. It was seven totally exhausted campers that fell back down the hill to a breakfast we couldn't eat because we had all laughed too much. There hangs on my wall in Leeds a picture with which I was presented and the inscription gives the details of our great night. So who says charity isn't fun?
The scene is repeated at another event, with another set of bodyguards, this time on a less than comfortable raft.
Fourteen pages later Savile writes, "It just occurs to me that I have not yet, overmuch, mentioned girls," as if his compulsive shagging of teenagers, much of it obviously unseemly if not illegal and coercive, hasn't so far been a constant motif of the memoir. Twelve pages on the subject follow: his theory that girls "are 2,000 years old when they are born"; his losing his virginity in the bushes to a woman who picked him up in a dance hall and running seven miles home; his experience having sex on a plane; his missing out on sex because of overvigilant security at a press reception; his having sex by the sea with a girl who jumped from her parents' car and ran to his when she saw him drive by (she sent him Christmas cards for years); his theory that a certain percentage of females in every audience will "fancy" a man on stage (10 percent for most, 20 percent for him, "over the nineties" for Elvis or "the early Osmonds"; "the social dangers of such temptations are immense"); his "lively horror at getting caught at anything"; his twice nearly being caught in vans with girls by their parents. The next chapter details his acquaintance with members of the royal family and his friendships with millionaires—surely part of the reason he got away with publishing this stuff.
When As It Happens came out, Savile had received the Order of the British Empire for his charity fundraising. In 1990—sixteen years after the book's publication—he was knighted. By this time Sir Jimmy had befriended Prince Charles and Princess Diana as well as Margaret Thatcher, all of whom he enlisted in his charity projects. At a party at Buckingham Palace, First Lady Barbara Bush was so happy to see him that she spilled a drink on another guest. In The Palace Diaries, Charles's secretary Sarah Goodall refers to Savile's efforts to keep the royal couple together: "The counseling of Jimmy Savile has come to naught. Jim cannot fix this one." On tapes of Diana talking to her alleged lover James Gilbey—documents in a minor criminal scandal called Squidgygate—she calls Savile a "sort of mentor" to Charles and refers to his efforts to "help out the redhead," apparently a form of media counseling for Sarah Ferguson.
At church dances, Savile would set up a room and a bottle of sherry for the clergy: "Great chaps priests, full of laughter and practical jokes."
It makes a sort of sense that the hapless royals would turn to Savile for advice on how to cope with celebrity. While they had been born or stumbled into it through matrimony, he had groped for it and clung to it for decades. He was also far better than them at protecting his image. As the tabloids reported after he was exposed, when reporters threatened to out him during his lifetime, he would tell them that all they were doing was endangering the millions he was raising for Stoke Mandeville Hospital. But of course for royalty, charitable works are simply noblesse oblige; it never would have occurred to the straying royal couple that they could use their image as caring patrician overlords to shield their sexual peccadilloes (which were, of course, far more innocent than Savile's crimes) from public view. No, that innovation required the rare animal cunning of Jimmy Savile.
"Everybody Knew"
When Operation Yewtree issued its official report on the Savile scandal, the British press went into a fresh set of convulsions. The Guardian compiled the results of the investigation into multicolored infographics breaking down Savile's documented criminal offenses by gender (174 female; 40 male), date (starting in 1955, with the last report from 2010, and a peak in 1975–76), age (36 percent 13–16 years old among females; 38 percent 10–13 among males), and location (Stoke Mandeville Hospital, Leeds General Infirmary, Duncroft School for Girls, and the BBC Centre, among others). The whole grim collated litany of celebrity sexual impunity called to mind a line from an old movie: "You'd be pathetic if you weren't so disgusting." (In the 1948 noir classic The Big Clock, it's what Luce-like publisher Earl Janoth's mistress Pauline York says to him just before he kills her with a sundial.) But this soon ceded way in my memory to Claude Rains's much more famous declaration in Casablanca, as he closes down the gambling at Rick's Café Américain: "I'm shocked, shocked."
After all, as De'ath put it to Williams-Thomas, "Everybody knew." Savile's memoir bears this out, as does much of the footage of Savile trotted out in the wake of his exposure: Savile and Gary Glitter in their silly sub-Bowie glam costumes trotting down from the stage to sit on stools between teenage girls; "I," Savile says, "ought to be giving girls away."
Instead, of course, he just kept on abusing and stockpiling them—with, it seems, plenty of institutional complicity, which probably goes a long way toward explaining the BBC's bungling approach to the Savile scandal. The official Pollard Review of Newsnight's spiking of the Savile story confirms the essentials of Panorama's initial report on the matter, but it adds a few telling details. Newsnight editor Peter Rippon initially believed that the Surrey police had stopped their investigation into Savile's abuse because he was "old and infirm," which is the reason Savile's accusers said they had been given by the police. Rippon dropped the story when Surrey police said they had halted "due to lack of evidence." But Newsnight still had Williams-Thomas's sources, and they were still willing to talk. Rippon admitted to Pollard's investigation that he might have been "guilty of self-censorship."
More than a year earlier, while Savile was still alive, another form of self-censorship transpired in another corner of the BBC. George Entwistle, then a mid-level executive, was in charge of factual programming for BBC Vision, the wing of the network that would air the tributes to Savile in the months following his death. Entwistle received an email from a colleague, Nick Vaughan-Barratt:
George, I understand jimmy is very ill. We have no obit and I'm not sure we'd want one. What do you think?

I have a personal interest here: my first job in tv was on a JS show—I know him well and saw the complex and sometimes conflicting nature of the man at first hand—if you know what I mean! Do you have an opinion? Mine is ironic, flawed and fascinating. But all a long time ago! —N
Vaughan-Barratt later added: "I'd feel v queasy about obit. I saw the real truth!!!" By the time of Savile's death, Entwistle had risen to the top spot at BBC Vision. He heard from a second employee: "I gather we didn't prepare the obit because of the darker side of the story. So something celebrating a particular part of his TV career is probably better than the [life] story as there are aspects of this which are hard to tell." It was settled that the BBC would commission a new Jim'll Fix It Christmas special, in tribute to the sentimental image of the departed knight.
It's always easier to tell the story of how the famous are famous and the powerful are powerful. Sir Jimmy Savile was someone people liked to watch but no one wanted to look at.