A schlubby man with a vaguely foreign accent, sitting on a crudely crafted set, appears nine times a week on 173 television stations across the nation, parroting Trump administration talking points and defending the president.
In one commentary, he fended off criticism of Trump's remarks following the violence in Charlottesville, Virginia, on August 12. That chain of events, you'll recall, was the handiwork of neo-Nazis and self-described white nationalists who had come to town ostensibly to protest the planned removal from a public park of a statue of Confederate General Robert E. Lee. Dozens were injured in the melee, and one anti-racism protester, Heather Heyer, was killed when a man associated with white supremacists plowed his car into her group of marchers. The president went out of his way to say that there were bad and violent people "on both sides."
People on the left, the pundit opined, were outraged that "the president, correctly, acknowledged that there was hate and violence coming from the left, as well." Lacking any hard evidence that equivalent attacks from left protesters played any role in the Charlottesville melee, the Trump lackey shifted the narrative to a June shooting in which a lone gunman targeted Republicans practicing for a congressional baseball game. "Representative Steve Scalise and three others, shot on a baseball field in Alexandria, Virginia, have the bullet wounds to prove that there's plenty of hate and violence from the left," the commentator said. He did not mention that Democratic leaders had condemned the baseball-field shooting. Nor did he veer anywhere near the most disturbing of Trump's Charlottesville comments: the president's assertion that some "very fine people" had taken part in a march in Charlottesville the night before, when white nationalists descended on the campus of the University of Virginia, bearing torches and chanting a Nazi slogan.
It was easy for left-leaning activists and plugged-in liberal types to dismiss such self-serving right-wing outbursts as but lazy and rote extensions of the Fox News model of morally bankrupt what-aboutism. But these commentaries aren't aimed at such savvy consumers of national news and cable punditry—quite the contrary. Because of how and where his opinions are broadcast, this pundit's viewers are more likely to trust him over commentators on any of the national newscasts or big cable outfits. His name is Boris Epshteyn, and until April he worked in Donald Trump's White House. Before that, he served as one of Trump's most pugilistic presidential campaign surrogates, praising the great leader's uncanny instincts for populist themes, and damning all critics as America-hating liberal stooges.
Tellingly, though, Epshteyn never cites his White House bona fides to win the trust of his viewers—in fact, his commentaries feature no disclosure that he even knows Donald Trump. The trust comes with the delivery method. These "Bottom Line with Boris" segments air as part of the news programming of local television stations and, according to the Pew Research Center, people trust local news sources more than national media companies. The local-TV advertising broker Videa commissioned a study that suggests 62 percent of TV viewers trust local news more than they do national news. The stations that air the "Bottom Line" segments belong to the Sinclair Broadcast Group, a Maryland company largely built by its executive chairman, David D. Smith, a right-wing entrepreneur. Sinclair requires the stations to air Epshteyn's episodic Trump defenses, as well as other news coverage and commentary that's slanted strongly to the right.
Your Brain on Trump TV
And now the Sinclair Group's local TV empire is poised to be one of the largest media networks going. A month after the Sinclair Broadcast Group brought on Epshteyn, a Russian emigré who befriended Eric Trump in college, as its "chief political analyst," it announced a $3.9 billion deal with Tribune Media to acquire an additional forty-two stations. The Tribune deal is also a triumph of Trumpian regulatory destruction; it's only thinkable now thanks to a loosening of ownership restrictions rendered under the leadership of the Trump-appointed chairman of the Federal Communications Commission, Ajit V. Pai.
The endgame of this informal partnership between the Trump racket and Sinclair is not about ideology.
This is not to say, of course, that there's any evidence within the Sinclair deal of any quid pro quo. In an administration founded chiefly on the principle of open graft, tit for tat simply doesn't enter into the equation. This is more like a joint project between the Trump administration and Sinclair to build a pro-Trump propaganda network that reaches deep into the living rooms of America. To be precise, Sinclair's programming will serve in the years ahead as a potent elixir of grievance and righteous indignation for older Americans, whose allegiance among the white demographic Trump must keep if he's to remain in power. That mandate will only gain urgency as the Trump White House continues to sink into scandal and disarray, and as multiple investigations continue into alleged interference by Russia in the 2016 U.S. presidential election. Many among those older TV viewers are not inclined to be on Twitter or to log on to Breitbart News, or to seek out the president's own branded "Trump TV" video posts on the internet. They are, however, people who vote.
For its part of the bargain, Sinclair's robust embrace of Trump will allow it to cobble together a sprawling, nationwide infrastructure of local TV stations that will long outlast the Trump presidency. With its acquisition of the Tribune Media stations, Sinclair's reach will extend to 70 percent of U.S. homes, including the company's first foray into the major markets of New York and Los Angeles.
Ultimately, though, the endgame of this informal partnership between the Trump racket and Sinclair is not about ideology. As is the case with everything that Trump touches, the entire hustle is about the money. The administration exists under cover of base-pleasing racist, misogynist, and xenophobic bluster for few reasons other than the looting of the national commons, whether by opening up public lands to mining interests or billing the Secret Service market-rate fees for its officers' stays at Trump's own golfing resorts while protecting the president during frequent visits to his properties. As candidate Trump said on the campaign trail, "I grab and grab and grab. You know, I get greedy; I want money, money."
Mr. Smith Goes to Washington
To remain in power for a full two terms and rack up massive windfalls for himself and his plutocratic cronies, Trump needs those older white people to stick with him. And in order to reap his own payoff, Smith needs Trump to stay in power—if only to maximize returns on any deregulatory inclinations of the president's FCC chairman. For Sinclair's Smith, the path to even greater riches lay in the acquisition of as many local television stations as possible. This was not the path plotted by Smith's father, the late Julian Sinclair Smith, the company's founder, who is said to have had more modest ambitions.
In his examination of Sinclair and the Tribune deal for the July 20 issue of Bloomberg Businessweek, Felix Gillette dug up a quote from the famously interview-shy David Smith: "My father was too much of a visionary to care about profits," Smith told Forbes. "What I wanted was purely to make money." Though stock in the Sinclair Broadcast Group is publicly traded, the majority of its shares are held by Smith and his brothers.
The business press cites the Tribune stations' sports coverage as a potential boon to Sinclair's bottom line, but there's another source of massive revenue likely to be generated through the acquisition: political advertising. In television, political ads are mostly run on local stations, given that, as Tip O'Neill famously said, "All politics is local." That's true, of course, in elections for offices that represent local constituencies, but also for the presidency—the one big race that relies on the electoral college for its outcome. In 2016, the Los Angeles Times projected that of the $4.4 billion likely to be spent on political advertising in that election year, $3.3 billion of the take would go to local TV stations. (This is why the ABC-affiliate WMUR in Manchester, NH, is renowned as the "house that Steve Forbes built"; the station grew rich on primary ad buys for the libertarian publishing mogul's vanity presidential runs in 1996 and 2000.) In fact, wrote the Times' Stephen Battaglio, Sinclair's previous acquisition of stations in battleground states were made with the political advertising calculation in mind.
That calculation is paying off, quite handsomely. Since the Supreme Court decisions in Citizens United (2010) and McCutcheon (2014) struck down prior restrictions on corporate campaign outlays, spending for political advertising has skyrocketed. In February, Baltimore Business Journal reporter Holden Wilden noted that Sinclair "posted a 107 percent increase in fourth-quarter earnings, boosted by political advertising and digital offerings."
When compared to revenues the company reports from political ad buys in non-election years, the figures grow even more eye-popping. "Propelled by the presidential election," Wilden wrote, "political revenue soared to $113.2 million, up from $11.8 million in the year-ago quarter."
The Trump-Sinclair racket is more than just a rigged money game, though. Electoral politics are the linchpin of the deal, since elections are the means by which politicians who oppose regulations on businesses win office. Baltimore Sun television critic David Zurawik notes that with its focus on acquiring local television stations, Sinclair is building a political apparatus that in some ways mimics that built by the billionaire brothers Charles and David Koch. The closest Koch analogue to the Sinclair operation is its astroturf group, Americans For Prosperity—a structure rooted in the states, but designed for national impact.
It's true, of course, that Sinclair executives would have enthusiastically romanced any GOP candidate in any election cycle. Like most captains of cartelized businesses, David Smith and Sinclair are reliable Republican donors. It's just that in Trump, Smith has a more enthusiastic partner than he was likely to find in a more conventional Republican, so he's implemented extra measures to wire some Trump-osculating content into the company's business model.
Open Shops, Closed Minds
Like all true romances, that of Trump and Sinclair is heightened by the partners' clear conviction that fate has designed each for the other. The company has prospered largely thanks to a miserly C-suite ethos, the savvy gaming of the rules that govern media consolidation, and a coarse, hectoring, and outrage-friendly packaging of political content bent on driving home the phantom victimization of sturdy American cultural values at the hands of a cunning and faithless liberal elite.
As far back as the 1990s, Sinclair first implemented a novel model of media concentration in local markets. Its executives got around rules prohibiting a company from owning two television stations in a given market by "selling" one to an associate but then controlling all the content on that station. Another rule-bending case involved Sinclair's 2001 purchase of a group of stations, which, as it turns out, the company had already been "managing" in violation of federal rules, according to a 2004 article in the Los Angeles Times by Elizabeth Jensen and Walter F. Roche Jr. The FCC fined Sinclair $40,000, but nonetheless allowed the deal to go through. Commissioner Michael Copps dissented, writing, "With each transaction over the years, Sinclair has stretched the limits of the commission's local television ownership rules."
More recently, Sinclair's deal with Tribune Media hit a snag when reviewers at the FCC's Media Bureau asked Sinclair for documentation showing that the deal complies with current ownership rules. The acquisition, it seems, is predicated on rules-changes that Pai has set in motion, but that have yet to be finalized, which observers say may not happen until next year. The regulators at the Media Bureau, meanwhile, appear to be sticking to the letter of the law. Nonetheless, the deal is expected to eventually go through, despite pushback from liberal- and left-leaning groups.
And once approved, Sinclair's acquisition of the Tribune properties will effectively set the industry standard in local TV news. Throughout Televisionland, Sinclair is known for cutting costs at the stations it acquires, and for sometimes purging the newsroom staff. When Sinclair bought WJLA, the ABC affiliate in Washington, D.C., in 2014, it marked the company's first prestige foray into a major metropolitan market, somewhat akin to NewsCorp's purchase of the Wall Street Journal. But where Rupert Murdoch proved largely content to leave the newsgathering operations of the Journal intact, Sinclair promptly set about gutting WJLA's highly regarded news operation. Anchors Maureen Bunyan and Leon Harris were the most prominent casualties, but virtually all of the station's marquee reporting talent was sent packing. The usual roster of "must-run" hard-right commentaries produced in the Sinclair mothership began eating up airtime, while "public affairs" pundit franchises were doled out to Sharyl Attkisson, the right-wing former CBS News reporter, and Armstrong Williams, the family values pundit (briefly disgraced for taking propaganda payouts from the Bush White House) who had unofficially advised Ben Carson's 2016 presidential campaign.
As is the case with
everything that Trump touches, the entire hustle is about the money.
With commentary segments and editorial direction coming straight from the Sinclair corporate directorate, local news operations were starved for basic resources and office support. Sinclair even installed double locks on a supply cabinet at WBFF, the company's Baltimore station, according to Bloomberg Businessweek, and reclaimed the coffeemakers at KOMO, a Seattle station, to crack down on the news staff's expensive caffeine habit.
The specter of the Sinclair-Tribune deal has raised alarms among the labor unions that represent news staff at stations currently owned by Tribune Media. Unionized staff worry that Sinclair, which heavily favors an open-shop workforce, will try to undercut the unions or push them out altogether.
Meanwhile, commentators aligned with legacy Tribune stations sense that their days may also be numbered. Writers at the Oklahoma Gazette worry that news content deviating from playbooks of right-wing culture warfare will be hard pressed to gain traction among citizens once Sinclair owns half of the television stations in Oklahoma City. The Providence Journal complains in a headline that its local Sinclair-owned station, WJAR, is being "forced to run pro-Trump programs." And a columnist at Urban Milwaukee frets that his city's local station, WITI-TV Channel 6, will become a fount of propaganda in the all-important battleground state of Wisconsin.
Such complaints have produced zero soul-searching in Sinclair boardrooms, which redound with the Trumpian directive of perpetual fealty to bottom-line profits. David Smith has told news staff at his stations that they work for the advertising salespeople, a dictum hardly calculated to inspire fearless investigative reporting in the public interest. At WJLA, according to the Washington Post, a morning segment about the glories of the resort town of Myrtle Beach, S.C., aired with a fistful of promotional spots paid for by the Myrtle Beach Area Convention and Visitors Bureau. In a similar repackaging of payola-as-news-reporting, WJLA arranged to air a puffy segment on a home decor display at a government building, featuring the wares of a local furniture company that advertises on the channel. And a stunt involving a traffic reporter for a Sinclair-owned station in Baltimore at a McDonald's drive-through was alleged to have been part of an advertising deal with the fast-food giant, a charge that the station manager denied.
For all of his obsessive attention to bottom-line synergies, you might wonder why Smith would be so gung-ho about investing in a media sector—broadcast TV—that is widely seen as being in decline. But Smith isn't in it simply for the transmission towers: he's looking to force new standards and technologies into the business through Next Gen TV, a means of distributing broadcast television content onto mobile devices, including smartphones. (Hello, millennials!) However, providers of cellular service had been counting on the FCC to "repack" current broadcast signals in order "to clear certain frequencies" for cell service providers and other companies seeking licenses in something called the incentive spectrum auction, according to Bloomberg BNA. Indeed, T-Mobile has asked the FCC to block the Sinclair-Tribune deal, alleging that Sinclair has already tried to stifle the repack, and warning that it will likewise lord over the market for news tailored to mobile devices if the acquisition is allowed to go through.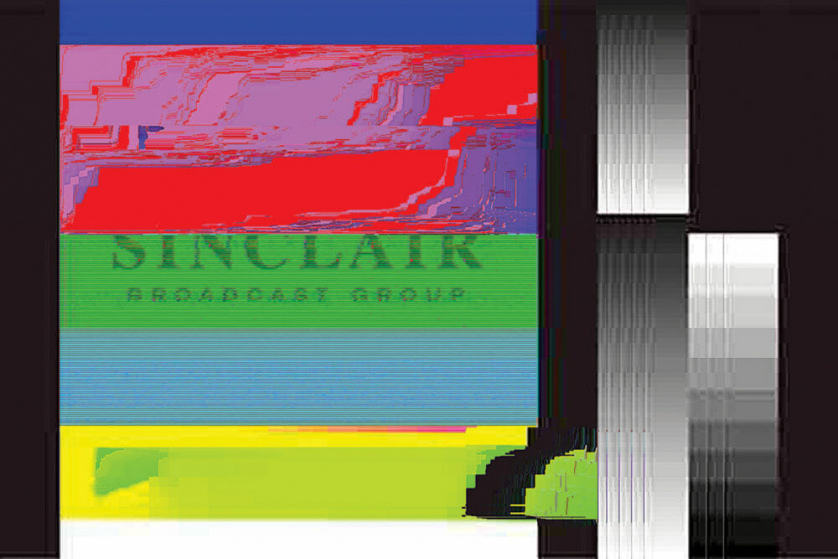 The Money Shot
Before he was a television mogul touting perennially besieged American family values, Sinclair Broadcasting honcho David D. Smith was a pornographer, running a business out of his father's building that duplicated 8mm adult films. As the largest owner of local TV stations in the nation, Smith's approach to news takes a crucial maxim from his past profession: production values and competent storytelling are expendable so long as there's a money shot for the viewer at the end. Porn's means to this end are obvious; Sinclair news segments increase one's heart rate through the deployment of rage and fear.
How else to explain Sinclair's "Terrorism Alert Desk"—another battery of "must-run" segments scripted by corporate for delivery by local anchors? The average American has a far greater chance of dying by choking on food than at the hands of a foreign-born terrorist. Nevertheless, Sinclair has deemed this apocryphal menace must-run news fodder. The segments highlight terrorist incidents from around the world. The neo-Nazi car attack in Charlottesville on marching left-wing protesters was not featured on the segment, nor are most of the other white-nationalist acts of terrorism that far outstrip reported jihadist attacks in America.
In another must-run segment, "Behind the Headlines," Sinclair executive Michael Hyman lets loose with heavy-breathing contempt for all things "politically correct." Hyman's shtick is to take a news story of the day and deliver an iconoclastic takedown of conventional wisdom. Take, for instance, his January 10 commentary pegged to the FBI's release of its annual hate crimes report, which he used as an occasion to decry laws against hate crimes. The segment features video footage of spray-painted swastikas being hosed off a brick building. Hyman never tells you where or what the building is: Is it a synagogue? A school? A warehouse? With typical Sinclair brio, Hyman seeks to seal his case with an appeal to the bottom line: "Spray-painted graffiti is no less expensive to cover up if it's gibberish than if it's slurs," he says to the camera.
Sinclair's traffic in right-leaning news content isn't limited to these short segments, which typically run just a few minutes. The actual news content of Sinclair stations at times reflects Chairman Smith's biases, either through selective omission or through deliberately deceptive means. In 2004, for instance, Sinclair forbade its ABC affiliates to air a special edition of Nightline, during which host Ted Koppel read the names of each member of the U.S. armed forces who had been killed in the U.S. invasion of Iraq.
More recently, the Sinclair-owned station in Missoula, Montana, refused to air footage of congressional candidate Greg Gianforte's assault of Guardian reporter Ben Jacobs, reporting it, according to Urban Milwaukee's Bruce Murphy, as a "he said/she said" story. Awkwardly enough, though, a Fox News team at the scene corroborated Jacobs's account, and the candidate was later forced to apologize for the assault. Gianforte, a Republican, went on to win his race in a special election for the House seat vacated by Ryan Zinke, who was appointed to lead the Department of the Interior, where he is at work opening up public wildlands to mining and other extraction interests.
Such antics pale, however, next to the overt mangling of news perpetrated by Sinclair's Baltimore station as it pretended to report on a Washington, D.C., protest following the acquittal of a New York City police officer involved in the death of Eric Garner, an African American man, on Staten Island. (Garner died while in the grip of chokehold administered by police.) A WBFF reporter and video editor were found to have altered the audio in a video footage of protesters to make it sound as if they were saying "kill a cop," when they were actually chanting, "We can't stop 'til killer cops are in a cellblock." The reporter and the video editor were fired, but critics weren't satisfied. "[B]roadcast news is an intensely collaborative environment. No one works on their own," Jay Rosen, associate professor of journalism at New York University, told the Baltimore Sun's Zurawik. "Therefore, this could not be a 'rogue reporter' thing. It had to be collaborative deception, which is a different animal."
In 2004, Sinclair planned to air on its stations a purported documentary, "Stolen Honor: Wounds That Never Heal," which echoes allegations made against Democratic presidential nominee John Kerry by a group calling itself "Swift Boat Veterans for Truth." The group peddled discredited claims about Kerry's service in Vietnam, and the medals he earned while in combat, and spent millions running attack ads against him. When the company announced plans to air the film just days before the election, the ensuing public outcry—including adverse reaction among Sinclair shareholders and investment managers—spooked advertisers, and Sinclair spiked the program. But even without airing the hit piece, Sinclair gave the Swift Boat group loads of publicity, beginning with its first press conference.
During the 2016 presidential race, the company's news segments tilted toward Donald Trump, according to an analysis by the Washington Post. Hillary Clinton, in her campaign memoir, What Happened, describes Sinclair's role in pushing a video made by Aubrey Shines, a pro-Trump evangelical bishop, who is African American. Titled "Black Pastors Do Not Support Hillary Clinton," the video, posted on YouTube just weeks before the election, recounts the Democratic Party's past as the home of segregationists, describing it as "the party that gave us slavery and the KKK," while a photograph of a lynching party—including two dead black men hanging from trees—shows on the screen. Clinton writes that Sinclair distributed the video to all of its stations.
The Sun's Zurawik notes that the company also used two minutes of the video on its millennial-focused web outlet, Circa, in a piece that included less than a minute of counter-narrative from John Bullock, a Towson University professor, who explained the Democratic Party's "shift" away from its segregationist past to becoming the party of civil rights. The Circa piece includes the still from the Shines report of the lynched African Americans. Once the video was picked up by Sinclair, Clinton writes, its message was "weaponized" as fodder for distribution on Facebook and other social media.
A Grievance in Every Pot
In December, Jared Kushner, the president's son-in-law and White House aide, stood before a New York City business group in the cafeteria of Morgan Stanley's headquarters, and described a deal he said the Trump campaign struck with Sinclair. Reporters with Sinclair affiliates would gain increased access to the candidate and his surrogates in exchange for a promise that the interviews would run without commentary. Though Kushner's talk was off the record, Politico's Josh Dawsey and Hadas Gold gleaned the gist of Kushner's remarks from people who attended the meeting. From their report:
Kushner highlighted that Sinclair, in states like Ohio, reaches a much wider audience — around 250,000 listeners — than networks like CNN, which reach somewhere around 30,000.

"It's math," Kushner said according to multiple attendees.
Sinclair executive Scott Livingston told Politico that the deal had been offered to both candidates—though given the overall thrust of Sinclair's pro-Trump "must-run" coverage on the same stations, Clinton's campaign managers would have to be guileless in the extreme to agree to any such deal.
A month later, on the eve of Trump's inauguration, Sinclair's David Smith invited Ajit Pai, who was about to be named chairman of the FCC, to visit with him at the studios of WJLA. According to a report in the New York Times, the two discussed restrictions Smith wanted loosened on revenue- and resource-sharing between stations. Ten days into Pai's tenure as FCC chair, the Times reported, the offending restriction was relaxed.
The Sinclair wishlist for Pai's FCC didn't stop there. According to Times reporters Celia Kang, Eric Lipton, and Sydney Ember:
Since becoming chairman in January, Mr. Pai has undertaken a deregulatory blitz, enacting or proposing a wish list of fundamental policy changes advocated by Mr. Smith and his company. Hundreds of pages of emails and other documents obtained under the Freedom of Information Act reveal a rush of regulatory actions has been carefully aligned with Sinclair's business objectives.
Among those actions is Pai's move to lift restrictions on ownership of multiple TV stations in a given market—the very regulation that would stand in the way of Sinclair's deal with Tribune Media.
The FCC is a five-person body, with no more than three of the commissioners coming from the president's party. Pai was appointed by Obama alongside fellow Republican Robert McDowell. Pai (who was confirmed by the Senate in October for a second five-year term ) became known for his opposition to net neutrality—the policy embraced by the Obama administration that would forbid internet service providers from treating internet data differently according to its source. (In other words, under the principles of net neutrality, your internet service would be forbidden to make The Baffler's website load much more slowly than one by a favored customer.) Not surprisingly, the FCC is now poised to roll back the Obama administration's net neutrality rules.
Sinclair's programming will serve in the years ahead as a potent elixir of grievance and righteous indignation for older Americans, whose allegiance among the white demographic Trump must keep if he's to remain in power.
In March, the New York Post reported that a meeting had taken place between Trump and Smith at which Trump asked, "What do you need to happen in your business?" According to the Post report, the two moguls discussed changes to FCC regulations.
Both the New York Times report on Pai and the New York Post article are cited in a heavily footnoted letter sent to Pai in August by the Democrats on the House Commerce and Energy Committee. In the missive, the lawmakers ask the FCC chairman to respond to critics who charge that Sinclair is receiving favored treatment from both the commission, which is supposed to be independent, and the Trump administration. On September 15, Pai responded with a letter whose meta-message is, "Heavens, no! Why would you ever think that?"
Yet when Trump and his advisers were trying to manage the news that broke in July of a Trump Tower meeting between Russians connected to Vladimir Putin and the president's eldest son, Donald Trump Jr., Trump lawyer Marc E. Kasowitz worked "to inform an article being prepared by Circa," the Sinclair-owned website, on the topic, according to the New York Times. The Circa piece reported allegations by "the president's legal team" that the Trump Tower meeting may have been a dirty-tricks set-up "aimed at creating the appearance of improper connections between Trump family members and Russia." Translation: here was another embarrassing revelation about the Trump campaign that right-wing media apparatchiks were looking to blame on Hillary Clinton.
Boris Epshteyn, meanwhile, had his own star turn before an audience that may have been a bit more demanding than the viewers of his red-meat Sinclair commentaries: in September he testified before the House Intelligence Committee in a closed-door session regarding the Trump campaign's ties to Russia. But he, too, is counting on wider deliverance at the hands of the right-wing mediasphere. Stephen K. Bannon, the Breitbart.com chief executive who was, until August, the president's chief strategist, is said to be looking to partner with Sinclair for a Breitbart-branded television platform to carry the site's signature brew of racism, xenophobia, and misogyny. In part, writes Vanity Fair's Gabriel Sherman, Bannon's out for revenge on Rupert Murdoch, who heads the parent company of Fox News. Murdoch, Sherman writes, urged Trump to fire Bannon from his White House job, so Bannon, who also served as Trump's campaign CEO during the final stretch, is looking to "compete with Fox News from the right."
"All the Sinclair guys are super tight with Breitbart," a Breitbart staffer told Sherman. "Imagine if we got together Hannity and O'Reilly and started something?"
And imagine that it comes together just in time for the 2020 presidential election—via one media company whose reach includes more than two-thirds of the households in America. No wonder, according to conservative cable personality Tucker Carlson, Donald Trump believes that "TV programming in some ways is a more accurate reflection of the public mood than polling." Come the next election cycle, Sinclair Group will likely be in a unique position to put that claim to the test.
Imagine that.