The remains of Hugo Domínguez Aguilar traveled 1,110 miles. Leaving Dallas, the largest city in north Texas, his ashes headed south for La Reforma, a tiny village in the coastal state of Veracruz, Mexico. On a map, the journey is a straight line across the Gulf of Mexico.
If the funeral home employees had taken the body by land, they would have driven some twenty hours along Interstate 35: a highway lined with eighteen-wheelers, sometimes flanked by meadows with cows, marked with the occasional gas station and fast food franchise. They would have passed Waco, Austin, San Antonio, Rancho Alegre, Falfurrias, and McAllen before crossing the border at Reynosa. In Mexico, they then would have taken highways 101 and 180, which run along the ocean. Had Hugo thought about this kind of trek when he was still alive? Had he imagined smelling the salt in the air, feeling the sea breeze on his skin, pausing to stand on the shore on his way home? Had he dreamt about following the sweet fragrance of the mango trees along the road from Actopan to La Reforma, in this land where he'd been born thirty-six years ago, which he hadn't seen for half his life?
Hugo died of Covid-19 on April 25 of last year, and his ashes returned home in a bag encased in a little box. There was no other way to repatriate his body. Tamaulipas, the state between Texas and Veracruz, had prohibited embalming. Experts worried that a corpse's secretions—feces, urine, and other bodily fluids—could spread the virus. So the Calvario funeral home in the Latinx neighborhood of Oak Cliff in Dallas arranged with the Martin Oaks Crematory for the incineration of Hugo's corpse.
With the help of lawyers and the Mexican consulate in Dallas, his widow Blanca Parra eventually managed to repatriate his body. Nineteen days after his death, at dusk on May 14, two men dressed in black appeared at the Domínguez family home in La Reforma. It's a two-story house with a white door and a jacaranda-purple façade. Guillermina Aguilar was alone when she received her son's ashes; at the sight of the strangers, neighbors came over to keep her company. Guillermina's husband Pablo and daughter Patricia had gone to the nearest city in search of a florist. They returned with chrysanthemums, spongy flowers known as godornices, and an arrangement the florists gave them as a gift. Adding some candles and a photo of Hugo, the family assembled an altar inside the house.
Their son had immigrated in 2002, a year after the attack on the Twin Towers. He was nineteen at the time: fair-skinned, thin-mustached, six-foot-one. His father, a lifelong tomato farmer, had rented a plot of land and lost his crop to a drought, falling more than $10,000 into debt. Hugo traveled those 1,110 miles north, crossing the waters of the Río Bravo, to help repay the loan.
Cash Cows
West Dallas—gray, desolate, full of factories—has an air of decay. In the 1930s, it was a poor, majority-white neighborhood that wasn't considered part of the city proper. Bonnie Parker and Clyde Barrow grew up there. Now 42 percent of its inhabitants are Latinx and almost 24 percent are African American, although gentrification may change things again; new, dazzling residential buildings have started sprouting up amid the industrial plants. West Dallas is connected to downtown by the elegant Margaret Hunt Hill Bridge, designed by the Valencia-born architect Santiago Calatrava. Crossing the Trinity River at night, you can see lit-up skyscrapers in the business district. The most iconic are the Reunion Tower and Bank of America, almost twice as tall as Mexico City's Torre Latinoamericana.
Despite the fact that undocumented immigrants have paid their taxes, Trump excluded undocumented workers from the distribution of stimulus checks.
The Quality Sausage Company is a far cry from such glamor. The plant is a brown rectangle in the industrial Lone Star Park with streets so narrow that truck drivers have to constantly maneuver to load and unload their cargo. Outside the building, a single tree offers shade in the blistering summers. Inside, though, workers dress for winter; low temperatures are needed to protect meat from spoiling. Most of the factory employees are undocumented Mexicans and Central Americans, and they stand side-by-side on the production lines. They cook and package pepperoni, pizza toppings, and meatballs, as well as pork, beef, and shredded chicken: all subsequently bought by companies like Pizza Hut, Papa John's, Subway, and Chili's.
Early into the pandemic, meat-processing plants across America—including Tyson Foods, JBS, Cargill, and Smithfield Foods—began reporting massive Covid-19 outbreaks. Several even closed temporarily. On April 28 last year, President Donald Trump issued an executive order demanding they continue to operate and thus avoid a shortage of beef, pork, and poultry. In June, a CDC document stated that 8,978 meat and agricultural workers had tested positive over the previous three months; more than 90 percent of those infected were people of color. Official statistics on how many workers became infected or died in such factories haven't been publicly updated since then—either by the companies or the government. And so we have little access to these records, which concern immigrants more than anyone else. According to a study by the Center for Economic and Policy Research, more than half of meat industry employees are immigrants, and over 40 percent are Hispanic. As of May 17, 2021, the Food & Environment Reporting Network (FERN) has accounted for 76,721 infections at 1,437 processing and packing plants across the country and at least 342 deaths.
A similarly grim story played out at Quality Sausage. Early in April 2020, Juan Medina, a quality control specialist, began to display flu-like symptoms. But colds are frequent at the factory, and no one was alarmed. Almost immediately, the second-shift supervisor, Bertha Cervantes, developed symptoms as well. She had just been hospitalized for diabetes. At that point, Quality Sausage could have informed workers that Juan and Bertha were sick. They could have issued Covid-19 tests and pursued contact-tracing. They could have set up acrylic barriers between one worker and the next. They could have temporarily closed the plant. They should have at least distributed masks, gloves, and antibacterial gel, as per the new rules for "essential businesses." (Meat-packing plants in Texas were already deemed "critical infrastructure" by the CDC.) They did none of these things.
By mid-April, many workers were sick, particularly on the pepperoni production line, which is staffed largely by women. To keep from halting operations, supervisors shuffled in employees from departments that had not yet seen infections. Soon, employees started flocking to the Ellis Davis Field House and the American Airlines Center (home of the Dallas Mavericks), both converted into cost-free testing sites. Many tested positive, including Hugo. As the plant emptied out, Quality Sausage kicked into rearguard action. Management distributed cloth masks, but not to everyone. On April 20, they even handed out thousand-dollar checks, thanking employees for "risking" their lives. Still, the plant stayed open. On April 23, Matías Jiménez Martínez, a fifty-two-year-old from El Jícaro, Veracruz, became the plant's first victim. The next day, Quality Sausage decided to temporarily shutter the factory. Hugo died on the following day.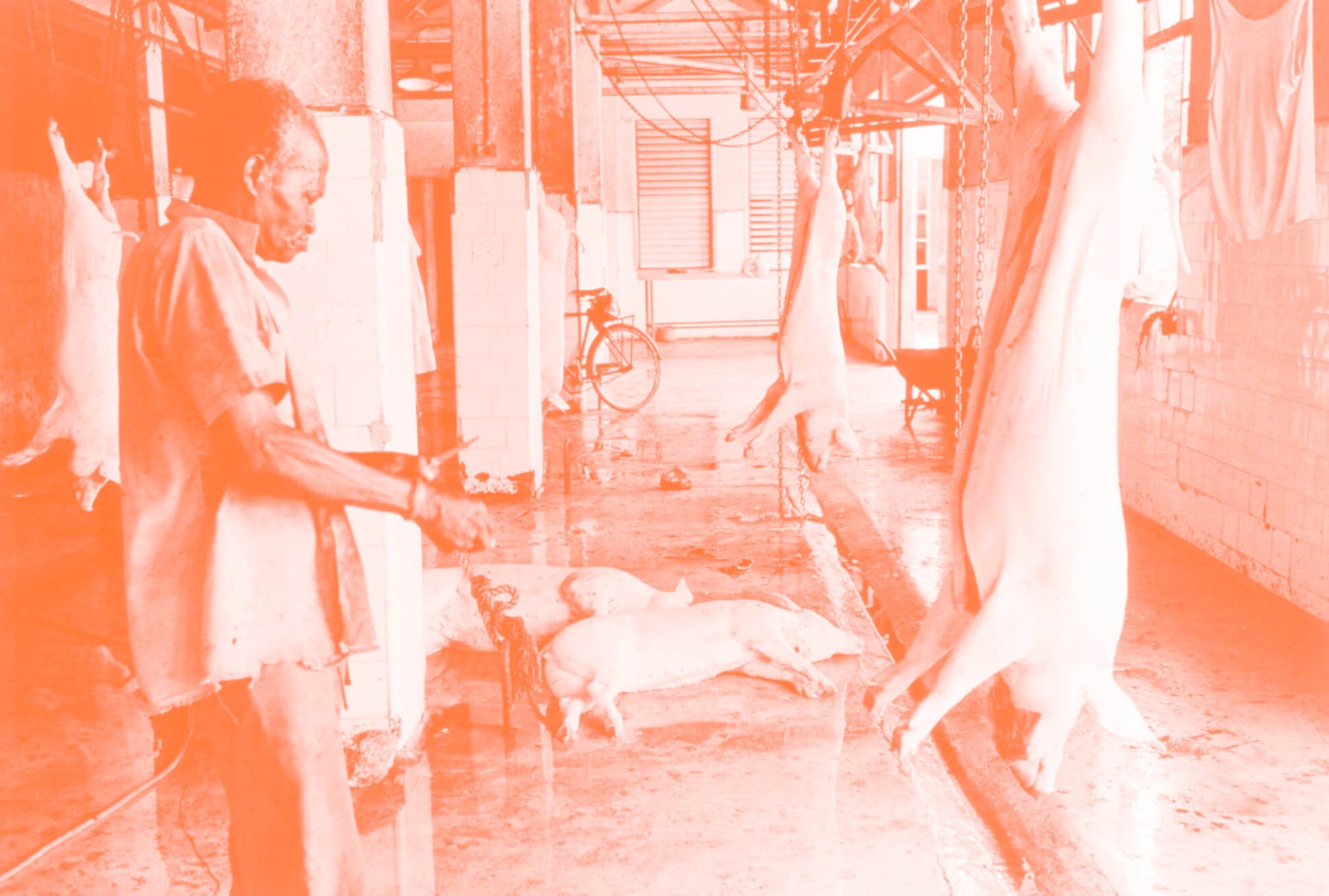 Essential Work, Disposable Workers
In April 2020, I was watching a Spanish-language news channel with my mother at her home in Dallas. "Look at how they're working in those meat-packing plants," she told me. "They're getting sick and there's going to be a meat shortage soon. They'd better close the plants to protect their employees." In May, I saw Blanca Parra in a protest outside Quality Sausage, speaking forcefully to the press, weeping. She told the cameras that the company had cared more about saving the meat than the life of her partner, Hugo Domínguez. I sought out Parra afterwards. She was the one who told me that there were many more cases at the plant, and that the workers were talking with an activist by the name of Carlos Quintanilla. I went on to write several short articles about health concerns at the plant for Al Día, the Spanish publication issued by the Dallas Morning News.
Later in May, I reached out to Quintanilla, who runs an organization called Activista Legal, which offers legal services to Latinx immigrants. He had been investigating the Covid-19 infections linked to the Quality Sausage Company. Quintanilla told me he'd compiled a list of fifty-seven Covid-19 infections. The first thing he did was post on Facebook, asking anyone who was sick or knew about the internal situation to contact him directly. At first people were too scared to talk, but little by little, he received messages from operators who put him in touch with others. That's how he met Blanca Parra. Quintanilla contacted her, offering counsel and encouraging her to file a lawsuit against the company. He put her in touch with Dallas-based lawyer Shayan Elahi. On May 4, Parra became the first person to sue the processing plant before a Texas state court, requesting compensation of over a million dollars, though the lawsuit has been delayed by the pandemic. While Hugo was undocumented, United States labor laws protect all workers, with or without papers.
On the morning of the protest outside Quality Sausage, where I met Blanca Parra, Quintanilla also introduced me to Julia Pulido, a member of the company cleaning staff who had spent two weeks in intensive care, and Abel Cervantes, a worker who was still so sick he could barely talk. It turns out that Quality Sausage reopened its West Dallas plant on May 8 and contacted workers to return, warning them that they wouldn't be paid unless they came back—sick or well. For the two weeks of the closure, employees were paid wages equivalent to eighty hours. As recommended by the United States Department of Labor, the company called the entire staff and summoned them for Covid-19 testing inside the facilities, overseen by private-sector doctors.
The factory called Julia Pulido on her cell phone and asked her to come back—even though she'd been hospitalized for two weeks and after that tested positive for the second time. At sixty-two, Julia is considered a survivor. After her employers left her exposed without protection, she fainted on the night of April 28 as she ate dinner with her three daughters. Paramedics wheeled her, unconscious, out of her house and into an ambulance. She woke up alone in a room at Methodist Dallas Medical Center, where Matías and Hugo had died just days before. That's where she spent Mother's Day. She was discharged two weeks later: weak, with cardiac problems and an unpaid hospital bill.
I spoke with Abel Cervantes too. "You won't get sick again," he was told by Quality Sausage management. "If you're well, come in to work tomorrow. If you don't, we won't be able to pay you," they warned him after the company had administered a second Covid-19 test: positive again. That is, the virus was still active, and the company refused to let him complete a full quarantine after his illness. The day I interviewed him, his cheeks were flushed, his breathing labored. I could barely hear him when he spoke, even though we were just about six feet apart.
As noted, most packers on the production line are undocumented immigrants. Some made it into the United States by crossing the Río Bravo; others entered the country on a tourist visa and stayed on to work. As I spoke with Quality Sausage employees, I learned that many of the workers come from the state of Veracruz; some already knew each other. Undocumented workers are hired by the agency Archer Services, with a fiscal address in the border city of Mercedes, very close to Tamaulipas. The workers say that the agency charged them $300 for a job at Quality Sausage and registered them using other people's Social Security numbers. On his paychecks, Hugo was José Marcelino López. He was not allowed to use his real name when reporting his income to the IRS.
Most undocumented immigrants settle accounts with the IRS every year. They have an Individual Taxpayer Identification Number (ITIN) under their real name, even if they use a false Social Security number for work. They do so because it's a crime not to pay taxes and because they hope that contributions may count toward retirement benefits—if they ever manage to legalize their status. In 2015, for example (the last date on record with the IRS), 4.4 million immigrants used an ITIN to file a tax return, contributing $23.6 billion in taxes.
Despite the fact that undocumented immigrants have paid their taxes, Trump excluded undocumented workers from the distribution of stimulus checks. While other people received one-shot checks and deposits of $1,200 in April 2020, undocumented immigrants were passed over—even as they continued laboring on the frontlines of essential industries. So were their families: anyone married to an immigrant with an ITIN, even a permanent resident or naturalized citizen, couldn't receive a check, either. For the second and third stimulus checks, their Green Card-holding partners and children with American citizenship were able to receive stimulus payments, but immigrants with ITINs were excluded once again.
Worked to Death
Hugo Domínguez Aguilar was a stocky man with brown eyes hidden under thick, arched eyebrows. He rarely smiled in photos. His partner Blanca said he was ashamed of his crooked teeth. He spent his limited free time with his family: playing Nintendo with his children, going out to eat at restaurants in Oak Cliff, a neighborhood of streets that feel like mini-Mexicos. Soon before his death, Hugo and Blanca had decided to get married. Blanca had just become a permanent resident, which paved the way for Hugo to emerge from furtive life—from the status endured by more than 10.5 million undocumented people in the United States.
Had he imagined smelling the salt in the air, feeling the sea breeze on his skin, pausing to stand on the shore on his way home?
In Mexico, Hugo was raised near the river in a village surrounded by lush vegetation. The family ate beans and freshly harvested corn. He was thirteen when he started working the land with his father and uncle; then he switched to transporting goods by tricycle cart in the hills around the town. Before he immigrated, he was a pink-cheeked boy who danced for the Virgin of Guadalupe in the village festivities. He headed north as soon as he'd left adolescence behind. The fertile soil was drying up. And if he never came back, that was why: cattle keep dying, crops won't grow, downpours are a miracle, and the cities are far away. "What you do here is live, my girl," his father Pablo tells me. "Live without doing anything else in life. Out there, God protect you, you can make better progress, as long as you bring the money back here."
Every two weeks, Hugo sent his parents two hundred dollars, which made it possible for them to buy medications in Veracruz. In Dallas, Blanca says, they lacked for nothing. Around eleven million people born in Mexico currently live in the United States, along with twenty-six million second- or third-generation citizens. Like many of them, Hugo contributed to both the American and Mexican economies—nearly four percent of Mexico's GDP comes from remittances sent by workers outside the country.
What grieves Pablo most is that his son worked seventy-plus-hour weeks, even during the pandemic. He was loading and unloading all through his shift, his body confined to a forklift. In fact, Hugo had undergone surgery to remove some varicose veins, which bled at the slightest touch. As the years passed, he developed high blood pressure, obesity, and diabetes: conditions that left him helpless against the virus. Hours before his death, he was with his aunt María Rosa, who was like a mother to him in this strange country. Most likely, Hugo infected her with Covid-19, but she stayed put to take care of him, massaging his legs with cream.
According to his death certificate, Hugo died at 5:38 a.m. on April 25 at Methodist Dallas Medical Center, forty-eight minutes after an ambulance brought him in with a violent dry cough, low oxygen levels, and a fever. He got into the vehicle on his own two feet. The paramedics sat him down in the back; no one else was allowed to accompany him. He was terrified by the thought of dying alone. And he did.
In April of this year, the Domínguez family marked the anniversary of Hugo's repatriation by making an altar: photos, candles, roses, lilies, gerbera daisies. Patricia tells me that they held a Mass in his honor and prayed a rosary together at home. She also mentions that vaccinations have only just begun in La Reforma. Patricia is a nurse and hasn't yet been vaccinated, nor have her parents.
The same month, Blanca's lawyer Shayan Elahi informed me that the lawsuit over Hugo's death has been scheduled for July 2022. Abel Cervantes now works at a Mexican restaurant called Calle 12 in Oak Cliff. Blanca Parra caught the virus, recovered, and got a job at Salvation Army. Julia Pulido owes $55,000 for the two weeks she was hospitalized with Covid-19. Quality Sausage was issued a $25,000 fine from the Department of Labor. The plant remains open for business.
A version of this text originally appeared in Spanish in Gatopardo.