It Happened in Vegas
Why the Republican campaign of fear and loathing failed this year in Nevada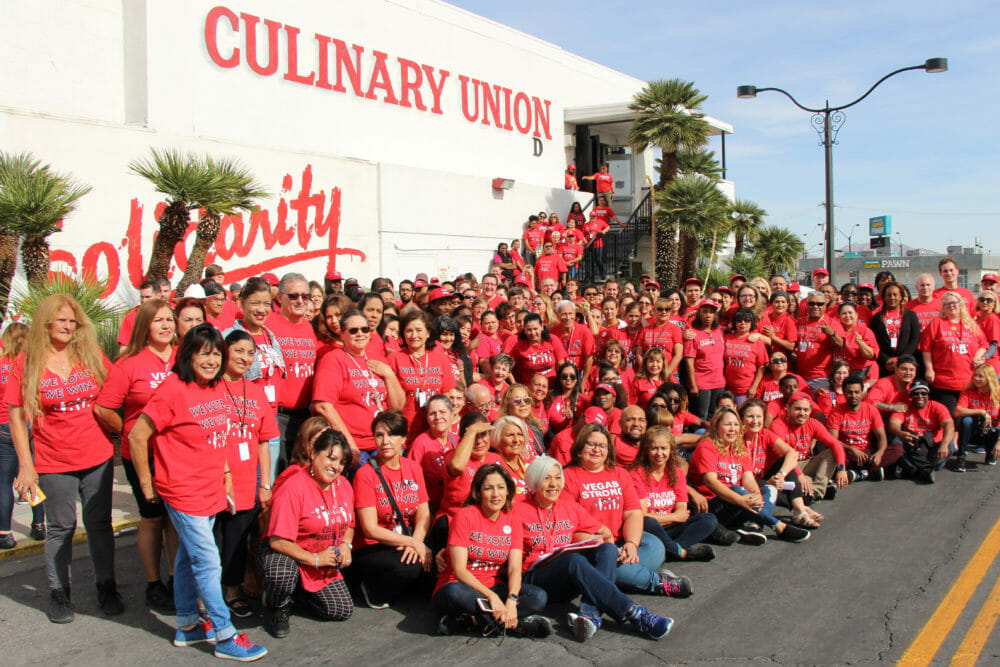 Culinary Union workers—many of them on a leave of absence from their jobs—were out in force in the weeks before Election Day. | Culinary Workers Union photo
An hour before polls open on Election Day in Las Vegas, an orange sun crawls over the mountains to the east and finds the city already a-bustle. Inside the Great Hall of the Culinary Workers Union Local 226 headquarters, a low-slung building tucked in the shadow of the Stratosphere Casino's tower, the music pulses. A woman stankylegs to James Brown's "The Payback." Then the playlist goes global: a salsa comes on, and a cumbia. Groups of women stand up to dance. Ethiopian music elicits shoulder shakes from a handful of young men, to the crowd's delight. The group of a few hundred workers, in red shirts emblazoned with "WE VOTE, WE WIN," barely find time to sit down for their eggs, sausage, bacon, and tater tots. A definitive day for American democracy feels more like a festival.
With seven o'clock approaching, everybody settles in for a series of bilingual pump-up speakers. A chaplain prays that canvassers will have "the right words to touch the heart." Ted Pappageorge, the local's president, reminds the workers of the stakes: "We got good union jobs, health care. We can take our kids to the doctor. But other people don't." Harry Grill, a senior political field director for Unite Here, invokes the union's recently completed contract negotiations with the casinos along the Vegas Strip: "A culinary worker should be voting because we have the best contracts in America, thanks to all your hard work." Grill exhorts the crowd to fight for "every blade of grass," reminding them that in 1998 Harry Reid won statewide office by a handful of votes—401. Chants of "we vote, we win" echo through the hall.
Then it is time for the most powerful get-out-the-vote effort in Nevada to hit the road.
Culinary Workers Union Local 226, or simply "Culinary" to Las Vegans, is 57,000 members strong and the largest local affiliate of Unite Here, a union representing more than a quarter of a million workers in the gaming, food, and hospitality industries in the United States and Canada. Culinary's membership is majority female and majority Hispanic, and includes waiters and bartenders, housekeepers and cooks. A strike, spokeswoman Bethany Khan assures me this morning, would shut down the Strip and downtown Vegas, effectively freezing the city's lifeblood. The union is plenty willing to use that power. A summer strike authorization vote passed with 99 percent support; by the beginning of November, the workers had new contracts, which include health care without premiums and middle-class paychecks.
Nevada has a proud libertarian-to-the-point-of-libertine streak, a cowboy individualism that runs counter to the promises of collective action.
While Nevada is a purple state, it has a proud libertarian-to-the-point-of-libertine streak, a cowboy individualism that runs counter to the promises of collective action. Adam Laxalt, the Republicans' candidate for governor and grandson of two-term U.S. Senator and Reagan "First Friend" Paul Laxalt, leaned heavily into the Western rancher's image, just as Reagan himself used to love being photographed on a horse. But for a man who grew up and spent most of his life in and around D.C., the put-on wore thin. Twelve members of his extended family penned an op-ed calling him out in the Reno Gazette-Journal in late October. It is startling:
Recently, Adam held his 'Basque Fry,' a fundraiser that he has put on over the last several years in Gardnerville. This event perfectly captures the Adam Laxalt candidacy: the phoniness of the setting and costumes, the pretense of folksiness used as a prop for Washington power players like Kellyanne Conway and Devin Nunes. In a promotional video from the event, Adam is dressed in a 'western' shirt monogramed with his campaign logo, 'work' boots and jeans that look like they were ordered off Amazon the week before. An orange tractor is placed prominently behind the stage, which is decorated with hay bales. All this careful arrangement is meant to project an image of authenticity, of a deep family tie to Nevada and its history. But it's all fake, all props paid for by someone else.
Still, the state has had a Republican governor for the last twenty years. The outgoing Brian Sandoval, who broke with his party to fund education with a tax hike and invested heavily in renewable energy, has been one of the most popular Republican governors in the country. Of the state's four congressional districts, one is solidly Republican (the northern rural areas), one is solidly Democratic (the city of Las Vegas) and the two surrounding Vegas are competitive. But it's the Nevada Senate race that has drawn national attention this year, where Dean Heller, who in his nearly thirty-year political career has yet to lose an election, is the only Republican senator defending a seat in a state that Hillary Clinton won in 2016. His challenger, Jacky Rosen, is running a moderate and respectful campaign, focusing on defending the Affordable Care Act and offering Medicaid buy-in as a public health care option. Polls have showed the two neck and neck.
Both Laxalt and Heller earned the endorsement of the Las Vegas Review-Journal, the state's largest newspaper, which is owned by the casino magnate Sheldon Adelson. (Adelson also owns the only casinos on the Strip that do not employ union workers.) The Review-Journal was the first major newspaper in the country to endorse Donald Trump in 2016. This go- around, Adelson and his wife Miriam are the most lavish Republican donors in the country: they have given over $100 million to federal candidates nationwide, in order to help the GOP keep control of Congress.
---
With polls opening, the buoyant crowd filters out in pairs to begin their fieldwork. Dora Olivia Arizmendi and Amanda Acosta are assigned a largely black and Latino area in North Las Vegas full of neat subdivisions of pale stucco houses. Yellow lantanas bloom in rock gardens next to stout sago palms on streets with vapidly pleasant names: "Giant Rock," "Star Shadow," "Dawn View."
Arizmendi and Acosta start the morning by hanging voter-guide flyers on doors of Democratic households in their turf. They know the area well by now. The two are on paid leaves of absence from their housekeeping jobs at Caesars Palace, a perk that the union has negotiated into its workers' contracts that allows them to take a political Rumspringa. During the LOA, which can be months long, the union pays its canvassers the equivalent of their full-time wages. By Election Day, the field team is 350 strong, its members spending up to twelve hours a day knocking on doors.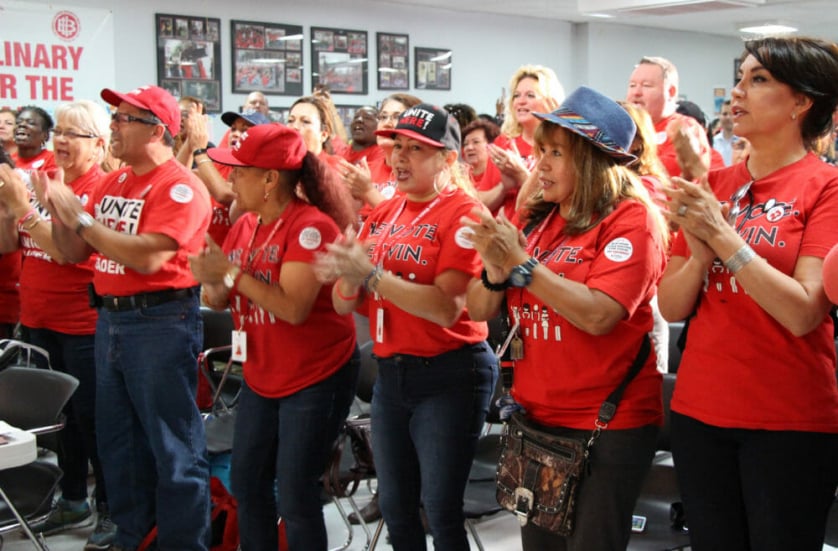 Acosta started canvassing on August 27, Arizmendi on September 7. They reminisce balefully about the summer days of 115-degree heat, and show off their earned tans. Today, though, is moderate, comfortable, even with the sun bright and clear in the dry sky. Acosta, with blonde ponytail, a black track jacket, and pink Nikes, holds the address clipboard, and acts as navigator. Arizmendi has a sparkly headband, faded jeans, and tall-soled black Nikes, and walks purposefully, spitting out energy with every step. She is the face of the operation.
We pass two Latino men, strangers not on the voter rolls, getting in a car off of Council Bluff. "Buenos dias!" Arizmendi shouts. "Hoy es el Dia de Votar. ¿Fueron?" The men assured her they know, they are going, not to worry. "Bueno," she calls back: "¡Andale!"
Arizmendi believes in the promise of the American democratic process with an immigrant's fervor. Born in the small town of Lagunillas in Jalisco, Mexico, she came to the United States as a teenager and began working at a car dealership. She married and started a family, and found herself without benefits, paying nearly $700 a month for her family's health insurance. When she left to work in housekeeping in Caesars Palace, she joined the union and was pleased to learn that it offers health insurance for her whole family, saving them at least $8,000 a year.
The union also helped her with citizenship: "If you get a lawyer you have to pay money," Arizmendi says, as she wedges a handbill into a door. (It shows a picture of a child's fearful face with the message: "Trump and Heller think you're stupid//your children are watching.") "But the union has their own people to help you, legal services, they help you fill out forms. Even for my husband. He doesn't work for the union but he got help. The union is amazing." Since the Culinary founded its Citizenship Project in collaboration with several other organizations in 2001, it has provided these services for more than 18,000 workers and family members.
Now she was out hoping to spread the wealth. "We want other people to have what we have, too," Arizmendi says. "If I have a house, that they can have it too." (The union provides interest-free down payment assistance loans for its members who make below a certain threshold.) "If I have medical, that they can have it too. Come on! Get with us."
Nevada Democrats, like their nationwide fellows, kept a disciplined focus on health care during the election season. Heller had initially broken with Donald Trump on repeal of the Affordable Care Act in 2017, after having declared himself "99 percent against" the president during Trump's campaign. He later, though, signed on to the Republican "skinny repeal," and told Trump at a rally that "everything you touch turns to gold." That led to a moniker of "Senator Spineless," and an opening that state Democrats hammered at with glee.
Republican Senator Dean Heller had opposed Trump but later told him: "Everything you touch turns to gold."
The union sees immigration as another winning issue: Grill, in his morning speech, had said that "Donald Trump stepped into a great issue for us, with immigration. We have an emotional approach to immigration, as organizers." The union has a largely immigrant membership, with Mexicans, Filipinos, and Ethiopians all particularly well-represented. Amanda Acosta immigrated from Ciudad Juárez, across the border from El Paso, some two decades ago. Arizmendi feels the sting of American immigration policy with particular force. She has two nephews living with her who have not seen their mom in three years, since her deportation.
We pass a woman cutting leaves from a small copse of palms. Arizmendi pinwheels to ask her if she's planning on voting, but the woman worries she isn't registered. Arizmendi gives her campaign literature anyway, and urges her to check. "Please help us out," she implores. "It's important for your family." Then, as she's walking away: "Nice plants! Looking good!"
There are tense moments, too. Arizmendi recalls having her flyers thrown in her face by a Republican husband of a Democratic woman she was visiting. "It happens," she shrugs. Even when people say they have voted, she regards the claim with suspicion. One couple intercoms down to tell her just that, and thank her for her time. "That's what they say. . ." she mutters, and tries to slip campaign literature on their doorhandle anyway. "Don't leave that on our door!" they bellow out. She skips off, unsatisfied.
The Northside team gathers at Denny's for lunch, and the group shows off its organizing chops: each pair reports the doors they've knocked on, how many conversations they've had, and who they've driven to the polls. The results are catalogued in synced tablets, which then log the new info and spit back out the remaining work for that afternoon, so as not to duplicate outreach efforts. Anyone the union confirms has voted is left alone; everyone else continues to get knocks, up until the last minute. This election season, according to union data, the field team has knocked on nearly 400,000 doors, and had conversations with around 84,000 voters.
The team leader of the Denny's crew is Alfonso Maciel, a twenty-something cook at Excalibur. "There's certain skills that I feel like you can always transfer over," he tells me. "So here they put me in charge of a small team, and every day I'm responsible for that team going out and knowing how to respond in certain conversations, how to approach certain doors, certain situations. That's all stuff that maybe day-to-day in a casino we're not going out and use talking to people, but the organizational skills and the leadership skills: those I'm going to carry for the rest of my life."
The ability to take a paid leave of absence creates opportunities for union members to build themselves up, he says. "Everybody comes here as a team member, but out of those team members we make leaders, and out of those leaders we make organizers. Out of those organizers, hopefully one day we can continue growing up and up and up until maybe one day we'll have more people from the union running for seats in Congress and Senate."
That day is in fact today: Jacky Rosen, the Democratic Senate candidate, is a former Culinary member. Steven Horsford, running as a Democrat in Nevada's 4th Congressional District to fill a seat of a retiring congressman accused of sexual harassment, is too. For years, Horsford ran the Culinary Academy, a school where members can take free courses to build their hard skills and move from cook to professional chef, from busperson to food server, from wine server to sommelier. The Academy also provides local hotels and casinos a steady stream of well-trained workers who then stick around.
The ability to take a paid leave of absence creates opportunities for union members to build themselves up. Leaders become organizers.
Over lunch, canvassers trade stories and gossip of contract disputes nationwide. Chicago hotel workers recently won a contract that has the diners impressed. "Can you imagine the operation it took to walk out of twenty-some hotels?" Charese Rasberry, an organizer with the Las Vegas local, asks some volunteers from a sister Unite Here local in the Pacific Northwest. In 2002, Rasberry was working in housekeeping on the strip, "just paying union dues and clocking in and clocking out." The union was in a contract dispute that year, and was putting in housekeeping language for the first time. "So they came and recruited me," she recalls. That activated her: she became a shop steward, and two years later took her first LOA, campaigning for Horsford for state Senate. Two years after that, she began working for the union, and now here she is campaigning for Horsford again.
In the afternoon the rides shuffle, and Acosta leaves to pair up with another canvasser. Arizmendi has a friend whose daughter is waffling on voting, and decides to give her a ride to the polling place: the only sure way to turn out a voter. The daughter, Jacqueline, prefers not to give her last name: her dad is undocumented, which means that since he came to Nevada some thirty years ago he has been unable to return to Mexico. That includes when his father passed away back home earlier this year. Immigration reform is Jacqueline's unsurprising top priority.
"Losing my dad is something I'm terrified of," she says. "I think about it every day."
Arizmendi is Jacqueline's kindred spirit. In 2016, she says, "I got my citizenship done. So I was able to vote. I was proud. I had a voice. I count, you know?" Despite Trump's surprise victory, Nevada was a rare bright spot for Democrats that year, as Catherine Cortez Masto replaced Harry Reid and became the nation's first Latina senator. Clinton won the state as well. Since then, the union has registered over 10,000 Culinary workers and family members to vote.
Much recent Democratic success here hinges on what pundits call the "Harry Reid machine," a voter-turnout operation that allows the ex-senator to play kingmaker and wield enormous sway over the state's Democratic Party. By 2018, though, with Reid two years removed from Congress, political thinkers are wondering whether the machine can still crank into gear and get his successors elected. The point may be moot, though, with Culinary supporting Democrats: longtime Nevada political commentator Jon Ralston calls the union the "most effective Democratic turnout machine" in the state.
Jacqueline comes out of the voting booth, and, having shortly before felt ambivalent about voting at all, smiles. "I feel good," she says. Arizmendi hugs her and tells her how proud she is, and they snap a photo together.
---
The sun sets early, with daylight no longer saved, and the sky above the omnipresent brown ridges ringing town fades to pastel. The union sets up a watch party with pizza and wings, waiting to see the results of their handiwork and celebrate their weeks of door-knocking and relentless organizing. Some members on political LOA have not taken a day off for over two weeks, and they trickle back in, buzzing as the fateful hour approaches. Back on the Strip, though, it is hard to imagine that an election is happening, or really that any election might ever happen—it's the typical orgy of spectacle and convenience, the labor enabling the fanfare hidden behind a shimmer. People can't bet on elections in Vegas casinos, or there might be more chatter about it all. (By the morning of Election Day, online betting sites had Rosen as the favorite in her Senate race.) Perhaps the only outward reminder of politics is Trump's name gracing his hotel looming north of the Strip.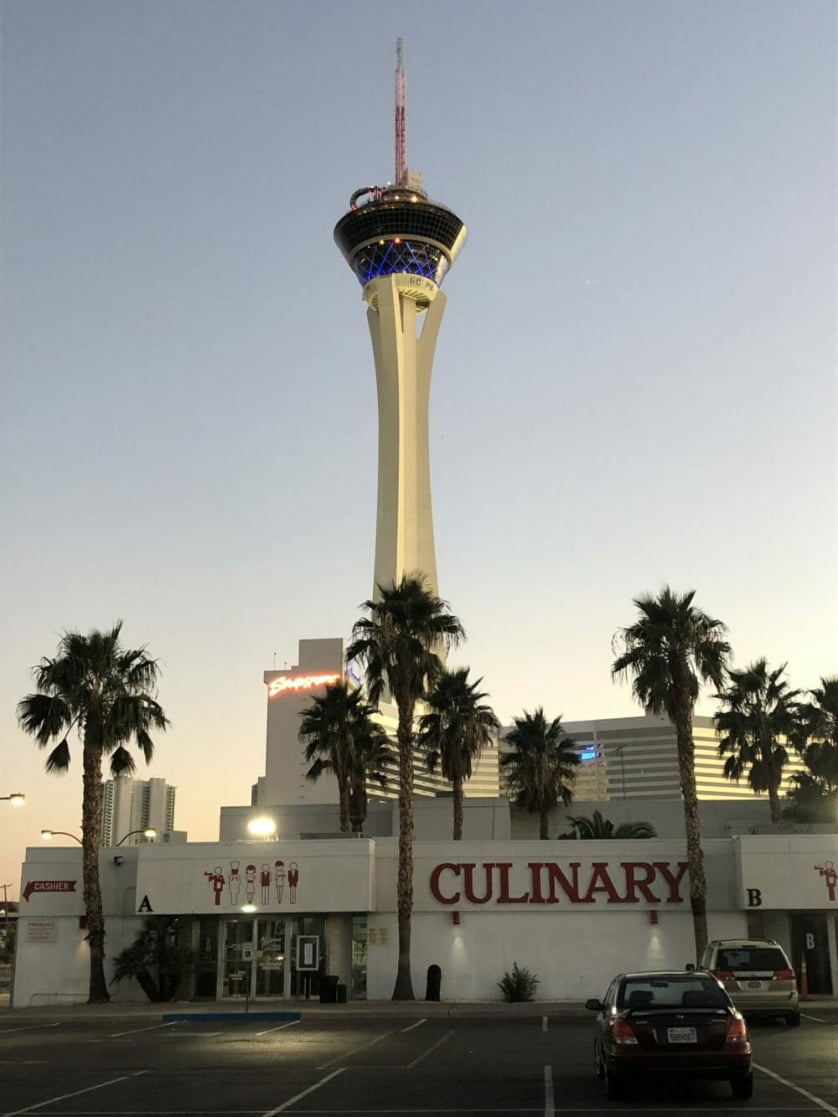 Nevada Democrats gather to watch the election results on two gargantuan screens in the Forum Ballroom of Caesars Palace, over plates of light hors d'oeuvres and offensively expensive drinks. The crew manning the tables and bars are—you guessed it—represented by Culinary. The crowd groans and cheers at the night's vicissitudes: Beto's loss in Texas hurts, the emerging House majority finds euphoria. Nevada's Republican Party is like the nation's, whiter and more rural and now in thrall to Trumpian excess: today they elect a brothel owner, Dennis Hof, the so-called "Trump of Pahrump," to the state legislature despite his death in mid-October. By contrast, it's a big-tent Democratic Party on display: racially diverse, old and young, environmental activists who look prepubescent, Dylan-era protest musicians, and yuppie party functionaries with blazers and coiffed hair. A man wearing a black kilt and gold-snake crown wanders by.
Notable in this room, though, is the obvious union presence: Laborers International Union of North America members, big beefy men in orange shirts and close-cropped hair (one offers me perfect Vegas hospitality: "Welcome. Spend money"); Teamsters in occult silver rings and goatees; United Food and Commercial Workers in yellow shirts and sparkling top-hats.
And then, of course, there is Culinary, who come on buses and enter the room still in their red "We Vote, We Win" shirts, streaming in by the dozen and chanting "226" and causing, even by the standards of a celebratory room on the Strip, a ruckus.
Organized labor provides the Nevadan left with a model for the benefits of an empowered working class. "I still feel we're a purple state," Culinary president Pappageorge says as the results come in. "The difference is we turn out the voters. These are low-propensity voters, and we're getting them out. That's the part labor brings to the table. The Democrats and labor need to work together to win."
On Election Night, the coalition carries Nevada. Democrats win three of the state's four congressional seats, including Horsford's; in his acceptance speech, the congressman gives a special shout-out to Culinary. Steve Sisolak, a Vegas businessman, becomes governor, flipping that office blue for the first time in two decades. A ballot initiative for energy deregulation supported by Adelson is thwarted; an initiative to make voter registration automatic at the DMV passes.
And then there is Jacky Rosen, hero of the night, who, in beating Heller by five percentage points, becomes the first clear Democratic victory in the battle for control of the Senate. (Democrat Kyrsten Sinema will declare victory in Arizona a week later; Florida, naturally, will remain too close to call, heading into recount territory.) Nevada's congressional delegation is now majority women, and the state becomes the fifth with two female senators. Rosen projects a kindly and decent energy, and ran as positive a campaign as anyone can in Trump's America. She takes the stage to rambunctious applause, and cites Heller for a phone call she had just finished with him, insisting into the scattered boos at the mention of his name that "no, I appreciate that; he served our state for thirty years and so I want to thank him for his service to our state."
She thanks her partners in organized labor and the many other people who chipped into the campaign, lists the Democratic victories up and down the ticket, and thanks Harry Reid. Then: "I have to tell you I'm sentimental tonight, because a lot of times you don't get to see bookends in your life. And forty years ago, I was a young college student, working my way through school, and I was a member of 226. But that's not the best part of the story—I was working right down the hall here at Caesars Palace as a cocktail waitress to pay my tuition. I put my tips in those envelopes, and it paid for my next year of college. And I know it took a while, but forty years later I'm back, and here I am."
It may be that Las Vegas, with a steady monetary inflow and a place-based industry that cannot uproot itself to find cheap workers elsewhere, is particularly fertile ground for organizing. Unions are thriving in Clark County even in a time of declining membership nationwide and despite longstanding right-to-work laws in the state. Whatever the underlying factors, visionary organizing has energized labor, which now provides momentum for a burgeoning left-leaning coalition. Here, immigrant rights are worker's rights, and the struggle for working-class interests—better pay, decent health care—fuels political participation and inclusion across groups. Workers bet big on themselves outside the ballot box, and beat the house. On Election Day, they pushed their chips back in.