The Way of Waters
The Pope of Trash gets his Hollywood close-up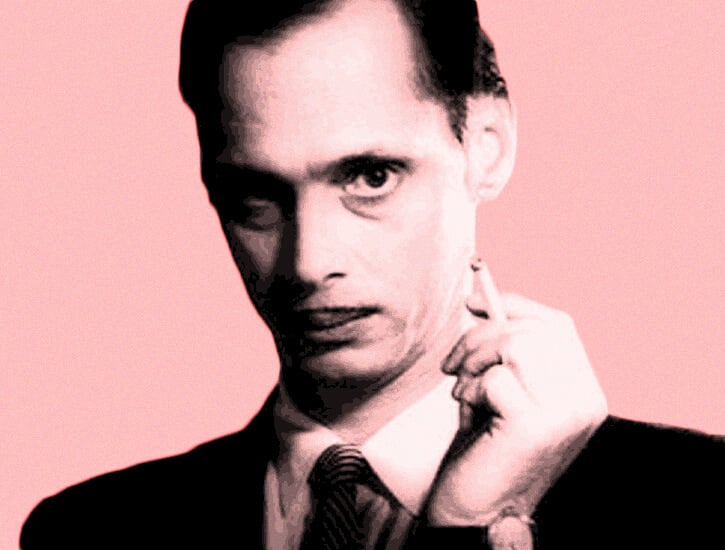 Most Americans first met John Waters on The Simpsons. His appearance in season eight as the owner of a kooky curio shop served as a barometer of sorts for American tolerance of homosexuality in the mid-1990s: Homer Simpson only comes, begrudgingly, to respect Waters's character after he scares off a herd of irate reindeer with a horrifying Japanese Santa Claus robot from his personal tchotchke collection, saving the Simpson clan.
The episode, "Homer's Phobia," also served as a turning point of sorts for Waters in the cultural imaginary. Though he'd already made several Hollywood-financed films by 1997, including Hairspray, the idea that the Baltimore-bred B-list filmmaker might become a moderately reputable household name was laughable before the episode. Yet that's precisely what's happened in the quarter-century since: as Waters acknowledges in Mr. Know-It-All: The Tarnished Wisdom of a Filth Elder, "Somehow I became respectable."
The Waters Respectability Tour continues with "John Waters: Pope of Trash," a nearly yearlong retrospective of the auteur's work at the Academy Museum of Motion Pictures in Los Angeles. Occupying a full floor of the museum, the exhibition brings Water's avant-garde filmmaking into the fold, honoring his many years as an outcast. But even if Hollywood has come around on Waters, that's not the same thing as Waters becoming a Hollywood filmmaker. He may have taken their cash from time to time, but he's never fallen victim to their sterilizing mandates; over nearly sixty years and twelve feature-length films, the Baltimore native has remained a proud evangelist of scuzz. Perhaps no two films illustrate the stubbornness of his brash sensibility amid a changing world than Multiple Maniacs (1970) and Cecil B. Demented (2000). Though shot three decades apart, both capture a director who knew how to thumb his nose at the system.
While it was his first true full-length work, following the largely dialogue-free Mondo Trasho, Multiple Maniacs was hardly the start of the Waters cult. With earlier experimental shorts like Roman Candles and Eat Your Makeup, both of which Waters premiered in, of all places, an Episcopalian church, the young director began to build a following that would only grow with other early films like Pink Flamingos, which he shot on the cheap with loans from his father, a fire-protection equipment manufacturer. These works emerged in large part because Baltimore, as with so many other cities of the time, was affordable: Cookie Mueller, one of Waters's recurring cast members, known as the Dreamlanders, described living in a $30 a month apartment in the early 1970s, in a waterfront neighborhood, Fells Point, that is now one of the city's most expensive.
Filmed at a moment when the mere act of being visibly, let alone flagrantly, queer could inspire terror and hostility, Multiple Maniacs revels in the anarchic potential of the dirt-cheap city. In its opening moments, an unsuspecting group of Baltimoreans gawk at "Lady Divine's Cavalcade of Perversions, the Sleaziest Show on Earth." Dreamlander David Lochary, who play's Divine's lover Mr. David, exhorts the squeamish to behold the freaks: "These assorted sluts, fags, dykes, and pimps know no bounds. They have committed acts against God and nature, acts that by their mere existence would make any decent person recoil in disgust." But these outcasts are not content to be mere spectacle: as the enraptured crowd watches a man eating human puke, Divine and her conspirators entrap the audience in a net, shoot them all, and then abscond with their cash. Far from playing to the straight world's conscience, offering assurances of an anodyne queerness, the group is gleefully perverse—a total break from heteronormative expectations.
The rest of the film proceeds similarly: Divine threatens Mr. David with blackmail, falsely accusing him of the murder of Sharon Tate; sick of being under Divine's thumb, Mr. David seeks liberation with Bonnie (Mary Vivian Pierce); Divine attempts to elicit heavenly intervention in a Catholic church but gets distracted by a "rosary job" with Mink (Mink Stole), who eagerly signs on to help kill Mr. David, but not before both kill a cop; later, after a bloody melee in her apartment leaves all but Divine dead, she is raped by a giant lobster. She then descends into a monstrous fugue state; loosed upon Baltimore, she first liberates a suburban housewife from her station wagon and then wanders the city's streets, growling and cackling, trying to maim or kill whoever she can. It takes a squad of trigger-happy National Guardsmen to bring Divine's reign of terror to a close, eliciting cheers from the assembled crowd and evoking the militarized response to urban unrest throughout the 1960s and early 1970s. Never one for subtlety, Waters accompanies this restoration of normalcy with "America the Beautiful."
Viewed in the context of the moment it was filmed, just as the gay liberation movement began to challenge straight society's expectations, it's a perfect metaphor for the nonconforming homosexual unleashed in a city cheap enough to kickstart and sustain not only political organizing but the kind of anarchic moviemaking Waters and his Dreamlanders excelled at. It would not last.
At the dawn of the twenty-first century, with his status as a minor American celebrity secured and his ability to attract studio money intact, Waters took aim at Hollywood sterilization and the gentrification of Baltimore with Cecil B. Demented. One year later after its premier, in the wake of 9/11, and it would be impossible to imagine the Prince of Puke getting millions in studio cash to make a movie about murderous gay movie buffs kidnapping a Hollywood starlet to serve their cinematic ends. But by 2000, Waters had already made five studio-financed films. "There's nothing wrong with making money from doing something you love," he writes in Mr. Know-It-All. In that sense, Cecil, committed to an increasingly untenable DIY ethic, embodies a version of John that had long since disappeared. While Cecil's pack of terrorist-auteur's film-within-a-film was made with "No Budget," Cecil B. Demented cost $10 million, $1 million of which went to John himself to write and direct.
In the film, a band of troubled, sexually frustrated malcontents, hellbent on terrorizing popular taste, kidnap Hollywood maven Honey Whitlock from her own Baltimore movie premiere and force her to become the star of their underground film, in which Honey and her castmates take violent revenge on the ignorant American masses. Cecil's targets are many: from braindead multiplex-goers to the Maryland Film Commission, busy pitching Baltimore as the "Hollywood of the East," the perfect locale to shoot the film Forrest Gump 2: Gump Again. When Whitlock storms onto the Forrest Gump 2 soundstage, guns ablaze, and screams, "Death to all who are cinematically incorrect," she gives voice to an outsized sense of frustration with the studio's deadening cultural output, a characteristically Waters touch of irony in a film funded by that same system. In a moment in which America's media market was grappling with the twin forces of the early Internet and the import of Bill Clinton's Telecommunications Act of 1996, allowing for unchecked media consolidation, Cecil served as a reminder that guerrilla filmmaking could persist under inhospitable conditions.
Cecil B. Demented is no less vulgar or ornery than Multiple Maniacs or any of Waters's earlier films: indeed, the film's other leading lady, former pornographic actress Cherish, is depicted putting a live gerbil up her ass. This scene—recalling, perhaps Divine eating dog shit in Pink Flamingos—is shown on the big screen at the Apex, a longstanding porn theater that closed in 2013 and later became a grocery store. Likewise, Demented's home base in the film, The Hippodrome, a former movie theater, was restored as the France-Merrick Performing Arts Center in 2004. Demented and his troupe, squatting in a vacant theater on the cusp of being made anew in a different era of the city's development, are as much an anomaly as Divine and the Dreamlanders were three decades before; but the possibilities for such avant-garde thinking are far scarcer in the twenty-first century.
Regardless of his status in the annals of Hollywood history, Waters has kept his tongue firmly planted in cheek: "I am going to overdose on respectability and that is a new high," he is quoted as saying in the Pope of Trash catalog. It's clear that he maintains an air of faint bewilderment at the entire situation, even commenting at his Hollywood Walk of Fame star unveiling, "Here I am, closer to the gutter than ever." That incredulity serves the filmmaker well, and while his canonization lends a retroactive sheen of critical acclaim to earlier works that still manage to upset mainstream sensibilities, it also suggests that later, studio-financed works like Cecil B. Demented deserve just as much credit for burning piles of studio money while satirizing the homogenizing force such studios encourage.
In a city like Los Angeles, where desperate actors, writers, and directors seek to distinguish themselves from their competitors, Waters remains a true original, in large part because of his steadfast connection to his hometown. Waters goes to bat for Baltimore in a way that no other major filmmaker so consistently does for the place they were born. Given that, watching the city's fortunes evolve in the three decades between Multiple Maniacs to Cecil B. Demented offers clear insight into Waters's own cleanup campaign, one that's only ever partial, haphazard.
Like Waters, Baltimore still oozes a grungy charm. Waters himself continues to play a key role in the city's oddball qualities, christening the John Waters bathrooms at the Baltimore Museum of Art in 2021 and frequently appearing at the American Visionary Art Museum, a space dedicated to outsider artists. In these gestures, Waters is a stubborn reminder that a different approach to Hollywood is always possible. Yet the temptation to make it big, to be embraced on a larger scale that only the big city can seemingly offer, is an alluring proposition that Waters has never full discarded either: as he wrote in his book Crackpot in 1986, "I've always wanted to sell out. The problem is nobody wanted to buy me." Likewise, Waters is also not inherently opposed to the city changing: in a profile in Baltimore Magazine, he said, "What is called the Yuppification of Baltimore is good for the city. Otherwise, it would just be empty."
Waters, having aged into bizarro auteur status, remains a viable cultural product in Hollywood. Demented would never make it that far: in our own age of established IP-churn and a relentless drive toward nostalgic pabulum, the inheritor of Water's tragicomic egomania would never secure studio backing. In the real world, Waters's consistent emphasis on local production helped developed an infrastructure for filmmaking outside of Hollywood and New York, which enabled a newer crop of independent filmmakers like Albert Birney, Kentucker Audley, and documentarian Theo Anthony to produce work just as imaginative, if less distressing, than Pink Flamingos. David Simon, creator of The Wire, probably the most well-known depiction of Baltimore, directly credits Waters for this, writing in the exhibit catalog, "John Waters began his improbable career of deep cultural relevance with the equally improbable notion that people from Baltimore, Maryland, should be allowed to put stories on film."
Images of an older Baltimore captured in Waters's early films cannot bring back to life a different era of urban possibilities, one in which a group of modestly financed queers could run amok, but this newer crop of filmmakers show that Hollywood—which only slowly rolled out the red carpet for Pope of Trash himself—will never have final say on what's produced. This, above all else, is perhaps John's greatest gift to movie history. Before he'd ever scammed a single Hollywood dime, he learned an enduring truth that's remained true throughout his career: "You could use your friends."