The Uncertain Future of the Queer Beach
These spaces are resilient, but also under threat
In 1947, when the writer Donald Vining visited the coastal hamlet of Point Lookout for the first time, drag queens ruled the beach. Many stood in circles and danced the jitterbug or staged vaudeville shows. Others set up tents, where they welcomed in sexual partners; bathing suits were hung up to signal a tent in use. When Vining passed a tent with a yellow bathing suit and a leopard one out front, a man told him, "That's our kill for today, one leopard and one queen." In a diary entry written on June 29 of that year, Vining remembered a drag queen who marched up and down the beach, shouting for someone named "David." She kept repeating, "I don't want alimony. I just want you to come back to me. You can keep the children. They're all lesbians anyway."
Point Lookout, on the coast of Long Island, New York, was not a natural home for queer life. It was a private beach, fenced off to outsiders. To get there, queer Manhattanites took the train to Long Island, then transferred to a local bus. They snuck onto the beach through a hole in the chicken-wire fence. The most popular part of the beach was its family section, where the boardwalk and bathrooms were located. The gay part of the beach was far more isolated, a wide-open, undeveloped expanse mostly covered in dunes and shrubbery. In some parts, birds nested in the sand. Yet in those abandoned dunes, many queer people in the 1940s found freedom. A gay guidebook in 1949 called it "one of New York's most delightful features," and noted it was "packed with hundreds" of queer people on weekends.
Growing up on Long Island, the future poet Edward Field visited the family section of Point Lookout with his parents often. It wasn't until after he returned from World War II that he discovered the gay area. Field was living at home, commuting into the city for classes at New York University, when he started riding his bike over to Point Lookout. Once, Field caught the eye of a man getting out of his car. "We kind of dallied in the dunes for a while," Field told me recently. Then the man put Field's bicycle into his trunk and drove him to his apartment in Jamaica, Queens. The two began a years-long affair.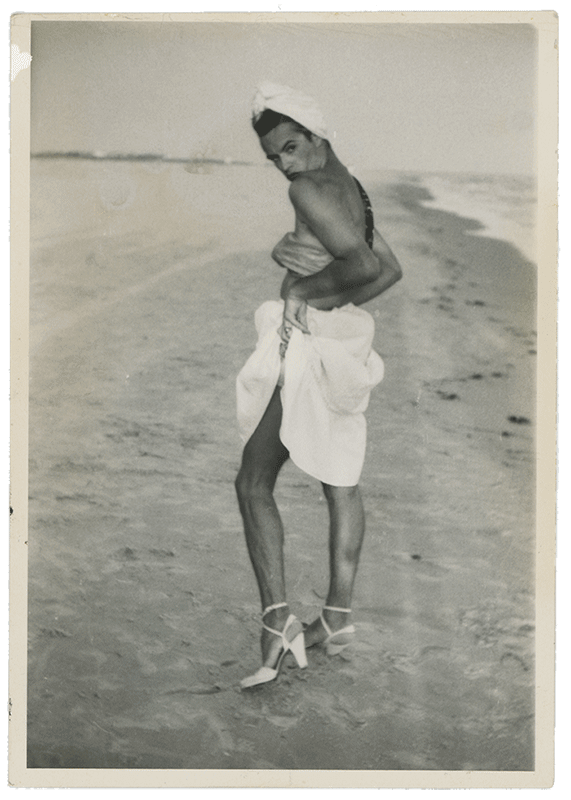 But Point Lookout's moment as a queer paradise didn't last long. A year after his first visit, Donald Vining found that "the face of things changed," as he wrote in his diary on July 3, 1948. "Few of the more screaming belles were there and behavior was relatively inhibited."
One problem was that locals had taken notice. To residents, the queer beachgoers first became a spectacle, then a menace. Field remembered overhearing a father chastising his child, "Stop crying, or I won't take you to the pansies." By 1953, the Long Island paper Newsday complained that "the swish set (Fire Island's too-far-for-us branch) is flowering again at Point Lookout," adding that "there are gay, moonlight revels almost nightly behind the sand dunes." Soon, police began appearing. When he visited Point Lookout in the 1950s, Mandingo Osceola Tshaka, a community activist from Bayside, Queens, saw plainclothes police officers, who wore bathing suits so as not to draw attention to themselves, patrolling the beach. When one officer caught Tshaka in a zebra-patterned bikini, he told him, "Don't you wear that back here anymore, you hear me?"
---
Instead of Point Lookout, queer and trans New Yorkers began flocking to a new spot in the Rockaways, nearly an hour and a half from Manhattan by public transit: Bay 1 and Bay 2 of Jacob Riis Park. It was the northernmost edge of the beach, and in many ways, it was the least desirable section of Riis Park—the waterfront for a soon-to-be-shuttered tuberculosis hospital.
Soon after Edward Field moved to the city, in 1952,he started going to Riis. He didn't remember how he first heard of it, only that Riis, at a certain point, became part of the texture of queer life in the city. "It was the beach everybody went to," he told me. Field went with his friend, the poet Frank O'Hara. He remembered it as "very, very crowded," an oasis of safety even in the McCarthy era. "I never felt danger there." Many other prominent figures found escape in its sands. Audre Lorde went to Riis, too, marveling in her book Zami: A New Spelling of My Name at how she was "full of sun and sand" after her visits. Harvey Milk met his long-time boyfriend, Joe Campbell, at Riis in 1956. Adele Morales, a painter whose abusive husband Norman Mailer stabbed her in 1960, came as well. Field recalled that Morales once showed up to Riis "wearing a bathing suit with cutouts to show the scars."
By the 1970s, a large population of queer and trans people of color in particular found refuge at Riis, a trend that holds true for Riis today. The beach is a space apart, one that the scholar Jah Elyse Sayers calls an example of "queer Afrofuturist placemaking" that "exceeds place or planning." At Riis, "the liberatory potentialities of QTBIPOC sociality" live on.
Yet Riis today is facing an existential threat. New York City is in the process of demolishing the decaying hospital that for half a century walled off the gay part of the beach from the neighborhood around it. The real question is what will take its place. Will the area become a community land trust, as the trans advocacy group GLITS is asking? Or will a developer come in and create a playground—or worse—that will warp the nature of Riis as a queer haven and expose it to additional layers of policing and outside scrutiny?
It is easy to dismiss concerns about the future of Riis as overblown. But queer beaches have always been contested. These spaces appear and disappear, blinker in and out, far more often than many of us realize.
---
On a June evening in 1964, a reverend named Allen Bollinger slipped into the red-brick city hall in the beach town of Cape May, New Jersey. He was there to warn local leaders about a new threat. "Deviates," he told the officials at the city council meeting held that night, were flooding the beaches of Cape May—and the city needed to act fast to protect itself. "We do not want a Victorian Greenwich Village here," Bollinger explained later.
At the time, vacationers in the northeast rarely ventured down to Cape May, a small resort town tucked along the state's southern tip. In the 1950s, Cape May was "forgotten and unfashionable," as one historian put it, dotted with creaky wooden cottages and frequented by a slim set of visitors. If outsiders knew of Cape May, it was more for the city's Coast Guard training center than for its beaches. That very obscurity made it an appealing vacation spot for the gay community.
Soon after Allen Bollinger's bombastic statement, the Cape May City Council gathered business leaders for an emergency meeting to discuss the gay threat. Reports of "undesirables" on Cape May's beaches had ticked up in recent years. Some blamed a new ferry line linking Cape May to Delaware for the first time. One father complained, "What can I tell my young son when he witnesses this mess on the beach?"
Because the gay beachgoers mostly kept to themselves, and weren't necessarily doing anything illegal, the city couldn't arrest them on sight. After some back and forth, the city council landed on an elegant solution. It would ban the outfits that queer male beachgoers tended to wear: tight, skimpy bathing suits. On June 13, the Cape May City Council banned men above twelve years of age from wearing "skin-tight" or "bikini-type" swimsuits. Anyone caught breaking the rule, the city said, would receive a $200 fine, or thirty days in jail.
With their pretext now enshrined in law, the city mobilized against the queer population. Plainclothes police officers patrolled restrooms, boardwalks, and beaches, and arrested gay men. "My job was to run them out of town," one officer reflected later. Signs soon went up outside the beaches, announcing that tight bathing suits on men were now "PROHIBITED." "We are afraid too much publicity will attract more homosexuals, and this will become their hangout," a business owner, who didn't want to be named, told the Philadelphia Inquirer.
That same July, just across the Delaware Bay, a group of police officers and transit leaders gathered for a meeting of the Delaware State Highway Commission. In the sticky summer heat, tensions were running high. The State Highway Commissioner Harry Bonk told the group that his phone was constantly ringing with complaints about the rising gay population on Rehoboth Beach. Parents would not take their kids too far up the beach, for fear of running into a cluster of thinly clothed queer people lounging by the water. Homosexuality, Bonk said, "is widespread, and they congregate like bees in a swarm."
It didn't matter that, as in Cape May, the gay visitors mostly kept to themselves, or that local business owners reported they were good tippers. Rehoboth residents feared that, if word got out about the gay population, it would "shatter the image of Rehoboth as a family resort." Moral panic soon spilled into economic panic, and the gay population transmogrified into a threat to tourism and home values. Authorities on the State Highway Commission decided to mobilize police officers and the K-9 dog unit, and they approved a new police vehicle that would maintain a "virtually constant patrol" of the beach, arresting any disruptive homosexuals. "We will haul them out by the bus load or the truck load," one official told the press. He wanted to send a clear message: gay people weren't welcome on Delaware beaches.
---
There is a rich and well-documented history of backlash to businesses, especially bars, that served a predominantly gay and trans clientele. In the 1950s and 1960s, police regularly raided these spaces, arresting anyone who cross-dressed or was seen holding hands with a member of the same sex. In Oakland, for instance, the owner of Pearl's Bar was charged with allowing "salacious dancing" on its premises.
These stories of raids on private businesses—bathrooms for cruising, bars for dancing—are rightly credited with providing the spark of queer liberation. From Compton's Cafeteria to Cooper Do-nuts to Stonewall, queer and especially trans people of color rose up against police harassment at private businesses, and ushered in a new phase of queer liberation. Activism poured directly out of bars, bathrooms, and donut shops and into the streets.
Beaches don't neatly figure into that history. They are more isolated, often an hours-long trip from the heart of the cities that spawned the gay movement. Yet beaches nonetheless became core gathering points, where queer groups, like the Gay Activists Alliance, set up tables to recruit new members and register queer people to vote. Those glittering stretches of ocean and sand were where many queer people first learned what utopia could look like, together.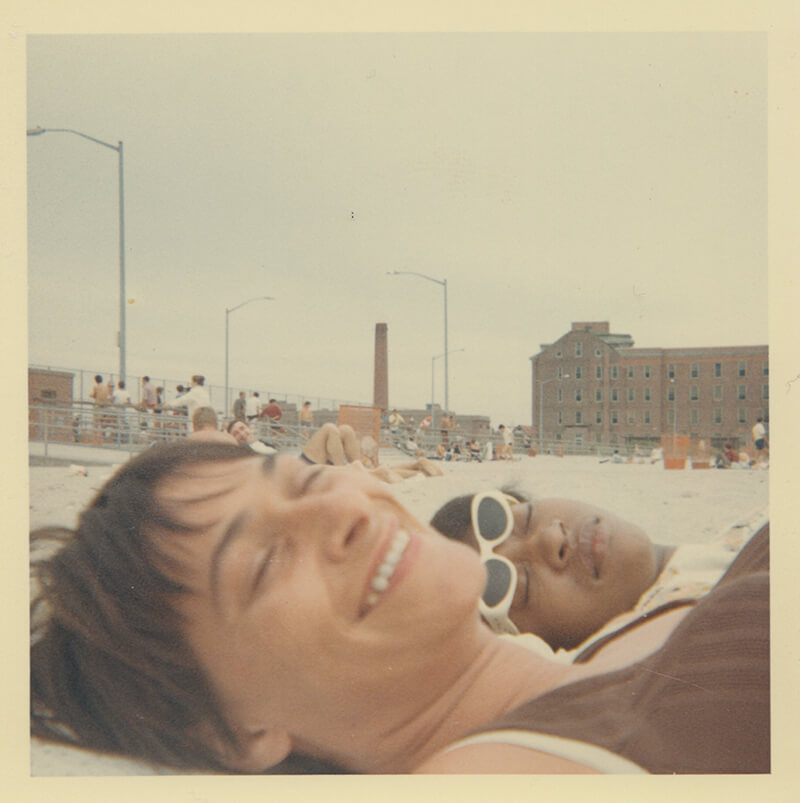 The writer Joan Nestle visited Riis Beach often in the 1950s. In an essay published in the journal "Common Lives/Lesbian Lives," she remembered leaving her apartment in lower Manhattan and taking first the train, then the bus, to Riis, a book always in hand. She could usually pick out the queer passengers, their coolers stocked with beers. Riis was "my riviera, my Fire Island, my gay beach where I could spread my blanket and watch strong butches challenge each other by weight lifting garbage cans, where I could see tattoos bulge with womanly effort and hear the shouts of the softball game come floating over the fence," Nestle explained. Riis was freedom. On the line for the bus, Nestle heard taunts—"is that a man or a woman?"—but, she wrote, "we did not care. We were heading to the sun, to our piece of the beach where we could kiss and hug and enjoy looking at each other." There was power in numbers.
Yet beaches, because of their status as public spaces, were sites of the most contentious clashes between queer and non-queer communities. Wherever gay beaches sprouted up—whether in Point Lookout, New York; Saugatuck, Michigan; Laguna Beach, California—resistance followed. Non-queer families could, and did, frame queer people as invaders of these public spaces. For as little as police tolerated private businesses that served trans and queer people, the queer communities that gathered on public beaches and in public parks seemed to elicit even more fury from the public.
In the 1990s, Nestle drew a map of what Riis looked like in 1958. She remembered a stretch of barbed wire at one end of the beach, a softball field where "the butches swing their bats," and the constant presence of police. In the corner of her drawings are two police vans, positioned ominously outside of the boardwalk. Just past the police cars, where the bus stop was located, Nestle remembered a group of gawking non-queer visitors. "Here the straights stared us," she wrote.
---
By July 1965, shoppers queuing in the checkout line at their local grocery store would have seen an ominous headline splashed across the cover of the tabloid Whisper: "How the Homos Invaded Our Beaches." Inside, the writer—using the winking pseudonym "I. M. Kamp"—complained that "armies of homosexuals have launched the biggest beach invasions since Normandy and Anzio." According to Whisper, "hundreds of thousands of them are encamped along the oceanfront," from Maine to California, donning "sequin-covered bikinis." Especially upsetting to Whisper was the high number of "long-haired young men" who "love to embarrass normal people by exhibiting their naked bodies."
The story apparently made waves, because Whisper followed it up two months later with a triumphant article summarizing government backlash to these gay invaders, from Atlantic City to Long Island to Florida's Gold Coast. Nationwide, it claimed, "more than 2000 limpwrists were arrested" on beaches that summer.
The crackdowns did have a perceptible impact on queer beach communities. In 1967, Cape May's city manager, Jack Needles, gloated to Philadelphia Magazine about his success in pushing out the gay community. "We clamped down on them hard. We had to," Needles said. "The ordinance was probably unconstitutional as hell, but the queers didn't appeal." The queer population either left or, according to Philadelphia, were "forced underground." Many turned to the beaches near Atlantic City, about fifty miles up the shore, at a time when the city had fallen into disrepair; in 1974, Atlantic City lost its only major supermarket. The historian Bryant Simon estimated that the backlash to queer people at Rehoboth Beach and Cape May "added to" Atlantic City's "growing popularity" among the gay community.
Queer people flocked to a new crop of businesses like Mama Mott's, an Italian restaurant that catered to gay men and dished out plates of pasta beneath erotic photos. City officials were thrilled to have anyone moving in, and either overlooked, or didn't notice, the queer character of the new residents. At least for a time. But Atlantic City, too, soon pushed out these new arrivals. In 1976, the resort transformed itself into a gambling hub, and New York Avenue—once teeming with gay bars and breakfast food trucks that weren't afraid to announce that they were "By Gay People—For Gay People"—was re-zoned for casinos. Rents and hotel costs shot up, and developers began snapping up real estate. By the mid-1980s, according to Simon, only about five or six gay bars remained. A decade later, the resort's gay presence had entirely disappeared. "Today New York Avenue is gone," Simon wrote. "There is no gay scene there."
---
Riis—as a queer space, and especially a queer of color space—has been tested before. Since nearly the moment that Bays 1 and 2 gained their reputation as a queer haven, police mobilized to arrest the queer and trans people who frequented it. They turned to an old tactic: enforcing restrictions on clothing.
In a 1971 article in the newspaper Queen's Quarterly, the bookseller Craig Rodwell wrote that, at Riis, police fanned out across the beach and ticketed anyone whose bathing suit was deemed inappropriate. On summer weekends, the police, he remembered, were required to hit a quota of tickets. Once, Rodwell decided to fight back. After an officer told him his bathing suit was too short, Rodwell replied that the police were "harassing gay people." The comment infuriated the officer. "I was grabbed by the scruff of my neck and hauled off to a private room in the bath house," Rodwell wrote. The officer knocked him to the ground and called him slurs. Rodwell refused to divulge his name and address. Enraged, the officer dragged him to a police car and locked him in a nearby jail. When Rodwell appeared in court that night, he was still "bare-footed and in my swimsuit," fresh from his day at Riis.
Under pressure from residents outraged at the sight of queer people, New York governor Mario Cuomo signed a bill in 1983 that banned nudity in public places, which the New York Times reported was specifically written to target beachgoers at Riis. (His political base would have expected as much from him. Six years earlier, supporters of Cuomo put up signs urging Queens residents to "Vote for Cuomo, Not the Homo.") Soon, police were arresting three hundred to five hundred people each summer. A spokesperson for the park spoke of their desire to turn Riis into a "wholesome family area." More recently, when Hurricane Irene destroyed a fence separating the queer part of Riis from the neighboring community in 2011, non-queer residents demanded the fence be rebuilt. "We need the fence, not just for beautification but to keep our families safe," a state assemblyman said.
Riis's status as a public beach is likely why it is such a disputed site. That is the trade-off at its core: public spaces will always invite extra scrutiny from non-queer neighbors and from police. But public spaces, because they are, at least in theory, accessible to anyone, are also necessary to building a community as diverse as Riis. The other longstanding queer beach communities—Fire Island, New York, and Provincetown, Massachusetts—are uniquely insular and expensive to visit, open only to a certain wealthy and mostly white set of visitors. Riis's beauty is its popularity among so many cross-sections of the queer community.
It is the kind of queer space that only beaches make possible—a community formed and nurtured in plain sight, whose special status as a queer haven was spread through whispers, until it became part of the geography of queer life. Many of Riis's visitors have known the risks—that perhaps their chosen haven will not last forever. Queer geography is fragile and ever-changing, an invisible landscape that shifts by the decade, as rents rise or as police surveillance increases. But if there is one thing the history can tell us, it is that these spaces are also uniquely resilient. They will pop up again and again, often in a place where no one else knows to look.