No Pride in Police, No Police in Pride
Resisting the pinkwashing of state violence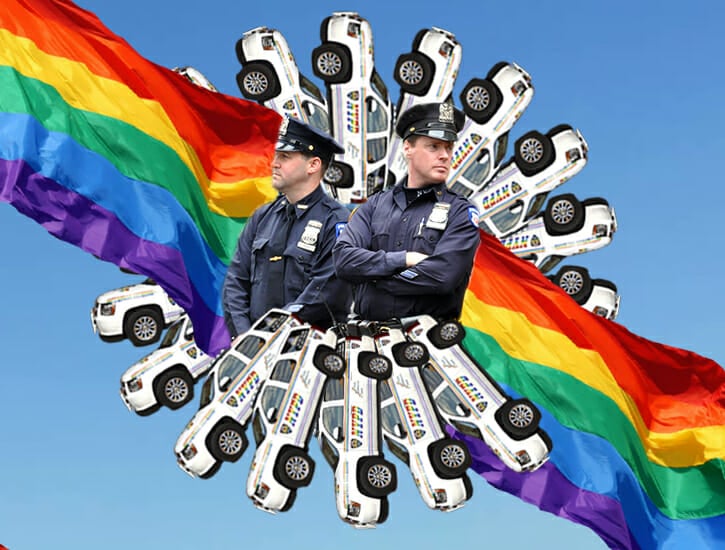 The celebration of the Stonewall Uprising's fiftieth anniversary is awash in contradictions. Though hardly the first of the numerous sit-ins, rallies, and protests staged by queer people in the sixties, Stonewall's multi-day series of demonstrations is widely considered to be a turning point in, if not the birthplace of, the modern LGBTQ movement in the United States. The iconic clashes between police and the outcast queers of Greenwich Village—including sex workers, transvestites, and street people—reflected a revolutionary consciousness that would extend into the formation of activist organizations like the Gay Liberation Front and Street Transvestite Action Revolutionaries. Despite these radical roots, corporate and state-sponsored institutions alike now seize upon Pride season to pave over a struggle founded in opposition to police raids, targeted harassment, and state power.
This June, a comic cast of "allies" has emerged to pay tribute to Pride, many at the site of Stonewall itself. Each is more menacing than the last: famous white woman Taylor Swift, serial hair-sniffer Joe Biden, the NSA, and even ICE. Swift and Biden's public relations cameos at the Stonewall Inn confused the movement with the place that happened to spark an uprising. These lip service homages smear the significance of Stonewall and other acts of insurgency that continue to serve as pillars of trans and queer liberation.
New York City recently announced the creation of a monument to honor Marsha P. Johnson and Sylvia Rivera as key figures in the Stonewall Uprising. One of the speakers commemorating this occasion was Tourmaline, a filmmaker and community historian who has spent years recuperating the radical legacies of trans women of color, including Johnson and Rivera. In her speech, she emphasized that any effort to memorialize these women must leave whole their dogged opposition to respectability and professionalization. In fighting and hustling on behalf of trans and queer people, Johnson and Rivera were, in Tourmaline's words, "unruly and ungovernable."
This June, a comic cast of "allies" has emerged to pay tribute to Pride, many at the site of Stonewall itself.
And despite the corporate frenzy to redraw queer people as a market, rather than a political force, the unruliness embodied by figures like Johnson and Rivera has ignited a counter-movement to honor the radical roots of queer liberation. On the other side of the country, Gay Shame, a San Francisco-based activist collective with anti-prison and anti-gentrification demonstrations dating back to the nineties, is commemorating the fiftieth anniversary of Stonewall with their campaign to kick "Five-O Out of Pride 50." In an open letter, Gay Shame has asked SF Pride to "formally and officially bar the police from participating in all Pride events." Their campaign has gathered video endorsements from a number of notable queer activists, including CeCe McDonald, a prison abolitionist who was incarcerated for defending herself against a transphobic attack; Tommi Avicolli Mecca, a homeless and tenants' rights advocate; and Miss Major Griffin-Gracy, a veteran of the Stonewall Uprising and survivor of Attica State Prison. To date, SF Pride has not issued a response.
Miss Major's endorsement is particularly poignant as a survivor of the carceral state's violence and a key figure in the resistance against it. In her video, she compares the inclusion of cops in Pride as tantamount to allowing predators free access to an already-vulnerable population: "Why would you invite a shark to swim with you naked in the sea?" she asks. "Because you like sharks?" Her testimony recalls physical and sexual assaults she has endured at the hands of police. For Miss Major, gay and gay-friendly cops are merely rainbow-branded enforcers of state terror and violence.
---
Because San Francisco hosts one of the largest Pride celebrations worldwide, Gay Shame's counterprotest has implications beyond the local. Despite the creeping ascendance of tech homogeneity, for many, San Francisco continues to conjure up an image of progressive multiculturalism: a city with a black woman as mayor, a gay man as state senator, and a diverse cast of civic leaders. But according to Gay Shame, these same politicians have been responsible for transforming San Francisco into a "hotbed of neoliberal experimentation, which has resulted in a city that is more than happy to desecrate, dispossess, and dispose (in that order) of houseless folks' belongings."
Journalist Toshio Meronek has covered the city's regular street-sweepings that seize and outright destroy the possessions and informal shelters of its homeless population. In preparation for SF Pride, the Department of Public Works performs this disappearing act to clear away any signs of the housing crisis exacerbated by the city's careless embrace of Silicon Valley capital and high-rise development. Indeed, the diverse leadership of San Francisco has touted the success of their efforts to wipe out tents and long-term street encampments, which only further endangers homeless people—many of them black, brown, and queer.
In the words of Gay Shame, the city aims to project this image of "clean streets" in order to "appease the perceptions/desires of San Francisco by the basic Castro gays, corporations, cops, and Pride tourists" at the expense of longtime tenants and unhoused people who are increasingly being displaced. Gay Shame's emphasis on the relationship between San Francisco's street-sweeping and SF Pride demonstrates that their "Five-O Out of Pride" campaign goes beyond simply kicking cops and corporations out of an annual queer celebration and is linked to a broader effort to combat gentrification and administrative violence against houseless and poor people. Like the Stonewall Uprising and other clashes between queer people and state power, the struggle to remove police from Pride is also a struggle to define the priorities of the queer movement itself.
---
In Rhode Island, a small state that hosts a comparatively large Pride, a compromise effort by organizers to include gay police officers resulted in a clash of competing accounts by police representatives and Pride organizers. RI Pride reported that police reneged on their promise to march a single uniformed officer and motorcycle, instead adding a marked police cruiser running full lights and sirens. Police representatives claim that no such agreement existed. For Justice Ameer Gaines, a Providence-based poet and organizer who served as a Grand Marshal of Rhode Island Pride, any effort, diminished or otherwise, to include the police in Pride proceedings only works to discourage or prevent already marginalized people from participating.
The struggle to remove police from Pride is also a struggle to define the priorities of the queer movement itself.
In the leadup to RI Pride, Gaines hosted a number of community listening sessions to discuss the contested presence of police at Pride as well as the broader struggles of trans and queer people to feel welcome at the event. For Gaines, the effort to remove police from Pride could only be understood as systemic, grounded in the contexts, first, of the state violence continually inflicted upon black and brown people by police and the criminal justice system; and second, of the exclusion dealt to trans and queer people of color by the mainstream LGBTQ movement. "We are claiming this movement for trans people," xe told me, "and claiming this movement [for] beyond just fitting in." Gaines supported the formation of an alternative event to RI Pride, Providence's first dyke/trans people of color (DTPOC) march, which rejected corporate sponsorship and refused to seek permission from the city to gather.
The efforts by San Francisco and Providence organizers to expel cops and corporations from Pride represent a small but substantial cross-section of the broader movement to keep the revolutionary flame of queer liberation alive. In collectives like the Stonewall Militant Front (Austin), Albuquerque Queer Resistance Collective, Queer Trans War Ban (Seattle), and Reclaim Pride Coalition (New York), queer people are wresting power and narrative control away from an LGBTQ professional class that is increasingly cozy with corporations, cops, and the military.
---
Back in San Francisco, envisioning an equitable Pride encompasses the end of the state itself. In imagining a more radical Pride march, Gay Shame have also issued a call to abolish "colonialism, capitalism, the non-profit industrial complex, the military-industrial complex, prisons, and police." According to the group, until these vestiges of gay assimilation are obliterated, there can never be a Pride that aligns with the principles of the Stonewall Uprising.
In the most recent recorded endorsement for "Five-O Out of Pride 50," author and instigator Mattilda Sycamore Bernstein offers a series of visionary incitements: "we need to get the cops out of Pride," to start. She then lists "tacky, oppressive corporations" and "hypocritical, hierarchical nonprofits" as the next targets for ejection. Finally, she declares, "We need to get Pride out of Pride." In Pride's place, she suggests another kind of gathering, an international day where queers occupy immigrant detention centers, police departments, and military recruitment offices in order to shut them down. "All we need," Bernstein says, "is a name."
Utopian as it might seem, this idea of queer people encircling institutions of state power hearkens to the first Christopher Street Liberation Day March, where, according to oral historians, demonstrators marched to the Women's House of Detention chanting, "Free our sisters, free ourselves." This march was only one of the many protests organized around the House of Detention by the Gay Liberation Front in solidarity with incarcerated Black Panther members. Former GLF members recall weeks of demonstrations in open defiance of calls for civility by the Mattachine Society, one of the earliest organizations of the "homophile" movement.
Compared to the massive—and massively funded—Pride events that they protest, the under-resourced activists pushing back against rainbow capitalism are fighting an uphill battle. Like any movement that seeks transformative change, however, toppling corporate interest and state power requires contesting the perceived limits of what is achievable in the lifespan of a social movement, or our collective lifetimes. By weighing the possibility of fully dismantling police and prisons, we move the goalposts of queer liberation from a space of mainstream assimilation into a space of abolition. The fight to remake and unmake Pride begins with this act of imagination, back towards the legacy of Stonewall's unruliness.