The "Free Speech" Cheat
Turning Point USA's dark coup on college campuses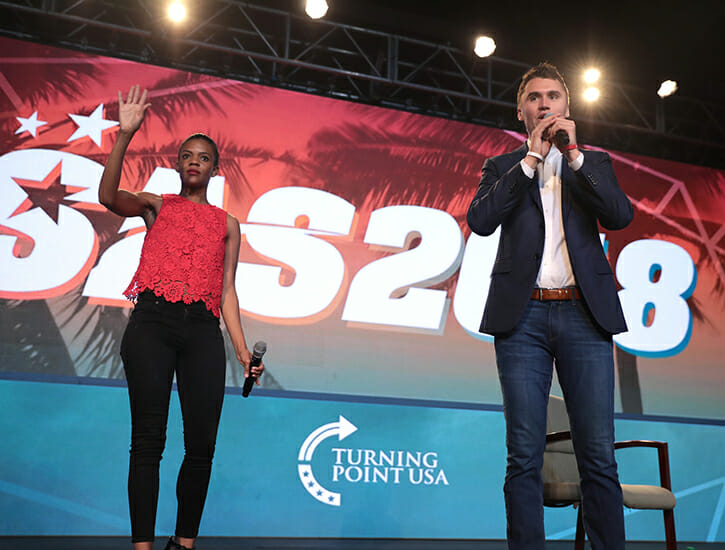 "TPUSA has reframed the issue of campus safety as a heroic battle to save free speech in the caustic co-ed environment." |
Gage Skidmore
College Student Senate chambers are not historically hotbeds of nationwide controversy, but Turning Point USA is set to rewrite the rules of campus politics. The ultra-conservative student group, which could easily be labeled "the youth wing" of Trump Republicanism, has become a legitimized force in campus conservative politics and has gained a reputation for its mix of public shaming and bigoted public statements. Turning Point has staked its claim on changing a college campus culture that they allege leans dramatically to the left. If they can change the political climate for college students, especially on issues like immigration and queer rights, can they change the values of the next ruling generation?  
At Texas State University, the clash between TPUSA and the larger student body came to blows in recent weeks when student leadership proposed a bill to ban it as a student group on campus.
"Turning Point USA definitely films students, including graduate students, and tries to get them fired," said Claudia Gasponi, a senior at the Texas State University and the Student Senator who introduced the resolution to bar Turning Point from the campus. "This is not about student organizations. TPUSA is not a student organization, it is a national menace that uses students to mask their hostile and corrupt agenda."
True to their brand of political sadism, TPUSA has reframed the issue of campus safety as a heroic battle to save free speech in the caustic co-ed environment. And, what's more, they have now brought in high-priced friends from the GOP's Southern power base to help them.
---
With the fragmentation of the GOP during the Obama years, Turning Point was primed to emerge as a leader of a new conservative generation. Based heavily on Donald Trump's national populism and the online right-wing culture of provocation and dog whistles, TPUSA offers something to the post-millennial generation of students that the Brooks Brothers suits at the Heritage Foundation never could: edginess, or at least its appearance.
Turning Point has staked its claim on changing a college campus culture that they allege leans dramatically to the left.
The group was founded by twenty-five-year-old CPAC-styled luminary Charlie Kirk, a man known primarily for trying to speed-talk over leftists in public venues. Styled on the Ben Shapiro model of "owning the libs," he fashioned TPUSA by drumming up controversy, usually an effort to present leftist opposition as foolish on camera. They have since funneled millions in right-wing donations into talk-radio inspired projects like a "Professor Watchlist" of leftist faculty.
This genre of performance politics has helped launch them on over 1,300 college campuses; like conservative activists before them, they are now burrowing into student governments as a way of shifting campus culture in their favor, singling them out as the most efficacious way to gain advantage with otherwise indifferent college administrations. In the same moment, left and progressive college activists have gained traction on issues like sexual assault and campus police through grassroots organizing around procedural mechanisms, like trustee votes and Title IX complaints—TPUSA would rely on the same mechanisms to produce the opposite results.
At the Texas State University, TPUSA-affiliated students captured the leadership of student government by electing Student Body President Brooklyn Boreing—amid student allegations that Boreing received $2,800 in donations and twenty-five tablets from the Campus Leadership Project, a subsidiary of TPUSA that focuses on campus and fraternity elections. Along these lines, Turning Point has been accused of violating campus campaign finance rules repeatedly.
"I think it was widely believed by the student body that the tablets came from Turning Point," said Claudia Gasponi, a point that led her and her student colleagues to press the issue. "They have a lot of power on our campus."
TPUSA's history of being caught using racial slurs and making outwardly fascistic statements, for example recently departed Director of Communications Candace Owens's 2018 comments defending Adolf Hitler, turned the tide for Gasponi. (White supremacists have targeted Texas campuses more than those of any other state, according to the Anti-Defamation League, and TPUSA often creates a slippery slope.) On April 11, the student body voted in favor of Gasponi and co-author Trevor Newman's resolution "Calling for the immediate removal and barring of Turning Point USA from Texas State University and suggesting protecting minority and marginalized populations from their negative campus influence."
Named the "Faculty and Student Safety Resolution of 2019," the resolution cited TPUSA's reputation for campus harassment and the need to distance the campus from an organization that could be a threat to students' safety. They mention that the TSU chapter of Turning Point regularly reports to the national organization, and they argue that doing so cancels its status as a student organization. The President of the Texas State University chapter of TPUSA, Stormi Rodriguez, attended the vote and spoke in opposition to TPUSA. "Do you want this to be your legacy? A legacy of censoring your peers?" she demanded against the sounds of hecklers.
In a move that Gasponi argues was political, Student Body President Alison Castillo issued an immediate veto of the measure, citing it as a violation of free speech. "I have taken time to diligently consider this action and stand firmly by my decision to uphold the First Amendment to the United State Constitution," said Castillo in her letter, redirecting the issue to TPUSA's talking points.
What happened next was a testament to TPUSA's national political strength, and their ability to set the tone for politically charged discussions in public universities. 
After Charlie Kirk fostered resentment about the resolution on Twitter, Texas Governor Greg Abbott entered the mix by retweeting him: "I truly question if taxpayers should still fund schools like this," he wrote. The Governor then cited Texas Senate Bill 18, which would codify support for organizations like TPUSA on campus, applying strict penalties for campus activists who disrupt similar groups. The bill has already passed the Texas State Senate and is now in front of the House of Representatives' Higher Education Committee.
Expectedly, this kneejerk reaction was framed as a defense of conservative speech against censorship by leftist students. Except this was never possible.
"Texas State Student Government has been stripped of all of its power by our Administration," Gasponi pointed out. "Student government resolutions are the University's designated tool to hear student voices. The university doesn't usually listen to our voices, even when we pass a resolution, but it at least stops them from gaslighting us whenever they say, 'Go through the channels! go through student government.' We go through student government and come directly to their door, demanding our voices be heard."
The case at Texas State University does not represent the first time a student body has attempted to stop Turning Point. At Drake University, the Student Senate denied TPUSA's status as a student organization over concerns of violations of student and faculty privacy. Students at Wartburg College, Santa Clara University, Cornell College, and Hagerstown Community College all took similar measures to stop TPUSA, mostly in the form of student government bans. An Indiana University of Pennsylvania organization, the Pennsylvania Student Power Network, organized across 2018 to have TPUSA banned as a "hate group," yet the student government quashed the attempt. This tactic has been used extensively in an effort to raise consciousness and organize mobilization on the issue.
But the public reaction to the events at Texas State University was, for the most part, an example of political theater, and one that favors a tradition that has made TPUSA dangerous. The interventions of the Governor's office and the Senate allowed for a false characterization of campus activism and legislation that would create massive legal protections for conservative and fascist hate speech. While Turning Point managed to manipulate public perception around the student resolution, the purpose of the resolution was symbolic. It was intended to send a message to the administration rather than act as functional ban, a point that Turning Point had no intention of highlighting.
---
On April 11, the University of Illinois Student Government issued a statement supporting the Texas resolution, citing their long history of dealing with Turning Point. "Turning Point USA has a long history of harassment on campuses around the country," they wrote. "[T]hey have publicly distributed the personal information of undocumented students, repeatedly harassed both fellow students as well as professors, built a wall on our main quad as part of a racist statement against Hispanic and Latinx individuals, and most recently held a 'Hate speech is Free speech' event the same day as the Christchurch Mosque shooting."
"I think we have to use every tool in the shed, so to speak," said Adam Miyashiro, a Medieval Literature professor faculty from Stockton University and organizer with the Campus Antifascist Network, which openly supports the resolutions. "Student resolutions are great, but also at the faculty and administrative level, there are steps we can do, such as make sure that speakers from these groups aren't given a platform on campus, as they don't serve the institution's educational goals."
This cover has given TPUSA the ability to storm through campuses with impunity, positioning political resistance as a grand battle to unmake modern democracy.
Turning Point has also been the source of controversies at the University of Illinois at Urbana-Champaign, where TPUSA activists broadcasted a video of Pakistani American graduate student and campus activist Tariq Khan, leading to a string of death threats from white supremacists and public pressure that almost caused him to leave the university.
"They've harassed the hell out of me and incited violence against me," said Khan, who explained that he is not the only student who has been targeted. Khan clashed with TPUSA, he says, when the organization attempted to get the university to reinstate a Native American sports mascot. "[M]y guess is that [the student government] recognize that TPUSA is aggressively and intentionally creating a hostile campus environment for crass political reasons, and the students are over it."
While Turning Point has created a robust rhetorical controversy around "free speech," positioning themselves as the embattled political minority on socialist college campuses, their interventions on campuses cannot be reduced to a function of speech alone.
"This all has direct, palpable effects on people on their campuses—immigrant students, targeted faculty—and an indirect effect of chilling speech in the classroom," said Amanda Gaily, Associate Professor at the University of Nebraska, who was targeted by Turning Point in 2017 for her own gun control activism and support of a graduate student who had been singled out. "TPUSA uses a false front, appearing to be local college and high school kids, but they are really a kind of human shield for the powerful politicians and lobbyists collaborating with the group. They seek to radically transform American universities for the worse, funding racist and homophobic messaging while simultaneously chilling dissent from people who worry about their vulnerable jobs."
"This isn't a free speech issue because I am not advocating that we prohibit conservative student speech or assembly," concluded Gasponi. "I'm only advocating that this specific organization be barred from using campus resources because they are connected to violent white supremacist organizations, threaten and harass our students and faculty, and corrupt our student government."
The volatile campus struggles over terms like "free speech" give Turning Point the umbrella terms it needs to shade all of its pernicious aims, from campaigns against contingent faculty to the public shaming of coeds. And this cover has given them what they appear to want most: the ability to storm through campuses with impunity, positioning political resistance as a grand battle to unmake modern democracy.
While TPUSA has staked their reputation in the defense of "free speech," student activists are increasingly pointing out their material effect on campuses. There is political gain to be made in masking aggressive political mobilization with such rhetoric. But the Texas State resolution, which is unbinding but a tool of influence, is an of speech itself, a call to organize in opposition to the coup Turning Point launching on campuses throughout the country.