Seeing Holes
What can account for Darrel Ellis's historiographic exclusion?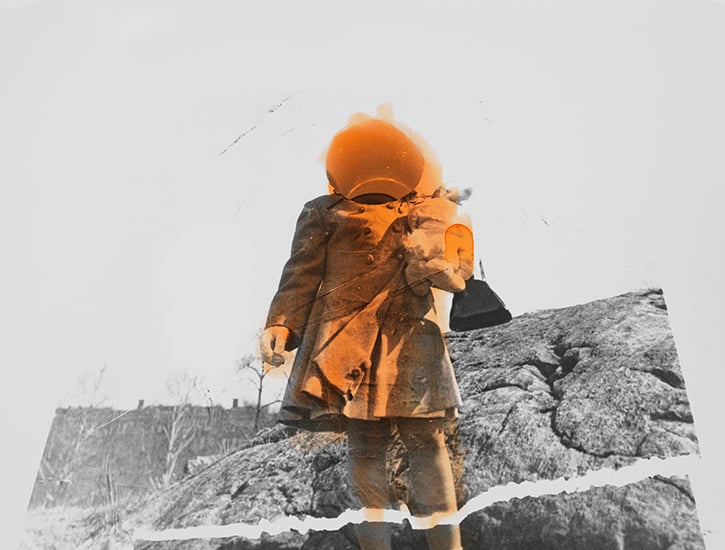 Darrel Ellis, Untitled (Laure on Easter Sunday), ca. 1990. Gelatin silver print with orange ink, 10 ½ × 13 ½ inches. | Photo courtesy of Visual AIDS and Candice Madey
Darrel Ellis edited by Lara Mimosa Montes and Kyle Croft. Visual AIDS, 195 pages.
In one of Darrel Ellis's unforgettable black-and-white prints, a seated Black woman faces a standing little girl, presumably her daughter given their proximity. We can only make out their tidy hairdos and dresses; white rectangles blot out and rearrange the individuals' countenances as well as the space between their bodies, recalling the chaotic figuration of a Cubist painting.
If it weren't for the artist's manipulation, we might be able to glean more information about this seemingly ordinary domestic scene. By stripping the subjects of their expressions and warping the spatial organization of the picture, Ellis denies us insight into the affective depths of the original photograph. On the one hand, the gesture comes off as one of redaction, erasure, disfigurement. On the other, a radical refusal of the viewer's gaze, a vigilant impulse that honors the privacy of the bonds between the two subjects, and perhaps even the artist himself. Can an aesthetic act be corrosive and caring at the same time?
This work, Untitled (Mother and Laure) (1990), indeed presents Ellis's mother and eldest sister, likely at home in the Bronx. Its source image was taken by his father, Thomas Ellis, a professional photographer who documented precious albeit everyday moments in Harlem and the South Bronx: lovers whirling at a house party, kids playing hopscotch, families lounging at the park, elephants grazing at the zoo. For a time, Thomas and his wife Jean also operated a storefront portrait studio. The photographer's extended family was his most consistent subject matter, especially joyous occasions like the weddings and birthday parties for which everyone dressed up in silk and crinoline, eager to pose for the camera. Alongside these cheery tableaux of communion, Thomas took quieter portraits of his wife and children, dignified pictures of endearment, exemplified by the obstructed image that looms out of Untitled (Mother and Laure).
How did Ellis get so buried under the craggy layers of history that his excavation must be recognized as nothing less than Herculean?
To create the artworks derived from his father's images, Darrel drew on techniques of photographic distortion he had been developing since the late 1970s—methods and processes he toyed with throughout his career. These often involved constructing curious three-dimensional shapes, against which he would project and then re-photograph images. Characterized by ominous ripples, absences, and insertions, the resulting images revealed tensions between stasis and transformation, decipherability and abstraction, violation and preservation.
But crucially, he never damaged or altered the original photographs—Ellis's main connection to his father. They never got to know, or even be in the presence of, one another. Less than two months before Darrel's birth, in 1958, a couple of plainclothes police officers approached Thomas—a Black man minding his own business in a public space—arrested him, and then, while en route to the station, beat him to death. The murder was not arbitrary but a deliberate instantiation of police brutality in the ethnostate of America. Thomas was thirty-three, the same age, as it happens, that Darrell would be when, against a catastrophic backdrop of societal apathy fueled by racism and homophobia, he succumbed to AIDS in 1992.  
---
In the early 1980s, Ellis's engagement with his father's archive commenced with tentative monochromatic paintings and drawings that reimagined the original photographs. Rendered in gouache and ink, Untitled (Grandparents Dancing) (ca. 1981–1985), for example, shows the couple rocking back and forth, grandma glancing down at her feet, as if to modify a dance step, grandpa chortling and gazing toward her with great affection. While his detailed portrayal of the couple approaches a photographic sensibility, Ellis utilized a looser, more expressionistic style along the edges of the painting, in such a way that accentuates the fact that, instead of merely replicating his father's photograph in a different medium, he was making it his own, grappling with the lives of his forbearers while speculating on his own subjectivity and authorship. By this point, Ellis was an up-and-coming artist, having already participated in the artist residency program at MoMA PS1 as well as the Independent Study Program at the Whitney Museum of American Art. After learning about this body of work, exhibited in his first solo show, Drawings from My Father's Photographs, at Anichini Gallery in 1983, his mother entrusted him with a trove of his father's negatives, which became the backbone of his ruminative practice as he mined these familial histories, time and again, across painting, drawing, and photography.
"When I look at those photographs sometimes, all I see are holes," Ellis told the writer David Hirsh in 1991. "It bothers me. I say, 'God, there are so many holes in these pictures.'" To Ellis, his father's photographs were not the missing link between past and present—but an archive that more fully brought into view a profound sense of loss. The holes were an affront to wholeness, to narratives of coherence, epitomized by his father's idealizing imagery of the postwar African American family. Growing up Black, gay, and in the wake of his father's murder, the artist unsurprisingly felt that many aspects of his social identity and lived experience differed from what the photos modeled. His several selves could not be integrated; they struggled for recognition and care. Making art was how he confronted the fragmentation—by creating further fragmentation. As he put it, the holes served as "the raw material I need to talk about, the fact that it's gone, that it doesn't exist anymore." Perhaps it's one thing to see holes and something else to dig them, but in Ellis's conceptual artistic practice, these activities were one and the same.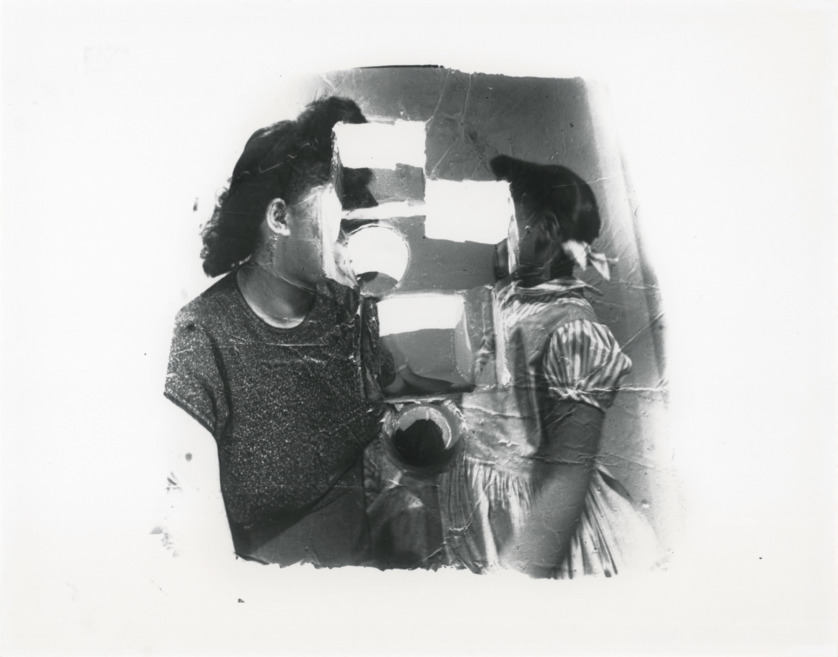 Earlier this year, Candice Madey Gallery in New York announced its representation of Ellis's estate with a riveting exhibition that celebrated his works of portraiture. Titled A Composite Being, the show drew considerable attention to the artist for the first time since the 1990s. Following this exhibition, Visual AIDS—a contemporary arts organization that incubates shows, initiatives, and publications related to HIV/AIDS as well as its many-hued art histories—has published the first monograph on Ellis. Edited by Lara Mimosa Montes and Kyle Croft, the richly illustrated book features gorgeous essays by Derek Conrad Murray, Tiana Reid, and Steven G. Fullwood; a transcription of Hirsh's rare interview with Ellis; a tender roundtable, moderated by Ariel Goldberg, between artists Sadie Barnette, Alanna Fields, S*an D. Henry-Smith, and Paul Mpagi Sepuya; and useful materials about Ellis's biography, artistic methods, and archives. Though the voices represented in the book refuse a singular perspective, much like the artist's anamorphic images, they collectively endeavor to valorize his art and contextualize his life. More than a merited project of recuperation that asserts his centrality to art histories of 1980s New York City, the monograph seeks to start meaningful conversations about the aesthetic and political reverberations of his work in the present.
This monograph makes clear that the political dimensions of loss and longing not only infused Ellis's art but also made it possible in the first place.
But make no mistake: up until this resurgence, Ellis had been left out of art history, an omission at once predictable and perplexing. Preparing to write this review, I asked a few friends—art historians and artists I consider well versed in Black, queer, and AIDS-related art of the 1980s—if they had heard of him before this year. Most said no. For me, the name "Darrel Ellis" didn't ring a bell until I recalled Hirsh's chapter on his work in the classic volume Disrupted Borders: An Intervention in Definitions of Boundaries, edited by Sunil Gupta (the book, not solely focused on HIV/AIDS, is also dedicated to Ellis, who passed away right before it went to print). Returning to my copy, I see that I underlined two heavy sentences about the end of his life: "His undressed body laid in bed for days before being found. He had developed, after intense struggle, a primary self-love which becomes the most prized possession of many people with terminal illnesses." I was at a loss for words when I first read these lines several years ago, just as I am now.
What can account for this historiographic exclusion? How did Ellis get so buried under the craggy layers of history that his excavation must be recognized as nothing less than Herculean? Even with the stultifying whiteness of art history and the art world at large, the elision of Ellis is far from self-evident. His work, after all, was spotlighted in key exhibitions such as Witnesses: Against Our Vanishing at Artists Space in 1989 and New Photography 8 at the Museum of Modern Art in 1992. His contributions to the former show—a monumental exhibition about HIV/AIDS—were two ink-and-wash paintings based on portraits of himself taken by legendary white gay photographers Robert Mapplethorpe and Peter Hujar in 1981. Eight years later, Mapplethorpe and Hujar had both died of AIDS, and Ellis was likely aware of his own sickness. Given Mapplethorpe's well-known racism and exploitation of Black models, Ellis's transcendent Self-Portrait after Photograph by Robert Mapplethorpe (1989) is a particularly brilliant and shrewd act of appropriation, of remaking himself as both author and muse at a later point in his career. With his slightly parted lips and alluring eyes, Ellis is as beautiful as he is ghostly. Infinitely more complex, sophisticated, and queer than any photograph by Mapplethorpe, the work might also offer an elegy to the artists who had died, and would soon die, during the AIDS epidemic. It could even function as a future-anterior death mask—a memorial to himself.
My theory about the lack of scholarly, curatorial, and critical engagement with Ellis—prior to the springtime show at Candice Madey and this monograph—is that his art was, and remains, challenging to situate in the critical discourses and aesthetic practices of his era. Compared to the work of contemporaneous practitioners we now regard as giants of Black gay art, including Glenn Ligon, Lyle Ashton Harris, Isaac Julien, and Rotimi Fani-Kayode, Ellis's oeuvre is uniquely mystifying. His practice never stuck to one medium or form; it swung between photography, painting, and drawing. His work concentrated intensely on a narrow familial archive—not a common preoccupation for queer artists at the time. He died of AIDS-related causes, but the virus never manifested in his art in a way that was legible or political. Indeed, one reason why I appreciate that Visual AIDS brought this book into being is that the standard canon of HIV/AIDS art history tends to foreground cultural activists. Yet practitioners who did not broach the disease head-on, or who responded to it in more pensive and nuanced ways, are equally important for us to accentuate. This monograph makes clear that the political dimensions of loss and longing not only infused Ellis's art but also made it possible in the first place. It will be exhilarating to follow how the reemergence of his work might guide a younger generation of practitioners and thinkers as they chart and critically reimagine the confluences of Blackness and queerness in the visual field.