Against Our Vanishing
Cruising the queer archives of a disappeared Boston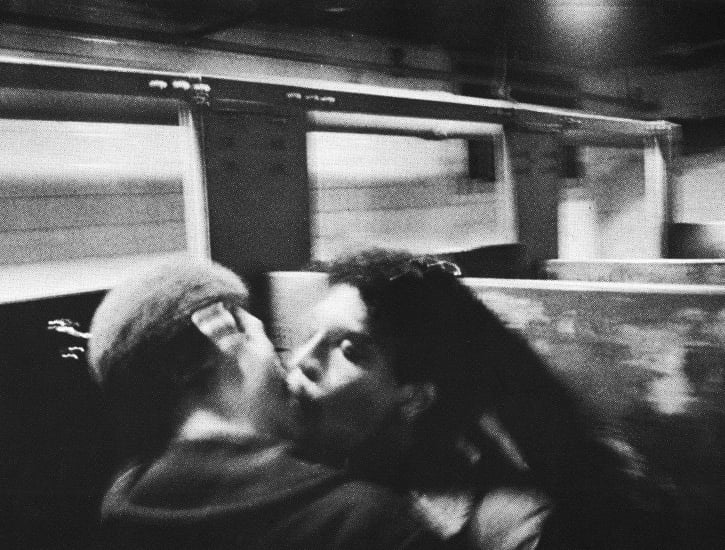 #25 (The Theater Project, Kiss) | Christian Walker
Before the publication of her photo book The Other Side in 1993, Nan Goldin asked her old friend Shellburne Thurber to return to the site of its namesake, the decadent drag bar in Boston that played slightly passé disco. Twenty years earlier, it had been their nightly hangout as well as where Goldin had taken her earliest black-and-white photographs of queer life: glamorous, resilient queens duking it out and holding court before dolled-up and doting audiences. Located in Bay Village, The Other Side was the only nightlife space that truly welcomed drag queens and trans women outside of the Combat Zone, the red-light district downtown.
Thurber met Goldin, a few years her junior, in the darkroom at the School of the Museum of Fine Arts, Boston, in 1974. Beyond their shared interest in photographing friends and family with tenderness, they had both just been dumped by the same guy, so bonding came easily. But by the early 1990s, Thurber was the only one in their loose circle of fabled artist friends still based in Boston. David Armstrong, Philip-Lorca diCorcia, Mark Morrisroe, Pat Hearn, Gail Thacker, Jack Pierson, and Tabboo! had all moved to New York City more than a decade earlier. These artists would soon be known as the "Boston School," a pretentious term ironically coined by Goldin and later embraced by curators Lia Gangitano and Milena Kalinovska in their landmark 1995 exhibition of the same name at the Institute of Contemporary Art in Boston.
As a favor to Goldin, Thurber strolled from her apartment in Chinatown to Broadway Street in Bay Village to take the photograph of the building, which was stubbornly still there, much like the photographer herself, even though the bar had been shut down by the Boston Licensing Board in 1976. The closure was the culmination of a bitter and prolonged battle with the Bay Village Association, which objected to the noise, litter, sex work, and anti-gay violence that The Other Side, along with its sister bar Jacques across the street, brought to the mostly residential neighborhood. Thurber's austere photograph captures the exterior of the dilapidated building as it had stood for fifteen years, unoccupied and unloved. Painted navy blue with white downward stripes, the façade is emblazoned with the traces of the old sign as well as graffiti tags that fittingly say "wild" and "pain." Appearing on the final page of Goldin's photo book, the image is the last picture of the space I've found. It is a testament to the bar, which, as the borrowed title of the photo book suggests, represented much more than a physical community space. For Goldin, Thurber, and many others, it was a beacon of queer and trans possibility.
Since March 2020, I've returned many times not only to Thurber's image but also, on meandering walks through the emptied streets of Boston, to the former site of The Other Side. Torn down in the mid-1990s, the building was eventually replaced by stylish brick condominiums. On the other side of the street, Jacques, the city's oldest running gay bar with a history that stretches back to the 1940s, shut its doors as a result of the Covid-19 crisis, its windows covered for sixteen months with outdated posters promoting in-person drag shows. Its silent and derelict state recalled Thurber's picture.
But—mercifully—Jacques will reawaken from this agonizing pandemic on July 16. One wonders if the ground floor will soon be dominated once more by moronic bachelorette parties, if the basement will still, on occasion, thrum with queers dancing to the disco version of Dinah Washington's "What a Diff'rence a Day Makes," just like at The Other Side half a century ago.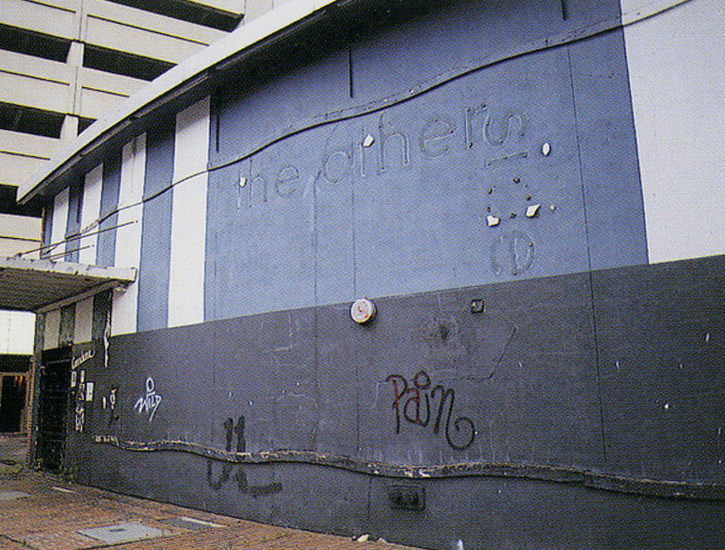 ---
I can usually recall the precise time and place I learned about an artist or delighted in an artwork, but my first encounter with Goldin's photographs is impossible to pinpoint, as if they have always been a part of my personal musée imaginaire. For a queer kid in Boston, nothing is more glorious, more necessary, than the knowledge that decades before you were born, Ivy strutted in a vintage skirt suit through the Public Garden; Bea, always breathtaking, posed hand on hip in front of a corner store on Grove Street; and friends gleefully stuffed their faces with birthday cake on the bank of the Esplanade. Even as many of these sites look different today or, like The Other Side, were razed in the march of gentrification, Goldin's radiant friends continue to reach out from the page with remarkable vitality. The unabating power of her photographs is that, though they are records of a vanished world, they remain oriented to a future that we might, taking a cue from the past, call into being.
The photographic archives of this history become tools of survival that work against our vanishing and toward our liberation.
This preservation of experiences and relationships, the good and the bad, has long been Goldin's explicit intention. As she stated in 1986, "The major motivation for my work is an obsession with memory." The battle against forgetting became increasingly important as the HIV/AIDS epidemic decimated her community, resulting in a tremendous loss of life and potential, social formations and spaces. When curating a group show about the virus at Artists Space in New York City in 1989, Goldin chose the title Witnesses: Against Our Vanishing. Then back in Boston for rehab, she picked the title based on a line of poetry a housemate had shared with her. Witnesses: Against Our Vanishing suggests that works of art—and the photograph in particular—are crucial to not only the documentation of precarious queer culture, but also its survival in the most existential of crises.
As I attempt to register Covid-19's apocalyptic effects on contemporary queer life, that odd prepositional phrase—"against our vanishing"—has been on my mind. In the face of profound loss and societal reconfiguration, the phrase seems to encapsulate the peculiar amalgamation of alarm, depression, desire, and resolve that pulses through queer communities today.
Dozens of critics, myself included, have analyzed the relationship between Covid-19, HIV/AIDS, and queer historical memory, but while this assortment of writing offers wonderful insights, a focus on the intersections and divergences of these two pandemics has distracted from a critical reassessment of another cornerstone of queer history, namely gay liberation before the arrival of HIV/AIDS. As the pandemic comes under control in the United States and we consider how queer communities will—or should—reconstitute themselves in public space, the history of gay liberation can offer diverse, capacious, and generative archives of speculation and provocation, particularly with regard to spaces of nightlife and sex. More than artifacts tinged with nostalgia and longing, the photographic archives of this history become tools of survival that work against our vanishing and toward our liberation.
---
Between the rise of a robust liberationist politics in the early 1970s and the onset of the AIDS epidemic in the early 1980s, the Boston area was an important gay hub of discourse, activism, nightlife, and sex. Boston and Cambridge were home to a range of queer newspapers, presses, political organizations, collectives, coffeehouses, cooperatives, bars, nightclubs, and cultural festivals. Identities were produced and consolidated in public space. To a certain extent, coming out was synonymous with going out, connecting with others, and breaking down the barriers between private and public, personal and political. To be gay meant attending the Pride March on the Boston Common; dining out at the women's restaurant, Bread and Roses; going to a political meeting at Charles Street Meeting House; gossiping over beers at Sporters; and cruising in the Fenway Victory Gardens. Specific spaces contributed to pioneering political discourses and bold artistic practices, fostering communities that often, though certainly not always, cut across lines of age, class, sexuality, race, and gender. As the 1970s went on, divisions materialized in the movement with regard to gender and race, as exemplified by the activism of the Combahee River Collective, Boston's Black feminist lesbian socialist organization, which pointed out the complex intersections of systems of oppression.
Paralleling the political developments, spaces of nightlife unearthed new forms of intimacy. At The Saints, a lesbian bar in the Financial District, Amy Hoffman, editor at Gay Community News, recalled the thrill of being in the company of other lesbians:
When I had been dancing for hours, hugging briefly one woman then another, jumping up and down, music blasting—Patti LaBelle, "Voulez-vous couchez avec moi / ce soir"—a moment would come when I would feel ecstatic with love for everyone, every single one of us, all of us lesbians together, even if I didn't have anyone to go home with.
Whereas the bar attracted bankers during the day, it transformed at night into the blissful women-only dance party described by Hoffman. The Saints was run by a working-class multiracial lesbian collective of five women who lived together and were also sometimes lovers: Donna Boucher, Donna Senay, Merry Moscato, Sandra Monroe, and Sandra Goings. They reported, however, to the bar's owner, a straight man who benefitted from the business arrangement. To minimize the chance of homophobic violence—always present due to the desolate backdrop of the Financial District—the bar never listed its address or phone number in community publications. Yet the guarded nature of The Saints also undoubtedly enhanced its erotic appeal and strengthened community bonds.
When the relationship between bar owner and collective took a turn for the worse in September 1980, he fired the women, putting an end to the nighttime lesbian operation. As reporter Jil Clark memorialized The Saints in Gay Community News, "All of us—even those of us who returned there only once in a season—feel a little shakier in our daily lives without the knowledge that we could escape that evening if we couldn't take any more of the world's hostility toward lesbians." Accompanying Clark's final interview with the collective members is a photo by Marie Favorito, printed three times in a row, presenting three of the women engaged in a conversation outside of the bar. In the second and third iterations, the tonal contrasts decrease, underscoring the lamentable fact that The Saints had vanished overnight, even if memories of the iconic bar would live on in perpetuity.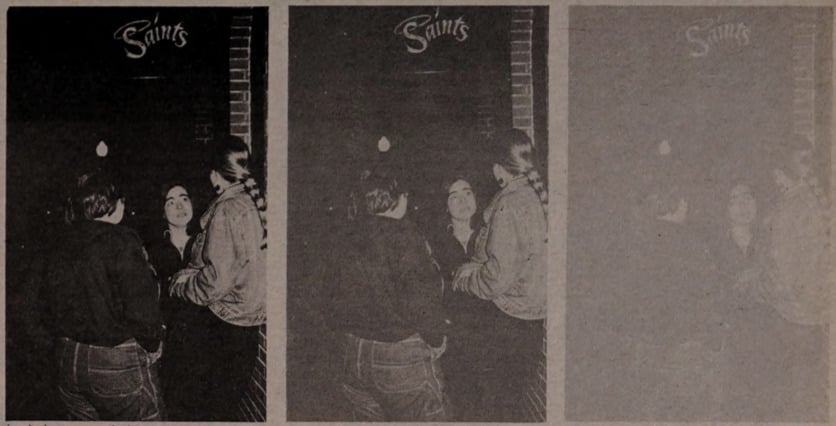 ---
In the early 1980s, Christian Walker immersed himself in the shadows of the majestic albeit decaying Pilgrim Theater, snapping pictures of the copious erotic encounters between men and sometimes trans women. Built as a vaudeville venue in the 1910s, the establishment adapted to the times, turning into a burlesque theater that screened pornographic films in the 1960s. The Pilgrim was located on Washington Street at the heart of the Combat Zone, the wild adult entertainment district officially created by the city when, in order to construct the new City Hall and Government Center, the city demolished Scollay Square, then crowded with strip bars and burlesque clubs, and tried to contain the sex industry to a few blocks further downtown. Along Washington Street between Kneeland and Boylston, the Zone throbbed with neon-trimmed adult bookstores, strip clubs, and porno palaces.
These spaces of sleaze and stickiness were where the lofty discourses of gay liberation could actually come to life.
Uncontrollable, hedonistic, and incessantly debated, the Zone contrasted sharply with the rest of the city. Because the district scrambled social norms of gender and sexuality, bringing together people of different economic and racial backgrounds, queer people flocked to it for both fun and work. While some gay and trans patrons sipped cocktails at Playland or Carnival, others, in pursuit of sex, frequented the bustling peep show booths of the Jolar Cinema for efficient encounters, or settled into the Pilgrim or State Theaters for lengthier cruising experiences. Though these nearly interchangeable theaters screened straight porn and presented cisgender and sometimes transgender women as strippers, their audiences were overwhelmingly in search of homosexual encounters—even if many men were closeted in the straight world or did not identify as gay. Gay porn played at other movie houses downtown, but the Pilgrim and State Theaters attracted a more diverse clientele, which expanded the erotic possibilities. On top of these gay cruising destinations in the Zone, there were always bathhouses like the Club Baths or the Regency Health Spa.
More than sites of porn consumption and sex, these establishments functioned, according to critic Michael Bronski, as "community gathering places" as well as "places to enjoy and to reaffirm—publicly reaffirm—gay male sexuality." In other words, these spaces of sleaze and stickiness were where the lofty discourses of gay liberation could actually come to life. This dense, publicly accessible sexual culture formed what theorist Michael Warner called a "counterpublic." For Warner, "counterpublics are 'counter' to the extent that they try to supply different ways of imagining stranger-sociability." They are defined by their capacity to transform the private to the public, to construct new and unexpected worlds of intimacy.  
Walker, a Black gay photographer who studied at the Museum School, was no stranger to the district. His earliest black-and-white pictures from the late 1970s capture the gritty chaos of Washington Street in the bright light of day: a man in a wheelchair smiling with a boombox on his lap; a mother and child rushing by as a client creeps into the Naked i Cabaret; and a pedestrian munching on an apple in front of a crammed window display of watches and charms.
The idea to develop a project about the Pilgrim Theater derived from his personal experiences cruising and exploring every nook and cranny of the otherworldly building. Walker belonged to this twilight community of queers and misfits that convened in what he dubbed "a contemporary urban temple" where "the profane and the poignant coexist." Taken without the help of any additional illumination (beyond the faint lighting fixtures and the soft glow of the cinematic screen), his blurry black-and-white photographs chronicle an impressionistic pilgrimage under the marquee and across the foyers, sprawling orchestra pit, brass-railed balconies, loges, connecting stairways, and downstairs urinals. Sparsely situated throughout the space, the ghostlike men and trans feminine individuals of different races loiter, drunk and high, wishful and jaded, cruising for sex, connection, and sustenance.
Walker's methods of engaging with his subjects varied. While some individuals certainly agreed to be photographed, it is likely that the artist did not ask or receive permission from others, passed out on benches or fellating in murky corridors. His racial identity also influenced patrons' responses to his project. As he remembered, "Some people thought I'd stolen the camera, because I'm Black. Others thought I was a voyeur and that there was no film in the camera. After a while, I think they'd just say, 'Oh, it's that weird Black dude with the camera.'"
In the summer of 1983, Walker exhibited a selection of his photos in a solo show called The Theater Project at the C.A.G.E. Gallery in the South End. Two years later, Nexus Press published a book of his pictures, along with a couple of poetic paragraphs written by the artist. Today the book is out of print and almost impossible to track down. Narrating his descent into the bowels of the building, toward the hustle and bustle of the bathroom, Walker reminisced, "A steep stairwell leads down to a damp windowless lobby, where I sometimes drank, smoked and slept, and sometimes found myself engaged in odd catalytic romances, half believing that I could be transformed by a kiss from a stranger." The final image of the book is a perfect union of two Black men, lips locked and eyes closed, one pressing the other against the partition between bathroom stalls. Beautiful like a Botticelli angel, the man facing the camera basks in his own luminosity, in the dynamism of his wanting and being wanted. The background cruising shenanigans pale in comparison to this kiss of monumental proportions. Representing queer Black desire with gravity and grace, it is, if you ask me, one of the greatest photographs of a kiss of all time.
---
Alongside the 1983 exhibition, Walker previewed his series in Fag Rag, a gay liberation newspaper, a copy of which somehow ended up in the hands of Boston Licensing Commissioner Joanne Prevost Anzalone. While the pervasive sexual activity at the movie houses had already been on her radar—just weeks before, in fact, her office ordered the State Theater to shut down temporarily—Anzalone used The Theater Project as evidence of "kinky gays," and called for a five-day closure of the Pilgrim. In response, Walker commented to Gay Community News, "It's a very outrageous situation that a document, a piece of art, is used as a way of harassing men . . .  There's a strong historical basis for sex going on in theaters in Boston—it's been going on for forty years." Though the Pilgrim would reopen, this incident marked, according to David VanHoy, Walker's boyfriend during this period, "the beginning of the end" of both the Pilgrim and the Zone at large.
History demonstrates that queer culture is at its most dynamic when it's perched between heartbreak and healing, between loss and liberation.
Eerily anticipating this brouhaha in her review of Walker's exhibition, Cindy Patton noted that the importance of The Theater Project was its contribution to the making of "our history before even the traces are destroyed." Sure enough, the Zone contracted as the 1980s wore on. A number of interlocking historical phenomena account for this: local urban renewal efforts, the enlargement of Tufts-New England Medical Center, the popularization of VHS, the privatization of pornography, HIV/AIDS, intensified homophobia, and rising real estate value. Cognizant of these developments in the Zone and across public culture, Patton asserted that queer historical memory was essential to the future of queer politics. As she prophetically continued, "The writings of gay liberation are only part of our movement's history: [registering] impressions of the daily elaborations of our culture that are invisible to the mainstream (straight and gay) is an equally important political task." In addition to serving as an archive of a rapidly diminishing queer public sexual culture, The Theater Project, Patton insisted, could be a blueprint of liberation.
Almost four decades later, the vibrant sexual counterpublics of old gay Boston are all but lost. Few people under the age of fifty have even heard of the Zone, now overrun by New American restaurants, luxury gyms, opulent condos, and refurbished theaters. Meanwhile, many LGBTQ individuals who came of age in the last decade have never even been to a local gay bar, their sexualities depressingly defined and regulated from the start by digital cruising platforms. But while Covid-19 no doubt accelerated the vanishing of the traces of a publicly accessible sexual culture, one might also suggest, or at least hope, that the pandemic's aftermath could serve as a basis for rejuvenation. History demonstrates that queer culture is at its most dynamic when it's perched between heartbreak and healing, between loss and liberation. Essential to Warner's vision of the counterpublic, moreover, is the potential for transforming private life, for staging scenes of public intimacy among strangers. Cruising these queer photographic archives constitutes a kind of world-making project, one that can bring about fresh modes of sociability and sexuality in the wake of Covid-19.
---
After his move to Atlanta in the mid-1980s, Walker continued to produce original and penetrating works of photography, foregrounding questions of sexuality, race, and representation. His artistic career showed great promise; his photographs appeared in two-person shows with famous artists such as Deborah Willis and Carrie Mae Weems, and curator Thelma Golden included his Miscegenation series in her ground-breaking exhibition Black Male at the Whitney Museum in 1994. Then suddenly, inexplicably, his name vanished.
When I started to write this essay, my understanding was that Walker had retired from the art world and was living in Seattle; at least this was what Michael Bronski, who introduced me to The Theater Project a couple of years ago, had heard through the grapevine. Since I hoped to interview the photographer, Michael dug into his 1970s networks, wrote some emails, and put me in touch with David VanHoy, Walker's boyfriend during the Boston years.
It turns out that Walker died in 2003. He was about fifty years old. At some point in the mid to late 1990s, in transit between teaching a course at the Banff Centre in Alberta and giving a talk at the University of Colorado, Boulder, he got derailed in Seattle, where he lived on the street, homeless and addicted to drugs, for about two years, then in a halfway house for at least a couple of years after that. Allegedly, his death was caused by overdosing on heroin and cocaine. One of the first Black gay photographers, anywhere, to make openly queer work about his own experience, Walker died in poverty and obscurity. His devastating story coincides with a shameful pattern of Black queer artists being erased from the history of art.
Walker's life and work are urgent reminders that loss and liberation have been—and always will be—entangled for queer people. Even if nightlife spaces vanished, even if their regulars disappeared, even if their generous chroniclers died prematurely, a photograph of a kiss in a basement bathroom stall still somehow exists. And it still has transformative powers.