London Calling
A new book surveys London's long history of immigration
Migrant City: A New History of London by Panikos Panayi. Yale University Press, 384 pages.
In the first weeks of lockdown, which began late last March, silence settled over London like a blanket. It was silence of a sort that the city hadn't experienced for a century or more—except, perhaps, on a particularly uneventful night of blackout during the Blitz. As the roads emptied, even the background hum of traffic disappeared. Walking past my local hospital last spring, then home to one of the fastest-filling intensive care wards in the country, I was surprised by how still things seemed outside.
Instead, people expressed their discontent mostly soundlessly, on social media, or in the fresh, angry graffiti that cropped up on city walls. SEIZE PRIVATE CLINICS FOR NHS NOW, declared a building site fence at Tottenham. HANG BORIS, proclaimed a wall overlooking the A12, the urban motorway that slices through the city's eastern neighborhoods, to a deserted road below.
London's docks were the fulcrum of a form of globalization that preceded our own.
As the weather warmed, new sounds came to replace the old. I live on the ground floor of a typical terrace in north-east London, one of thousands of red and yellow brick homes built as the city expanded along new suburban railway lines towards the end of the nineteenth century. Most of the houses on our street are subdivided into flats; as people opened their windows to catch the spring air, the back gardens were filled with the sounds of lives suddenly confined to quarters, overlapping in a way that the usual rhythms of work and education would never have allowed. Among my immediate neighbors, I could hear half a dozen different languages and accents: Spanish, Arabic, Yiddish; Aussie, Caribbean, and Estuary English. The particular mix was unique, but the experience is commonplace for this city. As Panikos Panayi tells us in Migrant City, a new history of London told through the lives of its immigrants, some three hundred languages are spoken in London today; more or less every country on the planet is represented here, somewhere.
The UK's capital, in the academic jargon, is "superdiverse"—a term that conjures up movement and change at a dizzying pace. But Panayi wants us to see the continuity in this story. London, he argues, stands out among other European cities in terms of both the scale and duration of the migration that has shaped it. For most of the last two thousand years, it has continuously sucked in new arrivals: rural migrants from country to town; visiting merchants and craftsmen; displaced dissenters and refugees; professionals, hustlers, revolutionaries, and entrepreneurs. "No immigration," as Panayi writes, "no London."
Panayi presents Migrant City as "an attempt to demonstrate that immigrants constitute real Londoners in the same way as the white British do." For the most part, he allows the stories to speak for themselves rather than press an overt argument. All the same, the book arrives at a tense moment. Even before the pandemic began, the past year was supposed to be a moment of reckoning for London. The right-wing project that delivered Brexit in 2016 and a crushing majority for the Conservatives in 2019 relied in part on the caricature of London as an alien intrusion into the national body. In recovering the city's history of migration, Panayi offers a quiet rebuttal.
---
In mid-April of last year, I cycled to the top of the hill at Alexandra Park, one of the higher points in a line of hills that stretch across north London. According to some accounts, this is about as far as the glaciers got during the last Ice Age, depositing their spoil above what is now the river Thames. In full sunshine, the air was clear in a way I've never seen before or since; it was possible to pick out detail across almost the entire city, all the way to the hills in the far south. In weather like that, your eye is drawn to the sparkling glass and steel towers of Canary Wharf at the top of the Isle of Dogs, the peninsula made by the Thames as it meanders past London's East End. The towers don't stick out quite as much as they used to, even two decades ago: once a relatively low-rise city, London's economic boom in the twenty-first century has been accompanied by the spread of these starchitect baubles. Now, they fan out along the river, all alike in their attempts to stand out from one another, each an advert for itself.
Canary Wharf—the former docks that now form one part of the capital's twin financial districts, alongside the older City of London—marks a point of origin. The river, and the trade links it enabled, has been the center of London's gravity ever since an invading, multi-ethnic Roman army founded a settlement on its banks in the first century AD. In antiquity, the Thames linked this northerly outpost with the rest of the Roman Empire; during the medieval period, it made London a destination for European merchants. Panayi takes us briskly through this longer history in the early chapters of Migrant City, but it's the city's Victorian zenith that he is really interested in. Then, London's docks were the fulcrum of a form of globalization that preceded our own: an empire that funneled goods and wealth through the capital, extracted from Britain's colonial subjects and its domestic working class. The population boomed, from 900,000 in 1800 to 6.5 million a century later.
The rise of this so-called "million-peopled city" was a source of both fascination and horror to Victorian writers who indulged in what Panayi describes as "middle-class gawping at and disapproval of poverty," even as they marveled at the "amazing hypergrowth" of suburbs rapidly expanding into the surrounding countryside. While migration to London in earlier centuries had mostly involved people traveling short distances, it became increasingly international in the nineteenth century, a combination of economic might and the development of the steamship. Sailors from South Asia and China, often exploited by the shipping companies that hired them, tried to find a foothold in poorer neighborhoods alongside Jewish refugees and Irish immigrants fleeing famine. Western European professionals settled in leafy suburbs, while international merchants, like the wealthy Greeks who brought their Ottoman trading connections, joined the capital.
Canary Wharf provides a physical link between the Victorian era and ours. London's population declined in the second half of the twentieth century as empire and industry retreated, and slum clearance programs moved thousands of people out to post-war "new towns" in the Home Counties. The trend was only partly compensated for by immigration, as new arrivals filled labor shortages in manufacturing, transport, and the health service among other areas. This post-war period is most strongly associated with immigration from Britain's former colonies, symbolized by the "Windrush generation" of Caribbean immigrants who began arriving in the late 1940s. Panayi shows how they were joined by fellow new arrivals from eastern Europe and the Mediterranean.
These hi-tech financial districts were among the first places around the world to empty out when the pandemic arrived.
London's overall shrinking was reversed from the 1980s onwards, partly through the deregulation of the financial industry, and the reconstruction of Canary Wharf as an international business district to complement the centuries-old banking center in the City, which sits on top of the original Roman settlement. Under the new, neoliberal model, London would again be a center of globalization: finance capital could move seamlessly in and out, while market values were allowed to dictate the UK's development. Power and wealth, historically already concentrated in London and the southeast, tilted even more sharply towards the capital. New service industries and professions drew in migrants from the rest of the country, the EU and elsewhere, while an overheated property market became a place for the world's super-rich to park their cash. Since 1996, Panayi tells us, hundreds of wealthy investors from Russia, China, India, and elsewhere have made use of an elite visa scheme that offers a fast track to UK citizenship for sums of £1, £2, or £10 million.
These hi-tech financial districts were among the first places around the world to empty out when the pandemic arrived, since the movement of capital could largely continue remotely. Why are they so often placed close to water? Perhaps it adds to the illusion that they are distinct from the cities around them, immersed in the flow: of water, of light through plate glass, of power and wealth. An advert for the Financial Times you used to see in the windows of London newsagents summed up the fantasy: a city financial district on a literal island, surrounded only by sea.
This vision of power is one that right-wing populists, for all their anti-elite posturing, are notably comfortable with. Nigel Farage, the former UKIP and Brexit Party leader, his political objectives largely achieved, is now hawking investment tips on YouTube. London's riverside towers are, predictably, his chosen backdrop.
---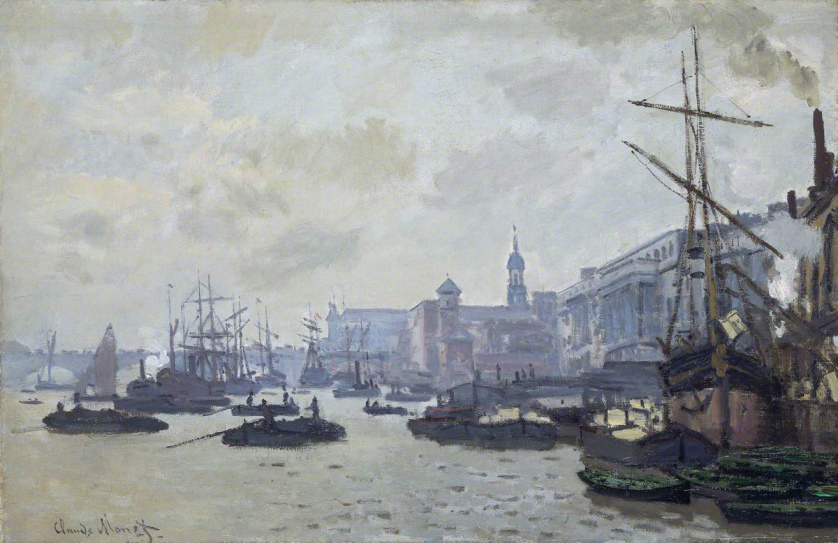 When the first lockdown forced many charities to close temporarily, I helped my partner deliver emergency packages to homes in southeast London. They were for people who the government bans from accessing most forms of welfare because of their immigration status under a rule known as "no recourse to public funds," or NRPF. Most of the 1.4 million people who fall under this rule are in the UK legally, and in work. But if you lose your job, or you lack the correct immigration status, then you face destitution.
Immigration restrictions add a further obstacle to the mix of precarious, low-paid work and overcrowded housing that left London's multi-ethnic working class particularly exposed during the pandemic. In Brent, one of the capital's poorest and most diverse boroughs, a former international aid worker told the Guardian that she was shocked by the number of Somali families going hungry, either because the main income earner had died or was unable to work. "There was a total collapse of the system in the beginning," she recalled. "I was doing the same work I did on the frontline with UNHCR in refugee camps in Ethiopia, Djibouti and Yemen in the early 90s."
Traditionally, Panayi notes, London has been imagined as a city of "ethnic concentration"—of ghettos, where new populations arrive poor, hoping to make a temporary stop on the way to more prosperous neighborhoods. This has certainly been a significant part of London's history. Whitechapel, in the East End, is the much-mythologized arrival point for migrant communities over several centuries, playing host to communities of French Huguenots, Irish, Jews, Bangladeshis, and others. But Panayi also wants to dispel that image, showing how today, with "mixed-residence patterns" the norm, immigration is a fundamental part of every city neighborhood. Yet that doesn't mean discrimination has vanished. The kind of exclusion London specializes in today is fragmented and diffuse. Making our deliveries across southeast London, we visited ordinary-looking suburban streets of terraces, semis, and council blocks; the poverty was hidden away in bedsits and subdivided flats, behind ordinary-looking front doors.
The widespread use of NRPF is just one element of the government's "hostile environment," a system of internal borders that aims to force unwanted immigrants into leaving the UK of their own accord. The fact that punitive controls such as these coexist with the idea of London as a global city—"open for business" as the capital's current mayor, the center-left Sadiq Khan, is fond of saying—is no aberration. The British state has long tried to facilitate immigration that suits  its economic needs while applying harsh measures to those deemed surplus to requirements in order to allay racist fears. NRPF, for instance, is officially justified as a measure to "promote integration," on the basis that people might resent immigrants less if they are barred from access to the welfare state.
Panayi recognizes that the ultimate effect of immigration control is to trap people, pushing them into a shadow world of destitution or exploitation. "It seems difficult to imagine how these ghosts at the bottom of the London housing market," he writes, of people who fall foul of the hostile environment,
could ever experience the type of social mobility which characterized the lives of Russian Jewish émigrés who moved to the East End in the late nineteenth century, the refugees from Nazism or those who fled from Idi Amin's Uganda. They have more in common with those Germans who moved to London in the Victorian period and who survived with the support of German charities or, in some cases, simply disappeared from view to die on the streets of the metropolis.
---
In the summer, it often feels like London's edges are fraying. As the weather gets hotter and more humid, untended front gardens fill with straggling green fronds. Knotweed, officially classed as an "invasive non-native species" for its potential to undermine buildings and eat into the bedrock of the British economy (that is, real estate), starts to wind around patches of municipal scrubland. In the city's overpoliced neighborhoods, surveillance helicopters can be heard long into the airless nights.
By June, as the first lockdown restrictions were gradually lifted, the city was hit by a release of pent-up energy. With indoor venues still closed—including, at first, most of the public toilets—people headed for the parks, churning up the grass and turning flowerbeds into makeshift latrines. There was a fleeting revival of illicit rave culture on the marshes, the post-industrial wilderness that runs alongside the river Lea, a tributary of the Thames. A video, posted online that month, shows dancers abandoning a patch of woodland and splashing straight into the Lea, reputedly the dirtiest stretch of water in the country.
London's need for cheap labor has long been a major influence on migration to the capital.
Political anger found its greatest expression in the Black Lives Matter protests, which arrived in the UK a few days after the killing of George Floyd. As the protests grew, so did a right-wing backlash, aimed at the cosmopolitanism of London and other multi-ethnic cities. "Country more divided even than during Brexit," tweeted the Conservative MP Ben Bradley on June 7. "London & metropolitan cities may as well be different countries; they have a different culture. One that's entirely alien and contradictory to life in working class towns in England." These anxieties played out in the monument park that surrounds the UK parliament, where fascists and right-wing football supporters' groups gathered to "defend" the statue of Winston Churchill.
There is a long history of London's cosmopolitanism being both celebrated—for its contributions to music, to food, or to sport—and reviled, at times simultaneously. Panayi quotes a nineteenth century observer who rhapsodizes over the "knots of laughing men, with olive-tinted skin, dark eyes and curly black hair" and "groups of gossiping women, with quaint head-gear, big earrings, white chemisettes and brilliant shoulder-shawls" found in Italian Clerkenwell. But he reminds us that the same Italian community was also accused of deviant behavior in familiar terms: of excessive noise, of criminality, of being too different.
It would be easy to write a history of immigrant London that dwelled only on the hostility faced by new arrivals. Outbreaks of xenophobic violence go at least as far back as the "Evil May Day" pogrom of 1517, in which London apprentices attacked foreign residents. These have their modern echoes. In 1915, the First World War brought a wave of attacks on German businesses, in which virtually every German-owned shop was destroyed. There is a roll-call of victims of the racist violence that accompanied immigration after the Second World War: Kelso Cochrane, an Antiguan carpenter murdered in Notting Hill in 1959; Altab Ali, a Bangladeshi textile worker attacked in Whitechapel on his way home from work; Blair Peach, a school teacher from New Zealand, killed by a blow to the head, most likely from a police officer, as he helped defend the South Asian community of Southall from a National Front march.
Just as importantly, Panayi shows London to be a place of resistance, and of fraternization. When antisemitic riots swept the UK in 1947, in response to the killing of two British sergeants by Zionist militants in Palestine, London's Jewish community escaped largely unscathed. Panayi suggests that this was a legacy of anti-fascist organizing in the 1930s, when Jews in London's East End drove back Oswald Mosley's British Union of Fascists at the battle of Cable Street. London has long provided a base for exiles and intellectuals to further political and social causes in their home countries—in 1950, there were around 1,500 "colonial scholars" registered at the capital's universities—and for immigrant communities to organize politically.
---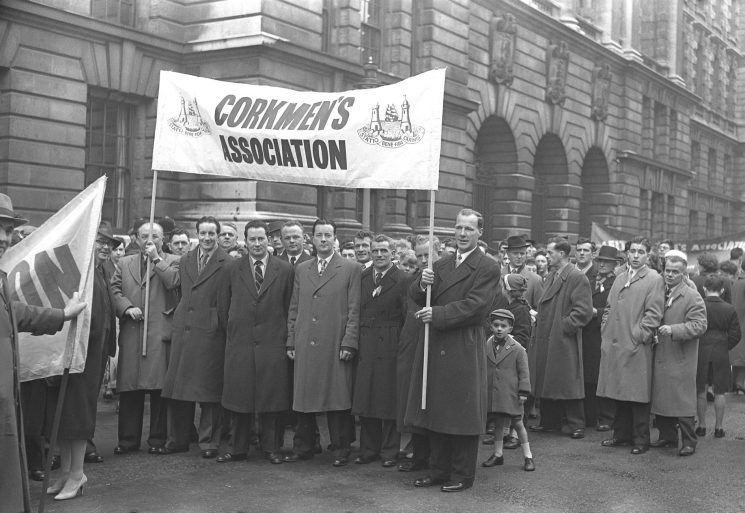 As autumn approached, the British government tried to coax people who had been working remotely back into their commutes. A flurry of media commentary contrasted middle-class professionals unfavorably with those who had no choice but to work outside the home. White-collar workers were, in the words of The Sun's political editor Harry Cole, "letting the side down." The government soon made a U-turn when it became impossible to ignore the second wave of the virus. But the rhetoric exposed an uncomfortable truth about the unequal burden of the pandemic, and not in the way the growth-centered propaganda intended. Immigrants and "working visitors" make up around a third of London's workforce, Panayi tells us, with a disproportionately high number in manufacturing, construction, transport, distribution, hotels, and catering—by and large, those jobs that can't be done from home.
London's need for cheap labor has long been a major influence on migration to the capital. but Panayi warns us not to see immigrants merely as "a type of paid servant to the white British." If exploitation has been a major feature of migrant labor, people have also resisted the conditions imposed on them. He tells the story of the mainly female, mainly South Asian workforce who went on strike at the Grunwick film processing laboratories in northwest London in the 1970s—a landmark struggle lauded for challenging the racist and patriarchal stereotypes of the time.
Perhaps the measure of a city should be its capacity for collective care.
The dispute found an echo last year, when cleaners at Lewisham hospital in south London, many of whom were from migrant backgrounds, successfully went on strike against a contractor that had failed to pay them properly. "You have to take action for yourself," Ernesta Nat Cote, one of the cleaners who had led the fight, told a reporter. "When you wait for things to happen, it's no good. You have to go."
The strike only registered as a minor incident among the events of the past year, but it went to the heart of questions that the pandemic has forced us to confront: Whose work is valued, whose isn't—and how might we reorganize these relationships so that they serve our needs rather than those of the market? For much of the eighteenth century, Panayi tells us, London needed new arrivals merely to prevent its population falling, because deaths outstripped the birth rate. Rather than wealth or size, perhaps the measure of a city should be its capacity for collective care.
---
At the beginning of Migrant City, Panayi explains that he has a personal motivation for writing the book. Born in London to Greek Cypriot parents, he recounts the second-generation immigrant's experience of being both native and outsider. At school, he was put in the "dunce" class because a teacher decided he couldn't speak English properly. This was his first time he was made to feel different. But it's also when he came to feel at home, among classmates who were English, Welsh, West Indian, Sri Lankan, Turkish, Italian, and mixed. "This early experience of diversity," he writes, "formed the way I think and orientate myself to the extent that, as an adult, I have found countless situations in which a lack of diversity makes me feel uncomfortable."
In early 2021, as the UK waited out another coronavirus lockdown, reports began to emerge that London had experienced a drastic fall in population. One survey estimated that as many as seven hundred thousand people, both immigrants and British citizens, had left the capital since the start of the pandemic, looking either to save money or invest in leafier surroundings. According to a forecast by the consulting firm PricewaterhouseCoopers, another three hundred thousand could be set to leave this year. This may prove to be a temporary dip, but it's a reminder that migration is about moving on as much as arrival.
Visible traces of the Greek Cypriot community have all but disappeared from the neighborhood near where Panayi grew up. I live near a high street that once used to be its heart: all you see today are a few faded signs in the Greek alphabet; a closed-down cafe awaiting redevelopment; an Orthodox church tucked away down a side street. A newcomer would barely know what a decade had been there even or two before. Yet to recall the stories of the people who made this city their home before us isn't only about looking back: it's a way of asking what kind of home we'd like it to be for us, too.