A Clean Break
Amid a pandemic, sanitation workers in New Orleans strike for safety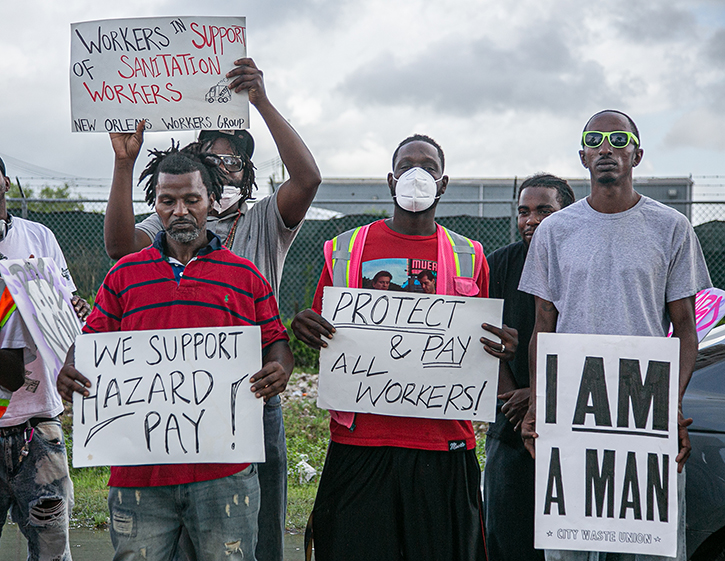 Jerry Simon has seven kids that he and his fiancé provide for. Exposing his children to coronavirus is a constant worry. His coworkers have the same nagging concern. Simon added, "We have one guy. He's a new granddaddy. He has never even held his grandbaby."
As he talks, Simon leans against a car with a simple sign that reads, "I Am a Man." The slogan is from the 1968 Memphis sanitation strike when African American workers demanded better pay and safer conditions. Simon, too, is a sanitation worker. He works in New Orleans where he's known as a "hopper." He and the other men lug ninety-five-gallon garbage cans into trucks every day except Sunday.
Since May 5, the hoppers working for Metro Service Group have been striking. Metro is a private, multi-pronged company offering industrial project management, construction, and waste management services throughout the Southeast. Because the hoppers are contractors to city contractors, neither the city nor Metro want to claim full responsibility for the hoppers' work conditions even as they say those conditions are safe.  
In 2015, New Orleans passed an ordinance requiring any companies receiving new city contracts to pay their workers a livable wage, which at that time was $10.55 an hour. The ordinance went so far as to include even companies that only received a grant from the city. But before the strike, hoppers were still making as little as $10.25 an hour through a staffing agency, PeopleReady. Metro disputes this rate, saying its contractors make at least $11.19 an hour. Nonetheless, the city of New Orleans paid Metro over $10 million in 2019 as part of its contract to collect trash throughout Orleans Parish.
Because the hoppers are contractors to city contractors, neither the city nor Metro want to claim full responsibility for their work conditions.
The pay was low and the work difficult, but hoppers said they were happy to keep New Orleans streets clean. Then came coronavirus. Workers report that Metro does not provide them with a new mask and gloves every day. Back in 2017, hoppers had successfully argued for an hourly rate as opposed to a $95-day rate, so they decided to organize again. They said Metro's failure to recognize them as essential workers entitled to hazard pay and protective gear left them no choice but to strike. After the strike began, PeopleReady quickly posted job descriptions hoping to bring on new men. Hoppers also started to see inmates working their routes.
The hoppers are asking for a living wage, similar to what the city's 2015 ordinance was meant to enforce. They want $15 an hour and hazard pay during the pandemic: an extra $150 per weekly pay period. In addition to better pay, the strikers want personal protection equipment, or PPE, like masks and gloves. Simon said hoppers were receiving PPE, but irregularly. If Metro gave them masks and gloves on Monday, Tuesday, and Wednesday, then, "Thursday, Friday, Saturday you wouldn't really see anything." Meanwhile, Simon said the drivers, who are employed directly by Metro rather than through temporary staffing agencies, have access to masks, bandanas, and gloves.
In a statement provided by the company, Metro wrote that they provided masks for all workers, including third-party contractors. Metro also stressed that none of its employees were involved in the strike. A city spokesperson wrote in a statement that, "The city reached out to all contractors at the beginning of this outbreak, and Metro has represented to the city that they purchased 15,000 masks and more than 1,000 boxes of gloves to ensure protection for all workers and subcontractors." The statement did not respond to a question about the use of work-release inmates to replace striking hoppers.
The employers, stacked on top of each other, abrogate responsibility with each level. The city contracts Metro Service Group for trash collection; metro hires hoppers through a temporary staffing agency, PeopleReady. The workers say the agencies that sign their checks change regularly. Ever-changing contracts make it difficult to know who, if anyone, can be held responsible for workplace safety concerns.
---
At their picket in front of the company's entrance on Old Gentilly Road, the men joke around and smoke. They have the easy camaraderie of coworkers who spend hours together throwing trash, dodging drivers, and chatting with residents. One striker thrust out his arm and pointed to scarred skin. He said it is from hydraulic fluid, which leaks from the truck onto their arms and faces regularly. They all recounted past injuries with a smile. It's expected.
Kendrick Anderson, twenty-eight, lifted his pant leg to reveal a long scar on his right ankle. He said it was as simple as, "I jumped off the truck the wrong way." The ankle was broken. Jerry Simon said workers are often injured on the job; another striker said he already threw out his back three times and has only been working for about a year. As for training, according to Anderson, Metro "put[s] you on a truck with two other guys."
Hoppers listed six different staffing agencies that employed them in the last year alone. According to workers, Metro informs hoppers when the company has a contract with a new agency. After ten years, Anderson is still a temp without access to paid time off or a 401K. 
JerNard Taylor said, "Metro, from the beginning, has always used temp agencies." Taylor has worked as a hopper for Metro for the past seven years. When it came to the staffing agencies, Taylor said, "The company's name kept changing constantly over the years, but there were always the same owners." He also said the workers were never given sick days, another violation of the 2015 living wage ordinance, which mandates workers receive at least seven sick days or an additional 30 percent pay.
Simon was shocked when he heard the trucks were going out with inmates working their routes.
Alfred Marshall, sixty-one, is an organizer with Stand with Dignity, a grassroots organization of black workers and families. The group was also a proponent of the living wage ordinance. Marshall said "For [the ordinance's] compliance, there is nobody watching [companies] to enforce it."
In 2016, Stand with Dignity organizers realized there were contractors not abiding by the ordinance. They asked city councilors if preexisting contracts would be subject to the wage regulations.  According to Marshall, city councilors said it would be too expensive to renegotiate the contracts and any renewals would also be exempt. However, Metro said it signed its contract in 2017, meaning it should adhere to the ordinance.
When the strike started, Metro used work-release inmates from Livingston Parish to fill hopper positions. Simon was shocked when he heard the trucks were going out with inmates working their routes, calling it "horrible." He saw similarities between the inmates and the hoppers: "They sent them out here with no gloves, no nothing. [They] tell them they have to work." Metro said the company only used inmates for a four-day period and paid Livingston Parish's labor administrative agent $11.19 an hour per man.
The inmates were placed through a company called Lock5 LLC. Local reports said the inmates were paid $9.25 an hour, differing from Metro's statement, and Lock5 can also take up to 64 percent of inmates' pay as part of the work release program. Owner Hootie Lockhart said he did not want to be involved in a labor dispute. According to Lockhart, Lock5 stopped providing work-release inmates to Metro two weeks ago.
Local media reported that when inmates were being used to replace strikers they were working routes in Gentilly and New Orleans East. Black communities in these neighborhoods have tested positive for coronavirus at much higher rates than the neighborhoods in the city's predominantly white Uptown area. In Louisiana as a whole, the majority of people dying from coronavirus are black despite making up only 33 percent of the state's population. The striking hoppers are all black men handling the waste of a city with one of the worst coronavirus death rates in the United States. Throughout New Orleans, it is work done primarily by black men: hopping is low-paid, physically demanding work without health care, and coronavirus has only highlighted the inequalities that existed far before its spread.
Latoya Lewis, thirty-three, is another organizer with Stand With Dignity. She described the strike as inspirational. "This is two dozen black men who work hard to keep the city of New Orleans clean and feel like they deserve better," she said.
---
Neither PeopleReady's New Orleans office nor its corporate office in Washington returned request for comment.