On November 7, 2020, I made my way to the Pennsylvania Convention Center in Philadelphia. Officials had been counting ballots inside this stiflingly generic building for days, and now protesters and counterprotesters stood (and danced) outside, within view of TV cameras. There were roughly a dozen sad-looking Trump supporters clad in red, white, and blue. Around seventy Biden supporters encircled them, packed elbow to elbow, the two groups separated by police barricades, several officers, and news crews.
Cycling through the city that day, I heard many, many cheers about Trump's defeat but far fewer chants of "Biden." This was not a moment of optimism and political triumph; it was one of catharsis. The bad guy was gone, and all we could hope was that things would go back to the way they were before. Given the personality cult that formed around Obama, masking his worst policies, perhaps it's a good thing that no one likes Joe Biden that much.
In the following days, a more complete—and more complicated—picture of the election started to emerge. Against the proclamations that Black people—Black women, in particular—had "saved" Biden's campaign sat the countervailing information that Trump had actually gained in Black and Latino communities. In Philadelphia, too, the picture was somber. In 2016, 83 percent of the city's vote went to Hillary Clinton, to Trump's 15 percent. In 2020, Trump improved his performance slightly, earning 18 percent to Biden's 81 percent. This small but not insignificant shift has led to a host of speculation. It's even more difficult to understand given Trump's disastrous handling of the Covid-19 crisis, which disproportionally harmed Black and Latino communities.
Democratic voter turnout was low in the distressed urban core precincts of Philadelphia, as in other cities across Pennsylvania. By contrast, Biden drew large numbers in the suburbs, which eventually allowed him to win the state. In four suburban counties outside of Philadelphia—Bucks, Chester, Montgomery, and Delaware—he posted the highest gains of all. Here, Biden defeated Trump by 293,094 votes, whereas Clinton won by 188,353 votes in 2016. This data suggests a shift in the state's Democratic voting coalition. If in 2016 Clinton depended on large turnout in urban areas and amongst people of color, Biden's coalition is more suburban, whiter, and more affluent.
Against the proclamations that Black people—Black women, in particular—had "saved" Biden's campaign sat the countervailing information that Trump had actually gained in Black and Latino communities.
In many ways, Joe Biden resembles the type of suburban, middle-class white voter that shifted to him in droves in 2020. (In Delaware County he was favored more heavily than even Barack Obama in 2008 and 2012.) And it's no wonder: Delaware County borders Wilmington, Delaware, and Biden even shares the same ridiculous local accent. His political record is studded with the types of moderate achievements that could entice a former Romney or Reagan voter. Biden's focus on anti-crime legislation, in the form of the Comprehensive Crime Control Act of 1984 and the Violent Crime Control and Law Enforcement Act of 1994; on anti-gay legislation in the 1996 Defense of Marriage Act; and his opposition to desegregation in the 1970s were all policies that have shaped American cities into the segregated, policed, repressive places we know today.
Throughout his career, Biden has walked a fine line, paying lip service to minority communities and inflating his civil rights record while, in the same breath, legislating decisively against them. This careful dance has won him a fifty-year tenure in national politics and the votes of moderates, liberals, and progressives alike. Now that he's president, Biden is likely to project his politics of the suburbs across the country. It's important to understand exactly what that means: who will prosper and, more important, who will suffer.
A Segregated Utopia
Delaware County is where I spent the first eighteen years of my life. My parents—a South African mother and Trinidadian father, both graduates of the University of Pennsylvania—purchased our first home in the 1990s in Yeadon, a Black town adjacent to the neighborhood of West Philadelphia. Yeadon was quiet and friendly, with small, conjoined houses and occasional colonial mansions where a sliver of upper-class families lived. A Tudor village stood in the center of town, housing a pizzeria, post office, and assorted mom-and-pop shops, many of them Black-owned. I learned to ride a bike in the alleyway behind our house, picked mulberries off a neighbor's bush, and ate them in the shade of my friends' backyards. I also remember the evening we got a phone call telling us that my friend's mother had been murdered a few blocks away. Another night, coming back from a vacation, we found the window to our basement smashed in.
When I was in third grade we moved to Swarthmore, only twenty minutes southwest of Yeadon, but a world away. Nothing could prepare me for the culture shock we would experience there. As one of few immigrant families and even fewer Black families in the area, we lived a strange, isolated existence. Though the Historically Black Neighborhood of Swarthmore was established before the town itself, by African Americans who landed there during the Great Migration, Swarthmore was overwhelmingly white.
In 1958, the white Yarrow family attempted to sell their house to a Black family, in a deliberate attempt at desegregation. In response, the Swarthmore Friends Meeting sent a letter to the Yarrows: "We feel that you are deliberately depreciating the value of your neighbors' real estate when you sell your home to colored people. . . . [We] beg you to reconsider your plan . . . and to withdraw from your apparent position of discrimination against white buyers." Around the same time, in nearby Rutledge, a house burned down the night before the family of George T. Raymond, president of the NAACP in Chester, was scheduled to move in. Segregation was officially abolished in Swarthmore schools in 1939, but to date I have seen no evidence that the de facto segregation of housing has ended. Today, the town is roughly 85 percent white, with African Americans making up a tiny 5 percent of the population. (Yeadon's demographics are basically the opposite: 90 percent Black and with a median income of roughly $54,000, half of Swarthmore's.)
Race was at once visible and invisible in Swarthmore. There were rules governing how and where Black people could live, but racism itself was denied. I can't count how many times I was told what Black people could do (sports, dancing, hanging out) and what we couldn't (live in white areas, perform well in school, sing opera). When I was in the third grade, a boy with whom I'd been friendly brought in some trophies for "show and tell." I approached the counter they were sitting on and started reading the plaques, admiring the many ribbons. As I reached for one, I heard his voice behind me. "Back off, Black girl," he snarled. I walked back to my seat, stunned and crying.
In recent years, a rumor has gone around about my high school, which had been completed just in time for my class to begin ninth grade. I've heard from numerous sources that the school was intentionally built smaller than population projections might have otherwise dictated—that an extra wing of the building was scrapped in response to parents' complaints. The reason? If the school had been built larger, according to Pennsylvania law, they would have had to take children from the nearby city of Chester, whose school district has been on the brink of closure for decades. I learned all this from a friend, whose sister recently graduated from my school. She told me that students were taking classes in trailers.
Chester most powerfully illustrates the kind of racial inequality endemic in Delaware County. Like other Black enclaves near Swarthmore, Chester today suffers from a lack of resources but on a supercharged scale. The city is roughly 69 percent Black, 21 percent white, and 12 percent Latino. The median income is just over $32,000, and roughly one-third of its residents live in poverty. Its 2019 crime rate was roughly fourteen times the national average at fifty-seven per one thousand residents. In 2018, Chester was number two on NeighborhoodScout's "Murder Capitals of America" list, behind East St. Louis.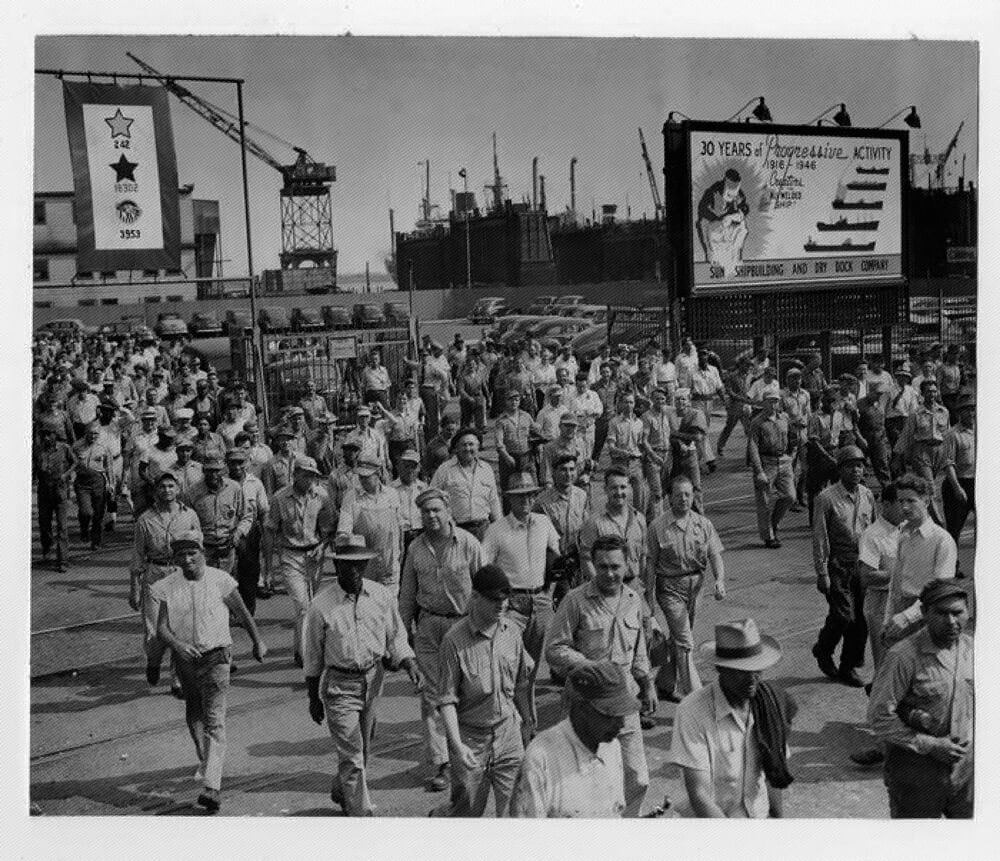 How did it get to this? The town began as a bustling industrial port on the Delaware River but fell victim to corruption, starting with the businessman William J. McClure and his son John, a Republican Party boss and state senator who was tried for rum-running in the 1930s. In 1963–1964, Chester parents protested the segregation of the local school system, leading James Farmer, the national director of the Congress of Racial Equality, to dub the city "The Birmingham of the North." A series of lawsuits culminated in the school board's 1967 decision to "eliminate or substantially reduce segregation," although de facto segregation has kept the Chester Upland School District locked in a cycle of failure and disinvestment. The district, ranked dead last in the state, is in receivership due to financial insolvency.
Several of my Black classmates came from Chester. They lived with family members within Swarthmore district lines in order to attend high school there. One was murdered in 2016 in an act of random gun violence. After graduating college, he had moved back to Chester to be a high school teacher. His murder remains unsolved.
Years after I graduated, I realized that many more Black students also came from outside the district, using local addresses to gain admittance. They were harassed and intimidated by district officials who threatened legal action against their families. Once enrolled at my high school, these students were disciplined more harshly, and at a higher rate, than their white peers—as is true across the country.
In late 2018 a photo circulated on social media of two students from the Wallingford-Swarthmore School District in white KKK-style hoods. This came shortly after letters were delivered to four Swarthmore homes voicing support for President Trump and telling the minority residents who lived there that they had to leave their homes. In 2020 a video circulated featuring two WSSD high school students who made direct racist threats and used the n-word. Rather than shock, these incidents triggered in me a sense of startling familiarity: those casual, almost playful expressions of racism marked my childhood in Delaware County. It rarely occasioned anything more than light disciplinary action. Indeed, they were often dismissed as instances of youthful indiscretion, while those of us who had been targeted were labeled as "overly sensitive." Part of me was glad that these actions had been covered in the media. That they'd been called out represented some form of progress.
From the PTA to Politics
As Swarthmore was grappling with these incidents, Delaware County was experiencing a more recognizable sort of progress. In January 2018, the Pennsylvania Supreme Court declared that the state's congressional district map had been gerrymandered by Republicans. This resulted in districts that were comically illogical. Delaware County was part of the infamous "Goofy Kicking Donald Duck" district—the map had two separate areas that resemble the cartoon characters connected by a thin sliver. The map was redrawn just in time for the 2018 midterm elections, which saw four women elected to Congress, the largest number ever for Pennsylvania, including Mary Gay Scanlon (a former board member of Wallingford-Swarthmore School District) and Chrissy Houlahan, who, respectively, won in Delaware County and Chester County, formerly part of reliably red districts.
Now that he's president, Biden is likely to project his politics of the suburbs across the country. It's important to understand exactly what that means: who will prosper and, more importantly, who will suffer.
Joe Biden netted nearly the same vote margin as these Democratic candidates in each of their corresponding districts. Lara Putnam, professor of history at the University of Pittsburgh, specifically identified counties like Delaware as the epicenter of the movement in 2020. These are counties with higher rates of education and economic development—and thus attractive to increasing numbers of young and mid-career professionals—and they have traditionally been dominated by moderate or "country club" Republicans. In 2016 these counties swung away from Trump. After his election, they became "ground zero" for new organizing by community insiders who were, until then, new to politics. Putnam's recent work has focused on grassroots pro-Democratic Party groups, like local chapters of Indivisible, that sprung up in the wake of Donald Trump's 2016 victory.
"These were the women who were librarians and ran the PTO and organized fundraisers for the girls swim team, but politics was not their focus," Putnam told me. "In place after place, literally thousands of women, usually in their fifties to seventies, took their lifetime of accumulated organizing skills, their pretty huge personal networks of connections, and not inconsiderable disposable income and poured them into rebuilding Democratic politics in places that often had little to no organized Democratic presence." Putnam believes that these trends are likely to hold in coming years: "It's not just about people shifting their vote, it's about changes in the structural-organizational landscape." By contrast, she points out that voter turnout was low in core urban precincts across the state. In majority Black neighborhoods in Philadelphia, there was in fact a roughly two-point swing toward Donald Trump. In Latino neighborhoods, about seven to twelve points.
Democratic registration efforts decreased heavily during the spring and summer of 2020, as the pandemic took hold and Biden's campaign decided to forego in-person canvasing. Furthermore, in Pennsylvania, voters can be removed from rolls if they fail to vote during a period of five years. "People who had registered and voted in 2008 for Barack Obama and had not since voted needed to have their registration updated," Putnam told me. Voter registration had climbed in 2008, creating the most economically and racially diverse electorate in history, with the highest Black voter turnout rate ever. It's easy to imagine how voter outreach targeting these voters—even if conducted remotely—might have replicated 2008's success. The fact that vote shares decreased among these communities is evidence of the Biden campaign's obliviousness towards Black and working-class voters.
This lack of attention could have dire consequences. I spoke with Nikil Saval, a member of the Democratic Socialists of America, who was elected in 2020 to the Pennsylvania State Senate as a Democrat, representing Center City, South Philadelphia, and parts of North Philadelphia. His constituency includes large Black and working-class communities, the very same that saw depressed turnout in the 2020 election. For him, the problems created by racial inequality and segregation (particularly around schools) remain a key priority. The needs of his constituents are not being met around stagnating wages, drug dependency, and mass incarceration. (Philadelphia has the highest incarceration rate of any major U.S. city.) He wants to see major investments in public and social housing, and an actual commitment to issues raised by the uprisings of 2020. But, as a local politician, he will need the support of the federal government to achieve these goals. He found the shifts in voting patterns in 2020 significant, and he worries they will portend fewer resources being apportioned to communities like his. "This is the entire issue," he told me.
I also reached out to Congresswoman Scanlon's office to inquire about how she plans to address issues of racial inequality in Delaware County. Her spokesperson sent back a fairly long list of sponsored legislation that addresses criminal justice, Black maternal mortality, SNAP benefit expansion, and protections against eviction and bankruptcy discrimination. None of the policies addressed affordable housing, school zoning, college tuition, or climate justice—which fundamentally shaped the structural inequities I witnessed in my childhood. This is what a Democratic Party of the suburbs looks like.
Watch Your Back
At first glance, Biden's performance with Black voters may seem of a piece with the overall tardiness of his campaign. He was consistently outraised by his Democratic primary opponents, outperformed in debates, and out-thought when it came to policy proposals. This explanation would comport with the bumbling, yet benevolent image of "Uncle Joe" that has stuck to him since his days as Obama's vice president.
As one of few immigrant families and even fewer Black families in the area, we lived a strange, isolated existence.
But for a politician as successful as Biden, it seems unfair—and more importantly, unwise— to attribute this inattention to simple oversight. He has long managed to maneuver support from Black voters while pushing policies that harm the community. At the same time that he rode to victory on Black votes in Delaware, he promoted policies (such as the aforementioned anti-crime legislation, as well as the Bankruptcy Abuse Prevention and Consumer Protection Act of 2005), that have had a disproportionate impact on Black communities.
In the wake of his election, Biden openly thanked Black voters for saving his campaign: "The African American community stood up again for me. You've always had my back, and I'll have yours." His simultaneous courting and betrayal of Black voters fits neatly with the strategy he's employed successfully for the past fifty years. It should be noted that Biden is far from the only Democratic politician to triangulate with Black voters and racist whites. Beginning with Bill Clinton in 1992, this version of the Southern Strategy has been employed in some shape or form in every Democratic race since. Few, however, have turned it into an art form the way Biden has.
These are the same tactics I observed in Delaware County, which promoted its image as a liberal haven despite its rigidly hierarchized and segregated society, where a community like Swarthmore can flourish right next to one like Chester, the entire pipe dream marketed to potential buyers as an idyllic suburban paradise. The kind of place one could raise kids in. "Ours is a community that prides itself on being respectful and inclusive. These incidents were in direct conflict with those values," said Wallingford-Swarthmore School District superintendent Lisa Palmer, referring to the racist incidents at the end of 2018.
The only thing left is to fight for the full actualization of working-class and poor communities of color. I believe the solution might look something like Nikil Saval's victory. "My hope is to build a system that caters to working peoples' needs," he told me. "I work within the Democratic Party—my goal is not to serve [the party], but the people."
We must remain steadfastly critical of political parties, even the ones we sometimes choose to vote for. Blind support for the president or his party only affirms consent for the administration and encourages apathy among a public and a left that should remain vigilant. Biden and the Democratic Party have given us no reason to trust them.