When police officers knocked on Eleanor Bumpurs's door on October 29, 1984, they must have startled her. But they knocked and knocked again, determined to get an answer from the resident inside the Bronx apartment. An elderly and disabled Black woman, Bumpurs was $400 behind on rent. The officers who arrived that morning were administering an eviction notice. The sixty-six-year-old grandmother refused to open her door and so they drilled out the lock and four officers entered her home to find her wielding a kitchen knife. They tried to arrest her; she resisted. Stephen Sullivan, a New York City police officer, fired two shots at Bumpurs, hitting her in the hand and in the chest. She died shortly after in a nearby hospital emergency room.
Three-and-a-half decades later, the group of officers in plain clothes who arrived at Breonna Taylor's apartment also knocked. The door did not immediately open, and they did not hesitate to barge in. It was past midnight on March 13, 2020 when the officers forcibly entered Taylor's home in Louisville, Kentucky, as part of a drug investigation. The suspect they were seeking didn't live there, nor were drugs ever found. But Taylor's boyfriend, startled by the presence of intruders, fired his weapon. In a matter of minutes, Taylor lay dead in her apartment—shot six times by police officers.
Different times, the same result. The eerie similarity of the two cases reveals how little has changed when it comes to state-sanctioned violence in the United States. No doubt the police shootings of Bumpurs and Taylor underscore the general pervasiveness of police violence in non-white communities. But these two killings illuminate something more: the targeting of Black women—a fact that many Americans still struggle to fully comprehend.
The sheer senselessness of the Bumpurs and Taylor deaths lit sparks that initiated local, national, and even global anti-racist movements.
Although the political campaign #SayHerName is playing a crucial role in changing the narrative, many Americans continue to view state-sanctioned violence primarily through the lens and experiences of Black men. There is no denying that the majority of Black people killed by police in the United States are young men. It is a sobering fact. Yet the Bumpurs and Taylor cases placed a national spotlight on how the systemic problem of police violence also places Black women's lives at great risk. The Washington Post has counted 247 women fatally shot by police since 2015; forty-eight of those women were Black. "Black women, who are 13 percent of the female population, account for 20 percent of the women shot and killed and 28 percent of the unarmed deaths," the Post reported.
The sheer senselessness of the Bumpurs and Taylor deaths lit sparks that initiated local, national, and even global anti-racist movements that changed the American political landscape. And in both cases, Black women emerged as key political actors, working to obtain justice for their loved ones and also attempting to change the nature of policing in this country.  
Is this America?
The Bumpurs and Taylor cases offer a longer perspective on how we came to the point where it was necessary to insist that Black lives matter—linking the 1980s to the 2020s and revealing how the Black Lives Matter movement was already decades in the making. BLM as we know it emerged in a particular moment in United States history—specifically following the acquittal of Trayvon Martin's murderer in 2013. That year, activists Opal Tometi, Alicia Garza, and Patrisse Cullors joined forces to launch what would quickly become a mass protest movement to end state-sanctioned violence. After the 2014 police shooting of teenager Michael Brown Jr. in Ferguson, Missouri, Black Lives Matter rose to national prominence, demanding justice for Brown's family and the multitude of unarmed Black people murdered in this country by the police.
This specific context is important. But if we examine the core ideas and philosophies that shape Black Lives Matter, it is clear that the movement's trajectory extends further back. Indeed, the ideological underpinnings of Black Lives Matter were already simmering for quite some time. [1] One can hear the echoes of Black Lives Matter, for example, in the writings and public statements of a diverse group of Black activists and intellectuals, including abolitionist Frederick Douglass and anti-lynching crusader Ida B. Wells-Barnett. And one can trace a much longer movement—stretching as far back as the resistance to slavery and the slave patrols that incited much fear and terror in Black communities during the eighteenth century. From some of the earliest documented slave patrols, including the Charleston City Guard and Watch in 1783 (the precursor of the modern police force in Charleston, South Carolina), to the rise of lynchings in the aftermath of the Civil War and the expansion of police forces and white vigilante groups across the nation, state-sanctioned violence shaped every aspect of Black life and culture. Then, as now, Black people insisted that until their lives were valued equally as white lives, the nation's professed creed of equal rights was no more than a myth.
During the Civil Rights-Black Power era, Black activists were at the forefront of challenging police violence and calling attention to the devaluation of Black life. Fannie Lou Hamer emerged as one of the most vocal activists in this struggle during the 1960s. Born in 1917 to a Mississippi sharecropper family, Hamer joined the civil rights movement in 1962—at the age of forty-four. After becoming a field secretary for the Student Nonviolent Coordinating Committee (SNCC), an interracial civil rights organization, Hamer worked with other activists to help Black residents in Mississippi register to vote.
After her own experiences with police violence and intimidation, Hamer openly condemned state-sanctioned violence, most notably at the 1964 Democratic National Convention. Before a televised audience of millions, Hamer told the story of how police officers violently beat her and fellow activists in Winona, Mississippi.
In 1963, a group of activists Hamer was travelling with got off a bus in Winona to grab a bite. They were returning home from a voter's workshop in Charleston, South Carolina. Hamer and her colleagues encountered resistance from the owners of the restaurant who made it clear that Black patrons were not welcome. She left the bus when she noticed police officers shoving her friends into police cars. In only a matter of minutes, a white officer grabbed Hamer and started kicking her. She was arrested and taken to jail, where other officers unleashed a brutal beating on the activist, leaving permanent effects on her physical health. As she later explained:
They beat me till my body was hard, till I couldn't bend my fingers or get up when they told me to. That's how I got this blood clot in my left eye—the sight's nearly gone now. And my kidney was injured from the blows they gave me in the back.
Reflecting on her own experiences, and that of countless Black people living in the United States, Hamer asked "Is this America?" as tears welled up in her eyes. By bringing national attention to the problem of police violence, Hamer paved the way for many other activists in the decades to follow.
Doing the Wrong Thing Again
The 1984 Bumpurs shooting was a watershed moment in United States history—galvanizing Black activists and their allies to challenge racist policing in New York City and beyond. News of the murder electrified New York as Black residents expressed outrage; by then, the city's chronic struggle with police violence had reached a boiling point. At the turn of the twentieth century, police violence and brutality occurred in Black communities on a daily basis in New York City. As the Black population in the city grew, these challenges only intensified. The rich cultural and literary expression of the period existed alongside a growing culture of police brutality. The 1943 and 1964 race riots, which both erupted following the police shooting of unarmed Black men, placed New York City at the forefront of the nation's attention.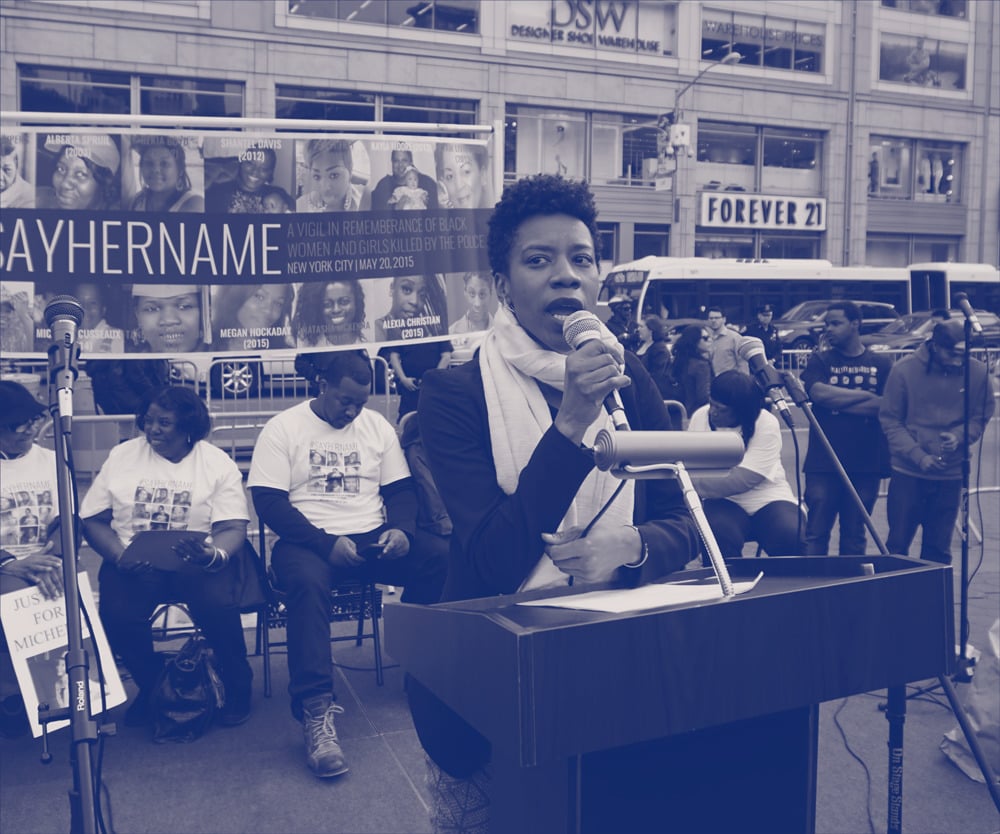 By the 1980s, New York was an epicenter of both police violence and anti-brutality organizing. The Bumpurs shooting was among a string of highly publicized cases involving white police officers and Black residents—including the killings of Michael Stewart in 1983 and Edmund Perry in 1985. The tense atmosphere was captured by filmmaker Spike Lee's 1989 film Do the Right Thing, which highlighted several cases of New Yorkers who died in police custody. The inclusion of Bumpurs's name in the film's closing credits underscores the case's crucial place in New York culture. It offers a glimpse of how quickly the case rose to national prominence, shaping an entire decade—and even a generation—of Black political activism.
The individual protest and mass political organizing that emerged in the wake of the Bumpurs case suggested renewed strength and vitality of Black political movements. Although Black New Yorkers could not escape the rampant police repression, they devised a range of strategies and tactics to resist, including legal redress, political lobbying, and armed self-defense. "People united and organized can end this reign of police terror," Frank Chapman of the National Alliance Against Racist and Political Repression (NAARPR) argued in 1986. "By mass protest and lobbying," he continued, "we can change the present situation from one where we have no control to some control of the police."
Lennox Hinds, an activist and attorney from Harlem, echoed similar sentiments, "We must do the hard job of organizing on a block-by-block level . . . [and] develop legislation designed to control the police." As Hinds called on Black residents in the city to back legislation aimed at curbing police violence, some activists emphasized the need for mass protests. "If we do not move to stop it now," one activist explained, "we as a community will be as guilty as all the others, for 'we knew' and we did not rise up to protest or take those community, political and legal actions that could effect change." Many Black activists in the city embraced this point of view and joined forces to launch a nationwide political movement to end police violence.
If we examine the core ideas and philosophies that shape Black Lives Matter, it is clear that the movement's trajectory extends further back.
Mary Bumpurs, the second-oldest daughter of Eleanor, emerged as a key political activist. In the immediate aftermath of her mother's death in October 1984, the single mother, then unemployed, became the family's spokeswoman and thrust herself into local politics. In only a matter of months, she became one of the most vocal community leaders fighting against police violence. She joined local efforts to raise national awareness about police brutality and helped to establish the Eleanor Bumpurs Justice Committee in 1984. The Committee, which was organized for the sole purpose of seeking justice for the Bumpurs family, brought Mary and other members of the Bumpurs family together with several grassroots organizers and religious leaders. She demanded that the officer be charged for his actions.
In December 1984, the Bumpurs family filed a $10 million wrongful death lawsuit, a case that would eventually result in a settlement of $200,000 with the New York City Housing Authority. As Mary awaited the outcome of the civil lawsuit, she took to the streets to denounce police killings and demand that local politicians take a stand to ensure other Black people would not lose their lives at the hands of those who had sworn to "protect and serve." Through a series of community events, radio and newspaper interviews, and political rallies, Mary continued to condemn police violence. During this period, she worked closely with several local leaders and activists, including Councilman Wendell Foster, the first Black city elected official in the Bronx, and Brooklyn Pastor Rev. Herbert Daughtry.
When Officer Sullivan was finally charged in 1985, Mary told others that she did not expect a guilty verdict—she did not have high hopes for the system that had failed her mother and many others. Her mistrust proved well-earned when Sullivan was acquitted in 1987 on charges of second-degree manslaughter and negligent homicide.
Yet Mary Bumpurs's fight for change continued. In September 1985, Bumpurs joined thirty-eight-year-old Veronica Perry, the mother of Edmund Perry, at the Memorial Baptist Church in Harlem. They had been invited by the Spartacist League, a Marxist political organization, to share their stories of losing a mother and a son, respectively. The two were joined by a roster of speakers, including Spartacist Party mayoral candidate Marjorie Stamberg, and Ed Kartsen, who was running for Manhattan borough president at the time.
Before a packed audience of activists and community leaders, Mary recounted the painful events that forever changed her life and set her on the path toward political activism. Highlighting the class dimensions of police violence, Mary raised crucial questions about why her mother lost her life as a result of missing rent. In remarks both sarcastic and pained, Mary cautioned, "Whoever's been behind in rent better catch up quick, because they're going to get you next! Believe me." Mary also drew parallels between the challenges her mother endured while living in the Jim Crow South and the experiences of Black people living in New York City during the 1980s. She recounted her mother's childhood experiences with the Ku Klux Klan in North Carolina: "She saw these homes being burnt, she saw black people being taken into the woods and beaten to death . . . She sat and she told us all the dreadful things that happened to her in her lifetime." But, Mary noted, "She did not instill hatred in us. . . . When you start hating people, to me you end up killing people. Now this is how the Ku Klux Klan to me is, in disguise in my city, which is New York City, in the blue uniforms." Like other Black women who had come of age as teenagers and young adults in the heyday of the Civil Rights movement, Mary saw the violence they were facing in the context of a long history.
By the 1980s, New York was an epicenter of both police violence and anti-brutality organizing.
In the years to follow, Mary would play active roles in the fight against police violence. Her remarks resonated with many other activists throughout the 1980s, in the city and beyond. Just a year after she spoke to crowds of activists at the Memorial Baptist Church in Harlem, Mary joined activists at a memorial service in October of 1986, held at the House of the Lord Church on Atlantic Avenue in Brooklyn. She was joined by several other Black women and their relatives, including Carrie Stewart, the mother of graffiti-artist Michael Stewart, and Annie Brannon, the mother of Randolph Evans. At an earlier forum, Mary called on community members to recognize the escalating police violence in New York City. She appealed to residents in Harlem to unite in the fight to end these police killings.
What else could a group of ordinary women do? Their hope was that mass lobbying and public protest would push those in power to address the pattern of violence. They emphasized the need for Black people to unite in resistance. They called for new policies that would hold police officers accountable for their actions and, in turn, send the message that the lives of Black people were valuable. At these pivotal events in 1986, they extended a national call for unity and change, hopeful that justice and progress were within reach.
Breonna Taylor
Since the 1980s, Black women have continued to play a key role in organizing on the local and national level to bring attention to the systemic problem of police violence. The activism of the Black Lives Matter founders—Tometi, Garza, and Cullors—has inspired thousands to join the movement to end state-sanctioned violence and anti-Black racism. Relatives of victims of police violence, including Sybrina Fulton, the mother of Trayvon Martin, Samaria Rice, the mother of Tamir Rice, and Gwen Carr, the mother of Eric Garner, have amplified this work. Collectively, these Black women activists and many others have propelled and sustained the Black Lives Matter movement, using a myriad of strategies and tactics.
The collective response to Breonna Taylor's shooting in 2020 underscores how vital these women's efforts have been. In the aftermath of the shooting, activists in Lexington, Kentucky rallied together to demand justice. Her mother, Tamika Palmer, played a leading role in these efforts. In April 2020, Palmer sued the officers, initiating a series of events that ultimately catapulted the case to the national consciousness. As protests unfolded on the streets of Louisville in May, Taylor's sister, Ju'Niyah Palmer, took to social media to call for peace and unity.
The following week, Cate Young, a Black writer from Trinidad and Tobago, launched #BirthdayForBreonna, a massive digital campaign as a call to action on June 5—Taylor's twenty-seventh birthday. Young encouraged supporters on social media to send Taylor's birthday cards to Daniel Cameron—the Kentucky attorney general—demanding he file charges against the officers. Deeply moved by the painful circumstances of Taylor's death, Young worked to transform her concern into concrete steps that could make a difference in the lives of Taylor's loved ones; she used a creative strategy to bring greater visibility to Taylor's killing. Her digital campaign not only increased awareness, but united millions of people, and raised hundreds of thousands of dollars for the Taylor family. Others followed, including members of Until Freedom, an organization led by civil rights activist Tamika Mallory, which orchestrated a #JusticeForBreonnaTaylor rally in Frankfort, Kentucky, in June 2020. The event drew more than five hundred people.
All these actions yielded significant results. Within two weeks of the digital campaign, the Louisville Metro Council unanimously passed Breonna's Law to outlaw "no-knock" warrants and require the use of body cameras during searches. After months of local and national protests, the Louisville Metro Police Department eventually fired all three officers involved in the shooting. Louisville also settled with Taylor's family for $12 million. However, a Kentucky grand jury still failed to indict the officers involved with Taylor's killing—with the exception of charging one of the officers for endangering her neighbors after his shots hit their apartment.
The fact that Breonna Taylor would meet the same fate as Eleanor Bumpurs close to forty years later defies glib narratives about progress. That the police assailants were not convicted of crimes shows how resistant the legal system is to holding police accountable. But what should never be overlooked is how these acts of racial injustice have propelled individual and collective action—sustaining the long movement for Black Lives Matter in the United States. The nationwide and decades-long efforts of Black women—as writers, organizers, and activists—have shaped a movement to end state-sanctioned violence and anti-Black racism. As Angela Davis noted in an interview last summer, nobody can know when conditions might give rise to a moment "that rapidly shifts popular consciousness and suddenly allows us to move in the direction of radical change." Reflecting on the protests that erupted after the killing of George Floyd, Breonna Taylor, and others, Davis said: "If one does not engage in the ongoing work when such a moment arises, we cannot take advantage of the opportunities to change." If everyone committed to social justice were to join forces—to prepare for those moments of opportunity—radical changes in American policing could well become a demand that moves from the streets into the halls of power—and into our lives.
[1] On the ideological roots of BLM, see Christopher J. Lebron, The Making of Black Lives Matter: A Brief History of an Idea (Cambridge: Oxford University Press, 2017).