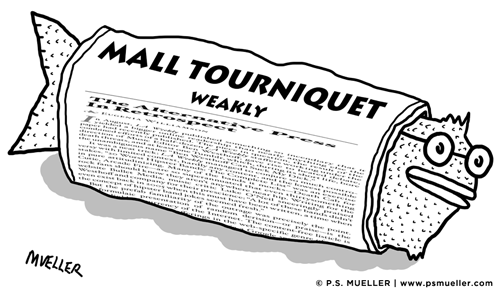 In August, LA Weekly published something so incendiary that it yielded a bigger online readership than nearly anything else the paper had recently published. The piece in question, the result of the combined efforts of a half-dozen LA Weekly staffers working under the direction of music editor Ben Westhoff, gave rise to heated debate, death threats, and at least one Tumblr, which, during its short life, bore the unambiguous name "Ben Westhoff Can Suck My Dick."
It was a neat trick: LA Weekly managed to conjure so much controversy with limited context, hardly any content, and the lowest possible stakes. "20 Worst Hipster Bands: The Complete List" was an exercise in pure attitudinizing. Many of the bands it mocked—Death Cab for Cutie, Arcade Fire—are so superannuated that even thirtysomething rock fans should know they aren't anywhere near hip. Writing for the website Bullet Media, music critic Luke O'Neil sneeringly praised Westhoff and company for their prescience: "A lot of these bands didn't even exist back in 2005 when this must have been written, a time when the concept of hipster band jokes seemed fresh."
But the prefab familiarity of the outrage was precisely the point. The formulaic presentation of random derision—or praise—is the premier linkbait currency of the Internet. The content-free listicle is among the most reliable offerings in the web-specific genre of ersatz journalism, as you can learn via a quick search of "hipster lists." There you will behold, just for starters, entries from the Huffington Post ("Top 10 Hipsterhoods"), BuzzFeed ("11 Tired Hipster Fashion Trends That Are All Over Instagram"), and Yahoo ("Six Best Careers for Hipsters").
The only novelty here is that the alt-weekly is now locked into the same tawdry chase for pageview exposure that has driven the de facto war on the human attention span at shops such as BuzzFeed, HuffPo, and Yahoo. And Ben Westhoff, for one, didn't have to wait long to see how this career strategy paid off. A week after his linkbait listicle made the rounds, Village Voice Media—the corporation that owns LA Weekly and twelve other alt-weeklies, including the Voice—promoted him to senior music editor of all their outlets. Just days prior to Westhoff's elevation, the chain fired Village Voice music editor Maura Johnston. As New York Times media reporter David Carr noted (in a blog, of course), Johnston consistently "resisted the kinds of light, easily consumable items, like Top 10 lists and photo compilations, that tend to draw the most traffic online." Although Westhoff, on the other hand, has dabbled in nuance—he is the author of last year's Dirty South, a book roundly praised for its thoughtful analysis of Southern rap—he's making top editorial dollar for, well, something else altogether.
As alt-weeklies scramble to adapt the web model of attitudinizing over distant popcult targets, they move further away from entertainment writing. In one recent, all-too-representative print edition of LA Weekly, readers of the music section found listings, featured listings, a one-page profile of a national Pitchfork-approved act, and a one-page article about local music. The anodyne, earnest writing seems like an afterthought—designed, like the listings section, to deliver bland information with a minimum of offense. (It's true that Westhoff's trademark listicles—in addition to the worst hipster bands, there were grandiose entries such as the best musicians of all time, in any genre—aim to provoke controversy, but they, too, are written in effortless afterthought style; snidely packaged afterthoughts, but afterthoughts nonetheless.) A piece about a former department store turned underground nightclub focuses on the question of the space's legality and employs the phrases "whimsically nicknamed" and "smashing success"; another, about the band Divine Fits, leads with the aging rockers "snacking on pita chips and hummus."
Elsewhere in that week's LA Weekly, the editor-in-chief profiles an Angeleno who takes nice photos and shares them with Instagram, and a columnist laments the miseries of being single in her thirties. Notably absent: reportage. Although the city of Los Angeles' dysfunctional school system and city government would certainly provide ample news fodder for robust feature coverage, and—for fuck's sake!—Hollywood and the entertainment industry are right there, the print edition of LA Weekly contains just one certifiable news story per issue.
This stolid aversion to criticism and reportage is endemic across the alt-weekly publishing industry—and it's one of the structural reasons that the industry as we've long known it now seems ready to disappear. A few weeks after Village Voice Media appointed a list-monger to oversee its music coverage, it created a new holdings company, disengaged from its adult services website (which has been linked to child sex trafficking), moved its offices to Denver, and renamed itself Voice Media Group. Earlier that month, the Voice itself lost editor-in-chief Tony Ortega, who stepped down in order to write a book about Scientology, and laid off or cut the hours of its already anemic editorial staff. Management announced that it was instituting the same measures at Voice-owned papers in Minneapolis, Phoenix, Los Angeles, San Francisco, Dallas, and Palm Beach. In an all-too-fitting new-media eulogy, a former Voice staffer proclaimed the paper dead in a post on BuzzFeed. The endgame at the Voice had a sickly familiar ring for me. In August, my own former employer, the Boston Phoenix—for more than forty years, among the most respected alt-weeklies in the country—officially announced its conversion from newspaper to glossy magazine. In the process, it halved the lengths of its feature stories and cut editorial staff, including me.
Alt-weeklies first started to conglomeratize—and to sacrifice more of their distinctive, dissenting identities—in the nineties, but the industry entered its current, far more desperate tailspin in 2009 with the bankruptcy of Creative Loafing, the Atlanta-based corporation that formerly owned the Chicago Reader, the Washington City Paper, and four other outlets. This spring, it sold the Reader, the last of its assets, to Wrapports LLC, which also controls the legacy daily paper the Chicago Sun-Times. That's right: the Chicago Reader, founded with the mission of defying the wan, establishment-friendly worldviews put across in the politics and arts coverage of the city's major dailies, is now a wholly owned, vaguely youth-oriented sub-brand of one of those dailies. When the Sun-Times founded a lame subway giveaway, the whimsically named Red Streak, in a desperate bid for the ever-elusive young daily readership, the seasoned journalistic insurgents at the Reader roundly mocked the idea. It's safe to say that no one left inside the shrunken husk of the erstwhile alt-weekly is laughing now.
In 2011, the former Association of Alternative Newsweeklies admitted into its ranks its first web-only publication and became the Association of Alternative Newsmedia. "With the increasing number of apps, digital, mobile, and web platforms our companies use, it was time to reflect those changes in our name," AAN president Fran Zankowski said in a press release. Among the most commercially successful—if not quite alternative—of these is Cocktail Compass, a syndicated app that draws on its host newsweekly's extensive, frequently updated bar listings.
Where today's alt-weeklies rely on happy hour listings, they used to thrive on enmity. Norman Mailer's Voice took up arms against the city's Democratic establishment on a routine basis—indeed, Mailer himself mounted a doomed insurgent candidacy for mayor in the 1969 Democratic primaries. Over time, the Voice carried its crusade into the target-rich environment of the great city, with exposés on local slumlords and industry barons running alongside critical essays and spirited music, literature, and theater reviews. (Impossible as it may be to fathom for readers who know the paper only in its present listicle-besotted form, the Voice published its own Literary Supplement during the eighties and early nineties, seeking to turn it into a downtown version of the New York Review of Books.) In the "Press Clips" column, which debuted in the seventies, the Voice all but invented the modern profession of left-leaning press criticism.
But the heyday of alt-weekly ambition didn't last. Alt-weeklies found themselves confronted with the same economic forces that were homogenizing the major dailies they were founded to compete with—conglomeratized owners in distant cities, the standardization of content across chain-owned properties, and a single-minded focus on the bottom line. These days, the Voice Media Group would rather take on Death Cab for Cutie than lose a "like" on Facebook. This enforced blandeur has resulted in some strange editorial choices, such as a Seattle Weekly cover story exonerating a convicted murderer written by the murderer's fiancée, and a 1,400-word Voice cover story on the Westchester punk scene in the nineties.
The web-generated dementia that's gradually overtaken the alt-weeklies is also directing editorial decision-making in the mainstream print press. While alt-weeklies set their sights on content-free web product, legacy dailies seem determined to mimic the personality-based conventions of web-based journalism. In 2009, the New York Times hired Ross Douthat, a blogger for The Atlantic, as its representative conservative, making him their youngest—and lamest—op-ed contributor. Shortly thereafter, it purchased Nate Silver's statistics-based presidential election prediction blog, and it has increasingly tapped bloggers for its arts coverage. Similarly, in 2009, the Washington Post plucked twentysomething bloggerkind Ezra Klein from his post at The American Prospect and installed him as a brand-name sub-editor and columnist. Two years later, they hired then twenty-three-year-old Alexandra Petri to deliver what the late-middle-aged proprietors of the Post op-ed shop took to be a hip, youthful perspective on current issues. The result, predictably enough, was a nightmarish union of sensibilities, as though the execrable musical comedy troupe the Capitol Steps had taken in Lana Del Rey. Here is one entirely representative Petri quip (I cannot in good conscience advise sampling any others): "Every time [Romney] tries to crack jokes or make hip references, I cringe. It's like watching John Quincy Adams do the Macarena."
In elevating these web-savvy youngsters from the digital ghetto, legacy dailies are trying to integrate or compete with a medium whose standards they don't seem to understand. Instead of infusing their brand image with ostensibly cutting-edge 'tude, they're lowering their stature with writers who aren't ready for the big leagues. At the same time, the managers at such papers are making it painfully clear to the younger demographic they desperately crave that they are completely tone-deaf.
Meanwhile, alt-weekly content has migrated into the mainstream. Examples abound, from a Washingtonian magazine cover story on the suburban pot industry to a Boston Globe cover on the hijinks that ensued when a group of artists sought to thwart a defense contractor trying to build a helmet factory in their co-op building.
Shifts in the culture have also affected the alt-weekly, which was once the only mass medium with the luxury of publishing profane language and risqué content. Now, of course, swear words proliferate on blogs and cable television—and in an effort to preserve both its revenue model and a residual impression of downtown edginess, the Voice wound up saddled with an adult listings operation that was a glorified message board for prostitution.
And so the alt-weekly, born at the same time as the counterculture, is disappearing alongside the sinking taste hierarchies of the Internet age. Upper-market outlets have lately taken up the more pioneering coverage as the city papers process their listicles. Sasha Frere-Jones broke the pretty good teenage band No Age in the New Yorker; at the time, they were playing in Los Angeles coffee shops. Meanwhile, the bands that LA Weekly identifies as "hipster" have been exhaustively covered on NPR and in the New York Times. Such confusion has created a vortex in the space-time-coolness continuum that no doubt has left Pierre Bourdieu spinning in his Parisian grave.
As the web and the mainstream press push the alt-weekly off its small patch of land, the alt-weekly talent pool has likewise abandoned its underfunded squats. In the past, alt-weeklies have nurtured major talents like Katherine Boo and James Wolcott. Today, clever writers who aren't snapped up by legacy dailies are lured away by websites. Even Seattle's still-hardy alt-weekly The Stranger lost a writer to the web when the excellent and hilarious Lindy West migrated over to Jezebel, where she'll no longer be a heartbeat away from a demotion to listings blogger.
In the dispiriting ouroboros known as the Internet age, what, exactly, is alternative journalism an alternative to? Why should readers dally with their local alt-weekly when they can get restaurant recommendations from local blogs? Glossy city magazines are chasing fringe subculture beats, the Washington Post is publishing talent-challenged young'uns, the New York Times has packaged Ross Douthat as a serious conservative intellectual when, not too long ago, he would have been a third-tier New York Press columnist. While it may be true that the news industry in print is going down slow, once-vital alt-weeklies have gone in record time from political scourges to canaries in the coalmine. Then again, check that. You're not about to encounter an exposé of the mining industry—or work that engages deeply with any other industry, political formation, or cultural movement—in today's lifestyle-diminished, venally viral alt-weekly scene.