Just beyond the grounds of Carrie Gosch Elementary School in East Chicago, Indiana, a city water tower stands like a sentinel, emblazoned with the words FOR OUR CHILDREN. At ground level, a more recent message makes the water-tower's seem almost ironic. Around the perimeter of the school and a neighboring public housing complex, both vacated as of late, the Environmental Protection Agency (EPA) has posted warnings: "Do not play in the dirt or around the mulch."
Last year, East Chicago made national headlines after the EPA released data revealing severe lead and arsenic contamination in this area of the city. Lead levels in the soil outside the public housing complex were as high as 91,000 parts per million—more than two hundred times what the agency considers safe for bare soil in areas where children play. Exposure to lead, one of the world's oldest known contaminants, is particularly harmful for children,
in whom it can impair cognitive development. Decades of research link elevated blood-lead levels during childhood to stunted IQs and a host of behavioral problems in adulthood.
The contamination crisis in East Chicago drew immediate comparisons to Flint, Michigan, where that city's mayor declared a state of emergency in December 2015 over elevated lead levels in the water supply. The Flint fiasco ensued from the relatively recent decisions of an unelected "emergency manager," appointed in 2011 to administer an austerity regime. East Chicago's story, which unfolded over the course of more than a century, is different—and perhaps even more telling.
Since the term "environmental racism" was coined in the early 1980s, a slew of studies has confirmed that poor, non-white neighborhoods suffer disproportionately from contaminated air, water, and soil. Yet it's not only polluters who are at fault. East Chicago's slow-motion disaster underscores how development decisions—featuring business-and-government coordination—segregate low-income people in areas rife with industrial waste, laying the groundwork for health hazards and ever-more-expensive clean-up costs. East Chicago officials knowingly built the elementary school and, later, the public housing complex on a polluted industrial brownfield, then ignored decades of warning signs that people in this predominantly black area of the city were being poisoned.
Looking at this city's history reveals that the key forces creating unsafe conditions in poor neighborhoods are the same ones that create and maintain poverty in the first place: real estate developers who profit from displacement, local officials beholden to them, and federal bureaucracies that are, all too often, unable or unwilling to protect vulnerable people and their homes.
Putting the Lead In
Today, East Chicago is a sleepy Rust Belt town of thirty thousand residents, more than 90 percent of whom are black or Latino. But it was once a bustling industrial hub that produced steel, lead, insecticide, and arsenic. Most factories have been shuttered for half a century or longer, leaving behind a toxic legacy the scope of which is still not fully known. The original companies that set up shop in East Chicago have also mostly since dissolved. But many of their operations—and liabilities—were purchased by a handful of large corporations. Decades later, the EPA is still determining which ones might be responsible for the contamination. In 2014, oil and chemical giants Atlantic Richfield (ARCO) and DuPont agreed to pay $26 million in an administrative settlement with the EPA, and the agency is still searching for other potentially responsible parties.
A central mystery remains in East Chicago's cleanup process: Why did state and federal agencies focus so narrowly on the USS Lead site for so long?
BP subsidiary ARCO is a successor to Anaconda Lead Products, which once operated a lead smelter on the ground where the West Calumet Housing Complex now sits. Anaconda produced white lead and zinc oxide for at least thirty years before the city purchased the land in 1956. Down the street, Grasselli Chemical Company, which consolidated with DuPont in 1928, manufactured lead arsenate insecticide from 1910 to 1949. The EPA and state and city officials all had records showing the location of these ghost factories, but most public housing residents say they had no knowledge of the land's history until July 2016, when the city sent a letter to eleven hundred residents informing them that they would have to relocate immediately because of dangerous lead levels in the soil. (Lead levels found in the dirt surrounding Carrie Gosch weren't as high as those outside of public housing units, but the city vacated the building in August 2016 and moved the school to a new location.)
For Akeeshea Daniels, forty-one, this news shed light on a series of mysterious health issues she and her children had suffered since moving into the housing complex in March 2004. Studies of women who have worked at lead smelters suggest that prolonged exposure can lead to early menopause and reduced bone mass. Daniels underwent a complete hysterectomy in 2006, at the age of twenty-nine. By 2008, she had been diagnosed with rheumatoid arthritis and began receiving federal disability payments. Her youngest child, Xavier, who was a newborn when they moved into the complex, has ADHD and other behavioral problems.
"I wonder how many children have grown up in that complex," says Daniels. "I never received anything from the EPA, I never received anything from the mayor, none of this was in our lease. How did it take them so long?"
EPA administrative records reviewed by The Baffler show that the federal agency has possessed evidence of lead contamination in East Chicago since at least 1981. One year earlier, Congress created the Superfund program to clean up sites contaminated with hazardous substances. Yet it wasn't until 2009 that East Chicago was placed on Superfund's National Priorities List, securing additional resources for a remediation process that had, by then, allowed a whole new generation to be poisoned. It's difficult to know how many were affected. But the West Calumet Housing Complex housed some 350 families in a given year, and more than four hundred students attended Carrie Gosch at the time of its closure.
It's even harder to know how many other towns still have poison in their soil. A 2012 investigation by USA Today found that while the EPA possessed records showing the potential locations of some four hundred old lead smelters that never underwent clean up, the agency had done little to assess the dangers at these sites. East Chicago's Anaconda lead smelter was one site on the list; others still remain uninvestigated.
The smelters fed a massive demand for lead in the United States during the first half of the twentieth century, when a rapidly urbanizing society was using the substance in everything from paint to children's toys to gasoline to city water pipes. The average can of paint during this period contained 50 percent lead carbonate; doctors documented numerous cases where children who ingested small amounts of lead dust went into convulsions.
By the 1920s, the medical community pinpointed widespread lead exposure as a major public health problem, but an offensive by lead and paint trade groups thwarted regulatory efforts for another fifty years. In their 2013 book Lead Wars, historians Gerald Markowitz and David Rosner document how the Lead Industries Association diverted concerns with talk of ills linked to the culture of poverty.
Internal communications show, for example, the lead association's smug response to a 1956 Parade article about lead hazards in the home, provocatively headlined, "Don't Let YOUR Child Get Lead Poisoning." The lead association's director of health and safety acknowledged that "aside from the kids that are poisoned . . . it's a serious problem from the viewpoint of adverse publicity." Dealing with the problem of children ingesting lead-saturated toys and paint, he concluded, would require "educat[ing] the parents. But most of the cases are in Negro and Puerto Rican families, and how does one tackle that job?"
Industry spin-doctors were largely successful in framing lead poisoning as an intractable problem without an obvious solution. As a result, while awareness of lead hazards continued to grow during the 1950s, the political will to address them did not. Rather than reducing lead exposure, federal and local policies further concentrated it among urban communities of color, creating a self-fulfilling prophecy about lead poisoning as a disease of poverty.
Discriminatory federal housing policy and persistent segregation played a key role. New federally backed mortgage loans during this period enabled millions of families to move to freshly constructed single-family homes in the suburbs, but less than 2 percent of such loans issued from 1947 through 1959 went to African Americans, thanks to the practice known as redlining. Instead, black families remained concentrated in urban centers, where flaking lead paint in aging rental housing was just one of the sources of contamination they faced. Suburbanization also went hand-in-hand with a rise in car commuting into the city, which exposed urban dwellers to leaded gasoline exhaust that contaminated the air and soil.
"There's this deep connection between racist housing policy and environmental racism," says Kate Walz, an attorney at the Sargent Shriver National Center on Poverty Law who filed a fair housing complaint on behalf of residents at the West Calumet complex last year.
In 1971, after years of pressure from environmental and public health advocates, Congress passed the Lead-Based Paint Poisoning Prevention Act, which prohibited the use of heavily leaded paint in federally subsidized housing. Seven years later, lead paint was effectively banned in private dwellings. Subsequent regulations over the next two decades took aim at lead in gasoline and other consumer products. (Lead additives to gasoline weren't phased out in the United States until 1996.)
But by the time regulations caught up, it was too late. Most of the nation's public housing stock had already been constructed in polluted neighborhoods. Low-income people are also more likely to live in dilapidated homes and apartments where lead hazards have gone unaddressed. In 2016, the Department of Housing and Urban Development (HUD) estimated that 450,000 subsidized housing units with children under age six residing in them were built before 1978, and 57,000 of these are likely to contain lead paint. Approximately 10 million homes and buildings continue to receive water from at least partially lead service lines.
In 1976, black children were six times as likely as white children to have highly elevated blood lead levels. After decades of regulatory and remediation efforts, both the overall incidence and the disparities in lead poisoning have fallen. But the effects of environmental lead linger; black children are still three times more likely than white children to have elevated blood lead levels.
"The United States has this sordid history around lead," says Emily Benfer, a law professor and co-principle of Health Justice Innovations. "We coated our environment in it, but we've only ever partially addressed the damage it causes."
Building a Polluter's Playground
Few places exhibit the compounded failures of housing and environmental policies during the twentieth century more dramatically than East Chicago. To understand this history, it's necessary to look back to the turn of the century, when the city's factory owners and white-collar workers relied on a growing base of cheap labor but were loathe to live among these recently arrived workers. Like most cities, East Chicago has a history of racially restrictive neighborhood covenants and resistance to construction of public housing. And, as in many other cities, East Chicago's decision to finally build such housing was part of a strategy to free up more valuable land for urban renewal.
The valuable land here was a lakefront stretch of the city known as Indiana Harbor, which in 1901 became the site of a ship canal and steel mill. Over the next decade, the population of this area nearly quintupled as thousands of African Americans, Mexicans, and white ethnic immigrants moved to the city to work at the Inland Steel Company. The newcomers settled in working-class communities outside the factory gates, putting them in relatively close proximity to the stately homes that white businessmen had built along the lakefront. In 1910, the wife of the county prosecutor complained at a public meeting that "undesirable foreigners" were being "allowed to live in the same vicinity with respectable people."
By the 1950s, when Congress passed a series of acts creating a national urban renewal program, real-estate developers and white homeowners had engineered a variety of informal means to confine black and immigrant workers to certain neighborhoods within Indiana Harbor. They jumped, then, at the chance to take advantage of federal funds for "slum clearance" and redevelopment of neighborhoods, as well as new powers to forcibly relocate existing residents for this purpose. In 1963, John Nicosia successfully campaigned for mayor of East Chicago on promises of urban renewal, with Indiana Harbor as a top priority. The redevelopment plan developed by the city and a private foundation partner required displacing more than fifteen hundred families and was protested fiercely by local groups such as the Concerned Latinos Organization.
Federal agencies, meanwhile, made it clear that federal funding and support for East Chicago's redevelopment plans were contingent on the city providing replacement housing for the displaced. Thus, after years of resistance to building public housing, the city created a new agency for this purpose in 1965. The following year, East Chicago Housing Authority head Benjamin Lesniak told the Chicago Tribune that the new occupants of a thousand public housing units would "probably be Negroes and those of Latin American descent" and that the housing agency would build in neighborhoods of the same character. Lesniak also acknowledged that the agency's plans were hitting a roadblock: a dearth of undeveloped land in the city. "We can either tear down existing deteriorating structures and replace them with public housing units, or we can construct them in vacant areas which are surrounded by industries, and undesirable residential areas," he told the paper.  
There's no question which of these two options the city chose: reporting last year by the Times of Northwest Indiana found that the land where the West Calumet Housing Complex was eventually built had been zoned for heavy industrial use in 1960. No change in zoning designation appears to have been considered before construction of the complex began in 1972.
That's two years after President Richard Nixon signed into law the landmark National Environmental Policy Act, which requires federal agencies to consider the environmental impact of all proposed actions or projects with government funding.[*] This rule might have been used from the get-go to preempt the poisoning of low-income residents of East Chicago, where the local housing authority received an approximately thirteen-million-dollar grant from HUD for the construction of the West Calumet Housing Complex.
But housing groups say that HUD has repeatedly failed to apply this standard when it comes to the construction and maintenance of low-income housing near environmental hazards. Persistent segregation and housing discrimination have compounded weak enforcement of environmental laws. A spokesperson for the EPA tells The Baffler that as of May, more than a third of the 1,850 Superfund sites nationwide are located within a mile of public housing.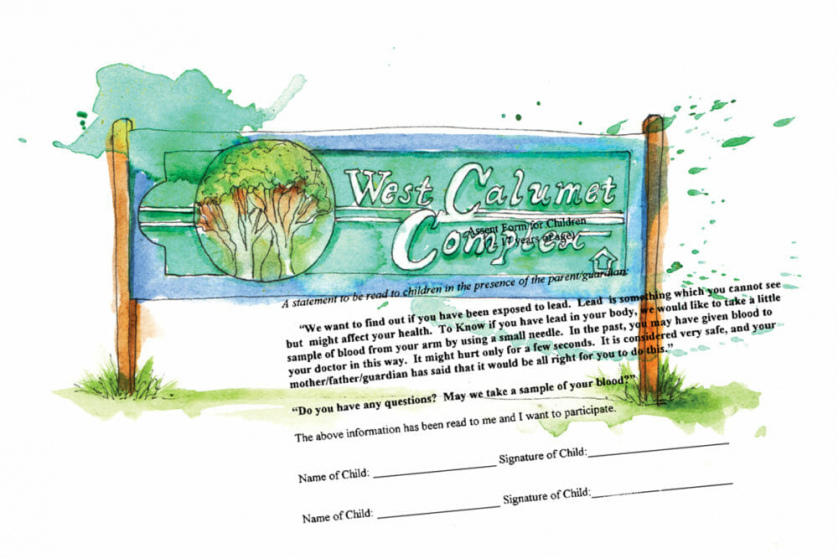 The Regulatory State Goes AWOL
In the 1980s, a situation remarkably similar to the one in East Chicago played out in West Dallas, Texas, where a Congressional investigation revealed that an EPA official had blocked a proposed cleanup of 3,500 units of public housing sited across the street from a lead plant. It took another decade before lead-contaminated soil in the Texas complex was finally remediated.
The EPA's fumbles in East Chicago lasted even longer. The agency began its involvement in the city in 1980, after first-of-its-kind federal environmental legislation empowered the agency to begin monitoring the handling of hazardous waste in both new and existing facilities. That brought federal inspectors to the gates of USS Lead, the last smelter still operating in East Chicago. A series of reports from 1981 detail extremely high lead levels in surface soil surrounding the plant, as well as unprotected waste piles—also containing high lead concentrations—that could easily be scattered by the wind. After being cited by the EPA for the latter, USS Lead agreed the following year to pay a thousand-dollar civil penalty and use a chemical binding agent to contain the waste piles, according to EPA administrative records.
Yet three years later, the Indiana State Department of Health found lead particles downwind of the plant, in violation of state law. Shortly thereafter, in November 1985, Democratic Congressman Pete Visclosky wrote to the EPA to request removal of hazardous waste at the site under the Superfund law, warning of the "immediate danger" of toxic waste being spread into the air and water.
More than twenty years would go by before the federal agency fulfilled this request. Instead, the EPA deferred to the Indiana Department of Environmental Management to oversee the cleanup of USS Lead, which ceased operations in 1985. The federal agency did file a lawsuit charging that the plant was dumping pollutants in violation of the Clean Water Act—EPA investigators were apparently rankled by management's insistence that sloppy hunters were to blame for a pile-up of dead ducks in the adjacent Calumet River. But a settlement reached six years later, in 1992, merely required USS Lead's parent company to pay a $55,000 fine and contain the remaining hazardous waste on-site using chemical-resistant tarps. Federal and state cleanup plans did little to address potential contamination that had occurred in the surrounding neighborhood.
In 1992, USS Lead's parent company had long since declared bankruptcy, and the EPA proposed placing the smelter on the Superfund National Priorities Site in order to access federal funds for a more comprehensive clean-up. For reasons that are unclear, the site was never listed, and cleanup proceeded under the state agency. A Superfund official told the Chicago Tribune last year that the EPA was asked to step aside for financial reasons, which it did. It wasn't until 2008 that the EPA once again submitted the USS Lead site for the Superfund National Priorities List, where it was placed the following year.
It's hard to know how many other towns still have poison in their soil.
There are a number of reasons why the EPA may have delayed its involvement for so long. Soon after Superfund's passage, Ronald Reagan took office and began attacking the nascent program and other newly passed environmental regulations. Delays in Superfund's reauthorization in 1985 meant that non-emergency work ground to a halt. A decade later, a Republican-controlled Congress eliminated a tax on oil and gas companies that provided a large chunk of the funding for federal cleanup efforts, meaning that the EPA often must take responsible companies—if they still exist—to court in order to force them to foot the bill. Reporting by the Center for Public Integrity has shown that increased Superfund cleanup costs are outstripping available funding.
Heavy Metal Public School
Notwithstanding these factors, a central mystery remains in East Chicago's cleanup process: Why did state and federal agencies focus so narrowly on the USS Lead site—and not, for example, the Anaconda Lead Products location—for so long?
While the facility was the only one operating in East Chicago by the time the EPA arrived on the scene, it was no secret that the city had once been home to many others likely to have left a toxic trail in their wake. Among the EPA's administrative records for East Chicago is a page from a 1986 Indiana industrial directory, with USS Lead marked with an "x." Among several other sites marked are Du Pont, which manufactured lead arsenate insecticide nearby, and Blaw Knox, the company that sold the city the land where the Anaconda smelter was located.
In 1991, the Indiana Department of Natural Resources supplied a list of endangered species within a two-mile radius of the Superfund site. No equivalent assessment appears to have been performed of the most vulnerable human populations within this area. But further EPA records show that state and federal officials missed a number of subsequent opportunities to address the contamination at West Calumet Housing Complex.
Most notably, as the Times of Northwest Indiana first reported, the EPA became concerned about lead exposure during renovation at Carrie Gosch Elementary in 1997 and suggested that the Indiana Department of Environmental Management conduct additional sampling. An IDEM document notes that per the EPA, the school was "located six blocks north of the former Anaconda site"—the first apparent direct reference to the old lead smelter in federal and state environmental records. IDEM's limited sampling found elevated lead levels in several spots around the school. The agency advised the school's contractor to remove the contaminated soil, but wrote that "no further assessment is planned for the West Calumet Housing Complex."
The warning from the EPA did prompt the city health department to offer blood screening to city residents for the first time in more than a decade. A brief article in the Times of Northwest Indiana from June 1997 announced two days of free testing and spelled out the underlying problem in plain language: "The West Calumet housing complex is built on the site of a former lead smelting operation that closed decades ago."
This small red flag appears to have been unnoticed by most residents: absent systematic outreach, fewer than one hundred people turned up for blood testing. Yet within that group, more than 30 percent of young children tested had elevated lead levels, a substantial rate of exposure. The state department of health subsequently recommended investigating soil contamination at the old smelter sites, but state and federal environmental officials continued to focus on the existing cleanup plan at the old USS Lead site.
After conducting further sampling for the EPA, an agency contractor wrote in a 2000 report, "If it is EPA's position that USS Lead was the sole contributor of lead in the soil in the area, then we believe this is a premature conclusion."
In subsequent years, the EPA's administrative record shows, the agency began sending letters to a host of gas and chemical companies, informing them of potential liabilities and requesting information about their connection to industrial operations in East Chicago. Nearly a decade later, in 2014, the EPA filed suit against DuPont and ARCO and reached a settlement the same year stipulating that the companies would pay cleanup costs in two areas of the city to the tune of $26 million.
When the EPA finally conducted more extensive soil sampling at the housing complex in 2014 and 2015, it found that at one site, the lead level was as high as 91,000 parts per million. But the agency didn't release data to the city until May 2016.
Pure Hell Unleashed
After the EPA informed the City of East Chicago of the lead problem, it then took another two months before the city finally informed public housing residents of the dangers they faced. "Now that we know the levels of lead in the ground in West Calumet Housing Complex, we feel it is in your best interest to temporarily relocate your household to safer conditions," the July 2016 letter read in part.
For Akeeshea Daniels, the letter was like "a slap in the face." After forty-five years of failing to advise public housing residents of the dangers they faced, the city was now demanding that they move out within ninety days.
What followed was "pure hell," says Daniels. There was no room for residents to move to other public housing in the city; West Calumet Housing Complex was the largest of just four subsidized buildings operated by the city's housing authority. That meant either trying the private market, where those receiving federal housing subsidies often face discrimination, or moving to another city. In the four months that followed the city's letter, Daniels estimates that she looked at more than a hundred apartments, the stress mounting daily as the housing authority increased pressure on residents to leave. "They were sending us flyers with clocks on them," Daniels remembers. Searching for apartments all day took a toll on her arthritic body. She began getting shots of Demarol to keep going.
Meanwhile, Daniels was still paying her $500-a-month rent, fearful that the housing authority could otherwise initiate an eviction. In August, the Shriver Center filed a federal housing discrimination complaint alleging that the ECHA's haphazard relocation process violated fair housing laws. "The process is so chaotic and unscripted that ECHA's actions may virtually guarantee that the West Calumet residents will face terrible housing outcomes, including homelessness, loss of housing subsidies, and residential segregation," the complaint charged.
In November, a settlement was reached that gave the residents extra time to relocate, as well as rent abatement for the rest of the time in their contaminated homes. Relocation benefits were also guaranteed to families who had moved out of the West Calumet Housing Complex within the past year—mysterious health problems had prompted some to move before receiving news of the contamination.
But even then, the difficulties continued. Under the terms of the settlement, the housing authority could begin transferring remaining residents to temporary apartments in March, provided that the emergency housing had been screened for lead hazards. Yet the Times of Northwest Indiana obtained inspection records showing that lead paint had, in fact, been discovered outside nearly half of the units designated as temporary housing. The transfers proceeded anyway. By the end of June, the last residents of West Calumet Housing Complex were gone, scattered across East Chicago and neighboring cities. Before they left, they held one last cookout with current and former residents, taking the apartment numbers from their buildings as souvenirs of a community soon to be dissolved into thin air.
Daniels and her children were one of the last families to leave the housing complex. Landlord after landlord refused to accept her housing voucher, and she desperately wanted to remain in East Chicago in order to remain close to her family, five generations of whom have settled in the city.
With time to secure new housing running out, Daniels and her two younger children finally moved into a three-bedroom apartment about a mile east of the housing complex. Though that puts them outside of the area with the worst known contamination, they're still living on the Superfund site in what's known as "Zone 3," where the EPA plans to clean up at least 120 yards contaminated with lead and arsenic. The housing authority was supposed to test Daniels's new apartment for lead hazards before she moved in. Six months later, she was still waiting.
Malign Neglect
She's not the only one. Daniels's eighty-five-year-old grandmother still resides in the home that she bought with Daniels's grandfather, a migrant from the South who moved to Indiana to work at Inland Steel in the 1950s. Today, that house sits on top of the USS Lead Superfund site in what's known as "Zone 2," a private residential area outside the West Calumet Housing Complex that was left out of the EPA's 2014 settlement with ARCO and DuPont. The federal agency began sampling soil in Zone 2 during the summer of 2016 and announced that it would remove the soil at eighty-seven "priority properties" this year.
While West Calumet Housing Complex is now set to be demolished, former residents want East Chicago to build safe public housing elsewhere in the city and ensure that displaced residents have the right to return.
Meanwhile, "there are hundreds of properties in Zone 2 that still do not have a plan for cleanup," says Debbie Chizewer, a law fellow at Northwestern University's Environmental Advocacy Center who has been assisting East Chicago residents. "There are so many unanswered questions." Another subsidized housing complex, Cardinal Terrace, sits in Zone 2, and numerous voucher-holders live in private rental housing there, according to the Shriver Center.
In March, the EPA reached a settlement with a third company, U.S. Metals Refining Co., to fund some of the clean-up costs in Zone 2. The agency was still investigating other potentially responsible parties at press time.
Fed up with these fits and starts, in November 2016 Daniels and other East Chicago residents filed a class action lawsuit seeking a formal role in the EPA's clean-up process. "We realized that the residents needed a seat at the table, and that the best way to have that was through a court decision," says Chizewer, who helped file the motion to intervene in the federal agency's consent decree with chemical companies. The case is in progress.
Residents believe that securing a seat at the table is especially important now that the clean-up process faces another possible barrier: the Trump administration. In April, new EPA chief Scott Pruitt visited East Chicago amidst rumors that the agency planned to close its Midwest office entirely. That has not come to pass, and during his visit Pruitt reassured protesting residents that he planned to prioritize Superfund cleanups. It's unclear how he would accomplish this, however, given that Trump's budget proposes to cut the program's funding by 30 percent.
There are a few small bright spots to emerge out of the disaster in East Chicago. Former residents like Daniels, along with a number of community organizations that have sprung up in recent years, have brought national attention to the persistence of environmental racism. In April, Daniels travelled to the Peoples Climate March in Washington, D.C., where she spoke at the indigenous-led water ceremony that opened the demonstration.
In September, a bi-partisan group of six U.S. senators introduced the Lead-Safe Housing for Kids Act, which requires HUD to take additional measures to detect and address lead hazards in federally subsidized housing. The co-sponsors included both of Indiana's senators, who were hard-pressed to ignore months of meetings and demonstrations by East Chicago community groups.
Daniels and other former residents are also continuing to push state and local government, in collaboration with HUD, to create an "East Chicago Recovery Fund" that would provide ongoing health monitoring for all exposed residents, grants to help homeowners and renters remediate their properties and relocation assistance for those who wish to move off the Superfund site. While West Calumet Housing Complex is now set to be demolished, former residents want East Chicago to build safe public housing elsewhere in the city and ensure that displaced residents have the right to return.
Without this guarantee, says Daniels, it's not hard to imagine simply being ushered into another area rife with environmental hazards. "We were tossed out like trash," she says. "It's a hurting feeling. I want someone to look me in the eye and promise me that twenty years from now, we won't be going through the same thing."
---
[*] Correction: A previous version of this article incorrectly stated the years in which construction of the West Calumet housing complex began and in which Nixon signed the National Environmental Policy Act. Construction of the complex began in 1972, two years after Nixon signed the NEPA in 1970.