The Khasis are a matrilineal community residing predominantly in Northeast India, in the states of Meghalaya and Assam, as well as in neighboring Bangladesh. According to Khasi cosmology, the community originated from the seven families who remained on earth when the tree connecting heaven and earth was cut down. Khasis call their homeland Ki Hynñiewtrep, or the Land of Seven Huts. They have their own Niam Tynrai, or Traditional Faith, rooted in land, clan, and family.
---
Arriving in the Khasi-Jaintia Hills on June 22, 1841, the Welsh missionary Reverend Thomas Jones worked in the region for the next six or so years. Despite his best efforts, Reverend Jones did not manage to baptize anybody, though he compiled a Khasi alphabet and translated a part of the Gospel into it.
They say he taught the locals how to distill alcohol, use a saw, and purify lime. And he tried to defend the Khasis from exploitation by the British East India Company. Under state pressure, the Welsh Calvinist Methodist Mission canceled his missionary license and excommunicated him in 1847. Chased by company soldiers out of the Khasi-Jaintia hills, Jones died a lonely death in Calcutta in 1849.
Over the next century, however, the faith that Reverend Jones brought with him swept through the hills of Northeast India, nativizing itself. Many who chose the new book also kept their older belief system alive. I joke: Christianity was a Khasi religion accidently discovered in Wales.
---
In 2006–2007, the Khasi-Jaintia hills were abuzz with the stories of revivalism among the adherents of Presbyterian Christianity. One hundred years after the first revival, signs and wonders of the Holy Spirit were again seen across the region. Children made prophecies about the kingdom of heaven returning to earth, and in tear-laden trances, channeled the pain and tribulations of their community.
This is when I—a non-believing Hindu from the Indian mainland who has settled in Meghalaya—started making images in the community. The project continues to this day.
---
In the Hindu-Nationalist (dare I say decolonial) imagination, religious conversion—to "foreign faiths" like Christianity and Islam—is understood as an encounter between helpless natives and powerful missionaries. In the Khasi-Jaintia hills, however, the adoption of Christianity has not been so straightforward. For one thing, converts from Niam Tynrai risked breaking traditional kinship and family ties. For another, those who converted did not necessarily or completely accept the Christian worldview. Rather, a form of religious syncretism arose: Khasis became Christians on their own terms.
Today, around one fourth of Khasis still follow Niam Tynrai, which is decidedly not a part of Hinduism, though of course Hindu Nationalists like to claim it is.
---
Under the present regime, led by the ruling Bhartiya Janata Party, Indian Christians and Muslims are under siege. Indeed, India itself is being remade. Once celebrated as a great pluralist success of Third World nation-building, many of its postcolonial benchmarks like secularism and religious freedom are being rapidly erased as an authoritarian vision of Hinduism is imposed on all.
"Anti-Conversion Laws" are a particularly vile tactic the government uses to demonize Christians and Muslims. Under such legislation, which has been passed in state after state in recent years, Christian and Islamic religious leaders are baselessly accused of forcibly converting Hindus. Such accusations have often led to mob attacks on churches and mosques. (Never mind that many of those who "converted" away from Hinduism from the medieval era onwards did so to escape the humiliations of the caste system.)
For the relatively miniscule Khasi population, mainland India seems increasingly a foreign land—one whose masters are again rounding up on Reverend Jones.
---
In 2016, while conducting research in the Calvinist Methodist Archives lodged at the Nation Library, in Aberystwyth, Wales, I came across picture postcards that missionaries had sent home during their sojourn in the Khasi-Jaintia Hills. I incorporated these postcards into my project, using them as a visual field on which to make politics and history—as well as my own feelings—visible.
A friend, seeing the postcards, quoted Bob Dylan to me:
The're selling postcards of the hanging
They're painting the passports brown
The beauty parlor is filled with sailors
The circus is in town.
---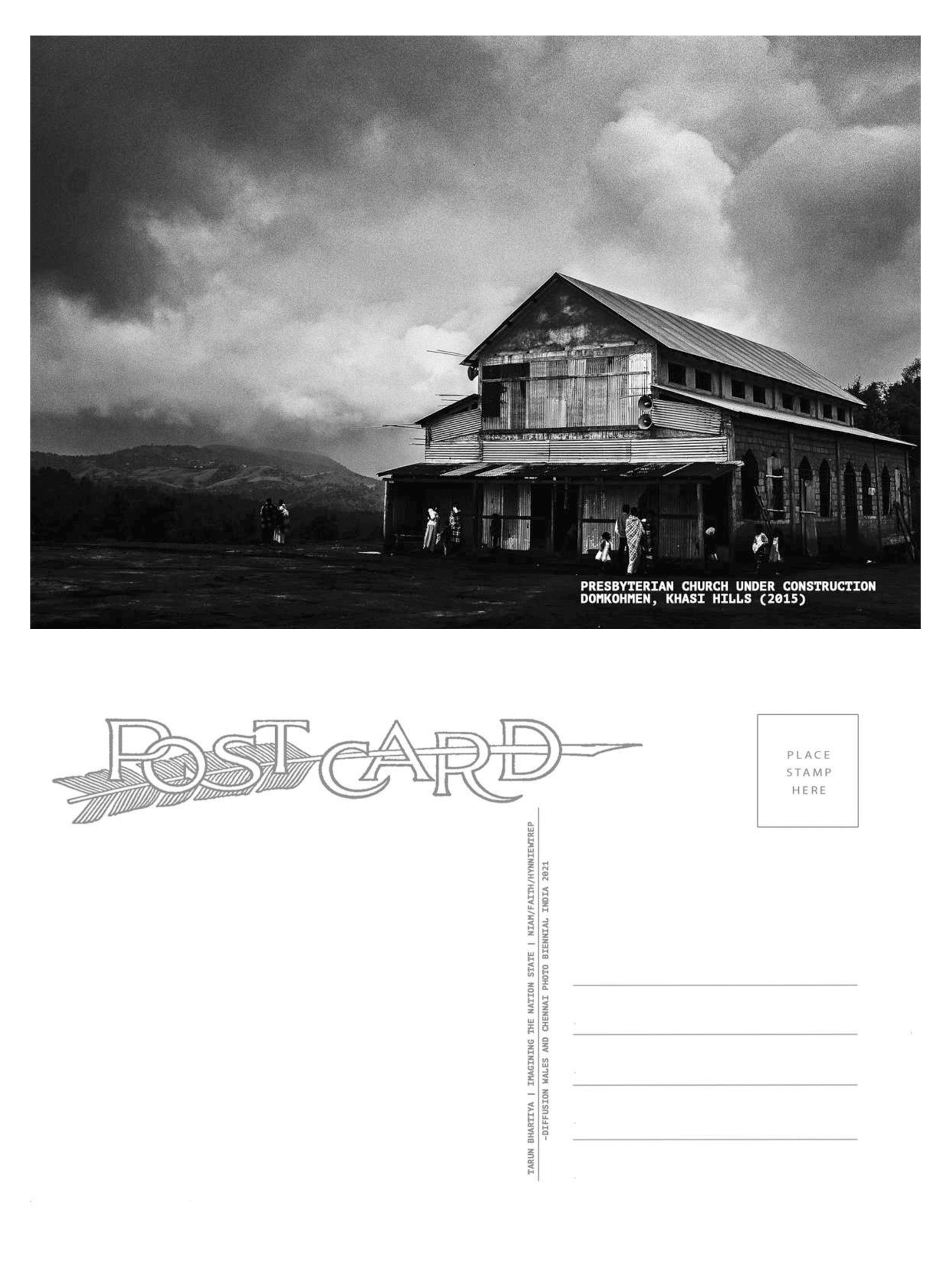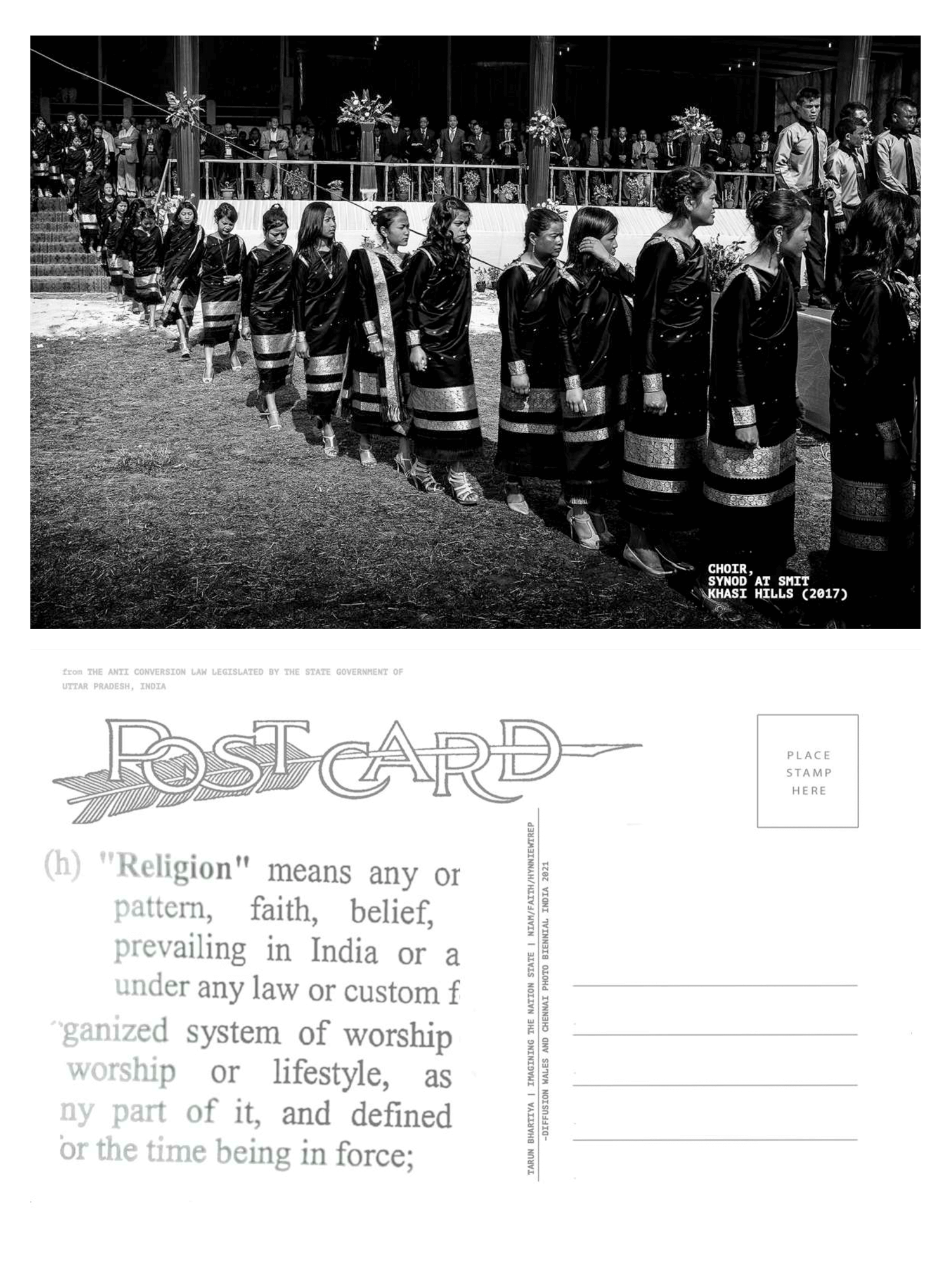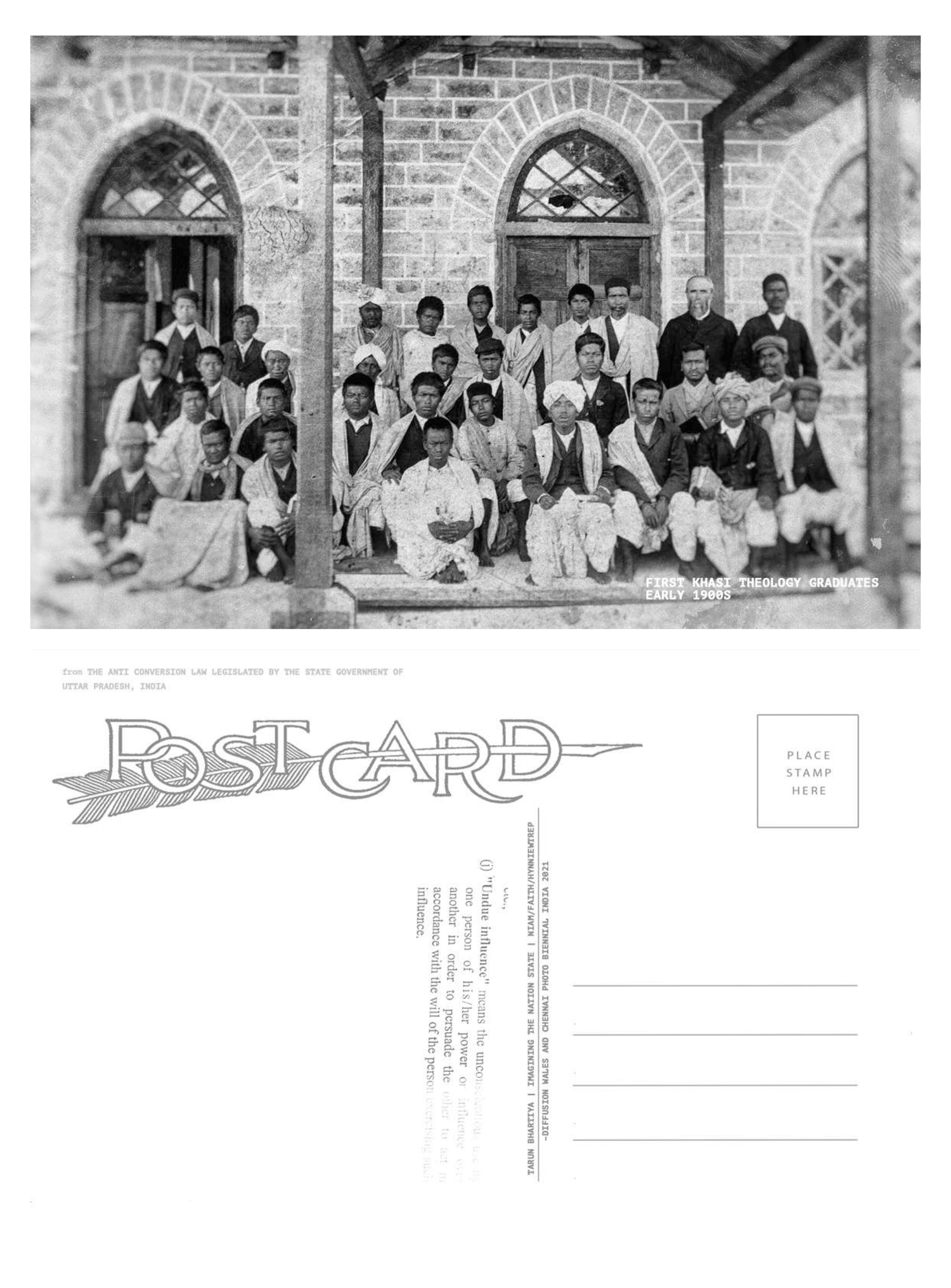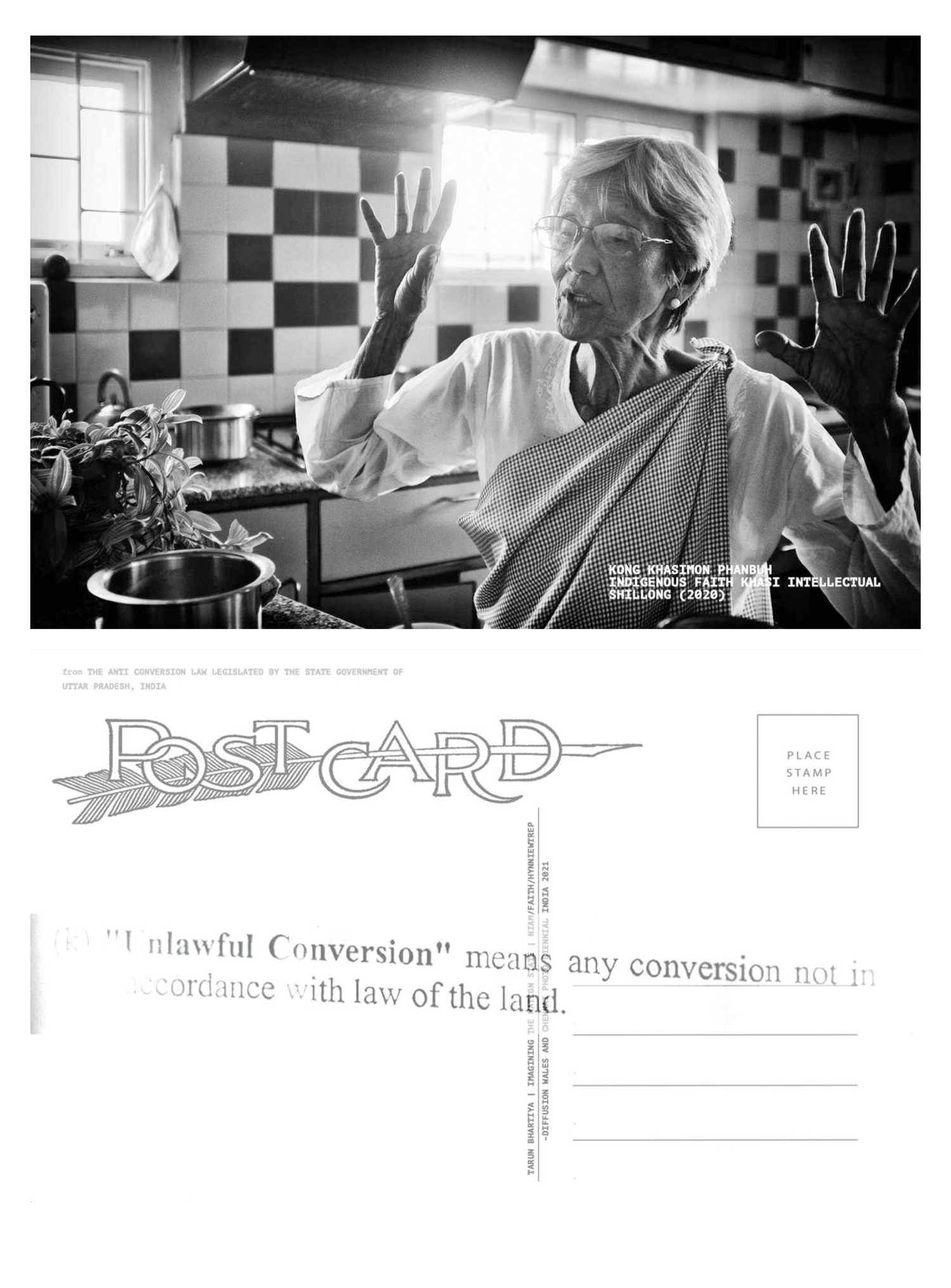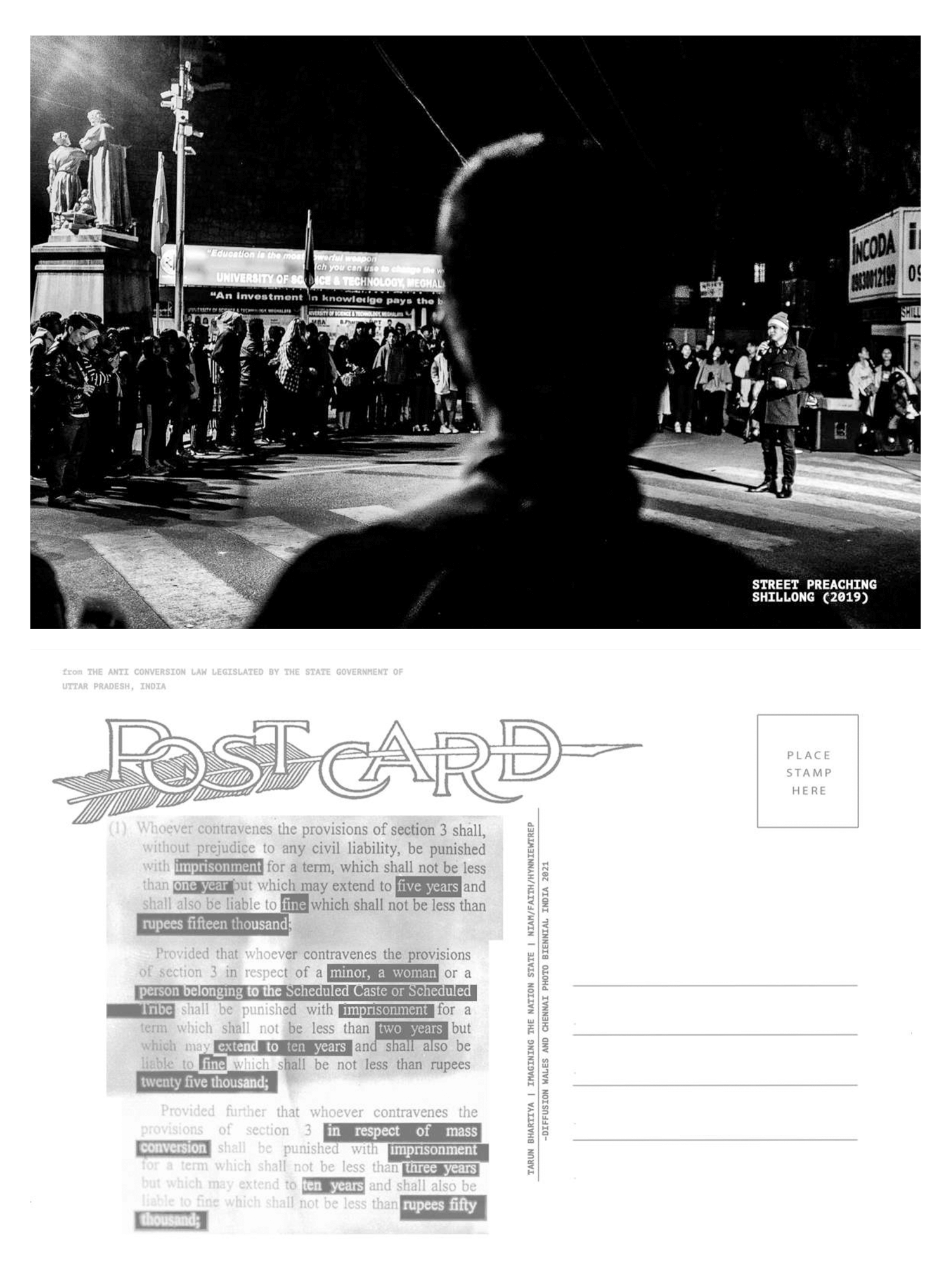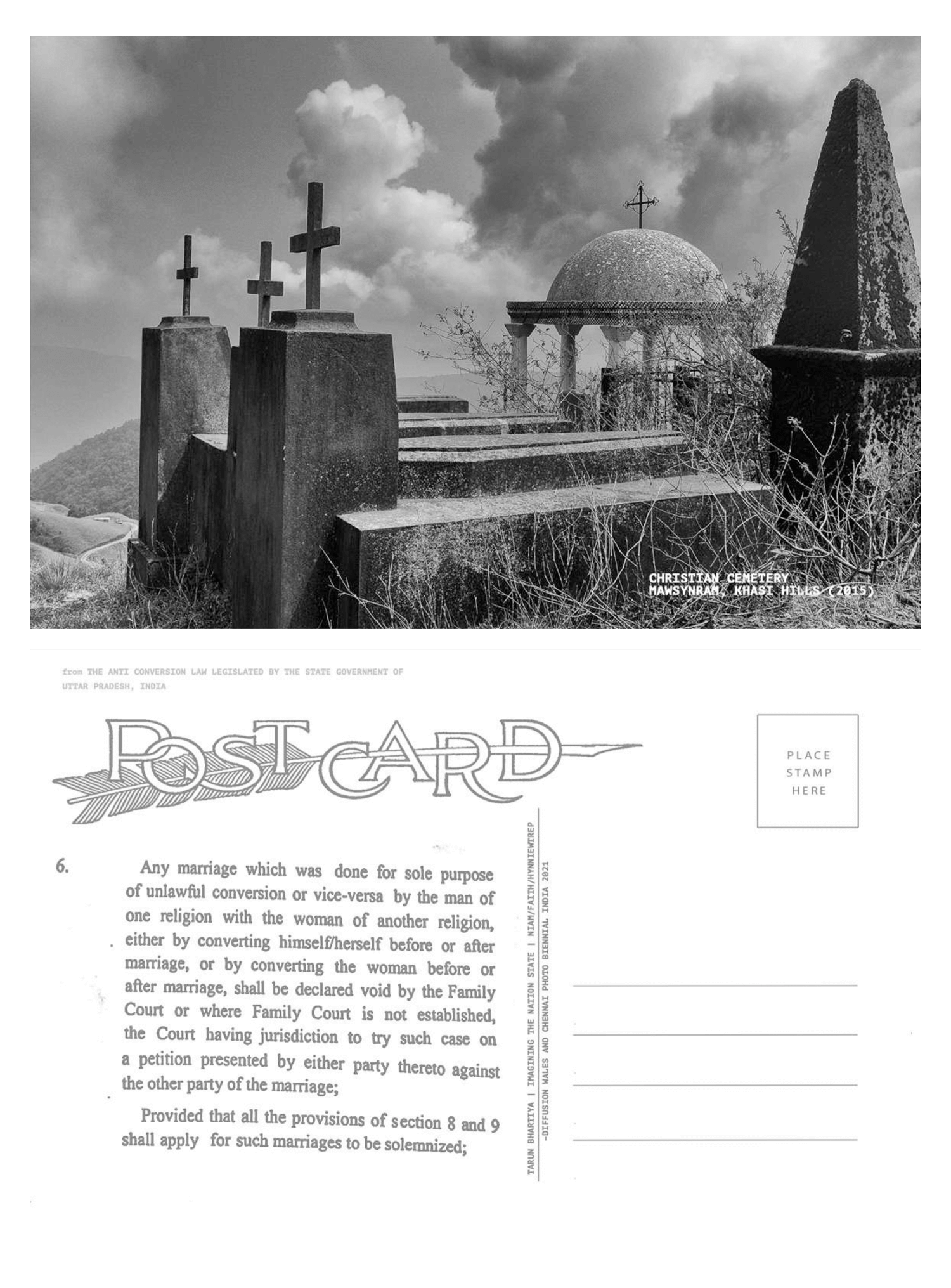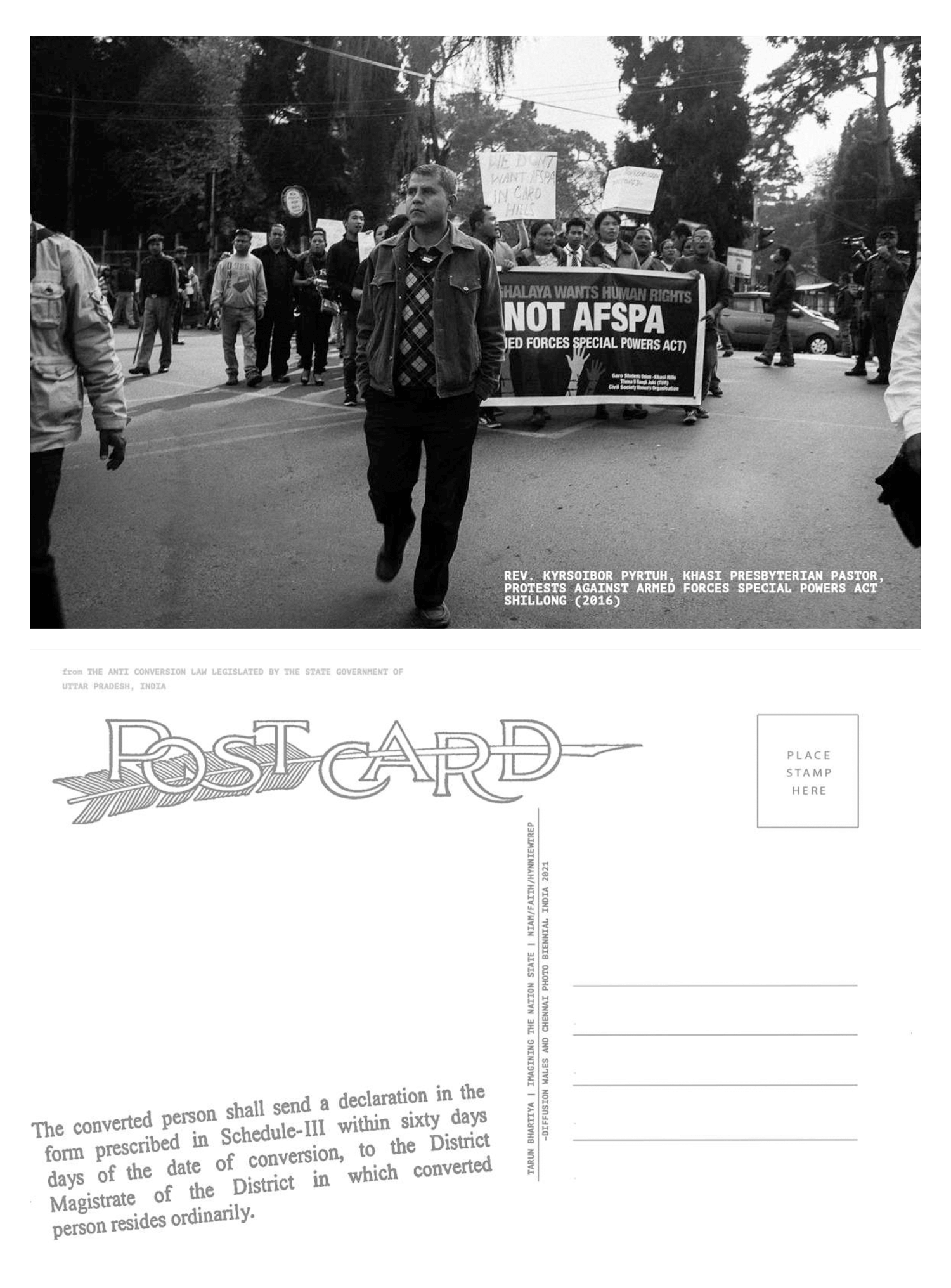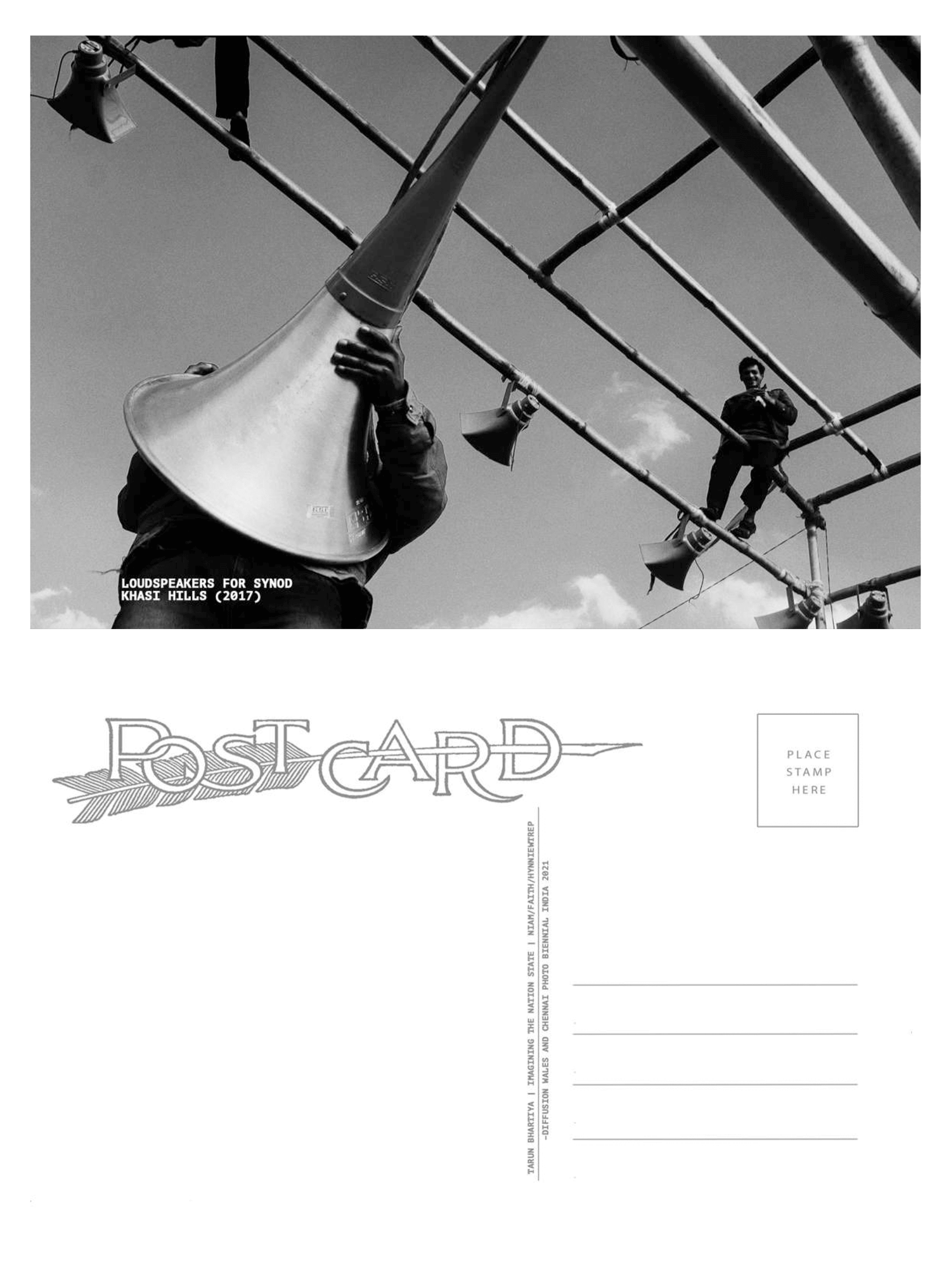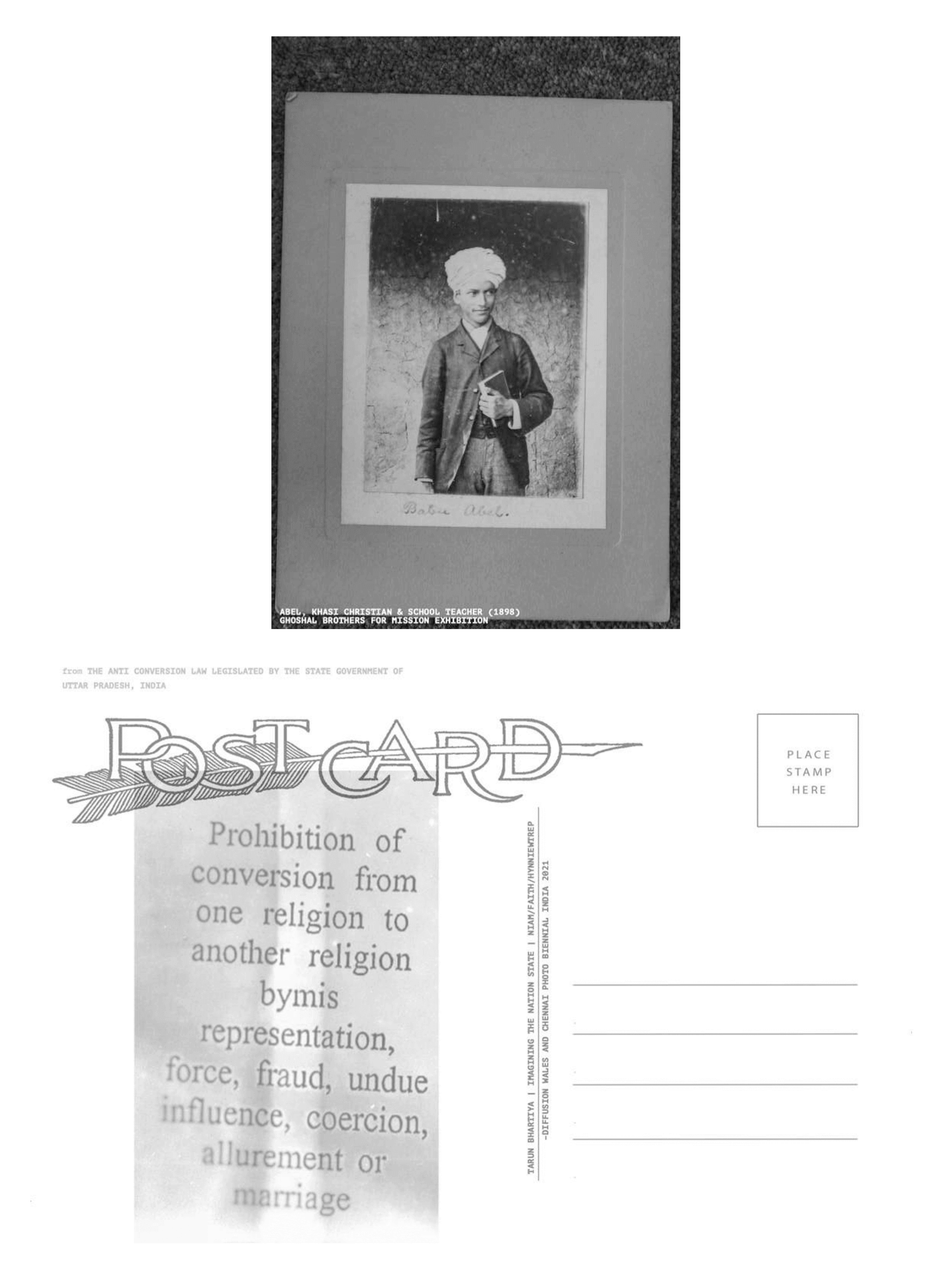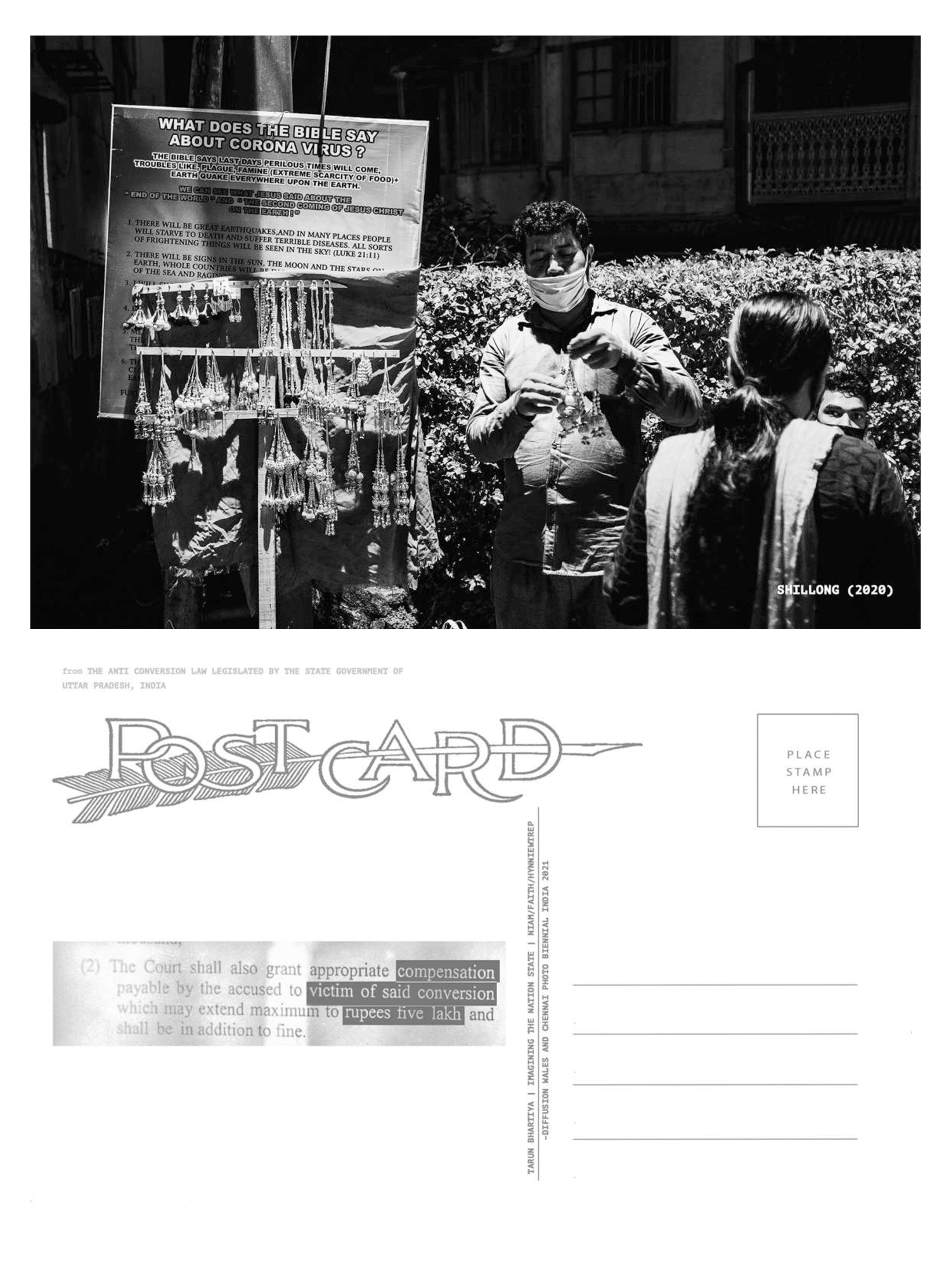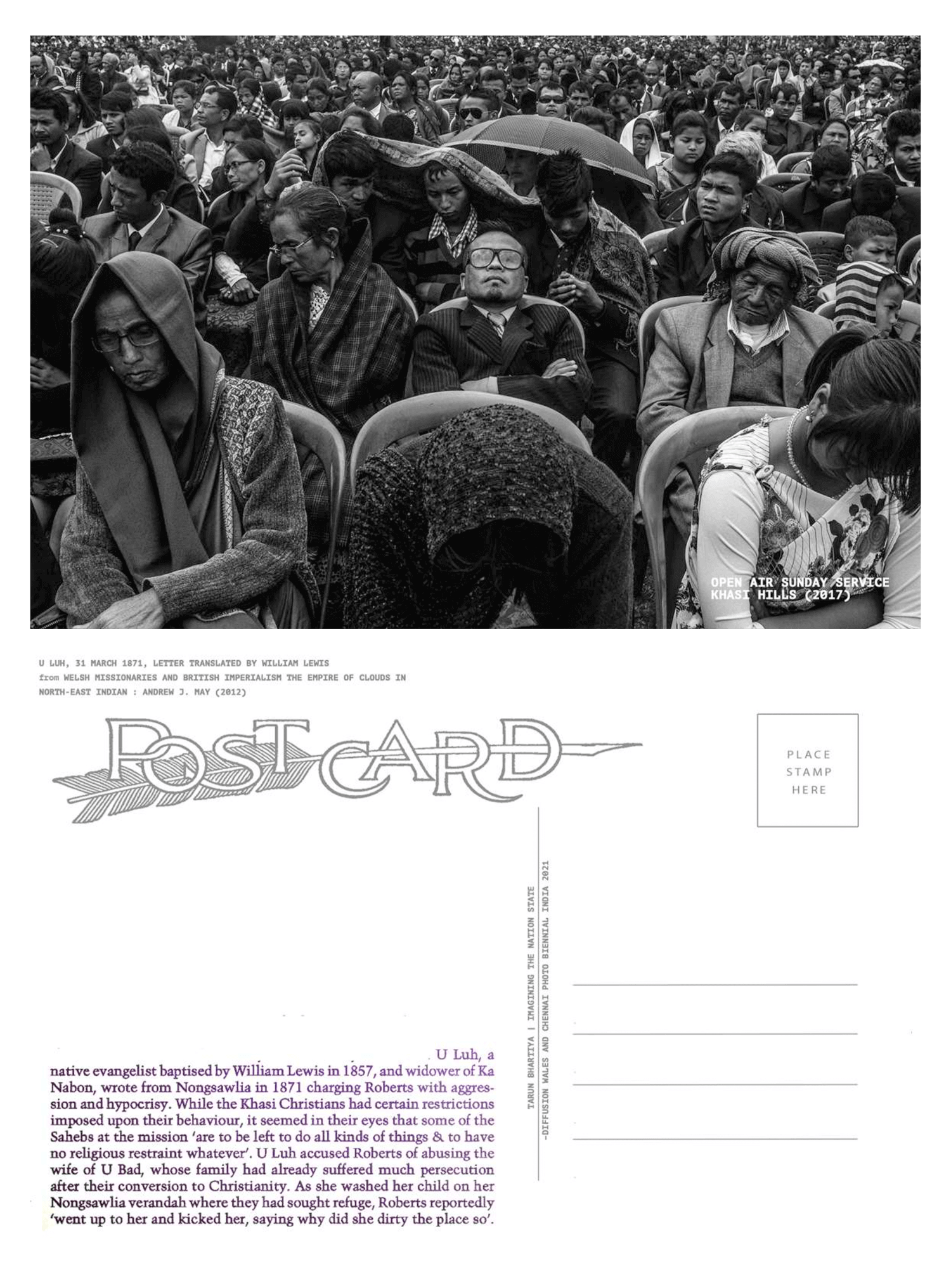 ---
Land of Seven Huts was made with support from the Chennai Photo Biennial, the Diffusion-Welsh International Festival of Photography, and India Foundation for the Arts.