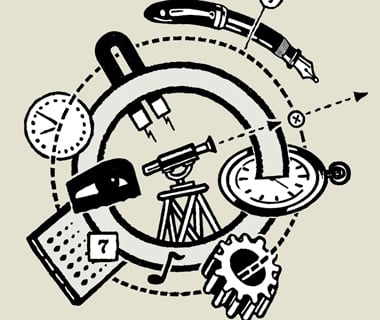 We are quite confident that present-day Washington will go down in the annals of bloated, unselfaware privilege right alongside other, similarly gruesome chapters in the human experiment, such as the reign of Caligula or the film career of Michael Bay. But even we were unprepared for what Politico's star reporter, Mike Allen, tucked into our inbox on an otherwise sleepy morning in late June. Allen, you see, is the tireless transcriber of canned quotage and all the other self-interested effluvia that showers down on Washington's media scene from its great benefactors on K Street and Capitol Hill. Early each morning, he thoughtfully condenses all this undignified twaddle in a mass email known as "The Playbook." Just who's coaching or competing in the game that Allen so assiduously chronicles unto its innermost parts is never made clear; for him, as for all true bards of the ages, the Play is very much the Thing.
But on this particular Saturday, this amanuensis of power decided to pull back the curtain (if we may borrow one of his employer's most overworn similes) on his own fun-loving personal life. The night before, it seems, was Allen's birthday (birthday notices are, for some reason, another cloying feature of the Playbook dispatches, along with crass corporate sponshorship notices from the likes of GE and Goldman Sachs). And for the occasion, the star reporter was treated to a party hosted by a vast contingent of his fraternity brothers, who rocked the campus of his Confederacy-friendly alma mater, Washington and Lee University, back in the eighties, when everything was awesome.
And you can just imagine how exuberantly the old frat gang partied during their well-appointed evening revelry at Georgetown's waterside Sequoia restaurant. "It was like a reunion with only people you wanted to see," Allen recalled, misty-eyed, the following day. And we can truly add nothing to his masterful roll call of the dear old brothers of Sigma Phils Epsilon from across the decades:
Every single one of the dudes is enjoyable, successful, has a great family, and looks and sounds roughly the same. (Coudert, Blair Severe and Brandt Surgner tied for the Least-Changed Award.) Barry Waterman joined his Dad's real-estate business, and has now brought in his own son. Kimbell's son, Joe, is going to W&L this fall. Everyone busted out the old nicknames: Woodhead, Brickhead, Sneakers, Buzz, Speedy, Rebel, Dude, Pretzel, Country, Z, Nutty, Zany, Hammer. Then there were the names for houses: The Shack, The Cave, The Falls, Green Acres, Bear Farm. And one poor dog, who lived on for several happy years after graduation: Avatar, Skeletar, Bony — the Hound from Hell.

The old stories came out: The time Dave Ford went to a Halloween party dressed as a scarecrow, and we lit him on fire. Or the time Rick Robins brought a prospective student by the house, and our culinarily challenged cook, Dora, was serving burritos and clam chowder ("Surf 'n' turf"). The time someone bugged the phone room. In the TV room, the perils of navigating pizza boxes and dip cups. (When one tipped over: "Diptastrophe!") The time none of the boys would tell Rob's mom where he lived – to protect HER, not him. The pranks, the hookups, the humiliations. And Jason Lisi STILL doesn't get why we had a WOODEN fire escape.
Ha, ha, that Lisi! And "Diptastrophe"! When you've got a crew that includes a Dude and a Rebel, a Nutty and a Zany, why, the pizza boxes are bound to pile up, just like the pranks and the hook-ups. Another absent brother couldn't make it, but sent a note detailing his professional endeavors of the past few decades:
After Graduation, I worked in several facets of the Hospitality Industry. I guess being social chairman had it's benefits. I was GM at some of suburban Philly's best restaurants. Long hours, too much partying, and my parent's failing health forced me to make a career change. I began working for NCO, a risk management company, (that's right a debt collector) but, I swear none of you crossed my path, or you would have heard from me sooner. As a manager there, I was not the one doing the harassing, and actually, it was a rewarding job in many ways.
No doubt! He doesn't specify the span of his tenure at NCO, but it sounds like the greatest reward came in the heyday of American consumer debt, from 2003-2006 (aka the Era of Negative Savings). The end of that joyous time was, at any rate, when the attorney general of Pennsylvania announced a settlement with NCO to sweep away more than 800 consumer complaints of harassing and intimidating behavior from the company's collectors. Among the most common tactics: "engaging in or using unfair or deceptive debt collection acts and/or practices, and engaging in or using false, deceptive, or misleading representations or means in connection with the collection of debts." The agreement allowed NCO to formally deny the charges in exchange for a stricter set of best practices for the firm's collectors, and close intrafirm monitoring of their trademark excesses.
By Corbett's own account, it would be a steep learning curve: "Many consumers were very upset after they had received abusive or threatening calls from NCO Financial, in some instances even after the consumer had unsuccessfully tried to tell them that they did not owe the debt. In many cases, these calls did not stop until the Attorney General's Bureau of Consumer Protection got involved." And evidently, there's plenty of work ahead, to judge by the $3.2 million fine assessed by the FTC in a complaint involving the firm–which has since merged into the largest debt collector in the world–late last year.
But hey, the former frat social director has since moved on to the hospitality industry, so it's all good, Dude (or Zany, or whatever your name is). Let's order up another round, and pray there's no Diptastrophe–or an embarrassing culinary faux pas from the cook lady. So let us take leave of the Allen posse the way they'd want to be remembered:
As the birthday candles were blown out, we treated other Sequoia diners to a rowdy rendition of Sig Ep's drinking song — this time toasting with nice wine, instead of cheap beer: "We will drink, drink, drink to Epsilon, and we will raise our glasses high – raise 'em high!"
Yes, drink on, Epsilon brothers. Some corporation or another will no doubt be expensed for a goodly amount of that nice wine, and in any case, the debt collectors are all on your side!