Ways of Seeing the New South
On "New Southern Photography" in New Orleans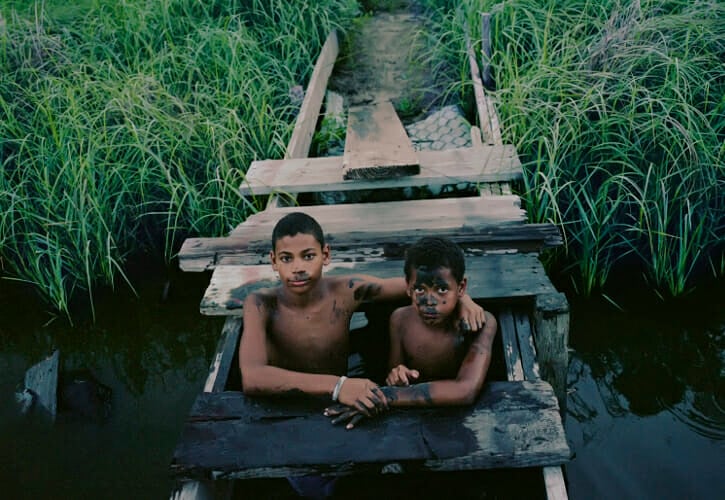 The "New South" was less a descriptor of what had changed in the wake of the Civil War than it was a phrase that condensed certain moral and political aspirations. The promise, or challenge, it contained was thus: how to transform a society based on slavery into one that embraces plurality. And, at the same time: Is such a transformation possible? That the "New South" is still uttered a hundred and fifty years later approximates an answer.
"New Southern Photography" is caught up in the celebration of that righteous contemporary virtue—diversity.
Indeed, the New South is quite an old thing. In 1891, for instance, a group of descendants of Africans formed an organization in New Orleans called the Citizens' Committee, a sort of precursor to organizations like the NAACP, the SCLC, and SNCC. One of the Citizens' Council's laudable, but hijacked, actions was to coach a man named Homer Plessy to board a segregated train car—at a time, after the end of Reconstruction, perhaps better understood as Old rather than New. Predictably, Plessy was arrested, giving the CC the pretext it needed for its legal challenge. The Supreme Court, cruel as ever, upheld the legal standard for sanctioned discrimination. Fifty or so years later, dissidents like Rosa Parks and those plaintiffs party to Brown v.  Board of Education, coached and supported by the NAACP, reenacted Plessy's tactic to invalidate the "Separate but Equal" doctrine. It's often noted that time runs differently in the South.
Both the phrase "New South" and the time-space it identifies contain some of the old misdirection characteristic of the region's resilience, frontier ingenuity, and humorous storytelling. An exhibition called "New Southern Photography," then, you can expect, couldn't be faithfully straightforward. And it isn't: in these collected photographs of the New South, we mainly find mythologies, illusions, re-imaginations of history, and a not-yet-but-perhaps-one-day reality. Which means if you look at any of these pictures, on view at the Ogden Museum in New Orleans until March 10, 2019, and think this is how it is, or more damningly, this is how it will always be, then you'll not just be wrong, you won't even know it.
As a whole, "New Southern Photography" is dutifully caught up in the celebration of that righteous contemporary virtue—diversity. As such, the show features twenty-five photographers whose works cover a vast range of concepts, techniques, and, indeed, places. It is maybe too vast: the most charitable way to understand why the curator included one artist's pictures taken in New York and Rome is to admit that there is always someplace to the North.
Nevertheless, diversity can be fairly appreciated as the primordial challenge of the New South. The Old South handled it with violence, with its caste system, and with the timeworn American predilection for denial. The moral aspirations of the New South elevated the aims of the region, but one question that "New Southern Photography" asks is: How do we embrace diversity while also maintaining regional and cultural distinctiveness? Or: How is it possible to make sense of a group of artists and pictures that could easily be dismissed as a mish-mash?
Despite itself, there is a discernible line through "New Southern Photography": for all the exhibition's efforts to present the diversity of the contemporary South, the pictures themselves, with few exceptions, depict a segregated world. In Scott Dalton's series documenting life on both sides of the U.S.-Mexico border at El Paso and Ciudad Juárez, the built environment is perhaps the only indication of which side of the border you're on. Carl Martin uses a similar documentary style to capture the lives of people in Athens, Georgia—people driving, people at work, but no mixed groups, as it were. Celestia Morgan's photographs don't include any people, but they do make oblique references to real lives affected by racist and segregationist practices. Her "sky maps" are pictures of the clouds and skies above Birmingham, Alabama, over which Morgan has drawn the borders of various redlined lending zones throughout the city. The maps are paired with photographs of the deteriorating houses within the zones.
The challenge is to notice the other cues that signify a hybrid nation.
Elsewhere, in Jared Soares's Small-Town Hip Hop, a portrayal of the local hip-hop scene in Roanoke, Virginia, we discover some of the few mixed portraits in "New Southern Photography." Blizz and Brooke (2011) shows a couple sitting on a brown leather loveseat—with their four interlocked hands; he leaning into her; she leaning into the armrest at the same angle of his body. It's an image we shouldn't be surprised to find at the top of the New York Times's coverage of the exhibition.
Segregation remains a fact of American life. And yet, just as with notions of what's old and what's new, what's integrated and what's segregated has never been as clear as Americans tend to believe, or wish. The challenge, then, in looking at these photographs of the contemporary South, is to notice the other cues that signify a hybrid nation: what's common to the portraits within "New Southern Photography" is a sense of dignity carried by all sorts of people, and a sense of familiarity to spite everything else.
So what's new about today's New South? The illusions and their contradictions have been updated. It's a region of people who care about the land (Kael Alford's beautifully expressive series Bottom of da Boot: Louisiana's Disappearing Coast and John Chiara's mysterious and inventive landscapes of Mississippi), even as they're destroying it totally (David Emitt Adams's tintypes of petrochemical plants in Louisiana and Texas, which are printed on lids of oil drums). And it's a region of people who derive meaning from myths that mix old and new (Aaron Hardin's eloquent fable 13th Spring, which follows the unexpected birth of his daughter alongside the emergence of thirteen-year cicadas that spring and other biblical references). Among the deepest of all these illusions is the one that assures us that the problems of the South belong only to that region.