The Price is Wrong
A new art world exposé provides neither insight nor gossip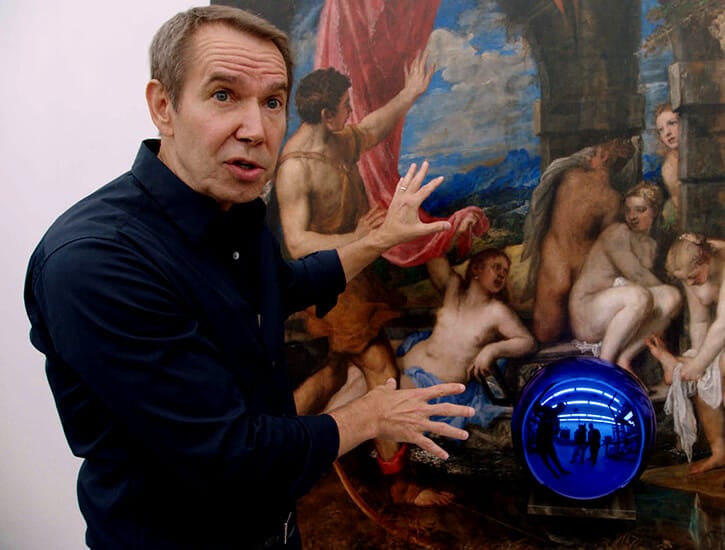 We already know the art market is rigged. Now what? | HBO Documentary Films
Documentary filmmaker Nathaniel Kahn would like you to believe that there are two kinds of artists in the world: those who sell and those who do not. And those who do sell, like Jeff Koons, can sell for upwards of $58 million (as Koons did in 2013 with Balloon Dog [Orange]).
In his latest film The Price of Everything, Kahn traces the notoriously inflated state of the contemporary art market back to 1973, when the infamous Robert Scull sale began to tip the scales. Scull, who made his fortune in the taxi business, collected work from relatively unknown living artists who were part of both the Abstract Expressionist and Pop Art movements, including Robert Rauschenberg and Jasper Johns, often for the low cost of $1,000–$2,000 (still a good chunk of change for a starving Soho artist). Then, in the early seventies, he turned around and sold their work at auction for thousands more, making  $2.2 million in total from the sale, equivalent to $12 million today. This legendary auction established the rubric for contemporary art flipping, and the bubble inflated from there. With the globalization of the art market, a golden age was born. And as curator Paul Schimmel says, "there is no golden age without gold."
Kahn's documentary poses the question "What is the relationship of art to money?" to a handful of prominent figures in the contemporary art world, including richer-than-god Koons, Sotheby's chairman Amy Cappellazzo, self-styled populist critic Jerry Saltz, and the painter Larry Poons. Their answers, while often brazen, land ambivalently, creating an incomplete portrait of an art world that seems completely resigned to the status quo.
Without any incisive critique or explosive insider information, the spectacle begins to wear thin.
"Art and money have always gone hand in hand. It is very important for good art to be expensive," premier auctioneer and art collector Simon de Pury pronounces in voiceover during the film's opening montage. "You only protect things that are valuable. If something has no financial value, people don't care." The Price of Everything follows the loose thread of his claim as it traipses behind Poons in his folksy studio completing work for an upcoming show, Cappellazzo preparing for a Big Sale, and collector Stefan T. Edlis as he shuffles around his penthouse full of iconic and expensive art, all of this action backed by a baroque orchestral score. We also trail de Pury through Frieze New York and catch up with Saltz, who, in a choice bit, paws a beaded sculpture by Francesca DiMattio in the Gavin Brown booth before inserting two fingers into the opening of a PVC pipe placed at its center. Oh, Jerry! Kahn depicts an art world full of people immune to their own vanity, milling in circles at fairs and private events, a lukewarm jacuzzi of the blasé liberal elite sipping very expensive champagne. But without any incisive critique or explosive insider information about the art market, the spectacle begins to wear thin.
That the contemporary art market is mostly a price-fixing scheme is an open secret, if it can be considered a secret at all. As economist Allison Schrager put it, "being outraged at the practice of high-end art price rigging is like being upset that the market for high end yachts is inefficient." A top tier gallery's brand relies on the sort of economic elitism that renders the non-monetary value of any artwork arbitrary. "There's a lot of money kicking around, and there's a limit to where you can put it," says Edlis in one of the film's opening scenes. He gives us his own formula: "To be an effective collector, deep down you have to be shallow, you have to be a decorator. You want this thing to work with the rugs, you want it to work with the furniture." There's no question that the market is rigged, but the audience is left wanting to know more about how.
In addition to this opacity, Kahn largely sidesteps weightier questions about the financialization of art. In a booming market where even a second-rate da Vinci can sell for half a billion dollars, what constitutes a masterpiece? If a masterpiece can be so easily commodified, is it still a masterpiece? Does art made specifically for sale have any inherent value beyond its price tag? In Kahn's model, masters are defined by their valuation, and their valuation is determined by cultural robber barons. The film positions itself as a teaching tool, but it starts to function more like propaganda for the shrinking art world Kahn set out to expose.
To hear art dealer and gallerist Gavin Brown describe it, the natural state of the art world is hierarchical: "In my part of the jungle, I am mostly meeting people who are interested in art," Brown says. "Up in the higher reaches of the treetops is a different ecosystem, where art is absolutely an asset class. That's essentially what the auctions have become: a trading house for assets." Take Sotheby's latest turn as the punchline of Banksy's half-realized joke, for example: the unnamed buyer of Banksy's self-destructing Girl with Balloon (2006), renamed Love is in the Bin (2018), decided to go through with her $1.4 million purchase after its trip through a built-in shredder: "At first I was shocked, but I realized I would end up with my own piece of art history." The moments that make art history are now made at auction.
It's true that there are artists who have long bucked the influence of the art market and refused to kowtow to its numbers game, like the sculptor Cady Noland, who in 2017 sued a collector of her work for creating an unauthorized copy of her Log Cabin sculpture in an attempt to "restore" and sell it. But the artists Kahn chooses as counter-examples to the decadence of the market are ones have still found significant success within it, whether or not they attend their own sales.
Kahn largely sidesteps weightier questions about the financialization of art.
The reclusive Larry Poons claims that "art and money have no intrinsic hook up at all," despite the fact that his 1960s dot paintings have sold for nearly $1 million. Still, Kahn positions Poons as a bumbling and lovable rebel, someone who has not achieved the soaring fame of other artists in his cohort because he's refused to create work just to sell. But by the end of the film, in what feels like a forced sweep of triumph, Poons puts on a survey exhibition at Yares Art, the gallery that represents him. Strings swells while attendees sing his praise, a sentimental gesture that feels out of place. Similarly, Kahn sets up Marilyn Minter as another artist said not to mind much about the market; regardless of their personal integrity, the film's positioning of Poons and Minter as underdogs trapped in the jaw of the ruthless art market is specious. There may only be two art markets—primary and secondary, from gallery to auction—but there are myriad art worlds and myriad ways artists pull together cash in order to live. Kahn's narrow framework occludes these other models: vibrant artist-run and alternative galleries, DIY or co-op studio spaces, or even a single art community that exists outside of a major American city.
"There are some people who know the price of everything but know the value of nothing. . . . The art world is capricious. It's not clear as to what the reasons are for some artists losing traction and others sailing into the sky," says Edlis at one point, as he before a Koons gazing ball. The gazing ball is an obvious metaphor for the art market and the world of collecting, and perhaps for the entire documentary itself—which both begins and ends with its image. Reflected in the blue finish is the film crew's camera and an upward angle of Edlis' body, finger pointing to pieces he's collected as he describes the privilege of gazing upon expensive art in the privacy of his home. While Saltz bemoans that the privatization of art makes great works invisible to the public, Cappellazzo calls museum storage a "cemetery" for art. If the public can't see the art in a museum, then let it fill the homes of the rich—at least someone is enjoying culture. (When asked by Kahn why he and his wife Gael Neeson recently decided to donate $500 million worth of their collection to the Art Institute of Chicago, Edlis quips, "the simple answer is no grandkids.")
Rather than a jungle, the art world of The Price is Everything most resembles a layer cake, and all the figures in Kahn's film are near the top, if not the hardening icing itself. Emerging artists may dream of achieving success without selling out, but most, if not all of them already know they're totally fucked. "I always tell artists, don't be an artist," warns Saltz. "Unless you really really, really want to. Because 99.999 percent of artists don't have money—it's that simple." The Price of Everything suggests the function of artists is to produce culture for the recreation of the rich, without doing enough to push back on this vision of the art world. There is no way out, and there is no other way.
It's a perspective that offers little insight. Kahn ultimately presents no serious indictment nor even any good gossip—just a soft-focus portrait of a self-satisfied crowd.