The End of Enforced Silence
Make way for a decade of Palestinian joy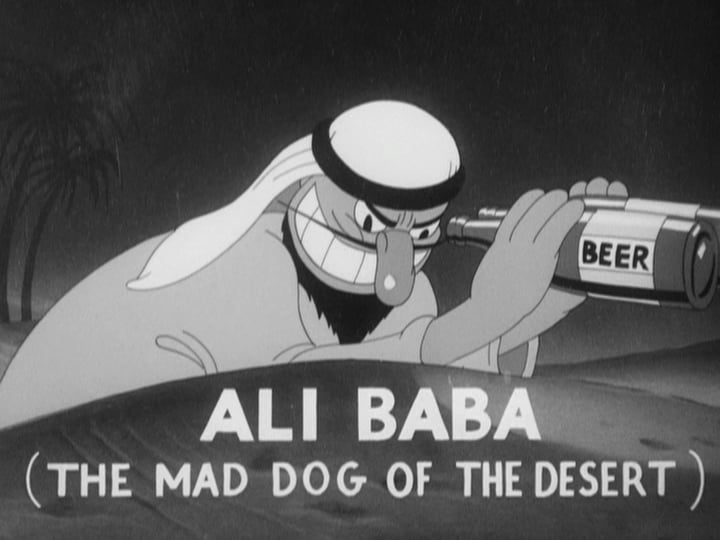 From Ali-Baba Bound (1940). | Warner Bros.
The family is driving slowly, deliberately, peeking out of their windows, until they see two children standing in the dirt road. The father stops the car and rolls down the glass. The mother rummages in her purse as he turns to their children. We watch the rest in slow motion: the arm stretching out of the window, the biscuit between two manicured fingers, and the Palestinian boy's dirty, grasping hands. Three beautiful daughters in the backseat observe the scene carefully. The father asks them, "Who wants to feed the Bedouins?"
This widely shared video is an encapsulation of Israel in 2020: a land of Jews and animals. Last year, Prime Minister Benjamin Netanyahu announced a policy of de facto Judaization in the Negev region that would forcibly transfer some thirty-six thousand Palestinian Bedouins from their villages in order to expand military training areas. You'd be forgiven for having missed this news; the next month, David M. Halbfinger, the Jerusalem bureau chief for the New York Times, was busy writing an article where he described Netanyahu in a now amended paragraph as "the only Israeli politician with the stature and experience to lead a lonely democracy in a hostile region."
This is all part of the standard playbook: violence, hasbara, and then erasure. Just weeks ago, the Jewish National Fund announced they had been planting trees over these cleared Bedouin lands, employing a longstanding historical strategy of covering depopulated Palestinian villages with the Israeli pine as a means of claiming them for the Zionist project. Such policies of ethnic cleansing are mutually reinforcing with the dehumanization we witnessed in that car, all of it part of the global project of Palestinian social death.
---
On the cover of a February 1984 issue of The London Review of Books, there is a haunting black-and-white picture taken by the British war photographer Don McCullin of a Palestinian woman and child fleeing the Karantina district in East Beirut after the massacre carried out by the Lebanese Christian Phalangists during the nation's decades-long civil war. It was in this issue of the magazine that Edward Said wrote, in his famous essay "Permission to narrate," of a "disciplinary communications apparatus" which "exists in the West both for overlooking most of the basic things that might present Israel in a bad light, and for punishing those who try to tell the truth." In it, he discussed the 1983 MacBride Commission, a coalition of jurists tasked with examining Israel's violations of international law during its 1982 invasion of Lebanon, and its collaborations with the Phalangists to orchestrate the later massacres of Palestinians in the Sabra and Shatila refugee camps. Said reflects on their report, which was blocked from publication in the United States:
The findings are horrifying—and almost as much because they are forgotten or routinely denied in press reports as because they occurred. The commission says that Israel was indeed guilty of acts of aggression contrary to international law; it made use of forbidden weapons and methods; it deliberately, indiscriminately and recklessly bombed civilian targets—"for example, schools, hospitals and other non-military targets"; it systematically bombed towns, cities, villages and refugee camps; it deported, dispersed and ill-treated civilian populations; it had no really valid reasons "under international law for its invasion of Lebanon, for the manner in which it conducted hostilities, or for its actions as an occupying force"; it was directly responsible for the Sabra and Shatila massacres.
Three decades later, how do media blackouts on Palestine function in practice? Sometimes they look like explicit racism or conflicts of interest. Consider again the New York Times, for whom Bret Stephens was a marquee hire in spite of his 2016 Wall Street Journal op-ed referring to a "disease of the Arab mind," and where Isabel Kershner was allowed to cover Israel while her son served in the Israeli Defense Forces.
Most of the writers in this milieu are incapable of centering Palestinians in their stories about Palestine, preferring to talk about, well, themselves.
Other times, these blackouts manifest as a total erasure of Palestinian history, like Debra Kamin calling ethnically cleansed Jaffa "Tel Aviv's unexpected luxury hotspot." After outrage, the Times appended the following notice to the bottom of the piece: "The original version of this article, in focusing exclusively on the new high-end hotels and other additions, failed to touch on important aspects of Jaffa's makeup and its history—in particular, the history and continuing presence of its Arab population and the expulsion of many residents in 1948."
The paper's crown jewel, however, is Halbfinger, their aforementioned bureau chief. In May, he wrote an article about Israel fighting coronavirus, stunningly titled "Israeli Army's Idea Lab Aims at a New Target: Saving Lives." In it, he notes: "The Israeli Defense Ministry's research-and-development arm is best known for pioneering cutting-edge ways to kill people and blow things up, with stealth tanks and super drones among its more lethal recent projects."[*]
While celebrating the work of its military, Halbfinger also confers on Israel's political leaders an implicit heroism; Netanyahu is the "political wizard and indomitable survivor"; Benny Gantz possesses "appeal as a lifelong military man" with a "towering stature and steely blue eyes." In a June piece on Israel's annexation of Palestine, he quoted no Palestinians. Nor did he in this piece, or in this piece; it honestly defies belief. In fact, most of his articles feature one or zero Palestinian quotes, and on social media, Halbfinger prefers to retweet the same old-boys club of Israeli correspondents that he probably hangs out with in Jerusalem—which seems like, if you are paid to have a "balanced" perspective on the most entrenched two-party "conflict" in modern history, might make you . . . bad at your job?
Indeed, this coverage of Palestine is a form of journalistic malpractice. It is not that cronyism like this hasn't always existed in the news industry—it has—but rarely is it so transparently and so unrepentantly on display. This is in some ways a testament to the jocular racism that figures like Halbfinger exemplify, but more importantly, it shows just how easily one can block Palestinian voices—and how irrelevant it can be to one's career advancement. There is a point to be made that elite media institutions can never achieve the aims we are asking of them, that they are too close to power, too prone to refractive navel-gazing on the issues that concern the upper class. But if this were the full story, you would to expect to see no writing about Palestine at all. Instead, there is a lot—just virtually none of it by Palestinians.
Most of the writers in this milieu are incapable of centering Palestinians in their stories about Palestine, preferring to talk about, well, themselves. Isabel Kershner, in writing about HBO's miniseries Our Boys, framed its subject—the brutal killing of sixteen-year-old Palestinian Muhammed Abu Khdeir by Israeli settlers—as reviving "a National Trauma for Israel." Kershner's husband, Hirsh Goodman, a prominent journalist for conservative papers in Israel, recently wrote a major essay in The Atlantic titled, no kidding, "Annexation, Apartheid, and Me." Under the erstwhile leadership of James Bennett, the Times op-ed page published a hate figure under the headline "Annexing the West Bank would hurt Israel." Emma Green, a reporter who covers religion for The Atlantic and whose articles about Muslims traffic in the worst kind of victim-blaming, prefers the age-old question: "What Another Round of Netanyahu Will Mean for American Jews."
While representation is not the answer to this kind of coverage, per se—Palestinian class divisions mean that some of the Palestinians who attempt to speak loudest do so while undermining the nation through their corruption—when it comes to shifting the Overton Window, it can't hurt to have someone holding the mic. This is easier said than done. The Atlantic allegedly has a longstanding pro-Israel party line, courtesy of their editor Jeffrey Goldberg. The New Yorker almost never asks Arabs to write about Palestine. Even the Criterion Channel, an amalgam of some of the best films in the history of world cinema, has apparently been unable to find any films from Lebanon, Jordan, Syria, Egypt, or Palestine—the only film "about" the latter in the directory is Olivier Assayas's 1997 documentary about the Venezuelan fighter who supported the PFLP, titled Carlos: Terrorist Without Borders.
---
Rage, then, is the appropriate response. It was July in Bay Ridge, six months into the new decade. It was also "annexation day," much less a formal marker of anything, much more an excuse to celebrate and to be angry. The two are hardly at odds.
To commemorate de jure annexation, Palestinian civil society called for a "day of rage." Protests were held across the world; in Tel Aviv, thousands congregated. The New York 4 Palestine Coalition—comprised of groups like Samidoun, the Palestinian prisoner solidarity network, and Within Our Lifetime—scheduled theirs for the afternoon of July 1 in Brooklyn, outside the An-Noor social center.
There were maybe a thousand people: Palestinians from the community, allies, and the curious. I went mostly with my Palestinian friends. I also invited a long-time Jewish friend who had grown up in New York, the son of a leftist Jewish pediatrician. His girlfriend came too; she is grappling with a Zionism imbued by a Reform Jewish Sunday school upbringing. At the protest's starting point, we quickly outgrew and shut down the city block; police arrived en masse, their night sticks ready. An elderly man, unable to join us in the streets, waved a Palestinian flag from his apartment.
Our rage takes many forms, oftentimes as joy. The chants that day were infectious:
"Israel, Israel, what do you say? How many kids did you jail today?";

"Palestine is our demand! There'll be no peace on stolen land!";

"Not just annexation! Not just occupation! Fight for liberation! Bring the whole thing down!";

"Not another nickel! Not another dime! No more money for Israel's crimes!"
I used to worry that such chants would be alienating. Now I don't care. Events like these carve out spaces of strength and solidarity and allow for the kind of Palestinian self-expression that is stifled in the mainstream. This use of language is important—it recontextualizes the pain experienced by Palestinians in the face of dog whistles and weasel words designed to obfuscate victim and aggressor. Peter Baker was fond of calling everything a "clash" or a "conflict" when he was the Jerusalem bureau chief at the Times. His colleagues have preferred more astounding euphemisms like "extending sovereignty" or "loss of land." (I, too, misplace mine quite regularly.)
"Liberal Zionism" is another phrase with a strangulated meaning. An ethnostate cannot be a liberal democracy, after all. To believe in a Jewish nation in a land of multiple cultures and religions is to be a Jewish supremacist, a racist. At the protest, I tried to imagine a self-described Liberal Zionist attending. What keeps them away? Is it that the events are led by Palestinians, that they are sites of power for a people who no longer need to engage within prescribed boundaries and on prescribed terms? Is it a fear that proximity to a locus of Palestinian resistance might make them less Jewish? Or worse, more Palestinian? Most articulations of Liberal Zionism feel like wincing. Why balk at naming the truth? To be a Zionist is to view Palestinians as subhuman.
This dehumanization can manifest as world-destroying violence. Earlier this year, Israeli soldiers murdered Eyad el-Hallaq, a disabled Palestinian man, as he cowered next to a dumpster. Rogel Alpher, an Israeli journalist, was clear-eyed in his assessment: "Hallaq was on his way to the institution that took care of him, where he felt protected and loved. And they shot him. Like a dog, I wrote. That's a stupid expression. They didn't shoot him like a dog. They don't shoot dogs in the Old City. They shoot Arabs. They shot him like an Arab."
But even the liberal Jewish-American organization IfNotNow, dedicated to "end[ing] Israel's occupation," writes of a "moral crisis for American Jews" in their platform: "As we were dehumanized by the oppression we faced, we are now dehumanized by that which we are inflicting."
That may be true. But the organization could stand to take its cues from the people they are hoping to help liberate: IfNotNow does not disavow Zionism, and it does not take a position on the Boycott, Divestment, and Sanctions (BDS) movement, the most important form of resistance articulated by the Palestinian community, instead preferring advocacy of the wilting "reform Birthright" or "re-elect Ilhan Omar" variety. These aims are not themselves objectionable, and maybe their goal is to be accessible to a broader swath of the Jewish community than groups like Jewish Voice for Peace, which does endorse BDS and does oppose Zionism. That's all fine—but if IfNotNow's goal is to redeem Judaism by freeing Palestinians, then Palestinians are still the means and Judaism still the end. This is in some ways a mirror of the Zionist project; the object of colonization is still us.
---
Across the street on the day of the annexation protest, we saw kids. Some must have been in middle school, and they carried Israeli flags, heckling. They were counter protestors, there with their chaperones. An older, muscled man stood before them and unfurled a Trump 2020 flag, waving it emphatically at the crowd. (In Israel, they are naming the new bypass that cuts East Jerusalem Palestinians off from their city "The American Road"; in the Golan, they're building a settlement called Trump Heights.)
But the image I will never be able to get out of my mind was one of the girls, who couldn't have been a day older than fifteen, standing astride a green bench and gyrating her hips to some unheard music. She unfurled the middle digit of left hand to the world in defiance. After, she blew us a kiss and taunted, "There is no Palestine, there is no such thing."
The crowd's chants continued, "terrorists . . . terrorists . . . you are all terrorists!" "Palestinian terror" is, of course, one of the most pernicious and longstanding of the linguistic misdirections used to manufacture consent on Palestine—not so much an irritant to read as an eighteen-wheeler through the temples. Remi Kanazi writes that in fifty days in 2014, Israel murdered more Palestinians than all the Israelis killed in the last thirty years. More than five hundred were children. Why then are we still reading about "Palestinian terror" almost daily? The point is not to tally lives lost in some morbid scoreboard, but rather to highlight blatant racism in the coverage of Palestinian life. Edward Said again: "Most of all, terrorism has come to signify 'our' view of everything in the world that seems inimical to our interests, army, policy, or values."
Our group tried to ignore the counter-protestors, shifting our focus to the speakers, who included a representative from The Red Nation, a Native liberation group, as well as a solidarity note recorded from prison by Mumia Abu-Jamal, a former Black Panther, incarcerated for the last three decades. Later, as we marched, the crowd stopped, as if on its own, under the bridge created by the Brooklyn-Queens Expressway. We were halting traffic, and the sound of the car horns blaring reverberated in the dark, under the columns.
Someone must have started the music then. Because before I could quite pinpoint it, the whole mass of people was moving, dancing, singing, smiling. The cars joined in, adding to the cacophony. I saw older women laughing, their hands in the air. And quite sentimentally, I found myself thinking that there was nothing more dangerous than a happy Palestinian.
---
A week after the protest, Harper's released a letter in defense of free speech and against cancel culture. The reason there are no Palestinians on the signatory list is probably because they didn't ask any Palestinians. But I like to imagine that they did and that all the Palestinians refused, knowing that defenses of "free speech" are most often defenses of normative speech, that the protections afforded to speech for political advocacy do not apply to us.
Shower thoughts. In fact, some of the letter's signatories are notable precisely for their hounding of Palestinians, "cancelling" them from jobs, passing them over for promotion, cheerleading their murder through media platforms. Bari Weiss, recently self-expelled from the Times, launched her career on the back of publicly accusing some of her Columbia professors of anti-Semitism for their Palestine advocacy. Cary Nelson supported the University of Illinois rescinding its job offer to Steven Salaita, a prominent supporter of the BDS movement. David Frum helped write the Republican playbook for demonizing Arabs. Anne Marie-Slaughter did the same for the Democrats.
The protections afforded to speech for political advocacy do not apply to us.
Israel uses accusations of anti-Semitism the same way it uses rubber bullets: indiscriminately and in the general direction of Palestinians. And many times, the maiming of Palestine advocates is brutally effective. One prominent example is Marc Lamont Hill, a black academic and writer who was unceremoniously terminated from his speaking gig at CNN for daring to say in a speech at the United Nations that Palestinian rights ought to extend across the totality of the lands occupied by Israel. He is co-authoring a book, out this winter, called Except for Palestine: The Limits of Progressive Politics.
But most of the victims are not as famous as Hill. Bahia Amawi was fired from her job as a high school speech pathologist in Texas for refusing to sign a contract banning her from engaging in a boycott of Israeli products. Academics and students are regularly smeared by the hate-site Canary Mission, financed by Adam Milstein to ruin the lives of Palestine activists. The non-profit Palestine Legal fights against many cases like these, and it urgently needs support.
Pointing out the depravity of these campaigns can take on an exasperated quality, especially when the point was never to be reasonable, but to make an example of us, calculating—often correctly—that those who are watching carefully will be quietly factoring it all in when it comes time to raise a fist.
---
We are done banging at the gates, demanding that you let us in. In a few years, when people look back in shame at the decades they spent marginalizing, criminalizing, and erasing Palestinian voices, we will be resplendent, gaudy cups running over on tables stacked high with figs and hummus.
Shower thoughts. In reality, no misdeed will go punished. Eventually, all the editors and writers who crushed the careers of Palestinians, or else ignored their voices, will retire to their gilded outposts, or move on to the next adventure, maybe as the chief White House correspondent at the Times. They'll carefully recalibrate their politics so as to appear as having always—cautiously, judiciously, in the name of fairness—been on the side of the oppressed. And when we ask for our reparations, they'll be nowhere to be found. Prepare yourselves for the tightest embrace.
For Palestinians, the choices are clear: Why read The Economist when you could read Al Shabaka, a Palestinian policy forum whose ideas you'll eventually see reproduced in Jewish magazines to major plaudits decades later? Why listen to The Daily when you could listen to Radio Al Hara, a new online station run out of Bethlehem and Ramallah that recently organized a seventy-two hour "rage mixtape" in response to annexation? And why watch CNN when you could watch Jayce Salloum and Elia Suleiman's Introduction to the End of an Argument (1990), one of the funniest and most affecting visual experiments in media criticism? The need to speak for oneself is a life-giving act.
So is Palestinian joy. It is infectious—once you see it, you'll tap your feet. There is something so startling about seeing it in a people who are reproduced as rage and whose rage is so often an induction.
At the protest, we stood for hours. We marched from Bay Ridge to the Barclays Center. There were Dabke lessons; I saw teenage boys hoist themselves onto the roof of a car to wave the Palestinian flag; I heard Jewish friends chant, "Intifada!" But before it all, I saw the head of Within Our Lifetime and one of the lead organizers of the protests. She clambered onto the back of the pick-up truck—our makeshift dais—pulling the megaphone to her lips. Before speaking, she smiled and turned to her friend, asking quietly, "So, where do we begin?"
A commencement is a beginning. Maybe you are one of the many this March who woke up to the pain of an entire people. Or maybe you always knew. That's fine. But you've got a lot of work to do, a lot of things to learn, a lot of joy to feel. So, how about this week, you start with us?
---
[*] Decades from now, I imagine we'll have retrospective exhibits (a la MoMA PS1's "Theater of Operations" on the Gulf Wars) juxtaposing images of detained Palestinian children next to the articles that were being published by the "newspapers of record" instead.