State of Siege
Surviving Modi's undeclared war on Muslims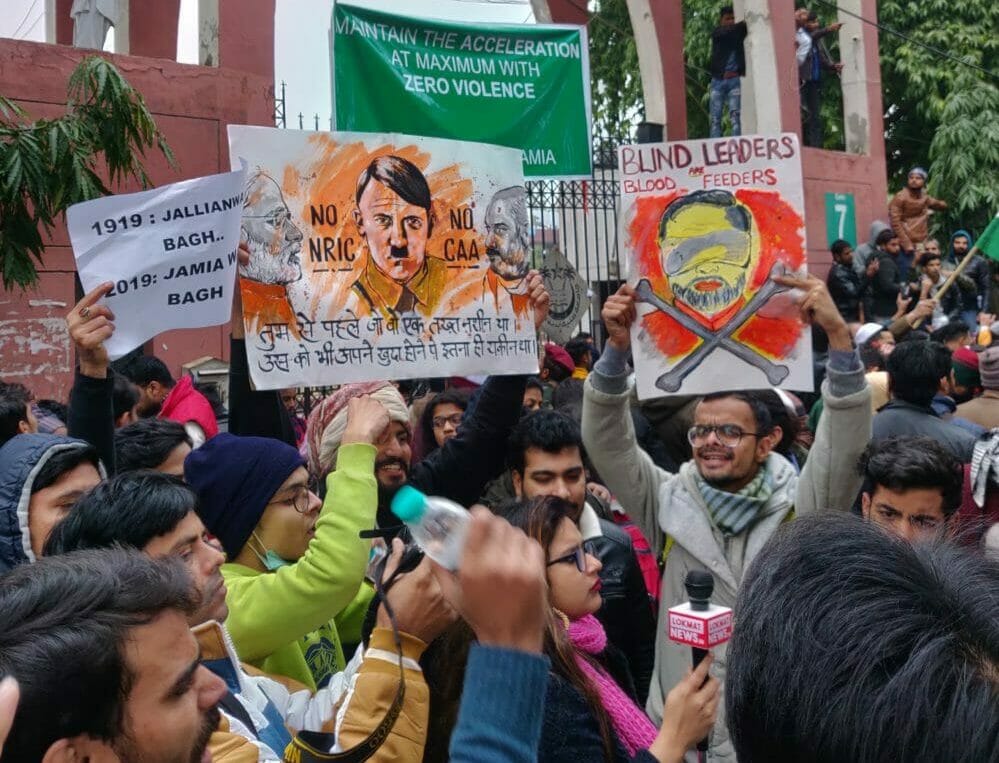 It was like a "war zone," one student told me. It did sound like one. Every few minutes, an explosion interrupted the assembled crowd's sloganeering; tear gas made it difficult to breathe or see. Amid a frenzied atmosphere, we stood in a lane next to the campus trying to figure out what was happening inside.
It was December 15, the third day of protests against the Citizenship Amendment Act (CAA) led by students at Jamia Millia Islamia (JMI), a central university in Delhi. JMI is one of India's most prestigious centers of higher education. Though sometimes painted as a Muslim college in the press, Jamia is not a theological school. It is a minority institution, with 50 percent of its seats reserved for Muslim students. Nestled in Jamia Nagar, it is in many ways the beating heart of the neighborhood. Many people living in the area have either studied at the university or the school it runs right next door. It wasn't only students who saw this as an attack on their home.
A little after sundown, police fired tear gas at protestors and beat them up with lathis (thick bamboo sticks used as batons), allegedly in response to stone-pelting from the demonstrators. The police drove people back onto a stretch of road that bifurcates the university and then went on a rampage inside the campus, beating up students, guards, and the imam of the university mosque.
As we watched from outside, cries from within the campus made it to our phone screens. "I'm here with people from Jamia, and I don't know what to do. I'm panicking right now, we're in a washroom," a student said in an audio message posted on our alumni group. (I graduated from JMI with a masters in journalism in 2011.) She was trapped, hiding from the police, in a washroom in the university library. "They've entered our campus, the Delhi police, and [are] firing tear gas. Please spread this message. They've surrounded us," we heard in another student's frantic audio message.
Jamia's central library resembled a crime scene by the time we finally got there a day after. CCTV cameras were destroyed in two reading rooms, one in the main library and the other in an older block named after the great philosopher physician Ibn Sina, or Avicenna. Bloodstains bore witness to the mayhem, on the floor and stairs, on walls, on notebooks, on shattered glasses, on used tissues and on discarded, broken lathis. (The university estimated that a damage of about Rs.25 million was caused.) Students said the air-conditioned reading rooms—which were once our refuge from Delhi's scorching summer and our home during exams—had been surrounded by policemen, who fired tear gas inside to force the students out. Tear gas shells scattered across the reading room had left marks wherever they'd exploded.
People across India have responded to calls sent out by students, civic society, political parties, and ordinary citizens to protest against the new law and the widespread police brutality.
Mohammed Mustafa, a twenty-six-year-old student who was in one of the reading rooms, had both of his hands plastered when I met him at the university proctor's office two days after the attack. Some of his belongings were still in the library, but he was still too afraid to enter the building and was hoping the proctor could help him out. The police had beaten Mustafa even though he made it clear to them that he was not part of the protests. "I lifted both my hands to protect my head," he told me. "So both my hands were broken." He was also asked by a policeman to recite the kalima (say a prayer) as if he was going to be killed. Katue (circumcised), Mulle (mullah), Bhadwe (pimp), and Jihadi were some of the slurs policemen used.
On the evening of the 16th, some fifty students were picked up by the police, some from hospitals where they were being treated for injuries, and taken to police stations where activists, lawyers, and journalists tried to negotiate their release. Everything the police did that day was illegal. Detained at police station, the protestors were denied their right to consult or seek medical help, even though many were grievously injured. "They are going to be traumatized for life," Shikha Kapur, Jamia assistant proctor and professor, told me. "If I'm going to live with this trauma, so are these students. Unki toh poori zindagi padi hai (Their entire life is left). They've just started."
---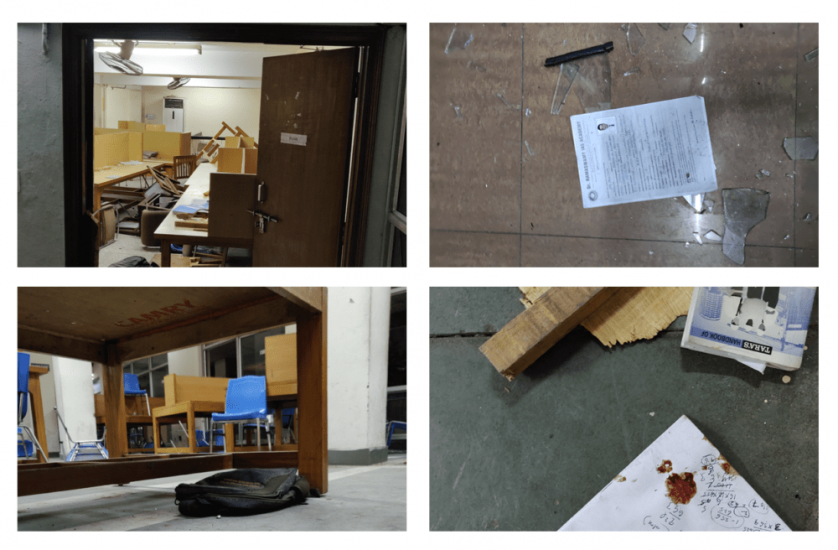 The attack on students at JMI brought about a jansailaab ( "a flood of people" in Hindustani). People across India have responded to calls sent out by students, civic society, political parties, and ordinary citizens to protest against the new law and the widespread police brutality. Massive gatherings have been reported in cities including Mumbai, Bangalore, Nagpur, and Kolkata. An estimated five hundred thousand came out to protest in Kochi on Wednesday to stage one of the biggest protests.
The police response has been deadly. At least twenty-six people have reportedly been killed during the anti-CAA protests—two in Karnataka, five in Assam, and nineteen in Uttar Pradesh (UP)—in states controlled by the ruling Bharatiya Janata Party (BJP). Yet everywhere it is evident that the police have dealt differently with "Muslim" and "non-Muslim" protests. For instance, the crackdown on historically Muslim universities like JMI and Aligarh Muslim University in Aligarh, Uttar Pradesh, have been far worse than actions at, say, Jawaharlal Nehru University. Similarly, in predominantly Muslim areas of Delhi—Old Delhi, Seelampur, and Jafrabad—police have turned violent on protestors, even detaining and beating minors.
Worse still, numerous videos have exposed how the police are operating in some regions as a communal force. This is especially true of the police in Uttar Pradesh, the state with highest number of Muslims in India. UP's chief minister Yogi Adityanath, a Hindu nationalist monk-turned-politician and a leading light of militant Hindutva, has openly called on his cops to take "badla" (revenge) as action on protestors. In a video reportedly from Meerut in UP, a police officer is seen telling protestors to go to Pakistan. "If you do not want to live here then go away," he says. "You come here but you sing praises about somewhere else." CCTV footage and videos recorded by locals in Muslim neighborhoods of western UP show policemen destroying cars, shops, and houses that belong to Muslims as they utter communal slurs. In essence, they are operating as a vigilante mob. Tragically, an eleven-year-old boy, Saghir Ahmed, was killed. There have also been reports of minors being arbitrarily detained and tortured. The police, of course, deny all culpability, claiming that the protestors had in fact killed each other in crossfire.
Incidents like these have spread panic in the Muslim community. On December 20, a friend from Aligarh called me, looking for a safe way to get her father to Delhi for a chemotherapy session. She had heard that the government was deploying forces around all the Muslim areas of Delhi. Were there plans to contain the community in its ghettos?
---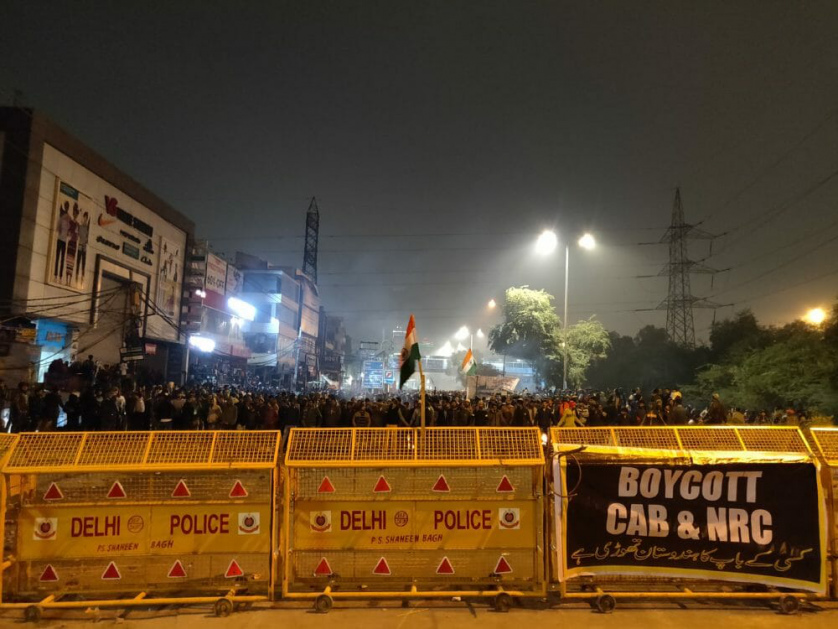 Maybe none of this should come us as surprise. After all, Muslims have been under attack since India's voters made their Faustian pact with Narendra Modi six years ago, electing him to the highest office despite common knowledge of his violent, flagrantly anti-Islamic past. In 2002, when Modi was the chief minister of the western state of Gujarat, Hindu mobs massacred Muslims in an orgy of violence that lasted three months and left nearly two thousand dead. There is overwhelming evidence that the state apparatus was complicit in the killings, which did little to stain Modi's reputation. On the contrary, he has built his reputation on them, calling himself the Hindu Hriday Samrat (King of Hindus' Heart). For a decade he shifted his attention to neoliberal economic growth, rebranding himself as a Vikas Purush, or development man. But Muslims still remembered his former image when the Vikas Purush was sworn in as Prime Minister in 2014.
Since Modi has come to power, the vilification of Islam has been blatant. On a symbolic level, there has been an attempt to tarnish the country's Islamic past. Muslim rulers have been a favorite target of the right-wing tirade, especially the last major Mughal king, Aurangzeb. This has gone hand in hand with a kind of saffronization of public space, as streets, neighborhoods, and even cities with old "Muslim" names have been rechristened by the BJP. In 2015, the centrally located Aurangzeb Road in Delhi was renamed after an Indian president; in 2018, the city of Allahabad in UP was rebranded as Prayagraj.
The first major instance of this saffronization was the demolition by a Hindu mob in 1992 of the historic Babri Masjid, a sixteenth century mosque in Ayodhya, UP. This November, a month before the CAB was passed, the ever-delayed legal dispute over the site of the demolished mosque was finally settled—in the favor of Hindus. Most Muslims had by then probably lost hope of ever getting the mosque back. Yet the community held out for justice based on constitutional values, rather than faith.
The ruling is part of a wider public assault on Islamic tradition. In December 2018, the lower house of parliament hastily passed a bill criminalizing instant triple talaq, also known as talaq-e-biddat, a form of divorce practiced by some Indian Muslims. The BJP proudly presented themselves as saviors of Muslim women; however, there was a larger communal agenda at play, as India's Supreme Court had already declared the practice illegal in 2017. If the triple talaq bill was garbed in humanitarian discourse, other cultural attacks have been more direct. On repeated occasions this past year, policemen in Haryana and UP, BJP states, have been instructed not to allow namaz out in the open. A list of similar incidents point to a systemic attack on Indian Muslims' life spent in public or in private. Everything is being scrutinized: what the community practices, wears, or even eats.
Food is central to the crisis. Since the BJP has come to power, there has been a spate of gruesome public lynchings of Muslims (and Dalits) across northern India, for the act—often, the mere suspicion—of slaughtering, smuggling, or even merely consuming cows, an animal considered blasphemous to eat by some Hindus. It really has been open season. Muslims in the north, especially those from the poor working class, have come to feel unsafe on roads, in public spaces, and even inside their homes. Even those of us in cities have been cautioned by our families and friends that meat in our lunch boxes could get us lynched. What about police protection? The "Status of Policing in India Report," a study published in August 2019, found significant bias against Muslims within the Indian police force. One in two policemen felt Muslims were "naturally prone towards committing crimes." This might explain why so few of the attackers in lynching cases are arrested—and why it is often those assaulted who are booked by the police. A similar bias was expressed during the crackdown against protests in Delhi, Uttar Pradesh, and Karnataka.
---

The National Register for Indian Citizens (NRC) has brought things full circle. It is the BJP's attempt to replicate at a national level the process of rooting out "illegal immigrants" that has been going on for some time in the northeastern state of Assam. This is done by drawing up a new citizen's register, evaluating the citizenship status of each resident in the state, some who have lived there for generations, based on bureaucratic rules that are never entirely clear. After four years, on August 31, a published final list had excluded more than 1.9 million. For thousands, many of them Bengali-speaking Muslims, the fear of a life in detention camps had turned real.
My landlord, an uneducated and unemployed middle-aged Muslim man, asked me to look at his documents. Would they be enough to save him?
A few days after the Assam list was released, my father, a retired scientist who worked in the central government, wondered aloud whether he would be able to prove his own citizenship. With no birth certificate and no proofs that link him to his parents, he is right to be worried.
In the wake of the CAA, my landlord, an uneducated and unemployed middle-aged Muslim man, asked me to look at his documents. Would they be enough to save him? Such discussions are probably happening across India, which remains an overwhelmingly poor country, where few have immediate access to legal papers.
Yet documentation will now become a matter of daily concern. I've already gotten a taste of this during my reporting over the past few years in Assam, where I saw people from some of the poorest areas holding on to their papers more dearly than any other possession. Many spent a fortune, mortgaged their properties and other possessions, and yet couldn't make it onto the final NRC list. Ironically, the long history of anti-immigration persecution there has made them better equipped to deal with bureaucratic inquiries, as they have learned to care about documentation. It is a fool's dream to expect that people in mainland India will be as prepared.
Fuzail Ayyubi, a Delhi-based advocate in India's apex court, told me that he has been receiving endless calls from Muslims suddenly worried about their legal status. People have been queueing up for birth certificates, voter cards, and Aadhaar cards (a biometric ID), despite knowing that these documents will not be accepted by the NRC.
---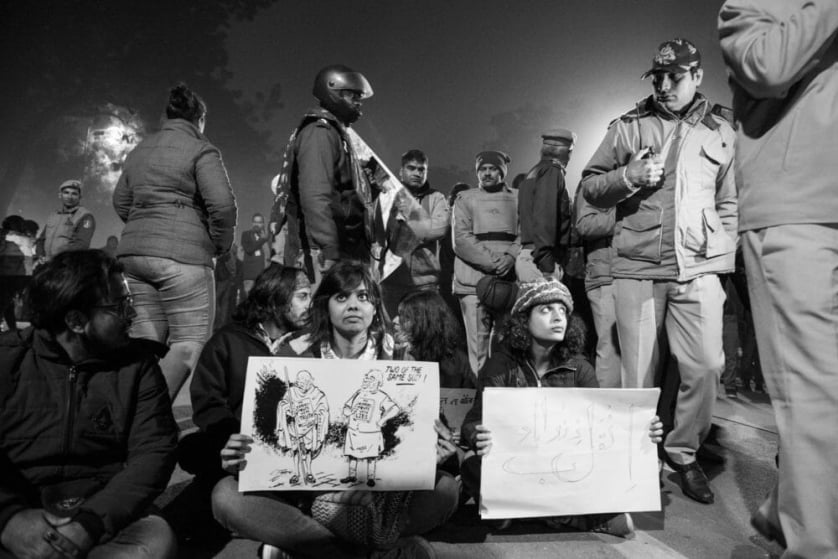 Since Partition, Indian Muslims have been asked time and again to prove their patriotism. Despite the country's ostensible secularism, this suspicion has never lifted. It is tiresomely aired during every India-Pakistan cricket match, every border skirmish, and every so-called Islamist terror attack. An attempt to ask for proof of citizenship is seen as yet another way for the community prove their allegiance.
What is bitterly ironic is that so many Indian Muslims actively chose the country over Pakistan. My own grandparents, Muslims from UP, remained in the state even as so many of their neighbors migrated across the border. They had rejected Muhammad Ali Jinnah's idea of an Islamic Republic in favor of Mahatma Gandhi's dream and assurance of a secular India. You hear similar stories from countless other families. One placard seen at all the CAA protests reads: "Dear Hindus, we rejected Islamic state in 1947. Now it's your turn to reject Hindu state."
Jamia Millia Islamia is central to this history. Maulana Muhammad Ali Jauhar, one of Jamia's founders, had worked alongside Gandhi during the 1920s Khilafat-Non-Cooperation movement, a major early agitation against the British that saw major Hindu and Muslim unity. "I belong to two circles of equal size, but which are not concentric," Jauhar observed in his speech at the 1930 Round Table Conference, the first of three major peace discussions between the Indian Nationalists and the Imperial government. "One is India, and the other is the Muslim world. . . . We as Indian Muslims came in both circles. We belong to these two circles, each of more than 300 millions, and we can leave neither." Today, in JMI's centenary year, the university's students carry forward Jauhar's legacy, wearing both their patriotism and their religious identity on their sleeves.
Two Jamia undergraduates have become the faces of the nationwide protests. During student demonstrations on December 15, Ladeeda Sakhaloon and Aysha Renna courageously protected a male classmate from a protracted police lathi-assault. Footage of these hijab-clad women standing up to the cops immediately went viral. They illustrate Jauhar's point about the two circles: Muslim and nationalistic. (Unsurprisingly, Sakhaloon and Renna soon became a target of right-wing propaganda portraying them as Islamists hijacking the student movement.)
---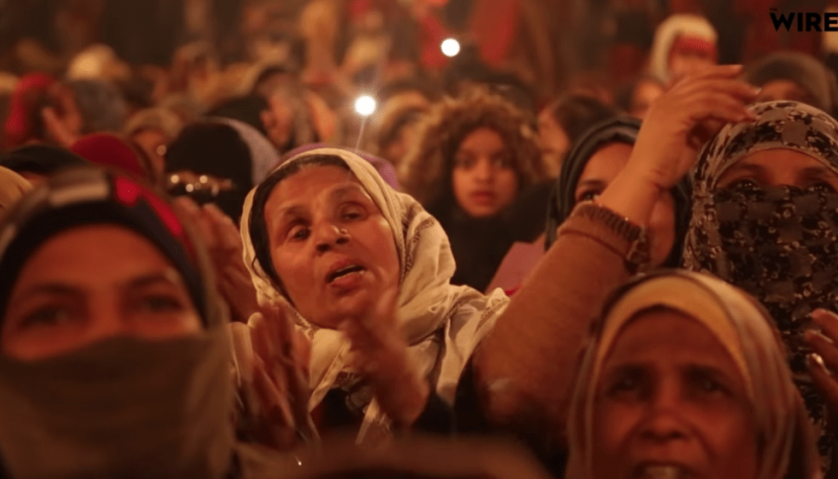 Despite all the danger, Muslims have been central to the protests across India. Women from the community have led what is perhaps the most remarkable form of resistance to have emerged, the occupation at Shaheen Bagh. On the night JMI was attacked, ten women from Shaheen Bagh, a neighborhood of Delhi, walked out of their homes and sat down on a nearby highway that connects the city to Uttar Pradesh. Since then, as their numbers have swelled with locals and others who have arrived in solidarity, they have not budged from their protest site.
The sit-in, which has braved some twenty nights of peak Delhi winter, has been organically coordinated by the local community. There is no single leader. I visited on Tuesday, which was later declared the coldest day in Delhi in over a hundred years. Hundreds turned up to celebrate New Year's Eve with the Shaheen Bagh ki auratein (Women of Shaheen Bagh). There was talk of azaadi (freedom) and inquilaab (revolution). We welcomed the new year with the national anthem. Ordinary, working- and middle-class women continued to make their voices of solidarity and protest heard.
Lawyers from the Muslim community have also been working overtime. They have formed quick alliances to help the thousands detained and arrested by the police. I recently spoke to Anas Tanwir, a thirty-year-old lawyer, who in 2018 founded the Indian Civil Liberties Union (ICLU). "This [police action] violates so many principles of law that you cannot even stop counting," he told me. "The way they have attacked with batons and firearms, the way they have detained people indiscriminately and even entered their houses: all of these are criminal acts. They have simply bullying a community." With a team of more than 120 lawyers, paralegals, and law students, the network remains on standby these days, vigilant in case protestors are detained or arrested. Similar informal networks are operating across the country wherever there have been police excesses.
Everyone I've spoken to—family members, friends, ordinary Muslims on the street—told me they'd prefer to fight the state and take back their rights rather than die in a detention camp or live as a second-class citizen. My mother is in Medina right now for umrah, an Islamic pilgrimage. I suggested that she extend her stay there; her country was burning. "It is the land is where I've lived all my life," she replied. "And it is where I'll die."
Read our other coverage of the CAA.