The Zapatistas of Chiapas have a phrase: "The fight for democracy is a slow burn." It resonates at the Parliament of Catalonia, and all across the Spanish state, where indignation is rife. Research over there late last year gave me the opportunity to see four post-capitalist strategies at work: Catalan independence, autonomous spaces, networked democracy, and radical municipalism. In February, I returned to attend the Plan B Conference, a summit with people converging from across the continent, advocating that another progressive Europe is possible. The fight for democracy is smoldering ever hotter.
Spain's fires have been fanned especially bright since May 15, 2011, when occupations filled squares across the country. If you compare that movement to the Occupy mobilizations—inspired by 15M and starting in September 2011—the difference in scale is significant. On 15M's first evening, between 20,000 and 50,000 took Madrid's Puerta Del Sol, compared to 1,000 initiating Occupy Wall Street. The movement spread quickly to many towns and cities. Of Spain's 47 million population, between 0.8 and 1.5 million were very active, according to a study by Ipsos Public Affairs, and between 6 and 8.5 million took part. More than three-quarters supported the movement's message. 
Spaniards had lost trust in the establishment, particularly after the Iraq War and the government's knee-jerk response of blaming Basque separatists for the 2004 Madrid train bombing, a jihadist attack. 15M drew attention to the fact that the Spanish elites today are the same families who have been on top since Franco's time and that in the post-dictatorship transition there had been no trials and no reconciliation: the 1 percent had maintained impunity. These dynamics were intensified by a severe recession and the government bailing out the banks. The main 15M demographic was thirtysomething and educated, but without a future. They went out into the streets under slogans such as "It's not a crisis, it's the system."
"Social democracy is dying, as it cannot resolve this crisis, which has accelerated the need to change everything," Candidatura d'Unitat Popular MP Josep Manel Busqueta explained to me in November. For the CUP, Catalan independence provides an escape route from capitalism. Indeed, the CUP has grown greatly since the Squares movement, winning three MPs in 2012 and ten in last September's Catalan Parliamentary elections.
With the CUP alongside the broad pro-independence alliance Junts pel Sí, the Parliament is angled towards independence. But this created a dilemma: Junts pel Sí was adamant about reinstating Artur Mas as Catalan president, but his association with corruption and policies of austerity contradict CUP's aims. On the other hand, not to reinstate Mas would trigger new elections and derail the unilateral independence process. In this tussle between separatism and anti-capitalism, there was intense pressure from the other pro-independence parties to keep the process on track, especially as the Spanish state was constantly undermining the autonomy Catalonia already had. (Ever since 2005, when the Catalan Parliament issued a statement of autonomy—a minor change in how Catalonia was legally constituted—there have been ongoing legal wrangles in the Constitutional Court. When I visited the Parliament of Catalonia in Barcelona, the Spanish were threatening to withhold funding to Catalonia.)
Faced with accepting Mas or triggering elections, the CUP used the principles of direct democracy it applies to all major decisions. Its MPs did not decide how to negotiate with Junts pel Sí; instead, the matter was first discussed by the base of the party in local assemblies. This dialogue continued into regional assemblies, moving on to a national assembly on November 29, in the mountain town of Manresa. There, as I witnessed, the majority of the day was about feedback from the party's base. The discussion continued for a month and through Christmas, until December 27, when all affiliated CUP members were allowed to attend an extraordinary assembly to vote. So many members registered to participate that they had to move venue three times. The assembly was eventually held in an indoor running track in Sabadell, near Barcelona. The vote's final verdict reflected the impasse: 1,515 were for instating Mas, and the same number were against it. The deadline was January 10; if no president was chosen, new elections would be called. At the last opportunity, on January 9, Junts pel Sí offered Carles Puigdemont as a compromise candidate. He and the new government of Catalonia were instated immediately.
By retaining this direct democracy process despite pressure to make a decision quickly, CUP won concessions: more guarantees for healthcare, a living wage, and a participatory constitutional process. Compromise also meant two CUP MPs had to join the Junts pel Sí coalition to give them a parliamentary majority. A resolution that had seemed almost unreachable when I had visited the parliament back in November was achieved. 
At that time CUP MP Eulàlia Reguant had explained to me how she was eager to continue the participatory process of writing a new Catalan constitution. "Many social movements have already been devising proposals, and we need people working as a mass movement." In March, a Parliamentary committee was initiated to formalize this process.
An MP from CUP's first wave (the party's horizontal model means their MPs serve only one term), Quim Arrufat, told me about CUP's vision for a new Catalonia with universal welfare, public control of vital sectors including banking, open-sourced direct democracy, and a larger public and cooperative sector and reduced private sector. Catalonia already has over 40,000 people working in cooperatives, assisted by new Catalan laws.
The untouchable Rodrigo Rato spun through the revolving door of Spain's main institutions. Now, jail looks certain.
The ethos of cooperatives, organizations that are not-for-profit, autonomous, and democratically run, is mirrored in the casals. This translates as "house" in Catalan, and refers to a network of self-managed local spaces where people can socialize, buy meals at good value, find social support, and organize. Casals and cooperatives connect back to the Spanish Civil War, when shops, bars, and factories were collectivized, as George Orwell describes in Homage to Catalonia. In Spain's White Terror, Franco destroyed these buildings, but did not extinguish the idea. Across the whole Spanish state, particularly in Catalonia, there are many autonomous spaces: some squatted buildings house evicted families, while other self-managed projects provide a safe space for women's groups. These were places where contemporary movements including 15M could ferment. I hear casals form the roots of the CUP. 
"On a planet with limited resources, how can we keep growing?" asks Fulvia Ferri in Can Masdeu, an abandoned leprosy hospital that was transformed in 2001 into an eco-village with alternative technologies and now hosts political meetings. The four-story former hospital is built into a steep slope overlooking large grounds, at the end of a dusty track, with Barcelona below and the Catalan coastal mountain range above. With local allotments and communal growing areas, the gardens are a vibrant green patch of Collserola National Park.
For Ferri, who runs workshops on de-growth, Can Masdeu not only shows you can live differently; it also shows, on the edge of Barcelona, how we can re-think the city for a progressive future. She points out that humanity cannot simply spread out.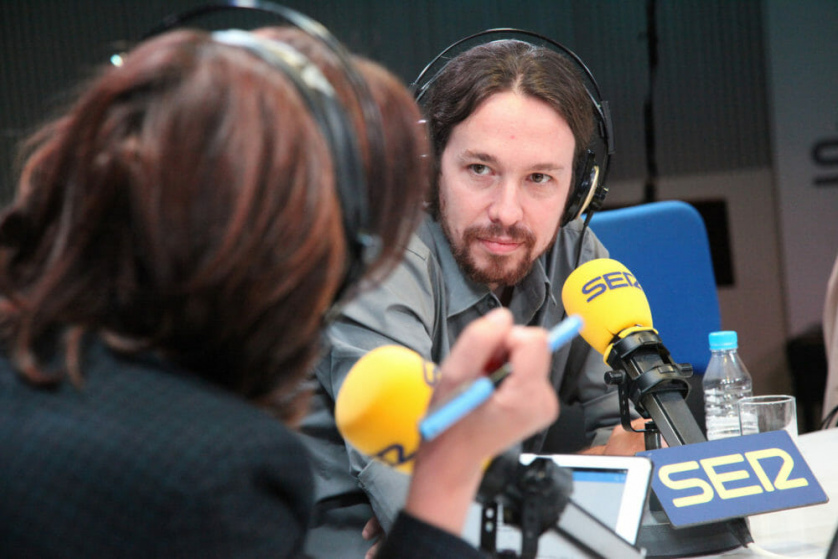 Forged from autonomous platforms, 15M catalyzed the citizen networks, who can claim the ongoing prosecution of Rodrigo Rato as a success story of theirs. Mr. Rato spun through the revolving door of the main institutions of Spain's economic crisis. As finance minister, he was a leading figure in the conservative PP party, then IMF Director, then the chairman of Spain's Bankia, the bank that received the most money in the Spanish bailouts. He was untouchable. Until, on 15M's first anniversary, a group called 15MpaRato launched a campaign to jail him and his accomplices. Creating a WikiLeaks-style Dropbox, and crowdfunding for the case, citizens were able to raise the information and money to bring a prosecution. Now, Rato faces criminal charges for his role in false advertising, mis-selling financial products, tax evasion, and credit card fraud. Jail looks certain.
A web of other citizens' platforms originated from or gained from 15M's momentum. The PAH, for instance, leverages common power on behalf of those affected by mortgages, resisting evictions and putting pressure on housing policy. PACD presses for debt audits on local and national levels to discover what is illegitimate. The Carta por la democracia, meanwhile, is a document for a Commons-based society, collaboratively written in traveling workshops.
Emma Avilés, who was involved with PACD, 15MpaRato, and 15M, explains the impact of the internet and new communications: "To understand the movements going on we should recognise we're moving from an industrial society to a network society. Our philosophy is networked with open-sourced and collective knowledge."
Podemos is criticized for abandoning a bottom-up participation model and diluting its stance on debt, but the pull of the left-wing coalition may counter the reformist tendency that power has on radical parties.
The knock-on effect of these networks was clear in last May's local elections results, when radical mayors reclaimed many Spanish cities through new democratic coalitions. Barcelona, as a result, is run by Barcelona En Comú, with housing activist Ada Colau as its figurehead, a coalition reclaiming empty properties from the banks to create social housing and pushing direct democracy initiatives, and that will, later this year, create a Dropbox to collect corruption leaks. To oversee this drive, the council has set up an Office for Transparency, which is independently overseen by activists, journalists, and social campaigners.
In similar style, Ahora Madrid has made the capital the first city to publicly audit its debts in confluence with PACD, and had already prioritized social spending above debt repayments to banks. Among the many achievements of the cities is their collaboration in taking an active role in the Europe-wide #RefugeesWelcome campaign.
In each city, the post-Square networks have combined to focus on the city's specific problems. These projects share the 15M ethos of cooperation over conflict, creating open spaces for participation. They have worked in alliances with Podemos and represent its greatest gains in December's statewide elections, in which the party came a close third and shattered the previous two-party domination of Spanish state politics. (Unlike the other main parties, Podemos supports the right for Catalonia to decide its independence via referendum, though it itself advocates for a more federal Spain.)
Podemos flashed into Spanish politics using the language of the squares, although the party's radical flame seemed to dim after the 2014 European elections. It's often criticized in the movements: by the December 2015 election, it had abandoned a bottom-up participation model and diluted its stance, for instance, on challenging unjust debt and a growth-based economic model. That said, Podemos has shown signs that it is being pulled left to more radical stances by its allies, and has made commendable moves toward political transparency and limiting politicians' pay. 
Without any party winning an outright majority in December, for the first time Spain will repeat its election, on June 26. This time Podemos is seeking an electoral coalition with the Communist United Left—its largest successes have come where it has worked in concert with the radical municipal platforms, especially in Catalonia, Galicia, and the Basque country. The pull of the grassroots and left-wing coalition may counter the reformist tendency that power often has on radical parties.
But this story is not about Podemos, nor June's election. What is happening across Spanish society is far more seismic. The four mentioned strategies—distinct but with the potential to fuse together—could reshape the political landscape beyond recognition. There are obstacles on the routes ahead, but then again, Rome was not burnt in a day.