Harvest of Dissent
A dispatch from the historic farmers' protests in Punjab
When I entered the Singhu border protest site on a cold morning last December, the first thing I saw was an outdoor langar, a community kitchen organized by a local Sikh temple, or gurdwara. Volunteers hurried around with rice, dal, and rotis, which they tossed expertly onto the plates of people sitting on the ground. Nearby, others took food to elders, or distributed socks and fleece jackets. A group of young men patrolled the protest in a large blue tractor, Punjabi music played from speakers attached to its tires; pictures of the national leaders Dr. B.R. Ambedkar, Ashfaqulla Khan, and Lala Lajpat Rai were pasted to its sides.
Singhu is a village in northwest New Delhi, located near the capital territory's border with the state of Haryana. As late as the 1990s, the area used to be covered in farmland; today, it is pockmarked by barren industrial estates and littered here and there with flashy, empty hotels. Since November 24, more than three hundred thousand farmers, mostly from the sates of Haryana and Punjab, have camped out at the protest site, which stretches across the middle of National Highway 44, in a gathering of thousands of cars, trucks, and tractors. (They have closed the road to traffic, disallowing all vehicles but ambulances to pass through.) The farmers are protesting a slate of laws passed in September 2020 by Narendra Modi's BJP government, which seek to privatize the agricultural sector, in which nearly 42 percent of Indians are employed.
At first look, their encampment resembles a large, traveling caravan. Tarpaulin has been hauled from one truck to another to create makeshift tents. The vehicles themselves have been stuffed with cushions and blankets, family photos stuck to their sides. There are tents at the camp's periphery, filled with mattresses, chairs, and boxes of medical supplies; some even have doctors on call. A stage has been erected, and from here, speakers—artists, activists, and most often, local union leaders—address the crowd through microphones. During the day, the farmers lie on charpais (string cots) and huddle together on tractors; some read books and newspapers on top of trucks. For every truck of protesters, there is another one filled with provisions. Several vehicles carry only sacks of onions, potatoes, wheat, and rice. The site stretches for more than six miles.
The farmers come from over forty unions, but they have united under the Bharatiya Kisan Union or BKU, demanding a complete repeal of the new laws.
The sit-in was preceded by two months of local protests in Punjab and Haryana. "The rail roko andolan [blockade of train tracks] has been happening since September, and some of our brothers are still there," says Sukhwinder Singh Sabraha, the leader of a union of farm laborers from Jalandhar, Punjab. In the blockade, farmers, many of them women, squatted on railway tracks to draw public attention to the "kalay kanoon" or "Black laws." The state responded by accusing them of blocking essential commodities from getting in and out of Punjab and Haryana. But the protesters have not been deterred. "The Modi Government is Double Crossing," reads a signboard at the site, a clever pun I will later find painted on many of the trucks.
Sabraha tells me that the farmers also staged protests outside jails and government offices in Punjab between and September 7 and 11, contesting the reforms then being discussed in parliament. "We knew what was going to happen," he says. "But no one paid attention. So we had to walk to Delhi to demand some answers from the Prime Minister." The Delhi Police greeted them with tear gas, water cannons, and lathi [baton] charges. The government dug trenches on a primary highway to prevent marching unions from entering the capital. "Despite that, we are here," says Sabraha. "Trolley nu jahaz bana di" says an older farmer near him. "We turned our tractors into airplanes."
---
The farmers come from over forty unions, but they have united under the Bharatiya Kisan Union (BKU), demanding a complete repeal of the new laws. ("We will accept nothing less," BKU leader Rakesh Tikait said in early December.) There are three main pieces of legislation—the Farmers' Produce Trade and Commerce (Promotion and Facilitation) Act, the Farmers (Empowerment and Protection) Agreement on Price Assurance and Farm Services Act, and the Essential Commodities (Amendment) Act. The first revokes prior trade restrictions, allowing unlicensed private buyers to purchase directly from farmers anywhere in the country, even digitally; it also suspends the state-regulated market yards (or mandis) of the Agriculture Produce Market Committees (APMC), where farmers presently do their business with traders. The second creates a national framework for contract-farming, allowing deals to be made before sowing begins. The third amends the Essential Commodities Act of 1955, reclassifying food products including edible oil, onions, and potatoes as "non-essentials," allowing private purchasers to indefinitely stock this produce without reporting requirements.
The government claims these laws will help "double the income of the farmers by 2022." In truth, they represent a mass deregulation, granting impunity and unlimited access to private buyers. The laws enable buyers to transact without licenses and without committing to long-term arrangements with farmers. "They have taken away any mechanism we recognize and want to leave us at the mercy of billionaires" says Jujhar Singh, a farmer from Kurukshetra. "We could always sell outside the mandi, there is a private sector. But the mandi was where we could negotiate," adds his friend Zorawar. Farmers fear extortion, loss of basic wage guarantees, and kabza (land seizures) as a result of increased debt. They also note that the government escapes all accountability by transferring market control to private players. "We are here now, we can protest, but corporations are under no law to listen to us," says Manoj Kumar, a union leader from Haryana.
This is the first time federal legislation has been passed on agriculture, which has always been administered at the state level.
The government promises that the new laws will get rid of arhtiyas, private commission agents that operate within APMC mandis in Haryana and Punjab. But farmers are quick to point that the agents serve a purpose. "I am not saying there is no exploitation. But they are the intermediaries to the market, they are visible to us," says Jujhar. Arhtiyas are "necessary evils," argues the Cambridge-based researcher Shreya Sinha in a recent article in The India Forum. They "routinely advance money to farmers, even when payments for sales have not come through from the government procurement agencies," she writes. Experts also underline the importance of mandis, however flawed the APMCs system is at present. "The mandis are a physical marketplace where the farmers, gauge the market. It is a place of regulated exchange both with private buyers and state agencies." says Mekhala Krishnamurthy, a senior fellow at the Center for Policy Research in New Delhi. "The new laws instead create fragmented marketplaces where farmers are left to transact with a private buyer in the absence of other producers and state regulation." In the absence of mediation by the state, smaller, private buyers—neighborhood stores and wholesale shops—are likely to be displaced by larger corporations, who the farmers say are sure to push for cash crops over food crops, exacerbating the climate crisis.
This is the first time federal legislation has been passed on agriculture, which has always been administered at the state level. "Kis se pooch ke kiya?" the farmers ask, noting that states were not consulted at all. 'Whom did they ask before passing these laws?" The farmers compare the move to "demonetization," Modi's abrupt 2016 decision to introduce new currency notes, allegedly in order to weed out black money. This punitive measure triggered a massive economic slowdown, with the poor being the worst affected, as they largely rely on cash transactions. (Meanwhile, 99.3 percent of the banned cash soon returned to banking systems.) The revocation of Kashmir's token autonomy in August 2019 is another point of reference. "The government does things for spectacle," says Zorawar. "All his schemes are for his followers to watch and celebrate. There is no sense to any of this. It is daylight robbery."
---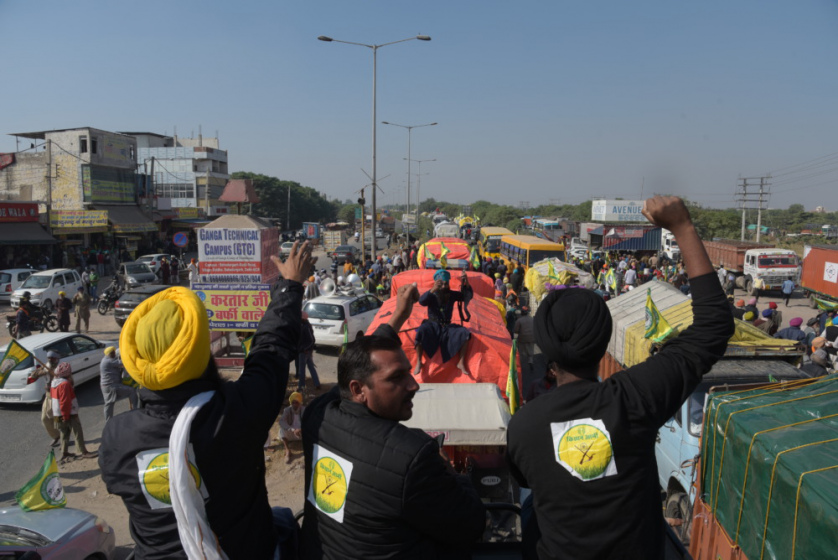 Many Punjabi farmers tell me about how their water was poisoned in the wake of the so-called Green Revolution that began in the 1960s, when high yielding, pesticide-dependent seeds were introduced to the region at the urging of American agronomist Norman Borlaug. While output rose dramatically within a decade, ending the food crisis then facing India, it left farmers straining under debt—there was a steep rise in suicides—and the groundwater was poisoned. Amandeep Sandhu has written in stunning detail about the effects of the Green Revolution in his book Panjab: Journeys Through Fault Lines, addressing how "the scale of agriculture aided by brute technology—both mechanical and chemical—has thrown everything out of balance." Reflecting on the proposed laws, he reminds me "that farmers bear the cost of policies, of state sponsored laws that create a broken neoliberal food system that we all participate in."
Kaur, a septuagenarian farmer at Singhu, says that the introduction of chemical-based farming "created a Punjab that feeds other people, but not itself." Kaur recalls seeing a diversity of crops—black carrots, brown barley—in her family's small farm when she was a little girl. But now, the land she knew is a dawakhana (pharmacy), a reference to the high rate of drug-addiction among the youth in Punjab. Dawa (medicine) is also the word farmers use to refer to the pesticides they are forced to purchase for their crops. "I have seen their ways," Kaur says of the larger agribusiness firms. "They used us, and turned our land into paper, which they will now make into dust." Mukesh Ambani and Gautam Adani, two of India's wealthiest businessmen, have come to symbolize the corporate takeover that the farmers fear. On December 5, the protesters called for Indians to boycott telecom giant Jio, owned by Ambani, and burned effigies of the two businessmen, both of whom have close personal ties with Modi.
Dalits form 32 percent of Punjab's population but own as little as 3.5 percent of land holdings in the state.
Many landowning farmers are at the protest. But they were perhaps outnumbered by landless farmers like Jujhar, many from the Mazhabi community, a Dalit caste within Sikhism in Punjab. (Even as Sikhism preaches equality, the caste system still persists. There are separate places of worship and cremation grounds in most villages for Dalits, who are also often prohibited from dining, and praying with the dominant caste Jutt in gurdwaras.) Lacchman Singh Sevewala—a Mazhabi Sikh and leader of the Punjab Khet Mazdoor Union—says that the laws are an act of virodhi (aggression) against "farmers, but also against the laborers, and all the hard-working people of the country." He notes that even consumers, especially among the urban poor, will also be affected by deregulation. "The law will allow corporations to create artificial price hikes," he says. "It will also affect the Public Distribution system that provides food for the poorest." 
Devinder Singh, a landless farmer and also a Mazhabi, explains how the law will worsen the existing social hierarchy of the region:
If there has to be transactions between the corporates and anyone in Punjab, these positions will be occupied by those that already hold power, the elite, the dominant castes. They want to turn us into America, that's how they advertise it to the middle classes. But I know that in America, rich men rule and poor men suffer. Show me a free market that has worked towards the interests of those at the bottom of the social ladder?
Devinder reminds me that the slogan at the protests has been "Kisan Mazdoor Ekta Zindabad": unity between farmers and farm laborers. "We have different problems, and we may have been hesitant to join these protests at first. But we have more to lose," he says. Dalits form 32 percent of Punjab's population but own as little as 3.5 percent of land holdings in the state. They are also routinely disenfranchised by village governments, which are controlled by dominant castes. Most recently, in June, a local panchayat (village council) in Punjab's Sangrur district organized a cap on the wages of Dalit laborers, prohibited them from working in villages other than their own, and forbade landlords from providing them food and utensils.
However, Dalit farmers in Punjab have fought back for their land over the last couple of decades. Since 2009, the Zameen Prapti Sangharsh Committee (ZPMC), has organized across Punjab for Dalit farmers to gain access to land allotted to them—but generally usurped by dominant-caste landlords—through the Punjab Village Common Lands Regulation Act of 1961. The farmers of Balad Kalan in Sangrur district were some of the first to bid for their rightful land in 2014; they eventually prevailed, despite a vicious attack by policemen and Jutt panchayat leaders.
A smaller protest site has sprung up at the Ghazipur Border of Delhi and Uttar Pradesh (UP), where farmers and laborers of Hindu backgrounds sit in trucks and cars. Volunteers from Singhu and Tikri, the other major protest site, drive up to feed these protesters every day. "We weren't going to come, but then we saw that the farmers of Punjab and Haryana are not backing down, that they are fighting our lost battle, so we had to come" says Sita Arya, a women's labor union leader from Amroha in Eastern UP.  "Look at how privatization of the sugar mills worked," she adds. "Our sugarcane lies in the field for ages; wealthy private buyers take what they want when they want. We cannot hold them accountable."
Arya also notes that the Pradhan Mantri Fasal Bima Yojana, an insurance scheme promised last year by the Modi government, hasn't been implemented. Another farmer from Uttar Pradesh, Shanti, tells me that electricity prices in Uttar Pradesh have increased since a tariff hike pushed through by the state's Chief Minister Yogi Adityanath, a divisive, extremist Hindu monk. While 73.2 percent of rural women are engaged in farming activities, only 12.8 percent of them own the land that they work on. Shanti and Arya fear that contract farming, focused mostly on cash crops, will phase them out. When I ask the women how long they plan to stay at the protest site, they concur—for as long as it takes. "We will celebrate January 26 here," Shanti says, referring to Republic Day, when the drafting of India's constitution is celebrated. "Someone needs to remind the prime minister that the constitution was written, that it exists. It seems like he has forgotten."
---
As the protests entered their second month, farmers from the states of Rajasthan, Chhattisgarh, and even southern-most Tamil Nadu arrived in the capital. On December 22, farmers from Nashik, Maharashtra set off in a vehicular procession to Delhi. In Burhanpur, Madhya Pradesh, Adivasi (Indigenous) farmers are protesting their state government's decision to hand over 40 percent of "degraded forest land" to private firms. Indeed, the protests have become a focal point for dissent, receiving support from the organizers of last year's movement against the discriminatory Citizenship Amendment Act (CAA). Much to the ire of the government, the farmers held a protest on December 11 for political prisoners jailed by the BJP. Sitting in rows, they held up photographs of student leader Umar Khalid, poet Varavara Rao, activist Stan Swamy, and others placed behind bars under draconian UAPA law. It is a "festival of dissent" Sandhu told me. "It is invariable that a fight of one large community turns into a fight for the dying democracy of our country."
At Singhu, students have set up community libraries with books about the constitution and pamphlets that explain the proposed laws.
Unsurprisingly, the BJP and its craven media have responded by communalizing the protests, branding the farmers as "Khalistani terrorists"—a reference to the Sikh-led Khalistan separation movement of the 1980s. At Singhu, a group of young farmers led a march with boards that read "We are farmers, Not terrorists." "If Muslims protest they are Pakistani, if Sikhs protest they are Khalistani, tell me Modiji, so who is Hindustani?" asks the union leader Sabraha at a large gathering. "How come nobody asks Hindus to detach themselves from Pragya Thakur[1] or Yogi Adityanath, who are responsible for murders and lynchings?" a young farmer asks me. "Only minorities are questioned about their loyalty to the nation." Right-wing media anchors have also claimed that the farmers are being "brainwashed by opposition parties," as if this were the first time they had ever agitated for their rights. "The government present us as downtrodden people, or they edify us as annadata (the provider of the seed)," Sita Arya had said in Ghazipur. "But we are citizens, and we are the majority of this country. We know how to ask for what is rightly ours."
At Singhu, students have set up community libraries with books about the constitution, pamphlets that explain the proposed laws, autobiographies of the freedom fighter Bhagat Singh, and The One-Straw Revolution by Japanese farm radical Masanobu Fukuoka. Trolley Times, a bilingual news dispatch, is being published and circulated at Tikri—mainly to counter the fake news churned out by mainstream channels. "Har cheez ka jawab denge humare naujawan," Sukhdev Singh, an elderly farmer in his seventies told me, smiling. "Our young people have an answer for everything." Sukhdev is from Tarn Taran Sahib, near the border with Pakistan. He tells me about his village, about the wells he swam in as a child that have since been poisoned by fertilizers. "When you change the culture of the land, you start an erasure of its people," he says.
Sukhdev points out that we are on GT Road, or Grand Trunk Road, one of Asia's oldest trade routes, which runs from Central Asia to Bengal. It also connects Delhi to Lahore, a reminder that thousands of people, predominantly from Punjab, walked across superfluous, callously drawn borders amidst the bloodshed of partition, leaving their homes, lands, and crops to someone else. "We will go right to the end of this road, straight to the center, they can't stop us," Sukhdev tells me. "GT Karnal road kabhi khatam nahin hunda." "As far as I'm concerned, GT Karnal road never ends."
[1] Pragya Thakur is a Hindu ascetic who is member of Parliament, representing Bhopal in Madhya Pradesh. Thakur is known for her hate-speech against Muslims and other religious and caste minorities and is one of the prime terror suspects in the Malegaon blasts of 2008, in which a bomb was set off near several mosque in the town of Malegaon, Maharashtra. The blast killed six and injured more than one hundred people.