Simple Notebooks for Complicated Times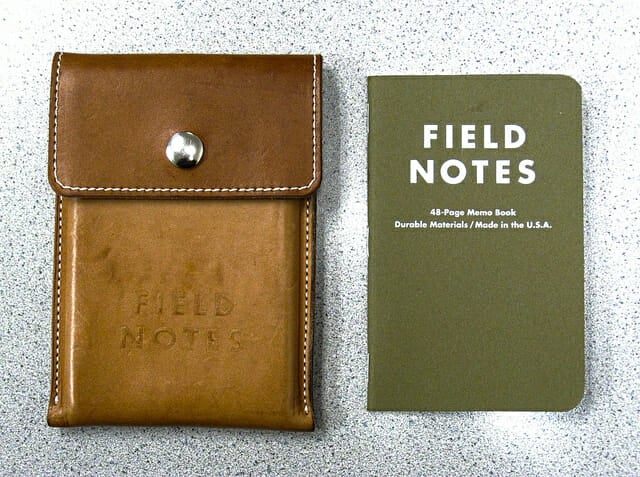 A Field Notes notebook, pictured with a custom leather pouch (retail price $85.95). / Photo by Derek Schille
.
W
o
r
d

F
a
c
t
o
r
y

AdWeek recently brought to the public's attention the enormous success of Field Notes, a small, Chicago-based company that sells small, forty-eight-page paper notebooks. The overwhelming popularity of these homespun notebooks suggests that the supply of wholesome consumer goods is ready and willing to meet the insatiable demand for commodified, vintage Americana.  
According to AdWeek, tens of thousands of customers sign up to order new editions of Field Notes notebooks in advance. Though they originally retail for a relatively low price ($9.95 for a pack of three), some rarer editions have sold for hundreds of dollars on eBay, despite the fact that founders Aaron Draplin and Jim Coudal print between 30,000 and 75,000 copies at a time. Reviews have been glowing.
On the Field Notes website, Draplin and Coudal describe their notebooks as an ode to "the vanishing subgenre of agricultural memo books, ornate pocket ledgers and the simple, unassuming beauty of a well-crafted grocery list." They say Field Notes started out simple, inspired by the look of "promotional notebooks tractor companies would distribute to farmers in the 1920s."
As these pre-Depression years were noted for a booming economy, dwindling Progressivism and loosening morals, it's easy to see why one would design a day-to-day office utility that evokes that particular moment. After all, what better way for consumers to lay claim to their all-American roots as than to let a brand that evokes their hard-laboring forefathers do it for them?
And as demand has increased, Field Notes has been forced to diversify and identify other moments in American history that consumers would be just as eager to cram into their messenger bags. This turned out to be rather easy for Draplin and Coudal; in fact, the number of ways in which they have been able to transform our deluded nostalgia for Americana into cardstock totems is nigh on inexhaustible.
For example, the original Field Notes recast in dazzling yellow, red and blue becomes the Summer 2010: County Fair edition, a notebook for each shade of the traditional county fair ribbon. For the "maker" in your life, there's the Field Notes American Tradesman edition, which comes complete with a 7″ Carpenter Pencil! For the would-be sharecropper, the Field Notes National Crop Edition! For the former McCarthyite, the Field Notes Space Pen! For the Nabokov fan, the Road Trip edition!
The latest special edition, called Ambition, is made of paper with gilded edges, and it's held together by golden staples. (Perhaps these fripperies are meant to evoke the checkbooks of the robber barons of the Industrial Age, or some other similarly beloved period in American history.)
What makes these patriotic paper fetishes so popular? From the start, Field Notes was renowned for its "clean and thoughtfully crafted" design and aggressive embrace of the current penchant for all things "American made." These are, of course, the same powerful cultural forces that have given us the lumbersexual and Mason jar weddings, so the early success of Field Notes is understandable. But the company's acclaim rests on more than its sleek aesthetic.
In the words of the AdWeek headline, Field Notes are "simple, utilitarian," and they appeal to simpler folk, which is why they're on sale everywhere from "bait shops to barbershops." They aren't meant for people interested in things like smartphones or computers, where there's an infinite amount of basically free space on which people can jot any passing fancy they wish. No, as Coudal puts it, Field Notes notebooks are "delightfully and deliciously analog." They're for people with rough hands and big ideas, for folks who appreciate a soft paper blend and a Futura typeface.
"It is a practical, usable sort of a thing," Coudal told AdWeek. "Field Notes is just as appropriate in the hands of someone drinking a latte in Williamsburg, Brooklyn, as it is in the hands of a guy in an ice fishing shanty in the Upper Peninsula of Michigan."
Obviously, people may record their thoughts on whatever brand of bound paper they want, and pay whatever sum and wait whatever length of time for that bound paper to arrive that they wish. That some paper goods inspired by labor ephemera have come to stand in, not just for a personal aesthetic, but for a bygone way of life, seems inevitable.
But the transmogrification-by-design of cultural history into brand into profit that's being perpetrated by Field Notes and celebrated by AdWeek as a victory for capitalism is perturbing. And the seeming interchangeability of "design," "brand," and "lifestyle"—as though there was no difference between the object a company is selling, the illusion surrounding that object, and the human being they're selling it to—is simply baffling.
Caroline O'Donovan
is a staff writer at
The Nieman Lab
. Find her on Twitter
@ceodonovan
.
Baffler Newsletter
New email subscribers receive a free copy of our current issue.
---