Discover Weakly
Sexism on Spotify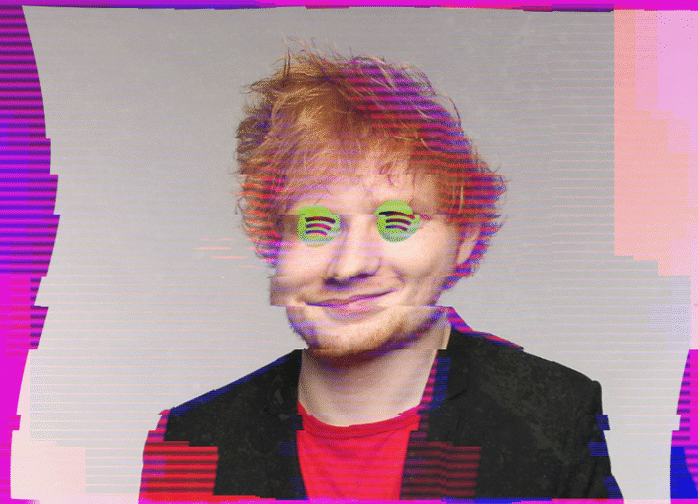 Spotify's most streamed artist of 2017. / The Baffler
On March 2, Spotify announced the most Spotify thing imaginable: The Smirnoff Equalizer, a brand partnership in the form of a woke algorithmic discovery tool. Together, Spotify and Smirnoff claimed that the app would analyze users' listening habits and "equalize" the gender ratio of their listening experience. Applying a binary understanding of gender, the Equalizer would quantify the user's past six months of streaming, display the percentage of male-versus-female artists in their history, and provide them with a personalized, more "balanced" playlist. The Smirnoff Equalizer will be live through this summer, available for Spotify users of a legal drinking age in the United States and five additional countries, which should serve as reminder enough: this tool is meant to sell vodka.
Is streaming culture merely reflective of a relentlessly male-centric status quo, or is it shifting us back toward a more homogenous and overtly masculine pop music culture?
In the press release accompanying this partnership, the brands curiously leveraged the fact that, at the end of last year, not a single woman or female group appeared in Spotify's 2017 year-end top ten most-streamed tracks list. This should come as a shock, but it is actually consistent with other reports from the end of last year. "Let's Hear It For The Boys," Billboard proclaimed in a December headline. According to Billboard, 2017 was the first time since 1984 that the top ten of its year-end top-artist ranking was populated entirely by men: "Men so dominated Billboard's biggest tallies during the 2017 chart year . . . that they crowd the top 10 of all three of the biggest year-end lists: Top Artists, Top Billboard 200 Albums and Top Billboard Hot 100 Songs. No woman in a lead role ranks in that region of the three charts."
Given that the major label mainstream status quo comprises largely the same world that Spotify bolsters in its biggest, most visible playlists—Today's Top Hits, RapCaviar, Rock This—this all leads to one unavoidable question: What role is the streaming era and the playlistification of pop playing in upholding and even exacerbating gender inequity in music? "In 2017, the top of the Billboard charts were flush with hip-hop acts (generally a male dominated genre), thanks in part to the continued rise of rap on streaming services," that same Billboard article suggests. Fair enough, but we should also ask: Is there more to it?
It remains unclear whether streaming culture is merely reflective of a relentlessly male-centric status quo, or if streaming is creating a data-driven echo chamber where the most agreed-upon sounds rise to the top, subtly shifting us back toward a more homogenous and overtly masculine pop music culture. Streaming services like Spotify create passive environments where listeners stream what they like, and more of what they like, and more of what they like—ad nauseam. Meanwhile, we know this much: listening patterns are studied by playlist programmers, who privilege songs with high completion rates and delete those with high skip rates.
Over the course of one month earlier this year, with this gender problem firmly in mind, I began a listening experiment to explore gender bias on Spotify's most popular playlists. I listened almost exclusively to a sampling of the most popular entries: Today's Top Hits, New Music Friday, Rock This, Rap Caviar, Hot Country, ¡Viva Latino!, and more. Every week, for one month, I downloaded a spreadsheet of the playlist data and analyzed the gender disparity. In the interest of not misgendering artists on the basis of their appearance or sound, I focused on confirming how artists self-identify on their Spotify "about" pages or other verified bios. I encountered no artists on Spotify's top playlists who did not identify as a man or woman; I did however encounter a small number of artists who I would describe as "mysterious viral Spotify artists" with perplexing millions of Spotify plays but little presence outside of Spotify—and no bio on the platform or elsewhere.
The result of this experiment: I found Spotify's most popular and visible playlists to be staggeringly male-dominated. Not only this, I approached the project by listening from a brand new account in order to confirm that gender bias would be reproduced by way of algorithmic recommendations—that when a user listens to mostly male-dominated playlists, what is produced are yet more male-dominated playlists. Indeed, the sexist music industry status quo is upheld widely by Spotify, even as the platform exploits the woke optics of playlists like Feminist Friday and advertising schemes like the Smirnoff Equalizer to further benefit its brand recognition and bottom line.
The Playlist-Gender Complex
Spotify has actively steered its listeners away from the album as a format and toward playlists. This serves Spotify's interests: a music culture dependent on playlists is dependent on Spotify, whereas a music culture dependent on albums is dependent on record labels. As Spotify vies to become more powerful and influential than labels, emerging as the music industry's new center of power, one of its primary strategic focuses has been on playlists—curated by humans, algorithms, and sometimes a hybrid approach—making the process of navigating its platform more convenient and ever more personalized.
As a result, Spotify's most popular playlists have emerged with outsize influence. After I created a new Spotify account earlier this year for this very listening experiment, when I clicked the "albums" tab on my brand-new account, Spotify responded, "Your favorite albums will appear here," followed by, tellingly, "Go to your Browse page to find amazing playlists for every mood and moment." A small but powerful gesture: at every turn the platform encourages playlists over albums. This, of course, raises several concerns regarding how fans relate to music and even this music's context. Which is all to say: in the realm of Spotify, playlist placement matters. A lot.
Among its playlists, Today's Top Hits is the most-followed on Spotify—with over 19 million followers—and the first that I looked at here. For this and other pop-oriented playlists, I examined gender disparity with regard to "lead artists" as well as "features." When I did take features into consideration, I looked at appearances by men on women's tracks as well, to provide a more complete picture of the percentage of tracks inclusive of men versus the percentage of tracks inclusive of women. I thought it was important to distinguish gender when it came to features, not to diminish them, but to determine how often these playlists make space for songs that are solely in women's voices.
On Today's Top Hits, I found that over the course of one month, 64.5 percent of the tracks were by men as the lead artist, with 20 percent by women and 15.5 percent relying on collaborations between men and women artists. When all features were taken into consideration, I found that 85.5 percent of tracks included men artists, while only 45.5 percent included women. This was one of the highest percentages of women artists out of all the playlists I examined.
Of all the playlists examined, Hot Country offered the lowest percentage of women artists overall.
Next I looked at New Music Friday, a playlist updated each week with approximately seventy-five newly released tracks. It currently has over 2 million followers, making it the least popular playlist I reviewed, but it is significant to the Spotify brand, placed prominently on the homepage every Friday. Over four weeks, I looked closely at the 301 songs that were included. There were sixty-one tracks by women artists, comprising 20.3 percent of the total playlist. Two-hundred and eleven of the 301 songs were by male artists, comprising 70.3 percent of the playlist. Twenty-seven tracks were collaborations between men and women, making up 9 percent. There were also two tracks by "mysterious viral artists" whose gender I was unable to identify. When all features were included, I found that 248 of the 301 songs (82.4 percent) included men, while 112 (37.2 percent) of the songs included women—the number of men doubled the number of women.
On Spotify's prized RapCaviar playlist, the only woman-led track present was Cardi B's "Bartier Cardi (feat. 21 Savage)." This means that every week, for four consecutive weeks, and on a fifty-track playlist, only one song led by a woman artist appeared. This was the lowest percentage of female-led tracks (2 percent) I observed. Aside from Cardi B, the only women included in RapCaviar for four weeks running were collaborations and features: SZA on "All The Stars" with Kendrick Lamar, Rihanna on "Lemon" with N.E.R.D., Kash Doll on "So Good" with Big Sean and Metro Boomin, and Beyoncé on "Top Off" with DJ Khaled, JAY Z, and Future. Otherwise, men comprised 92 percent of the playlist. Women-led tracks and women features together only made up 8 percent of RapCaviar's total output. These findings closely aligned with David Turner's determination for The Muse earlier this year: "Women Are All But Omitted on the Music Industry's Most Influential Rap Playlist," he wrote.
On Rock This, the platform's most popular playlist in the "rock" genre, the state of affairs remained bleak and regressive. Over the four week period, on average, each playlist contained 86 percent all-male bands, 9 percent women-led projects, and 5 percent groups with women involvement. Only five women artists were represented during this four-week period of time: Alice Merton, K.Flay, Tash Sultana, Amy Shark, and Bishop Briggs (who appeared with her own song as well as alongside Cold War Kids).
¡Viva Latino! included the highest percentage of women-led tracks, which comprised 24 percent of ¡Viva Latino! over the full scope of the month. Men-led tracks made up 73 percent of the playlist. Lead collaborations between men and women comprised only 3 percent. When women features on men's tracks were considered as well, the number of tracks including women jumped to 37 percent. When men's features on women's songs were tallied, men artists appeared on nearly every track—99 percent, in fact. (Only two tracks were by female solo artists with no male feature.)
Of all the playlists examined, Hot Country offered the lowest percentage of women artists overall. For the entire duration of time I studied, Hot Country only had four women artists on its fifty-one-track playlists: three as lead or solo artists (Carrie Underwood, Bebe Rexha, Kelsea Ballerini) and one as a feature (Tori Kelly on Chris Lane's Track "Take Back Home Girl"). This amounts to 7.8 percent of songs either led by or featuring a woman and 92.2 percent featuring exclusively men. When the country music blog Wide Open Country reviewed Hot Country last year, their findings were even starker: only one out of the fifty-one tracks on a single playlist was by a female artist.
This—we can all admit—is a lot of men. Indeed, when I signed into the Smirnoff Equalizer last month, in the midst of my listening experiment, the app concluded that I had been listening to 100 percent male artists. What actually happened: I had merely been listening to what Spotify told me to listen to by way of its playlists.
Algorithmic Status Quo
Interestingly, in a LinkedIn post about the Smirnoff Equalizer, Jerry Daykin, the Head of Media Partnerships at Diageo, the company that owns Smirnoff, made a serviceable point: "The most popular tracks on Spotify get featured in more playlists and become even more popular as a result," he explained. This of course speaks to the basic echo-chamber-effect of Spotify design. Songs placed in the platform's most popular playlists inevitably end up in a greater number of user-generated and algorithmic playlists (like Discover Weekly).
My intention, when I created my new Spotify account for this experiment, was to listen to its most popular playlists. But I also did a bit of listening to whatever Spotify promoted to me. Each Monday, I listened, for example, to Discover Weekly. I also checked out Release Radar, the algorithmic playlist that shows music from new releases. One Friday evening, Spotify suggested I "soundtrack my weekend" with mint, the leading EDM playlist, and "Dinner with Friends," which is what it sounds like, so I gave those a few whirls. On a weekday night, when Spotify proposed that I "Relax and Unwind," or hear some "Peaceful Piano," I took them up on it.
During these months, too, I studied and listened to the above playlists closely. I learned about such fascinating corners of the music industry as Mastercard Music, Christian EDM youth ensembles, the Justin Timberlake album Man of The Woods, and many, many, many "viral success stories."
At the same time, I recorded my Discover Weekly playlist each and every Monday. In addition to looking at the gender disparity plaguing Spotify's biggest playlist brands, I also wanted to see if gender bias would be reproduced through algorithmic recommendations like Discover Weekly. In total, on these algorithmic playlists, I found 79.2 percent men artists, 12.5 percent women artists, 5.8 percent collaborations between men and women, and 2.5 percent "mysterious viral artists" with, again, no discernible internet presence. When female features were considered, women involvement comprised 23.3 percent.
These numbers are very close to the average numbers for the popular Spotify playlist brands I studied, which overall amounted to 13.8 percent women artists when not factoring features and 25.3 percent women artists when including them.
My observations show that Discover Weekly effectively reproduces gender bias. And the numbers show a slight intensification of said bias, too.
This is not surprising. In her book Weapons of Math Destruction, the mathematician Cathy O'Neil writes about the ways that algorithms uphold norms. As she once said in an NPR interview, "algorithms don't make things fair" if you just blithely apply them: "They repeat our past practices, our patterns. They automate the status quo. That would be great if we had a perfect world, but we don't. . . . Because we all have bias, it means they could be codifying sexism or any other kind of bigotry."
 One-Click Feminism
If you are a Spotify user and have never noticed any of this gender bias, it might be because Spotify has totally tried to do something about it. Namely, they've attempted a preemptive defense.
While Spotify's most prime playlist brands uphold gender inequality in music, elsewhere the platform manufactures "editorial content" that pitches its brand as young and woke; part of this project is managed through women-specific playlists that have been created for nearly every genre. There's Women of Rock, Women of Pop, Women of Hip-Hop, Women of Electronic, and Women of Worship. On International Women's Day a playlist popped up titled Women of the World, part of its ongoing "Amplify" series. There's also the recurring feature playlist Feminist Friday.
These playlists overtly contribute to the continued "othering" and marginalizing of non-male artists. Further, they make normal the idea that gender is a genre, or the idea that women artists should be valued for their gender instead of their music. One might say the women-oriented playlists are Spotify's version of the same regressive "Women in Rock" stories that have filled magazine pages and sparked debate for generations. Except here we see a new mutation of this concept created for lean-back listeners of the streaming age, an innovation in one-click "feminism."
By "lean-back listener," I mean one who thinks less about the artists and albums and more associates music with moods and activities. It's a phenomenon streaming has encouraged, one that remolds the entire process of how we connect with music, incentivizing users to become more passive. These nearly imperceptible shifts contribute to all music becoming more like muzak, with its listeners understood as returning consumers of trusty and convenient playlists instead of fans of artists they love.
This is what, for them, is ultimately at stake: women consuming more Smirnoff vodka.
But what does it mean for Spotify to employ this mode of passive consumption while nominally engaging in social issues, like gender inequity? For a pro-women editorial approach to be undercut by a gender-biased streaming reality? Or worse, for women artists to become little more than a backdrop for advertisers?
In his 2017 paper "The Spotify Effect: Digital Distribution and Financial Growth," Patrick Vonderau of Stockholm University analyzes Spotify's automated advertising technology and concludes that the platform is "not merely a music streaming service, but a media company operating at the intersection of advertising, technology, music–and most importantly—finance." He also explains how Spotify "massively re-intermediates the relation between ad agencies, consumers and the music industry." Usefully, too, he reminds us that both founders of Spotify Daniel Ek and Martin Lorentzon come from backgrounds in advertising.
The Smirnoff Equalizer happened to emerge just over a month after Neil Portnow, president of The Recording Academy, suggested that women needed to "step up" if they aspire to greater representation in the music industry. And though some may have seen their partnership as both Smirnoff and Spotify's attempt to seize the moment, the reality is that this has been part of a longer-term Smirnoff marketing campaign called "Equalizing Music" that has persisted for over a year.
When the Equalizer launched on the cusp of International Women's Day, it came along with an event in New York City that saw Smirnoff releasing a limited edition vodka bottle called "Phenomenal You." Smirnoff sent a hundred bottles to women social media influencers around the world. This is what, for them, is ultimately at stake: women consuming more Smirnoff vodka.
Spotify is indeed presenting a new and complicated relationship between music communities, the entertainment business, and the advertising industry. With the Smirnoff Equalizer, Spotify twisted the industry-wide gender bias that it largely upholds into an exploitative branding opportunity. A sizable part of Spotify's business involves building its own identity as a platform, and woke feminist optics and self-serving commodified activism are seemingly a slice of the brand the company is selling. Yet you only need to take a quick glance at its visual real estate to see that Spotify's commitment to gender justice, as it stands, is truly hollow.