As We Saw Ourselves
The lives of everyday Americans shine at National Museum of African American History and Culture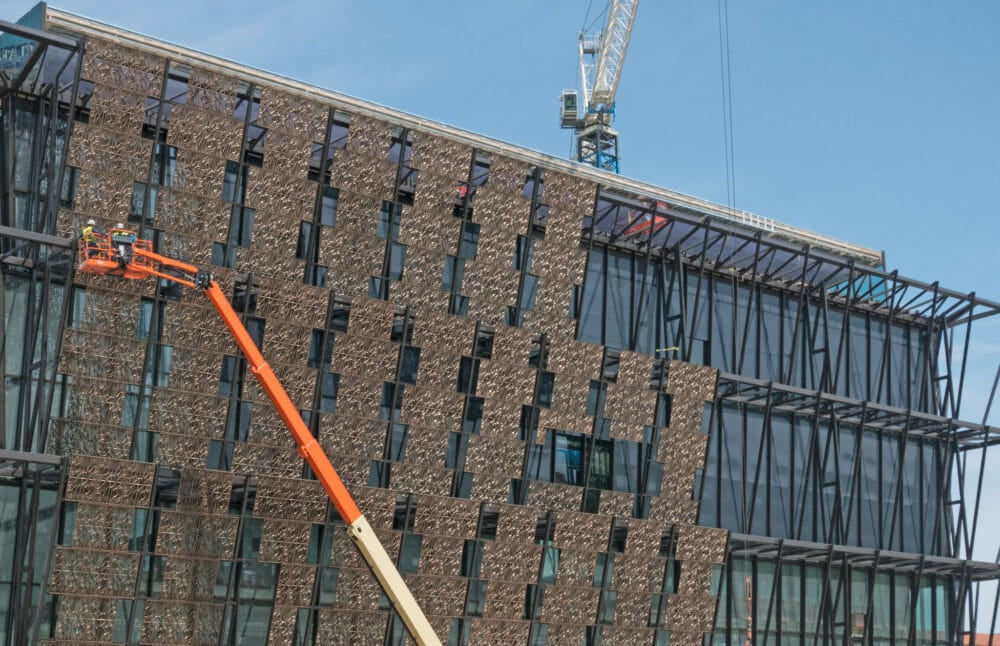 The National Museum of African American History and Culture, many years in the making, opened on September 24. /
John Sonderman
On September 4, 1957, Carlotta Walls LaNier and eight other African American students tried to enter Central High School in Little Rock, but the students, who became known as the Little Rock Nine, were turned away by the Arkansas National Guard. The dress that LaNier wore that day more than fifty years ago now hangs in the new National Museum of African American History and Culture in Washington, D.C. When LaNier saw her dress—her first-ever store-bought one—among the other artifacts at the museum during the opening weekend, she was overwhelmed with emotion.
"I just knew that it was in the right place," says LaNier, seventy-three, who also donated her tenth-grade report card, her diploma, and fourteen boxes of other memorabilia.
LaNier's things are among the thirty-seven thousand objects in the new National Museum of African American History and Culture. It is a place that reminds us of both the hypocrisy of America—slave shackles sit underneath the words of the Declaration of Independence: "all men are created equal"—and of how much we have progressed, with artifacts from the election of the nation's first African American president.
"People are parting with some very personal, important, significant, identity-affirming [things] and to share them with the museum so we can in turn share them with the world, for us it means so much," says Michèle Gates Moresi, supervisory museum curator of collections.
In 2003, President George W. Bush signed the legislation to create the National Museum of African American History and Culture. Congress provided $250 million with a requirement that the other $250 million be raised through private funds. The museum met its goal and then some.
The task of acquiring items for the museum was a different story. Unlike many recent museums, the collection didn't revolve around a hefty personal bequest or a vanity project. Instead, the museum went directly to the people asking them to look in their attics, closets, basements, and storage areas for things to donate. To date, more than a thousand donors have donated artifacts, and 60 percent of the materials in the collection are donations, says Moresi.
In addition to her first-ever store-bought dress, LaNier also donated her tenth-grade report card.
"People are excited about the museum and they recognize this as a moment where African American stories are an American story that is important enough to be on the National Mall," notes Moresi.
The twelve interactive galleries include major historical finds: A slave cabin gives us a glimpse into the living conditions of those brought here from another land and Harriet Tubman's shawl reminds us of the brave souls who traveled an Underground Railroad to escape the harsh life of slavery.
Clara Ellis Payne had plenty of material to donate. The ninety-five-year-old Virginia native says her ancestors were enslaved on James Madison's Montpelier plantation near Orange, VA. Her grandfather bought fifteen acres of land where the family grew corn, potatoes, onion, and tomatoes. They had pigs, chickens, a cow, and a horse, Payne remembers.
"We had fruit trees. We baked our own bread. We never had to go to the store," says Payne.
The family moved to New York when Payne was nine years old. Throughout the years she would go to the family farm in Virginia and bring back material from their attic. 
The retired higher education officer donated more than a dozen items to the museum, including a bookcase that held books from 1880, two flat irons, a scuttle used for coal or wood chips, a recipe book for chocolate, and a nineteenth-century bed. She takes pride in knowing that her family's treasures will be in the Smithsonian for "many years to come."
"It tells the story of everything," Payne says of the new museum. "It has everything that they have omitted in writing us up."
The Jim Crow era is probably one of the most thoroughly documented periods in the museum's galleries. One of the most poignant items on display is Emmett Till's casket. The brutal 1955 lynching of fourteen-year-old Emmett Till in Money, MS, for allegedly whistling at a white woman was seared into the memory of our nation when his mother decided to give her son an open casket funeral. Till's badly disfigured body revealed America's darkest side.
Segregation was indeed the law of the land for much longer than America often cares to remember. Among the items representing this period is a plane used during the training of the Tuskegee airmen and a Negro League baseball poster. They teach us that things were separate but never equal. Talent, skill, ability abounded. But doors were shut to those of a darker hue.
The Civil Rights Movement is, of course, one of the museum's major exhibits. There's a ticket stub from Washington, D.C., to Montgomery for the 1965 Selma-to-Montgomery March. The horrific images of Bloody Sunday, where marchers were attacked with billy clubs and trampled by horses, contributed to the passage of the 1965 Voting Rights Act. Shortly afterwards, a number of Black politicians were elected to political office. And in 1972, a Black woman—Shirley Chisholm—had the audacity to run for president. Several of her campaign buttons are in the museum, along with a poster featuring her famous slogan, "Unbought and Unbossed."
But the museum includes not only the struggle of African Americans but also a glimpse into the mundane routine of everyday life—school, church, and work. This aspect of the Black community was captured in the photographs of Mississippi photographer Henry Clay Anderson. Documentary filmmaker Shawn Wilson gifted the photos to the Smithsonian.
"A lot of his negatives were just in a cardboard box under his sink," says Wilson. "I'd never seen images of people who were simply home enjoying themselves. I always saw photos of poverty in Mississippi or [photos of] the movement."
"I was moved to make sure that the world would get to see us as we saw ourselves at that time," recalls Wilson.
Hundreds of the four thousand images that were donated are on display in an exhibit about Anderson's studio and the rural Black Southern town that served as his muse. Wilson, fifty, says he wept when he saw the exhibit of Anderson's photos for the first time during the donors' preview.
"I knew these images had to be seen by the world," recalls Wilson, who has a book and a film, both titled Separate But Equal, about Anderson's photos. "I was moved to make sure that the world would get to see us as we saw ourselves at that time."
Moresi says the vintage photos exemplify the purpose of the museum.
"History is made by everyday people living their lives and making the most of what they can and raising families and working with families to just make it," says Moresi. "We want to tell stories that are accessible, authentic and real, and that people can connect with."
The Black Lives Matter T-shirt that hangs in the museum connects the past with the present protest for equal justice. The shootings of unarmed Black men by police are a reminder that freedom is a constant struggle.
Carlotta Walls LaNier's dress is a testament to that struggle.
"We [African Americans] have a real big stake in this country. We need to recognize it, accept it, be proud of it, and tell these stories," says LaNier. "Other people from other places will understand where we fit in this country's history."