A Fabric of Surfaces
Letters to Gwen John is a painterly meditation on memory and desire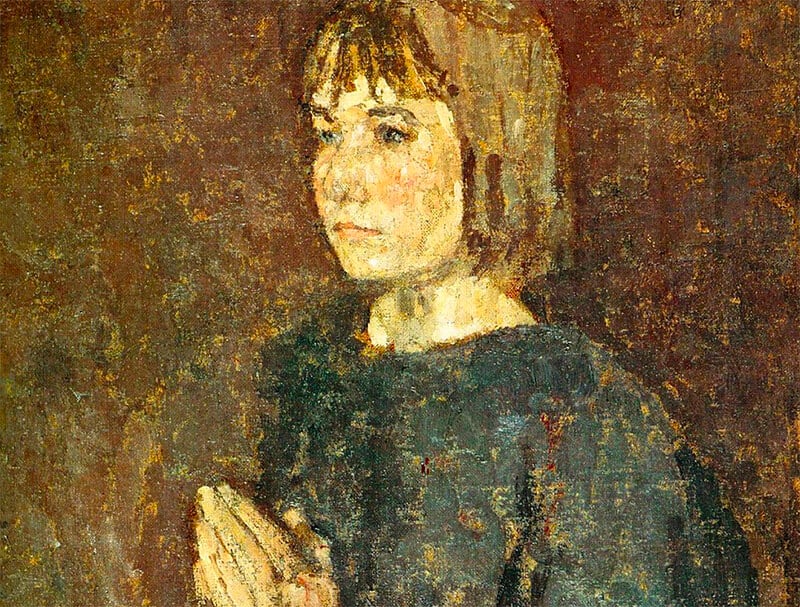 Detail from an untitled portrait by Gwen John, ca. 1900. | Wikimedia Commons
Letters to Gwen John by Celia Paul. New York Review Books, 352 pages.
A portrait is a play between surfaces and depths—the eyes less a window than a cellar door to the soul. In capturing a subject at a particular moment in time, the portraitist purports to unveil something fundamental about her character. Puncturing surfaces, plumbing the depths beneath: such metaphors suggest that there can be something appropriative, voyeuristic, even aggressive in this art. The consummate literary portraitist Henry James often described his theory of the novel in such terms. The surface of a text becomes, for instance, "iridescent . . . by what is beneath it and what throbs and gleams through." In James's The Portrait of a Lady, Isabel Archer never sits for a literal portrait. Yet she is surrounded by others (the scheming Madame Merle and Gilbert Osmond, but the more benevolent Ralph Touchett as well) who attempt to mold and shape her, despite their avowed admiration of her independent spirit. These characters keep asking: How can they "make" her "out"? How, by doing so, will they "make" her? To paint a portrait in this sense is to seize and freeze its sitter. It is to manage her unruly energies, to contain her between the angles of a frame.
This is not the only way to consider the act of portraiture, as Céline Sciamma's recent film Portrait of a Lady on Fire illustrates. Sciamma's tribute and riposte to James begins with a similar postulate: portraiture as voyeurism. A key sign of the aristocratic Héloïse's free-spiritedness is that she has never yet sat for her own portrait. But the love story that develops between Héloïse and her portraitist Marianne ultimately reframes the practice as an art of mutual attention. By striving to get the painting of Héloïse right, Marianne learns to become, in the words of James himself, "one of the people on whom nothing is lost!" To paint one's portrait, in other words, need not (or not only) represent a game of power; it can also be an act of love.
So suggest, too, the recent writings of London-based artist Celia Paul, who has just published her second book, Letters to Gwen John. Letters can be read as a kind of sequel to Paul's mesmerizing 2019 memoir, Self-Portrait. There, portraiture became a guiding metaphor for life writing: to paint one's own portrait, in Paul's reflection, was also to wrest control over her own narrative. In a career spanning over forty years, Paul's art has focused on visionary, unearthly portraits of those she knows well (she does not paint portraits on commission). More recently, especially in the wake of her mother's death in 2015, she has turned to landscapes and seascapes, which she has described as studies of grief. Self-Portrait established her as an author, too: "a more gifted writer than she has any business being," Rumaan Alam wrote in The New Republic, adding, "it's almost unfair."
Born in Trivandrum (now Thiruvananthapuram), India in 1959, the daughter of Christian missionaries, Paul returned to England at a young age and grew up with her four sisters in southwest England. They spent time in Yorkshire, not far from the milieu of the Brontës: another set of provincial sisters and a recent preoccupation of Paul's work, from her haunting portraits of Charlotte and Emily (reproduced in Letters to Gwen John), to her view of "The Brontë Parsonage (with Charlotte's Pine and Emily's Path to the Moors)" from 2017. Such landscapes had spurred her artistic imagination from a young age. It was Paul's portfolio of nature studies that, at a precocious sixteen, caught the attention of Lawrence Gowing at The Slade School of Fine Art; she moved to London not long after. Since then, more or less, Paul has lived and worked in a small flat across from the British Museum.
There is an emotional intensity and height of feeling to her portraits, most imbued with a dusky palette of bluish-gray London light, that can make them almost painful to look at for too long. They put one in mind of George Eliot's warning, in Middlemarch, about the risks of having a "keen vision and feeling of all ordinary human life." Were we to really grasp the extent of human suffering, Eliot writes, "it would be like hearing the grass grow and the squirrel's heart beat, and we should die of that roar which lies on the other side of silence."
While Paul's reputation has fluctuated over the years, there has been a renewed appreciation over the past decade and especially in the United States for her "keen vision," in part thanks to the patronage of Hilton Als, who has curated several exhibits of her work in New York, New Haven, and California. Not coincidentally, it has also been just about a decade since the death, in 2011, of Lucian Freud. Paul met Freud, a visiting tutor at the Slade, when she was eighteen and he, fifty-five. Their tumultuous romance ended after a decade, though their lives remained entangled until his death: they had a son together, Frank, who was largely raised by his grandmother in Cambridge, as Paul stayed behind in London to work. It was Freud who bought Paul the London flat where she still lives and paints. When he died, the obituaries often referred to Paul as Freud's "muse." Many failed to mention her own painting or career.
Letters continues, then, Paul's endeavor in Self-Portrait to assert herself as subject, not merely as model and muse. Paul didn't seem to enjoy sitting for Freud; she felt dissected, scrutinized, "disarmed." Frustratingly, his name inevitably (including in this review) accompanies any mention of her own. Yet to read Letters, like Self-Portrait, as a triumphant portrait of the woman artist would not be quite right. It would, first of all, disregard the remarkable dialectics of loneliness and desire, of love and manipulation, that Paul handles with patient—even disarming—frankness. That Paul's flat was a gift from Freud, for instance, might be seen as a kind of dependency. But she also describes it as a real room of her own. Paul's relationship to Freud, and more generally the desire to be seen and loved by him, emerge in her writings as one of the central dramas of her life, even as it is also a story to be told on her own terms. Those years of waiting and wounding and unfaithfulness to which he subjected her remain for her all too real: in some ways a drain on, in other ways a propulsion to, her own art.
Letters to Gwen John returns to some of the major events of Self-Portrait: the death of Paul's father, in 1983; her relationship to Lucian and to Frank; her mother's death. It is, however, more generically promiscuous than Paul's first book. It is part memoir, part biography, part imagined (that is, one-way) correspondence with the titular Welsh artist, who died in 1939, and who becomes the subject of Paul's own study in literary portraiture. As in Self-Portrait, the book also includes reproductions of her own work, often paired with John's paintings of similar themes (their studios; their sisters; themselves).
Part of what Paul is up to in this is sketching out a different set of influences for her own career. Nudging the London School of Francis Bacon, Frank Auerbach, and Lucian Freud to the side, she makes room for an alternative genealogy. In John's archive at the National Library of Wales, as well as in published sources, she finds details from John's letters and notebooks and weaves them into her letters, in addition to other addresses in the second person: "you always had your own delicate disorder: a dress thrown over the arm of a chair, a brown shawl slipping from your shoulders." Dated from February 2019 to November 2020, the letters are interspersed with Paul's own musings, alongside ekphrastic descriptions of John's paintings and her own (the last of which, a self-portrait, is from April 2021). "Your paintings appeared to me," she writes at one point, "like essential fragments of a life blown over the ocean like rose-petals in a storm: delicate, broken, unfinished, yet intact and suggestive of a secret perfumed world, a guarded haloed world, a sheltered rose-garden." We accompany Paul in her own artistic practice, moving from vision to canvas in a process of observation, reflection, rendering, and revision.
There is a way in which Letters to Gwen John fits into a tradition of experimental life-writing: Ruth Scurr's John Aubrey, My Own Life; Susan Howe's My Emily Dickinson. It is a tradition we might trace back to Anglophone modernism, from Gertrude Stein's The Autobiography of Alice B. Toklas to Virginia Woolf's Orlando. It's not necessarily a coincidence that these works were all written by women. Scorning an "objective" approach, such biographies express a certain skepticism toward the very notion of a confident, contained, clearly delineated self, something that twentieth-century feminist scholars like Judith Butler and Hortense Spillers have long explored. They prefer to tarry instead in the more porous boundaries between painter and subject.
In the "Acknowledgments" section, Paul writes, "This book is not a biography of Gwen John; it is an encounter." It is a story (to borrow the title of Phyllis Rose's groundbreaking experimental biography) of parallel lives. Like Paul, John spent many years overshadowed by a much older male artist and lover, in her case Auguste Rodin. Thirty-six years separated John and Rodin; Freud was thirty-seven years older than Paul. As she writes, "We are neither of us considered as artists standing alone." Long overshadowed as well by her brother, the painter Augustus John, Gwen John "left one famous artist—her brother—to find herself with another."
Paul seeks and finds other parallels, ranging from the resonant to the pedestrian: an intruder in Gwen's Parisian apartment, for instance, is echoed in Paul's recounting of a similar break-in by a stranger into her London flat. The artists' mothers loom large in their visual work; sisters were important in their lives. They both left homes in the rural West to study in the capital, at the Slade. There is a shared fascination with the dramatic landscapes of provincial England and Wales, where John, too, embarked on studies of nature. Describing her own childhood, shy and solitary, in an all-girls boarding school by the sea, Paul notes, "Art became my way of guarding and controlling my inner life against all intrusion." In John, Paul also finds a tension between a desire for distance and a yearning for proximity; between loneliness and a longing for solitude. "We both crave and fear attention," she writes. "We both lead solitary lives so that when we meet someone who understands us, we are swept away."
Guided by Paul, we follow John as she leaves London for Europe, eventually settling in Meudon on the outskirts of Paris. We learn of John's amorous attachments: her relationship with Rodin, of course, who (like Freud for Paul) keeps her at a careful distance; but also her friendship with another artist, Dorelia McNeill, with whom she embarks on a tour throughout France. We feel her hurt and loss when McNeill becomes her brother's lover. There are John's later obsessions, too, requited and unrequited to varying degrees: with two priests at her church; with a local acquaintance in Meudon, Véra Oumançoff; with another friend from the Slade, Mary Constance Lloyd.
While John's life and career offer a kind of frame for Paul's own, this historical trajectory runs alongside a more contemporary one. Paul's "artifice" of an imagined correspondence is also a kind of diary. The book begins with Paul recounting a trip to Santa Monica in early 2019, where she has come to give a talk as part of an exhibition organized by Als. Midway through the book, of course, the geographic coordinates of Paul's world contract, in a way she couldn't have known when she wrote, in January 2020:
So much will change this year. I am sixty now. I need to narrow down my vision and intensify it. I must allow no further distractions.
In a way, Paul is granted her wish. In April 2020 she describes early lockdown in terms of both anxiety and relief. Usually it is up to her to shut out the outer world in order to think. Now, against the still, silent streets of London, its weather "impossibly fine," quarantine nonetheless merely heightens rather than transforms the book's tone. Like that of many writers and artists, Paul's location has largely been lived already in the studio, not to mention in the dramas of the inner life.
As a result, she has been "thinking about the past": thinking (and here she is quoting T.S. Eliot) about "Memory and desire."
The dated letters offer only a light dusting of chronology: alongside the imaginative biography of John, and alongside the dated journal entries, the book is also a foray into Paul's past. The effect is one of a dreamscape, a mesh of past and present, as the borders between the two female artists soften and start to give. At one point, we learn, Freud himself referred to Gwen John in order to rebuke his then-lover: it was a beautiful thing, he told her, that John (unlike Paul) stopped painting at the moment she was most in love with Rodin, "because she wanted to give herself up entirely to the experience."
A search for parallel lives can also evoke the lure of lives unled. Paul contrasts the "definiteness" she projects onto John's life with her own long-held feeling of being strung between competing obligations, torn by rival desires. Another significant difference between Paul and John is that the latter—like the Brontës, like Virginia Woolf, like Jane Austen, like "all the women I revere"—never had children. In her correspondence with John, Paul imaginatively inhabits one fantasy in particular: the possibility of giving herself entirely to her art. In Letters, as in Self-Portrait, Paul writes movingly of the conflict between the kind of mother the world says she should be and her own yearning for what she calls "the shadowy crime of painting," and more generally for her longing to be "alone and free."
As in Self-Portrait, Letters retreads "the three purposes of my life: Frank, my work, Lucian," as she put it in the earlier work. Why revisit them here? Why, we might ask, paint the portrait of the same person over and over again? In returning to these themes and scrutinizing them from a new angle, Paul offers new ways of seeing. This time, for instance, as she reflects on her mother's death, Paul also recalls her mother's hope, years earlier, that a baby might stabilize and comfort her daughter, especially amid Freud's infidelities. Paul describes her decision to have a child with Freud as a mutual pact with her mother, who was grieving for her husband at the time. Paul's mother often repeated how much children always loved her. She reassured her daughter that she would take responsibility for the child. Told this way, the handing over of Frank to be raised by his grandmother is less a tale of "selfishness" than one of complex kinship and care. And yet there is also guilt and regret, as well as love, all present in the way Paul describes her relationship to Frank. "He is openly affectionate to me and we are close," she writes, "though he never hugs me." The book is dedicated to her son.
These pages are sensitive to the way our decisions can be opaque even to ourselves and can come to look differently—indeed come to mean differently—over time. We are still more familiar with tales of the obsessive, single-minded (male) artist. This portrait of an artist faces head-on the beauties and failures alike of striving to "balance" work and life, the pain of failing to deliver, as well as the frustration of having too many demands and desires and never enough time. In Paul's writing, such competing narratives do not replace each other but rather accumulate. They thicken on the canvas like so many layers of paint.
Throughout Letters, Paul's husband Steven emerges as a stabilizing presence and a very different kind of relationship than the one she had with Freud. He respects her privacy; they do not live together; she has never given him a key to her flat. "He has always understood me," Paul writes, "and he has allowed me all the freedom in the world without once trying to own me or to compromise my art for his sake."
Letters can be read as an elegy for the various losses in Paul's life. In the case of Steven, it is a prospective one. A retired philosophy lecturer, Steven was diagnosed with cancer around 2011. The pair have been together since 1993, but they married shortly after his diagnosis, so that it would be easier for Paul to inherit his pension. As the letters continue, Steven's timeline shrinks further, and the book takes on the sense of various endings. With the arrival of Covid vaccines on the horizon, Paul refers at one point to a future "when the pandemic is over." That turns out to be a less certain divination than her recognition of what else will have happened by summer 2021: "One day soon," she writes, addressing Gwen John, "I will be alone again. Like you."
Despite the intimacy of Paul's writing—she always refers to her subject as "Gwen"—the book is written with a kind of formality. Emily Dickinson might have called it the "formal feeling" that famously arrives "after great pain." Letters also reads at times as a memoir of old age. It comes as a surprise to remember, upon turning the final page, that Paul is only sixty-one at the end of the book. Loss and grief are not restricted to the elderly, of course. But Paul seems to feel herself working in a late style. This is something else that draws her to John, who died, as Paul notes, at sixty-three. And it perhaps accounts for the sense of grateful astonishment with which Paul describes one source of novelty in her life: her friendship, since around 2014, with Als. The bond with this patron, supporter, and friend is one she can best describe with recourse to fiction, referring to an early-twentieth-century French regionalist dreamscape: Als "came into my life rather in the way that Augustin Meaulnes entered the lonely life of the narrator in Le Grand Meaulnes by Alain-Fournier: he burst into it, changing a solitary existence and opening up a whole, previously unimagined, range of experiences."
Such a friendship counters an otherwise prevailing sense in Letters that the important things have all happened already, the work that remains being essentially retrospective—including the work, to borrow the terms of that other Freud, of remembering, repeating, and working through. In late 2020, Paul is reading William Feaver's biography of Lucian Freud, which she's been asked to review. She is feeling troubled by his account of memories they share. At one point, after Steven sits for his portrait, she suddenly realizes that instead of her husband's face, she's painted her former lover's.
"A letter is not a dialogue or even an omniscient exposition," Elizabeth Hardwick once wrote. "It is a fabric of surfaces, a mask . . . The letter is, by its natural shape, self-justifying; it is one's own evidence, deposition, a self-serving testimony." Hardwick is talking here about the literary seduction plot, specifically in Samuel Richardson's Clarissa, in which the drama is heightened and the stakes raised when "reality lives in words." As Hardwick argued, "in a letter the writer holds all the cards, controls everything about himself and about those assertions he wishes to make concerning events or the worth of others." Declarative, strong-willed, easily verbal and expressive, there is a certain appeal to this description—an undeniably masculinist one.
Paul's letters offer a different view of the epistolary, as they do of the portrait. For a letter need not always reflect a confidence of self-expression, nor represent a success of self-fashioning. In seeking to collapse distance, it can also render those distances all the more evident, acknowledging stubborn gaps that remain. In her epistolary dialogue across space and time—in painfully wrangling with distances of various kinds—Paul paints a generous portrait of the Welsh artist, one characterized by reciprocity rather than conquest, by love and attention as well as by loss. In doing so, she grasps something that their lovers seem not always to have understood: that to remain entangled with others, even at Dickinson's risk of "great pain," is a feat of courage as much as of care.