A Coltrane Surprise
A Love Supreme: Live in Seattle shines new light on the classic album.
A Love Supreme: Live in Seattle (2021) by John Coltrane. Impulse! Records, 8 tracks.
For an art form rooted in spontaneous creation, listeners of Black Creative Music—also known as jazz, or autophysiopsychic music[1], or by any number of identifiers—can be curiously obsessed with recordings. The genre's evolution has run parallel to developments in technology: from the shellac 78s that spread the gospel of Louis Armstrong and Sidney Bechet in the 1920s, to the vinyl LPs that allowed artists like Duke Ellington and Miles Davis to explore concept-albums beginning in the 1950s, to the glut of historical reissues on CD in the 1980s. Jazz aficionados organize collections of thousands of albums and pore over discographies like fans parsing old baseball cards.
Perhaps the most fetishized of all records is John Coltrane's A Love Supreme (1965). The saxophonist and composer is the rare figure revered amongst all factions of musicians in the field. Purists celebrate his prodigious technique and harmonic innovation; dedicated experimentalists follow the trail he blazed of ceaseless exploration, regardless of critical derision or commercial pressures. Other artists have been as explicit about the profound spiritualism that sits just beneath the surface of the sound, from swing-era pianist Mary Lou Williams to free jazz saxophonist Albert Ayler. But no one else combined it with his level of popular success and cultural influence. Though it is one of the best-selling jazz albums of all time, even a neophyte would pause before putting A Love Supreme on as background music at a cocktail party as they might Miles Davis's Kind of Blue or Ella Fitzgerald's Song Books. 
Hearing such beloved strains in a new context challenges the sanctity of the familiar object.
When I was a teenager falling in love with this music in the early '90s, I would listen to my CD of A Love Supreme on repeat. Some nights I played it four or five times in a row before going to sleep. Though I've never spent much time in any church, I was not alienated by the devout tone of Coltrane's liner notes. Indeed, the album seemed to have tapped into some kind of higher power.[2] It features his "classic quartet"—Elvin Jones on drums, McCoy Tyner on piano, and Jimmy Garrison on bass—each a musician of extraordinary skill and distinct personality, demonstrating unerring commitment and remarkable communication in working together to realize the leader's vision. During the pandemic, in preparation for a jazz history class I was teaching, I listened to the album straight through again for the first time in probably a decade. Its impact had not lessened. Not only could I sing along with almost every moment, but I had to pull over while driving to give it full attention.
Impulse! Records has now put out a previously unreleased live version of the album, recorded in Seattle on October 2, 1965. I sometimes bristle at the necrophilia of the music industrial complex, which sifts through the discarded takes of every departed giant. But A Love Supreme: Live in Seattle is a revelation. It is not better or worse than the original, but it is different. Hearing such beloved strains in a new context challenges the sanctity of the familiar object. It forces us to reconsider what is lost when we allow the snapshots that recordings provide to take the place of the real thing.
---
Arguably, Coltrane's two most iconic compositions are A Love Supreme and Giant Steps (1959). Interestingly, he rarely played either one in concert. If Coltrane was balanced between the pursuit of virtuosity and the quest for enlightenment, perhaps he saw these two pieces as the benchmarks on either extreme. From the 1940s, bebop pioneers like Charlie Parker and Dizzy Gillespie began substituting chords to old standards to expand their harmonic possibilities for improvisers. Giant Steps is the culmination of those innovations, a complex technical exercise in which Coltrane cycles through as many keys in as short a time as possible. Today it has become a kind of proving ground among jazz students, who vie to play it at the most absurd tempo or time signature. For Coltrane, it was more of a practice etude than a launching point for improvisation; he never performed it live with his own band after recording it in studio.
A Love Supreme is another story. Former collaborators like Miles Davis and George Russell had developed modal structures for improvisation, akin to the ragas of Indian classical music, where a single scale is explored at length. Other artists like Ornette Coleman and Don Cherry were challenging the need to maintain any modal or harmonic structure at all. In composing A Love Supreme, Coltrane synthesized all these developments. He saw the suite of music as a prayer, an offering to the Creator, revisiting it on very few occasions. Other than this newly released recording, the only other documented performances are at a French festival in the summer of '65 and a Brooklyn church fundraiser the following year.
One of the musicians asks, "Is that the end?" and Coltrane replies "It better be, baby. Yeah!"
One can only speculate why Coltrane chose the last night of a week-long engagement at a Seattle club to perform A Love Supreme. But his music was clearly at a point of transition. In the ten months since the original studio recording, on December 9, 1964, he had pressed past traditional forms of jazz and embraced a more radical practice. While the band might play a few measures of a recognizable tune like Afro Blue or My Favorite Things to get things started, the focus was on the possibilities of improvisation. Performances might last an hour or more without stop, much to the dismay of the club owners hoping to sell drinks. Controversial records like Ascension and Om featured album-length tracks of uncompromising free improvisation. (It does not seem a coincidence that Om, which bears the marks of Coltrane's growing interest in non-Western religions, was recorded the day before this Love Supreme performance.) Coltrane was also adding new musicians to the band, mostly drawn from the "new thing/free jazz" community. These included bassist Donald Rafael Garrett and saxophonist Pharoah Sanders. Known for his encouragement of younger musicians, Coltrane welcomed Panamanian-born, Seattle-based alto saxophonist Carlos Ward to sit in with them.
It doesn't sound like Coltrane rehearsed or prepared the band in advance of this performance. One of its beauties is the in-the-moment feeling. Not casual by any means, but certainly not precious. It almost seems the iconic saxophone fanfare that opens the piece takes the band by surprise. The two bassists rumble around for several minutes before finding the loping vamp, and the band doesn't really agree on the downbeat until five minutes in. (That's not a bad thing!) Throughout, the exquisite rhythmic tension built up between Elvin Jones and the two bassists is augmented by a bevy of auxiliary percussion from the horn players. The pulse is relentless but the length of phrase, the accents and articulations, the internal tempos and patterns, push and pull against each other in a thrilling contrapuntal stew. The ending, too, feels more like a dissipation of energies than a hard stop. The audience starts tentatively applauding while the basses are still bowing and bells are still ringing. Then one of the musicians asks, "Is that the end?" and Coltrane replies "It better be, baby. Yeah!" Even after that, one of the bassists plugs on, working out some unrealized idea or warming down his fingers, as the tape fades out.
---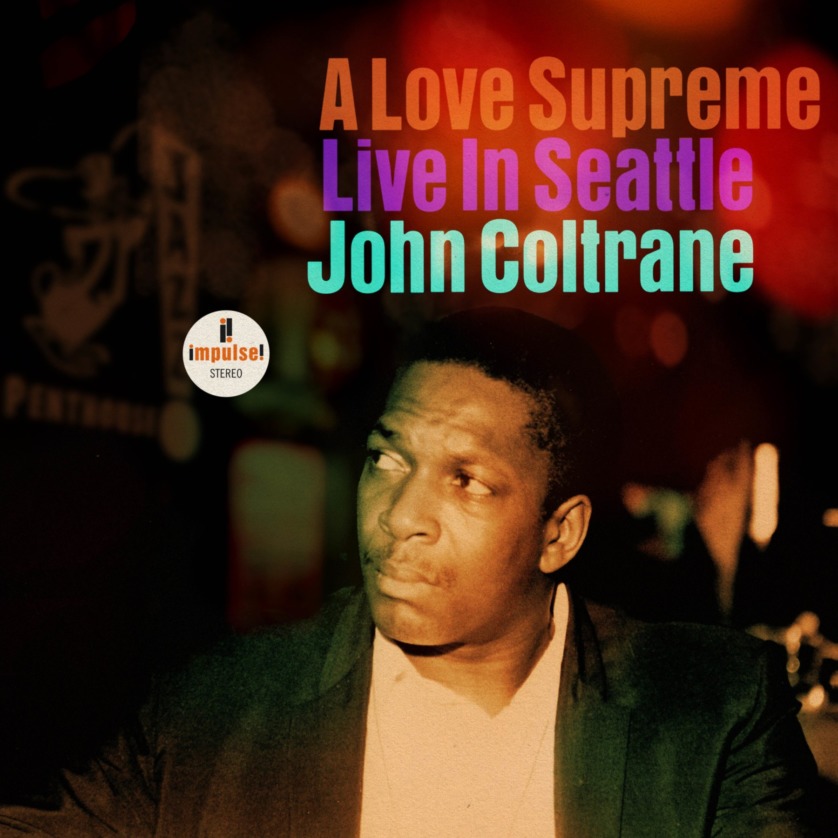 Of course, Coltrane sounds magnificent. He is at the height of his powers, his melodic patterns intricate yet inventive, his tone impossibly rich. By this point in his life, he had fully incorporated the more extreme and abstract saxophonistic possibilities modeled by Albert Ayler and Pharoah Sanders while maintaining the impeccable control of a bebop master. Again, that awesome balance of passion and precision that was his signature. But I have listened to hundreds of hours of live Coltrane so that was to be expected. Hearing a fresh take on A Love Supreme is the novelty.
The most obvious difference is length. The live version is more than twice as long of the studio recording, mainly because of the additional horn soloists and extended features for the bassists and drummer. As a composer, Coltrane used bass and drum improvisations as introductions or interludes, rather than embedding them within the composed materials as is more traditional. This pays tribute to the foundational roles of those instruments and shines well-deserved spotlights on Garrison and Jones, while maintaining the full energy of collective performance on the thematic materials. Donald Garrett's role as secondary bassist contributes mightily to the propulsion mentioned above, though he seems willing to follow Garrison's lead as the more experienced member. Together, they offer a masterclass in complementary/contrasting interplay.
The other thing that stands out are the two new saxophonists. As a guest of the ensemble, Carlos Ward only takes one extended improvisation, over "Resolution," the second movement. With Coltrane's encouragement, after this performance Ward would move to New York, and in later years would become an indispensable sideman on classic recordings by Abdullah Ibrahim, Don Cherry, and Carla Bley, among many others, but at this time he was still virtually unknown to the wider music world. His inclusion says as much about his potential as Coltrane's generosity. Ward's playing here bears a heavier-than-usual debt to his mentor Eric Dolphy, but it's still striking in its rhythmic attack and quirky intervallic choices. And it pushes McCoy Tyner into some clusters that foreshadow Ward's collaborations with avant-garde pianists like Cecil Taylor and Don Pullen two decades later.
We are reminded that Coltrane saw his music as an ongoing journey, not a fixed destination.
Sanders takes two extended improvisations, in the first and third movements, both marked by the incendiary approach that endeared him to Coltrane. Particularly on "Pursuance," Sanders sounds not only pursued but possessed, with bursts of notes emerging between multiphonic cries. He was discovering overtones and timbres that had not been heard on a saxophone, exploring sound itself rather than scales and melodies. It is notable how little Ward and Pharoah Sanders sound like Coltrane. By 1965, there were already too many imitators in jazz (a problem that has only grown in the years since his death), but Coltrane wasn't interested in clones. He wanted players brave enough to offer their own voice.
The rhythm section is wholly engaged, especially the inexhaustible Elvin Jones, who matches and raises the energy at every turn. McCoy Tyner lays out as Sanders, Garrison, and Jones reach a climax, then enters with an extraordinary improvisation. While Tyner is justly honored for his role in the classic quartet, when it comes to Coltrane's later albums, I prefer Alice Coltrane's more wide-open feel on the piano. But his work here is astounding. It starts with fast and percussive single note right-hand runs against the huge left-hand block chords he is famous for, keeps building until it sounds like the piano is being played by the ocean itself, until Coltrane brings back the theme. The longest surviving member of the original quartet, Tyner's death on March 6, 2020 was overshadowed by the pandemic; this recording serves as a worthy tribute.
That movement was the highlight of the recording for me, and Coltrane only plays a few notes at the beginning and the end. Still, he created the space for his collaborators to instigate and challenge each other, for the collective to give strength to the individual and the individual to inspire the collective, and for this group of humans to strive for the transcendent. In an era when simplified histories and Spotified playlists reduce the music to celebrated names, this recording makes a powerful argument about the crucial role each member of the ensemble plays in evolving a sound. By presenting a transformed realization of a sacred text, it also asks us to consider the irony of capturing the ephemeral nature of improvisation in a singularly fixed document. We are reminded that Coltrane saw his music as an ongoing journey, not a fixed destination. A process, not a product to be consumed. A participatory ritual, not a solo experience.
---
[1] Multi-instrumentalist/composer Yusef Lateef's term.
[2] As a childless adult who gets along well with children, I am the godfather to many. I joke with their parents that the sum total of my religious mentorship will be playing them A Love Supreme when they turn thirteen.